Hipster beards have become some of the most sought after beard styles in recent times. While they offer a great sense of duality and balance, pairing disheveled type beards with sleek hairstyles, they also achieve a great sense of edginess and sexiness. Whether you prefer your beard long or short, you may find a few styles in this list to choose from in order to switch up your look and try something new. Here are 35 of the hottest hipster beard styles you can copy to get unique classy look.
Short & Medium Hipster Beards with Short Hair
A common style among hipsters is styling a thick, short beard with a short haircut that has been slicked down and parted. This beard is a very classic type of way to stylize even the most disheveled beard, since it displays that the beard looks that way on purpose.
1. Classic and Clean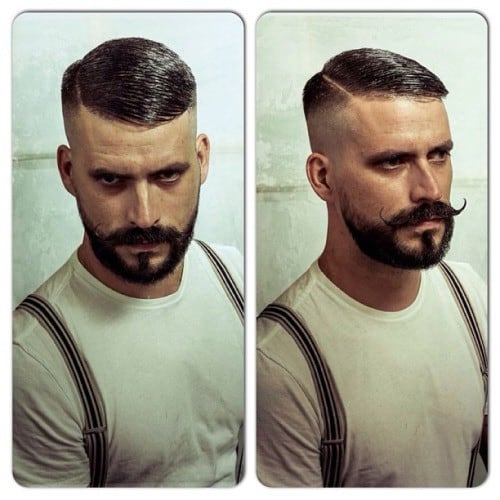 This is a very polished look, featuring a short beard and a mustache that has been curled up. Pairing this combo with faded temples and hair that has been slicked down gives the look a particularly vintage look that will have you looking like you stepped right out of the 40s.