Brown hair with a red beard is a rare combo and some may find it dreadful! But, the good news is that ginger beards and brown hair are in trend now! In fact, these are amongst the biggest fashion rage at the moment.
Guys can wear their brown hair with pride and experiment with a variety of red beard styles that go with it for the best look in 2023.
What Causes A Red Beard and Brown Hair?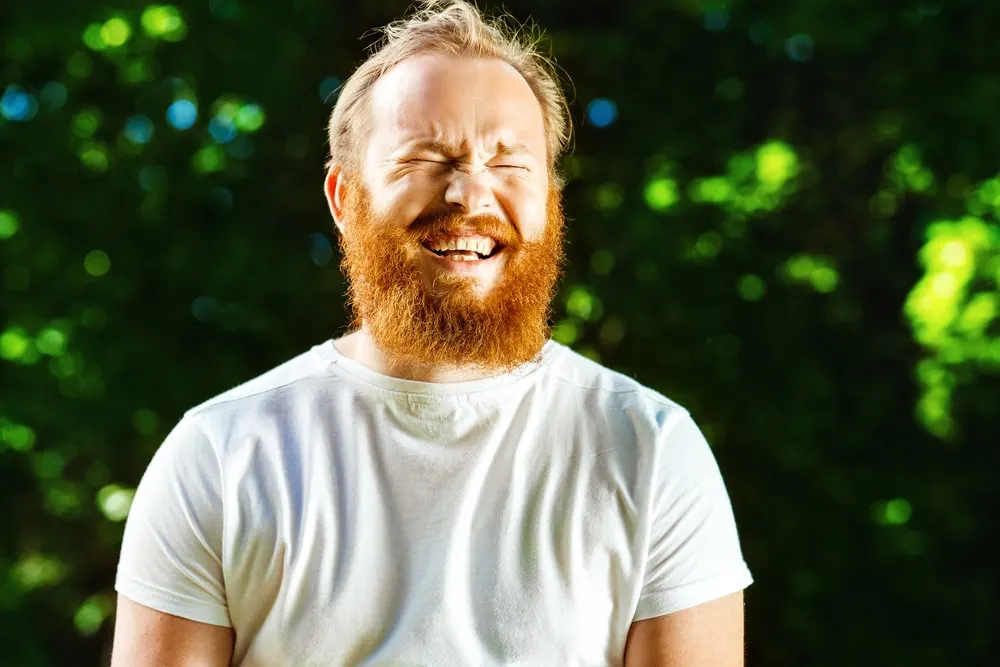 The reason behind some people having a red beard with different head hair colors is the different combination of melanin in the head hair and the beard.
People with brown hair have a moderate amount of eumelanin and a small amount of pheomelanin. The more eumelanin in the hair, the darker the hair will be. The more pheomelanin in the beard, the redder the beard will be.
The combination of eumelanin and pheomelanin can also create different shades of brown hair. For example, people with auburn hair have a higher amount of pheomelanin than people with chestnut hair. This gives auburn hair a reddish tint.
A mutation in the MC1R gene can cause a person to have brown hair and a red beard. A person must inherit two copies of the mutated gene in order to have red hair. If a person has one copy of the mutated MC1R gene, it can result in a red/ginger beard. However, if the other copy of the MC1R gene is not mutated, it may cause them to have brown hair on their head.
There factors that can contribute to a red beard and brown hair are as follows:
Genetics: Red hair is a recessive trait, which means that a person must inherit two copies of the gene for red hair in order to have red hair. However, it is possible to inherit one copy of the gene for red hair and one copy of the gene for brown hair. This means that a person can have brown hair on their head and a red beard.
Hormones: Changes in hormones, such as those that occur during puberty, can also cause a person's hair color to change. For example, testosterone can cause hair to become darker and thicker. This could explain why a person's beard might be redder than their head hair.
Medications: Some medications, such as chemotherapy drugs, can cause hair loss and a change in hair color. If a person is taking medication that is known to cause hair loss, they may notice that their beard becomes redder.
Stunning Brown Hairstyles with Red Beard
If you have decided to pair your brown hair and red beard it's time to have a look at some of the most striking brown hair and red beard styles to get an idea about how you will look.
1. Side Parted Two Block Hair with Long Ginger Beard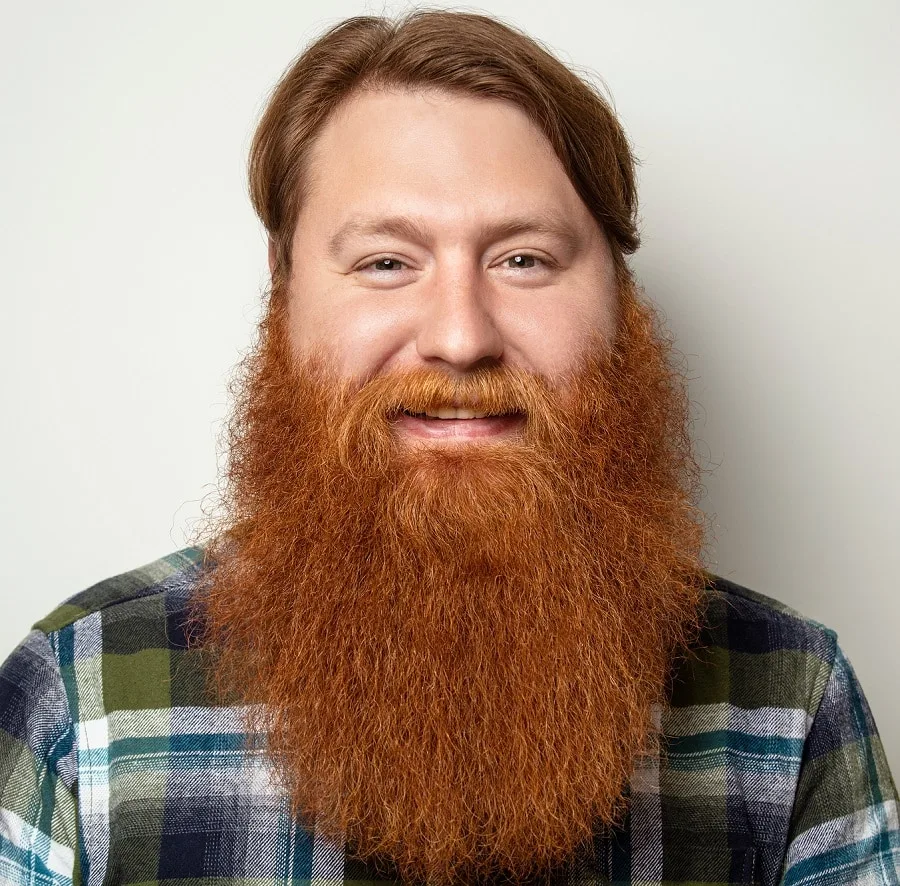 The brown hair on the head features two blocks on the hard part. One block is swept to one side and the other part is swept opposite side. Allow your ginger beard to grow as long as you can, like the beard of ZZ Top's Billy Gibbon's beard. Round the bottom part of the beard in a wide radius. Gradually lower the width till the sideburns and connect it with your brown hair. Even you break the record of longest beards in the world while trying this brown hair and red beard combo.
2. Light Brown Ivy League Haircut with Goatee and Mustache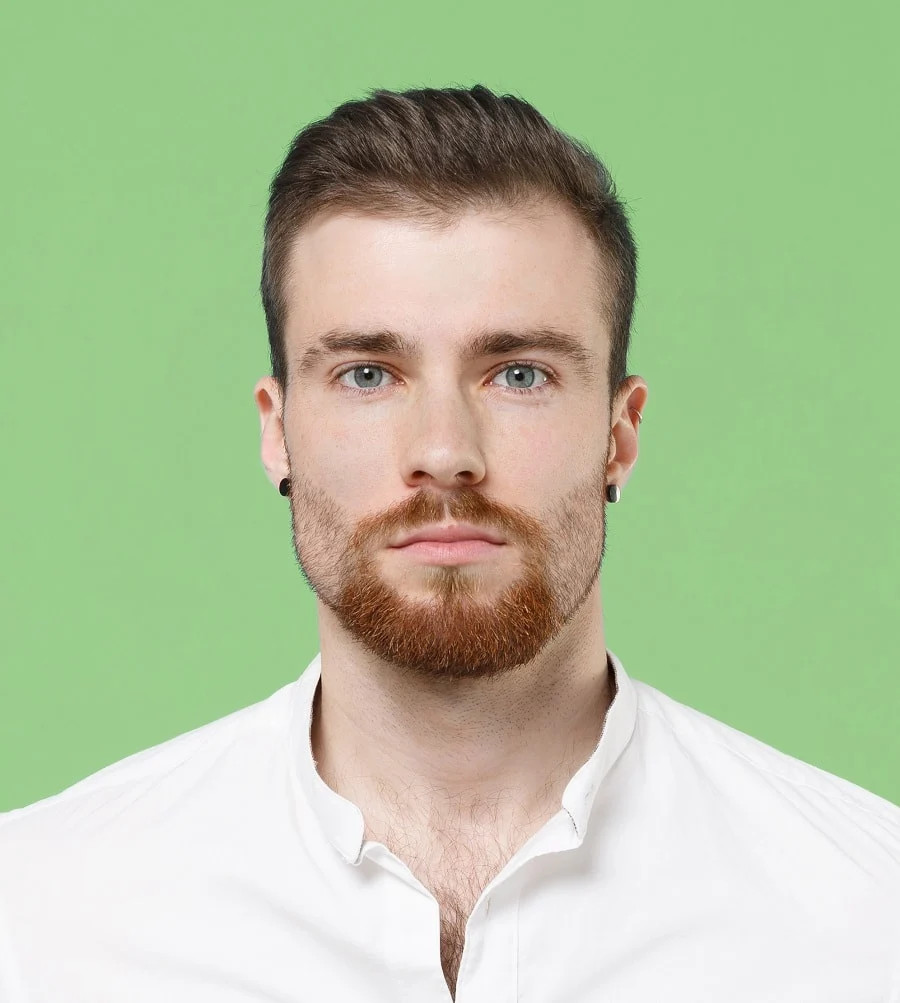 A fantastic choice to complement your red beard is pairing it with light brown ivy league haircut, along with a goatee and mustache. This combination creates a striking appearance. The light brown hair is short in length and the red goatee is connected with a stubbly beard that extends toward the hair.
3. Side-Swept Hair with Extended Van Dyke Beard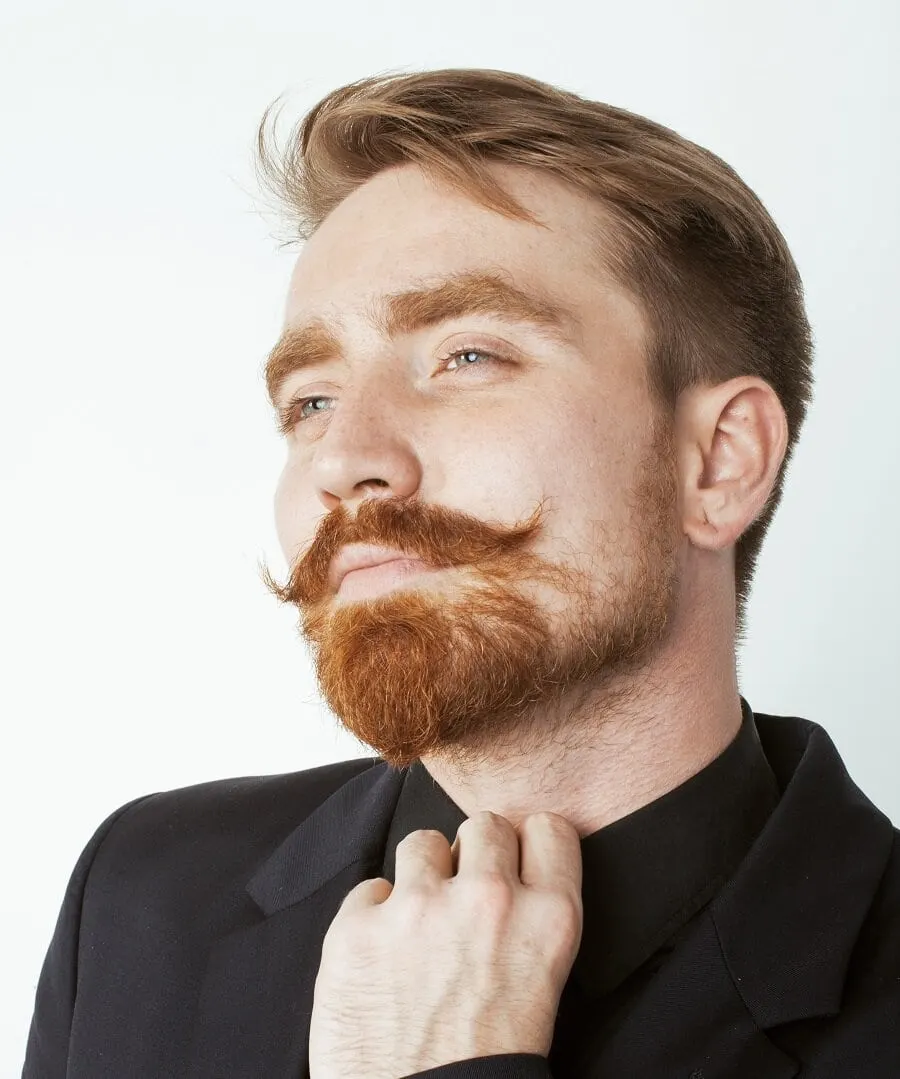 Leonardo DiCaprio-inspired side-swept haircut, paired with an extended van dyke and handlebar mustache. The hair is neat and professional, the beard connects with the mustache with some patchy facial hair. The sides of the van dyke beard extend along the jawline, while the mustache is styled to curl at the ends.
4. Chocolate Brown Hair with Anchor Beard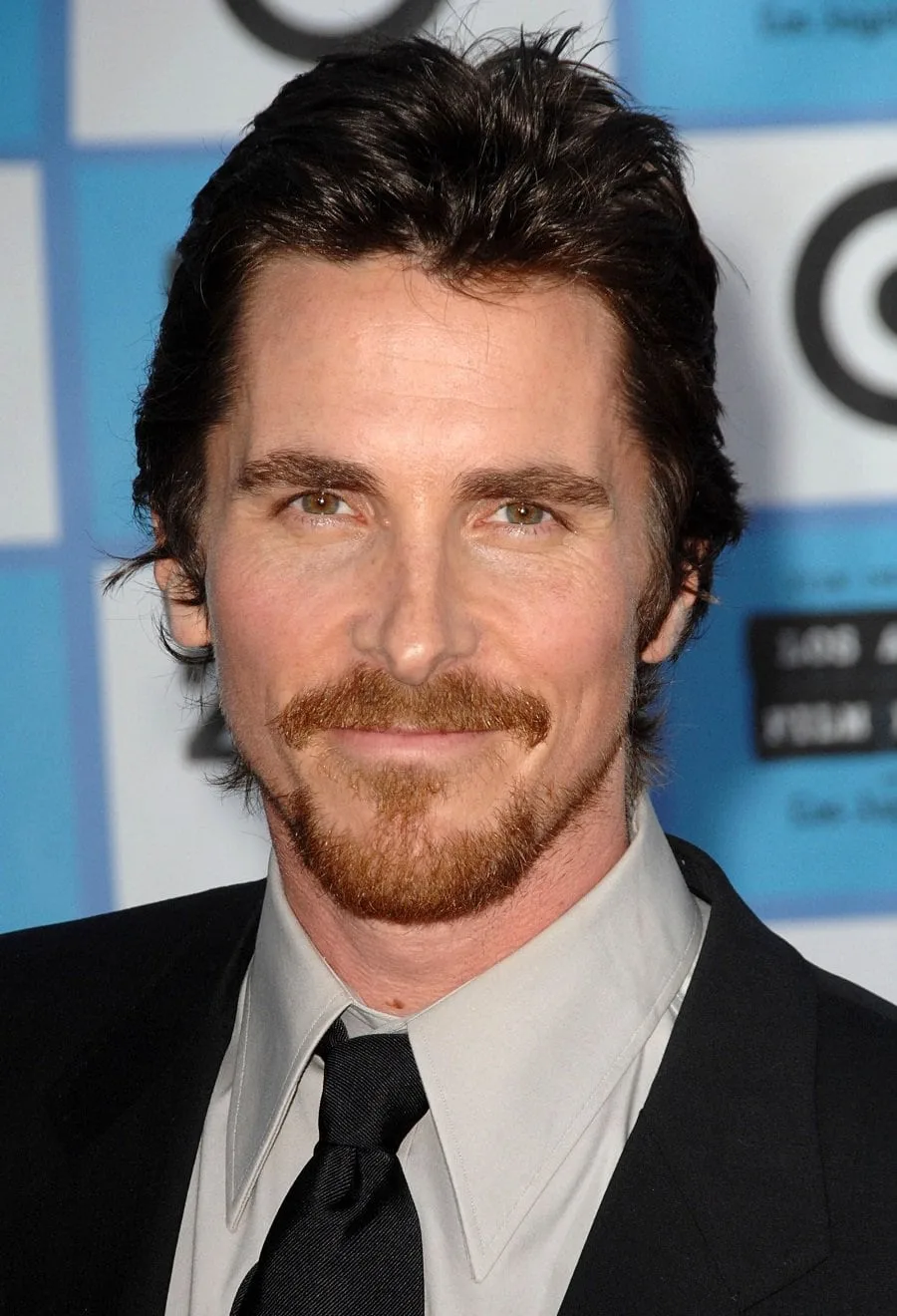 The chocolate brown middle-parted mullet hair and beard style that can make you look like a celebrity. The hair is lustrous, adding a touch of glamour. The anchor beard, named for its resemblance to a ship's anchor, combines a pointed beard that traces the jawline and a mustache. It's a sharp and well-groomed look exuding confidence and style.
5. Golden Brown Crew Cut Hair with Red Chin Curtain Beard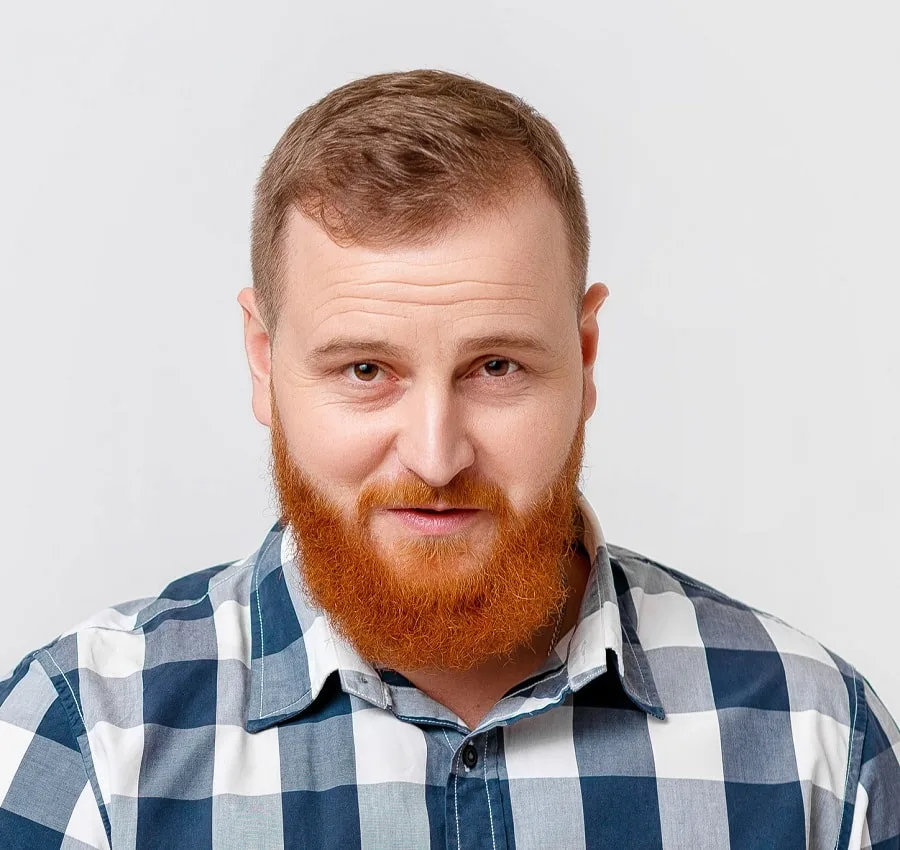 A standout style with a golden brown crew cut hair and a red chin curtain beard. The crew cut is short and neat, the hair fading shorter towards the sides and back. The chin curtain beard runs along the jawline from ear to ear with a mustache, adding a bold contrast with its vibrant red color.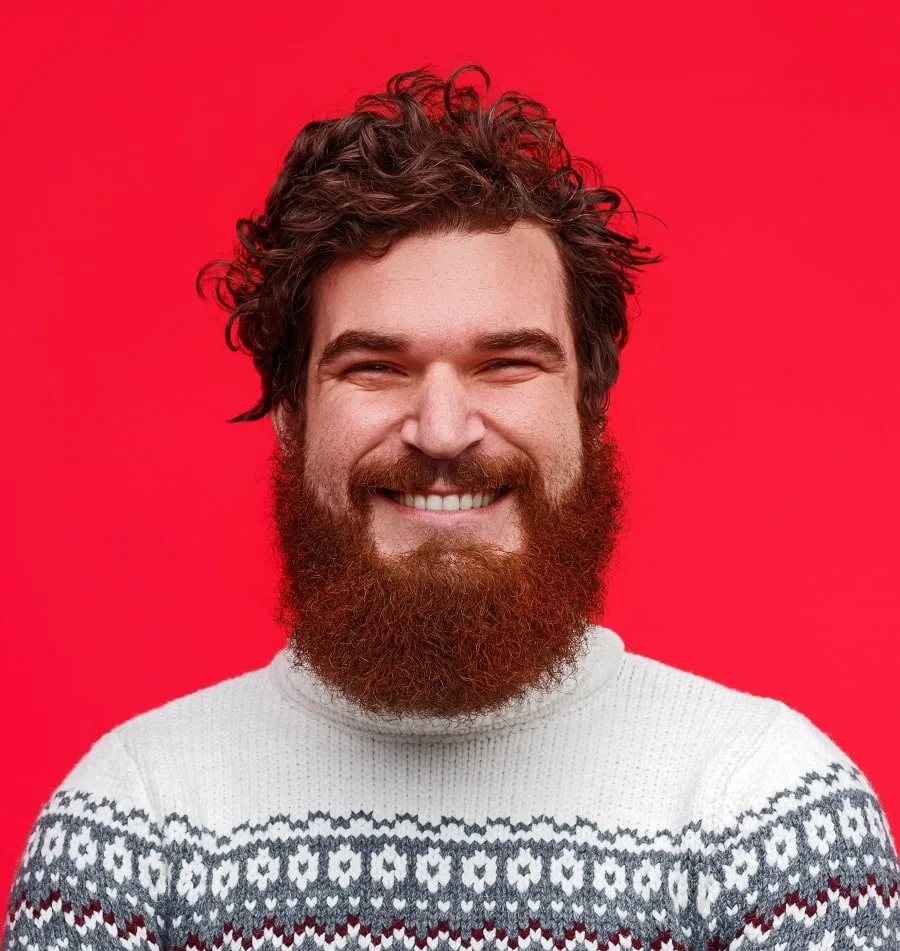 The curly hair and beard combination gives a bold, rustic look featuring dark brown curly hair and a thick, bushy, long garibaldi beard that is dyed red. The hair is left naturally curly, adding volume and character. The Garibaldi beard, known for its fullness and length, complements the curls with its own wild texture, creating a rugged yet captivating style. It's a robust, unpolished look that showcases natural charm.
7. Front Spike Messy Hair with Hipster Beard
An edgy style featuring medium-length, front spiked, messy hair coupled with a hipster beard. The hair is tousled and textured, with the front section spiked up for a rebellious touch. The hipster beard, full and well-groomed, adds a sophisticated contrast. This look blends a sense of casual dishevelment with structured facial hair, resulting in a modern, stylish appearance.
8. Long Slick Back Hair with Square Shape Beard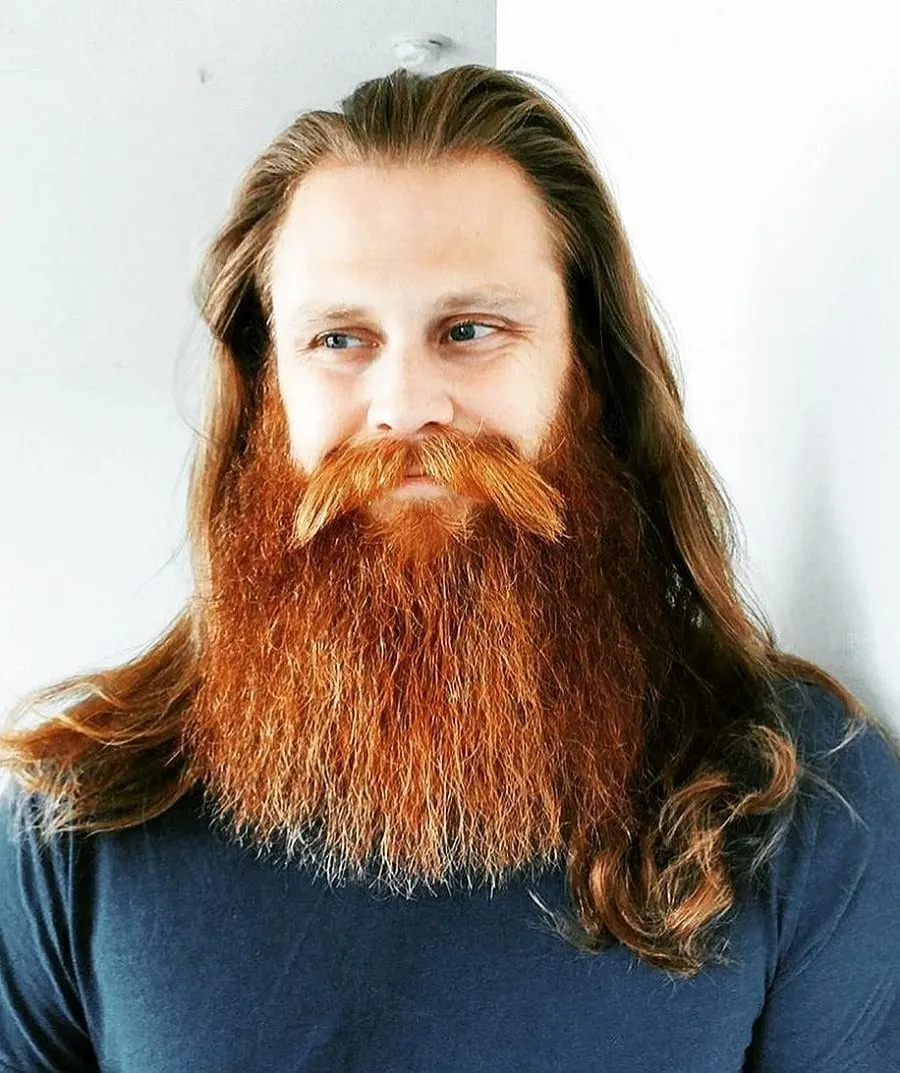 Slicked back your long brown hair in a smooth wave of sophistication. Then, grow your red yeard beard and make it square-shaped to frame the face with precision. This look is not for the faint-hearted. It is for those who stride confidently, embracing a unique blend of finesse and rugged charm. Get ready to turn heads and command rooms with this dashing combination.
9. Viking Braided Brown Hair with Messy Red Beard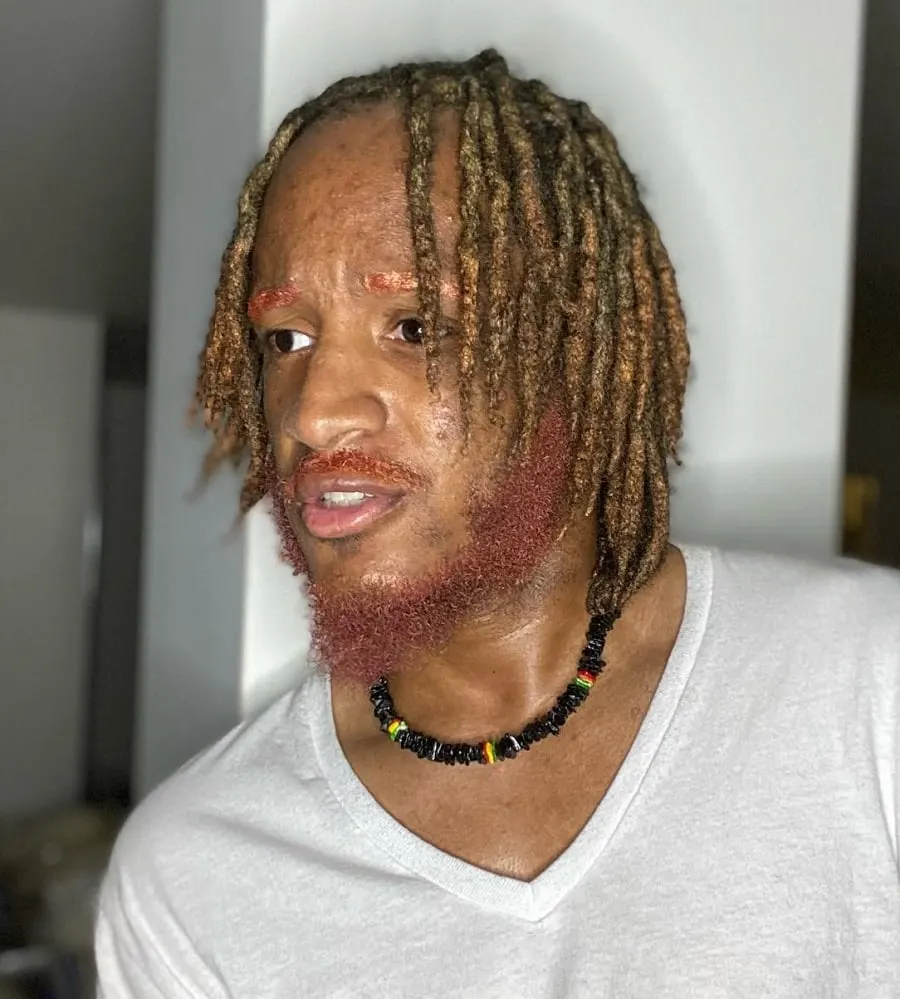 Embrace your inner warrior with this fierce style. The hair is a cascade of rich, brown, Viking-inspired braids, adding a touch of wild sophistication. Contrasting this structured hairdo, a short red beard roars into the scene. This beard doesn't conform; it's messy, it's bold, it's unapologetically rugged. With this hairstyle and beard combo, you're not just making a statement, you're roaring a Viking saga.
10. Long Side Parted Bald Fade Hair + Long Goatee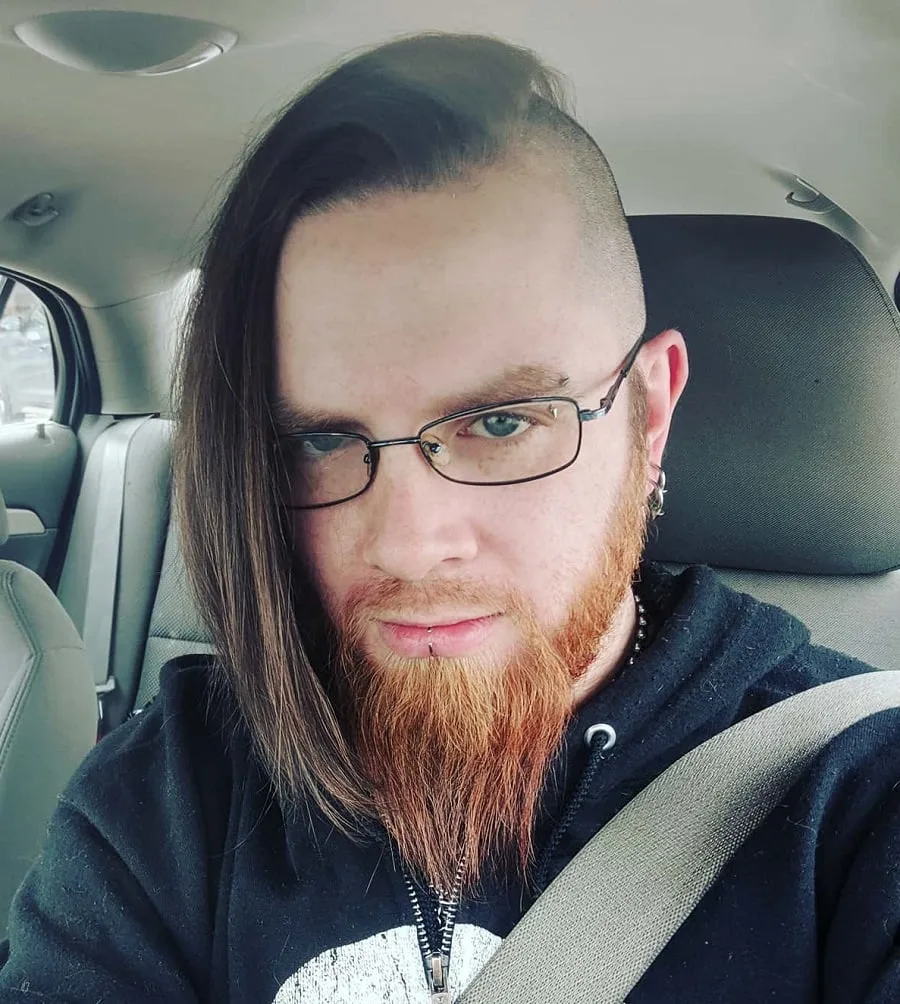 Stepping right out of a style magazine this style features bald fade hair with a beard. The long hair is dyed light brown, and side-parted, and the other part is skin faded, an artistic balance of length and skin. But that's just half the tale. Adding to the narrative is a long red-colored goatee, a nod to the daring and the different. Together, they form a look that's as intriguing as it is stylish, a testament to a man who embraces all facets of his personality.
11. Burst Fade Hair with Full Beard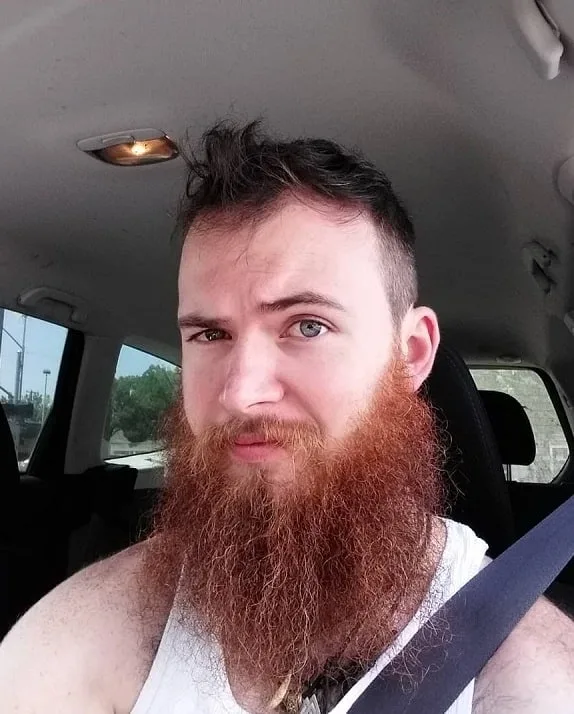 An almost Darwin like touch to your personality, this full red beard is classy and absolutely old school. It represents a strong, silent, and brooding personality and needs a good amount of maintenance. The burst fade haircut with beard creates a unique look as the brown hair is kept very short and the beard looks wild.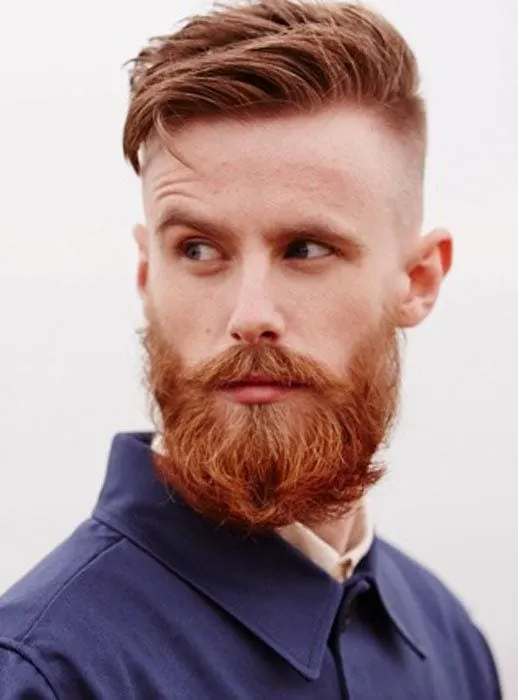 This is another example of the full beard, but in this case, it is cut short in length and does not have the fluid careless look of the previous style. It portrays a well-groomed personality. The red chevron mustache and the short brown hair compliment the look.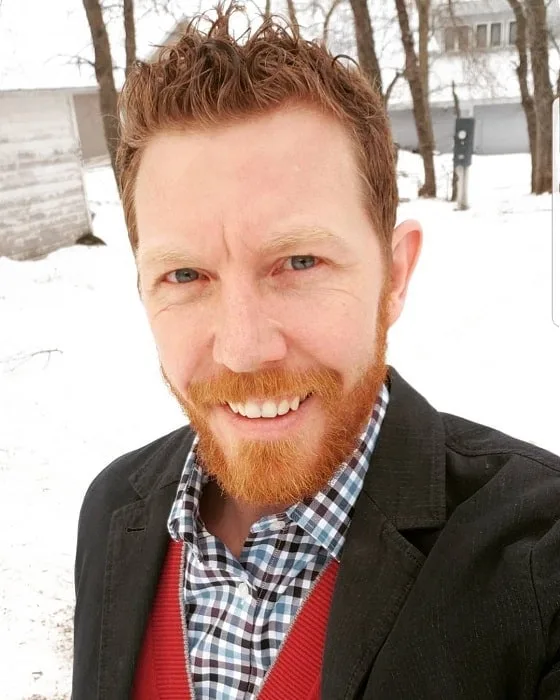 This is another example of a well-cared for red beard style with a connected mustache and brown hair. This is a brilliant combination of raw masculinity teamed with suave and sophisticated corporate demeanor.
14. Irish Beard + Copper Brown Hair
This is another variation of the ginger beard and hair combination. The boxed full beard gives a rugged, masculine and charming appeal to your personality. The wavy brown hairstyle also complements the intense appeal of the red beard.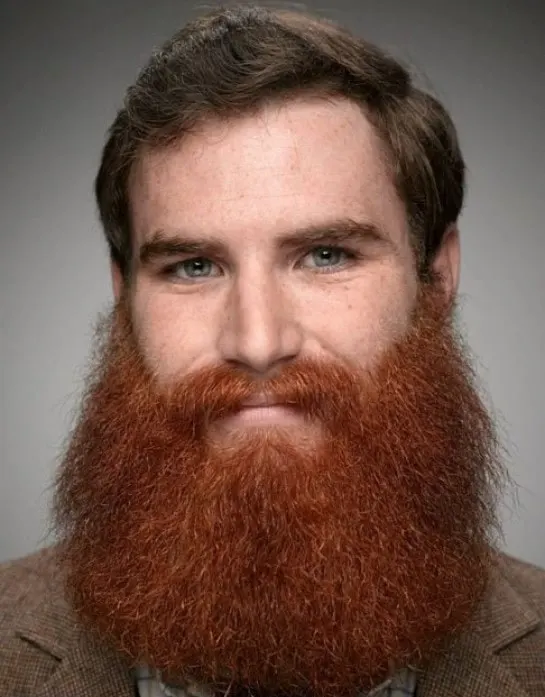 This is by far another classic style in the ginger beard. The full beard with connected mustache brings out the raw masculinity in your personality to the hilt.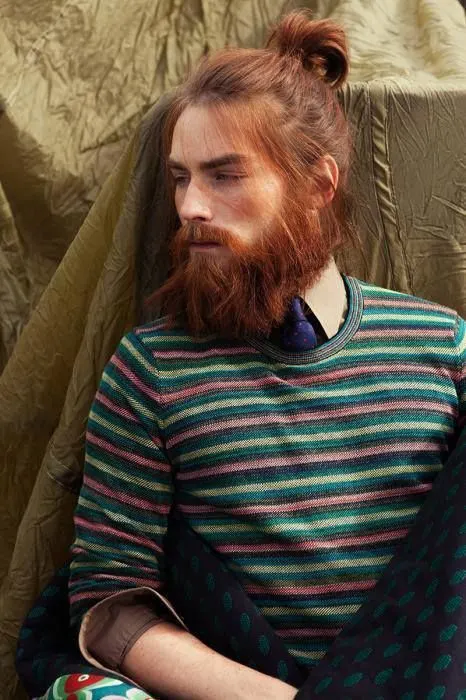 The intensity of the red full beard is accentuated by the brown Viking hairstyle and the pony. This highlights your machismo but also brings out the subtle grace with the careful trimming and the shapely beard. It needs regular maintenance, care and a lot of attention.
17. Short Beard with Dark Brown Hair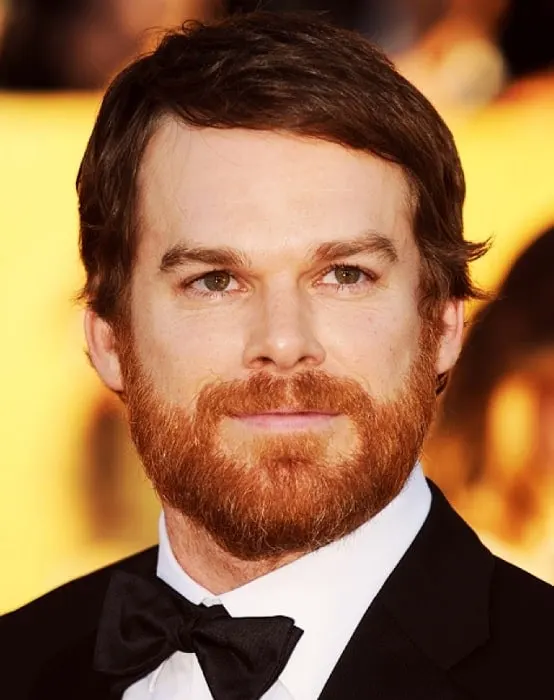 This red ginger beard style is short, chic and uber-cool. The connected mustache and the short brown hair give a crisp and suave edge to your personality while highlighting the raw masculine force.
This red beard and slick back brown hair is a play of contrasts. The beard is a couple of shades lighter than the hair and overall enhances your personality.
This style is basically a full beard with no mustache. In this case, the color of the beard is quite a striking shade of red Not everyone can carry this color and style. You need a decided dose of spunk to rock this look.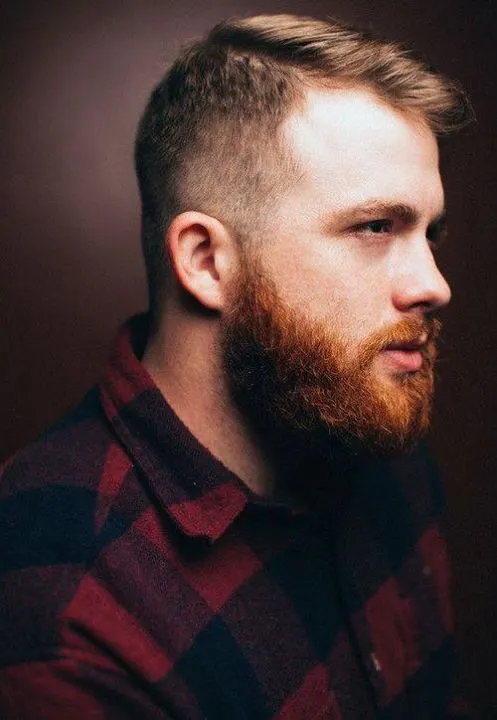 In this case, the red beard is allowed to grow full length but carefully trimmed, and the undercut hair further accentuates the rugged appeal.
21. Balbo Beard with Wavy Brown Hair
This is one of the classic colored beard looks also known as the Yeard. It is teamed up with the medium length wavy hair to bring out a chic, rugged and casual appeal.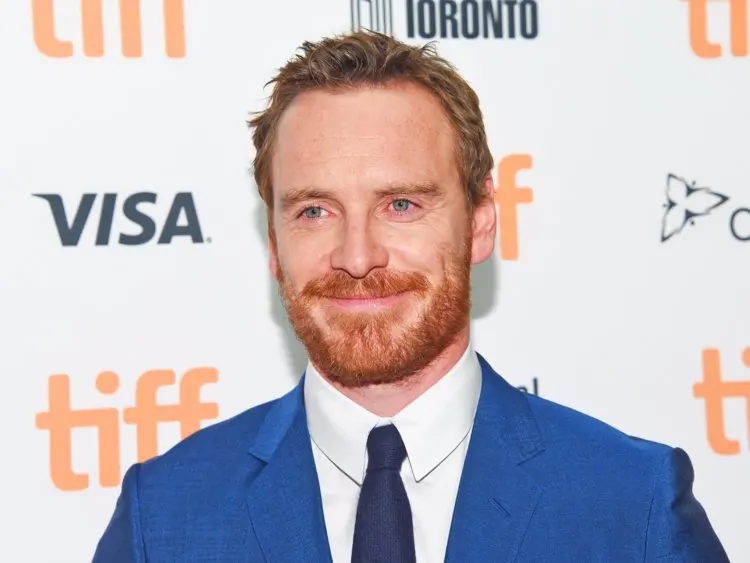 This is slightly more than stubble and lends a rugged masculine spark to your overall getup.
In this red beard brown hair combination, the handlebar mustache stands out and gives a distinctly rugged edge to your overall personality. But you have to be confident to carry this hipster beard style too.
24. Red Bushy Beard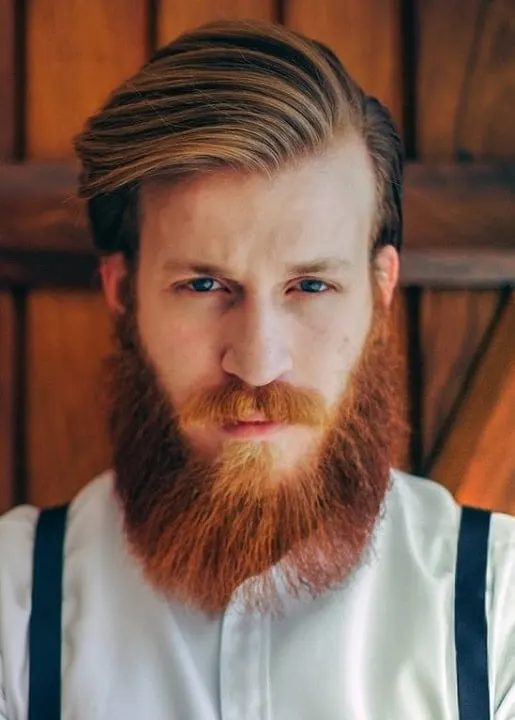 The jury is still out whether the Tweard is trendy, but if you want to rock the red beard with your brown hair, this is one of the classic styles.
25. Curly Beard + Caramel Brown Hair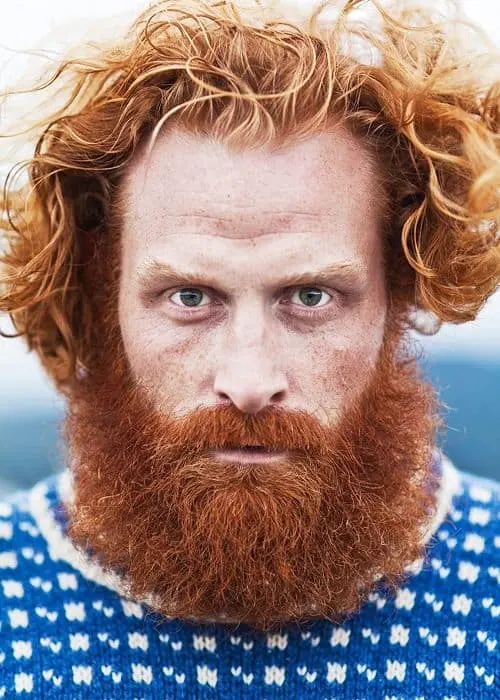 Flamboyant, eccentric, esoteric, whatever adjectives you may add but this is one hair and beard style that is hard to ignore.
How to Dye Your Beard Red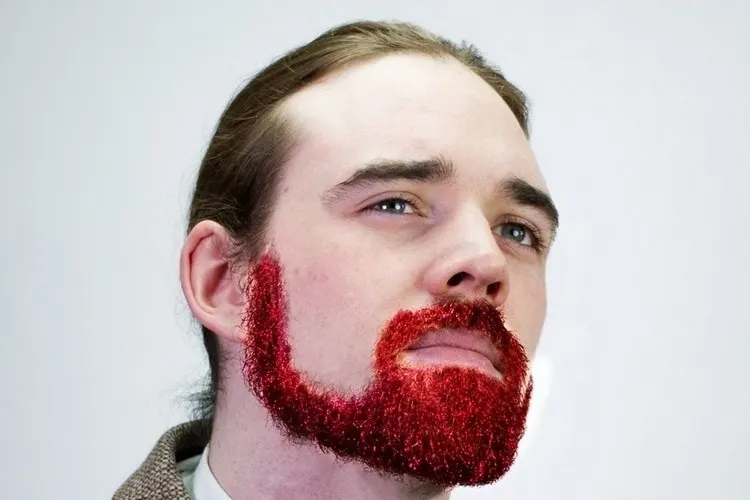 But first of all, it is important to understand how to dye your beard red if you don't have it naturally. If the dye is not proper, the whole impact may well fall flat.
First and foremost, choose the particular shade of red that you want to dye your beard with. Ideally, look for a shade lighter than what you want.
Making preparation is the next step. Get everything you need like the glove, the dye, applicator, towels, oil or petroleum jelly, and tint remover.
The next step is the sensitivity test. If you are allergic to the product, it can have serious repercussions. So it is best to do a sensitivity test to rule out the possibilities. Apply a bit of dye in your fore-arm 24 hours before. If there is no redness or inflammation, you are good to go.
Trim or groom your beard to the right shape before you begin applying the dye.
Now apply a thin layer of any petroleum jelly like Vaseline or mineral oil t avid the dye leaking onto your skin.
Now mix the dye in a bowl, using the applicator. Always wear rubber gloves for the best protection without losing dexterity.
Now start applying the dye throughout your beard in an up-down motion. Don't get the dye on the skin but ensure all the hair is covered.
Do a color test after the allotted time, if the color needs to be deeper apply more
Rinse the beard with lukewarm water as per instruction.
Use a color-safe shampoo for a wash later on. That will ensure that the color stays for a longer period.
But maintaining the red beard after this can be a challenge. Apply beard oil and keep it smooth and soft.
Related Topics:
18 Striking Blonde Hair and Red Beard Styles for 2023
Therefore, the red beard and brown hair combination can make a striking composition provided you dye the beard with the right shade and style it properly.