Coloring beard isn't an option for many, it's a necessity for some men. Others may want to join the beard dyeing trend happening right now among the men's fashion genre using beard dye.
One thing that stands out as we age is graying hair. For some unlucky men, gray facial hair begins to make its appearance before they are even out of their twenties, while others manage to hold onto their colored locks for a bit longer, but eventually, everyone ends up with a salt and pepper look!
Why Use Beard Dye
It is a sad fact of life that gray hair makes everyone look older. Women seem to have things a bit easier, as they can go to the salon or get a boxed color, dye their hair, and then touch up the roots a bit or wear a hat if they haven't had the time.
Men, on the other hand, have facial hair, and hats for beards have not been created yet. The salt and pepper look is great for some people, but if you are not quite ready to give up your youthful appearance then there is an alternative: beard dye. Simply color your beard and done!
The purpose of beard dye is so that after you can dye your beard to match your hair, as often beards tend to gray more quickly than other types of hairdo. Unfortunately, facial hair is slightly different than the hair on top of your head, so it is usually not possible to use one box for everything and call it good.
In general, beard hair tends to be rougher, shorter, and coarser than other types of hair, with gray beard hair being even more so than non-gray. As luck would have it, gray hair is also more difficult to dye than colored beard hair due to the way that the pigment interacts with the hair shaft.
Don't worry though, with proper care and a quality beard dye you can get a nice, natural look that lasts weeks at a time.
Beard Coloring: Temporary Vs Permanent Beard Dye
There are two main types of beard dye: temporary beard dye and permanent beard dye.
Temporary Beard Dye
Temporary beard dye only lasts for about a day, can be washed off whenever you no longer want to have it on and can be applied easily as needed. The downside of temporary dye is that it can stain your pillows and sheets if left on overnight, and may bleed a little of the color if you are caught in the rain.
Temporary dye would be great for testing out a new color on your beard to see how it looks, touching up a permanent beard dye, or perhaps getting rid of the salt and pepper look for a special occasion.
Permanent Beard Dye
On the other hand, permanent dye is more like the typical hair dye that most people think of. Once applied it'll last until your beard grows out, although it may fade a small amount over time. This is your best bet for consistent gray coverage as permanent beard dye will not wash out or stain anything, and will last as the hair that it is staining does.
Some downsides to be aware of is that it is quite messy and requires more tools than the temporary dye. It is also important to get the beard color right, because you may be stuck with it for several weeks!
Temporary Beard Dye Vs Temporary Beard Dye
Here is a temporary beard dye vs permanent beard dye comparison table to sum things up:
Temporary Beard Dye

Permanent Beard Dye

Pros

Perfect for testing out a new beard color
Washes out easily if you don't like it
Easy application
Chemicals not as harsh

Pros

Can last for several weeks
Just needs touch-ups here and there
Will not wash out if swimming or you get caught in the rain

Cons

Does not last long
Can wash out if caught in the rain
Have to put it on every day

Cons

The application can be messy
Can cause adverse side effects/ skin irritations
Once your beard is dyed, you are stuck with it until it grows out
For the purpose of this guide, we'll assume that you have chosen to go the permanent dye route. Please remember that usually, the beard coloring results are slightly darker than the box shows and that it is always a good idea to choose a color a shade or two lighter than your natural facial hair color.
Black facial hair can also be tricky, as a dyed black beard usually looks pretty unnatural. To be on the safe side, go for a very dark brown.
Beard Coloring: Things You'll Need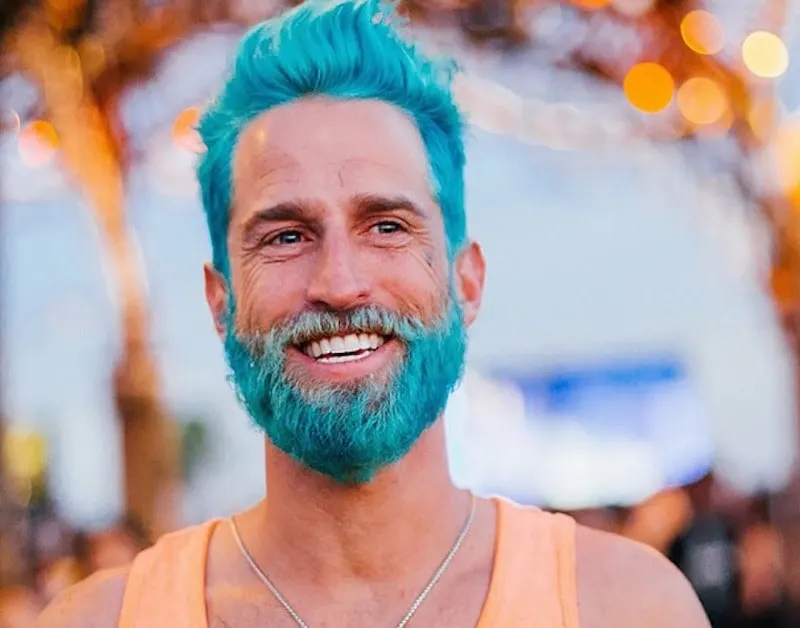 Here are a couple of things you'll need to color your beard.
1. Beard Dye
2. Gloves
3. Old towels that can get stained
4. Applicator brush (or toothbrush if an applicator is not included within the dye)
5. Vaseline (too keep your skin around your beard from getting dyed)
6. Softening conditioner
7. Beard oil
How to Dye Your Beard – Step by Step Guide
First, pick a beard color you want to achieve. These colorful beards can inspire you or search online to get tons of ideas. Have a look below where we discussed the step by step process on how to dye beard:
1. Purchase a Beard Dye Kit
Make sure to match the facial hair color that you want with the color sample on the box and be sure to read the instructions– sometimes instructions can vary from kit to kit.
2. Mix the Beard Dye and The Color Activator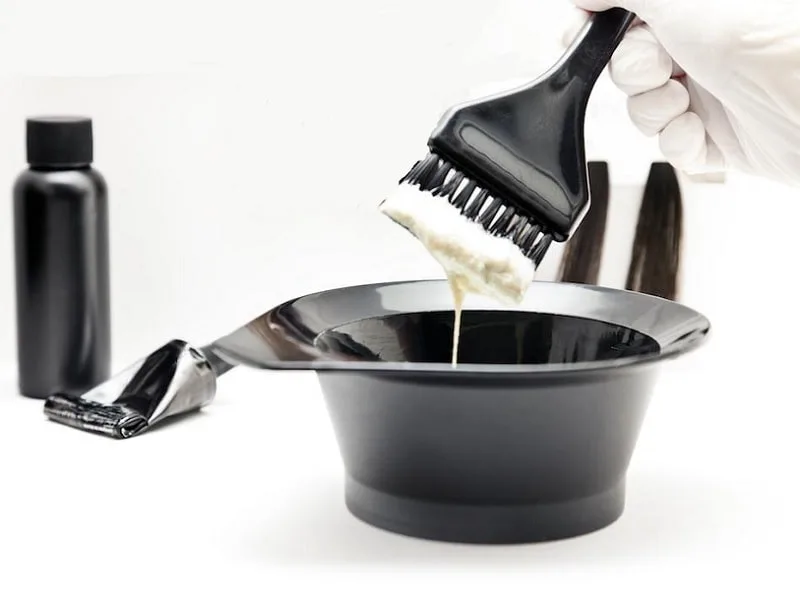 Some kits require that you mix the two together. This is not hard if you follow the instructions, but be sure to wear gloves so that your hands do not get stained.
3. Perform a Patch Test
Most dyes have harsh and potentially harmful chemicals in them, so before you commit to dyeing your entire beard it is always beneficial to make sure you will have no side effects. Apply a small amount of the beard color on your inner elbow and let it sit for 15 minutes.
After the 15 minutes, rinse the color off and then wait for 48 hours to see if any adverse reactions occur. If you have any swelling, redness, or irritation throw away that dye and start over.
4. Trim Your Hair into The Style You Want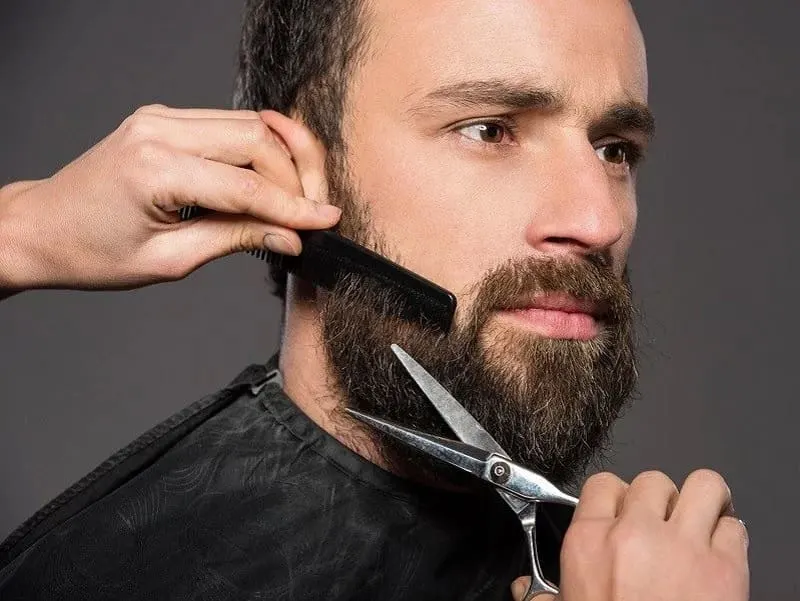 This way once you get the beard color you want, you'll be ready to walk out the door.
5. Apply Vaseline Around The Area
Take the Vaseline and rub a thin layer around the beard or area that you want to dye to reduce the chance of the dye getting onto your skin.
6. Apply The Mixture with an Applicator Brush
Often the applicator brush will come with the kit. If it doesn't, don't worry– A toothbrush will work just as well. Take care to use the applicator on the facial hair only and try not to get too much dye on your skin, as beard dye can be hard to remove once it dries.
7. Apply Lightly and Evenly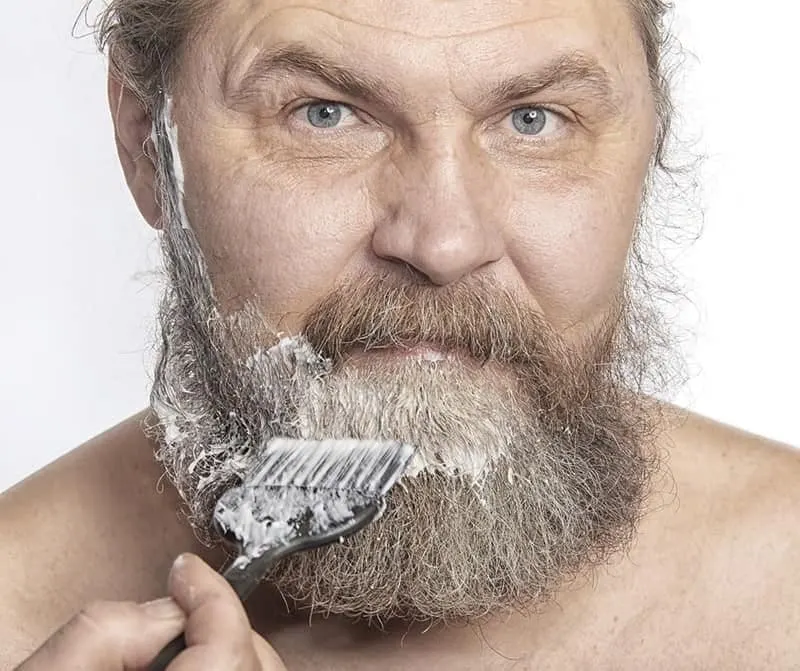 Some brands will formulate their dye so that it darkens a few minutes after you apply it to the hair, and if it is still too light for your tastes after one application you can always go back and add on a second one.
However, it is always good to remember that you can darken the beard color easily, but it is much more difficult to lighten the facial hair color if you accidentally get it too dark. Apply the color evenly on all areas of your beard to prevent a patchy look.
8. Leave The Beard Dye on for a Certain Amount of Time
Most beard dye brands sell products that require that you leave the dye on anywhere from 5 to 20 minutes. As we said above, usually the longer you leave the dye on, the darker the color will get.
Be careful though and don't leave your dye on longer than the instructions on the box state or you could end up damaging your hair.
9. Wash The Dye Out and Dry Your Hair
Once the beard dye has had enough time to work, throw away your tools and wash your beard gently. It is perfectly normal for the excess dye to turn the water a different color, so don't worry if you suddenly see lots of red, brown, or black.
Be sure to wash any dye that got on your facial skin or hands, and clean your sink and counters right after as dried dye can be very hard to remove. If you are having extreme difficulty getting dye off of your skin with water, try putting rubbing alcohol or aftershave on a cotton pad.
After washing thoroughly, dry your hair to see what the final beard color looks like. If it is still too light for your tastes, repeat the beard dyeing process until it is dark enough for your taste. Then give yourself a high five- you did it!
Tips:
Don't wash your beard or face before the treatment, as slightly dirty hair will help give the color something to "grab" onto.
Start dyeing your beard where the facial hair is coarser and stronger. Usually, this means to start on the chin, then move to the mustache and cheeks, and finally end at the neck.
How to Maintain A Dyed Beard
After several days or weeks, you will begin to notice some gray creeping back into your beard. It is completely normal for the roots to grow out and can be dealt very easily with a few touch ups using a small amount of dye and a Q-tip on the places where gray can be seen.
If you begin to notice a larger amount of gray in the main part of your beard, or if you feel that the color has faded too much then a full dye treatment will be needed. Most boxes will say that a beard color treatment will last up to 4 weeks, but usually, you will begin to notice the need for a touch up right around the two-week mark.
Beyond the occasional touch-up, the day to day maintenance for a dyed beard is remarkably similar to that of a regular beard. One thing to keep in mind is that the harsh chemicals used in many hair dyes can dry out or irritate your skin and hair follicles. Preventative maintenance is always the best form of treatment and there are several products out now that can help your beard to stay looking nice and healthy.
One such product is a beard oil. Beard oil has several uses – it can help soften and smooth hair that has been subjected to harsh beard coloring treatments, and can also moisturize both facial hair follicles and the skin underneath your beard.
Another product would be beard shampoo made for dyed hair. Never heard of shampooing your beard? Well, it is high time to start! All beards, whether natural or color-treated are exposed to the elements, food or drink you consume, and whatever oils your skin produces every day. Sometimes rinsing a beard with lukewarm water is just simply not enough to get it clean and healthy.
This is where the shampoo comes in– a proper shampoo will help to preserve the color of your beard along with keeping it soft and clean. Using both beard oil and shampoo will help your beard color to last longer and will also help your beard to be softer and more manageable.
The Best Beard Dyes to Color Your Beard
If you have spent any time in a beard coloring aisle, you know that the options are quite extensive and may lead to choice paralysis. This isn't just any decision after all – your beard is literally a part of your face that everyone will see, and you want it to look good.
For your convenience, we have included a list of our top 5 favorite beard dyes for 2023 to take the hassle out of finding the perfect beard dye for you.
When it comes to beard coloring, Just for Men is a trusted name. It has historically been the brand that a large majority of men go to for their beard dye needs. They have a range of colors and specific products available for whatever your beard dye needs may be.
However, it is important to note that, there have recently been more and more reports of men having adverse reactions and bad side effects to the formula. That being said, the brand itself has good reviews and reliability across its products, so if you are cautious and make sure to test for any side effects ahead of time, you should be fine.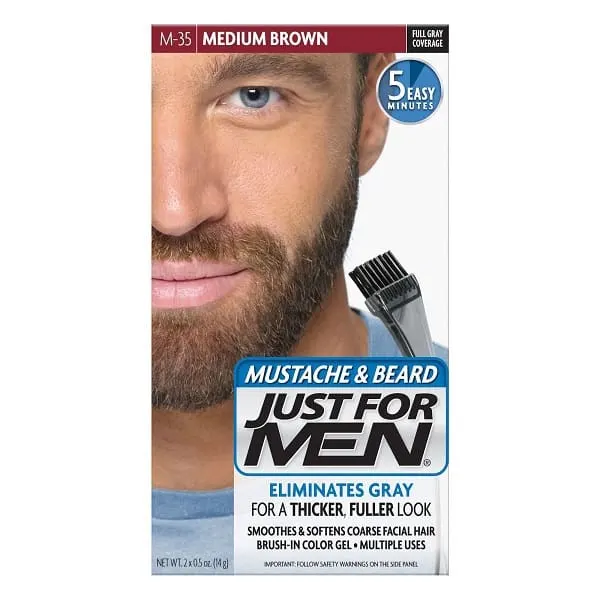 JUST FOR MEN Medium Brown Color Gel for Mustache & Beard
OPINION
It is an easy to use ammonia free brush-in-gel that in 5 minutes penetrates thick and rough beard and gives it a natural and uniform looking brown coloring.
PROS
Uniformly colors
Easy to apply
Long lasting
Doesn't drip
CONS
Can be allergic and itchy for some
Color fades after 4 to 5 days
2. INDIGO POWDER Hair & Beard Dye/Color by The Henna Guys
Indigo Henna Color powder is the best value and natural beard and hair color made of Indigo and Pure Henna.It comes along with shower cap, gloves and detailed instructions for first-time users.The natural mix, for conditioning, is added with Alma, Neem and daisy powder. It is free of harsh chemicals, pesticides, and metallic contaminants.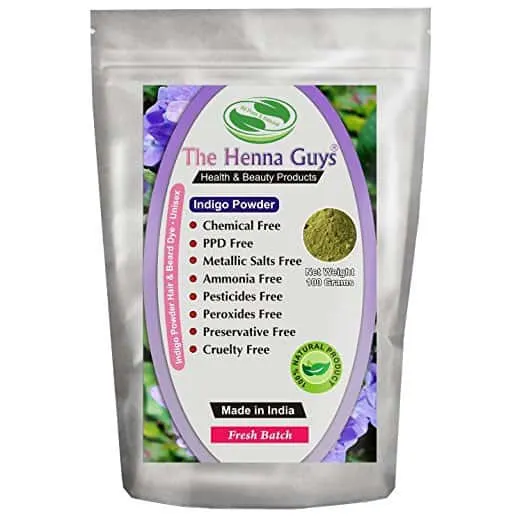 INDIGO POWDER Hair & Beard Dye / Color by The Henna Guys
OPINION
With Indigo Henna Colors users can get more than 70 different shades by following the instructions given in the box.
PROS
Gives bold and rich color
Hair feels smooth and appears fuller
Cleanup is easy and quick
Color distributes evenly on hair
CONS
Has strong smell
Messy than regular dye
This is a great way to ease yourself into the world of beard dyes. Godefroy's can be used to either touch up a few gray spots or as a complete color treatment. It also contains more natural ingredients than other brands and does not contain any ammonia, making it more hair friendly and reducing your risk for developing a skin irritation.
This is one of those products that you can adjust the color of your beard depending on how long you leave it in – the longer you let it sit, the darker your facial hair gets! It is also fairly easy to apply and does not give the patchy look that some other products do. The formula is a bit thin, and you do have to mix it yourself, but each kit comes with a total of 20 applications making it fairly cost-effective.
This is an all natural, hypoallergenic product designed for men with thick and coarse beards that may tend to not take to dye as well. This product provides more of a natural and varied look and does not have the flat one tone that chemical dyes will occasionally give.
Grizzly Mountain beard dye does tend to take a bit longer to apply, with the instructions saying to wait up to 30 minutes before washing it out and then waiting a couple of days for the color to settle into the beard. It also only lasts 7 to 10 days before a touch up is needed, although the company claims that applying their organic base (sold separately) to your beard before dyeing will help the color to settle more.
Unfortunately, this brand only comes in the colors of black, dark brown, medium brown, and light brown, so anyone looking for a blonde or red dye should probably look elsewhere.
Organic & Natural Brown Beard Dye – Grizzly Mountain
OPINION
This is an organic and natural beard dye that gives you a week lasting
brown colored hair
. The best thing about this dye is that it is non-toxic and keeps your beard and skin beneath in good shape
PROS
Easy to apply
No harsh chemicals used in its making
Does not cause irritation
Quickly dyes the hair
CONS
Coloring is bit uneven
Leaves smell
This beard color kit is one of the easiest to apply, as it is formulated to dye both head hair and facial hair. While in the shower, use this instead of shampoo and wash your hair, beard, and mustache. Then wait ten minutes, and wash the dye out.
This product is also ammonia-free which means that you won't have to worry as much about harsh chemicals causing an irritation, although we still would recommend being careful with it and not letting it get into your eyes or mouth.
Clairol says that it will last for 28 shampoos before beginning to fade naturally, meaning that it will not give you an unnatural-looking color line and should blend well with new hair growth as the month wears on. Some reviewers have said that this product can last up to 2 months although we would tend to err on the side of caution and say that one month plus touch-ups every week or so would be more realistic.
This is a temporary mustache and beard dye for someone who does not want to commit to a more permanent solution yet. The applicator brush looks strikingly similar to a mascara wand and is used much the same way: load the brush with dye, then apply it to your beard.
As a temporary dye, it would be great for quick touch-ups if you do not have any permanent dye already mixed and ready to go. This product is also hypoallergenic and water-resistant, making it ideal for someone with sensitive skin or a rainy day. Due to the nature of its application, you can decide exactly how much gray you want your beard to have, and if you add too much it can always be washed out and then reapplied.
Men who are looking for a blonde beard dye need to look elsewhere as this product only comes in black, dark brown, brown-black, and auburn.
Blackbeard for Men Formula X
OPINION
It is a great daily wear color that gives your gray beard a quick black fix. It is easy to apply, free of harsh chemicals and does not cause any irritation. Using right amount while applying the color is necessary to avoid small clump formations.
PROS
Water and sweat resistant
Does not burn or irritate the skin
Easy to apply
Little color does great job
CONS
Tends to form small clumps after applying
Takes time for drying
Final Verdict
Out of these beard dyes, we choose JUST FOR MEN Beard and Mustache Color Gel as our top pick. It is effective on all beard types and is specially formulated to color facial hair, unlike other dyes. But people have used it to color mustaches and eyebrows as well.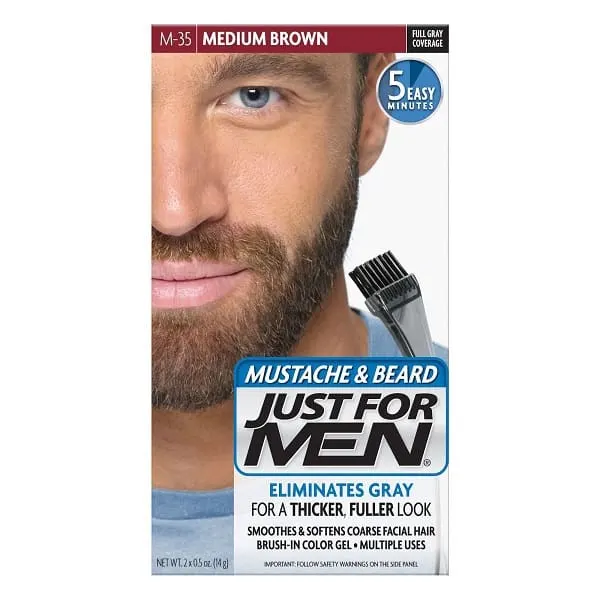 JUST FOR MEN Beard and Mustache Color Gel
It is quick to apply, its color is water resistant, stays for days, which makes it ideal for people following a busy life.
Pros
Colors evenly
Reliable
Lasts long
Cons
Allergic and itchy
Color fades quickly
Beard Dye – FAQs
Q1. How do I color my beard without staining my skin?
Rub some Vaseline or petroleum jelly on the skin around your beard and take care with the dye applicator to only dye the beard hair. Accidents do happen though, so if you get dye on your skin wash it off as soon as possible. If the dye has dried out and is proving difficult to remove, try using rubbing alcohol and a Q-tip to get the dye off.
You can also read our article on beard dye staining skin.
Q2. How to dye a very short beard like stubble?
Depending on your facial hair type and color, it can be very difficult to dye stubble. For best results, grow your beard out to at least 1/4 of an inch. If growing your hair out is not possible, you can try to leave the dye color on your beard longer; doing so may also stain your skin but if you use a product that is formulated for easier stain removal you should be ok. Otherwise, the steps to dyeing a very short beard are the same as for a regular length or long beard.
Q3. Can you use hair dye on your beard?
Short answer: Not really. Most beards are made up of hair that is thicker, coarser, and rougher than the hair on your head, and as such, it can be much more difficult to dye beard. There are a handful of products on the market that are formulated for use with both facial and head hair, but most dyes need to be specifically formulated for dealing with the beard.
Q4. How long does the beard color last?
This is highly dependent on the brand, type of beard dye, and the specific product that you use. A good rule of thumb is that most good dyes last around 2 weeks before needing a touch-up.
Q5. What's the best-selling beard dye on Amazon right now?
Currently, the best-selling beard dye is Just For Men Mustache & Beard Bush-In Color Gel.
Q6. Should I dye my beard?
Men dye their beards to either hide gray hairs or for styling. Using beard dye is practical when beard has gray hairs or it has greyed completely and it does not match the color of scalp hair. With beard dyeing, you can have a uniformly colored beard and hide aging signs
Q7. Will beard dye stain my skin?
Yes, certain beard dyes can stain the skin. To avoid staining, use a good brush and an appropriate amount of beard dye. Use of thick and gel-based dyes can reduce spills on the skin. If your skin got stained, applying vaseline, vinegar or baking powder on the area can remove it.
Q8. Can beard dye cause cancer?
Most beard dyes available today are safe to use. Prolonged use of beard dyes with ammonia and 4-Aminobiphenyl poses the risk of suffering skin cancer and bladder cancer. Choose ammonia and hard chemical-free beard dyes to avoid side effects.
Q9. Can I use beard dye on my eyebrows?
Yes, some of the beard dyes are usable on eyebrows as well.
Q10. Does a beard dye have an expiry date?
No beard dye does not expire.
Q11. If I develop an allergic or rash after using a beard dye, what should I do?
Discontinue the use of beard dye immediately and consult a physician. Always spot test first before applying it on your entire beard.
Beard Dye for Sensitive Skin
Use henna-based beard dye for sensitive skin to avoid rashes, dryness, and inflammation. This dye is 100% natural and chemical-free that lasts longer than others. This organic product gives a natural color to the beard without causing any harm to it. Henna coats the beard smoothens it and increases its flexibility. It leaves the hair shiny and silky.
How to Prepare Your Beard for First Dye
First, ensure that the beard dye you are going to apply doesn't cause allergies by applying it on a coin-sized area
Do not wash your beard even if it's slightly dirty. Just take out any debris if there are any
Wear an old T-shirt and pants
Apply petroleum jelly on the hairlines
How to Dye Beard without Staining Skin
Wear latex gloves to protect your fingers
Do not shower or wash your beard before dying
Cover the counter with towels
Keep paper towels nearby to wipe your hands in case the dye spills.
If you do not have latex gloves, apply petroleum jelly on your fingers and near the beard line.
Learn How to Dye Your Beard
How to Maintain A Colored Beard
Do not use hot water to wash your beard. It leads to fading.
Do not apply oils or creams, on the wet beard, make sure it is dried.
Use shampoos that are formulated for colored beards.
Reapply beard color after 3 to 4 weeks.
Do not scrub your beard too much while washing.
Beard Dye Before and After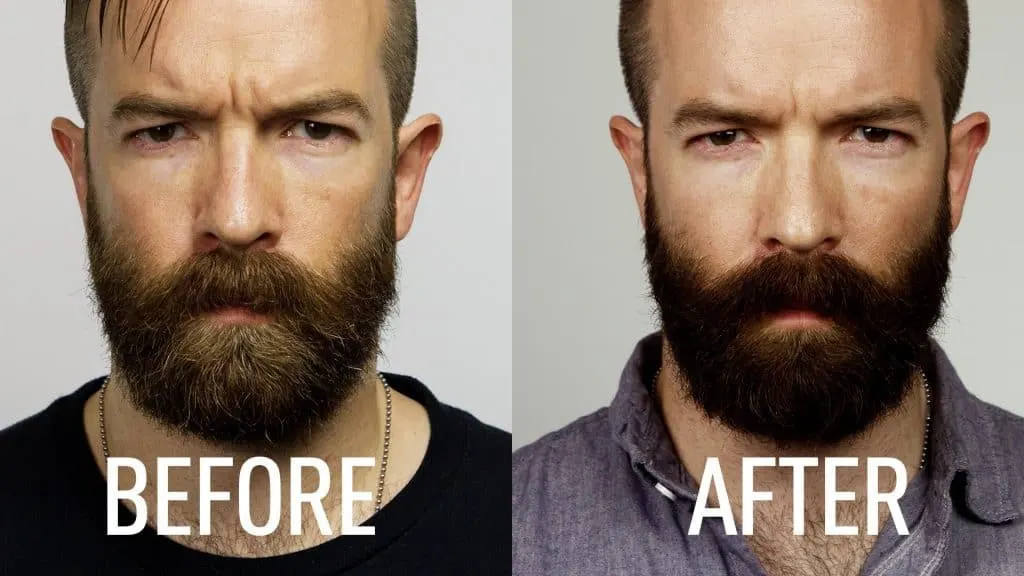 After beard dying, the beard looks fuller, thicker and evenly colored
We performed extensive research on various beard dyes and came up with a list of dyes that are worth buying and trying on your beard. All the products listed here are tested to be effective in naturally giving your beard the best young look. These products will help defy your age quickly within minutes.
There you go, after reading this guide you are now ready to strike out on your own and go crazy with the beard dye! And never forget: no matter what beard color or style you end up with, the main important thing is that you like how you look.
Last update on 2023-03-28 / Affiliate links / Images from Amazon Product Advertising API