There are many men who think about hair and beard styles separately. But most of the time, we become failed to understand the combination of the hairstyle and beard. Keeping the balance of both is really important to get a more attractive look.
In this article, we have handpicked some ideal beard types for different hairstyles. Keep reading and choose the perfect beard and hairstyle one to rock.
Haircut Or Beard – Choose What?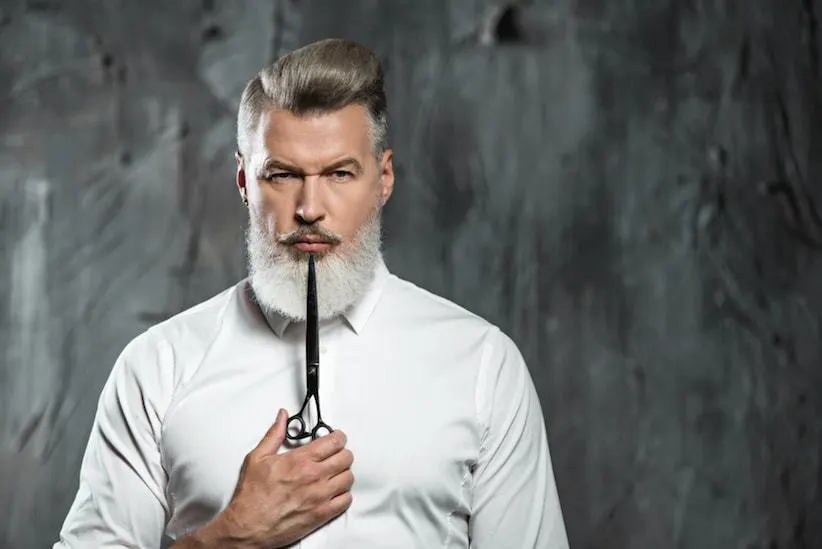 Choosing the one first depends on the type of hair and beard. For example, if you have thick and perfect hair type, then choose a beard style according to your hair type. For the thin hair type, first, choose an attractive beard style. And then choose a haircut that is well suited to the beard type.
Different Shades of Hairstyles With Beard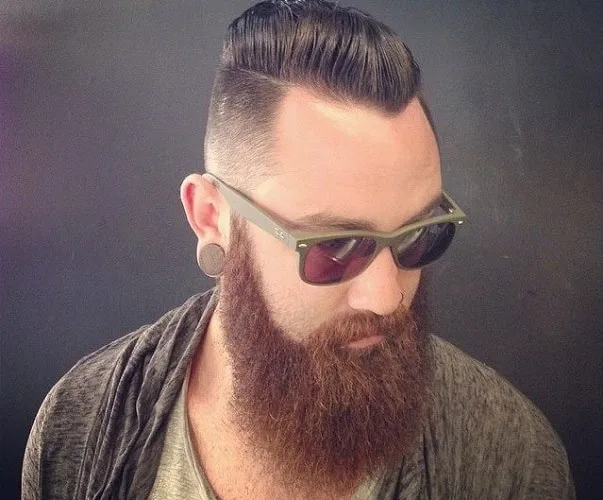 There are a lot of men who naturally have different shades of hair and beard which really looks interesting. To have different tones, many people are creating this contrast.
Be careful while painting the hair and avoid to sharpen the black shade. If the contrast of hair and beard increases, then it will look funny. Choose the right shade of color with your skin tone and keep the balance in the hair and beard shade.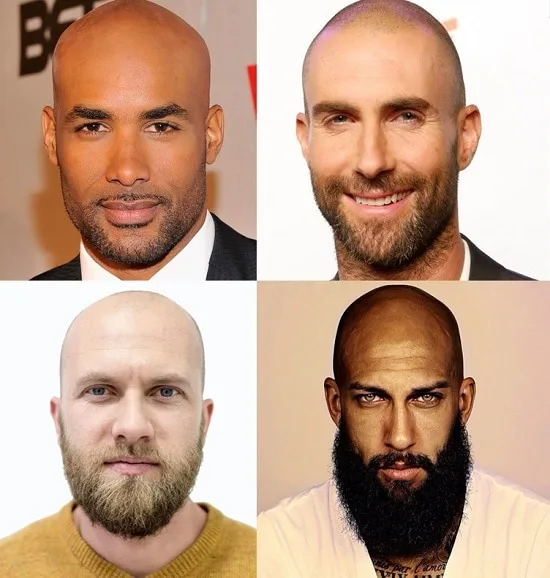 With a bald style, it is recommended to keep a thick beard. This contrast of bald and thick beard gives a more aggressive and handsome look.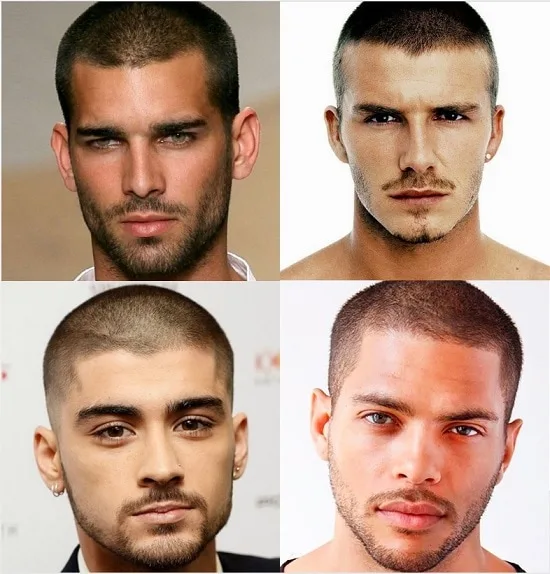 For the military haircut, it's ideal to keep the beard short and well trimmed. It is the perfect type to balance with this hair. You can also have a look and try these beard styles for short hair.
Beard Type For Social Cutting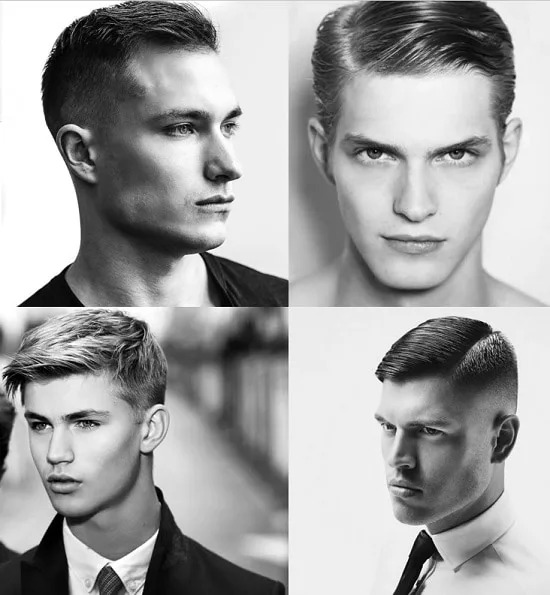 Clean Shave is the ideal type for those with a social haircut and gives a serious look. Or you can get a stubble beard if want to look a bit rough.
Medium Hair With Beard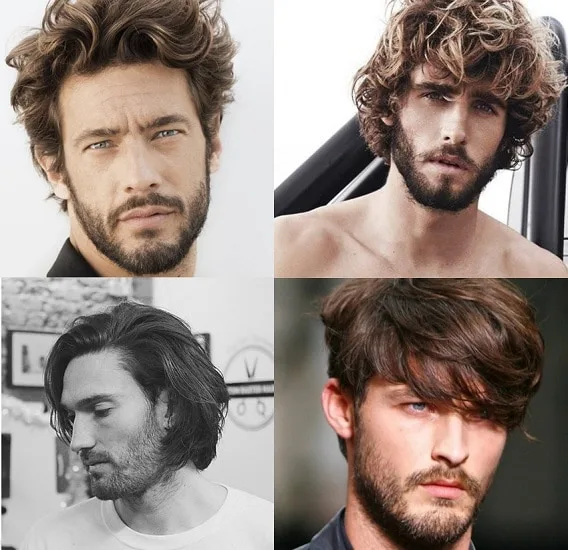 If your hair length is medium and has a great volume, then choose a lighter beard style. This contrast will give you a cool look.
Long hair doesn't look good on every man like, with a thinner face it may create a girlish look. So, if you don't have a rigid structure, then avoid a long hairstyle. But if you really like this hair type, then let the beard grow, especially in the jaw area. Pair it with a mullet or edgar haircut. This will give you a manly look and really goes well with long hair.
Fast Growing Beard? Try Out Different Beard Styles With Your Hair
If your beard grows fast, then keep trying various beard styles with your hair. It's the best option to find your ideal type and is really fun to have a new look by trying a new style.
Awesome Hairstyles for Different Beard Styles
Are you looking for short hairstyles to combine with a beard? Or are you a fan of long hair with a beard? No matter short, medium or long hair you love to try with your beard, here are 100 awesome hair and beard style variations for you to choose from.
1. Loose Natural Waves with a Full Beard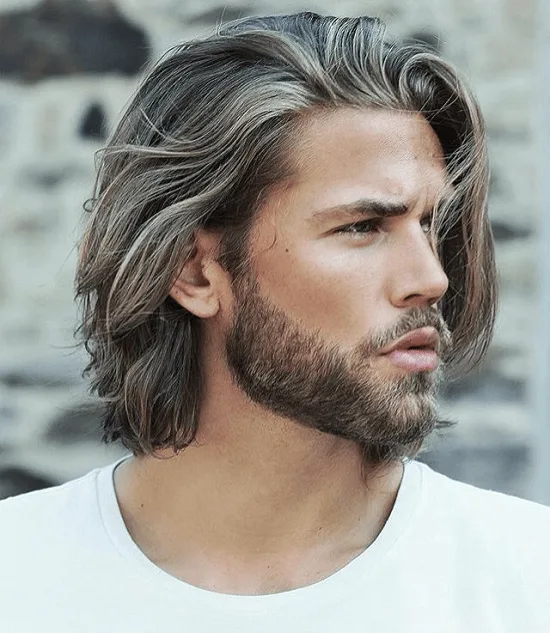 Men's hair and beard styles get a whole new meaning when the simple and stylish look is aimed at. This look comes with a moderate length of hair that does not border on the wild. The full beard is a nice touch to it as it makes you look hot and friendly at the same time. If you do not want something too fancy and still want to look stylish, then this is totally your thing.
2. Ginger Hair and Beard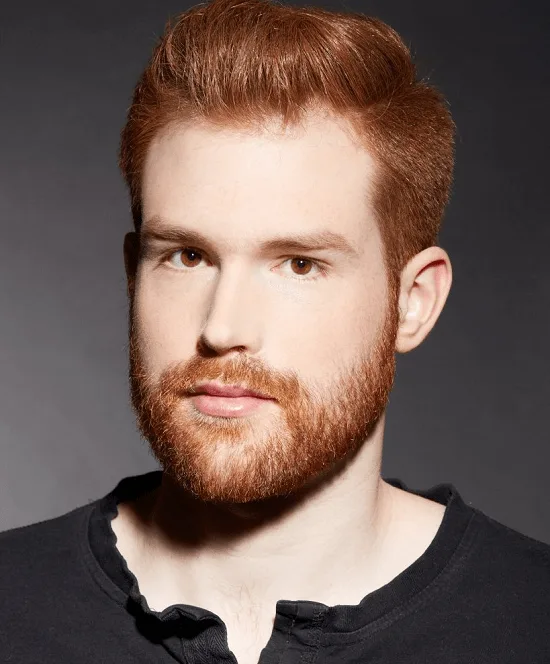 This sure is a fun and vibrant look which is sophisticated too. The hair is cut short and styled in a nice manner, which looks very put together. The full, but middle length beard complements this look well. You should try this one for a change this season if you have been wanting to dye your hair.
3. Funky Pink Hair with a Natural Beard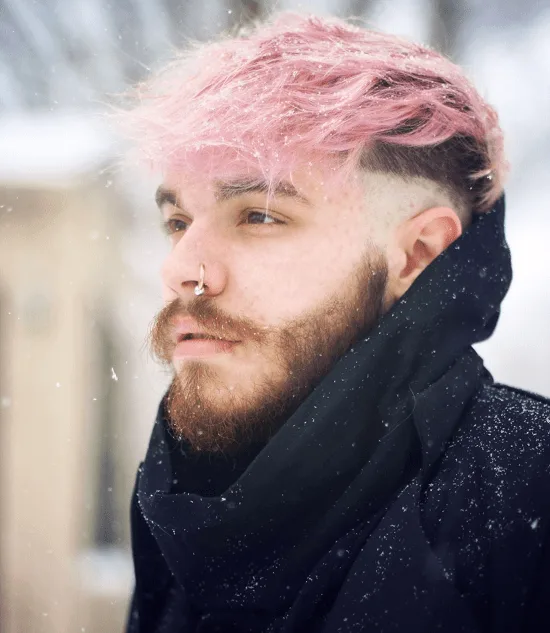 If you want to go unconventional with your hairstyle and want to show the world that societal constraints are not meant for you then this can be a great start for you. The funky pink hair adds the right amount of rebellious side to your personality while the natural beard balances it out perfectly.
4. Wild Silver Hair And Hot Beard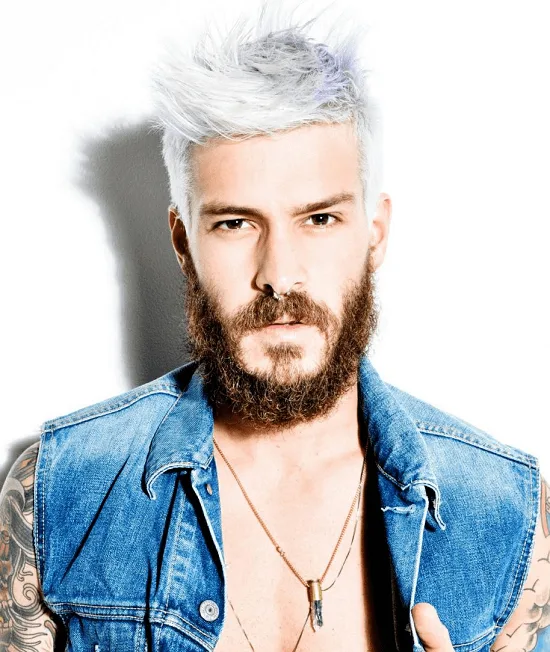 You can never go wrong with a helping of hotness, can you? This is one of those hair and beard styles, which bring out the natural and untamed side of yours. The silver hair is cut short, but it is styled in a wild manner. The long U-shaped beard is well shaped, which adds even more style and appeal to your look.
5. Sleek Hair with Pointed Mustache And Thick Chinstrap
This is a natural and elegant look with all the hair combed back neatly. This is great for your everyday business engagements as it has just the right amount of style, elegance, and practicality. The pointed mustache and the thick chinstrap show how good your fashion sense is.
6. Short Hair with Stylish Sideburns
If you want to keep your hair short and still want to come off as charming then this can be your preference. The hair is brushed upwards and is styled with wax or any hair product that you like. The stylish curves long the sideburns and a short beard with simple full mustache make the perfect combination for an amazing look.
7. The Hot Nerdy Look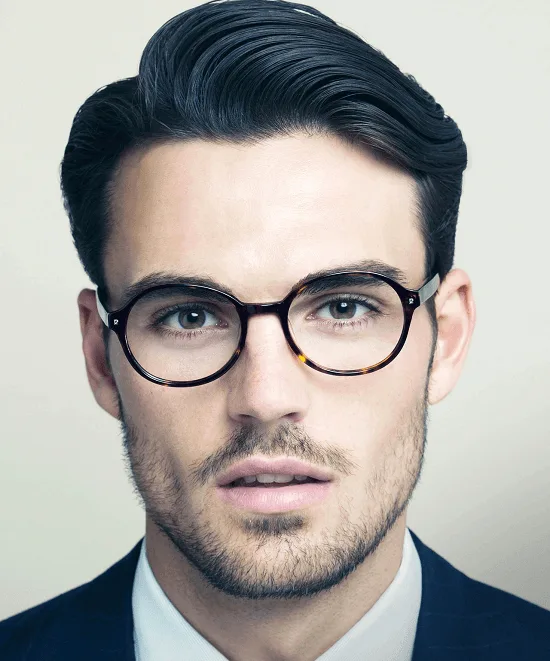 Who doesn't think that nerds are hot? The thick, well-combed back and thoroughly gelled hair looks amazing. The light and short beard give an even more sexy edge to this nerdy look. You can choose this one and be the hottest guy among your colleagues or friends at college.
8. Tapered Beard And Hair
One of the best ways of styling men's beards and hair is to go for tapering. It instantly boosts up the personality by giving off a well put together persona and a friendly charm. The beard is grown to a medium length but is tapered around the edges and so is the hair. This balances out the messy styling of hair at the front so well that you come off as more of a gentleman.
9. Long Wavy Hair With An Overgrown Stubble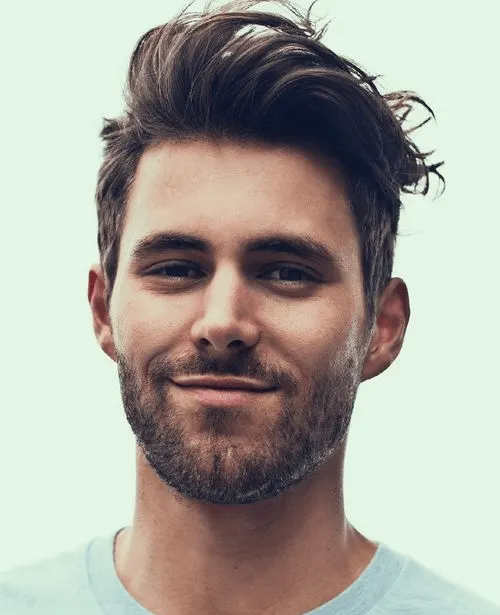 This is the perfect hairstyle for men who want to have long carefree hair, but do not want to look wild or messy. The hair is kept on the shorter side of long and is brushed back. An overgrown stubble complements this hairstyle so well because it balances out the whole look.
10. Elegantly Styled Hair And A Short Beard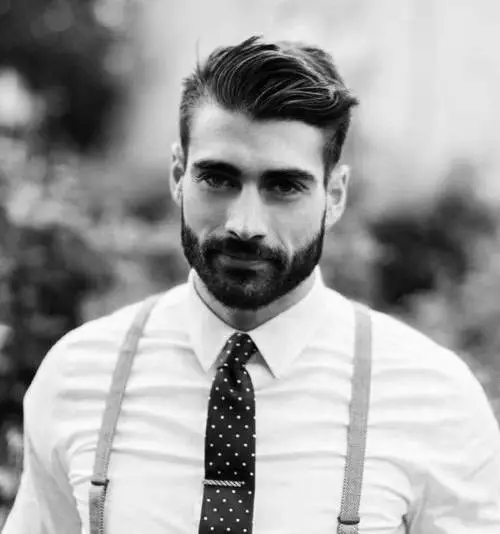 If elegance and class are your major style priorities then this is the best option for you. The medium length hair is properly gelled and then brushed to the back. This gives off a very charming feel while the thick and short beard looks neat and classy too.
11. Short Hair with A Natural Beard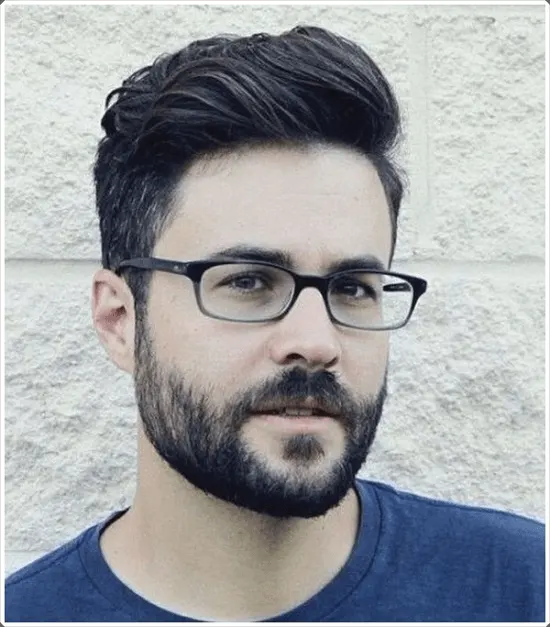 You can never go wrong with a stylish short hair, combed backward. The hair is tapered around the sides of the head while slightly longer hair is neatly arranged towards the back. The beard is medium length and full which grows thinner as it reaches the ears.
12. Cool White Cornrows And Chinstrap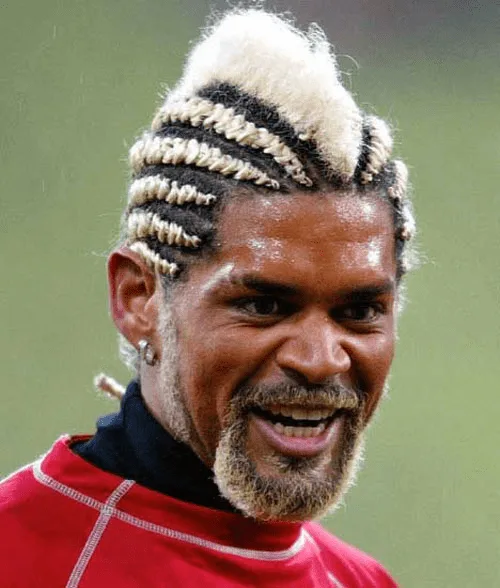 Our list of cool hair and beard styles is quite comprehensive and includes this cool and sporty combination as well. The hair is left to its natural color at the base, while the rest of it is dyed white and arranged in neat white cornrows. The white chinstrap appears great with this one, so you should try it out if you are in for something unusual and fun.
13. Curly Hair And Beard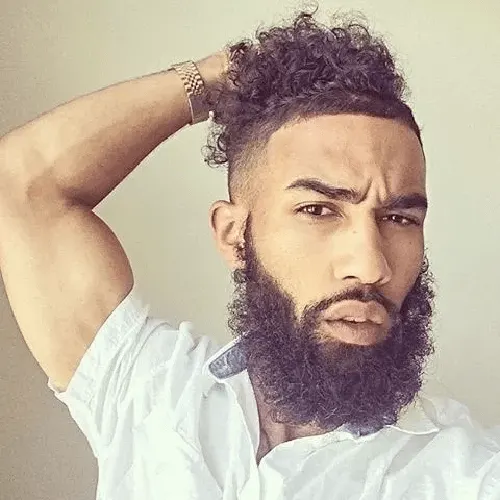 Natural curls are hard to put into a style, aren't they? This combination of curly hair and curly beard might just be the thing that you have been looking for. The hair is slightly longer and the front of the head is faded to give you a polished look. The beard is grown quite long and is left natural.
14. Exotic Hair And Simple Beard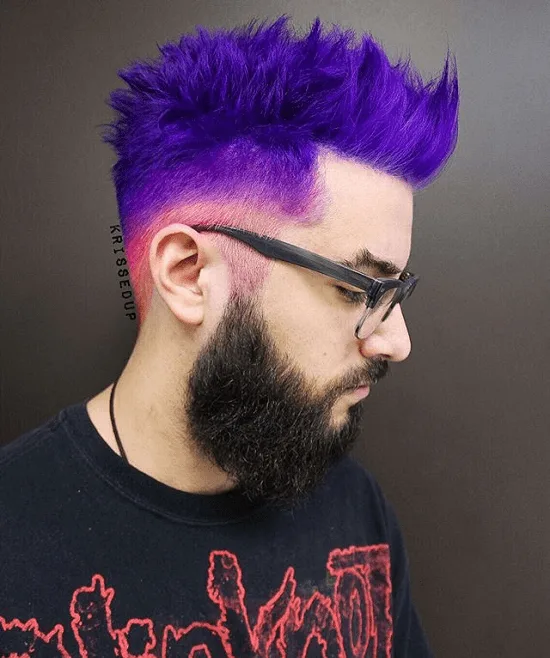 Spikes are always impressive and in fashion, aren't they? Dying them in exotic shades of blue, pink and purple can be really fun and impressive. To balance out the whole persona, opt for a classy full beard and look cool.
15. Intense Hair And Wild Beard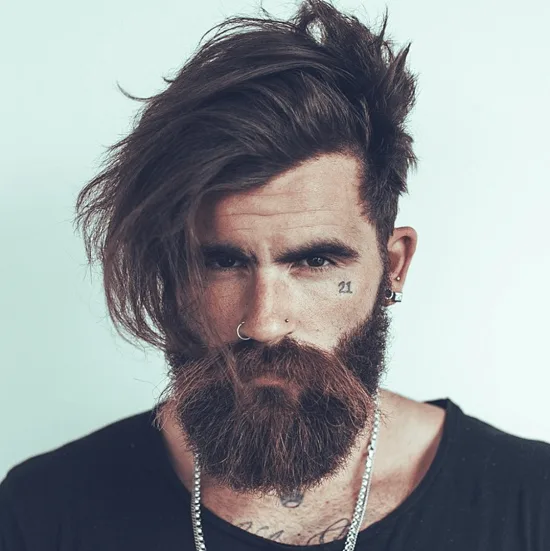 Sometimes we get bored with all the simple plain styles and need something intense, this is where you can rock this look. The long hair is stylish and combed in a way that they fall to one side your face, The beard and mustache are left natural and untamed too which give you a more dramatic feel.
16. The Bluest Blue Hair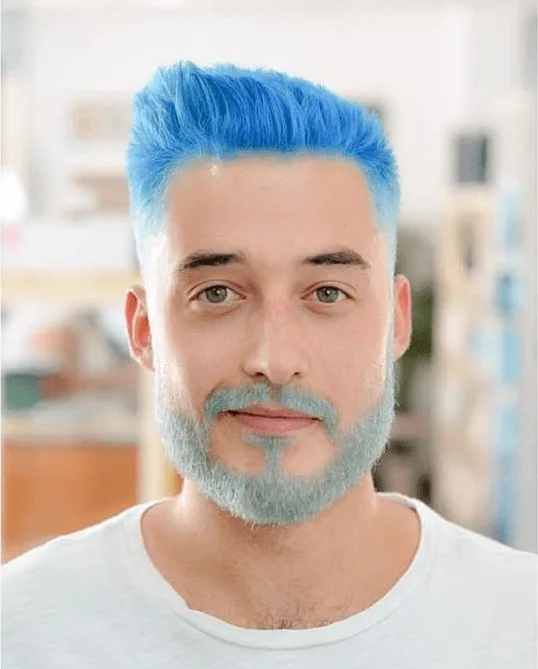 Some of us just cannot get enough of blue, right? After all, what's cooler than having your hair and beard styled in blue? You can try this darker shade of blue for your hair and the lighter aqua shade for the beard. This, surprisingly, gives off a very calm and soothing aura.
17. Untamed And Intense Hair And Beard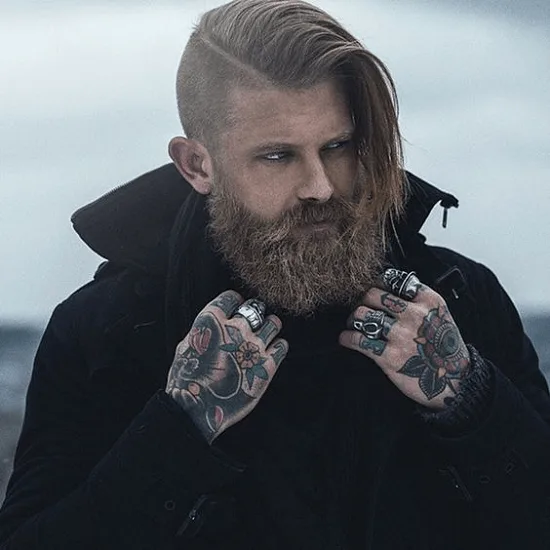 If you want to look intimidating and intense then this look is the perfect style for you. One side of the head is shaved while the other has sleek long hair. The beard is grown long and wild too, making you look impressively intense overall.
18. Lined Hair With Light Beard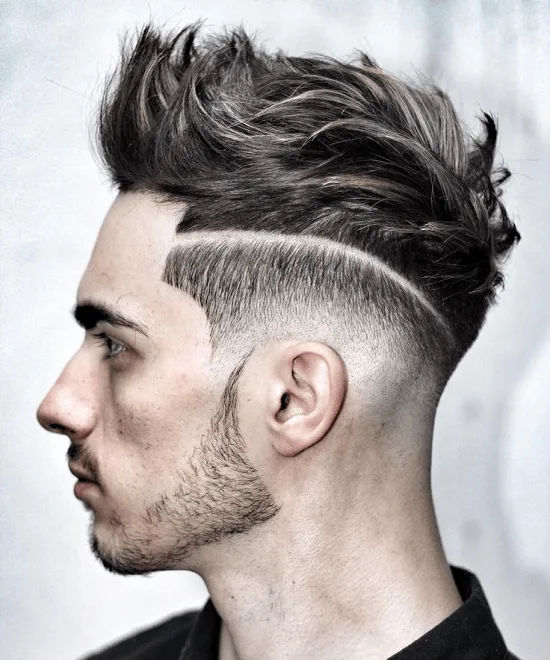 You can look polished and stylish with this popular way of styling your hair and beard. The hair is short and spiked in a nice fashion. The sides are tapered and a stylish line runs around them. The beard is quite light and short so that you look younger and more fashionable.
19. Stylish Grey Hair With Overgrown Stubble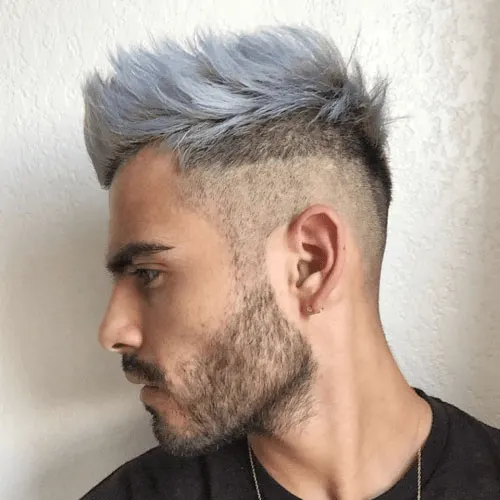 Tired of all the boring hair and beard styles and need something unconventional and bold? Dying your hair gray can be a nice way of going bold and fashionable this season. Keep minimal growth of beard – just an overgrown stubble. This will surely add that extra charm to your personality that you are looking for.
20. Long Reddish Brown Hair And Beard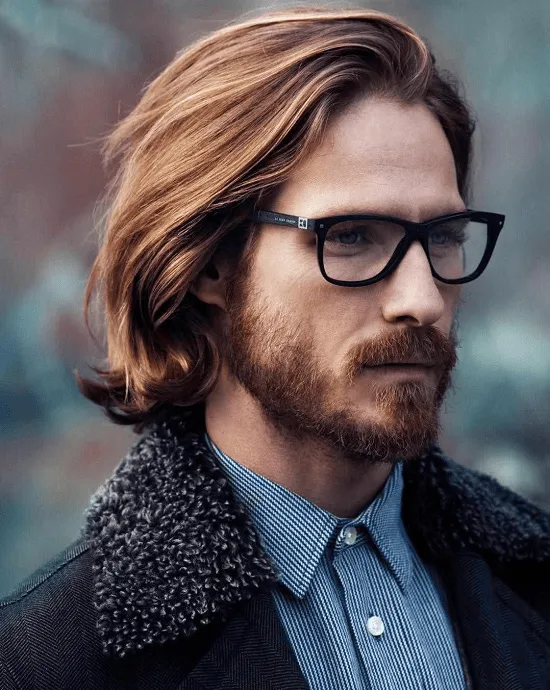 Men's hair and beard styles keep getting more impressive day by day, but there is no denying the fact that reddish-brown is the evergreen fashion. You can have long wavy hair falling down the side of your face and medium length beard. This is one of the best ways to flaunt your natural hair color.
21. Faded Hair And Full Beard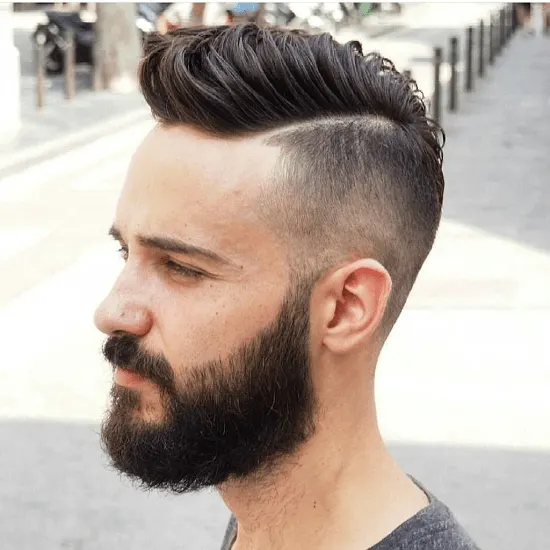 There is no strict rule about having proper proportioning of hair around head and beard, but aesthetically viewing shows that you need to balance these. The faded hair here goes perfectly with the full beard, so you can try this one out too.
22. Sleek Hair With Extra-Long Beard
Who said that gentlemen cannot have too long a beard? You can have a very long and untamed beard, but pair it up with short sleekly combed hair and see how you get appreciative looks from everyone around you.
23. Short Afro And Chin Strap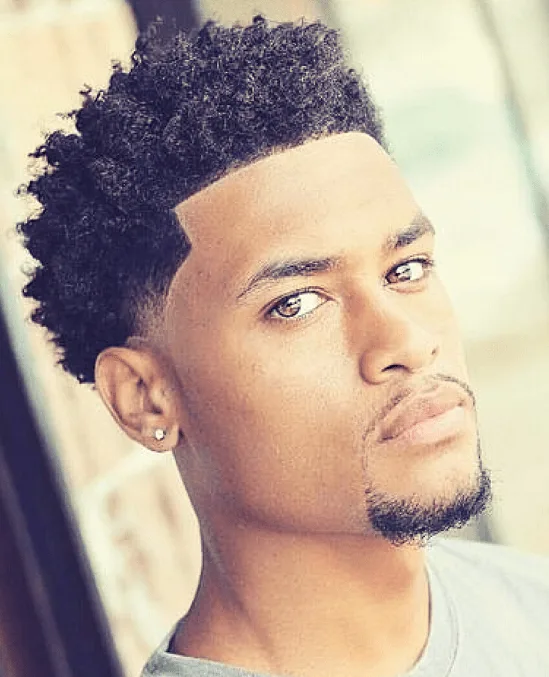 African Americans particularly love this style, as the medium length Afro looks fun yet sophisticated. The pencil thin chin strap makes you look more refined and gentlemanly, so consider this combination before you get a style update next time.
24. Unruly Curls And Short Full Beard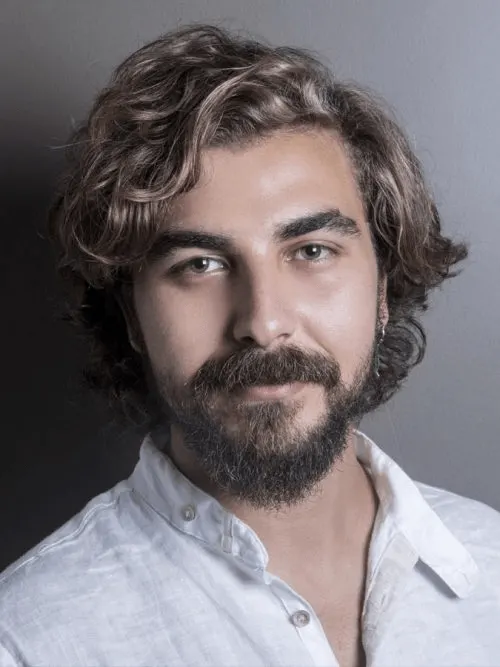 What's friendlier among men's hair and beard styles than your own natural hair styled in an unintimidating and frank manner? This look needs you to have your natural unruly locks have cut to a medium length and left to fall about naturally. A full yet short beard helps you look warmer and friendlier.
25. Intense Blue Hair And Short Beard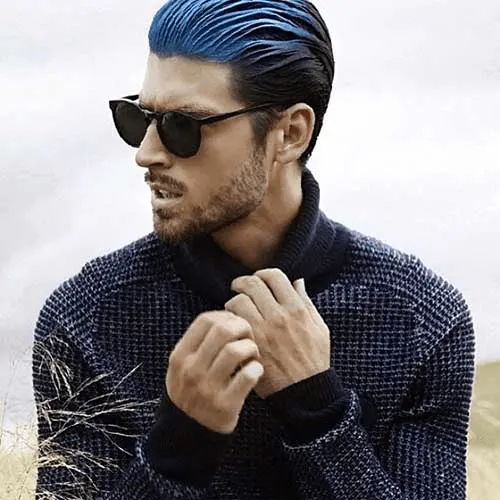 This is a modern and intense look with the top of your hair colored dark blue. The sides are left in their natural color and are combed backward. A short and light beard completes this style, leaving you looking stylish.
26. Long Tied Hair With A Full Beard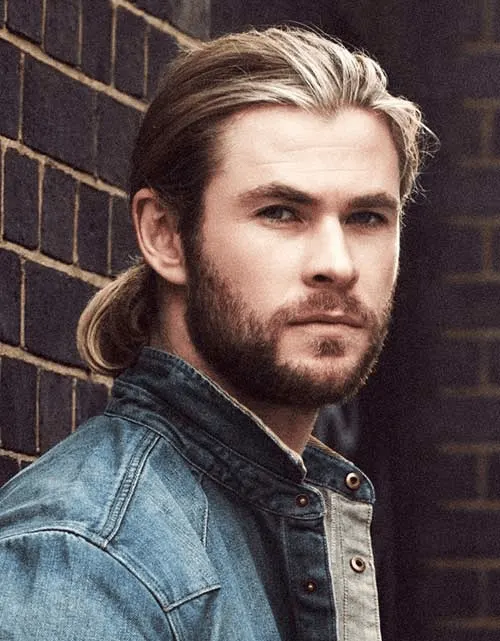 Long hair is not only for intimidating others. You can have a friendly and approachable vibe around you if you tie them in a neat fashion at the base of your neck. The medium length full beard adds more charm to it.
27. Sporty Spikes And A Thick Chin Strap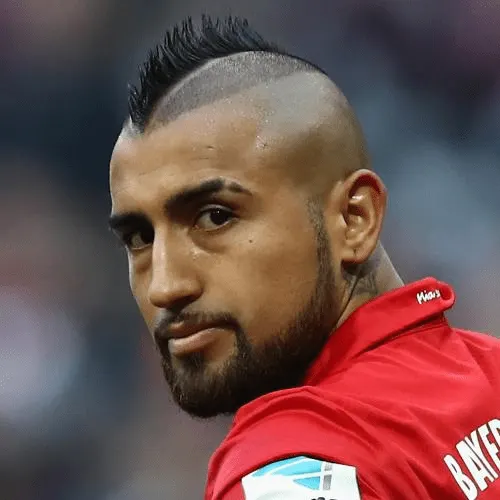 If the normal style of your hair doesn't go well with you anymore and you want something unique, then sporty spikes with a shaved head at sides are a cool option for you. The thick chin strap makes up for the shaved part of your head.
28. Side Curls And A Shaped Beard
In this, you grow the curls long and then they are brushed to one side of your head. The other side is faded and the beard is grown long. It is then shaped according to the style you desire. You should go for this stylish look.
29. Cropped Hair With A Short Chin Strap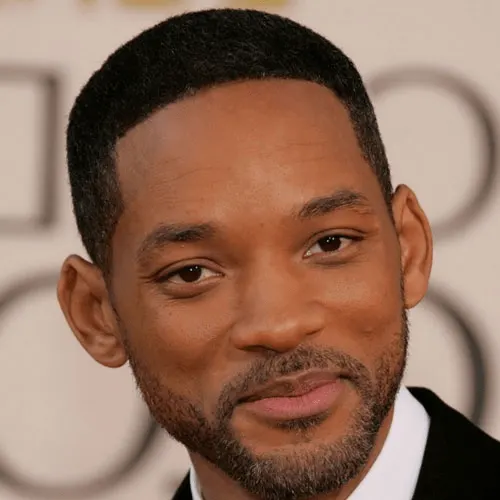 This is for men looking for stylish hair, beard styles as the hair is cropped really short, and the front of the head is shaved. The chin strap is thick and short, making you look well-groomed and elegant.
30. Stylish Long Hair With A Medium Beard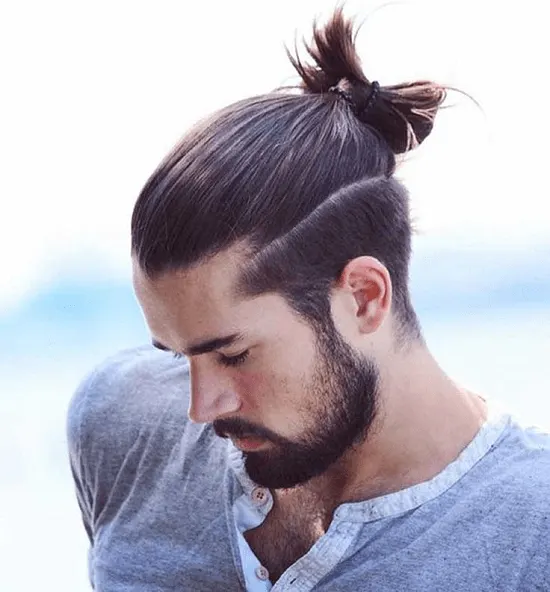 This one comes with very sleek and long hair stylishly tied at the back. The sides of the head are cropped short and tapered as you go down. The beard is of a medium length and fuller giving you a very manly appearance.
31. Classic Curls With A Full Beard
Want to bring back the classic wavy curls from the past? This is the best way of doing so, just add a full beard to your style update and see how well you pull it off.
32. Stylish Curls And Short Beard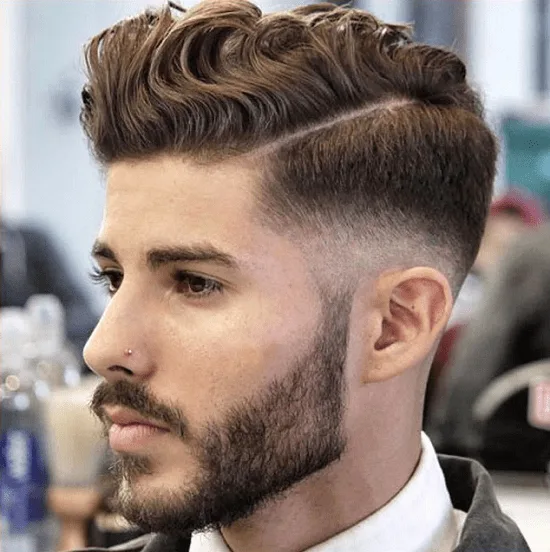 This is one of the chicest looks in this list of men's hair and beard styles as the curls are natural and brushed to one side. The other side of the head is both tapered and faded. It is with a short beard, adding angles at just the right places.
33. Short Afro Hair With Stylish Beard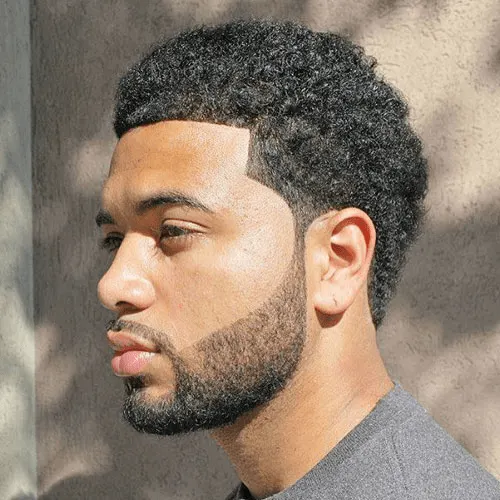 Short Afro hair has a charm and impression of their own. When paired with a curvy stylish beard, it looks even more charming. Make sure that you get the front of your head faded so that you look more polished and refined.
34. Short Grey Hair With A Natural Beard
Grey hair is quite popular among men who want to change their look completely. You can have your hair dyed grey too, but to ensure that you do not overdo things, you should keep the natural color of your beard.
35. Grey Spikes And Emerald Green Beard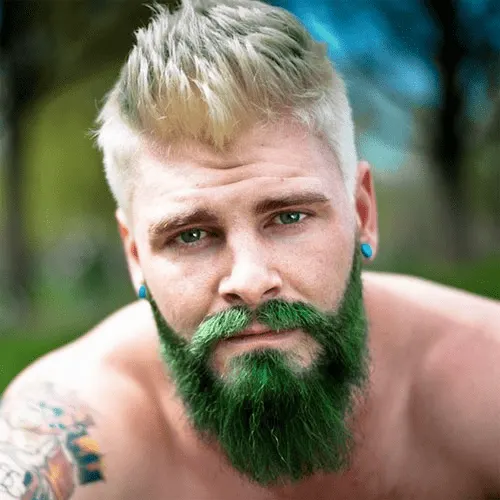 Life's too short for boring hair and beard styles, isn't it? If you believe the same then this grey hair spiked up and the long emerald green beard is totally your thing. You can rock it like a superstar but you need to have the confidence to pull it off.
36. Slightly Long Hair With A Disconnected Chin Strap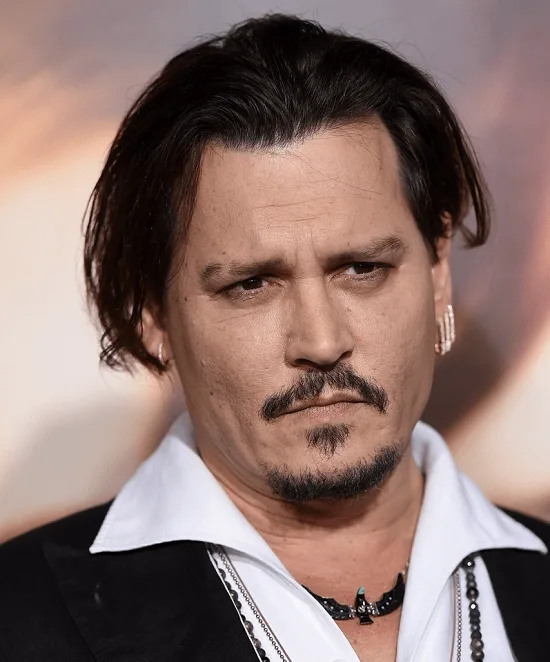 You can have this style if you want to have long hair but not too long. The slightly long hair which is brushed back and the disconnected barely their chin strap is all that you need to impress people with your fashion sense this season.
37. Shaved Head And A Long Wild Beard
There is nothing wrong with wanting to have an extra-long beard which grows untamed and is given an occasional trip to slightly shape it. But having your head shaved with it is almost a necessity to look less formidable and more approachable.
38. Vibrantly Designed Spikes With A Short Beard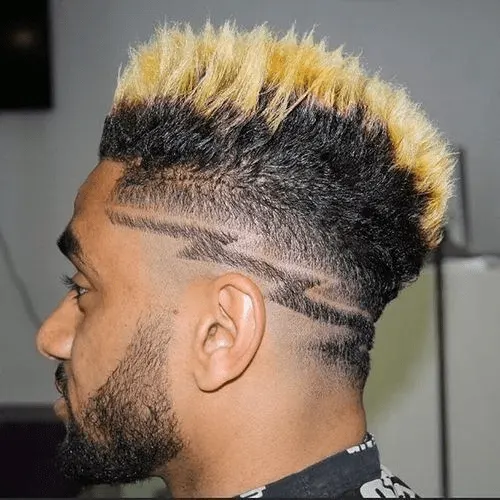 In this modern era, men love to try unconventional looks, don't they? One of the most stylish designs of this sort is the yellow spiked with the zigzagged sides of the head. The beard is disconnected from the hair of the head and add more appeal to it.
39. Wild Curls With A Short Beard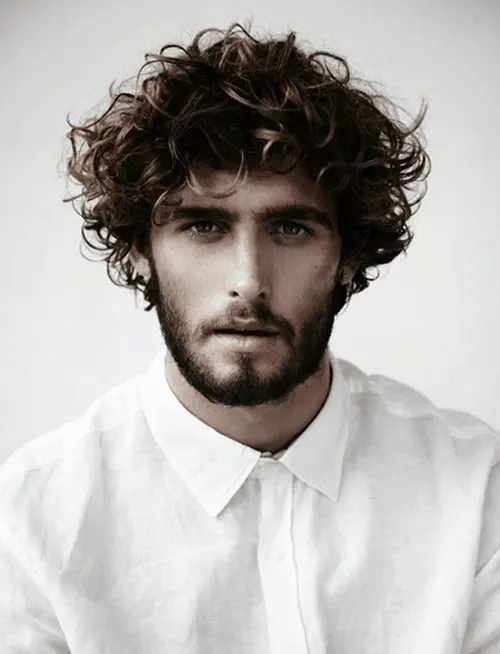 Curls have a certain sexy appeal of their own, but when left wild and loose they are irresistible, aren't they? You can try this hairstyle combined with a short beard and become the center of attention at all gatherings.
40. Elegant And Formal Spikes With A Full Beard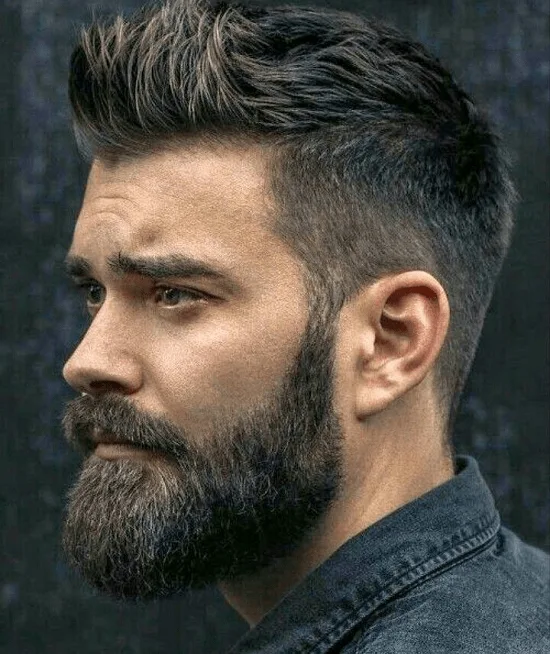 There can never be too many hairs when it comes to hair and beard styles when you know how to trim the edges well. These formal spikes and a full beard give you a very professional look, so why not just have it?
41. Short Spikes And Full Beard
If you have short hair and want to have it styled fashionably then you can try putting it up in spikes. A full beard goes just perfect with this hairstyle making you look ready to rock your appearance everywhere.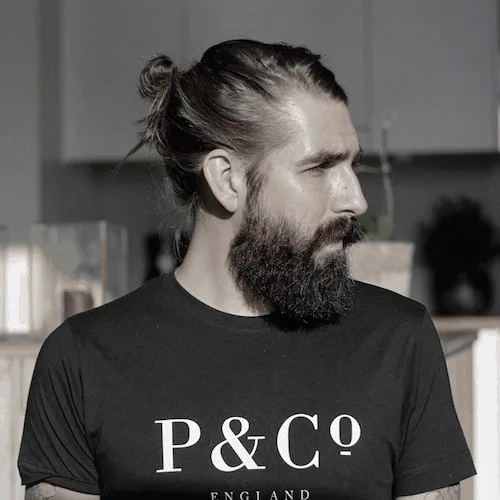 Man buns are always sexy, aren't they? This elegant bun is made by simply folding your sleek hair after putting them in a ponytail. The long full beard adds more charm and sophistication to it.
43. Lower Bun With An Intense Long Beard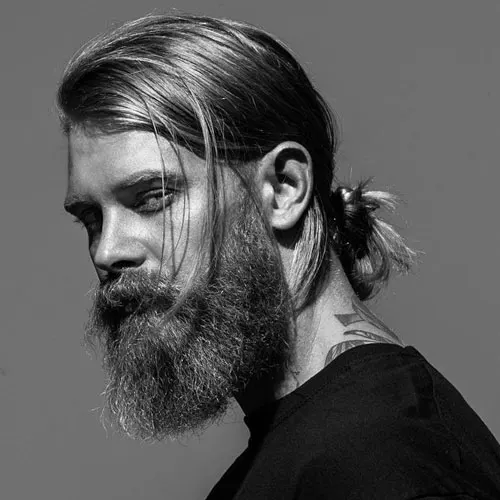 Sleek hair is meant to be combed backward and this lower bun serves the purpose really well. Add to it the full long beard which is left untrimmed and see how your persona's intensity goes higher instantly.
Having ginger hair can be a blessing when you know how to flaunt this in a cool beard and hairstyle. Here the hair is cut short but not too short, which goes perfectly with the long and well-shaped beard.
45. Rainbow Spikes With A Medium Beard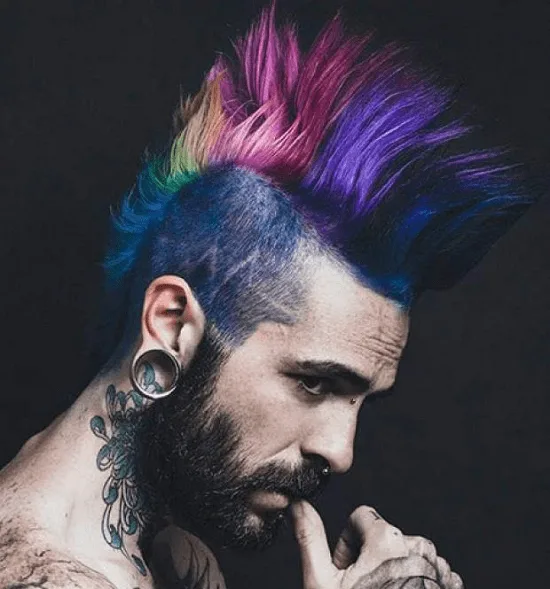 If you have colorful imagination and want to show it then these rainbow spikes are best for you. The naturally colored medium length beard balances out the flamboyancy in a nice manner.
46. High Metallic Pompadour With A Messy Beard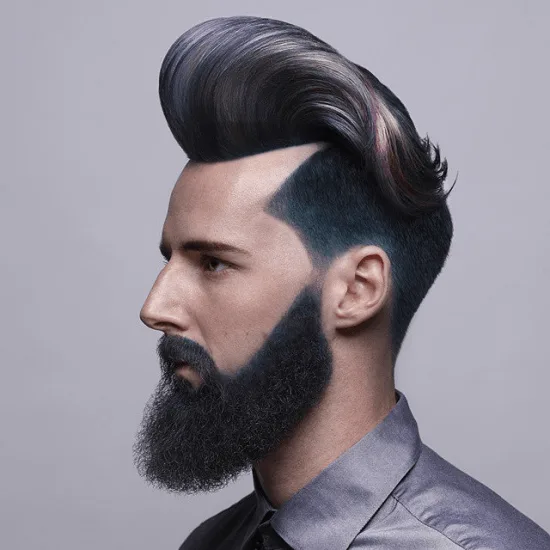 This is another one of cool and funky styles where a high pompadour in metallic shades is the central beauty. The wild, trimmed and long beard accentuates the vibrancy of your hair more.
47. Mid Part Long Hair With A Chin Strap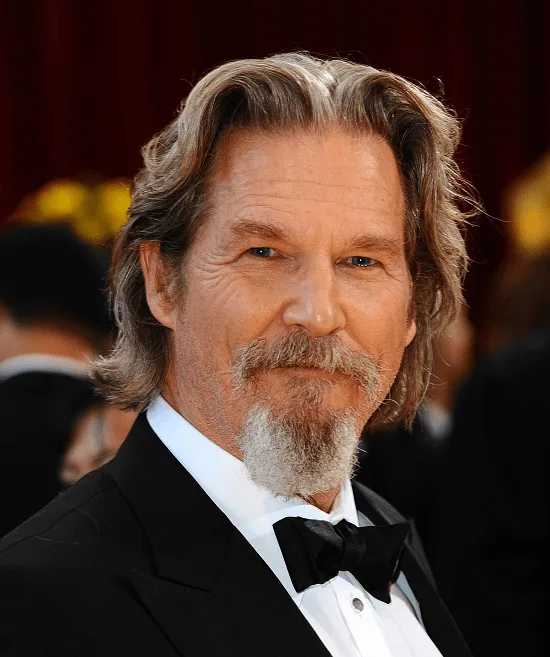 Middle parting is appealing and it looks particularly great with long hair. The tick chin strap here complements the hairstyle really well.
48. Stylish Long Hair With Light Beard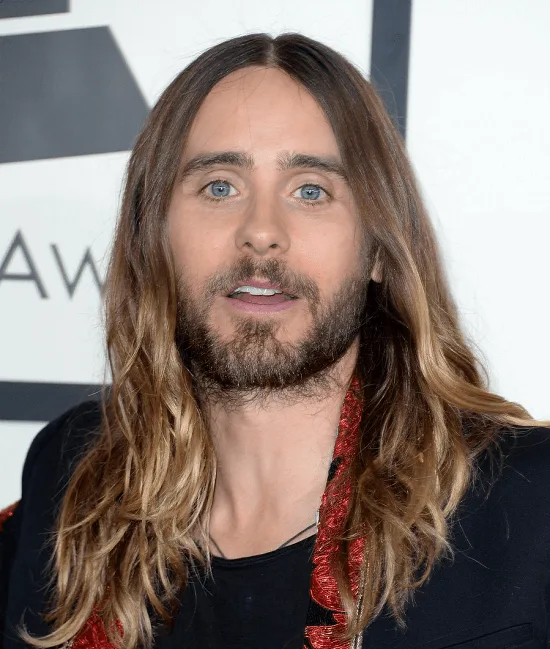 You do not have to worry about your beard and hairstyle if you have extra-long hair. Just part it from the middle and leave it to fall nicely down your neck. A light and short beard are all that you need to look more appealing.
49. Sleek Golden Hair And Medium Beard
The long combed back hair look sleek and modern well gelled properly. The medium-full beard is great for this one.
50. Classy Waves And Shaped Beard
The classy waves in this style look lovely which are made more irresistible by the well-angled beard.
51. Small Pompadour With A Short Beard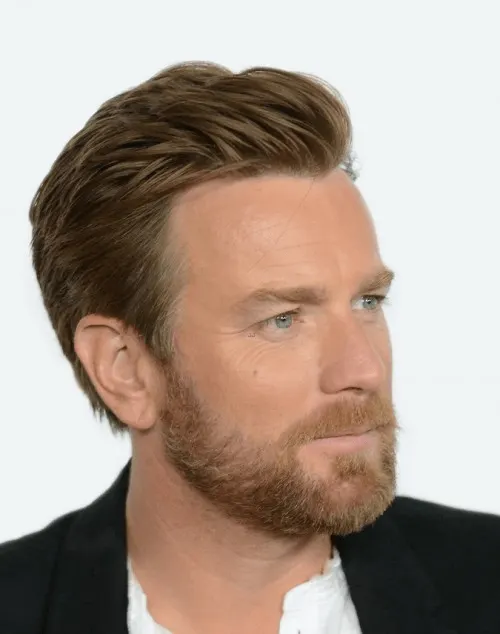 A small pompadour is all you need this season to look well put together. Just pair it up with a short beard and you are all set to impress people everywhere.
52. Short Faded Hair With Long Beard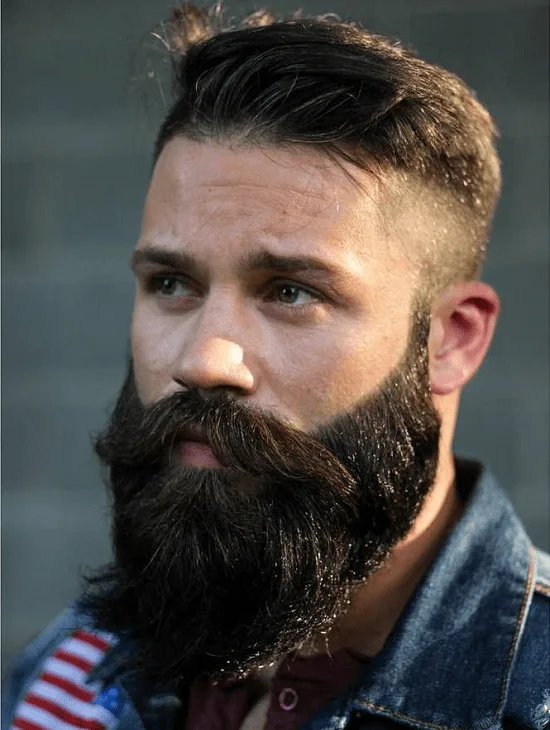 This hair and beard style is particularly stylish as the hair is short and has faded at sides while the beard is quite long and well-shaped.
53. Side Swept Hair With A Cool Beard
This medium length sleek hair is swept to a side and there is a high fade at the sides of the head. The beard is full and has sharp angles with a funky mustache.
54. Stylish Medium Fade And Tapered Beard
This hairstyle is quite formal with a medium fade which brings out the hair on top more. The beard is tapered and has stylish trimming.
55. Colorful Hair And Beard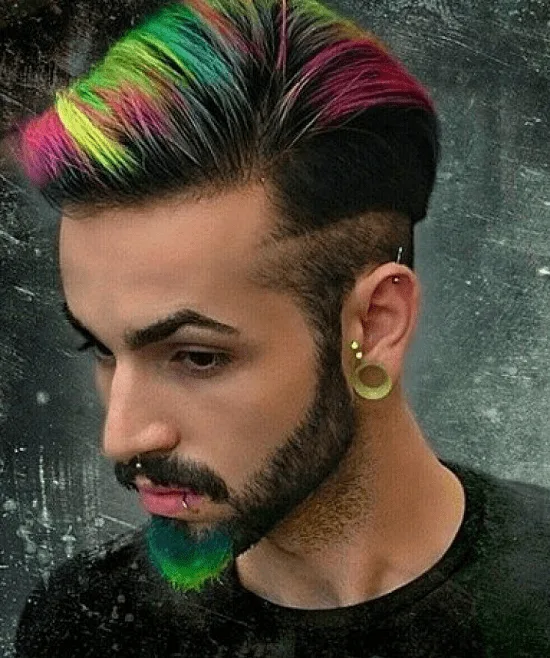 If you cannot settle for a single tone for your hair then you can have it colored in all the shades that you want. The beard is dyed in multiple colors too to make you look cooler.
56. Short Cropped Hair and Beard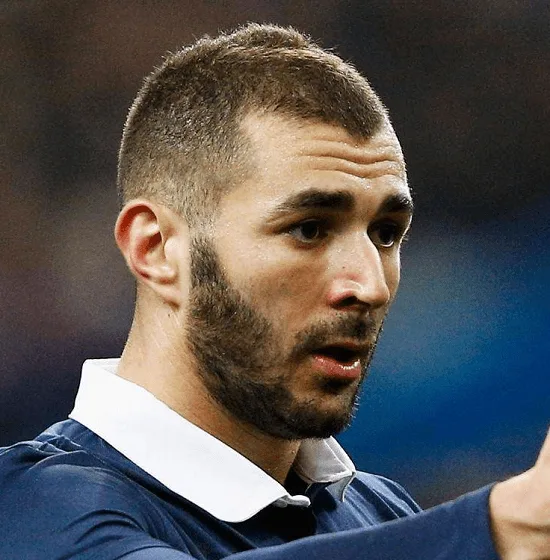 If you are in for short hair and beard styles for men then this cropped hair and short beard is a great option for you.
57. Long Afro Locks With A Chin Strap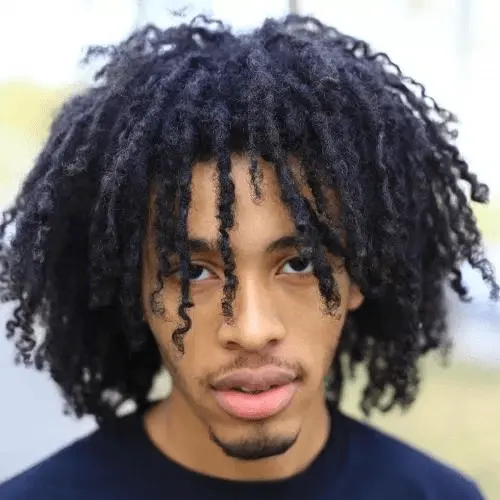 Afro locks look great when they fall about in a messy manner while the short chin strap here makes sure that you have a polished feel about your style too.
58. Rough Spikes With Stylish Sideburns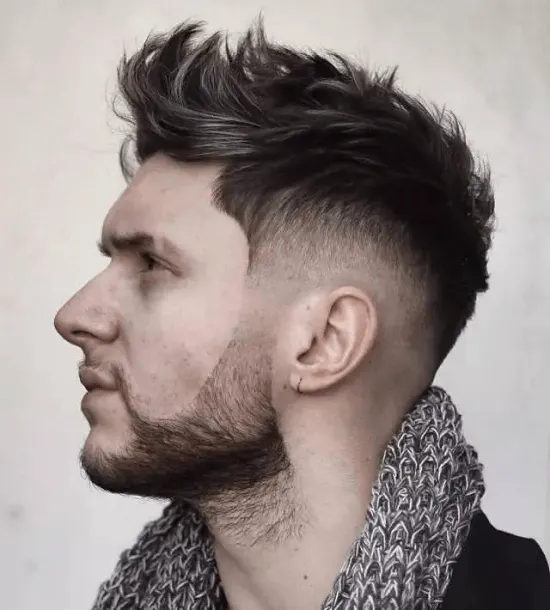 Spikes are not always meant to be rigid as you can rock these rough spikes equally well. The stylish sideburns improve your look even more.
59. Messy Long Hair and a Full Beard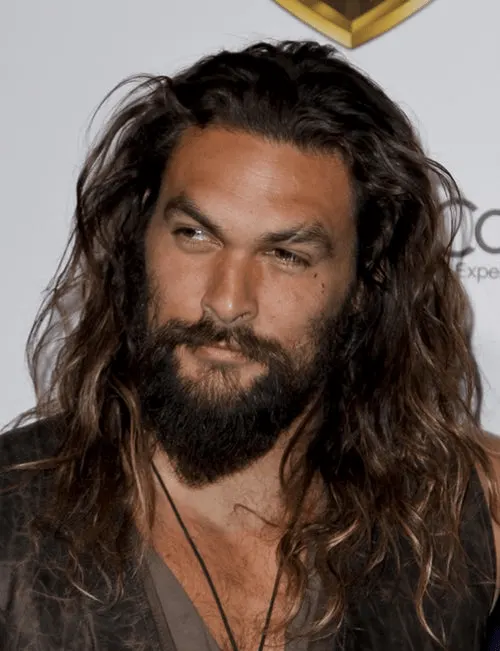 These messy long curls make you look intense and intimidating. The full beard adds more hair on display.
60. Stylish Trimmed Hair With A Full Beard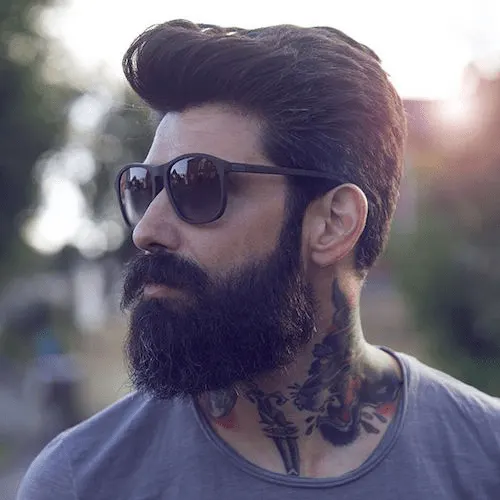 The hair in this style is trimmed in a way that they get shorter towards the back. A full beard makes the overall look even more impressive and manly.
61. Side Bangs With A Full Beard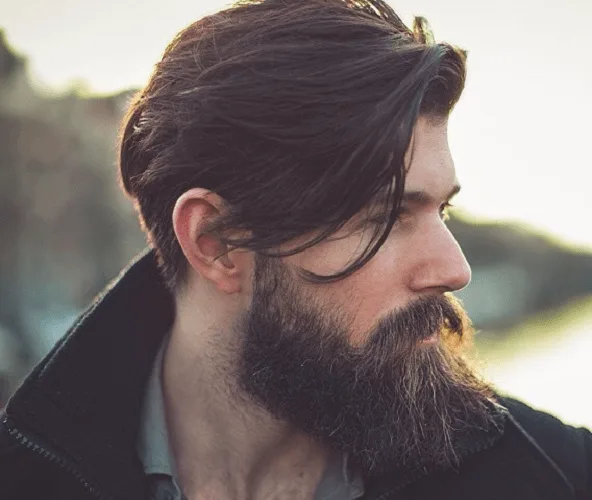 These side bangs look stylish when paired with a full beard. You can rock this hair and beard style no matter the kind of a gathering you are in.
62. White Hair With Stylish Beard
The white hair is cropped short and parted from the side, the cool medium beard is half black, and half white, showing age doesn't stop you from being fashionable.
63. Low Fade Hair With Short Beard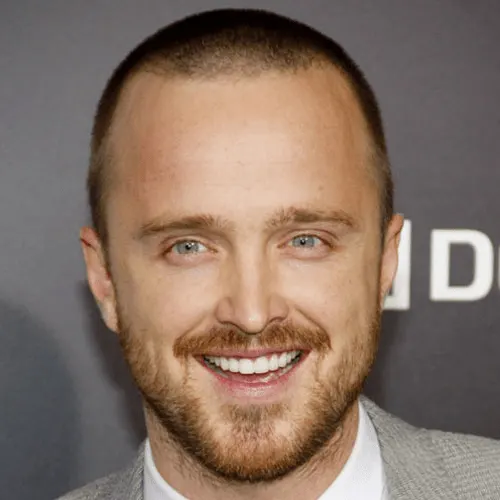 The hair is low faded and extremely short, which makes you look very friendly and approachable when combined with a short beard.
64. Messy Short Hair And Beard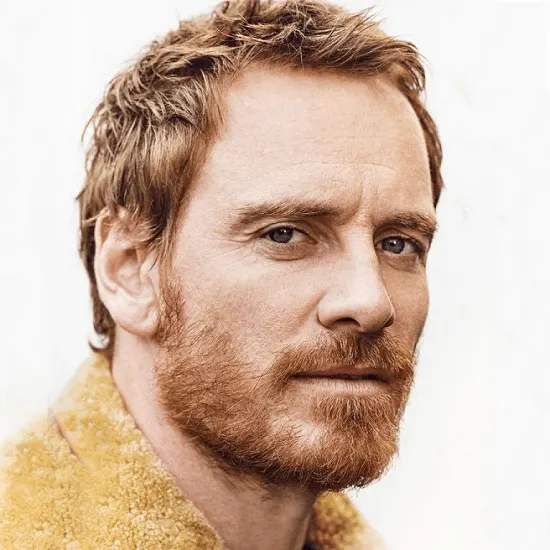 The short hair is swept in all directions and look irresistible while the short messy beard adds up to your charm and appeal.
65. Elegant Short Hair With Long Beard
Short hair looks exquisite while swept to a side in smooth bangs. The long stylish beard ensures a balanced distribution of hair on head and face.
66. Medium Faded Hair With Curved Sideburns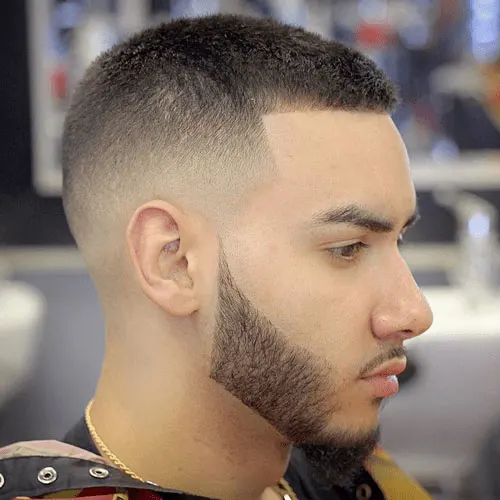 Fading makes your hair appear short and cool at the same time when combined curved sideburns it makes you look stylish and trendy at the same time.
67. Grey Bangs With A Light Stylish Beard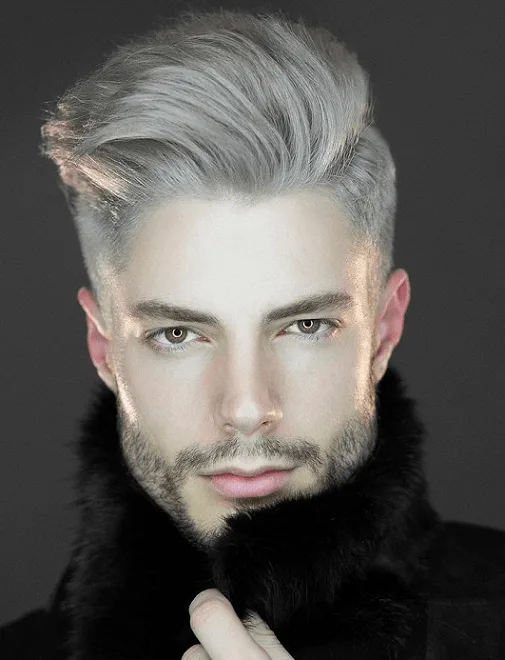 These medium length grey bangs and the short stylish beard are more than enough to make you appear hot and appealing when it comes to men's hair and beard styles.
68. Stylish Afro Hair with Designed Beard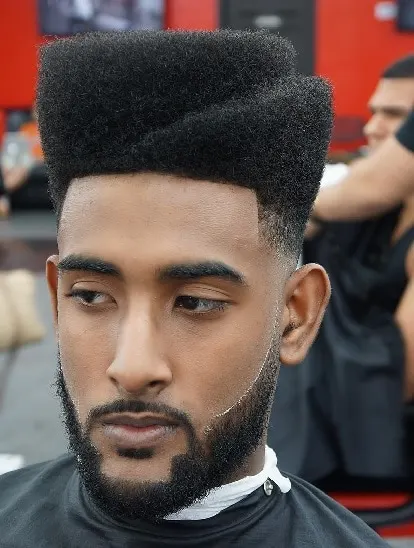 The upturned and creatively designed Afro hair and the modernly styled beard make up for an impressive style update for young men.
69. Twin Braids and Short Beard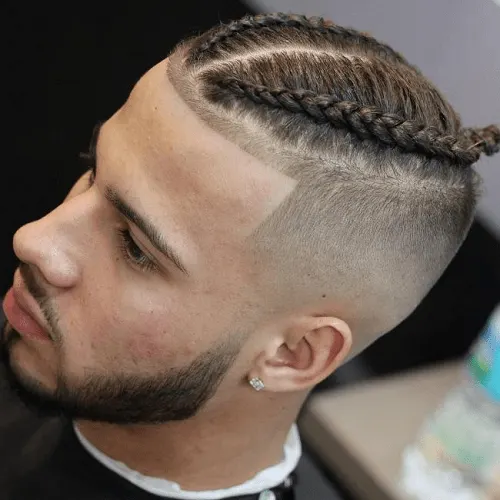 This neat hairstyle comprises two braids with a high fade. The short and light beard makes you look even more sophisticated.
70. Twin Colored Hair And Beard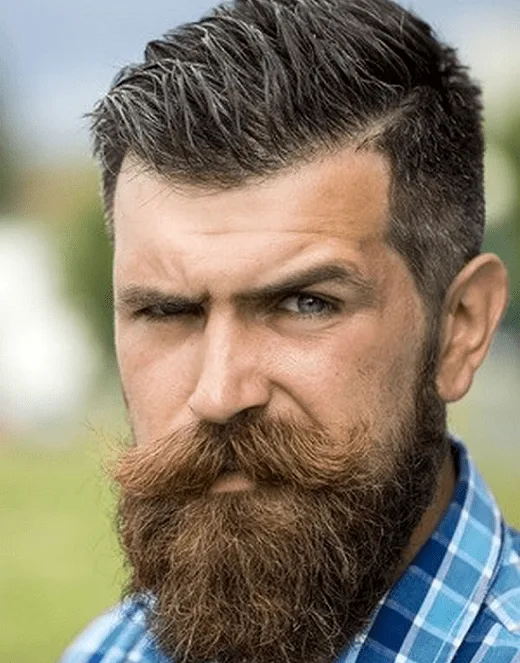 Differently colored hair and beard are in nowadays, so you can have either your hair or beard dyed in a color that you like while leaving the other in its natural color.
71. Neat Short Hair And Thin Beard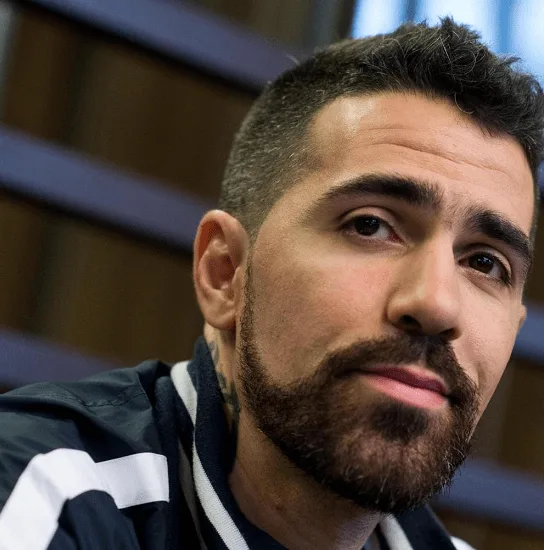 The hair is cut short and has nice and neatly trimmed edges. The beard gets thinner towards the ends giving you a very masculine appeal.
72. Brunette Side Pompadour And Light Beard
This is a natural and impressive hair and beard style for men which has your hair swept sideward and your beard cropped short.
73. Intense Short Hair With A Long Messy Beard
The short hair with a high fade around the edges looks more intense with a long messy beard colored differently.
74. Salt N Pepper Hair And Beard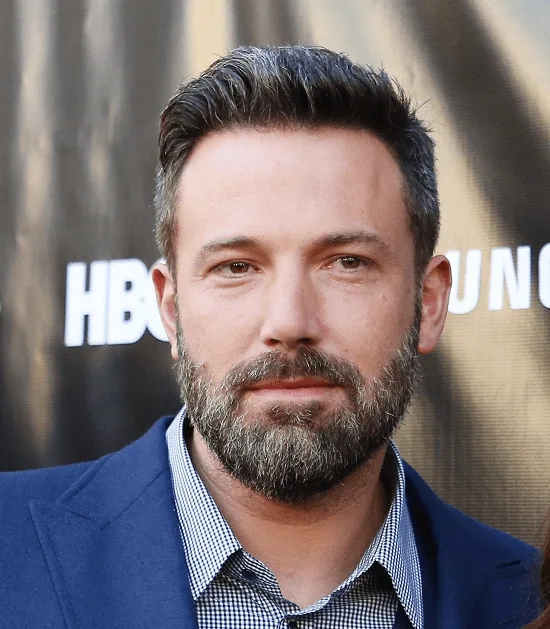 The short pompadour and medium beard of black and white hair are one of the coolest styles for middle-aged men.
75. Purple And Blue Hair And Beard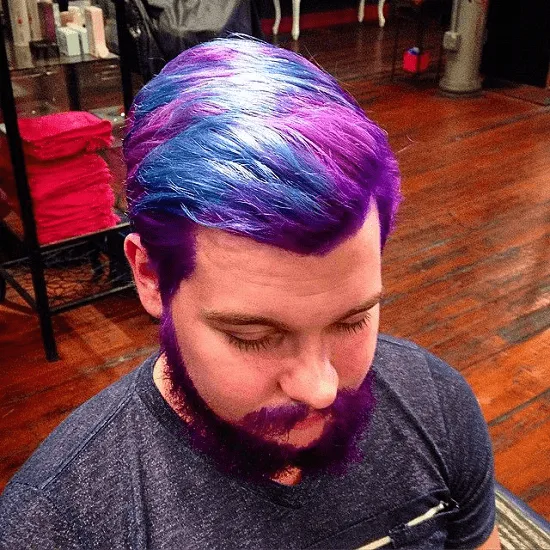 This here is the funky and vibrant style for young men who love experimenting with new looks. You can go for any other colors of your liking too.
76. Messy Curls With A Well-Shaped Beard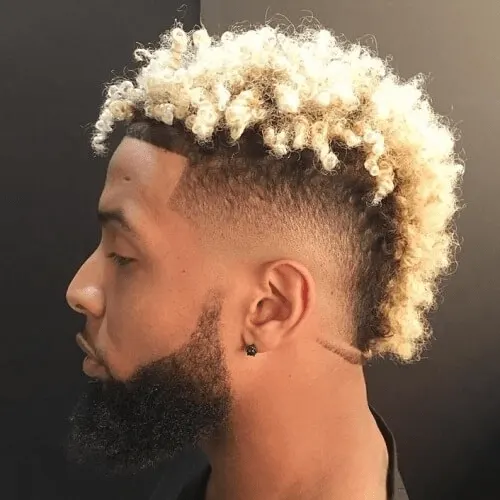 Having the top half of your curly hair dyed ivory and the sides faded can be a great style update this season which goes perfectly with a well-shaped beard.
77. Sporty Waves With Wild Long Beard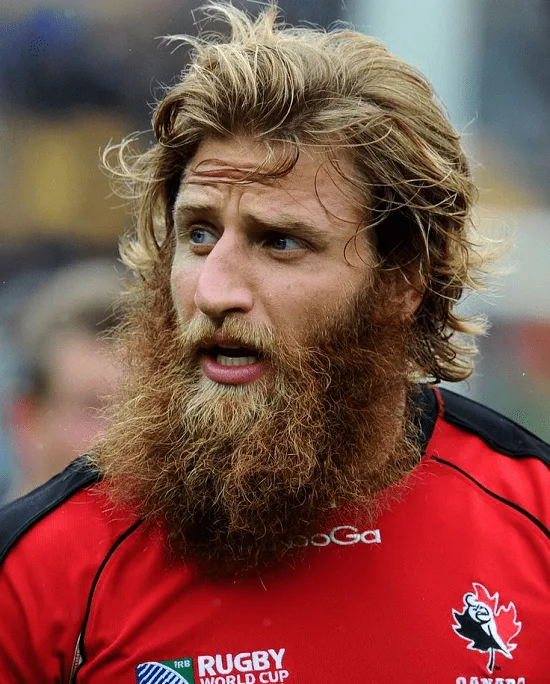 These loose and medium length sporty waves are all that you need to up your style game this year. The wild and long beard makes you look manlier.
78. Youthful Short Hair And Chin Strap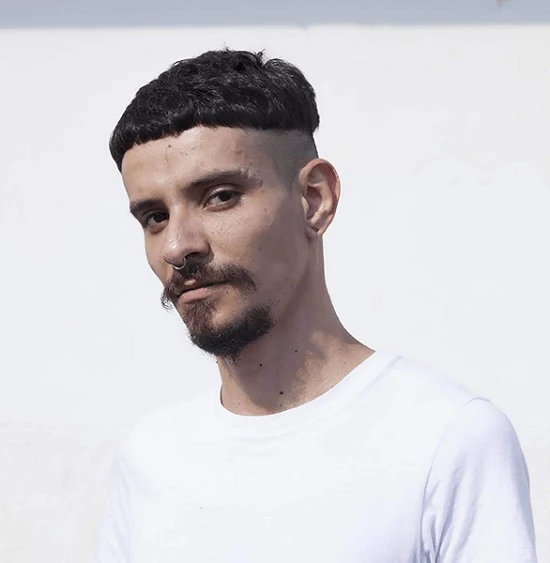 If you are tired of boring men's hair and beard styles then this refreshing short hair with shaved sides and back. The small chin strap adds more fun to it.
79. Rounded Afro Hairdo With Sleek Beard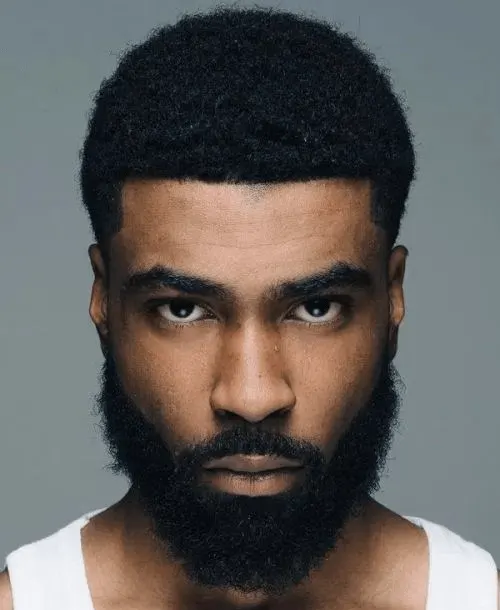 You can have your Afro hair rounded at the back to form a semicircle while your beard grows long and well-shaped.
80. Messy Black Hair With Grey Beard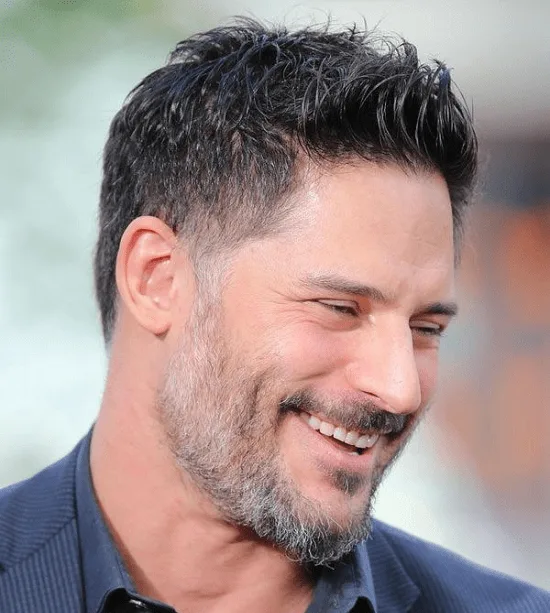 Middle-aged men look exquisite and fashionable with their black hair cut short and the grey beard grew light.
81. Professional Hair And Beard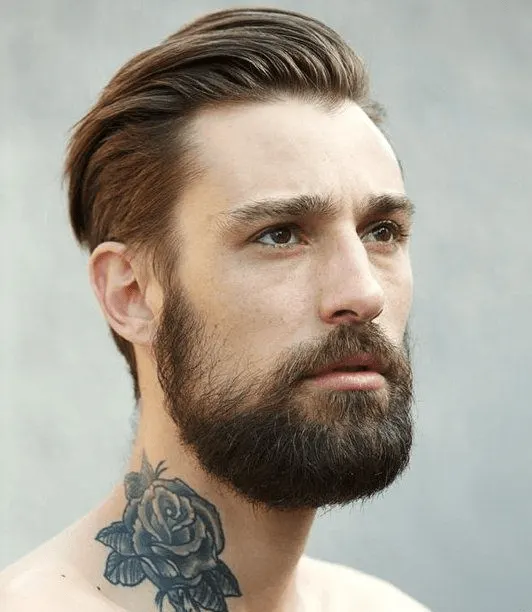 The hair gently brushed backward looks neat and professional with the smooth medium length beard. You can have this look to give a serious style competition to your colleagues.
82. Stylish Mid Parting With Medium Beard
Middle parting can be rough and funky too, so you should try this. The full medium length beard helps you look sophisticated and cool at the same time.
83. Rough Pompadour With Sexy Beard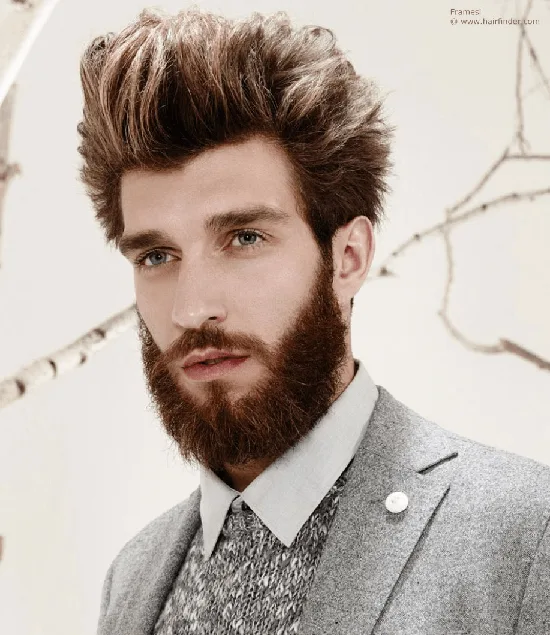 This rough pompadour is an ultimately hot hairstyle which looks even more appealing and sexy when combined with an irresistible ginger beard.
84. Hot Asian Beard And Hair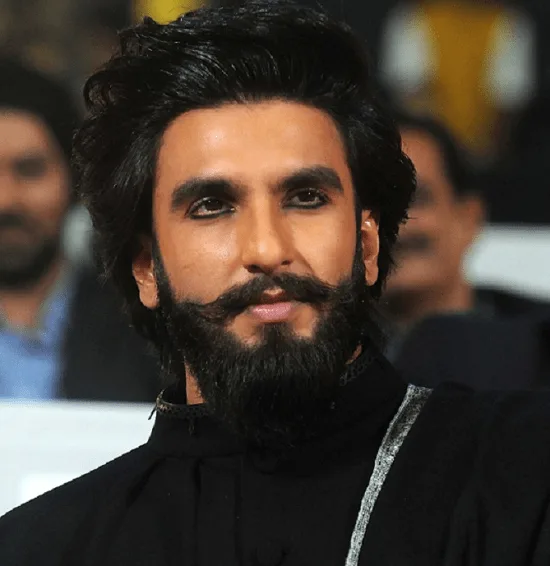 If you are as impressed by Asian beauty as we are then you will love this Asian beard with upturned hair which is a class apart from other hair and beard styles of men.
85. Sleek Side Bang With A Long Beard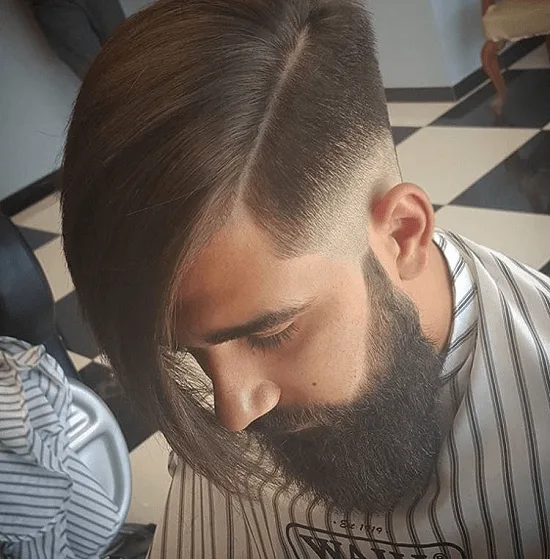 The side bang at one side and the tapering at the other is a lovely hairstyle which makes you a center of attention wherever you go. The long beard makes this style more charming and attractive.
86. Short Bun With Designed Sides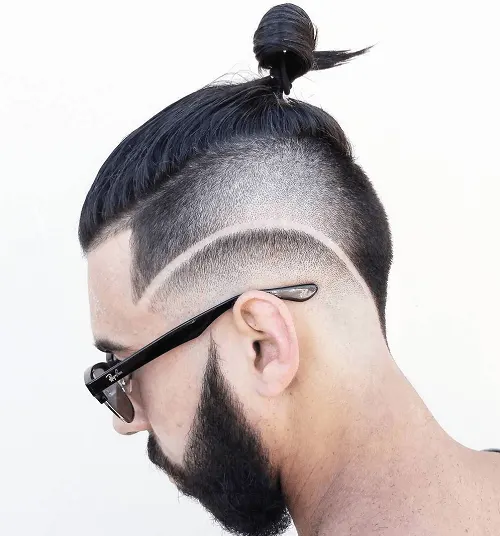 This sleek and stylish bun is a great way to change your hairdo. The faded sides with a design are well-matched by the angular beard here.
87. Short Hair With Messy Beard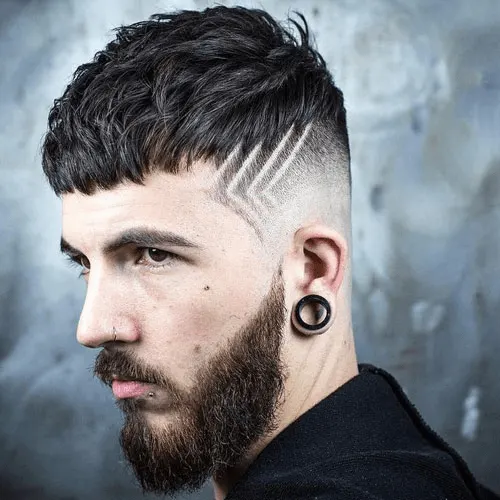 The short hair with faded sides is a cool and intense style, particularly for young men. The triangular pattern at the sides and the messy beard are more than enough to make you look like a superstar.
88. French Braid With A Short Beard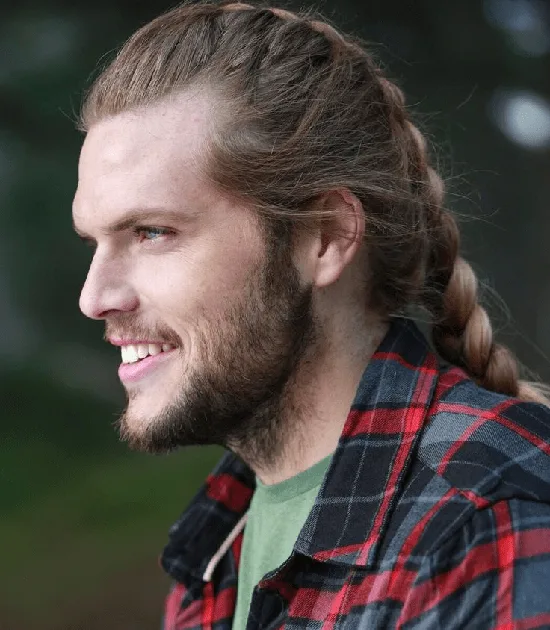 This French braid is a nice way to pull together your long hair while the short beard accentuates your facial features more.
89. Messy Lower Bun With A Short Beard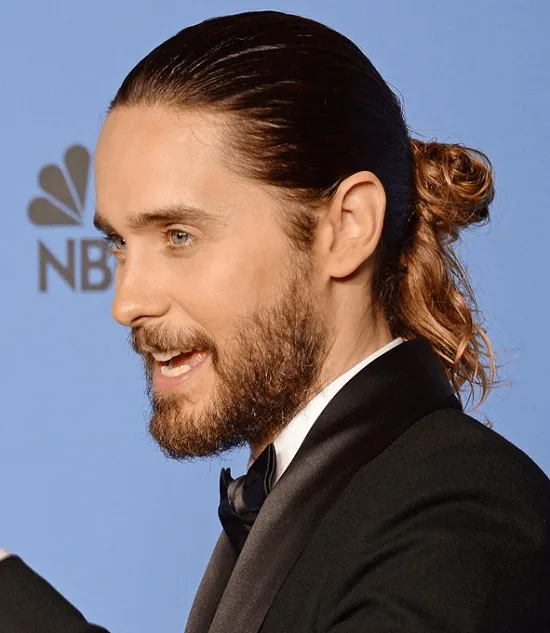 This messy bun at the back with smooth sleek hair at the front is the perfect party hairstyle. A short beard completes this look so well that you cannot resist it.
90. Messy Afro Curls With A Chin Strap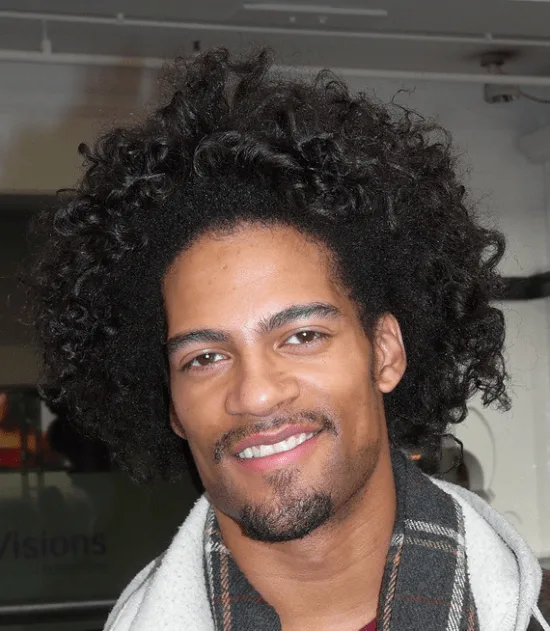 This messy hairstyle of Afro curls is youthful and carefree.
91. Afro Braids With Thin Beard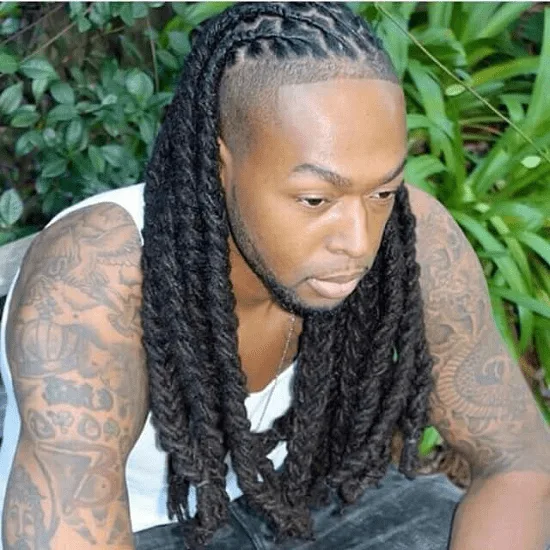 The thick and long Afro braids when paired up with a thin beard make up for a great hair and beard style for men.
92. Funky White Side Pompadour With Medium Beard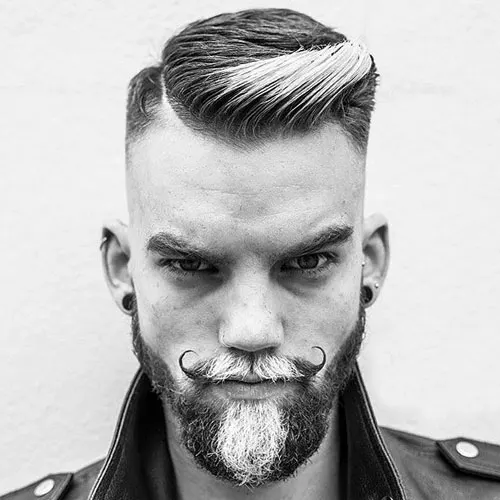 If you want to try something unconventional and cool then you should consider dying your side pomp and middle of the bearded white.
93. Thin Spikes With Medium Beard
The thin spikes here with the rest of the head shaved look very stylish and sporty while the medium length full beard evens out the look overall.
94. Messy Loose Curls With A Full Beard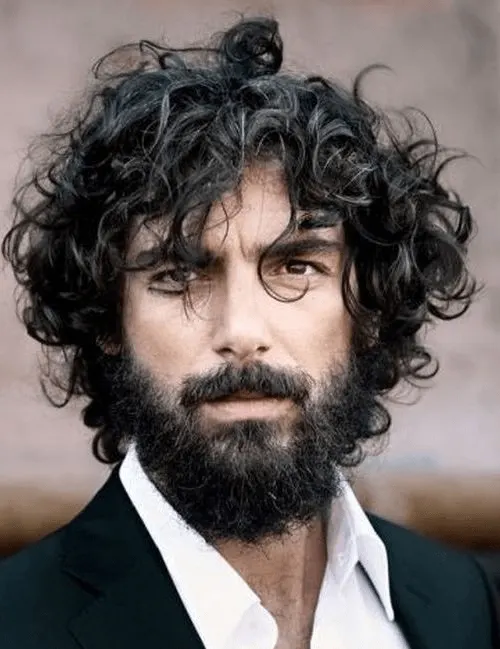 The messy curls parted from middle look fun and youthful while the full beard adds a measure of maturity to this stylish look.
95. Neat Braids With Medium Beard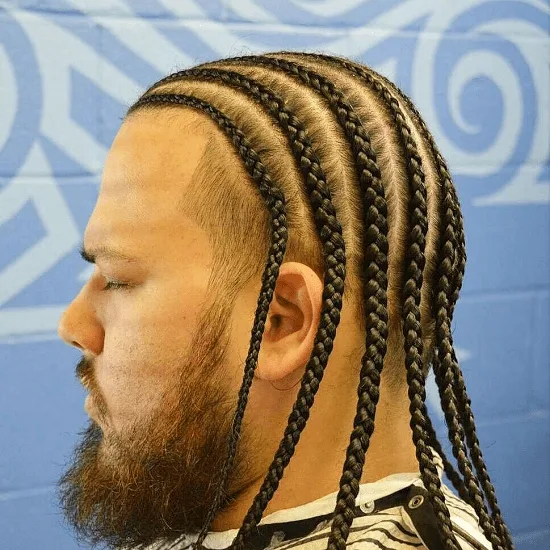 The neatly braided and sectioned hair looks great especially when there is a nice medium beard to complement it.
96. Side Swept Afro Bangs With A Short Beard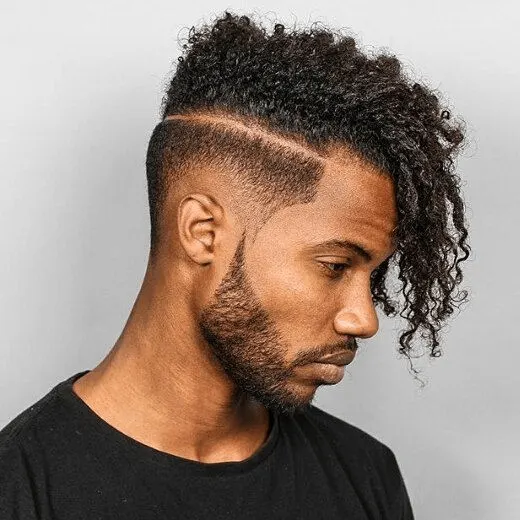 The cool Afro bangs when brushed to a side give you a fun and fresh vibe while the short beard covers the sides of your face nicely.
97. Long Grey Hair And Beard
The long grey hair falling down the neck and the full white beard is the perfect way of showing that old men can have fashionable hair and beard styles too.
98. Designed Head With A Light Beard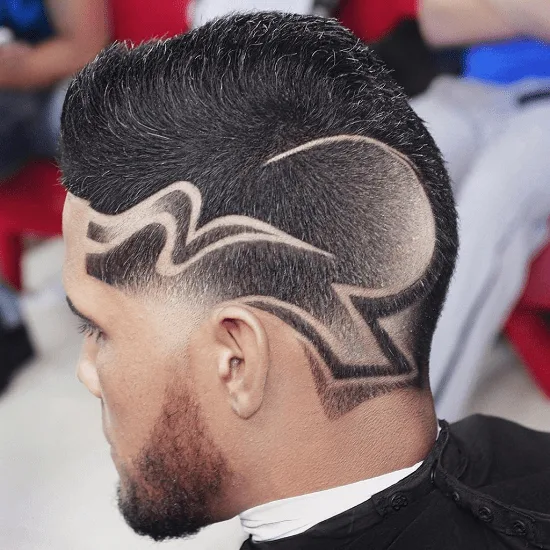 You can show your imaginative and creative side by having a creative design carved in your hair. Keep things balanced with a light and natural beard.
99. Line Sided Hair With A Full Beard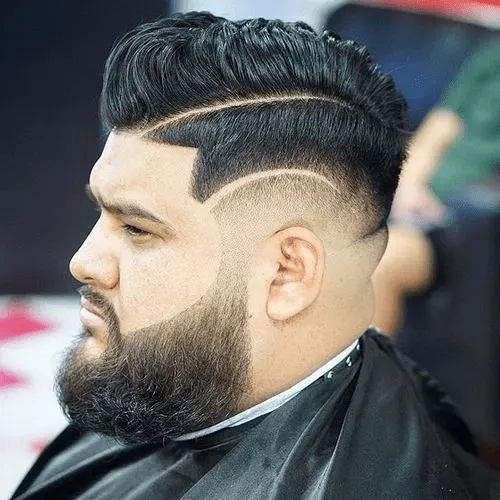 You can have the sides of your headlined like this while keeping a full growth of beard to impress everyone.
100. Rough Upturned Hair With A Short Beard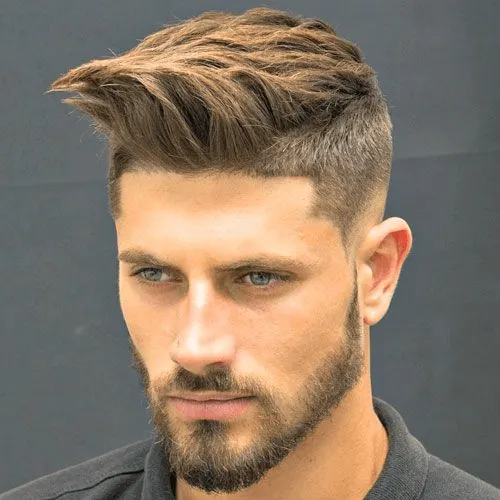 This rough upturned hair is a nice way of showing your confident and unrelenting side. The short beard keeps things natural and makes you look more appealing.
More Beard and Hairstyle Combo's
Edgar Cut Hairstyle With Faded Beard
The Edgar cut with a beard might be just what you're searching for! Rock it with the faded temple and a mutton chop beard with faded sideburns. Perfect for guys in their early 20s who want to ditch their baby face look.
Mullet Haircut with Goatee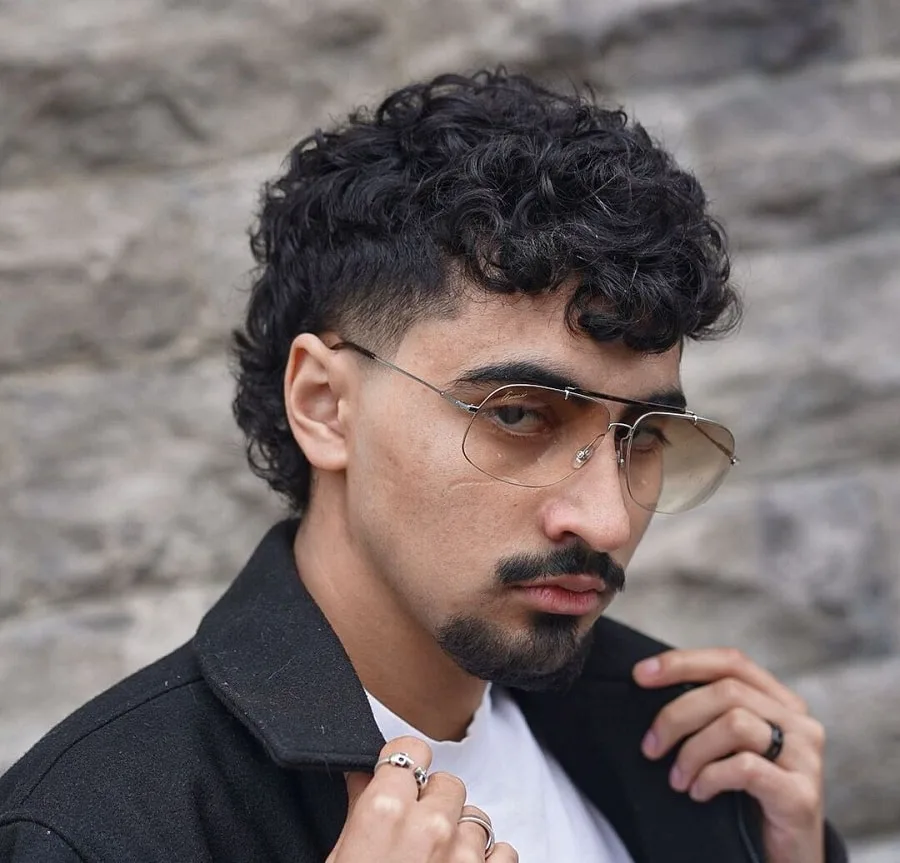 If you're rocking a short and curly mullet, a smaller beard could be the perfect complement. Try out a sleek goatee with a thin mustache – it's a classic look that never goes out of style. Feeling daring? Take your goatee to new lengths or connect your mustache to your chin to create a circle beard.
Experiment with different styles to pick the best one for you that matches well with your personality and keep sharing. Good luck!