Fashion trends are changing every day and the difference line between men and women fashion is getting narrower with every passing day. A few years ago, hearing about men bun was quite odd but now it's not surprising anymore.
Men bun with a beard has become a popular fashion in which all hair is collected and tied up to give a bun shape. However, there are different techniques that make them different from each other. Men bun plus beard give a mature yet trendy look and this style is getting popularity among all age groups.
How to Pick Your Bun Plus Beard Combo Style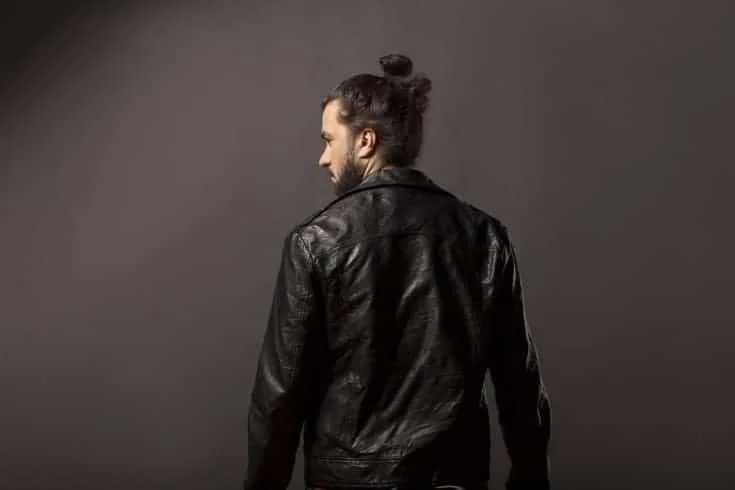 Men with healthy faces shouldn't opt for the half bun and short beard style. Long beard and thick bun with fades go well with oval faces. If you have double chin then avoid chinstrap beard and prefer thick jowl.
Long beard boasts the looks of healthy faces and rectangular shapes. Men with round faces need to look longer so they should prefer long goatee and crown buns.
Men's Bun Hair + Beard Styles
Here is the top list of men bun which is trendy and popular these days.
1. Top Knot Men Bun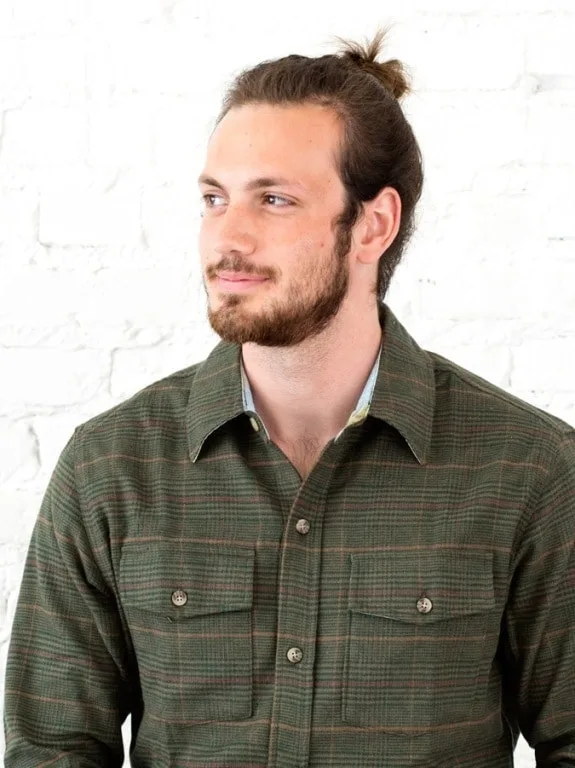 The top knot doesn't require much hair even 6 to 10 inches length is enough for it. To get a uniform look, never cut your hair from sides and tie them at the top of the hair.
The top knot isn't like a crown and it's perfect for those who can't grow long hair. It is easy to maintain as no you don't have long hair which poses difficulty in cleaning.
2. Man Bun with Beard and Tattoos
Those who want to get beast look should go for man bun with beard and tattoos style. Tie the strands of the hair with a rubber band from the center of the hair and make sure no strand left behind.
Long beard and mustache make the best combination of it. Flaunt your tattoos by wearing half sleeves shirt and impress every viewer from your mesmerizing style.
3. Short Hair with Cropped Fringes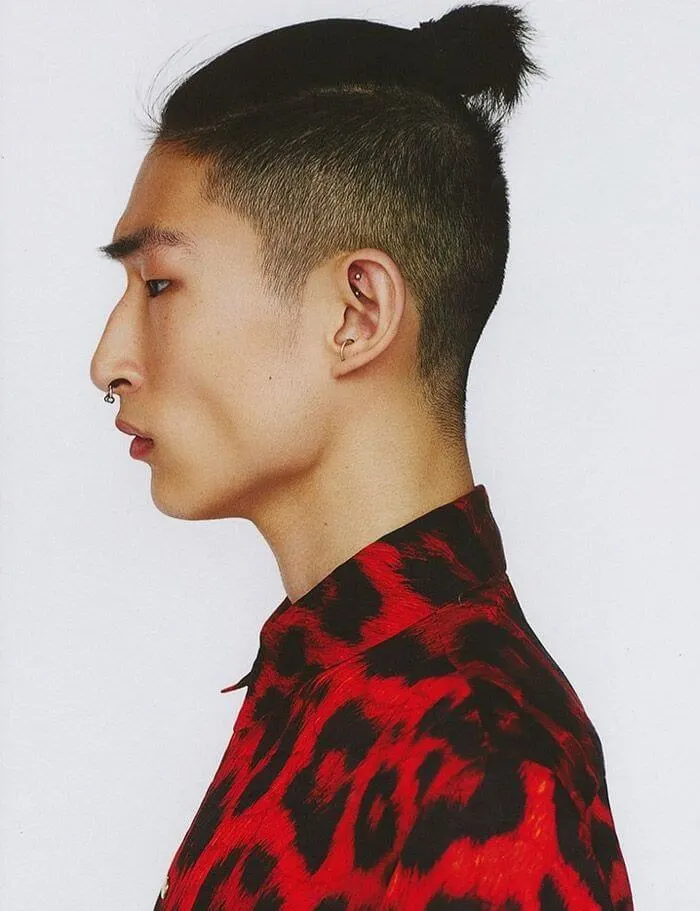 Does your work nature not allow you to keep long hair? Don't worry at all because you can enjoy trendy bun style with the help of short hair with cropped fringes.
This small ponytail is best for summer while it also helps to maintain a trendy appearance. You can play a mustache or goatee with this haircut. Wanna shave off your beard? That's cool too!
4. Samurai Ponytail
This is a modification in a traditional ponytail and also known as a top knot. Keep the knot at the top and choose pointed beard with it.
5. Full Men Bun
Full man bun makes a round shape and needs minimum 9-inch hair length so you don't have to pull the hair strongly to tie the knot. You can tie all hair strands or leave half-open. The position of the knot can be placed according to your comfort.
6. The Rough-Pony Style
This is gaining popularity amongst the guys these days. Also known as the Johnny Depp style, this hairdo is pretty simple and easy to adopt.
You just need to grow your hair till the moment they reach your neck from the back. After that, you need to hold them and curl around with the help of your hand.
Once you have curled them properly, it's time to tie the knot, but here, to your hair. There you go! For this hairstyle, your hair needs to be straight and silky. Otherwise, they are will be coming down breaking.
7. Round Bun with Large Beard
Here we have, one of the trendiest hairstyles known as the Singh-Goti. Having its origin from the Buddhist community of Sri Lanka and India, this hairstyle comes with the valor of its own.
Call it a coincidence but this bun looks pretty amazing with the straight and partially roughed up hair. You can leave a hair strand free right in front of your face to look funkier is this type of hair-do.
8. The Curly Whirls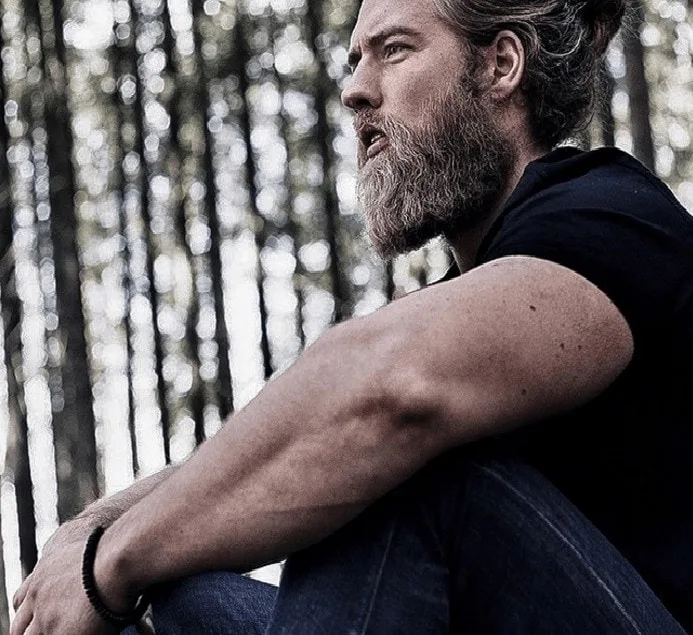 It's another trendy hairstyle which carries with it, an interesting charm and demeanor. It is pretty easy to form over your head because it requires no sophisticated procedure. It looks pretty awesome when a guy with slightly curly hair grows the hair to a certain length and have them tied a loose knot.
9. John Snow Bun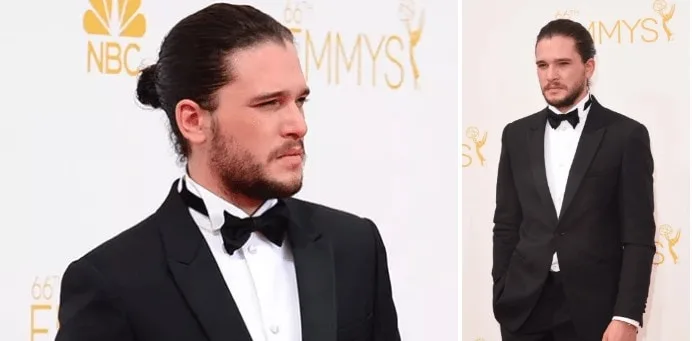 Of course, who would not like to adopt the hairstyle of the "King in the North", the famous "John Snow". This hairstyle has gained popularity since the day our beloved John Snow took charge as the savior of the wildlings. This hairstyle needs a little bit of trimming from the sideburns and tying a pony at the loose ends of the hair. Enjoy this hairstyle if you have rough and curly hair.
10. Trimmed and Ponied hair
If you feel a strong liking towards cleanly trimmed and ponied hair, this is your choice to go for. Yes, we are talking about Grim & Tidy hairstyle which is in demand for over a long time.
It originated from South Africa and now it has become one of the most polished and trendiest hairstyles. It poses clarity, uniqueness, and confidence in one's personality.
11. Half-Up Top Knot
The half-up top knot bun is made high at the crown of your head. The rest of the hair falls about gently and makes you look cooler and manlier. The full and stylish beard looks exquisite with this sexy man bun and beard.
12. Topknot with Shaved Sides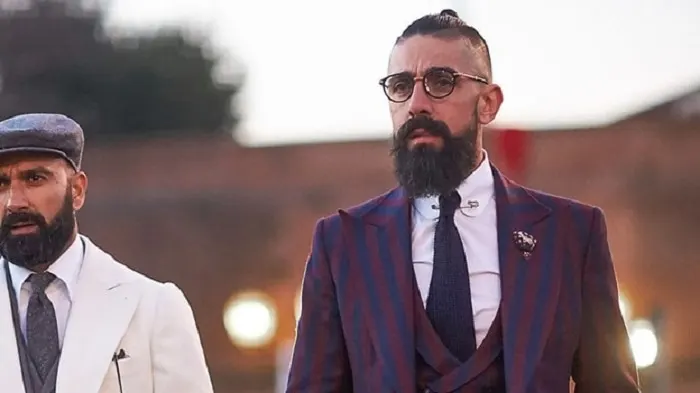 Have you tried a top knot too and want to try a new and more masculine look? Having the sides of your head shaved with a top knot is a great way to rock a classy full beard.
13. Asian Inspired Man-Bun
This is a famous Japanese inspired bun, which is put in place with a hair stick to give a more traditional Asian feel. The hair at the front is brushed neatly towards the back which makes even a messy long beard look sophisticated and graceful.
14. Ginger Top Bun with A Long Beard
Redheads can rock a neat and impressive bun at the top of the head. This one is connected with the beard which makes it more attractive. You can rock this one equally well on all formal and informal occasions.
15. Rugged Samurai Bun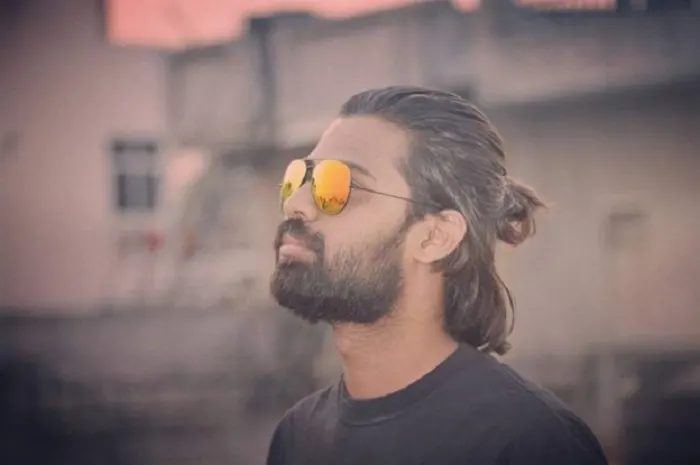 Man-bun and beard styles look more fun and impressive when they are rugged and messy. The Samurai bun is one of those which you can simply tie up in a bun and forget about any more styling. It goes well with rough and short beards, so you should definitely try it.
16. Messy Top Knot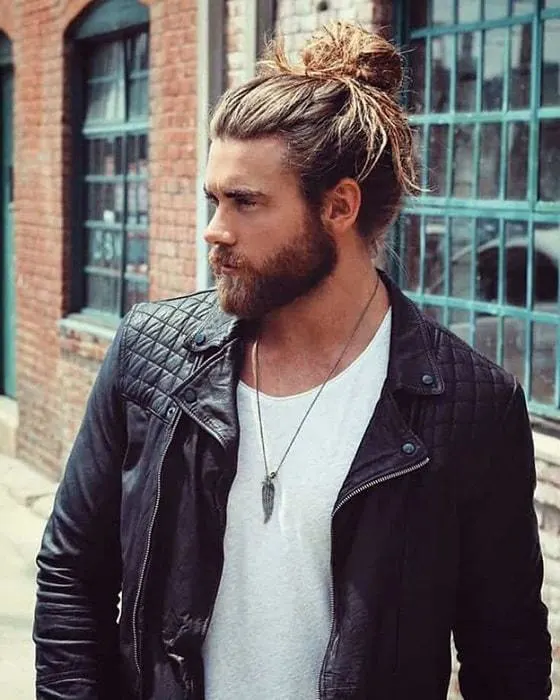 A messy top knot looks artistic and casual while showing your fashion sense. It is perfect for you if you want to keep a light or short beard to balance it out. All of the hair is neatly tied while the top bun is messy and carefree.
17. Braided Bun
If you love braiding your hair in multiple neat braids then you will love this bun too. It is a sleek and sophisticated bun among all the man bun with beard styles as it shows how much effort you put into styling your hair.
18. Braided Bun with Pomp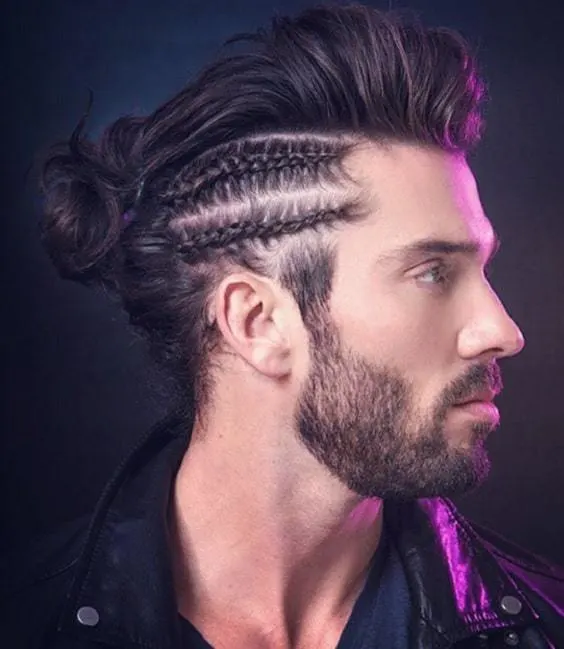 This manly and attractive style has neat and impressive braids running along the sides of your head and tied in a bun. The pomp at the front is light and casual but it lifts up the whole look so well that you can hardly resist it.
19. Elegant Stylish Bun
Man buns appear cooler and more attractive when they have a polished and refined feel about them. This one is halfway neat while halfway messy which is why it is such a huge success in all kinds of events.
20. Vikings Man-Bun
Viking men have had a great fashion sense when it comes to hairstyles, haven't they? This Viking's inspired man bun and beard are fierce and intense while the design at the sides makes it more stylish and sexy.
The neatly combed hair and the nice bun at the back are great to go with any kind of beard, so you can try this one without any worries.
Tips to Maintain
Without enough hair length, you can't grow and maintain a bun hairstyle and beard. Proper oiling and wax are required to give the desired shape to hair strands. If you have side fades then proper trimming is required for it.
Keep patience till to grow 6-inch hair. Use rubber bands to tie them and it's better to keep them tied all the day keep them in perfect shape. The amount of hair also determines your style as thin hair is not suitable for beauty looks.
Shampoo the hair and keep them clean
Fasten rubber band all day
Pay attention to side fades
Never cut hair less than an inch
Men buns are appealing and give a unique look to the person. Whether you are choosing half or full bun, pay attention to its maintenance and styling so don't have to disappoint at the end.
The position of the bun also depends on the hairstyle length while also consider beard style while keeping your face shape in the mind.
Always start bun from scooping motion of the forehead and move it backward. Keep hair products like a rubber band, conditioner, hair clippers, and pomade in a box so you don't have to face any hassle at the last moment.