Short beards are elegant and smart if you know how to grow and style them. A common trend among men who are sporting the "classic" look is maintaining a full beard, that has been trimmed to a relatively shorter length.
Short beard styles are altogether neater than longer ones. It's easier to trim, style, and groom short facial hair, not just because there isn't as much of it, but also because there's less hair to control.
You're also less likely to deal with messes in your beard, such as food, lint, or miscellaneous detritus. No one wants to deal with random beard snacks.
So, if you are looking for some unique short beard styles for men, check out the epic short-length beard styles to find your suitable one.
What Length Is a Short Beard?
There's no real set length for a modest beard due to the variety of short beard styles. For example, a beard made entirely out of stubble classifies as a short beard, as does a thicker 10 o'clock shadow.
The general rule is that a beard can't extend more than an inch or two past your chin to qualify as short. Anything longer than that is, well, long. Just try to keep it trim. Trust what you see in the mirror.
What Face Shapes Look Better With A Short Beard
You always see tutorials, infographics, and advice columns aimed at helping women choose the right hairstyle for their face shape, but you rarely find a guide for men describing what type of facial hair goes with the shape of your face.
Eff that. Let's end that right now. There are short beard styles for every facial shape, and I got you.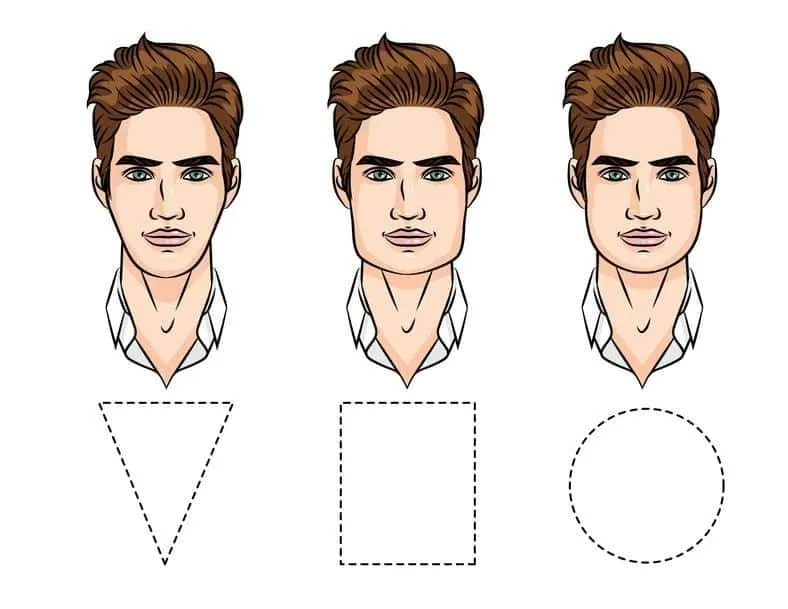 Square faces with strong jaws look hot with beards that have full chins and short sides. You can keep your beard full and short either by letting the hair grow thicker there or by veering toward the longer end of 'short'.
For round faces, go for a diamond-shaped beard—think Jax Teller in "Sons of Anarchy" during his "Jack of Spades" facial hair phase. That involves short sides and a longer bottom. Again, you might just have to regularly trim your beard so that it still verges on short. However, trimming it at an angle works, too.
Men with a longer face with a rectangular shape or a more rounded oblong facial structure, the best beard is one that's short on the bottom and full on the sides. An extended goatee is another winner—it's more like a beard than a goatee, except that it doesn't have sideburns.
A diamond face, with a narrow forehead, pointed chin, and strongly angled jaw benefits from a full beard. You can make it short but still full by letting the hair grow on the underside of your chin and your neck. A chin strap with a mustache might work, as well, and the combo counts. Still, never rush to a decision about a chin strap.
The inverted goatee flatters inverted triangle faces, too—this applies if you're a guy with a narrow, pointed chin and a wider forehead. You can also experiment with a chin curtain, which is technically a short beard. Think Abe Lincoln. That works for a traditionally triangular face, as well, but add a mustache.
5 Tips to Pick The Right Short Beard Style for You
Below are some useful tips to consider when choosing a beard style so that you don't end up getting an ugly looking beard.
1. Consider the shape of your face
Take a long look at yourself in the mirror and, if need be, talk to a hairstylist or a makeup artist at the mall to determine your facial shape. Then you can use the information here to pick out a short beard style that flatters the shape of your face.
2. Think about your features
Your individual facial features can play a role in this process, as well. For example, if you have some sharp Bowie cheekbone action happening, you don't want to hide them beneath a wild, scraggly beard. Among other things, always picture how a particular short beard style will mesh with your jaw, the length of your face, and those cheekbones.
3. Be realistic about upkeep
How much time do you want to spend grooming your beard? How much time do you even have to devote to maintenance? Is it complicated?
4. What's your skin type?
This is a consideration when choosing a beard because if you have sensitive skin, then maintenance and comfort will always be issues. Your beard itself or the process of shaving might irritate your skin.
5. What color is your beard?
Your beard might grow in fair, or it might be an entirely different color than the hue on your head. How will your facial hair look in a short beard? Will you like it or will you have to ponder the idea of dyeing your facial hair?
How to Comb Your Short Beard
The best time to run a comb through your beard hair is right after you moisturize it. Beard oil is best but go for quality. The oil helps you to avoid pulling or breaking your facial hair.
The comb you use depends on the texture of your beard. A softer beard benefits from a comb with finer teeth, but dense hair needs wider teeth. Start with a wide-tooth comb as you begin to grow your beard, and only move to narrower combs once you know your beard.
As you start to comb, keep it slow and do it from the top of your beard to the bottom, then from the side of your beard to the center. This tames and trains your hair to grow in the direction you want.
How to Maintain and Trim A Short Beard Properly
Moisturizing and combing are two key elements of short beard upkeep, as a matter of fact. It doesn't hurt to shampoo your beard, either, as long as you use a natural, chemical-free shampoo. Begin a conditioning regimen, too.
Trimming and shaping are also essential. You'll have to decide for yourself how often you need to do both but always use caution. Start slow and never take off too much in the beginning. You can always trim more, but if you cut off a chunk of your beard, you have to wait for it to grow back.
The below video will help you achieve a good trimming of your short beard.
Popular Short Beard Styles for Men
Short beard styles are best for men who don't wish to sport a thick amount of hair on the face. From simple goatees to full beards, here are 95 amazing short facial hairstyles to look awesome without spending too much time trying to grow and maintain it.
1. Light Stubble Mustache and Thick Goatee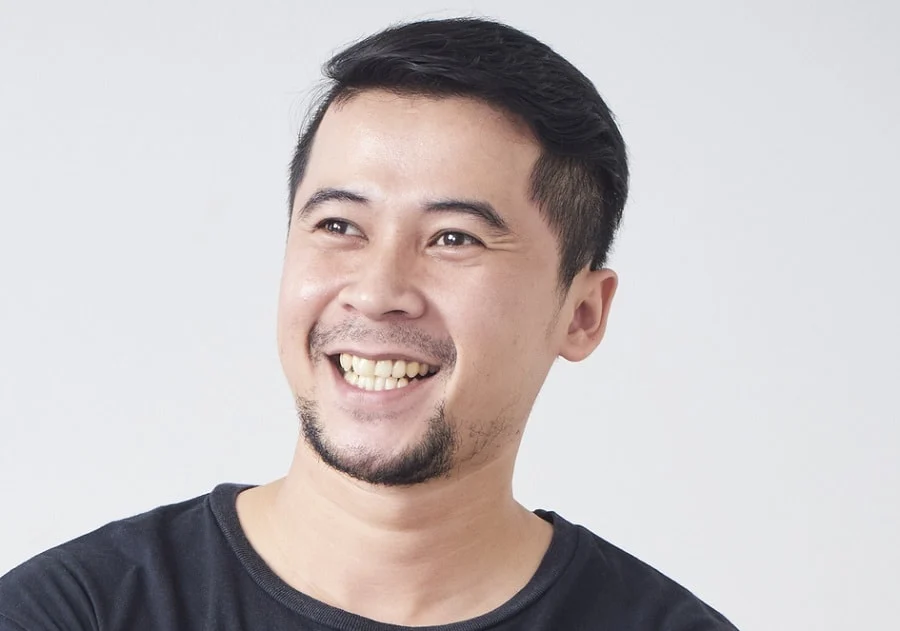 For a slightly rounder face, you can grow out a thick goatee but experiment with your mustache to find the best combination. You can even pair a stubble mustache with your thicker goatee for a unique look.
2. Classic Handlebar with Balbo Beard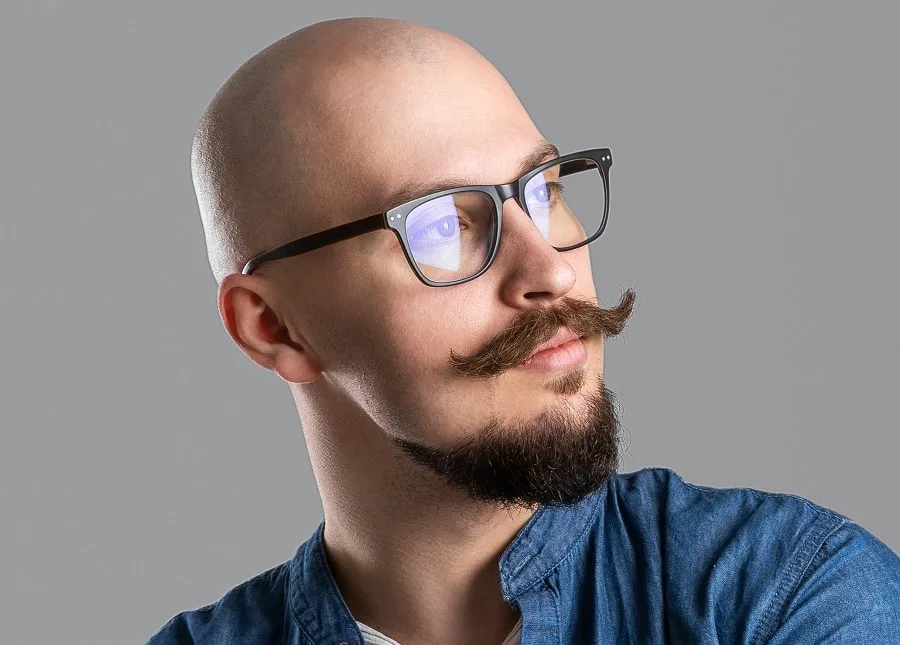 If you're looking for something more distinct, you can grow out the handlebar with a fun balbo beard. The balbo beard can extend to the neck from the chin, but you don't want it to go too far, and make sure you wax the mustache for a better look.
3. Low Box Ducktail with Thin Mustache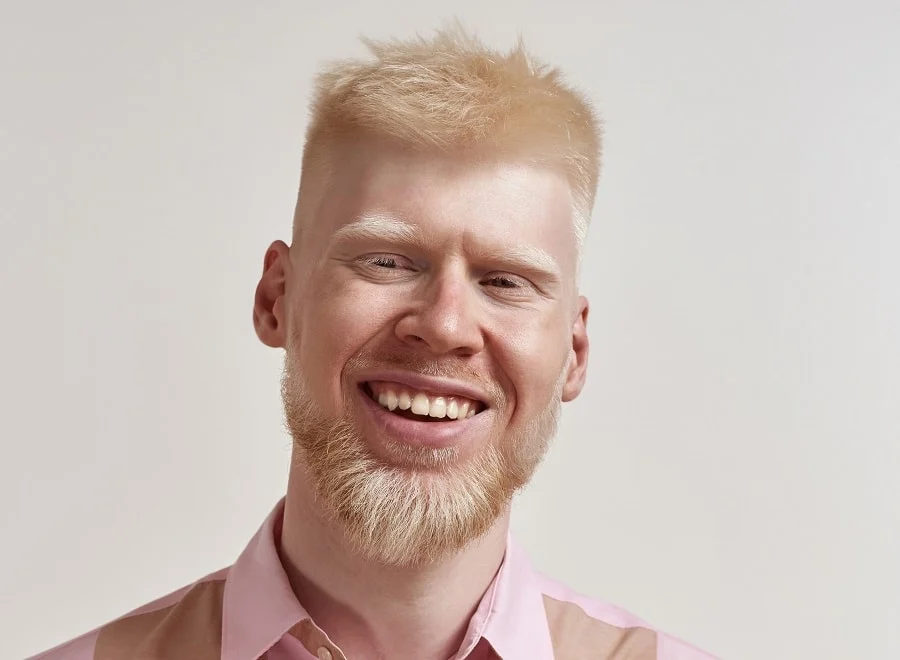 A low box ducktail with a thin mustache is an excellent choice for everyone who wants a shorter beard without worrying about too much maintenance. The sides of the beard flow to the chin, and you can keep the mustache thin for a cleaner look.
4. Salt and Pepper Unkempt Long Stubble
Sometimes you want to lean into that messy look, which makes this salt and pepper scruffy long stubble the perfect choice. You can still trim the cheek line and the neckline to make it look more even.
5. Red Boxed Beard with Fade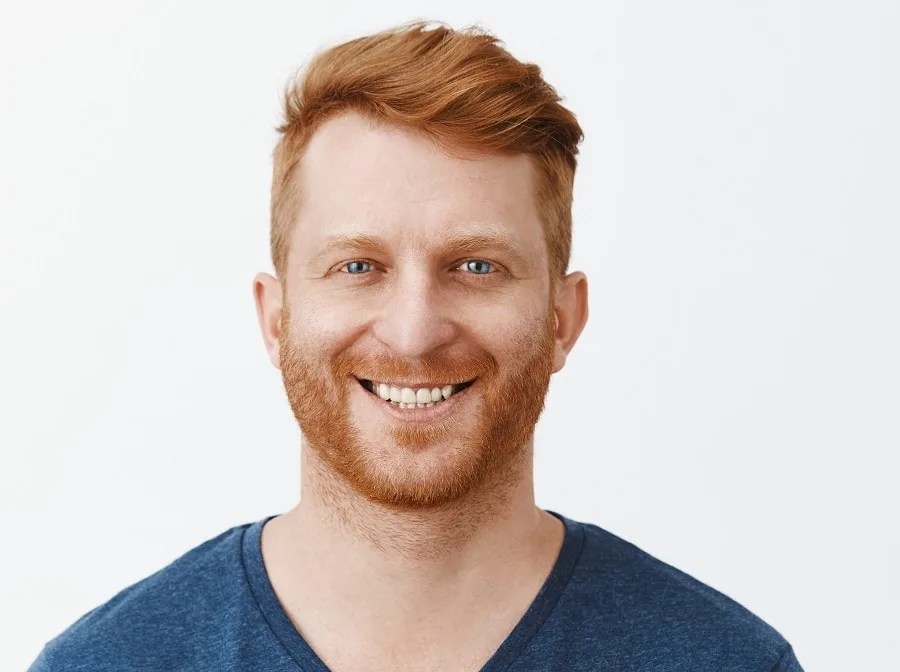 Very few people are able to grow a red beard, so you want to flaunt that unique beard with a boxed beard style, which goes well with a top fade haircut.
6. Grey Chin Strap with Short Goatee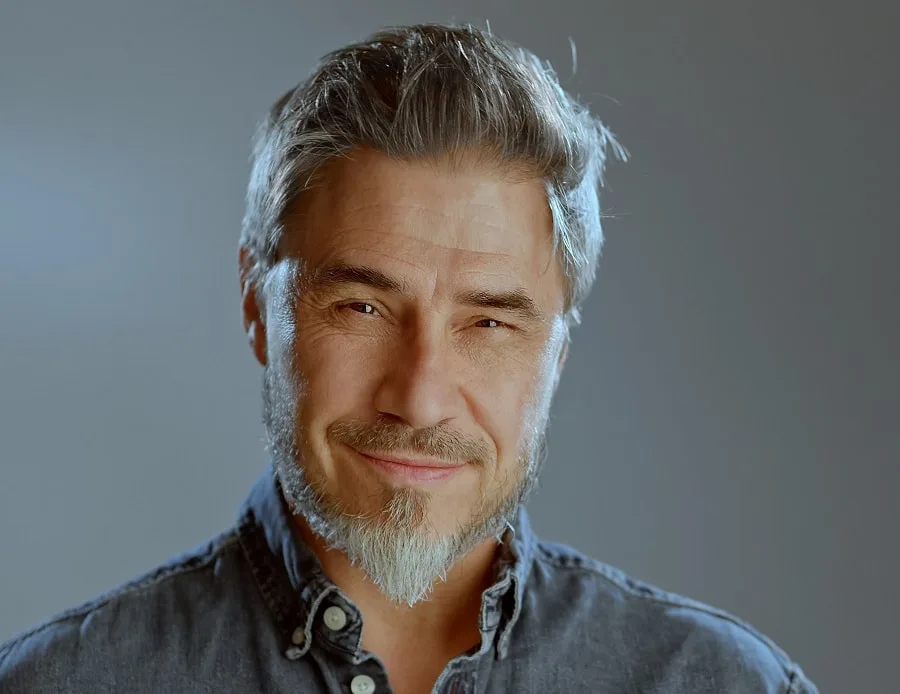 A more interesting choice of beard is the chinstrap beard that connects to a goatee. You can even grow out the goatee a little and not connect it to the mustache for that sexy dad look.
7. Full Goatee with Double Pencil Stache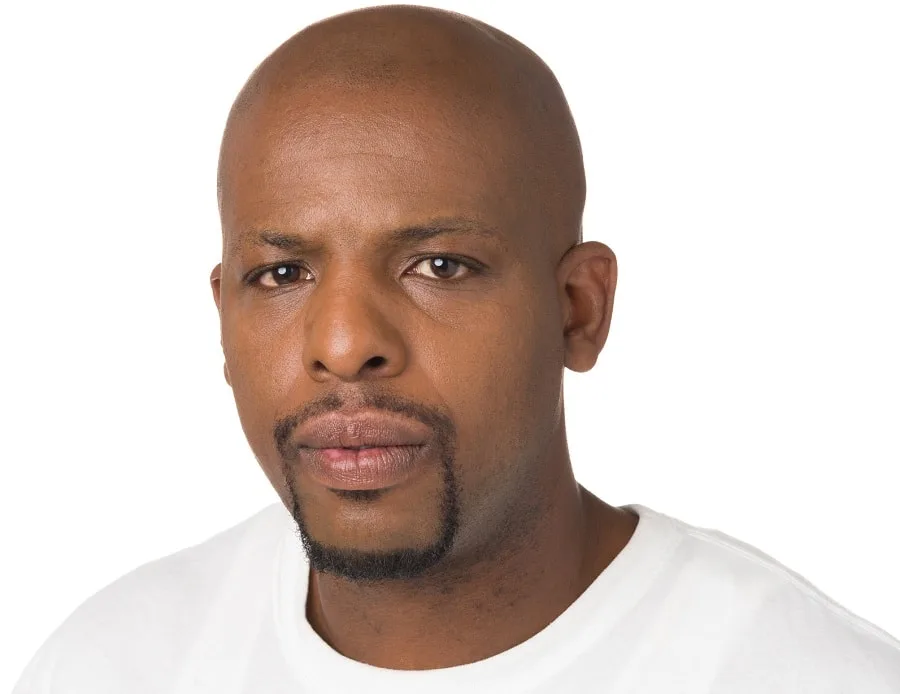 A full goatee is one of the most popular styles for African Americans since it beats dealing with those natural curls. And if you keep a thin goatee, you can keep a fun double pencil stache to bring the look together.
8. Low Box Long Stubble with Curly Afro

The long stubble can be an excellent addition to your curly afro, with its trimmed and sleeker look contrasting the messy nature of your curls.
9. Boxed Off Long Stubble Beard with Connecting soul patch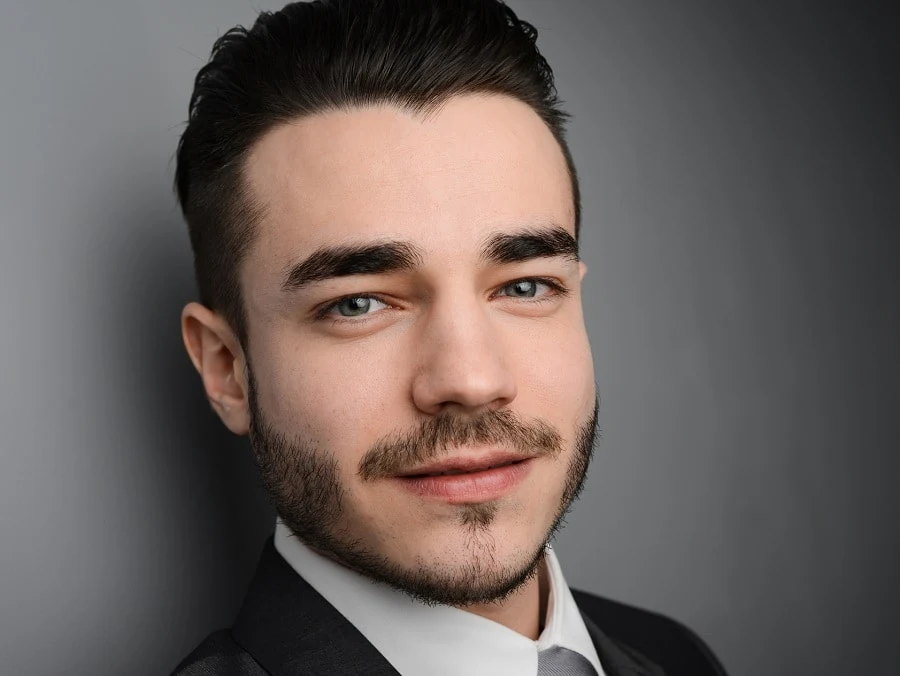 The boxed long stubble beard is a versatile beard style that can go well with round and square faces, and you can even get creative with what mustache you pair. You can even connect the soul patch to the beard.
10. Extended Balbo with Thin Mustache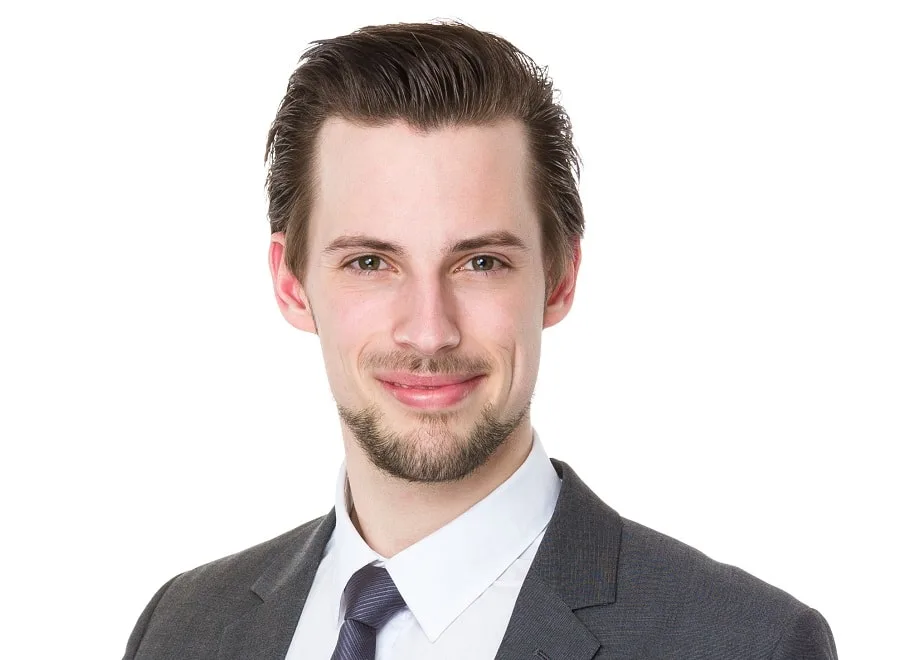 For people who don't want to deal with a full beard, the extended balbo beard makes for an excellent solution since it goes with almost every look and lets you show off your facial features.
11. White Goatee with Red Long Stubble Beard
If you want to get creative with your beard, then you can dye the goatee and keep a regular beard around it. So the mustache and goatee can be white, but the rest of the beard is still brown.
12. English Handlebar with Puffy Goatee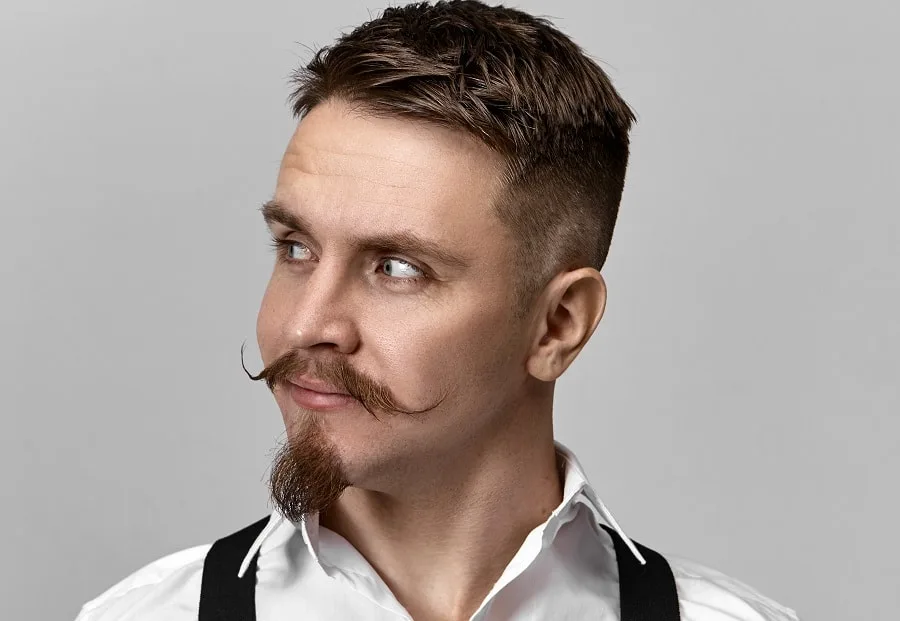 If you want to make a statement with your beard, nothing speaks louder than a van dyke beard and an English handlebar. It lets you show off your sharp facial features while customizing your beard.
13. Thin Chinstrap Beard with Pencil Mustache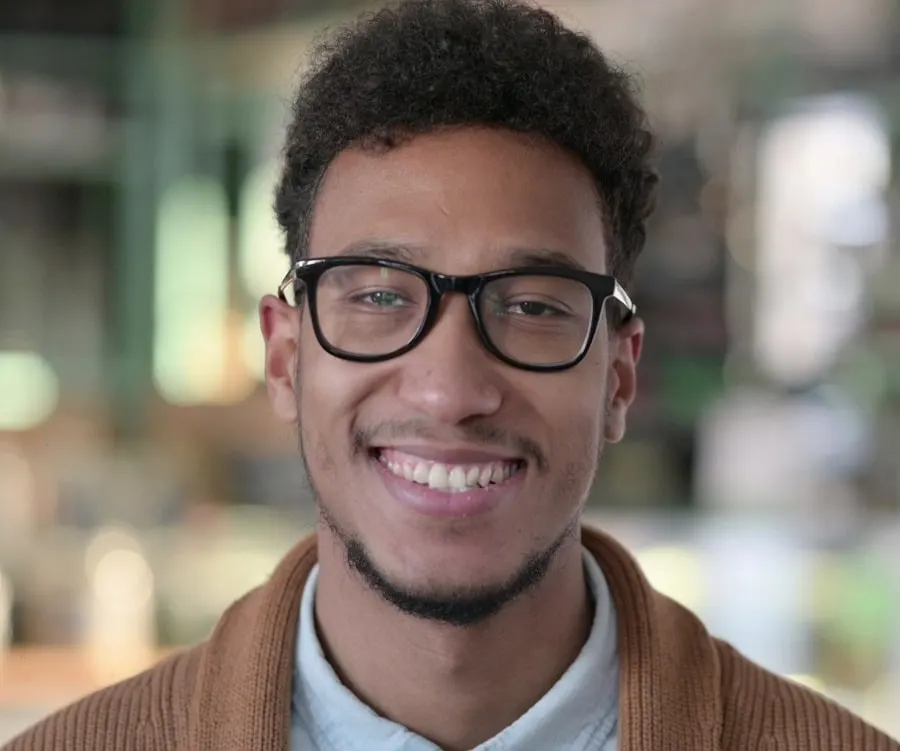 You don't always need a big beard to look good; a thin chin strap is a perfect example. The light beard and pencil stache attract attention to your hair and glasses.
14. Curly Beard with Disconnected Goatee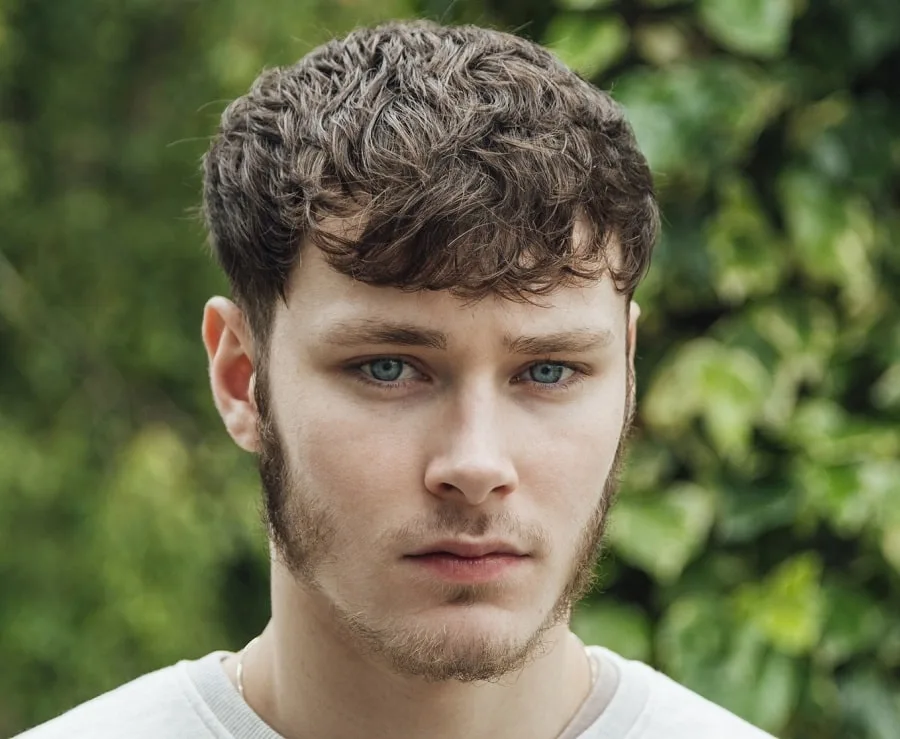 This curly beard with pseudo mutton chops can be a great style to pair with a Caesar cut and can really help you stand out. While you can skip the mustache, consider keeping the goatee and soul patch.
15. Extended Goatee with Longer Mustache Ends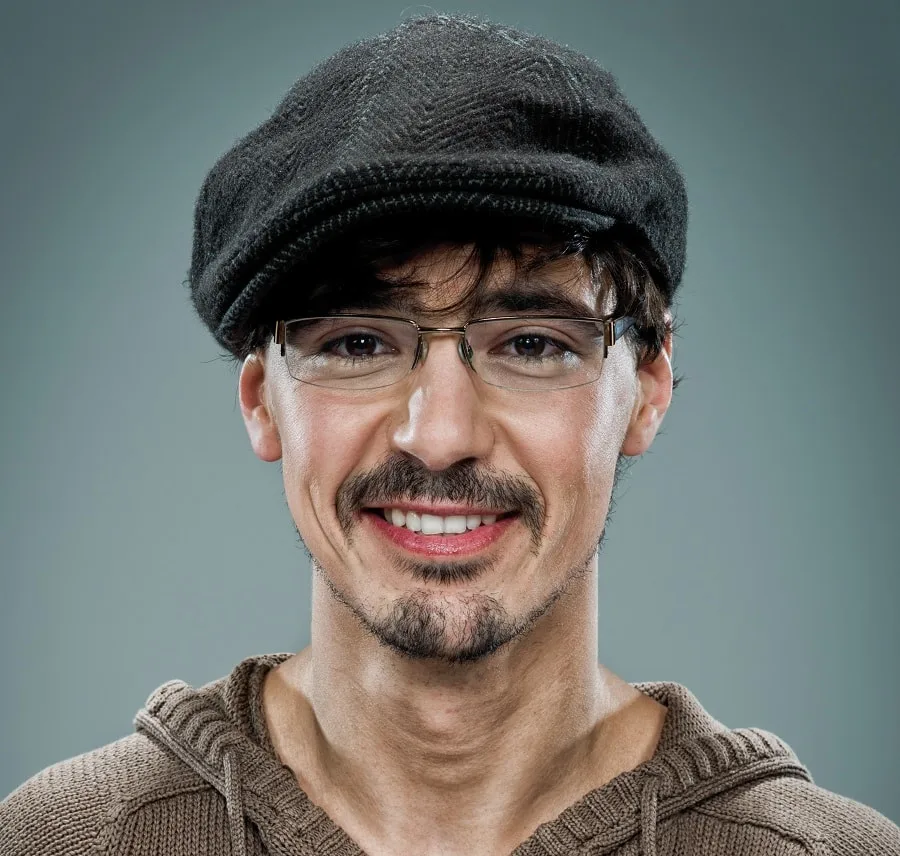 An extended goatee with slightly longer mustache ends is a great look for thinner faces that would look too full with a bigger beard. You can show off that jawline, and it can pair well with most types of glasses
Barely Grow Stubble Short
16. Natural Patchy Short Beard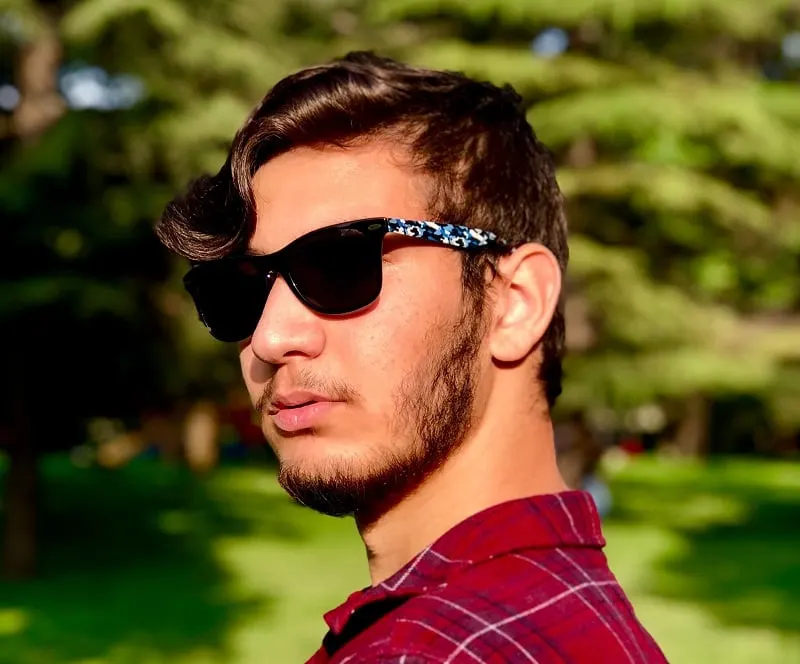 If you have a patchy beard, one of the best looks you can go for is an all-out natural grown patchy beard. Sometimes, a patchy beard might not even need the definition of a cheek line either.
17. Patchy Light Stubble Short Beard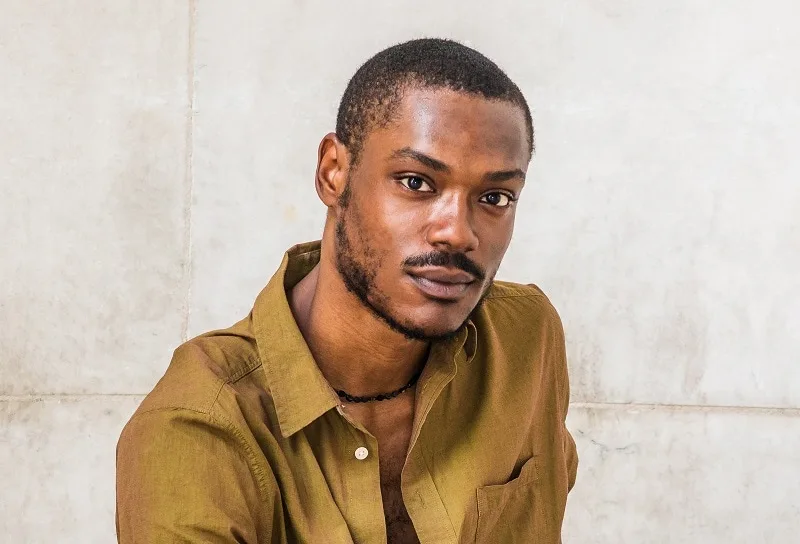 A patchy beard kept short can look amazing just like in this image. Make sure to keep the cheek and neck line well-defined.
18. Trimmed Patchy Short Beard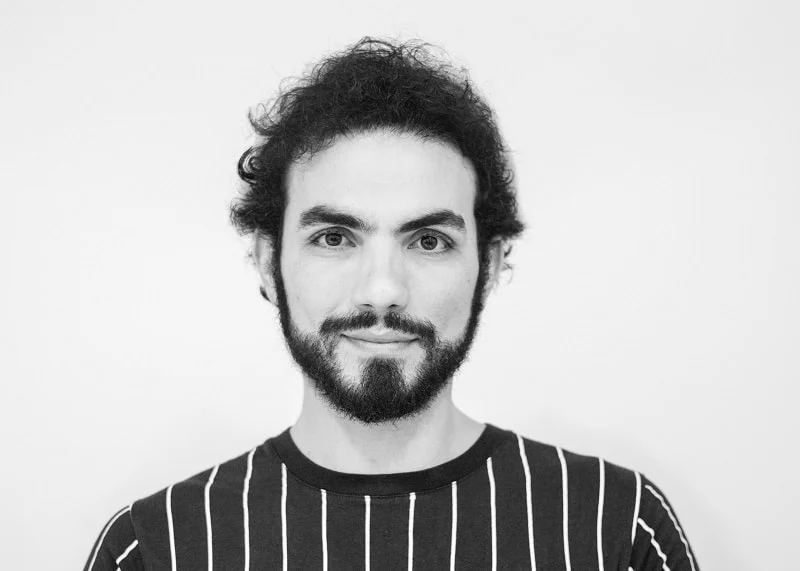 A full beard is any facial hair that covers the whole face. That can be difficult with a patchy beard, but rest assured if you allow it to grow eventually it'll be short but yet add depth to your beard style. Trim it regularly to keep it looking on point.
19. Clean and Friendly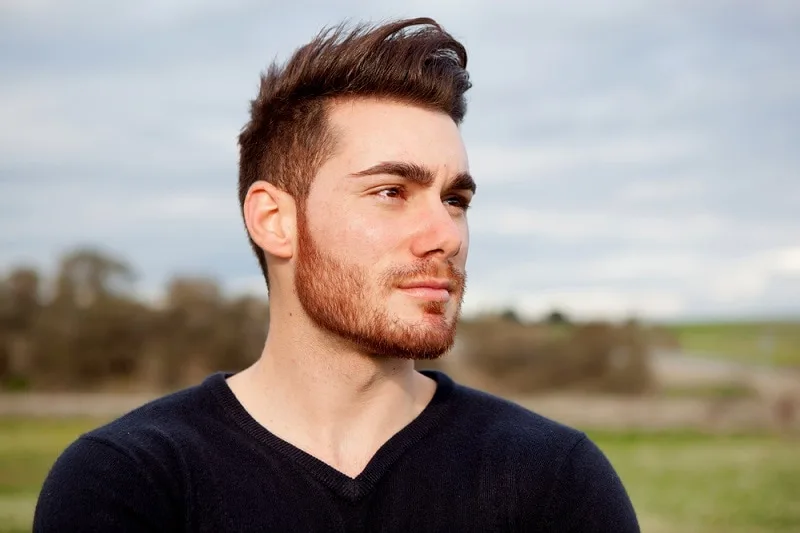 Keep your beard clean and friendly like this look here. Short beards are famous specially for a well-defined cheek line.
20. Light Stubble with Goatee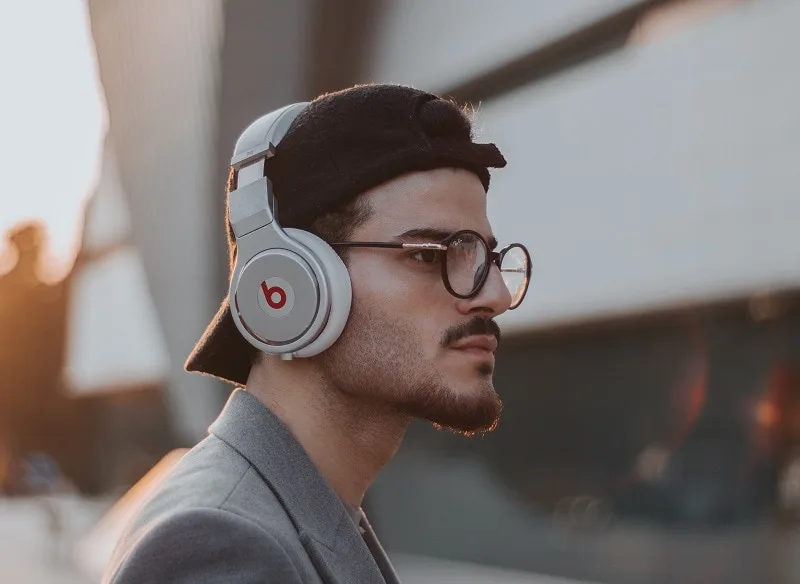 You can never go wrong if you can combine to different beard styles together. Such is the case with the goatee combined with a nicely trimmed light stubble.
21. Extended Circle Beard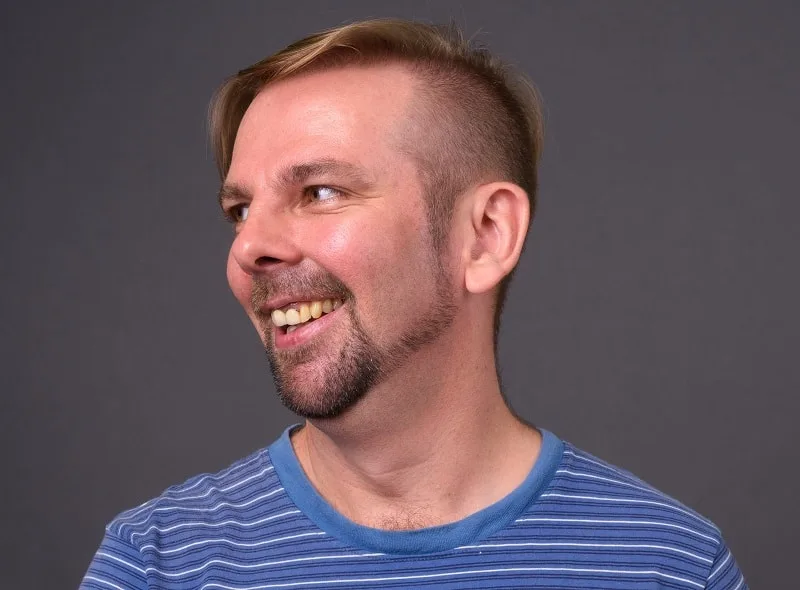 Circle beards are grown around the mouth. Extend it through the jawlines and connect it to your sideburns, and you have yourself a short beard.
22. Taking It Easy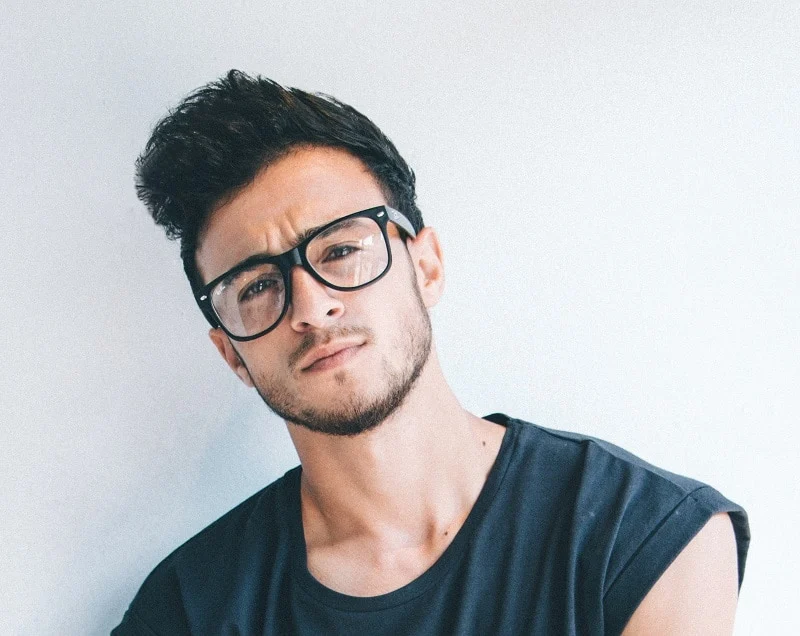 This one's low maintenance. The facial hair is grown out and kept natural until it's time to trim. The cheek lines are well defined.
23. The Traveler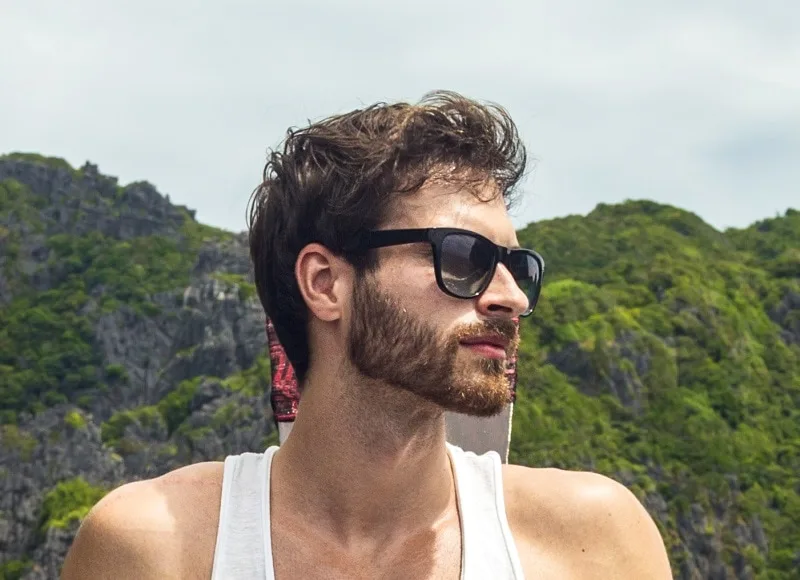 A short beard is the perfect beard look for when you're traveling. It's typical to not get the time to trim and shave regularly when you are traveling. This could be the perfect look for then.
24. Blonde Short Beard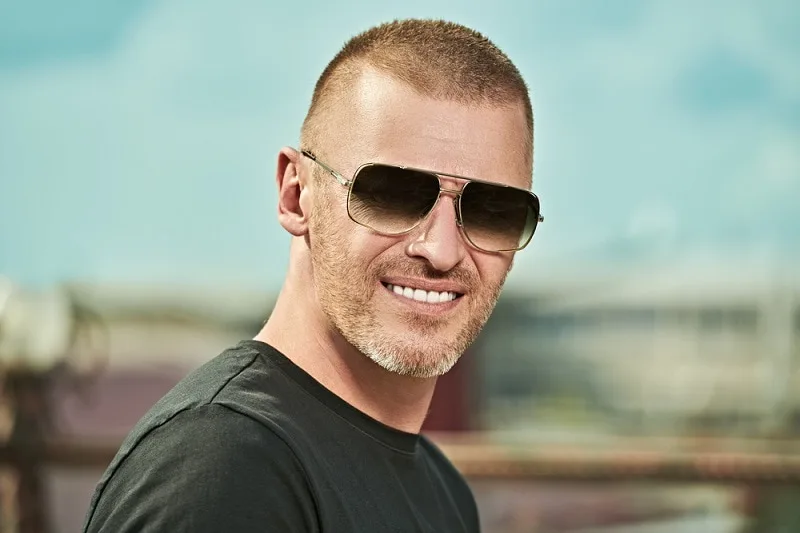 Natural or not, blonde facial hair is a unique color. Keeping it simple with a short beard might just be something you're missing out on.
25. Faded Short Beard
A nicely trimmed short beard and well-defined cheek lines are the fundamentals of a short beard. But if you want to take it to the next level, putting a fade along the sideburns will not disappoint you, ever.
26. Short and Simple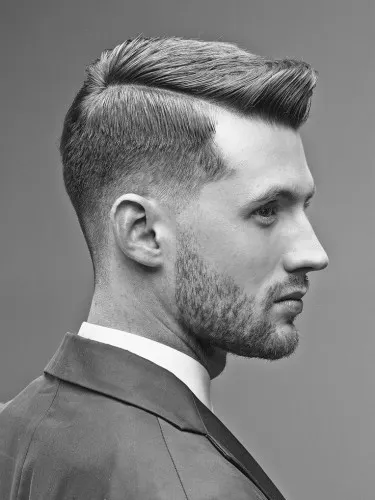 This short beard style is very elegant and simple, as it features a close shaved goatee and beard which fades into the sideburns. Coupled with a very prominent side part and faded cut, this style is perfect for men who are looking for a classy look.
27. Defined Lines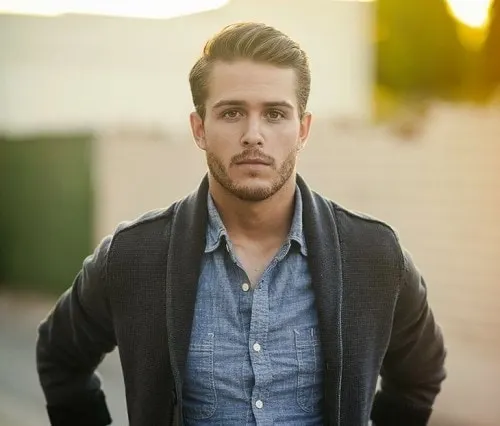 Here's a beard that has been outlined to perfection. The goatee is partially shaved, leaving a small soul patch and hair underneath the chin which emphasizes the masculinity of the chin and jawline.
28. A Little Fuzz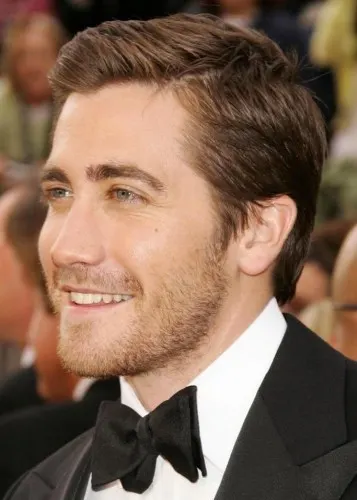 This look features a short beard that is left relatively carefree, giving the look a little less effort. All you may need to do to achieve this look is either allow your short beard to grow in a little bit, or trim the beard down so that it is short, but not too close to the skin.
29. Thick and Thin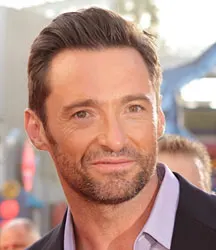 Here's a beard that is coupled with thick sideburns, as opposed to tapering or fading. While this look will not suit some face shapes, it would look great on those who are looking to make the face appear shorter.
30. No Effort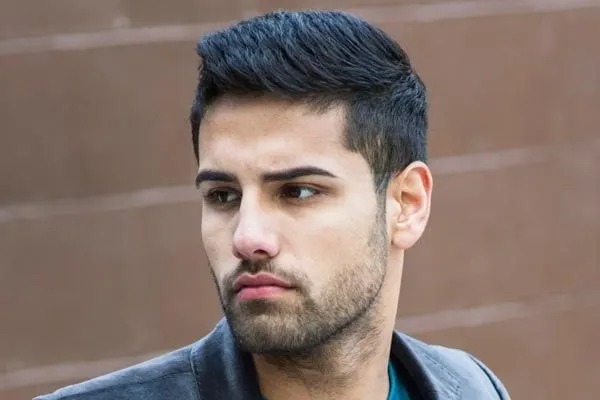 If you're a fan of the 5 o'clock shadow look, then you'll want to give this style a try. This look features a closely shaved full beard that has been outlined on the face but left to grow naturally on the neck.
31. Definition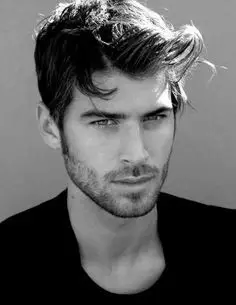 Here's a short style that features a slightly prominent soul patch and hair left in the dip above the lip. This look also features thick sideburns.
32. Naturally Classic Short Length Beard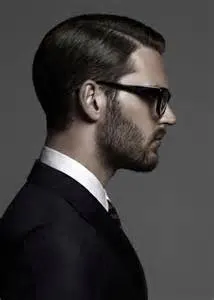 This look features a beard that appears to be growing in its natural state but has been trimmed down close to the skin. The neck and the outline have been left very natural, while the sideburns and hairline are outlined and clean.
33. Thinner Goatee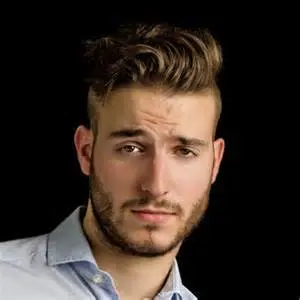 Here's a short goatee beard look that is outlined pretty thin. The majority of the hair on the chin has been shaved off, leaving a small soul patch that extends down to the chin beard. Clean lines were achieved along the sideburns and cheeks, while the neck has been left to grow as it naturally does.
34. Prominent Goatee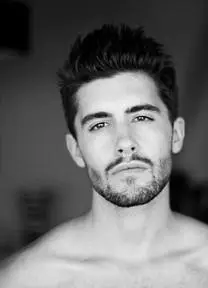 Here's a short beard style that features a rather prominent goatee. To achieve this, just shape your goatee as you normally would and trim down the rest of the beard a little bit more than you did for the goatee. It's best to start out relatively thick and trim the beard down gradually until you achieve the look you want.
35. Chin Strap and Mustache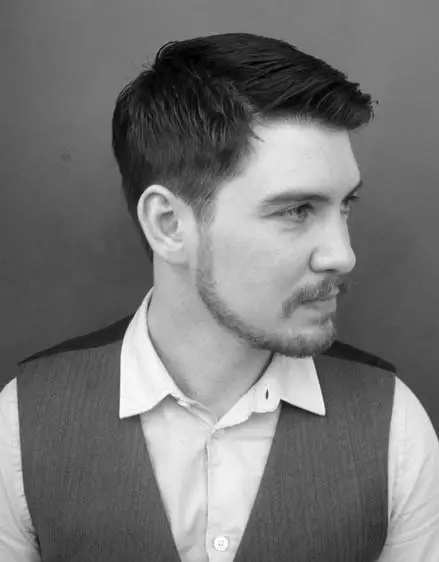 This chin strap beard is great for men who either can't or don't want to grow in a full beard. In order to achieve this, completely shave the majority of the face leaving the mustache and hair long the jawline. Then, trim and outline the chin strap so that it is even and straight, and trim the mustache as you'd prefer.
36. Simple and Masculine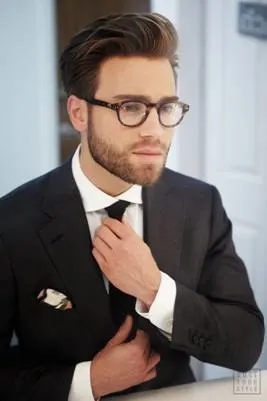 This is a full-bearded look that is clearly outlined and trimmed close to the face. Be sure to shape the goatee so that it emphasizes the chin.
Moderately Thick
These are beard styles for men who like to keep their beards at moderate thickness. These looks are perfect for those who can achieve a full beard without any patchiness.
37. Thick and Bold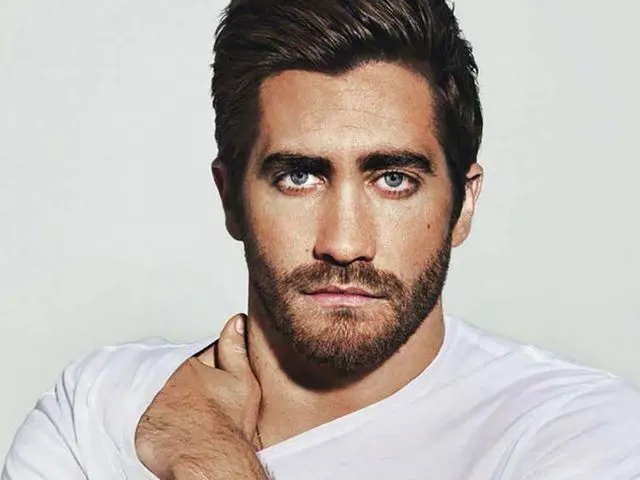 This full beard look features a clean outline and defined chin which highlights the structure of the jawbone. This is a great look to sport if you're able to grow a relatively thick beard.
38. Short Tapered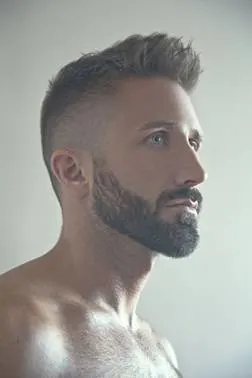 Here's a beard that gradually tapers into the sideburns. This look would be perfect for men who have round faces, as the chin is elongated by the beard and not cut off at the sideburns.
39. Patchy Goatee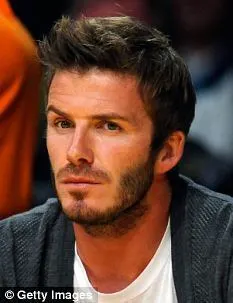 If your beard grows in relatively patchy, this could be a great option for you. The beard on the cheeks is left full while the majority of the chin is shaved clean leaving a soul patch which extends into the chin beard.
40. Full Fledged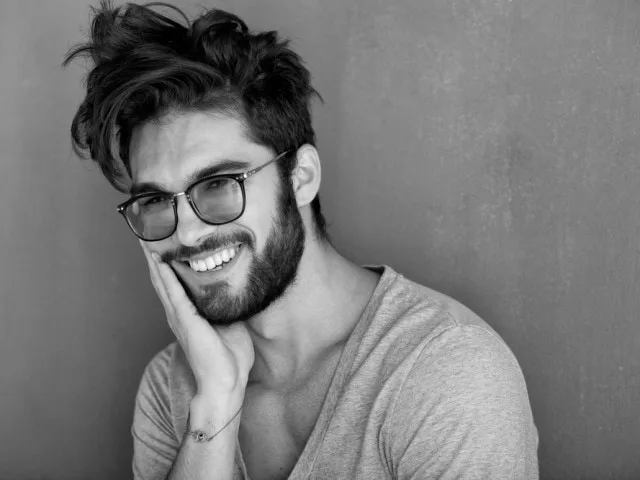 This is a great option if you're looking for a more carefree look. Even though the beard is pretty much left to grow as it naturally does, the goatee is shaped in order to outline the chin.
41. Fuller Goatee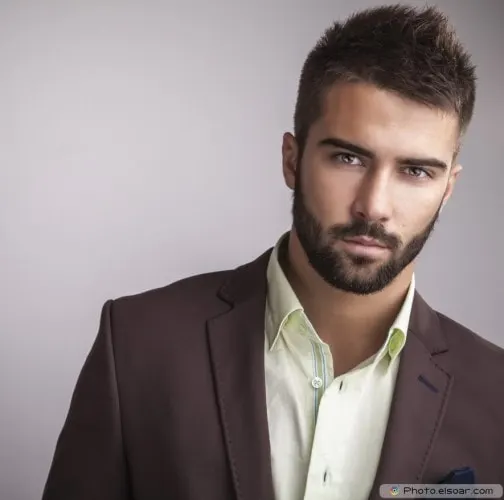 Here's a short length full beard style that features a goatee that contains more hair than previous styles. In order to achieve this style, just outline the soul patch in the goatee and leave the rest of the beard full. Clean up the outline of the beard by creating smooth, straight lines along the cheekbones.
42. Textured Short Beard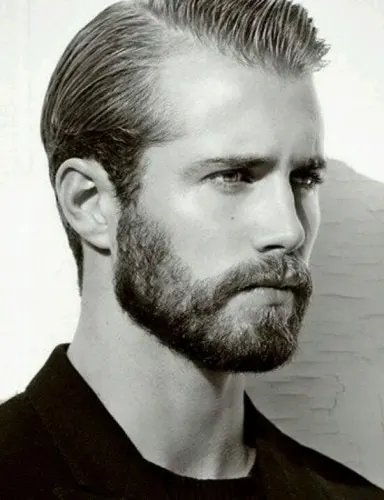 This beard look really depends on the state in which your hair grows. Since this beard is more coarse than the hair on his head, it gives the style a more unique look. Just allow the beard to grow as it naturally does without brushing or smoothing it down. Leave the mustache long and slightly curl the ends up in order to give the look a little more texture.
43. Natural Outline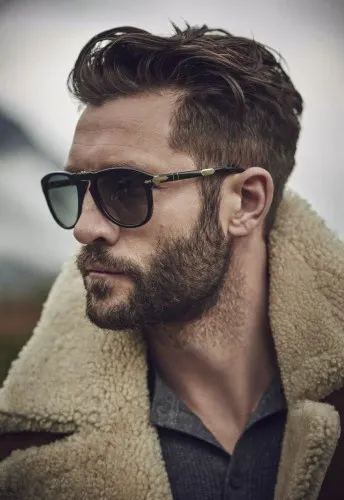 Here's a look that's left completely natural with a moderate thickness. The goatee can be shaped as you'd prefer, but it's left attached to the beard as opposed to detaching it.
44. Uniformity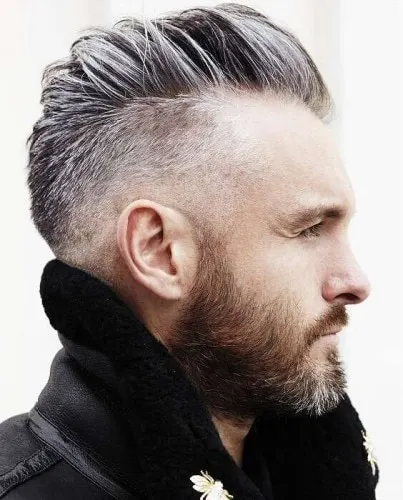 This beard style has been brushed and trimmed down so that the hairs are uniform in direction, appearance and length. This gives the look a more polished feel without making it incredibly conservative.
45. The Burly Gentleman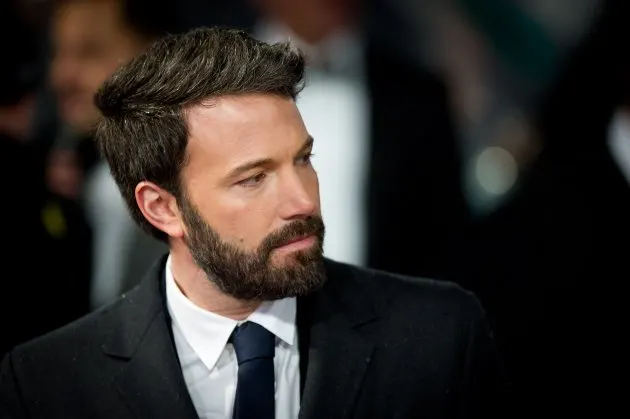 Here's a full beard style that features clean lines which are still left relatively natural-looking.
46. Long Chin Curtain
Here's a tapered look that features a chin curtain and extended soul patch. The mustache is also left long in order to give the look more texture and personality.
47. Wild and Free – Short Beard with Long Hair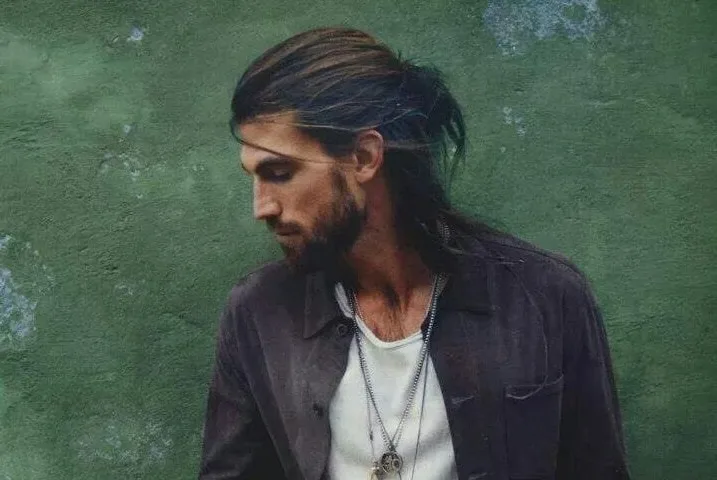 This full beard has been left natural but features sideburns that have been shaped and outlined in order to enhance the jawline.
Full and Long Short
These below beard styles are for men who aren't afraid to sport an impressive beard. While these styles are a little more unconventional for those working in a corporate setting, they are perfect for the man who wishes to flaunt a beard that is full and moderately long.
Though these beards aren't actually classified as short beard, we have included them to give you a thought as you might love to try!
48. Stylish Woodman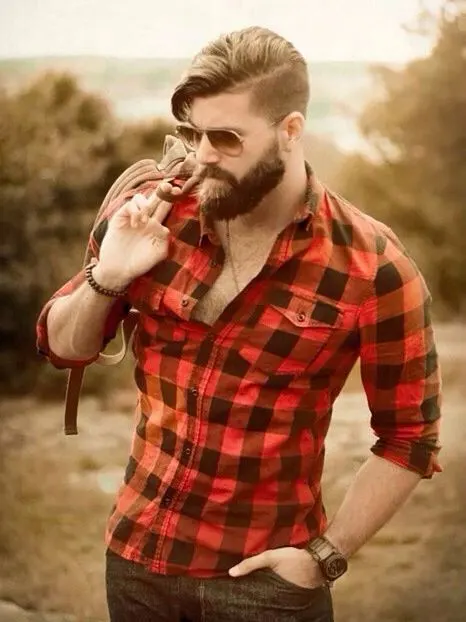 Here's a moderately long beard that is slightly tapered as it extends to the sideburns, which are thinned out. This is a great modern version of the full beard that offers a great deal of style while still remaining masculine.
49. Full Throttle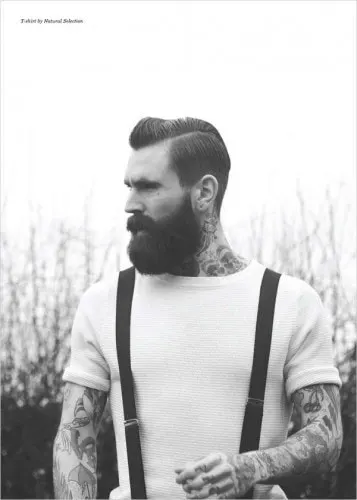 This full beard is left to grow thick and long, but is combed out and trimmed so that the hair is uniform. The sideburns are thinned out and slightly faded in order to separate it from the hairline. Coupling it with a prominent side part gives the look a very classic style while still maintaining its edge.
50. New Age Class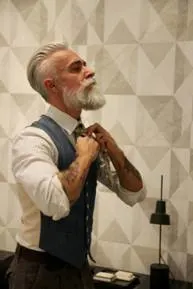 Pairing this full beard look with a slicked back coif will give you that slight edge that you're looking for. Instead of combing the mustache down, curl it up with some curling wax to give the look a little more personality.
51. Short Beard with n shaped mustache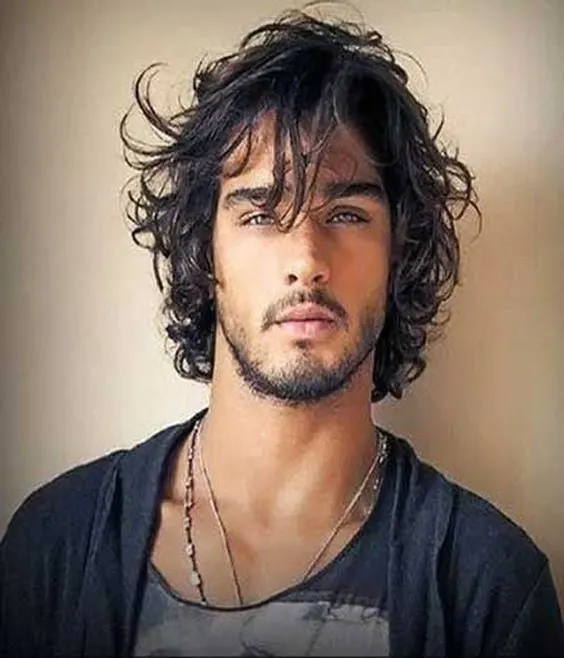 An n-shaped mustache (or upside down u-shaped) mustache is a lite-version of the Horseshoe mustache. Keep your short beard disconnected from your mustache to make it really stand out.
52. Stubble Beard with Heavy Eyebrows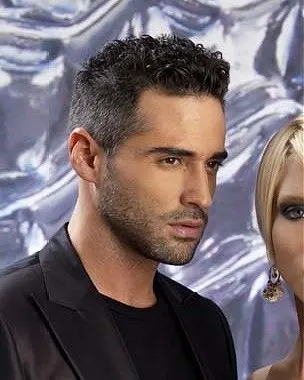 Your eyebrows also play an important part of your facial hairstyle. Heavy eyebrows will make your short beard or stubble look more intense. Perfect for brooding hotness.
53. Patchy Beard with a Classic Handlebar Mustache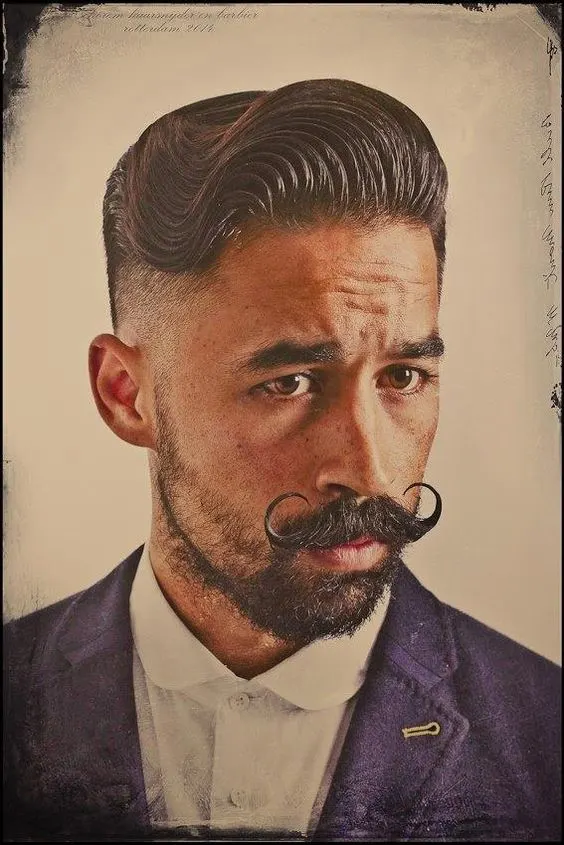 Show off your touch of class by adding a handlebar mustache to any beard style. It actually looks really cool with a patchy short beard because this helps the mustache to stand out more.
54. Sexy Stubble with Spiked up Locks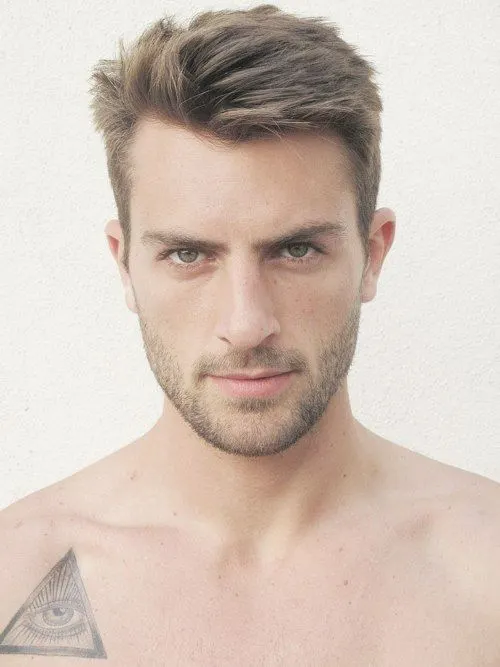 Although some people might argue that stubble should not be classified as a short beard, we would argue that it is nearly there! Match your stubble up with carefully styled spiky hair for the ultimate sexy look.
55. Fade out hair with a thin beard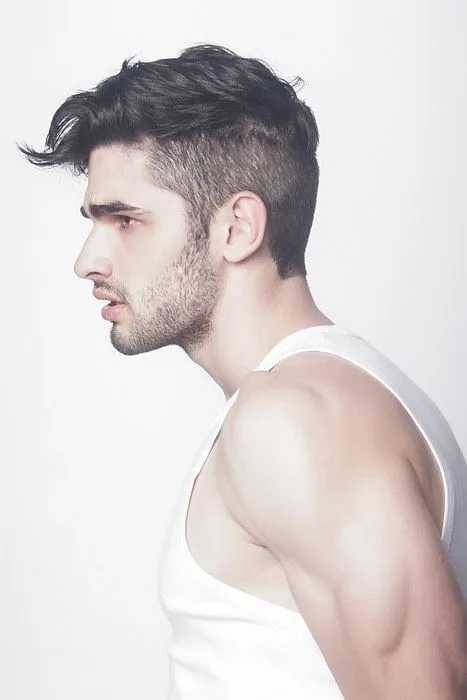 If you have a taper fade hairstyle then you can match your hair seamlessly into your beard. This is easiest to achieve if you have a thin beard, rather than a thick beard.
56. Line-Up Cut with Tramlines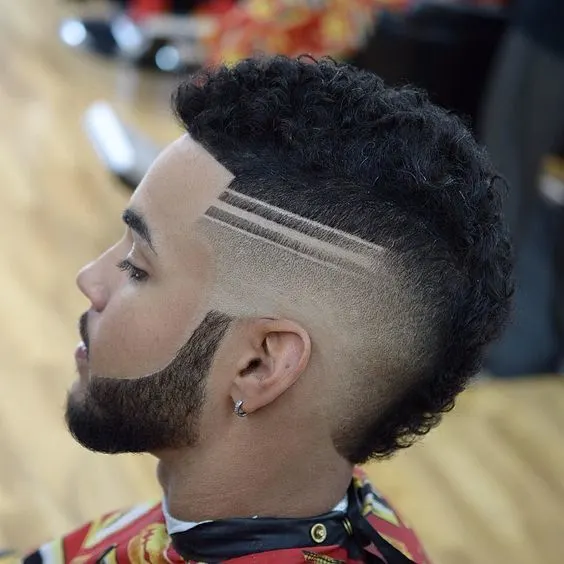 A sharp line-up cut is an elegant beard choice. The smooth lines and curves work well in both casual and business styles. Shave some unique tramlines into your hair for a touch of class.
57. Patchy Beard with Messy Hair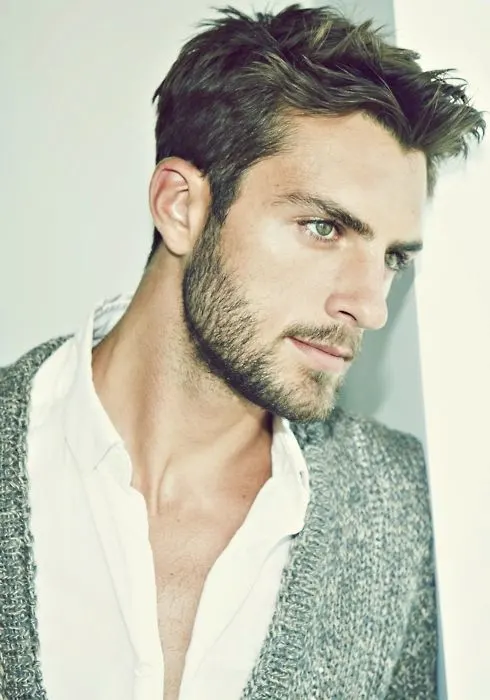 Some people think that a patchy beard is a bit of a messy short beard style. Keep the messy theme going by matching your head hair to your facial hair with tousled messy spikes.
58. Thin Beard with Extreme Fringe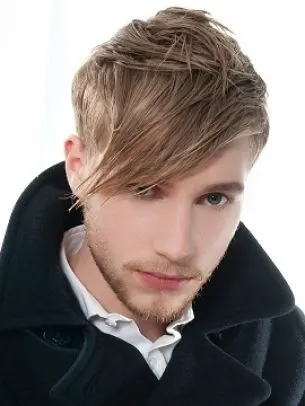 If you have an extreme fringe then you should keep your facial hair very simple. This stops the two features from overshadowing each other. A thin beard is subtle yet effective.
59. Thick Stubble with Mid-length Spikes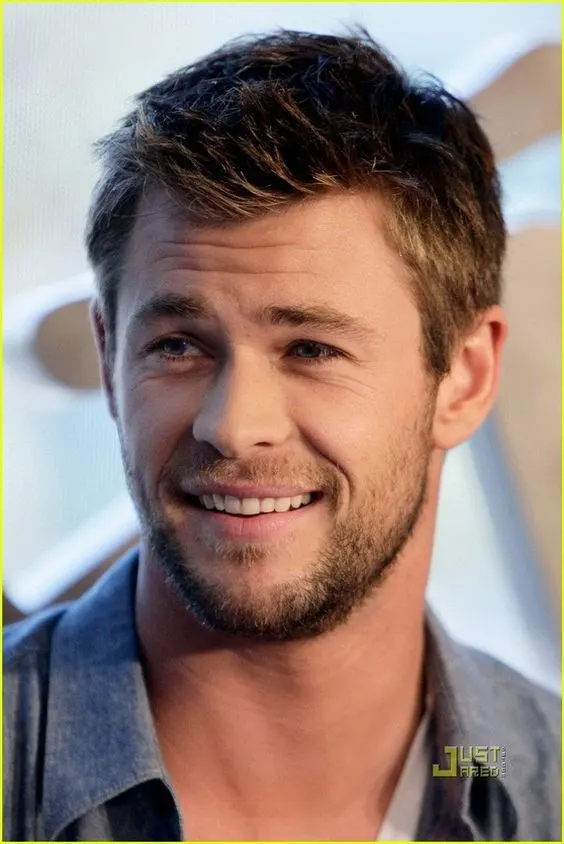 This short beard style is all the rage in celebrity circles at the moment. It is a look that is so hot that it smolders. You will be sure to receive the right kind of attention.
60. Maximum Coverage Stubble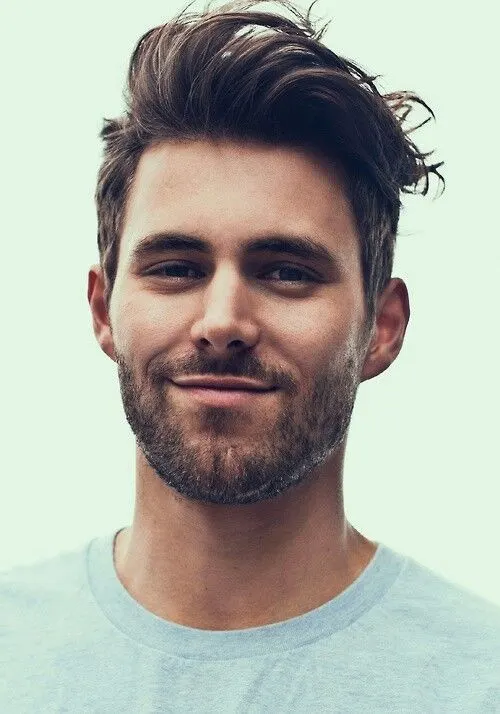 If you have very active hair follicles then you could consider trying out this sexy beard style. Just let your stubble grow from every hair follicle that you have!
61. Thin Chin Strap with Thick Faux Hawk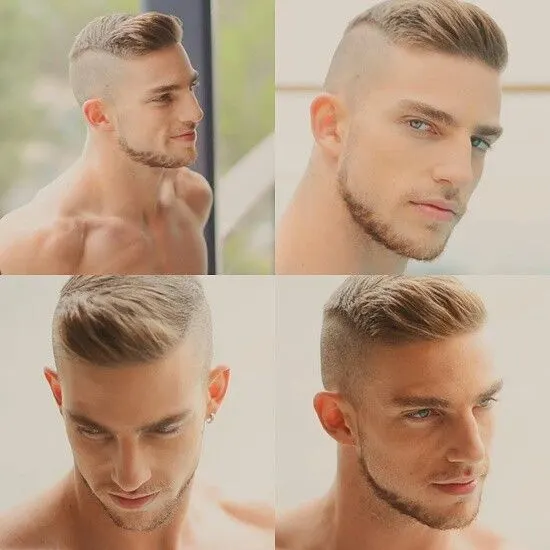 The attraction from this beard and hairstyle comes as much from the hair that isn't there as from the hair that is. The thin chin strap beard borders your face and helps to open it up.
62. Hollow Cheeks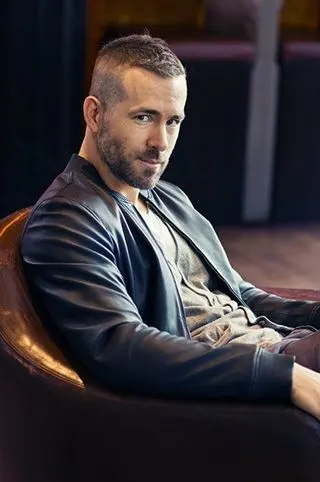 A short stubble beard that grows into the hollows of your cheeks can help to make your face look thinner. Keep the stubble off of your cheekbones for maximum effect.
63. Pointed Chin Beard with n-shaped Mustache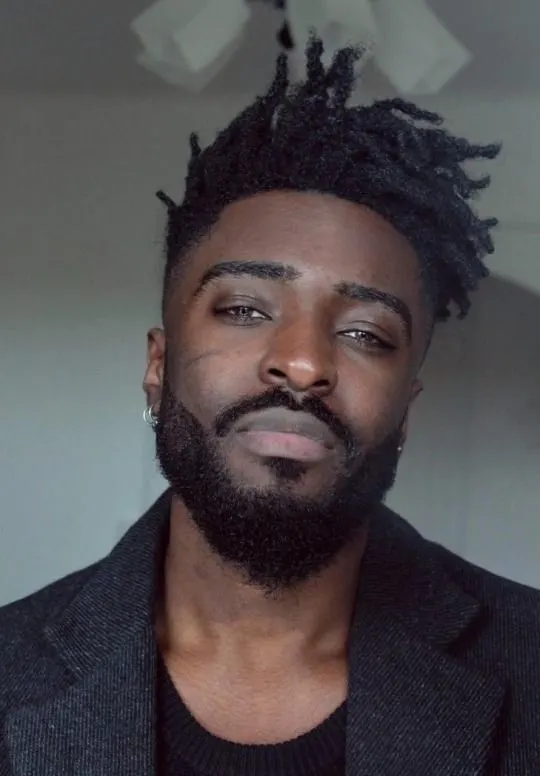 When a short chin beard is teamed up with an n-shaped mustache it can give your face a great shape. Style your chin beard into a subtle pointed shape for maximum effect.
64. Subtle Stubble with a Chicken Comb Hairstyle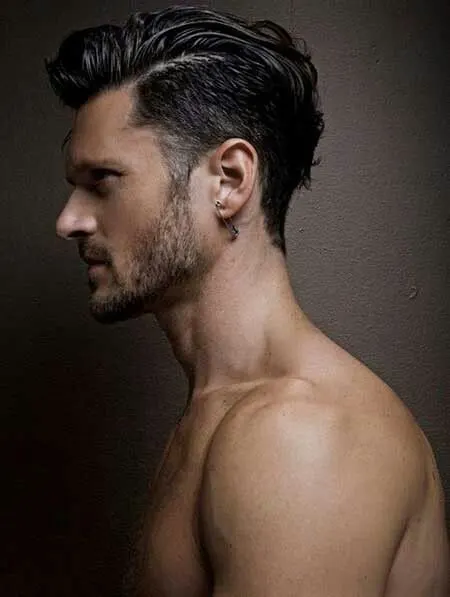 If your beard style is not going to be the main event, you can still make a big impression with your hair. This spiked-up style takes its inspiration from nature and looks like a rooster's comb.
65. Barely There Beard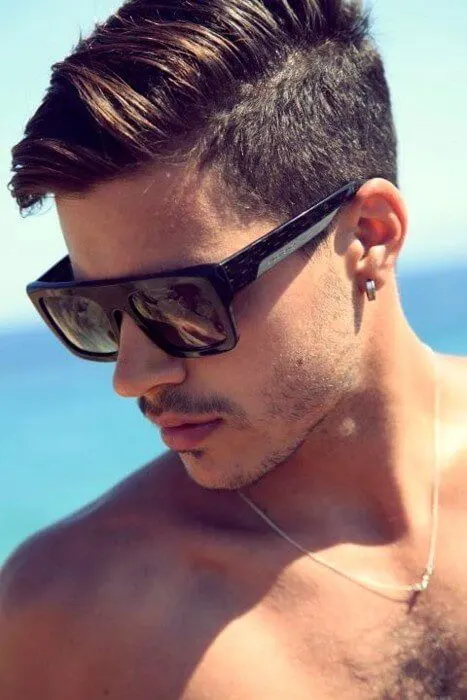 A Barely There Beard is a great choice for people who don't really want to commit to a longer style. You can shave your facial hair in the morning and it will have grown back to this length again by the time that the next morning rolls around.
66. Serious Style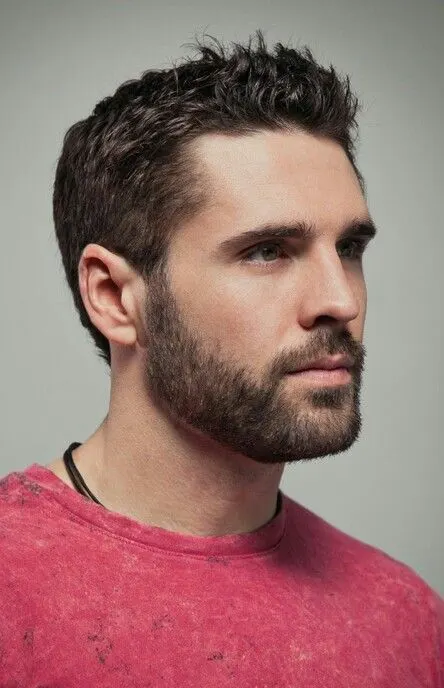 A short bearded look can be a great choice for serious or formal events. Just make sure that you keep everything well-trimmed so that it is really smart-looking.
67. Short Beard with Dreads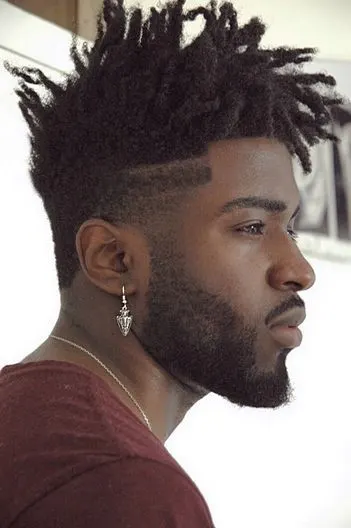 Dread are a really cool hairstyle for African-American guys. Balance your dreads out by matching them up with a sharp and shaped line-up beard style.
68. Dark Shadow Line-Up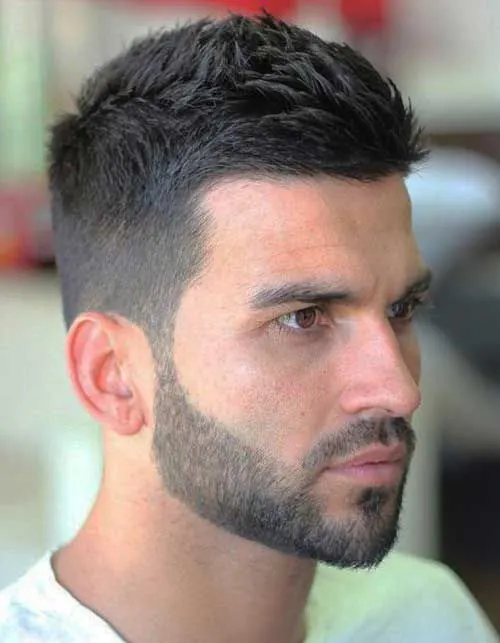 A perfect line-up beard style is subtle but effective. Longer stubble is very easy to work with and offers a pleasing shadow shade, so its a perfect choice for a line-up look.
69. Chin Dimple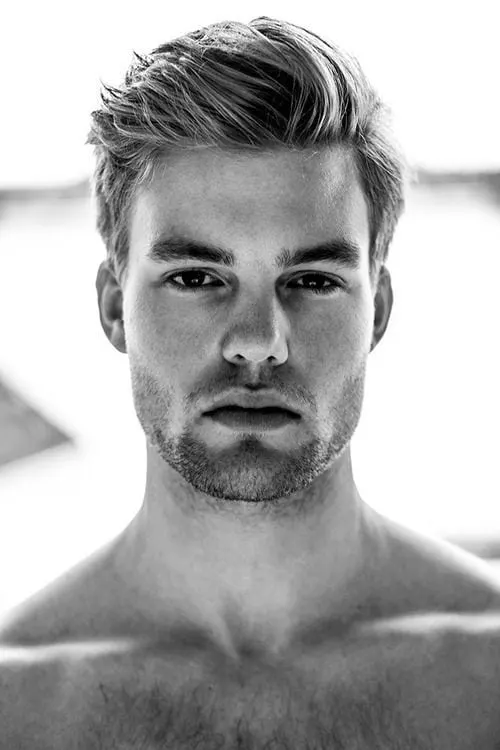 This style makes the most of your chin cleft. Grow a short beard right up to your lip in a W shape. A W shape can help to make your chin look stronger.
70. Salt and Pepper Style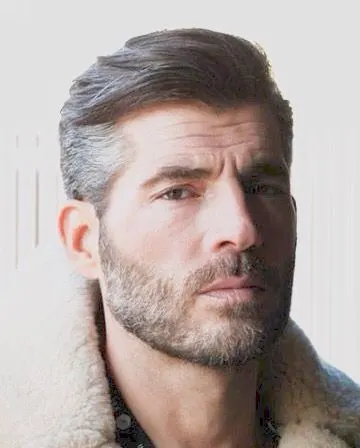 It doesn't matter if your hair is starting to go gray. A salt and pepper beard is a very sexy style if you are starting to get a little bit older.
71. Lite Beard Style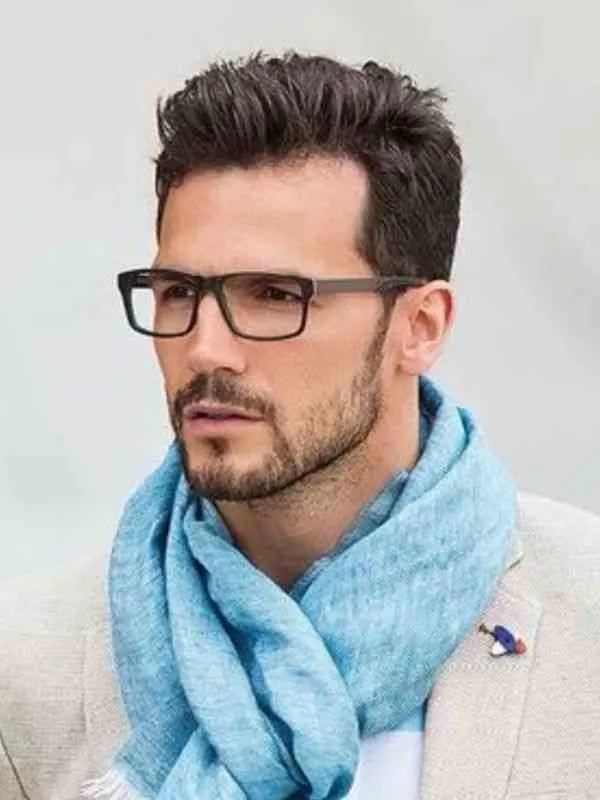 This beard style is for those who love to get an attractive beard but don't like to show-off facial hair too much. Lite beard style will easily enhance the beauty of your casual look.
72. Black And Full
Some guys have an amazing beard growth and sheer black-colored facial hair. This black and full short beard style will suit them.
73. Short Beard for Black Men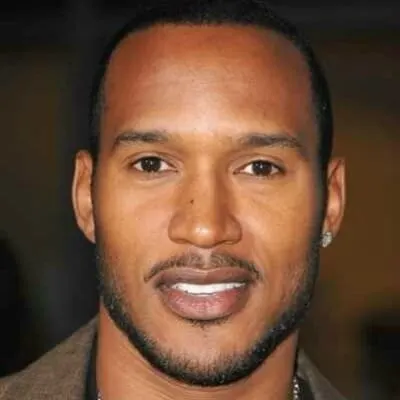 Black men have a different pattern of beard and hair. So the style is also different to some extent. You can try this style if you are a black person.
74. Short Beard with Blonde Hair
A beard style often associated with a great hairstyle to look the best. You can try a short beard style with this type of blonde hair in this regard.
75. Tom Hardy Special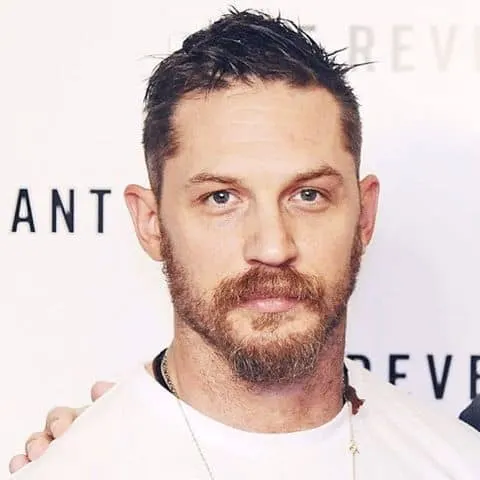 Tom Hardy is becoming the new Holywood sensation in terms of dashing looks. He has donned many beard styles within a short time of his career. Check this one for a short beard style.
76. Formal Look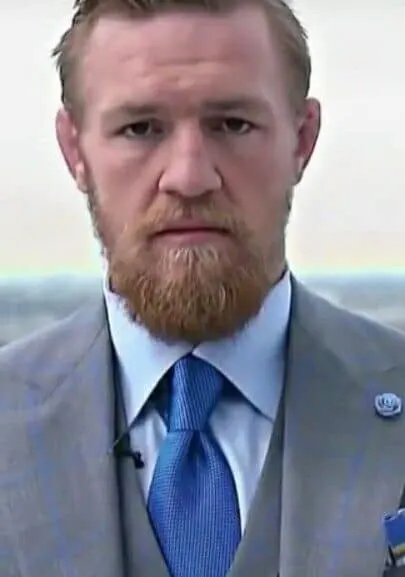 A misconception about the beard style is that formal look doesn't quite go along with beards. But one can get an impressive corporate look with the help of well-groomed short beard style.
77. Short Beard with Short Hair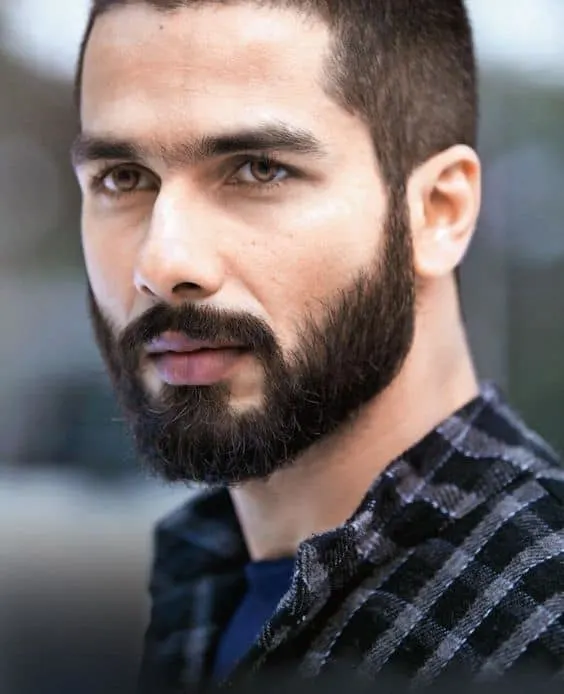 Uniformity with the hair and beard is something that looks gorgeous if the hair is black and thick enough. The length of beard and hair is almost same in this beard style.
78. Short Beard & Undercut Hairstyle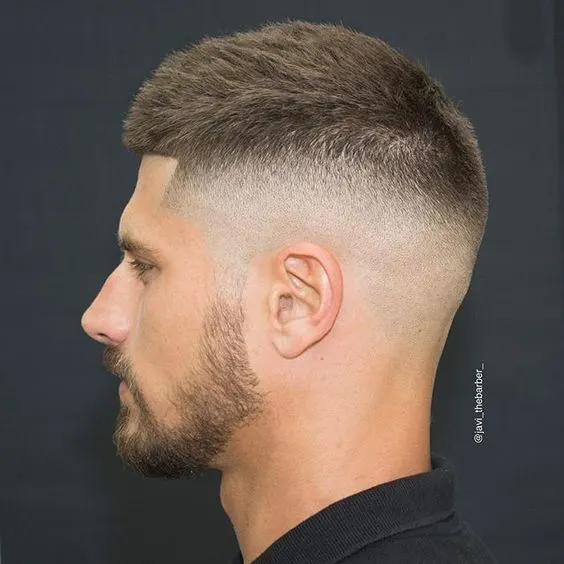 The faded hairstyle looks very good on guys having an oval or rectangular face. If you have that sort of face and want to do a short beard you are very much welcome.
79. Intense Look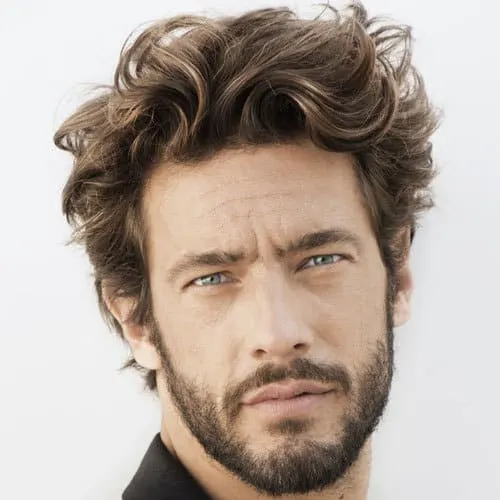 A straggly looking short beard associated with messy hair adds extra intensity to the look. Grab this style to get a dashing beard style.
80. Short Chin Strap
Chin Strap is one of the most popular beard styles. One can get the bright side of it by keeping the beard shorter.
81. Celebrity Style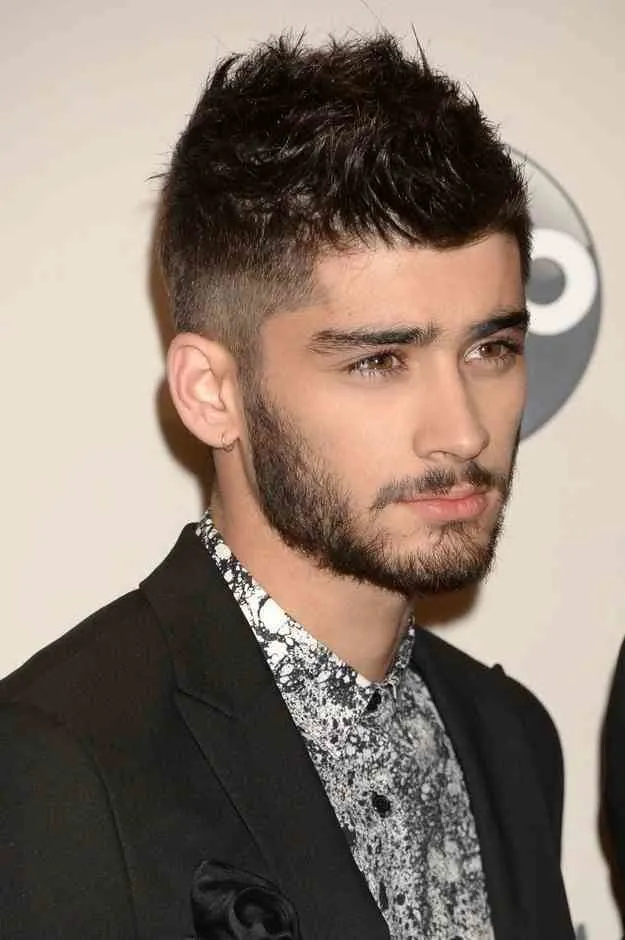 British singer Zayn Malik has a very strong fan base across the globe. He often rocks a short beard with a fade haircut. One can follow this celebrity style to look chicer than before.
82. Black & White
Black and white are the ultimate couple that lives happily ever after. You can use the natural mix of gray and black hair while designing a short beard style.
83. Military Guy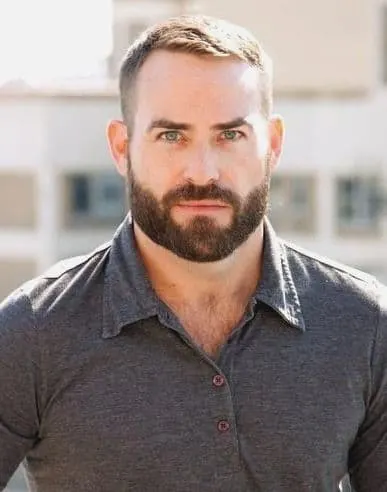 If you have a strong physique and a military-like hairstyle, you will look great with a short beard style. The overall style will create a defense guy vibe around you.
84. Ginger Beard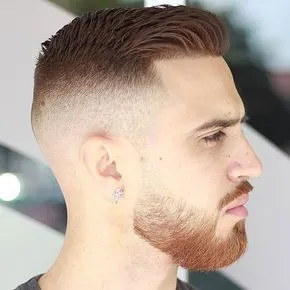 Ginger beard is something genetic that you can't change. So make the best out of it. A short beard style will complement the natural ginger color of your beard.
85. Bald Awesomeness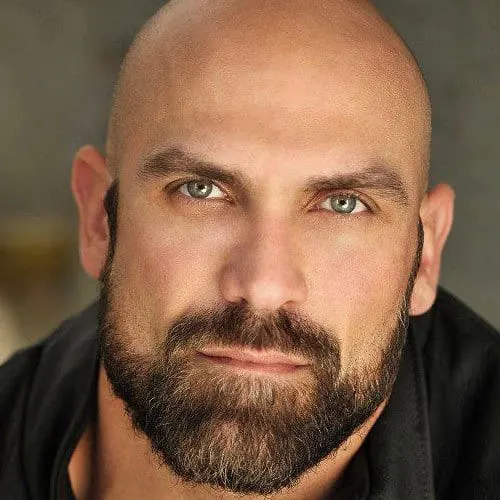 Bald headed guys are dominating the fashion arena nowadays. A compatible beard style helps them stand out among the trending styles that are in vogue. So get this bald awesomeness with the help of a short beard.
86. Nice And Sleek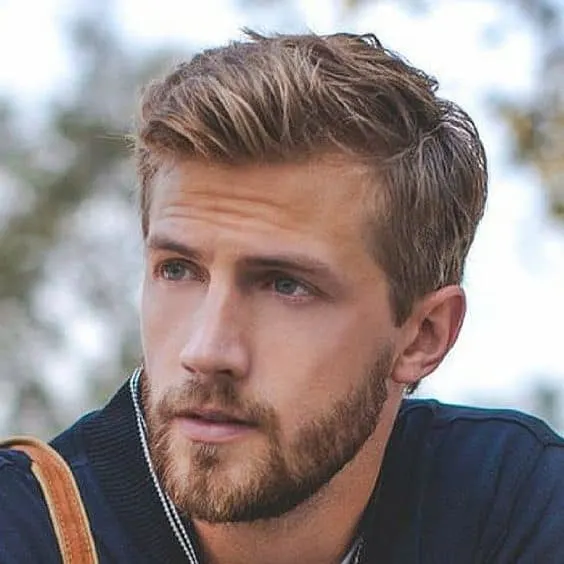 If you want to stay stylish and get an appealing look, there is no alternative to get a well kept and groomed beard style. The combination of a beard and hairstyle makes it look sexier.
87. The Complete Package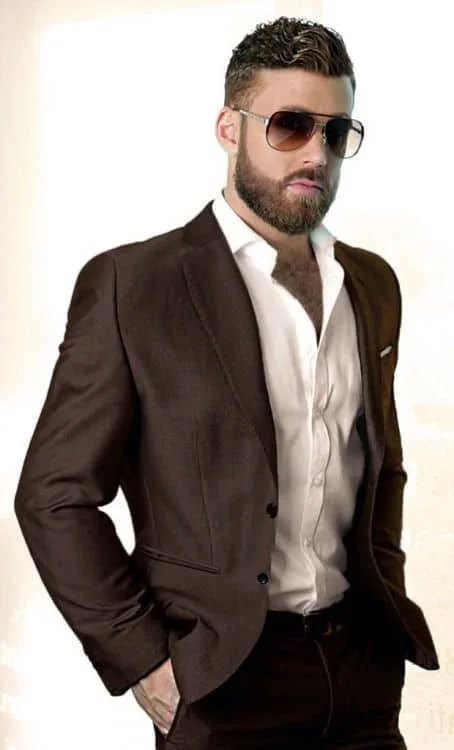 This picture will guide you to the path of complete styling. Starting from the attire it has included every single thing we need to look gorgeous. And a short beard plays the pivotal role here.
88. Inspired by Models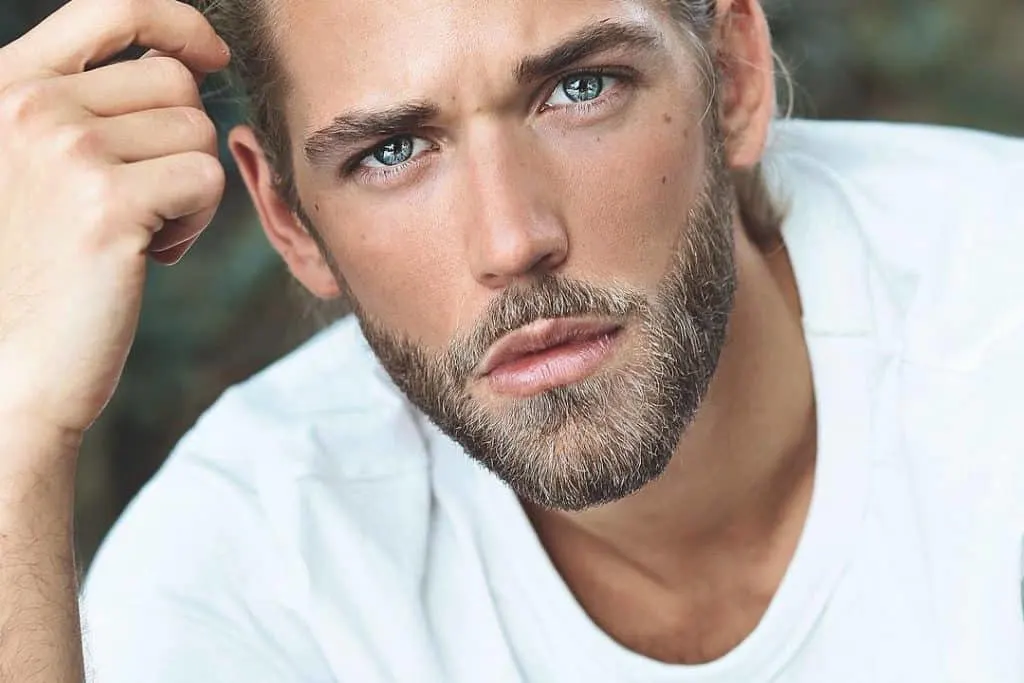 If you are a beard enthusiast you must have heard the name Ben Dahlhaus. He is one of the most famous beard models right now. One can get inspired by the amazing short beard style of this top model.
89. Short Goatee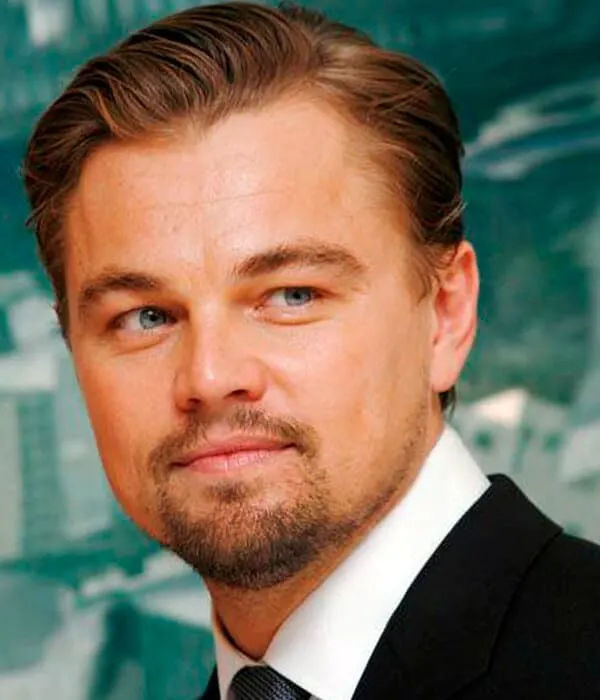 Goatee beard style is preferred by a large number of guys who want a stylish look in exchange for low labor. Short goatee will be the first choice of guys like these.
90. Full And Short Beard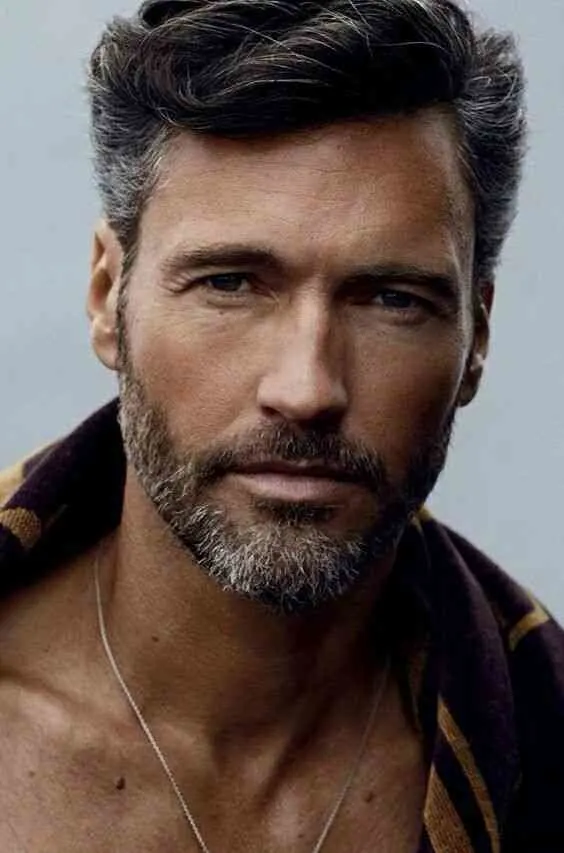 A full beard is always welcomed by the guys who are striving to get a manly look. You can have a short and full beard to lessen the maintenance difficulties.
91. Neat And Clean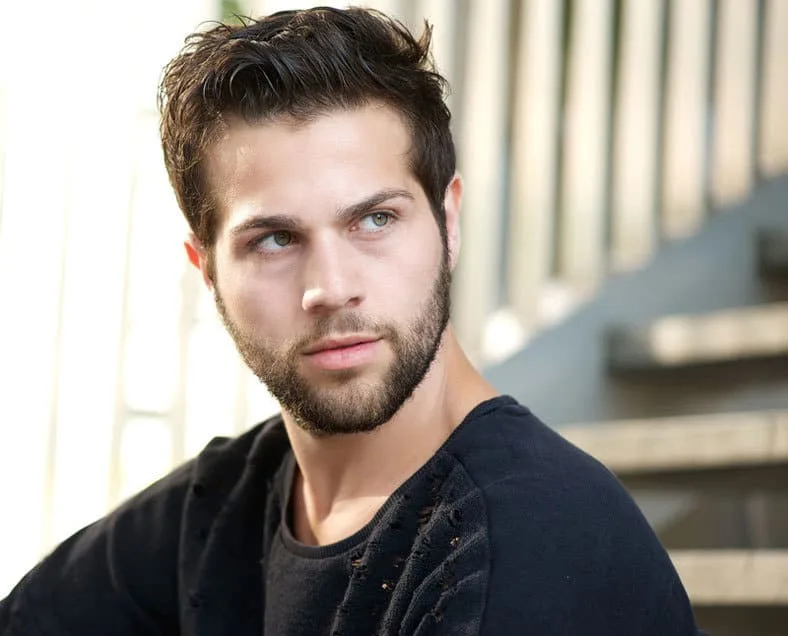 Get a heavy stubble determining the cheek line and neckline. You will get access to a neat and clean short beard style. This is the perfect way to look sexier than before.
92. Ben Affleck

Ben Affleck is one of the most celebrated Hollywood stars who is also famous for decent beard style. Check this one for short beard style.
Undercut hairstyles are in vogue now. You can follow the trend by getting this hairstyle done with a stunningly beautiful-looking short beard style.
94. Handlebar with Short Beard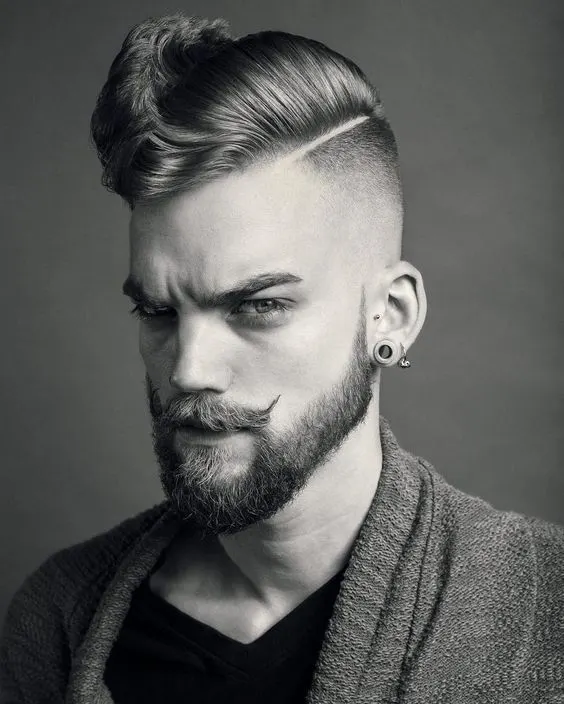 The handlebar mustache is a great mustache that complements the short beard style to a great extent. A compatible haircut will enhance beauty in many ways.
95. Slicked Back Hair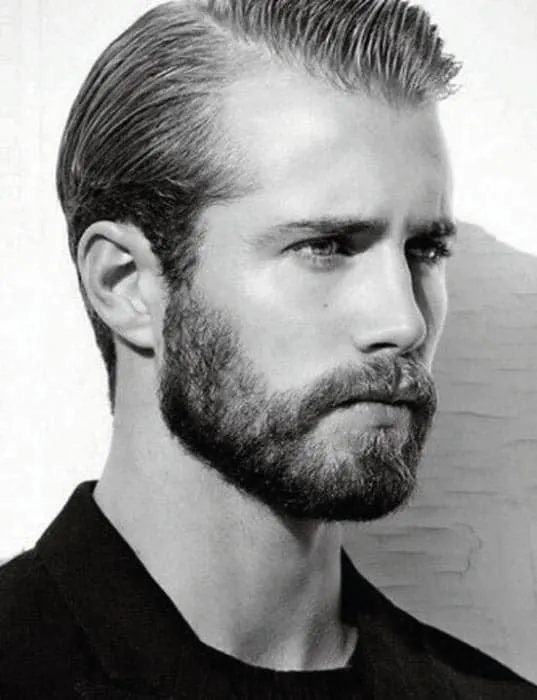 Slicked-back hair is a great hairstyle for guys who have a tendency to stay stylish and well-groomed. A short beard style will look great if associated with a slicked-back here like the above photo.
Every beard style looks beautiful if it is done with the true sense of style and trend. One should be very careful about which beard style he is getting as per the personality and shape of his face. Wrong selection can ruin the look of an individual very easily. That's why we have brought the best styles of short beard before you. Follow our styles and get rid of any confusion while having a short beard style.