Nowadays, a lot of men want to have a smart and healthy full beard as it is not only stylish but also expresses a manly bold look. It has turned into a noticeable element in the big events as well as popular celebrities lane lately and that pattern has sustained through to the high road.
Full beard styles are trending all the time in 2023 and we are going to reveal the list of top full beard styles you can try in 2023 that would be knocked out for viewers.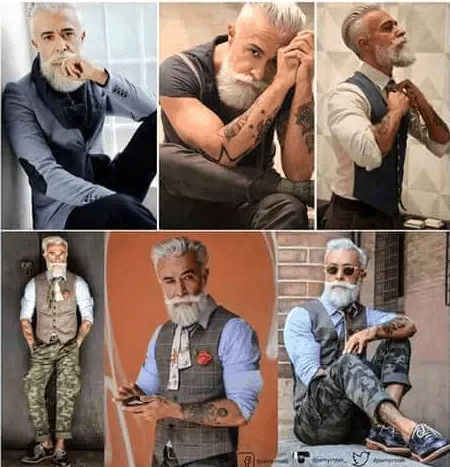 With a decent measure of facial hair, it's a great opportunity to trim the beard to tidy up the cheeks and neck and characterize a shape. It can be best to visit a barbershop with facial hair mastery for the first trim or two to build up a shape to keep up as opposed to doing it all yourself.
The most urgent part is characterizing the neck area. Shaving excessively near the jaw and the facial hair just looks unusual while shaving too far down the neck looks chaotic. For the cheeks, characterize the regular hairline and tidy up any stray hair.
What Is A Full Beard Style?
There's often a misconception where the terms "full beard styles" and "long beard styles" are used interchangeably. However, a full beard refers to the coverage of the beard, not length. It's a facial hair style that covers the entire chin, cheeks, sideburns up to the ears, and usually the neck area.
Even if a beard is closely trimmed but provides full coverage to these mentioned areas, it is still considered a full beard. For instance, a short boxed beard is also a type of full beard that has been trimmed to a short length.
Who Should Try a Full Beard?
A full beard can be a great way to add some personality and style to your look. It not only frames the face but also adds a touch. However, the full beard style isn't for everyone. Here are the individuals who might best suit a full beard:
Men who can grow ample and dense facial hair.
Individuals with oval face shapes can try any face shape. Others should consider the face shape balancing factors.
Professionals in industries or work environments that are accepting of full beards.
Those with a personal style that leans towards the rugged or outdoorsy, or those who want to provide a contrast to a polished look.
Men who experience skin irritation or discomfort from frequent shaving.
Individuals seeking a dramatic change in their appearance.
While these are general guidelines, remember that the most important thing is that you feel confident and comfortable about growing a full beard style.
Trendiest Full Beard Styles
In this post you are going to discover appealing, manly, and intense styles which come in different lengths, beginning from short to longer forms. My undisputed top choice is the Victorian full beard that must be very much prepared. Each style is extremely individual, as everything relies on your face shape, nose length, and haircut. Here are 60 amazing full beard ideas to look exclusive.
1. Medium Garibaldi Beard with Short Comb Over Hair
The garibaldi beard is rounded at the bottom taking more width than usual. The beard length is kept to medium for making it more manageable it connects with the short hair just beside the sides of the lower part of the ear. To achieve this look grow your beard for at least 6 months. Round the bottom of your beard and pair it with short hair. Wear a sunglass and you will look cool and mysterious.
2. Curly Full Beard with Buzz Cut Afro Hair
A curly full beard paired with a buzz cut hairdo offers an intriguing mix of cool and stylish textures for black men. Simply grow your beard and shave your beard in a circular shape from one end to another end of your lower lip. Keep your cheek line defined and blend your beard with burst fade buzz cut.
3. Faded Full Beard with Glasses
A faded beard with glasses creates a look that's both edgy and scholarly. To achieve this full beard style grow your beard around 7mm in length and fade it near the sideburns. Shape your soul patch in a triangular shape to stand out.
4. Colorful Ducktail Beard
It is a very unconventional full beard style. The ducktail beard is rounded and pointed on the chin. The beard is dyed forest green and the hair is dyed one shade lighter than the beard. Try this colorful beard style only if you are brave enough to look different. This look is not recommended for corporate professionals.
5. Heavy Stubble Sideburns and Short Chin Beard
It features heavy stubbly sideburns that connect to a short beard on the chin. The short chin beard connects with a thin mustache creating a "U" shape. This beard style can be particularly flattering for fat guys with chubby faces as it adds slightly more length on the chin than the sides.
6. Short and Full Grey Beard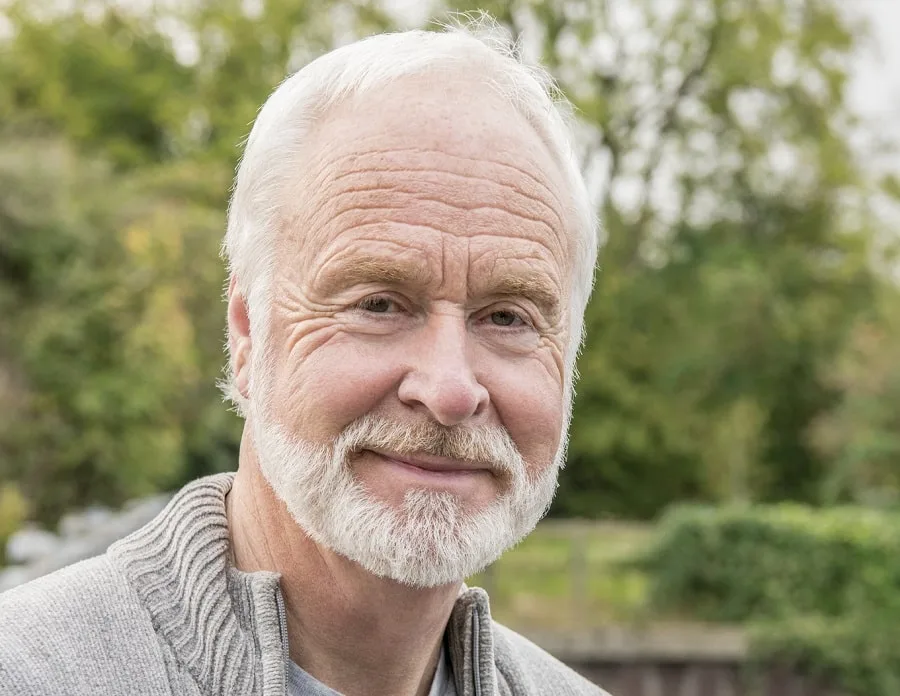 The elegant short grey beard style reflects a journey of experiences and timeless charm. Trim your sexy white beard uniformly to a certain length. The soul patch is defined but wider and connected to the chin beard. This full beard style is perfect for men with grey hair and a grey beard.
7. Red Beard for Businessmen
For this full beard style, the red ginger beard extends across the face, connecting the hair on the cheeks, around the mouth, and on the chin, but is carefully maintained and trimmed to avoid looking unkempt. This style can be also described as a medium-boxed beard.
8. Black and White Short Boxed Beard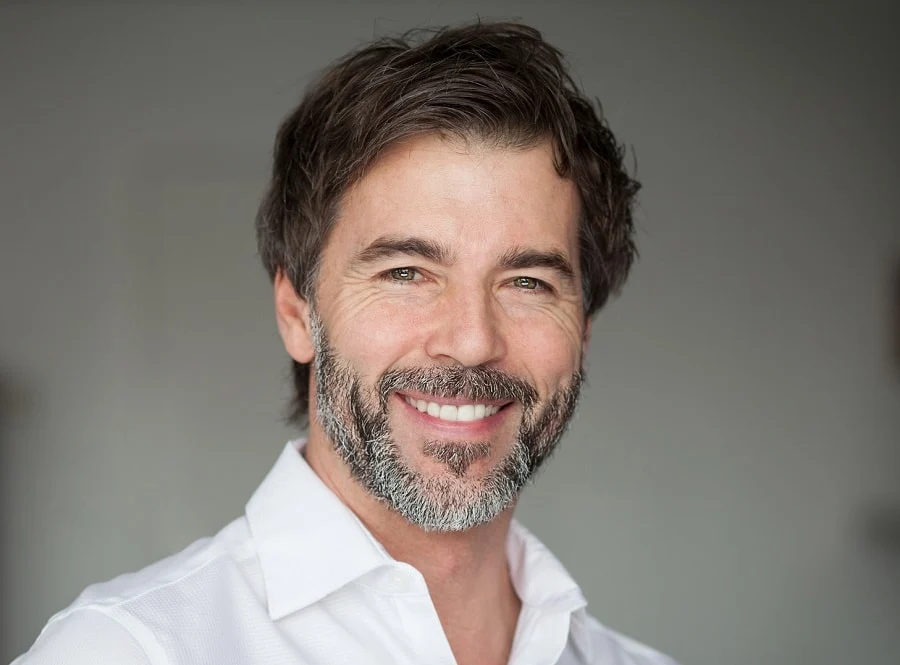 The short-boxed beard style has mix of grey and darker hairs known as the salt and pepper beard. The beard maintains a box-like shape around the mouth and chin and sideburns look patchy. Keeping a soul patch is optional with this full beard style.
9. Strawberry Blonde Beard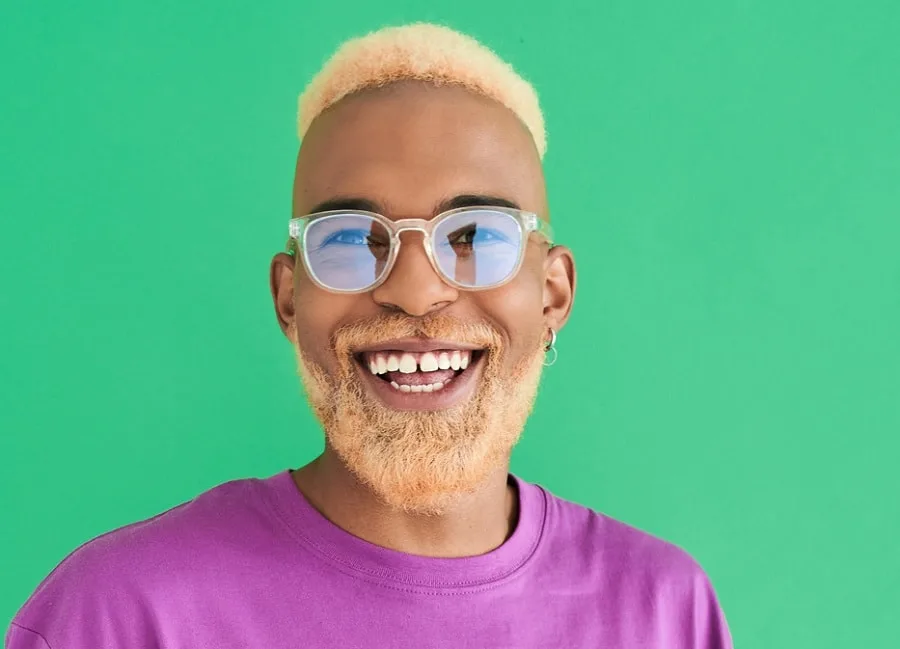 The strawberry blonde beard refers to a beard color that sits between blonde and red. It's a unique and somewhat rare color, characterized by its warm reddish-golden hue. But the question is are you bold enough to experiment this full beard style on you? My advice will be to give it a try. If you don't like the color you can bleach your beard with Hydrogen Peroxide to get rid of it.
10. Barbarian Full Beard and Handlebar Mustache
Try the fascinating contrast between the unruly fullness of the Barbarian Beard and the neat precision of the handlebar mustache. Complement this contrast by keeping your head hair short for a sober appearance.
11. Medium Hair and Full Beard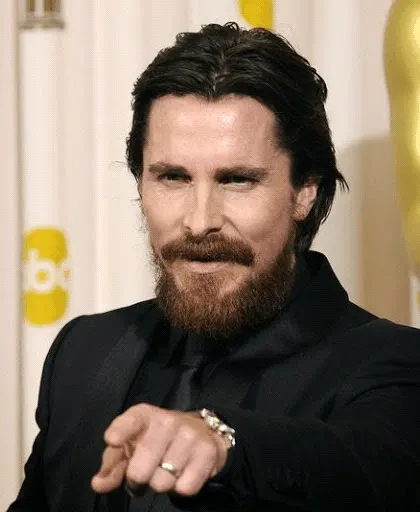 It is a genuine and really awesome beard for youngsters as well as mature persons above 40. The primary thing you have to do is to guarantee that you have sufficient energy and can make the dedication to permit your facial hair to grow. All things considered, you can't generally begin styling your facial hair until you have one to style.
12. Long Hair and Long Beard
There is nothing worse than spending weeks growing out your beard, only to cut too much off when you attempt to style it and have to begin the entire process again. Once a professional has styled your beard, it is simple and easy to keep that same style yourself at home. All things considered, you can't generally begin styling your facial hair until you have one to style.
13. Short Hair and Long Beard
The most viral full beard style with a short haircut as we can see in the above picture. The longer the facial hair, the longer your face will tend to look. In this way, keep hair in the button territory shorter to make your face look somewhat shorter too. Stubble styling diminishes up that long restricted look, making your face look somewhat shorter and a smidgen fuller.
14. Old is Gold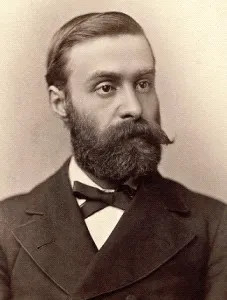 The Victorian full beard style is now back and many mature people are feeling proud having a full Victorian beard. when the war finished, and legends came back with a full beards of facial hair, individuals started partnering full beards with bravery, respectability, honor, and soldiery. They turned into a characteristic of a legend. The full facial hair furor spread like out-of-control fire.
15. Stylish Boxed Beard Full Length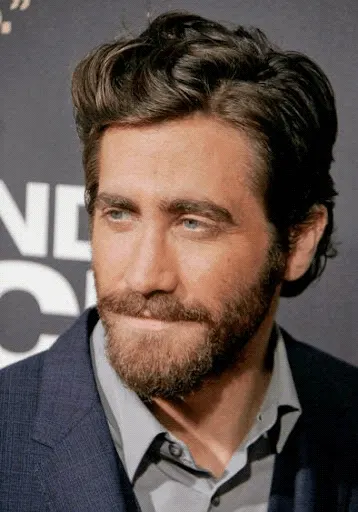 Since your full beard is boosted, it's an opportunity to administer facial hair. Natural oils secure hair however for cruel conditions like a chlorinated pool or a blustery day outside; ensure hair with a light covering of jojoba oil. This boxed shape naturally suits the oval-shaped face but if you have a round face then ask your barber to trim carefully in a boxed shape.
16. Arabian Full Beard Style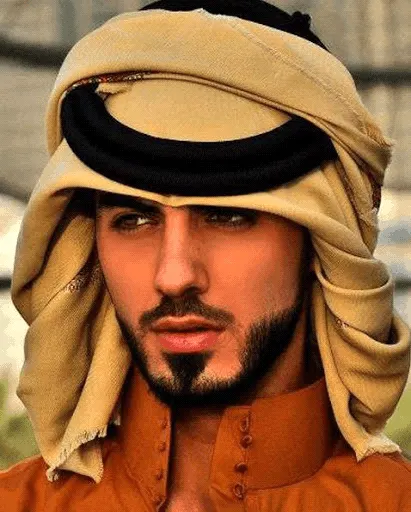 The Arabian beard with perfect lines is the most attractive full beard style. Men who have long smaller face cut with a pointed button, aren't going to fit for extended full beards. While the full facial hair may round out their jaw a bit, it will make their face show up significantly more.
17. Black Full Beards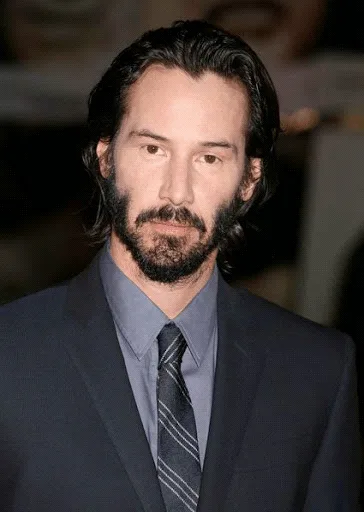 The best facial hair styling for the more extended face with a pointed button is a decent goatee styling; the matrix hero is the ample example in the picture and looking handsome with a long black beard.
18. Undercut Hairstyles with Long Thick Beards
Men who have rectangular face regularly need to diminish their jawline while giving their face a less stretched look. A full beard can do that delightfully in the event that you pick a style, for example, have a look at the picture man with an undercut hairstyle but a full beard has given him a new look.
19. Modern Medium Length Full Beard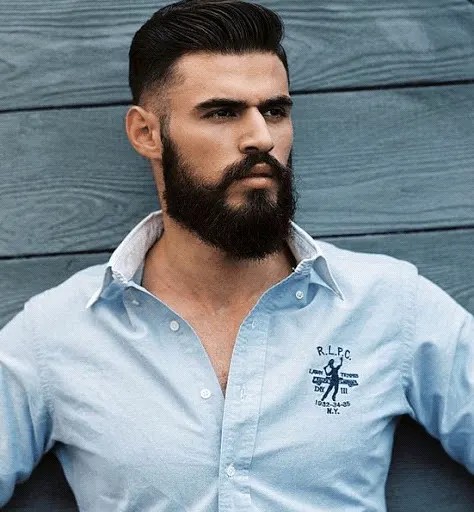 The modern full beard style needs a haircut with trimming sides and full beard like a V shape. Men having oval and long face can enjoy modern full beard style.
20. Classy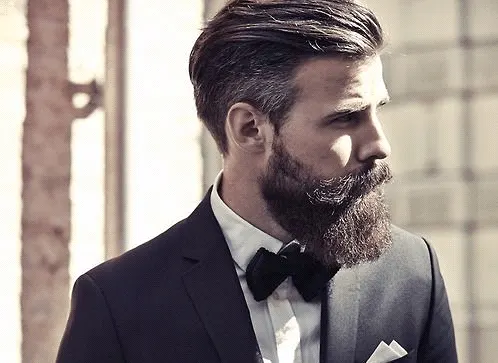 What facial hair rundown would be finished without the full beard With next to no upkeep and scope of the whole lips, cheeks, jaw, and jawline, this style works ponders for any facial structure, the length of you have the persistence to give it a chance to grow completely on the off chance that you are a slower facial hair produce.
21. No Spots
This full beard is a common style and needs no special trimming but it suits with a good hairstyle. The trend is changing and future grandpa would surely love this style.
22. Casual
Casual full beard is one of the most common types of full beard styles but 2015 was the year we see innovations in full beard. Casual full beards are among one of them. People love to have casual facial hair.
23. Classic Full
Perfect beard for a wide and adjusted face shape, a thick facial hair is a decent alternative in light of the fact that it gives a focalizing look to your face.
24. Modern Full Beard with Moustache
The facial hair must be a touch scruffy to make the face sharp. In the event that you have fat body structure or cumbersome constitution, a short equally trim facial hair will make your out of structure jaws line into a sharp shape. It will attract more consideration regarding your eyes and temple instead of your lower greasy zones.
25. Hot Long Beard with Long Hair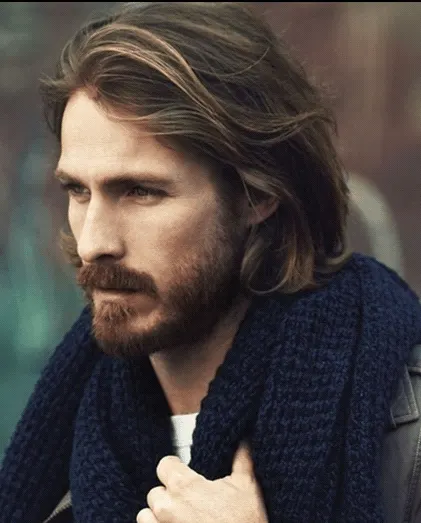 One of the hottest full beard styles of the current year. A few individuals believe that growing a facial hair is for languid individuals, yet it's quite the inverse. "Not shaving" is lethargic, growing whiskers is distinctive. To grow a facial hair takes devotion and guts. You'll have to overcome through those seasons of sadness until you win as the hairy monster you were intended to be!
26. Long Dense Beard
When a facial hair is set up, it takes work to keep it looking great. You'll need to verify you have a standard you can take after consistently. A decent bearding routine can bring longer than shaving with a razor. Begin off by giving yourself a couple of additional minutes every morning and attempt your routine for a week or thereabouts.
27. Simple Full Beard
The current facial hairstyles that have more hair on the button and around the lip than on cheek and the jawline can complement your face shape the French trim whiskers is ideal for your face shape. The French cut whiskers are ideal for you. It won't just look you jazzy additionally smooth.
28. Latest Balbo with Mustache
Balbo with a mustache is well known full beard style but it needs proper trimming and good facial hair care. This style with long hair looks unique and gives a charming look. All you need to do is thick healthy long beard and of course long hair.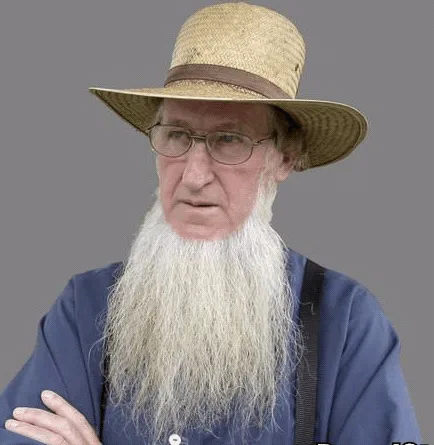 If you are not sure what the shape of your face is or if you have a combination face that is not wholly one shape or another, and want to know what type of beard may look best for you, then you can always play around with that weekend stubble to get a general idea of beard types. This type of full beard suits to old people and this is the noblest style of full beard.
30. Long Goatee with Twist
The majority of the full beard styles that are displayed for the following year have a tendency to be full and short and they are suitable for both old and young fellows. Whether you are going to pick stubble beard styles or full beard styles, you first need to choose the best and most suitable facial hair style for you.
31. Pointed Beard with Slicked Back Hair
Change the shape of your face by styling your beard into a different shape. A blocky pointed beard can make your face shape look longer whilst also making it look stronger. Slick back your hair to try to open up the uncovered portion of your face.
32. Thinner beard with thicker hair
A thin beard is one which is just a little bit longer than stubble so that it can only just be considered as a full style. Your head hair should be much thicker for maximum effect. This style is a great one to choose if you are in the process of growing a long beard.
33. Line up Shape with a Man Bun
A lineup cut is one of the today's sharpest beard styles, whilst the man bun is still managing to make huge waves wherever it is seen. Team the two styles up with one another and you will create a model worthy look.
34. Short beard with a preened man bun
The main feature of this cool look is the preened man bun. Every strand of hair is right where it is supposed to be, even when a few strands look like they are out of place. The key to getting your hair to look this soft is to brush it regularly to prevent knots.
35. Line up beard with Handlebar Mustache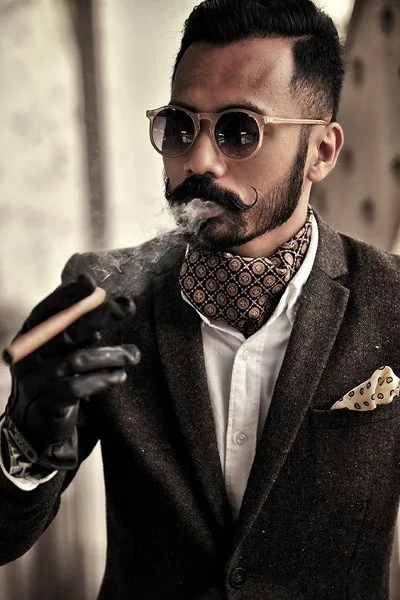 Team up an ultra-modern angular line-up style with a classically shaped handlebar mustache. Despite seemingly like these two styles could be like chalk and cheese, the look actually really works. It's a great choice for those who want to be dapper but different.
36. Settler Style with Wild Hair
Full beards have been popular for centuries, but this particular shape is one that is reminiscent of the beards which were worn by early Americans. The wild hairstyle helps to give the look a hot modern edge without straying too far from its roots.
37. Business Class Beard with Rolling Swept Hair
Keep your full beard short and shaped to match your face for a look that is perfect for the businessman about town. If you have a high hairline, try sweeping your hair over in this rolling style to give your look an extra edge.
38. Thick Beard with Floppy Fringe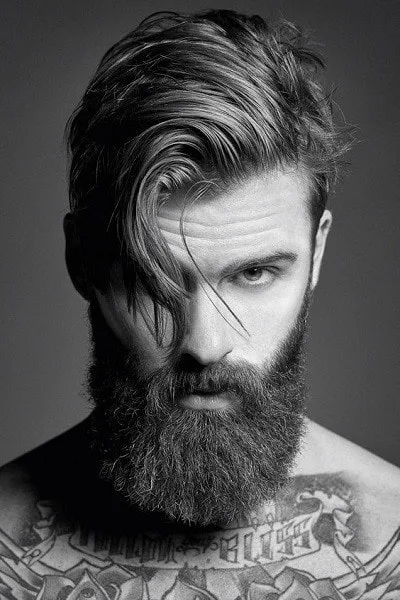 A floppy fringe is sometimes considered to be a 90s boy band look, but this picture shows that it can be rugged and manly too. Sweep your hair all the way over from one side to the other to give your fringe a distinct bounce and then let it coyly cover one eye.
39. Oval beard with stand up spikes
Take control over the shape of your face using oval beard shaping techniques. This shape can help to elongate your face. Make your face look even longer by gelling and combing your hair into some stand-up spikes.
40. Full Face Beard
This look is great for guys who do not struggle to grow facial hair but can't be bothered to trim or shave just small parts of their face. Although some people think that this is the type of beard that people hide behind, we think that this beard is better if you want to stand out.
41. Balbo with Sweep Over style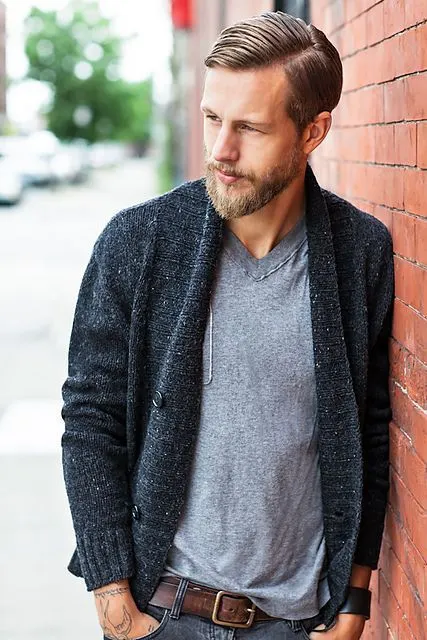 This Balbo style is perfect if you want a full beard without anything too thick. It is a great choice if you struggle to grow a thicker full beard. Take as much time styling your hair as you do on your beard to create a cool look.
42. Waves
This whole styles is designed around gentle curves. Even though it is a manly style, it has a beautiful softness to it. Take care when shaving your beard to make sure that your beard has a clean, crisp edge. Use a lot of gel to keep the style in your hair.
43. Fade Out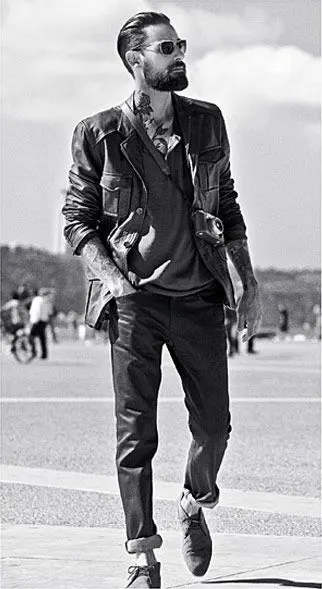 In a fade-out style, some parts of your beard are more intense than other areas. In this style, the hair is thick and full towards the front of the jaw, but it fades out as it moves towards the back of the chin.
44. Ginger Glory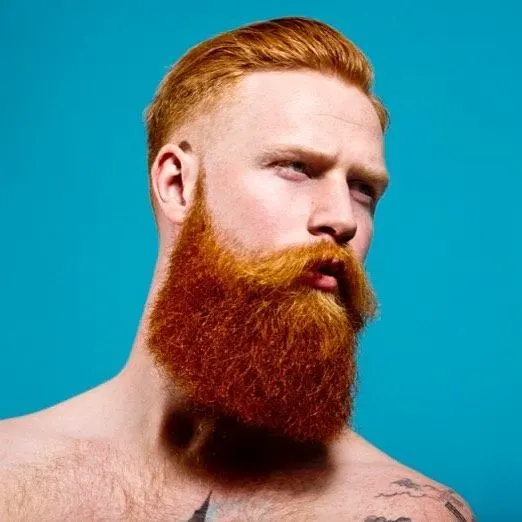 For decades, redheads have been figures of fun, but now people are beginning to embrace glorious ginger styles. People now wear their ginger hair with pride and grow thick ginger beards. Beard hair is often a far more intense ginger shade.
45. Full Beard with Prominent Goatee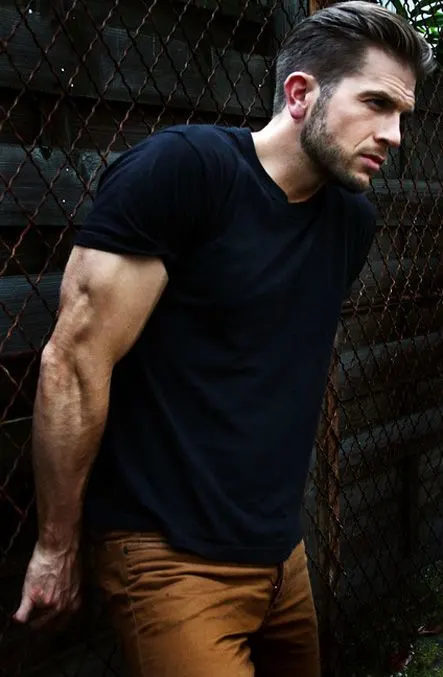 You can choose this look as an intermediate style for when you are growing out your beard into something much longer. Most of the beard consists of longish stubble, but the Goatee section is more pronounced because it has been allowed to grow out a bit.
46. Long hair, don't care
Long hair can look amazing on a guy, especially if they are able to channel a natural and outdoorsy look. A simple full beard looks great when it is matched with soft, wavy and long natural hair.
47. The ginger full beard
A lot of guys find that whatever color of hair they have on their heads, their beard will come out ginger. Choose any hairstyle you like and then let your inner ginger come out to play.
48. Thick and Low
Only grow your hair on the lower sections of your jaws and chin to give your face a longer look. Strong dark looks like this one can be really intense. You can add dye to any areas where your color is starting to fade a little.
49. The Jesus Look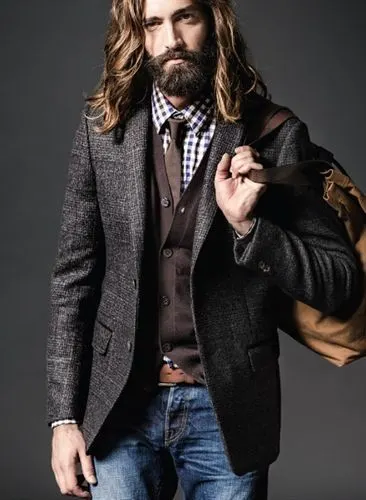 Follow in the footsteps of Jesus by wearing your hair long and your beard full. Comb through your long hair regularly to make sure that you do not get any knots that will ruin this perfect look.
50. Short Amish Beard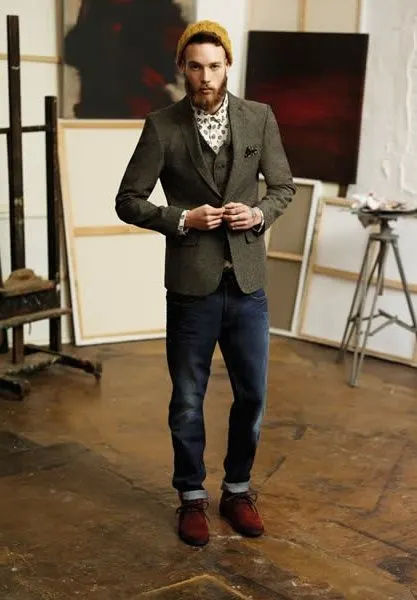 A traditional Amish beard style involves a very thick but narrow beard in a crescent shape around the jaw and the point of the chin. Although longer bits of beard can come out of this crescent, the short look keeps things traditional. Tradition aside, you don't have to be of Amish descent to rock this style.
51. Thick Stubble Beard
A thick stubble beard is just on the right side of being considered as a beard. Any thinner and it would be thought of as a "5 o'clock shadow"! A thick stubble beard is perfect if you want a smoulderingly hot look that is totally in fashion right now. It's also a great intermediate style for those who are growing their look into a longer style.
52. Thick Chinstrap Beard with Tousled Spikes
For a style which looks completely effortless, try this chinstrap beard with tousled spikes. Just put men's styling product into your hair and then draw your hands upwards through it to create an amazingly soft looking tousled style.
53. Intense Beard
Whilst the hair in this style looks soft and touchable, the beard is a very intense and a thick block of color. It is made even more intense by the fact that it has crisp and sharp edge lines. There isn't a hair out place, which makes them look completely striking.
54. Full Chin Beard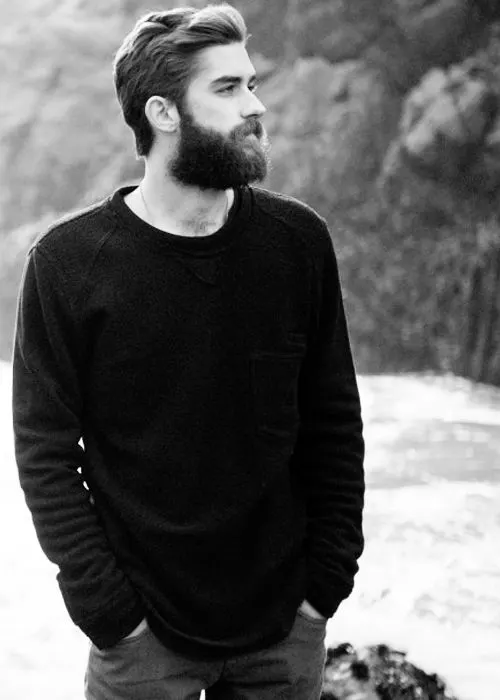 To get a true full beard, you need to make sure that your beard hair is growing thickly both under and over your chin. To complete the look, you should make sure that your mustache is also full and thick too.
55. Patchy Chin Strap with Goatee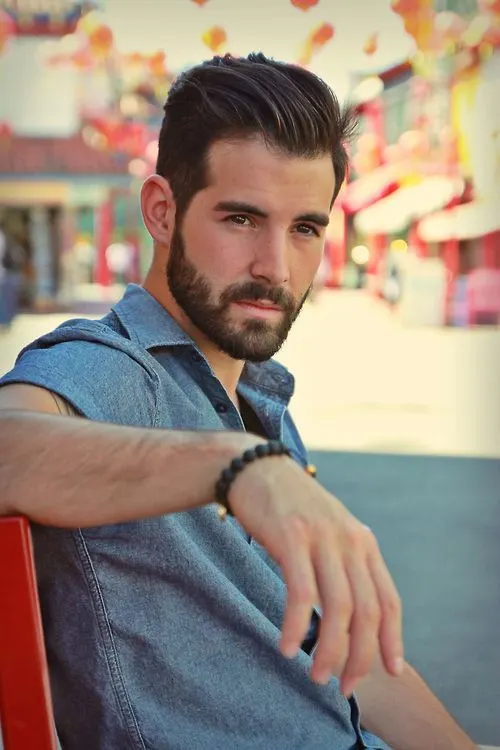 A patchy chinstrap style is the epitome of cool casual. It is a rugged look, but one which is not too intense. Patchy casual styles look perfect when they are teamed up with playful hairstyles such as these swept-over soft spikes.
56. Uniform Style
The beard and hairstyle combination is perfect for businessmen because they are both neat and stylish. Having your facial hair and your head hair the same length will give you a uniform style which cannot be beaten.
57. Simple Style with Forward Fringe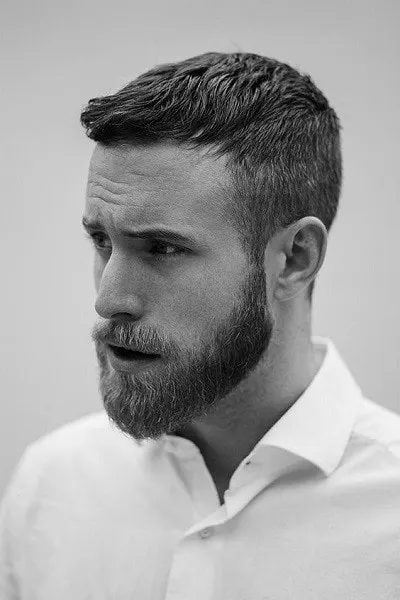 Some beard styles are so simple that they just offer a refreshing choice of having a clean-shaven face. Pair a simple beard up with a simple hairstyle, such as a combed forwards short back and sides with a slightly peaked fringe.
58. Perfect Style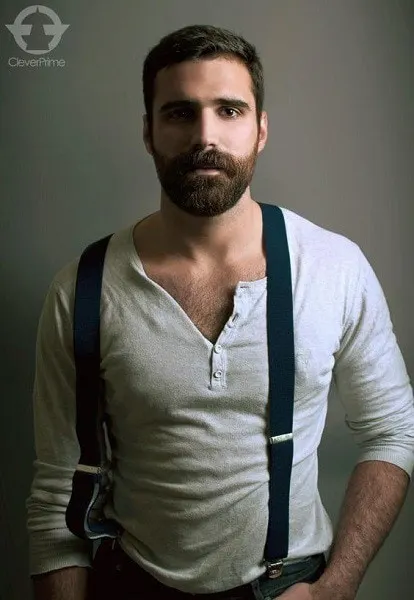 Everything about this look is perfection. It is a style for people who like everything to be in its perfect place. Your hair and your beard should both be neatly combed and styled so that it is just how you like it to be.
59. Grey and Great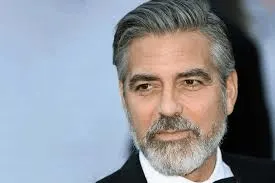 Just because your hair is starting to gray, it doesn't mean that your hair is unhealthy. Going grey is all part of the natural aging process. Celebrity gray beards prove that your beard can still look great even after you have started to go gray.
60. Big and Bushy
This is a beard that looks like beards are "meant" to look. It is a classic style that is big, bold, bushy and straight out of a fairy tales storybook. With this look, width is just as important as length.
Picking the right facial hairstyle does not simply turn you from a kid to a man; however, it is additionally fit for supplementing the entire appearance and making you greater looking. Hope you liked our list of some amazing full beard styles. Do let us know which one you want to try in the comment