In today's highly competitive business environment, your appearance is crucial for making a lasting impression. Whether you are an executive, an entrepreneur, or a rising star in the corporate world, finding the perfect professional corporate beard style can truly elevate your presence in the boardroom.
A well-maintained corporate beard can make you stand out and showcase your unique style. We've carefully curated a list of corporate and business beard styles that will make you look professional in the boardroom.
So, get ready to elevate your professional image with these inspiring corporate beard styles.
Are Beards Acceptable in Corporate Environment
In the past, beards were often considered unprofessional. Individuals were advised to shave before attending job interviews. But this perception has experienced a significant shift in recent times.
Recent surveys reported that more than 80% of workplaces allow well-groomed beards. This change in attitude indicates a growing acceptance of beards in professional settings.
That being said, still, some corporate companies have policies that prohibit employees from having a beard. These policies are based on the assumption that they create an unprofessional appearance.
Additionally, some industries, such as healthcare, food service, or manufacturing, may require employees to wear respirators or other safety equipment that doesn't fit well when you have facial hair.
If you are preparing yourself for a corporate interview and unsure whether to shave before an interview, it is better to do some research on the company.
after researching if you decide to keep your beard for the interview, don't forget to check out our guide on Interview Beard Styles to ensure you are presenting the best possible version of yourself.
Features of Corporate Beard
Corporate beard styles possess a range of features that make them ideal for the professional environment. These features ensure a polished and well-groomed appearance, which is essential for making a positive impression in the corporate world. Some key features of corporate beard styles include:
Corporate beard styles are well-trimmed and properly maintained to avoid an unprofessional appearance. It should be free of stray hairs and have clean lines and defined shapes.
The appropriate beard length for a corporate environment will depend on the specific workplace culture, and dress code. Generally, corporate beard lengths can range from short to medium length. Shorter corporate beards, such as classic stubble or a short boxed beard, can be as short as 10 to 15 millimeters. Medium-length corporate beards, Garibaldi or a Verdi, can be around 25-40 mm in length.
Your professional business beard style should complement your face shape accentuating your features and creating a balanced appearance.
It should follow the dress code and grooming expectations of the specific company or industry. They should be conservative enough to fit in a professional environment while still showcasing your personal style.
Corporate Beard Styles For Business Men and Professionals
Well, now it's time to explore some popular corporate beard styles you need to try.
1. Corporate Stubble With a Side Part
A stubble beard with side-parted hair paired with glasses can add a touch of sophistication to your professional look. The low maintenance makes it an excellent choice for busy professionals. This style is more suitable for corporate IT or desk job holders who don't have to deal with customers face to face.
2. Full Beard with Connected Mustache For Executives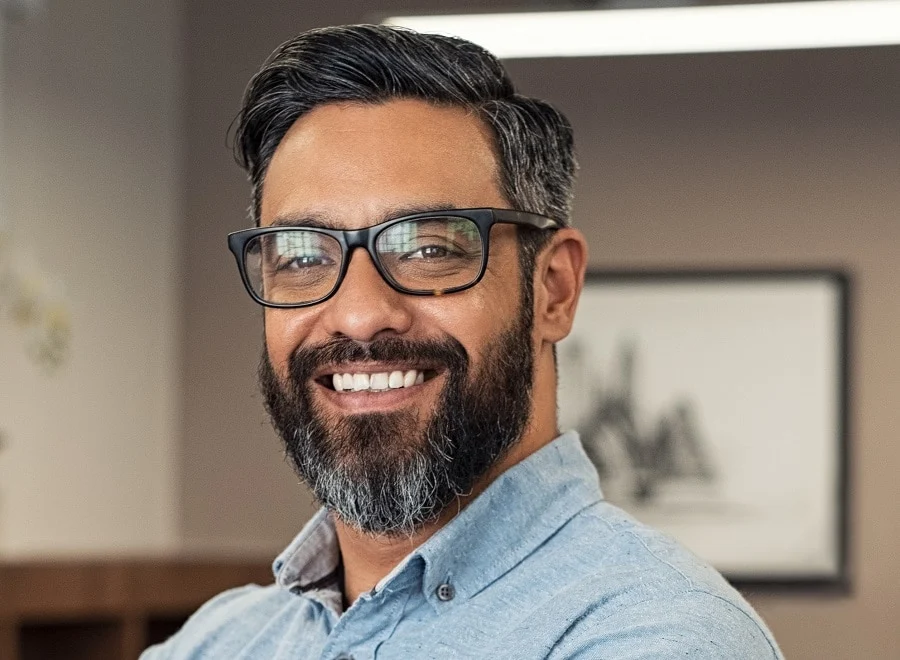 If you work in an executive position, a full beard with a connected mustache can be a stylish option for your professional image. This style showcases your confidence, experience, and individuality while maintaining a polished and sophisticated appearance.is a refined corporate look.
3. Short Curly Beard with Afro Hair For African-American Businessman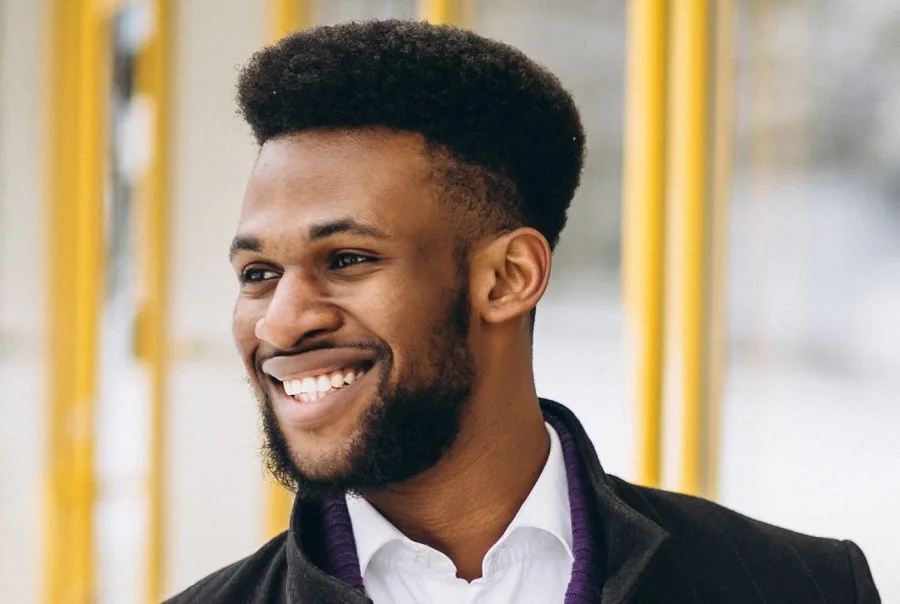 A short curly beard with afro hair is a bold corporate style. The thick strip of hair along the jawline creates a look, while the afro hair adds texture and volume. The bushy appearance adds character, making it a unique and confident style for the modern professional.
4. Balbo Beard with An Undercut For Professionals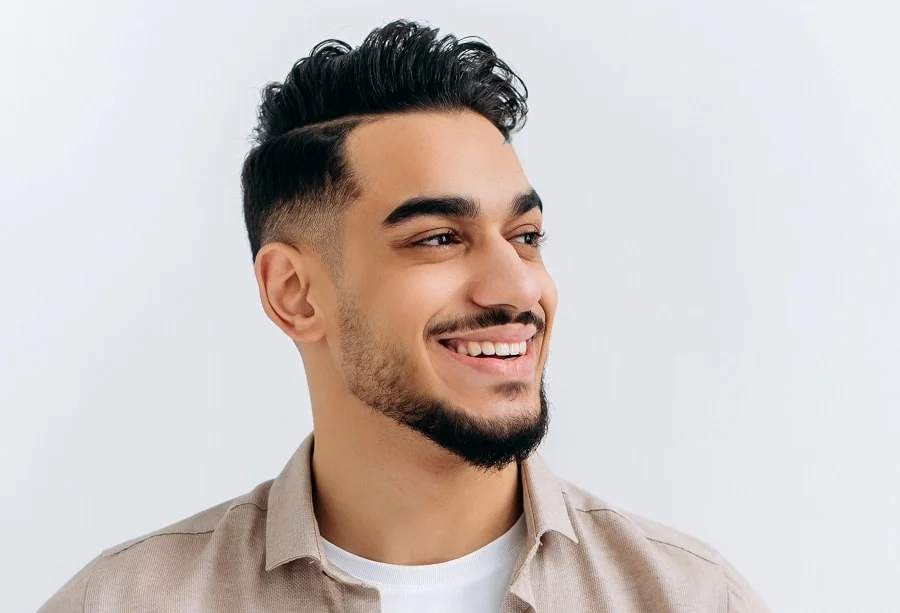 A Balbo beard with an undercut is for professionals who want to showcase their style while maintaining a polished appearance. The Balbo beard consists of a mustache and chin beard, while the undercut hairstyle features shorter sides and a longer top.
5. 5 O Clock Shadow Beard For Corporate Tech Guys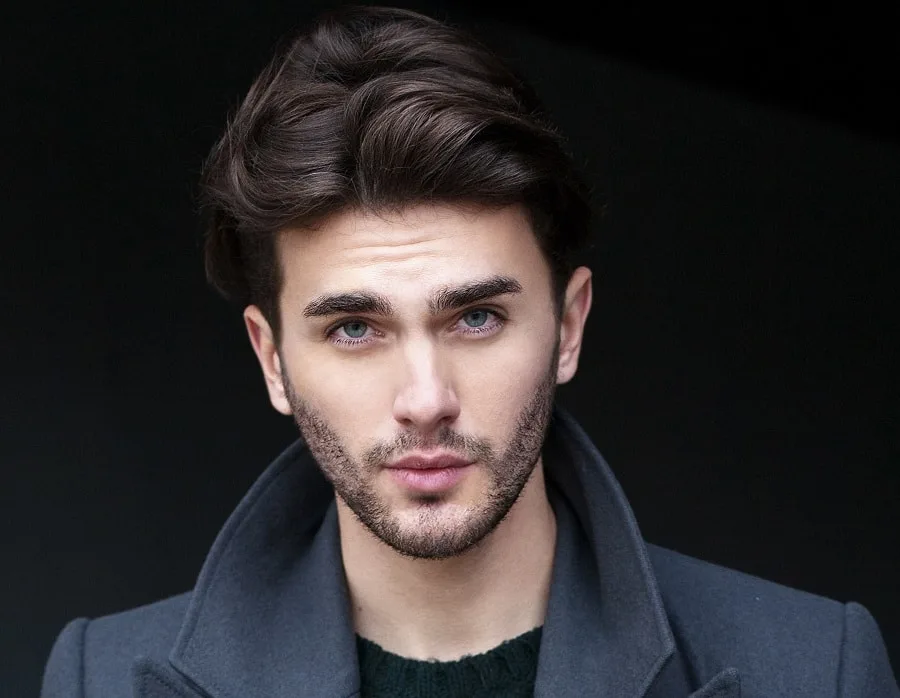 Modern corporate IT guys who prefer a more relaxed and informal appearance can grow a 5 O Clock Shadow Beard. The beard style features a scruffy stubble beard that is paired with slightly messy hair that is parted in the middle. This style can give off a casual yet professional look.
6. Long Bushy Beard with a Quiff For Executives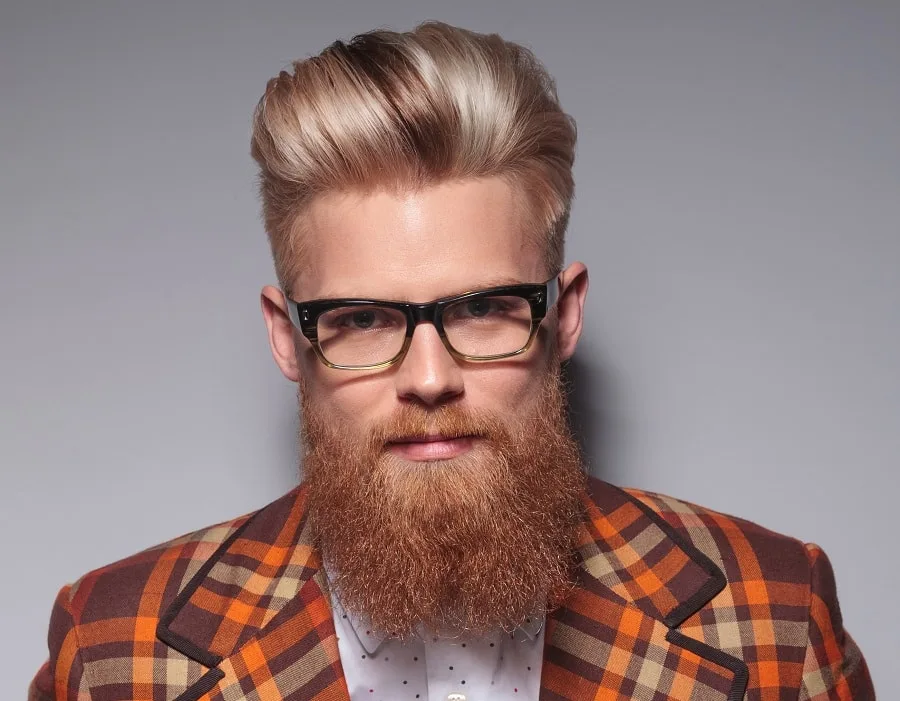 For an executive look, try combining a long full beard with a quiff, glasses, and tailored attire. This corporate beard style offers a well-groomed appearance exhibit class, intelligence, and confidence.
7. Blonde Beard with a Wavy Hair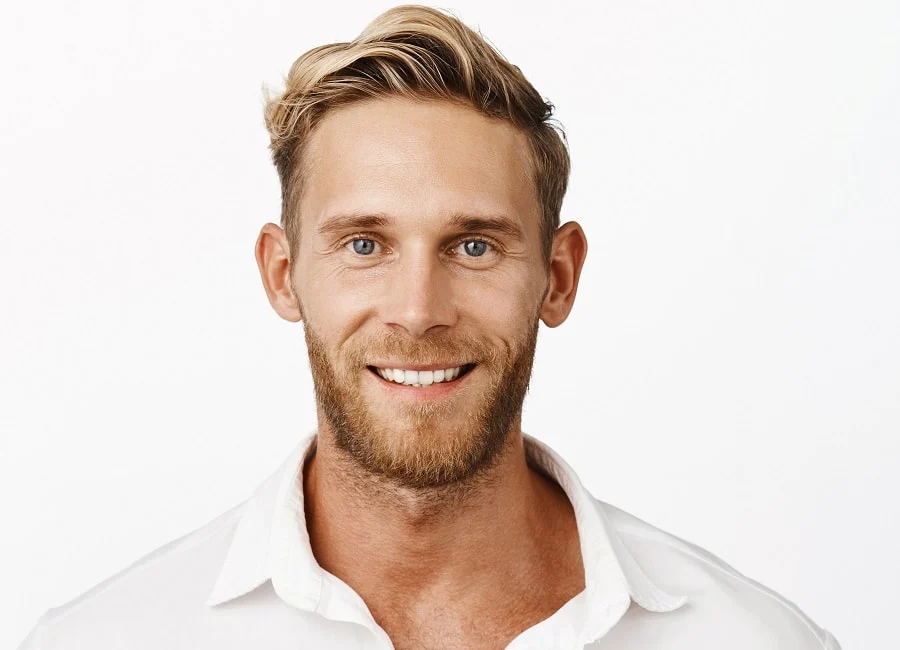 A wavy hair paired with a scruffy blonde beard gives a refined yet approachable look. This style doesn't require much maintenance – only the occasional trim. This style is more suitable for behind-the-desk professional roles like planning, organizing, finance, etc.
8. Short Boxed Beard with a Bald Head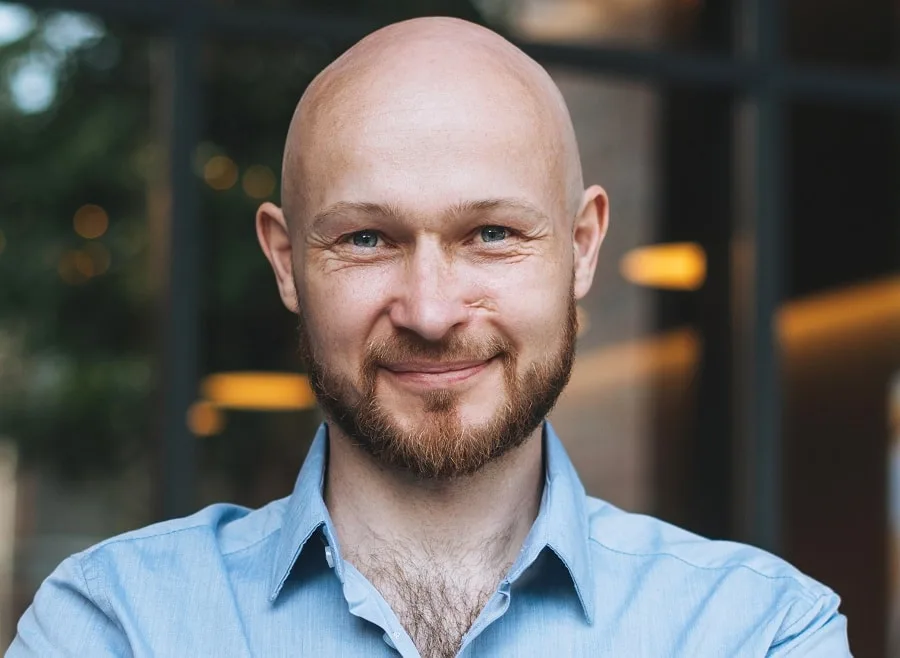 A short boxed beard combined with a bald head. This corporate beard style is versatile and low-maintenance.
9. Short Professional Beard with Soul Patch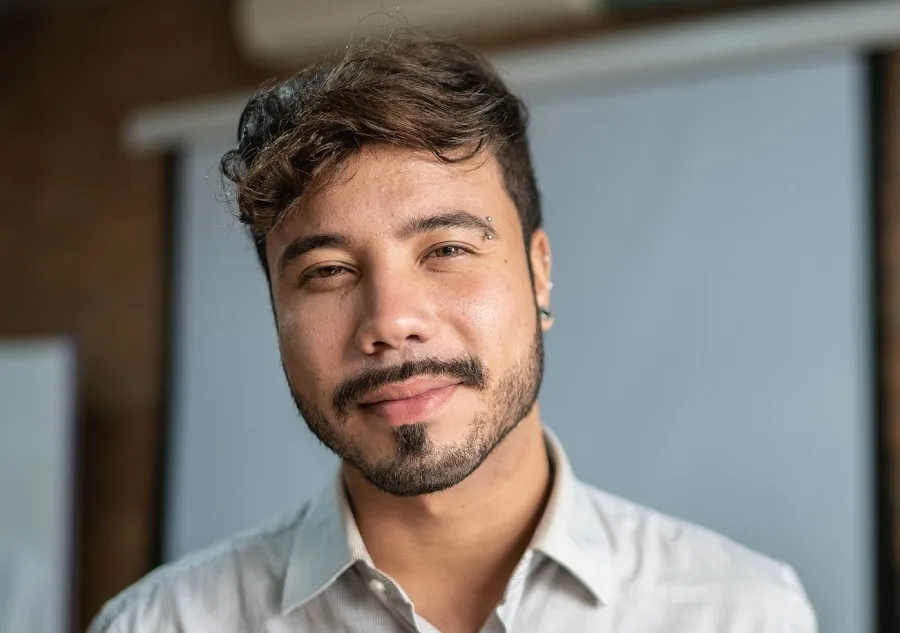 Pair your short beard with a soul patch for an edgy and modern look. This beard style pairs well with a range of outfits, from casual to formal. If you have a square-shaped face, growing out a mustache can draw attention toward facial features like your cheekbones.
10. Round Full Beard with Long Mustache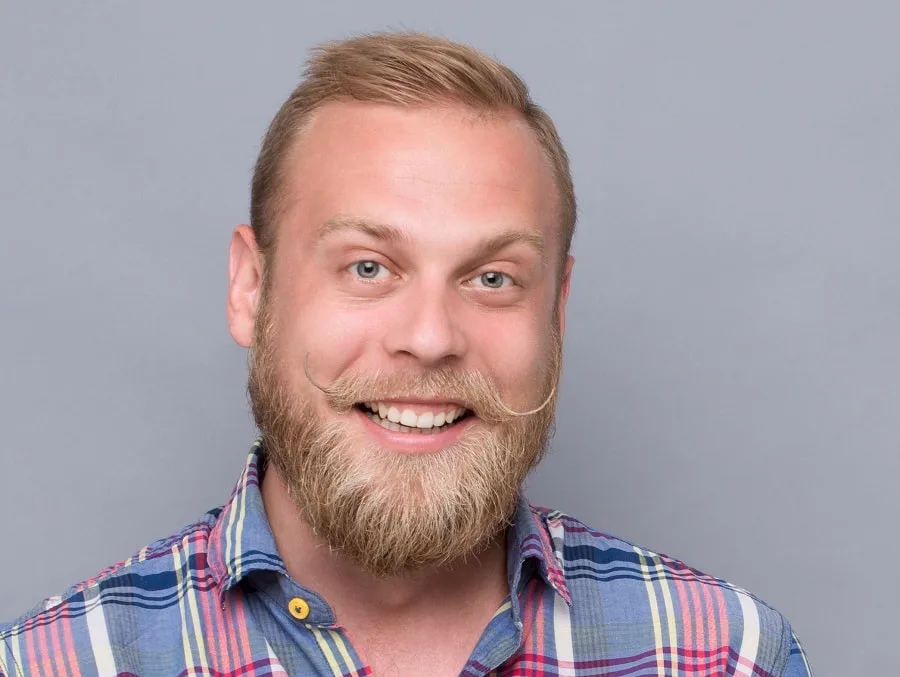 A refined, classic look is achieved with a round full beard and a long handlebar mustache. A full beard can add some definition to your facial structure if you have a rounder face shape.
11. Circle Beard For Corporate Black Men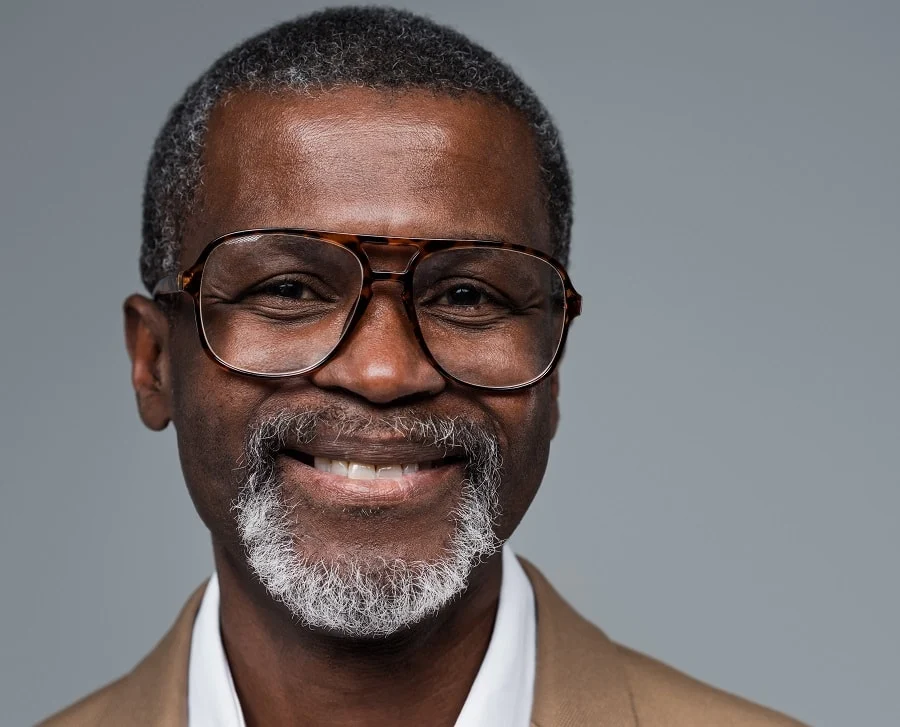 A circle beard can be a great option for senior black men in corporate settings. The contrast of a short goatee and oversized frames give you a corporate-ready look with a touch of personal flair.
12. Verdi Beard with Handlebar Mustache and Fringe Up Hair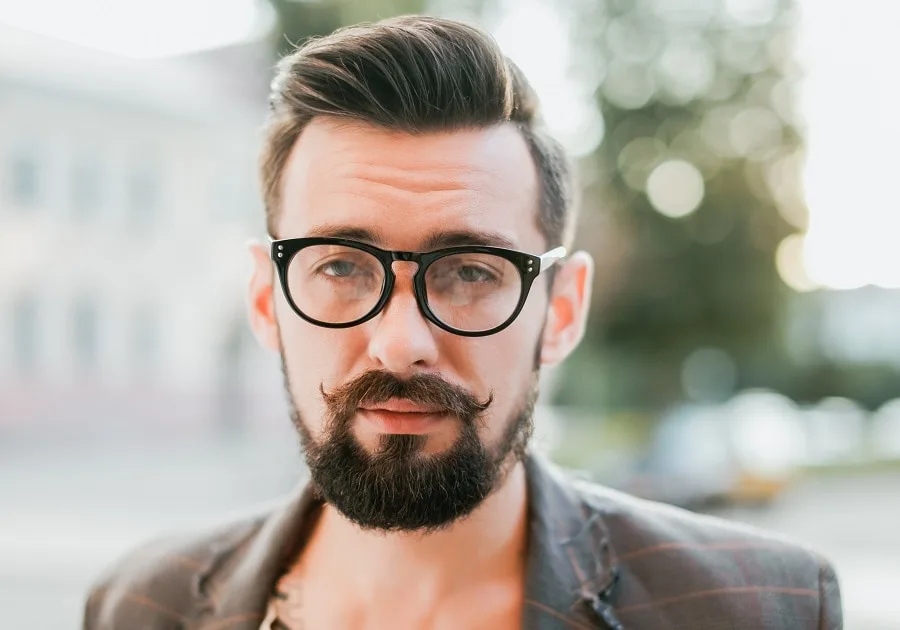 This bold pairing of a Verdi beard and handlebar mustache with a fringe-up hairdo gives you an eccentric and unique appearance. It's a statement look that suits men who can grow thicker facial hair because of the volume it requires.
13. The Spade Beard For Tough Corporate Man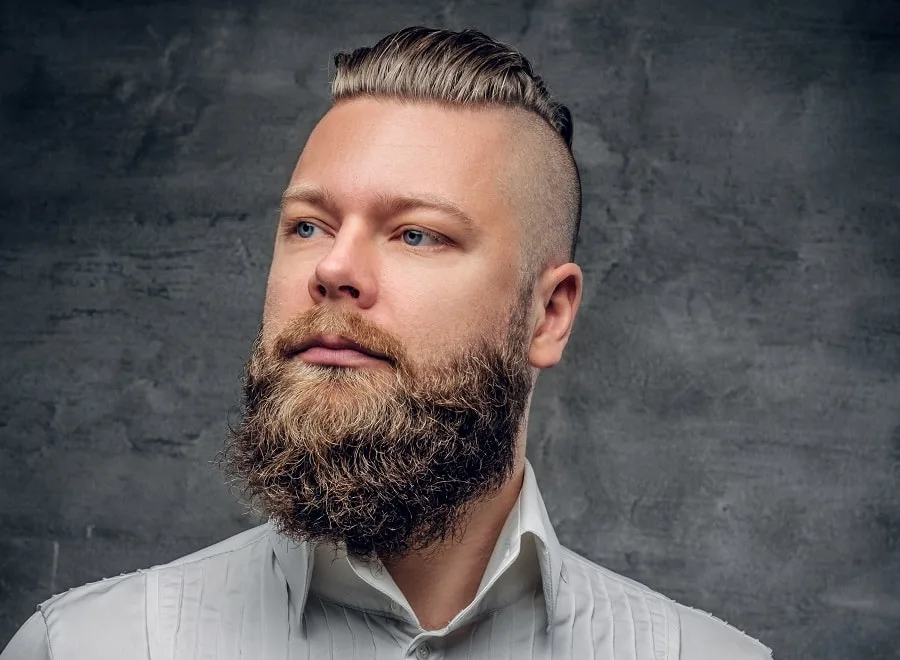 The spade beard with slicked-back hair gives a masculine look that completes your tough persona. Since it's a longer beard style, it suits both curly and coiled facial hair. You can top it off with a mustache for your tough corporate look.
14. Corporate Goatee with Rectangular Glasses
A corporate goatee is a great way to add some width if your facial structure is narrower along the chin. It creates the appearance of a wider jaw, giving off a masculine appeal. It complements various hairstyles and even a bald look if that's what you're going for.
15. Boxed Beard with Afro Fade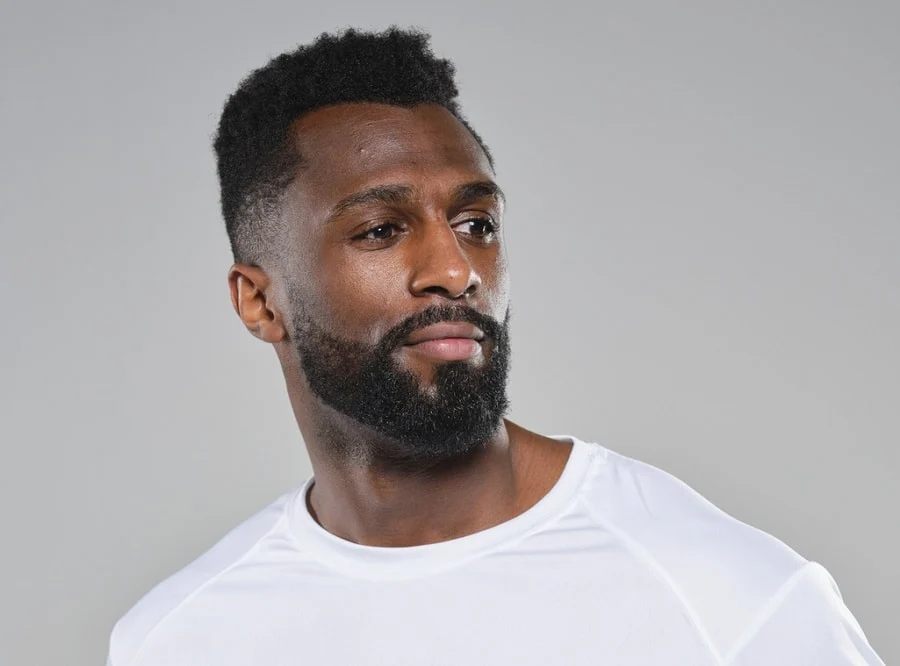 The boxed beard with its clean lines and defined shape exudes a friendly and approachable vibe. Perfect for making a great first impression in any corporate setting. The combination of an afro fade complements the neatly trimmed edges of your beard.
16. Grey Beard with Mustache For Corporate Executives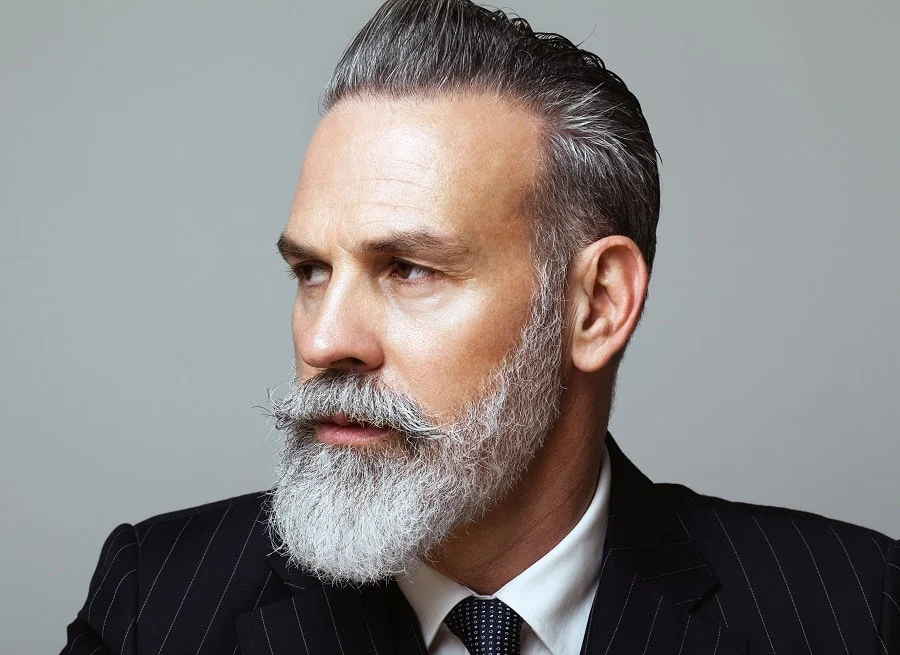 Contrasting a receding hairline with a long full grey beard can give your facial structure added definition. A handlebar mustache and a beard along the sides give a more matured look. It's a classic style fitting for corporate settings.
17. Medium Stubble with Round Mustache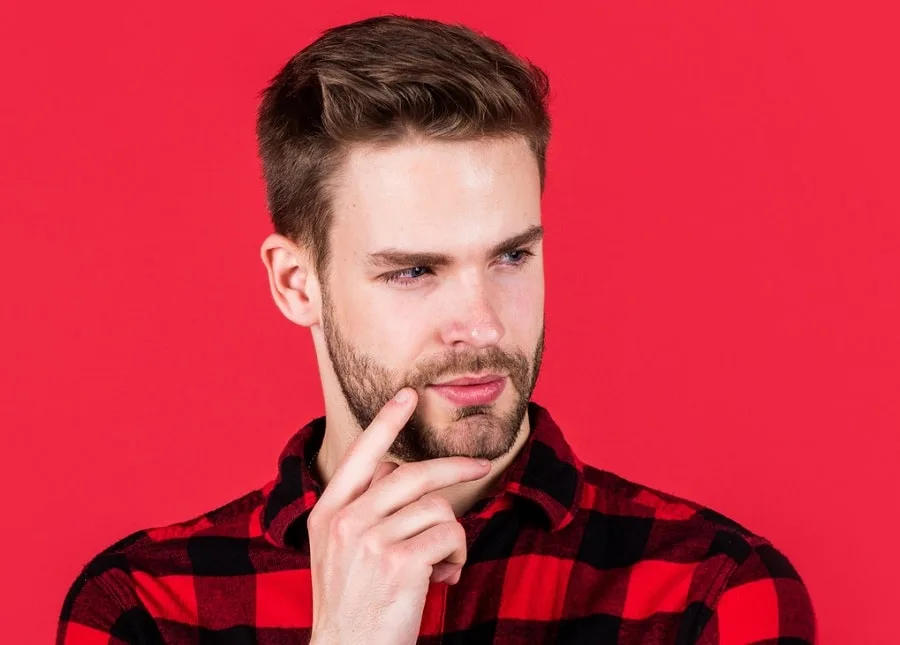 Medium stubble is a versatile choice for those who want a rugged yet refined look. For longer face shapes, stubble can sharpen the angles of your face for a charismatic appeal. It's a great option for casual workplace settings.
18. Short Beard Style For Businessman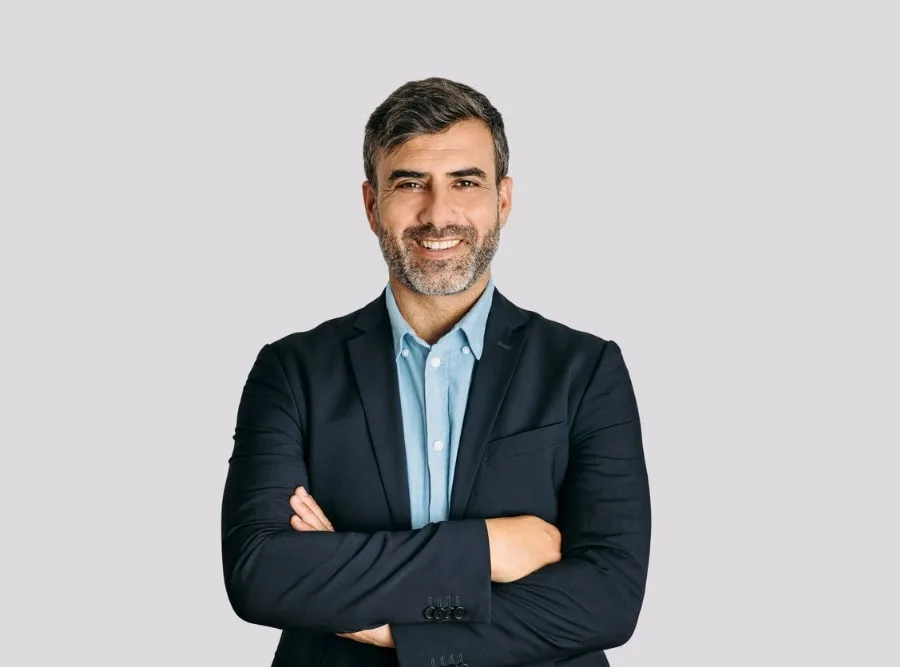 This short beard style is a bold choice for businessmen. It offers a unique twist on the short stubble, with a salt and pepper beard that extends along the jawline. The sideburns connect with hair, and the mustache connects with the beard.
19. Corporate Beard with Man Bun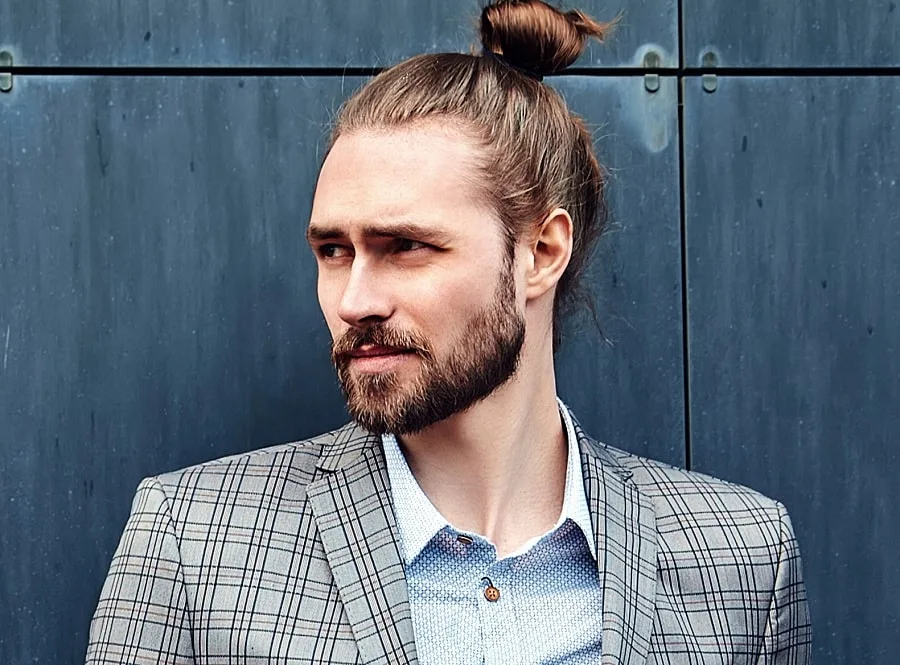 The heavy stubble paired with a man bun is a fantastic combination if you prefer an effortless yet complete corporate look. If you have a sharp jawline but don't want your beard to cover it up, aim for thicker stubble along the edges to increase definition.
20. Long Corporate Beard Style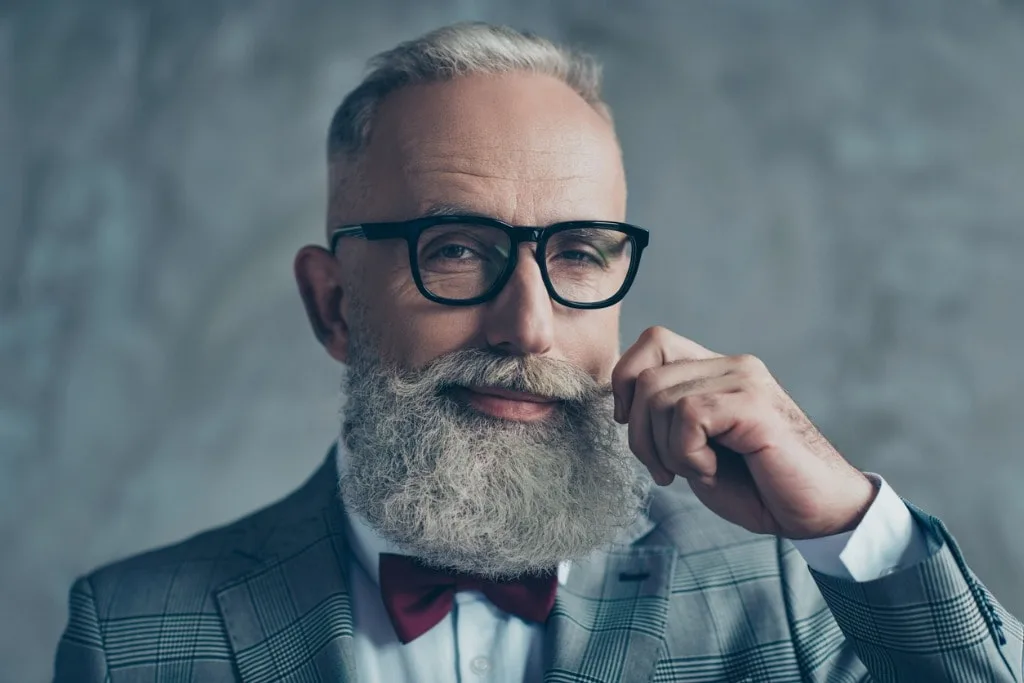 It is recommended to keep your beard short in a corporate environment. But if you work in higher positions and prefer long fuller beard styles, a long square beard is ideal for you. It pairs well with a heavier mustache and laid-back hair.
21. Corporate Hipster Beard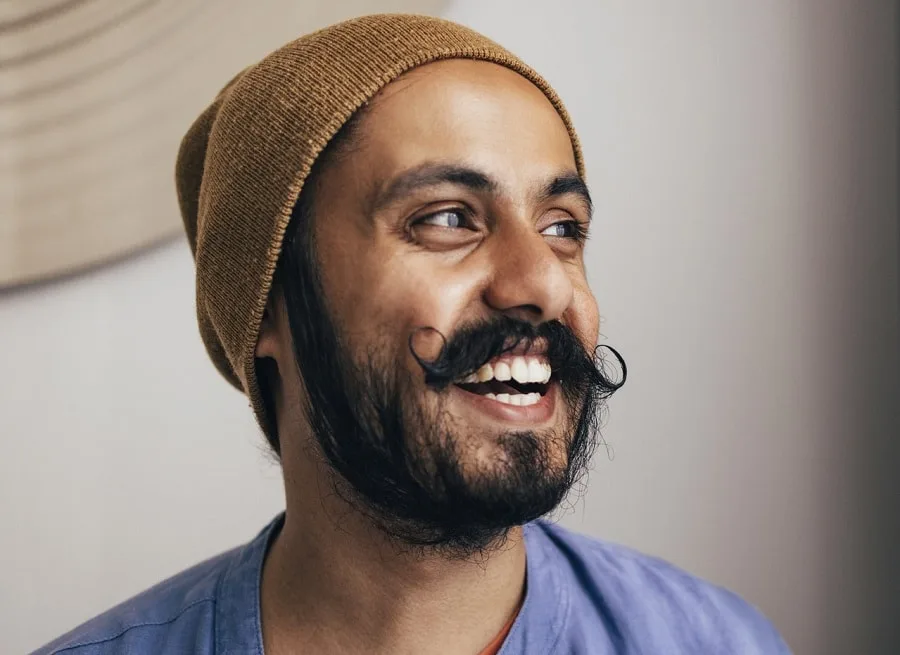 While not always suitable for corporate settings, the Lion's mane can add a touch of rugged individualism to casual office environments or creative industries. You can complement the look with a thick handlebar mustache to frame your face.
22. Trimmed Full Beard with Mustache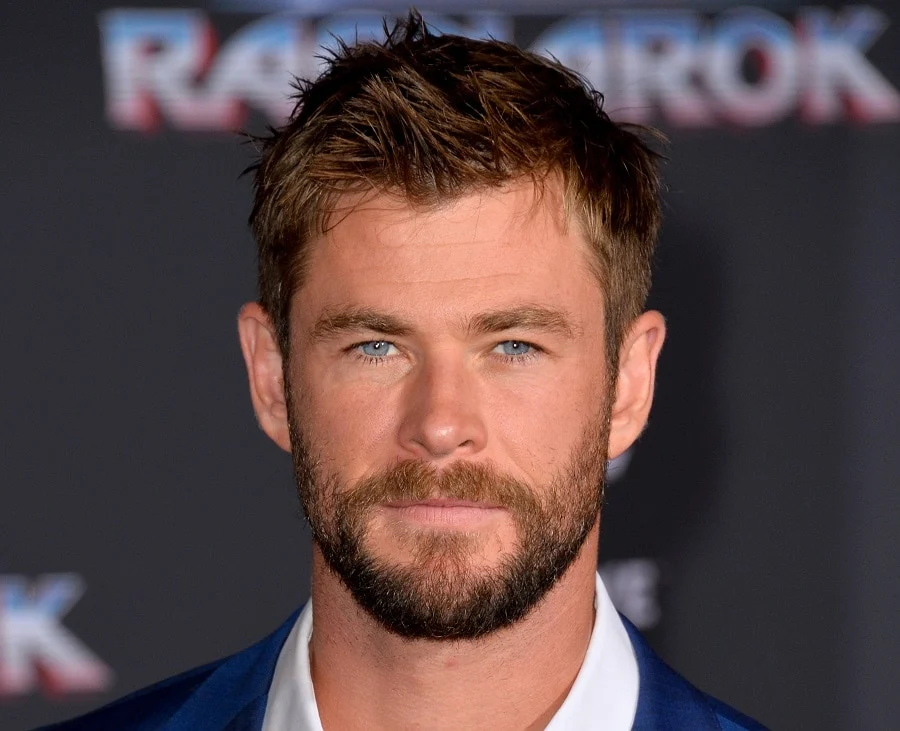 A trimmed full beard with a mustache exudes an air of refined masculinity, perfect for a professional setting. The neatly trimmed edges make it a suitable match for shorter hairstyles, while the mustache adds a bit of symmetry.
23. Short Scruffy Beard with Long Hair For Creative Corporates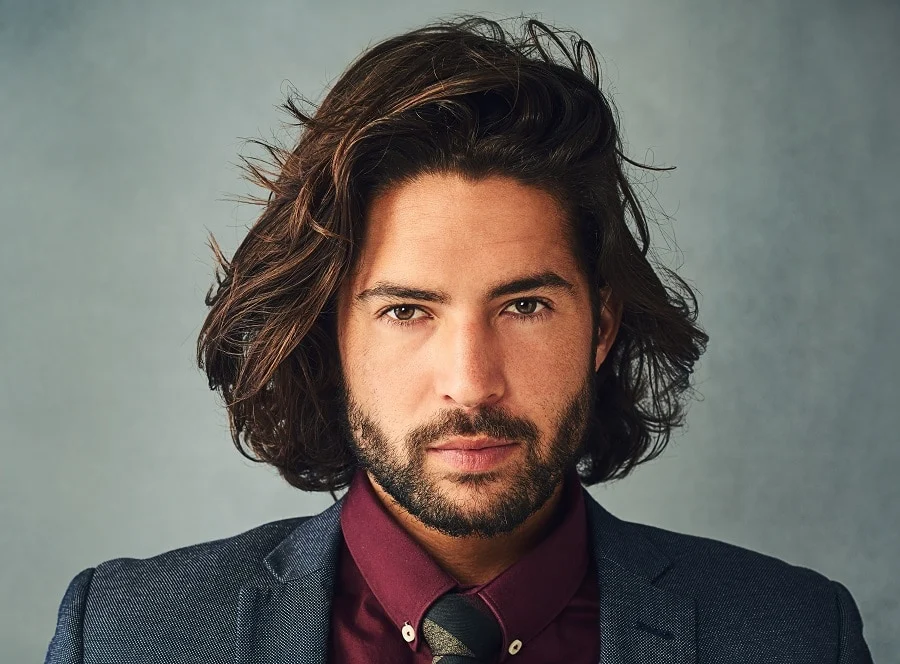 If you are working in a creative corporate role, a short scruffy beard with long hair can be your style. The heavy stubble along the jawline will add toughness to your personality. The long hair will give you the confidence required for creative industry.
How to Choose a Professional Beard Style for Corporate or Business
Choosing the right corporate beard style is important to express your personality. When selecting a beard style, consider the culture and your role in the company. Also, check your face shape to match the beard style.
Different workplaces may have specific expectations for beard styles. In corporate or financial settings, a well-groomed, short beard may be more appropriate than a full beard.
In creative industries or in business, such as advertising or entertainment, a more expressive or unique beard style is acceptable. Consider the expectations of your workplace and industry, as well as your personal style and face shape, when choosing a beard style.
Maintaining a Professional Look with Beard
If you choose to wear a beard in the workplace, it's important to maintain a professional look. This means keeping your beard clean, trimmed, and well-groomed.
Regularly wash your beard with shampoo and conditioner, and use a beard oil or balm to keep it soft and manageable. Invest in good-quality grooming tools, such as scissors, clippers, and a comb, and learn how to use them properly.
Finally, stay up to date with the latest corporate beard styles to ensure that your look remains relevant and stylish.
So, pick your favorite style and rock it with pride!