As they say, the first impression lasts long. Good jobs depend on a good interview. So, there is no reason to have a beard that may give a bad impression about you on the interview board. One must choose a professional corporate beard style that complements him walking in for a job interview.
Because HR personnel judges a person by the overall look and attitude of a potential employee. If the beard is well-groomed and cleaned, they may favor you in the next interview.
Here we present beard styles for your next interview that you can wear with confidence.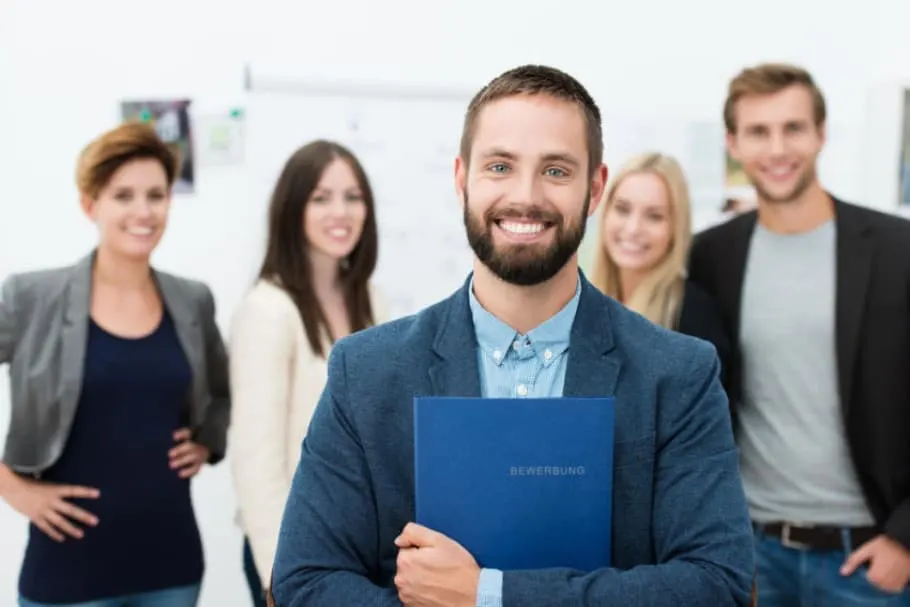 Professional Beard Styles for Interview
Well! The qualification of a candidate has nothing to do with a beard. Having a straggling beard doesn't mean that a person is less qualified. But there is something beyond qualification in terms of the working environment. When it comes to the decision of shaving a beard for a job interview, one has to follow the etiquette of a working place.
Hope you have already researched the company you have applied for. If they are ok with facial hair, check out these 40 beard styles for your next interview.
#1. The Corporate Beard
A corporate beard is nothing but a well-groomed full beard. If the beard looks so clean and tidy and creates a corporate and formal vibe, then you can say it is a corporate beard.
The name says it all, this type of bread is a go-to beard if anyone is going to attend a viva board. All he has to do is get rid of the unruly patches of the beard and shave everything that is below Adam's apple keeping a distinct cheek line and neckline.
It is suitable for professionals in finance, banking, and law industries, including job roles such as managers, analysts, and attorneys.
#2. Designer Stubble
Stubble is an easy and smart way to deal with facial hair if it's all about going to an interview. Stubble refers to a beard that is very short and well-maintained.
This type of beard will make your look more manly and employers should not have any problem with full stubble. Besides, one can easily add style to stubble by trimming it differently keeping the overall look neat and clean.
#3. Balbo Beard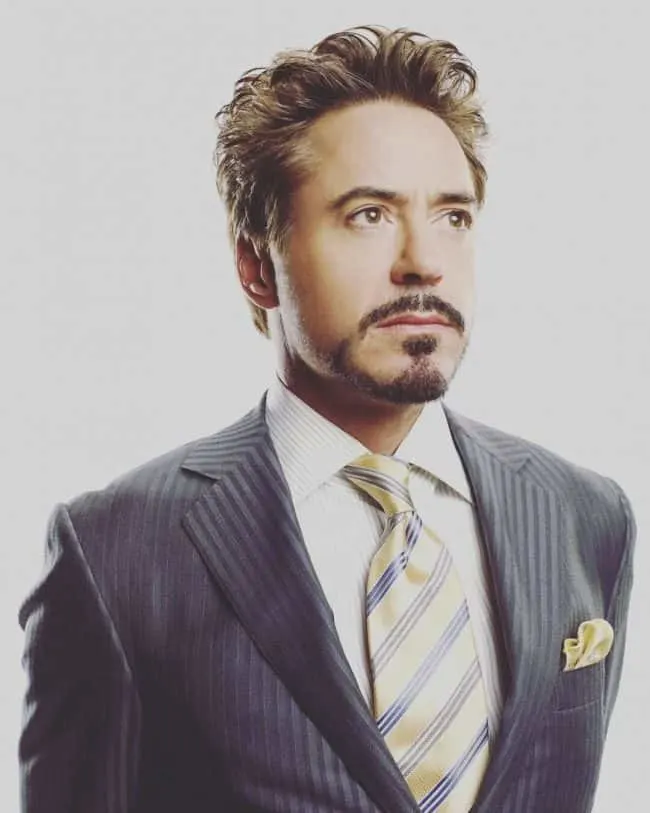 Balbo is actually a combination of three different beard styles. This style is hard to come by on your own as it needs extra attention.
So, if anyone wears a Balbo beard, that'll prove him a very fashionable guy. And the employer needs such presentable persons for their company.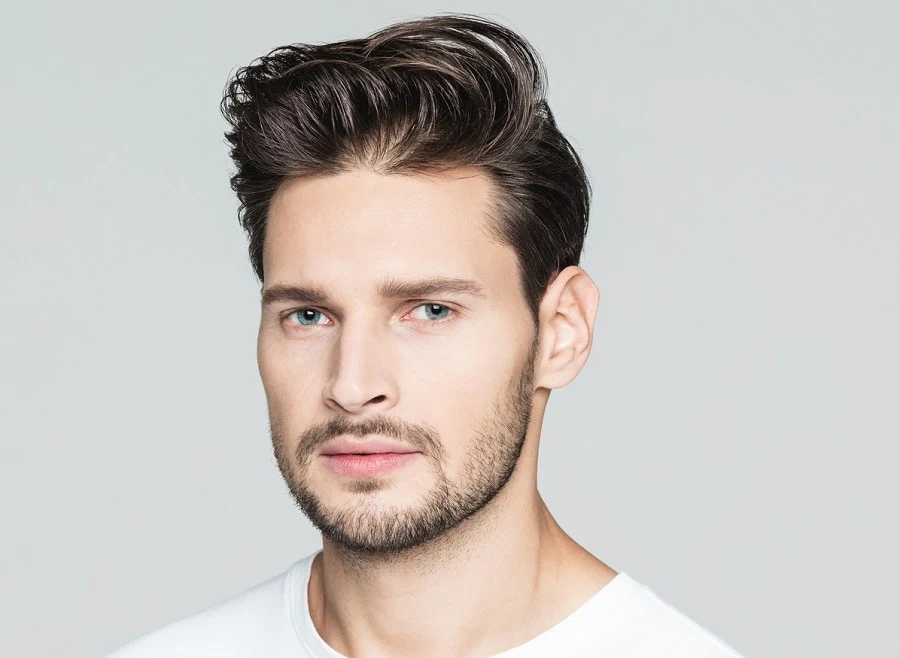 Designed for a clean and modern appearance, this well-groomed beard style fits right into the technology, engineering, and consulting sectors. It is a popular choice for software developers, engineers, and consultants.
5. Goatee with Thin Mustache and Curly Hair
A timeless short beard style, the goatee is well suited for marketing, advertising, and media professionals like marketing specialists, copywriters, and journalists.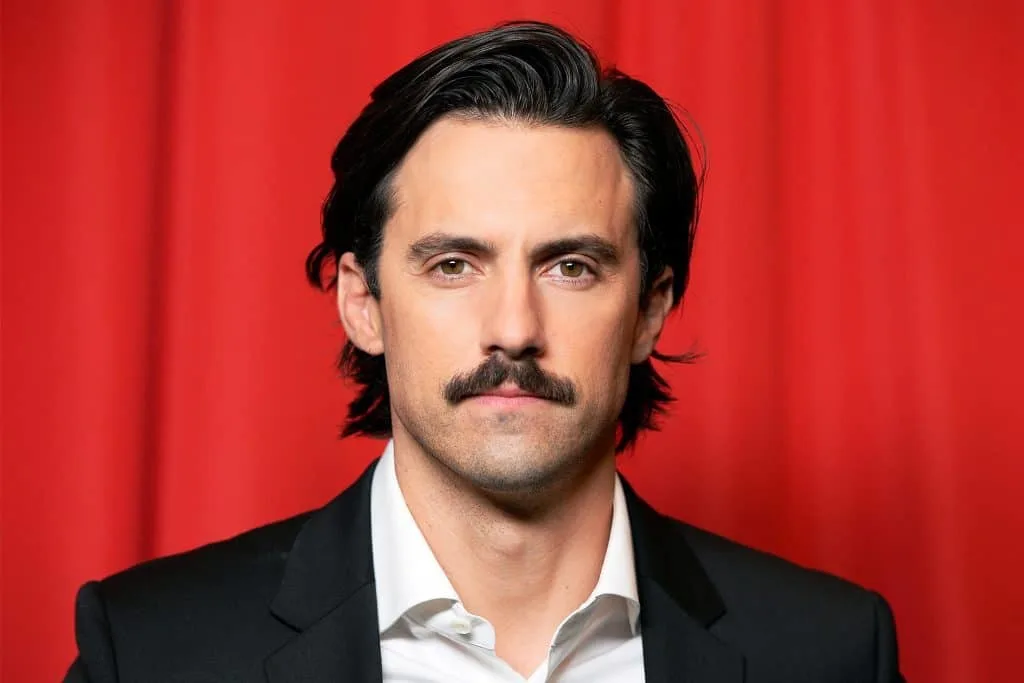 Mustaches are allowed in workplaces and interviews unless they cover your mouth. So, there is actually no prohibition regarding mustaches. Just make sure the hair strands are not straggling or fraying.
You can use wax or beard balm to make the mustache look shinier and tidier. Moreover, there are a lot of variants of a mustache. Try the shorter ones and avoid all sorts of fancy styles.
#7. Van Dyke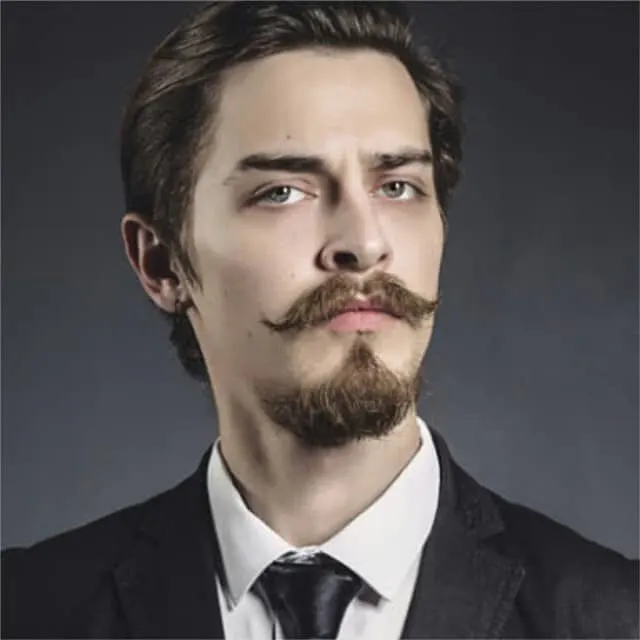 This is a special beard, specially invented for working people. This beard gives an intense look that the employer will find a serious and responsible person living inside you. He will pat your back for this beard instead of scolding you.
The beard is a stylish one that can help you hide a short chin. It can also elongate a round face. Van Dyke is associated with a mustache and a pile of facial hairs in the chin area. This could be the best choice for your next interview.
Short Beard Styles for Ultimate Elegance
#8. Short Beard Style
Short beards are a good fit for a professional setting. There's not much maintenance required except for the regular trimming every few weeks. Defining the cheek and necklines are also optional as keeping an unkempt look also goes with a short beard.
#9. French Beard
A French beard in the workplace is one of the most popular beard styles out there. Of course, it's not that unique of a style due to its popularity. Regardless, it's a safe option as this look won't be unprofessional no matter what.
#10. Beard Style for Bald Guy
There's nothing wrong with being bald, but you can definitely spice it up with a light stubble beard with a fade around the edges. It's one of the finest beard styles out for any bald man.
#11. Medium Beard Style
If you're feeling slightly daring and want to challenge the status quo, you could go all out with the medium beard style. The beard length is kept at a medium length, which means it's longer than 7 mm beard but it definitely should not cross the neck.
#12. Full Beard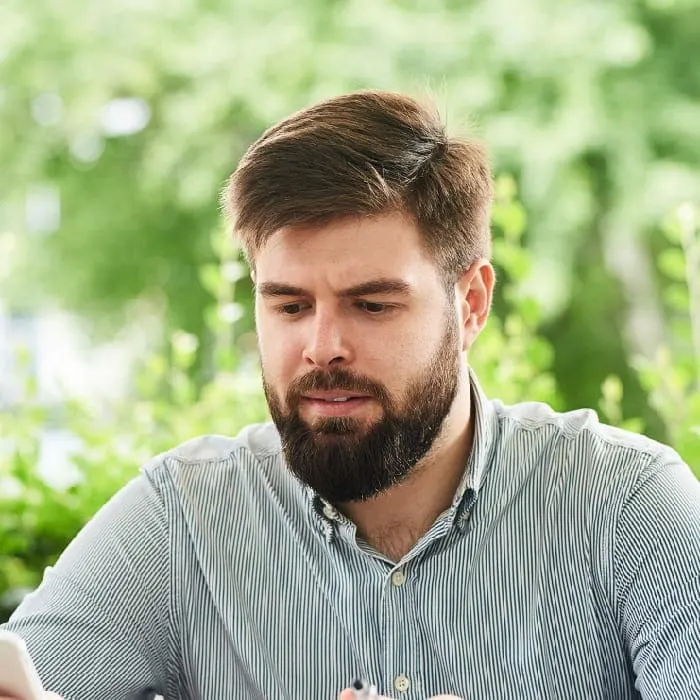 Full beards are beard hair covering the whole face but it's shorter than the medium beard style. It's just as important here to keep a nicely defined cheek and neckline, although it does require more trimming around the edges and any stray facial hair might completely throw off the professional look that you're going for.
#13. Black Man Beard
Black men can also go for the full beard. It adds more depth to the style and gives you control over the apparent width and length of your face. Remember to regularly maintain your beard though, as over-growing your beard might just ruin the professional look.
#14. Circle Beard
Circle beards are usually grown around the mouth. The rest of the face is usually clean shaved including all the way down the neck. A nice touch is to regularly define the edges of the circle beard and the mustache using a trimmer every few days in a week.
#15. Anchor Beard
An anchor beard is a variation of the goatee, with the beard and mustaches kept disconnected while the rest of the face is clean-shaved. With styles like these, you always want to be careful about stray facial hair and letting it grow out too much.
#16. Chin Strap Beard
The chin strap is not a personal favorite. Regardless, it's a popular style for those with patchy beards. If it's hard for you to grow any facial hair on your cheeks, the chin strap could be a good option for you.
#17. Ducktail Beard
Ducktail beard is a full beard that is shaped into a pointy end growing outwards from the chin. It's a great beard style if you can maintain it regularly. It definitely has its own charm if grown properly.
#18. Verdi Beard
The Verdi beard is a refined and sophisticated style that features a full beard with a neatly trimmed mustache. The beard should be kept to a length of around 4 inches, and the mustache should be styled to curl slightly upward.
The Verdi beard speaks of wisdom and experience, making it an excellent choice for professors, researchers, and social workers in the education and non-profit sectors.
#19. Royale Beard
Flaunting a stylish mustache, the Royale Beard is a statement piece for creative or entertainment professionals like actors, directors, or producers.
#20. Garibaldi Beard
The Garibaldi beard's full and rugged appearance fits right into more relaxed environments, such as tech startups, creative agencies, or freelancing roles.
#21. Shenandoah Beard
Any long beard that is sported with a clean shaved upper lip can be considered a shenandoah beard. This beard style might not be suitable for your professional interview in a corporate company. But if you are auditioning in the creative industry it is a great choice for singers, actors, and celebrities.
#22. Faded Beard with a Classic Side Part
For a professional and polished appearance, combine the faded beard with a classic side part hairstyle. The fade beard seamlessly blends the hair on the sides of the head with the beard. The side part adds an element of sophistication and timelessness, perfect for a workplace setting.
#23. High Fade with a Short Beard
The high fade with a short beard is a clean and modern look that exudes confidence and style. The high fade creates a sharp and polished appearance, while the short beard adds a touch of ruggedness and personality. This look works well for men with strong jawlines and square faces.
#24. Mid Fade with a Medium-Length Beard
For a more relaxed and laid-back appearance, try pairing a mid fade on the sides with a medium-length beard. This look creates a smooth transition between the hair and beard and works well for most face shapes. It's perfect for men who want a professional appearance with a touch of personality.
#25. Low Fade with a Stubble Beard
The low fade with a stubble beard is a timeless and classic look that works well for any occasion. The low fade creates a subtle transition between the hair and beard, while the stubble adds texture and ruggedness. This combination can be adjusted to fit different dress codes and expectations.
#26. Skin Fade with a Long Beard
For a more dramatic and statement-making look, try pairing a skin fade on the sides with a long beard. The skin fade creates a sleek and polished appearance, while the long beard adds a touch of personality and style.
#27. Slicked-Back Undercut with Light Beard
A slicked-back undercut with a thick mustache can make you stand out in your interview. You can pair a light mustache but it is optional.
#28. Parted Hairstyle and Close-Cropped Beard
The timeless look is a classic combination that never goes out of style. A side-parted hairstyle with a close-cropped beard conveys a traditional and professional appearance. To achieve this look, use a comb to part the hair to the side and keep the beard well-groomed and trimmed.
#29. Messy Bun and Tidy Beard
For a laid-back yet polished image, consider a messy bun with a tidy and well-kept beard. This combination is perfect for those who want to showcase their relaxed and approachable demeanor while still looking professional. To maintain this look, use hair products like texturizing spray or hair wax to add texture to the hair, and use a beard trimmer to keep the beard tidy and well-groomed.
#30. Buzz Cut with Goatee
For a professional look, you can't go wrong with a buzz cut paired with a goatee. The clean lines of the buzz cut and the defined shape of the goatee create a sleek and sophisticated appearance.
#31. Messy Short Hair with Stubble Beard
If you prefer a more casual and effortless style, consider a messy short haircut paired with a stubble beard. The texture of the hair and the scruffy look of the beard create a laid-back and approachable vibe.
#32. Textured Crop with A Soul Patch
A textured crop with a soul patch is a trendy and stylish look that is both edgy and sophisticated. The textured crop adds a playful element to the style, while the soul patch creates a sense of individuality and uniqueness.
#33. Mohawk with A Chin Curtain Beard
A mohawk with a chin curtain beard is a bold and daring look that is perfect for those who like to make a statement. The height of the mohawk adds a sense of drama and edge, while the chin curtain beard creates a sense of balance and symmetry.
#34. Side Swept Undercut With A Full Goatee
It is perfect for the modern professional interview. The side-swept undercut adds a sense of sophistication and class, while the full goatee adds a touch of ruggedness and masculinity.
#35. Classic Side Part With A Medium Stubble Beard
A classic side part with a medium stubble beard is a timeless and refined look that never goes out of style. The classic side part adds a sense of elegance and class, while the medium stubble beard adds a touch of ruggedness and masculinity.
#36. Tapered Beard
A tapered beard can be cool in professional settings that feature hair that is longer at the chin and shorter at the sides, creating a unique and stylish appearance.
#37. Extended Goatee and Chevron Mustache
For a stylish and trendy look that still maintains a professional appearance, consider an extended goatee with a chevron mustache. Showcase your fashion sense and also maintain a professional look simultaneously.
#38. Thick Beard and English Mustache
If you're looking for an elegant professional look, consider a thick beard with an English mustache. This pairing is an ideal choice for individuals who wish to flaunt their refined and elegant persona.
#39. Square-Shaped Beard and Dali Mustache
For a sharp and confident appearance, consider a square-shaped beard with a Dali mustache. To maintain this style suitable for a professional workplace, keep the beard trimmed. Use mustache wax to keep the Dali mustache looking sleek and well-shaped.
#40. Soul Patch
Clean yet bearded, that is what soul patch beard is all about. If you want to show your professional personality but are not willing to clean shave your beard for the interview grow a soul patch. Keep it trimmed else it can provide the interviewer a negative impact.
A beard style can talk about the personality of the patron. If one has a beard that is not clean and well-groomed, the employer may think of him as a lazy and more casual person. That is not a good attribute of an employee. So, watch out for your beard style before going to attend the next interview.