You have seen many famous actors with a mustache, but some of them might inspire you, and some might have looked not up to the mark as they may look with other styles.
It's all because of their way of carrying the mustache and most importantly their facial feature and physique. Here, we have compiled a list of famous actors having incredible mustaches that will give you some solemn mustache goals to accomplish.
Famous Actors with Their Iconic Mustaches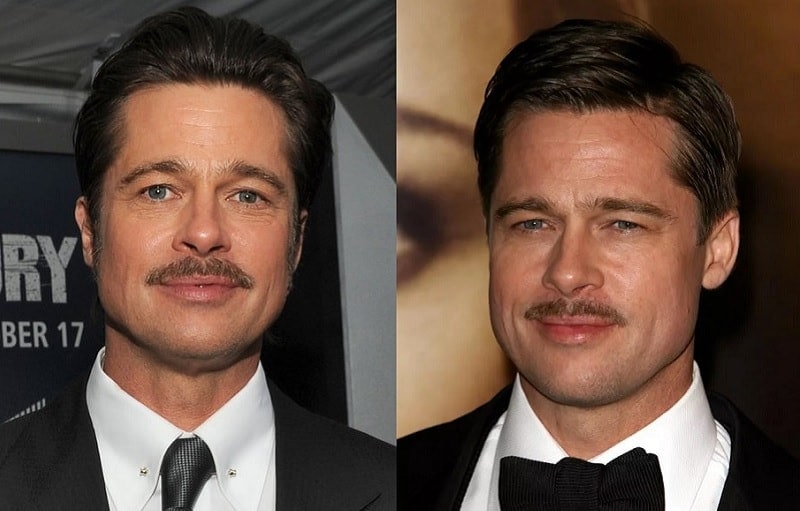 He is a better known American old actor with a mustache. He has implausible fashion sense whether it is the selection of hairstyle, beard and a mustache; he always comes up with mesmerizing styles. Here are his gentlemen, old classic look with a pencil mustache and other is with chevron mustache.
Both looks have their own elegance. If you are looking for manly, but tamed look; you can pick any of his both styles. In both avatars, his mustaches look disconnected from the nose and one is slighter thick than the other so, concentrate on these fine details to adapt this look.
How to Grow a Healthy Mustache: A Quick Guide
2. Tom Selleck's Mustache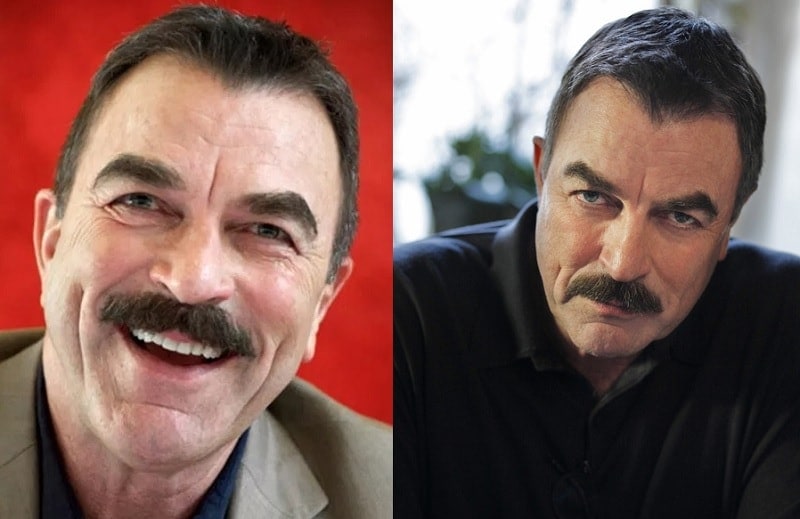 He is an old famous American actor and producer with a mustache who is known for his popular TV series, Magnum, P.I. His iconic walrus mustache also remained the center of attention among his admirers.
He wore his signature walrus for many years, but shaved off it for a project "In and out". His mustache is thick and bushy which gives a strikingly classy looks men. You need to maintain it regularly by shaving the cheeks and trimming the edges.
He is a comedian and actor known for his energetic personality, happy and lively smile, and most for his trademark mustache.
He has done sundry hit movie as a supporting actor like dream girls, Shrek, haunted mansion .e.t.c. In 1997, he was amongst top 100 movie stars list in UK magazine.
His trimmed chevron like mustache always added a charisma in his personality. He never shaved off his mustache but wore it with variation like some time with a goatee and sometimes clean-shaven.
He is a famous author, host, reporter, and an old actor with a mustache who is known for various movies like contact, primary colors .e.t.c. In his career peak, he managed to get a place amongst fifty most beautiful people in the world due to his looks and ravishing mustache style.
He has never seen without a mustache throughout his reel as well as real life. His mustache is long, thick and slightly pointed from the ends just like handlebar mustache style.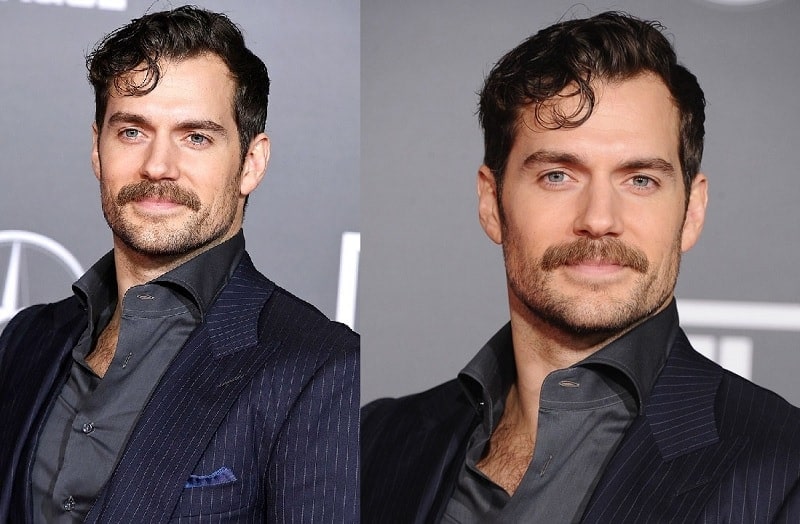 The Superman with a super-duper mustache! His mustache is one of the most attractive and impressive among the list of famous actors with mustaches. It is thick, tamed, and evenly dense.
His ginger mustache gives him more prominent features. It needs a lot of maintenance. The thickness of the mustache is approximately 3mm; maintain this thickness with a good quality clipper.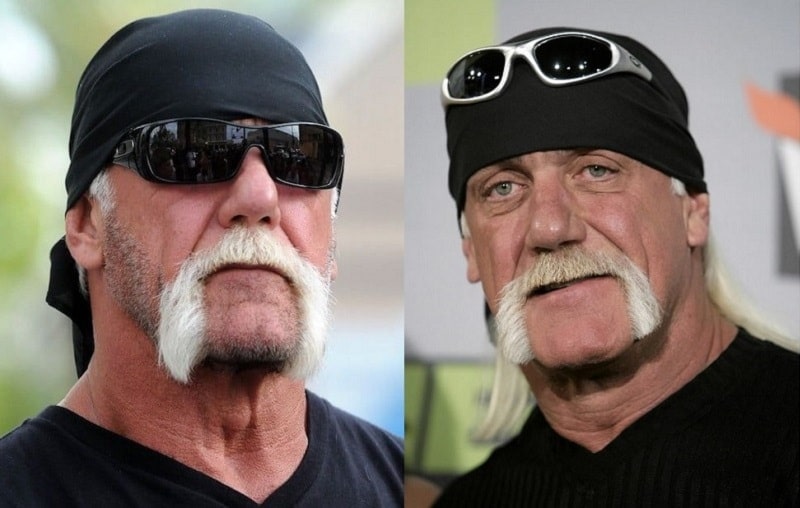 He is a strong and styling icon in the wrestling world and a well-known wrestler. His mustache is usually named a bike or horseshoe mustache.
To achieve this inimitable mustache, trim your facial hair in such a way that the mustache ends pointed in downward direction touching the jawline.
It resembles to "u" or "horseshoe" shape. People may confuse it with Fu Manchu mustache, but it is slightly different from that is respect of length and thickness.
7. James Franco's Funky Style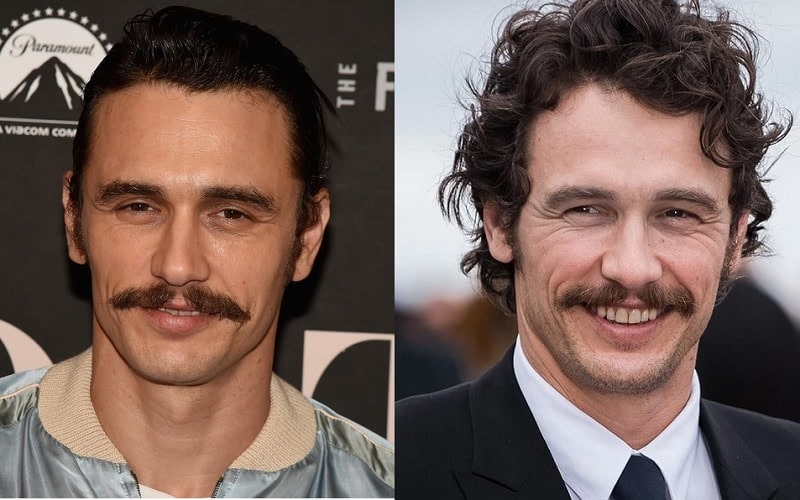 He is an American famous actor and filmmaker, who has been seen with a mustache at various events. He has also won the golden globe award. His mustache always gives him distinctive features.
Just like Zorro mustache, it is also separated from the middle but is relatively thick and long enough that crossing the lip line. He has done many variations with his mustache like sometimes trimming it ends to get slightly pointed, edgy shape and sometimes leaves the mustache ends thick in the downward direction.
8. Jude Law's Manly Look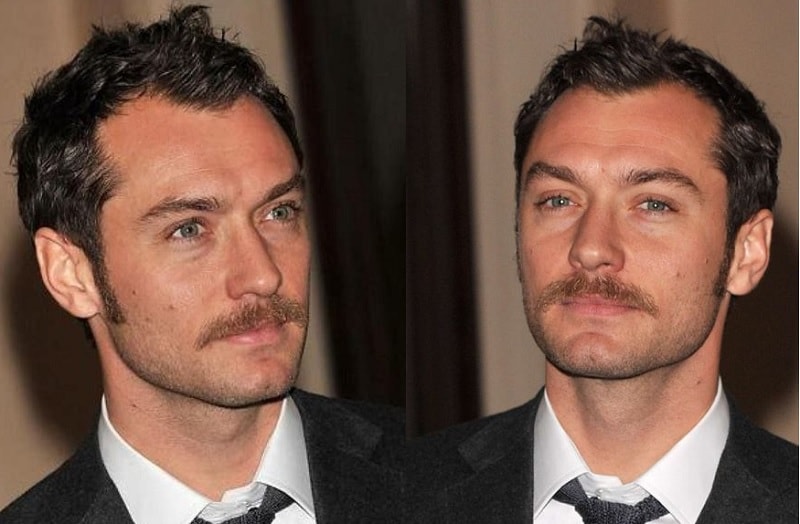 He is an English actor who grew a remarkable mustache for a project character named Dr. Watson. In 2004, People magazine named him the sexiest man.
His mustache gave his personality a classier look. The light stubble, Manly mustache, and long sideburns give him an old English gentleman look.
9. Ryan Gosling's Trimmed Look
The famous Canadian actor Ryan Gosling is one of the most popular actors with mustaches. With medium unkempt stubble, the whiskers are definitely giving modish look.
It is surely a great choice for those guys who want a promising styling blend of an old and modern look to make out an outstanding personality.
You just need a mustache scissor to maintain the thickness of whiskers while trimming it regularly. Keep the mustache neat and well-trimmed for a prosperous look.
10. Sam Elliott's Mustache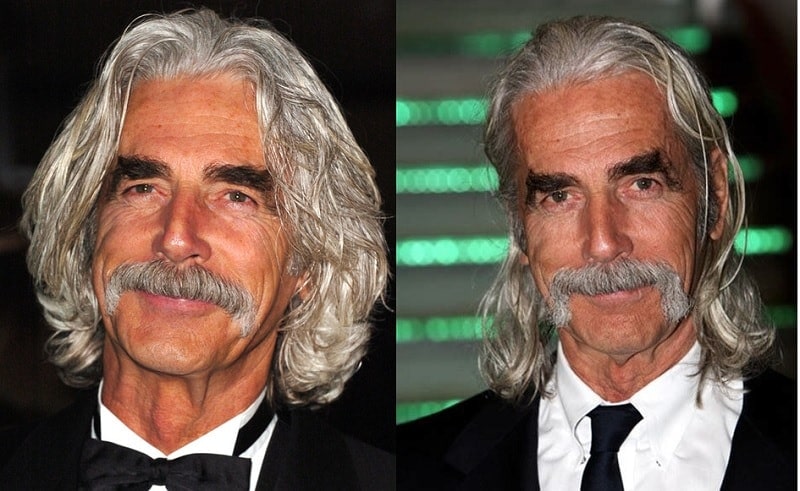 He is a famous, old American actor who was listed amongst the 12 most promising actors in 1976.
In addition to his commendable voice, his prevailing roles as a cowboy; his shoulder-length hair and mustache are also an impactful features of his personality. He has never shaved off his mustache in his life except once for a TV series project "Justified".
11. Tom Hanks's Short and Trimmed Mustache
He is a well-known filmmaker and famous actor who grew his signature mustache for the character "Walt Disney". His mustache resembles a painter's brush. He has grown a mustache for several projects as well.
People used to like him with a mustache, but he shaved off his mustache after his project as he thinks, the mustache does not suit his personality.
12. Johnny Depp's Pyramidal Mustache
Johnny Depp has had some of the most iconic beard styles on screen such as the Jack Sparrow beard style, but off-screen he's always worn a goatee. However, this one time, he was spotted with a nicely trimmed pyramidal mustache.
13. David Harbour's Mustache (as Hopper from Stranger Things)
Even though David Harbour has slight beard growth his mustache is much denser and can still be counted as one. This look of his was spotted in New York Comic Con back in 2018 as the cast of Stranger Things.
This look of his became popular as part of his character through the said TV series as well.
14. Nick Offerman's Cookie Duster Mustache from Parks and Rec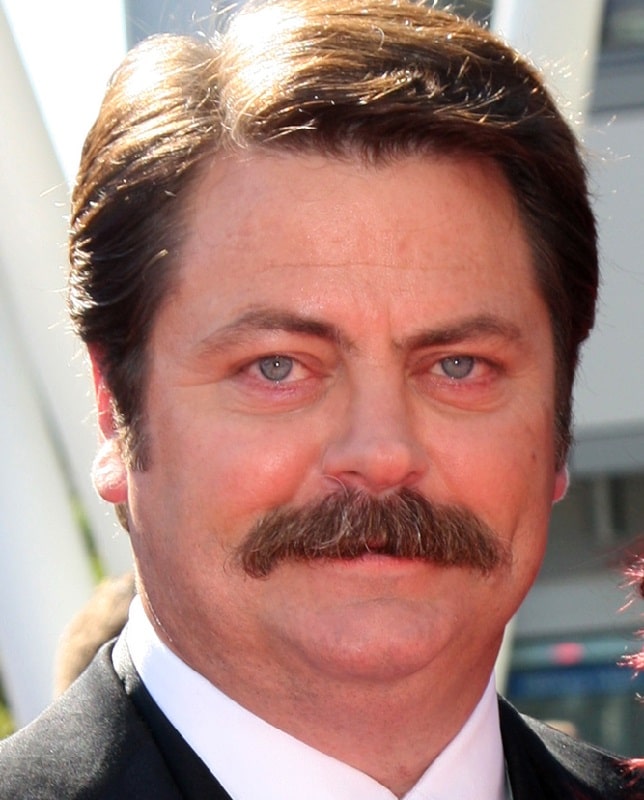 The Cookie Duster mustache is kept unshaped, starting from just under the nose, trimmed only around the brim of the top lip. It's usually a full-bodied, thick, and course on the top.
A perfect look for those with mature facial hair growth. Nick Offerman's mustache here is just as iconic as his role in Parks and Rec.
15. Bryan Cranston's Mustache from Breaking Bad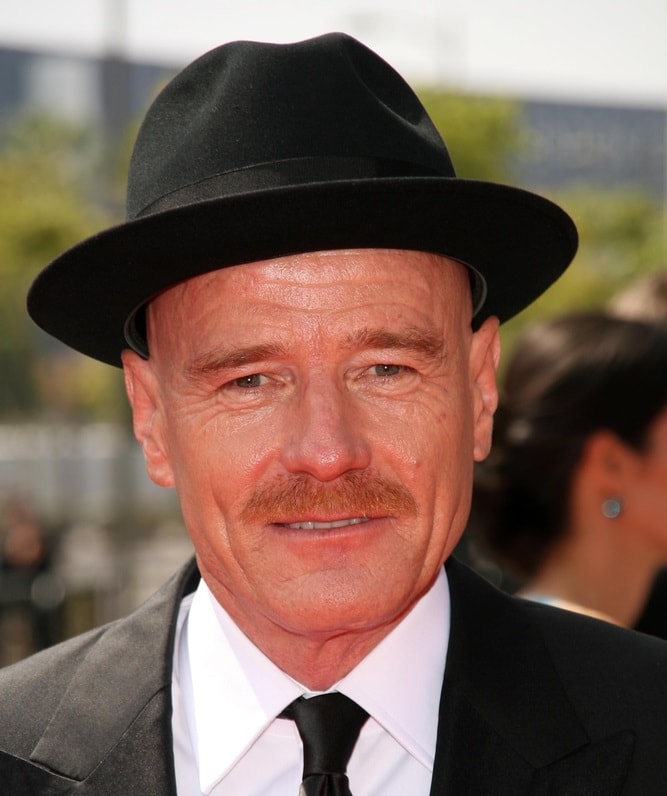 Yet another iconic actor and his mustache, Bryan Cranston's role in Breaking Bad instantly made him resurface into pop culture ever since his role in Malcolm in the Middle.
His mustache here is a classic mustache trimmed around the upper lip and the sides.
16. Danny Trejo's Mustache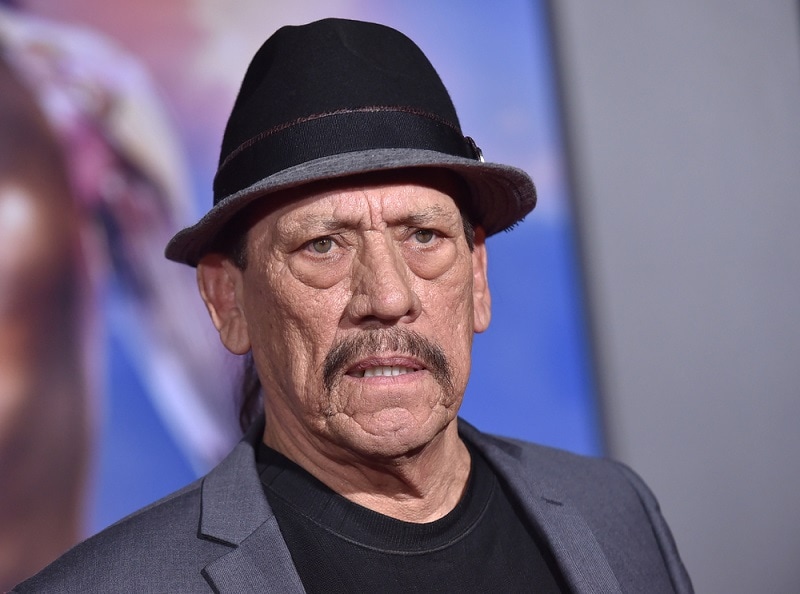 Danny Trejo is one of the few actors in Hollywood who has always kept a mustache. Ever since he became an actor he has always been seen sporting a clean and nicely trimmed handlebar mustache.
17. Pedro Pascal's Mustache
Pedro Pascal recently blew up since Narcos and The Mandalorian but has ever since been sporting a mustache along with a goatee that doesn't seem to get enough attention.
18. Michael B. Jordan's Caterpillar Mustache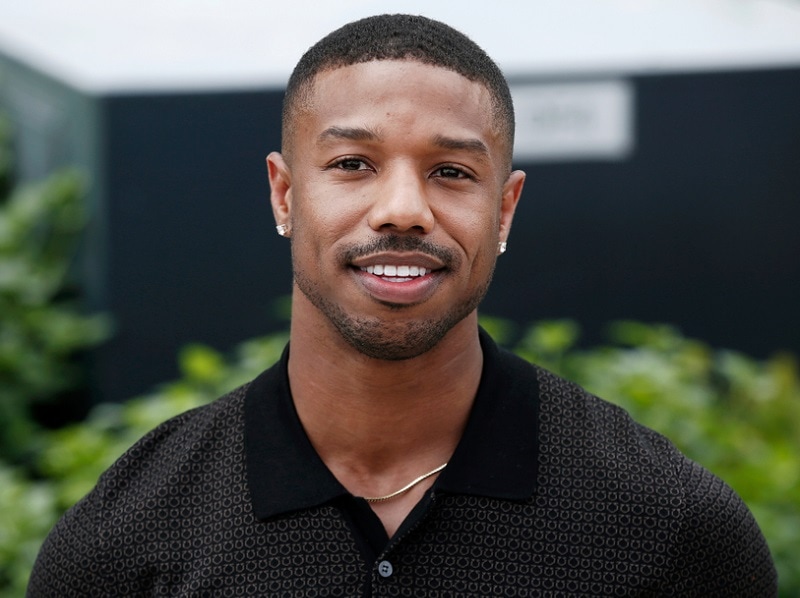 Michael B. Jordan has played some iconic roles in Hollywood, including but not limited to, the role of Creed in Creed 2, KillMonger in Black Panther, and Oscar Grant in Fruitvale Station.
He's been regularly sporting a mustache and a combination of chin beard or goatee from time to time.
19. Idris Elba with Caterpillar Mustache
Idris Elba has worn a full-length beard to a circle beard to a Van Dyke over the beards, but little known is the fact that he did sport a nicely trimmed caterpillar mustache with the rest of the face completely clean shaved.
Rest assured, the mustache looked dashing on Idris Elba.
20. Adam Sandler
Adam Sandler has been one of the funniest actors to have surfaced from SNL, and he's played some of the most iconic characters in movies.
The actor is known for his funny and wholesome personality off-screen as well. Even though a mustache can add toughness and strength to the face of most actors, it adds to the wholesomeness of Adam Sandler's personality.
21. Mahershala Ali's Pencil Stache
Mahershala Ali has won multiple accolades throughout his career and is best known for his portrayal of Remy Danton in the Netflix series House of Cards, Cornell Stokes in Marvel's Luke Cage and for his performance in Moonlight.
One of his most favorite mustache styles is the pencil mustache that is sported for a long time.
22. Jason Lee's Drooping Mustache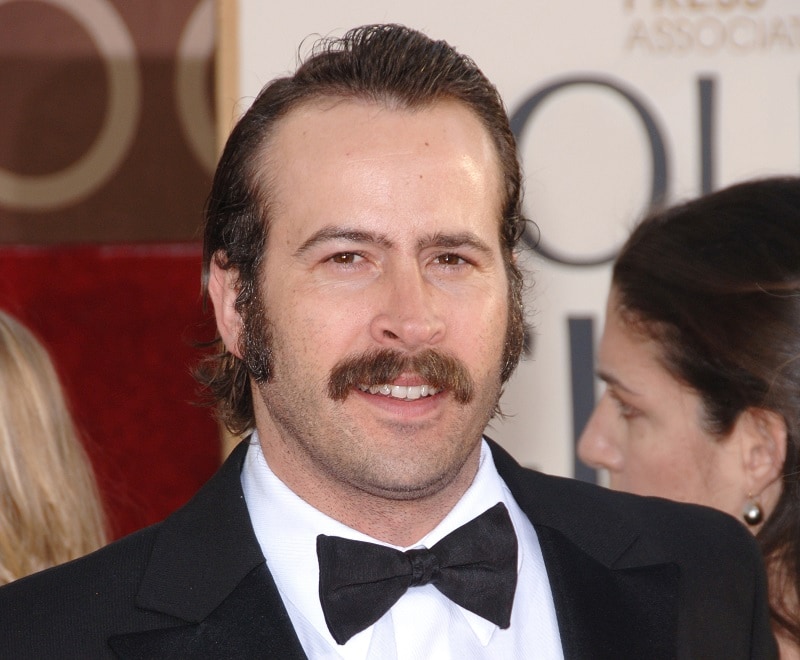 A mustache was an essential part of the title character of "My Name Is Earl," played by former skateboarder-turned-actor Jason Lee.
However, Lee shaved off his mustache for his subsequent role for the police drama "Memphis Heat."
23. Sacha Baron Cohen's Mustache as Borat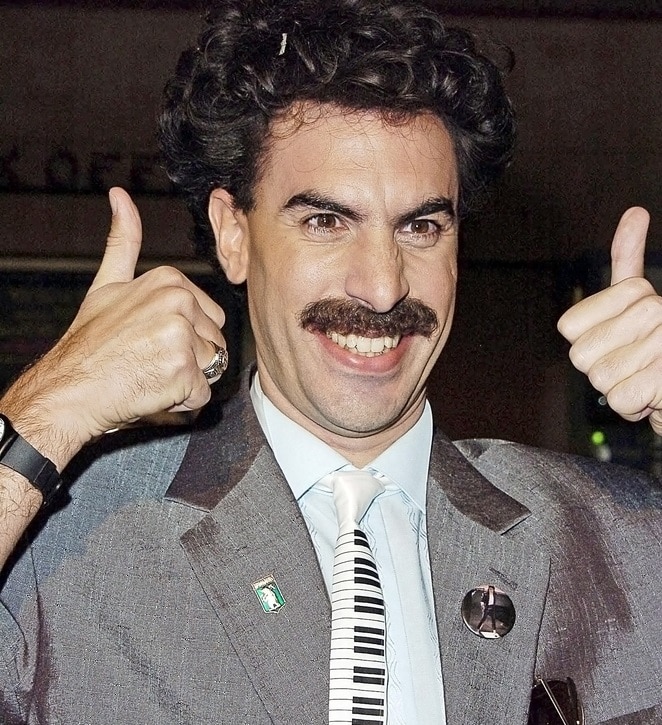 The British comedian Sacha Baron Cohen played Borat in the mockumentary "Borat" which instantly became famous for his comedic take on sexism, anti-Semitism and other aspects of human bigotry prevalent in society still today.
But his bushy, almost handlebar-like mustache became as much a part of his character as did Borat's dogmatic view of the world.
24. Samuel L. Jackson's Light Mustache
Famous for his roles in movies like Django Unchained and Pulp Fiction, Samuel L. Jackson sported a light mustache in the early 2000s before getting his role as Nick Fury in the MCU.
Suffice to say, he absolutely rocked this look at the time before going full clean shaved.
25. Ashton Kutcher with Thin Mustache
These aforementioned mustache styles of actors need maintenance for a polished and well-kept look. Invest best on the clipper and mustache scissors for perfect celebrities' mustache execution.
If you want to try something more innovative along with a mustache, you can check out our post on beard and mustache combination for ideas and inspiration.