When it comes to the mustache, there's one name that stands above the rest – Tom Selleck. With his iconic portrayal of Thomas Magnum in "Magnum, P.I.," Tom Selleck's mustache has become legendary in its own right.
In a time when mustaches were a prominent feature among many actors, Selleck's stood out as a symbol of timeless style and unparalleled charm. Interestingly, Selleck thought about shaving his famous mustache for "Blue Bloods," but the decision was made to keep it. This story adds to the charm of what many still regard as one of the best mustaches among the actors.
As we explore the evolution of Tom Selleck's mustache, be prepared to be whisked away on a journey through time that starts even before the mustache became famous. Ready to dive into this mustache extravaganza? Let's get started!
Why Tom Selleck's Mustache Is Famous?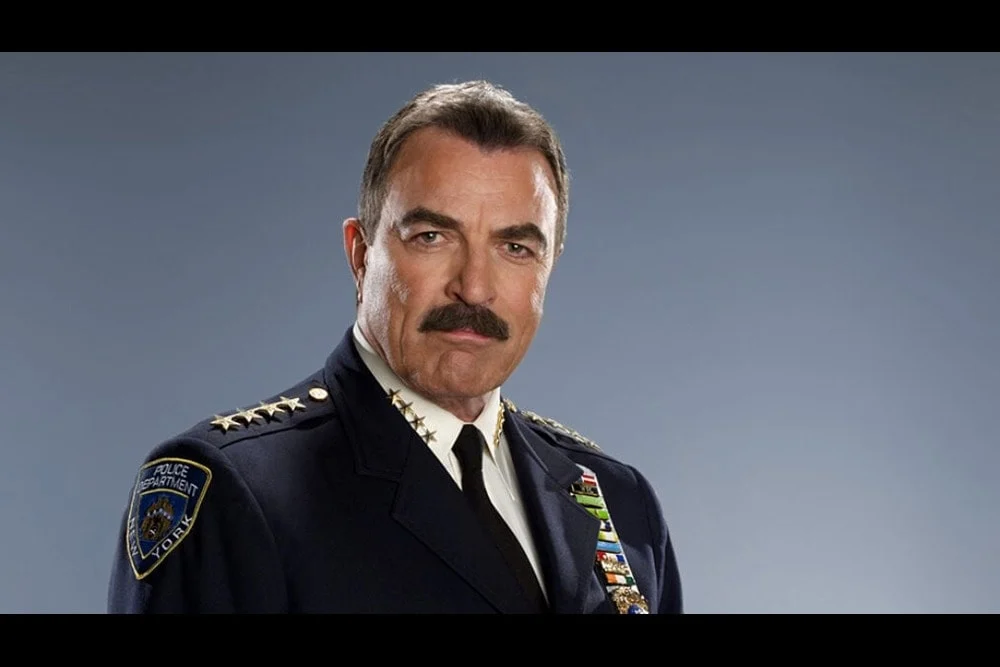 Tom Selleck's mustache is famous for its iconic status, initially gaining attention during his role in the 1980s TV series "Magnum, P.I." Later it became an integral part of his. Even in his present role as Police Commissioner Frank Reagan in the series "Blue Bloods", the mustache remains a constant.
It is still arguably the best mustache among the old actors and continues to be synonymous with Selleck's image. Throughout his extensive career, his iconic mustache accompanies him in nearly every character he portrays, with only a few exceptions. That is the reason his mustache styles are as famous as his acting.
Evolution of Tom Selleck Mustache
From a young actor with a mustache to an older star maintaining it, Tom Selleck's iconic mustache has stood the test of time. Check out the highlights of his mustache styles throughout his career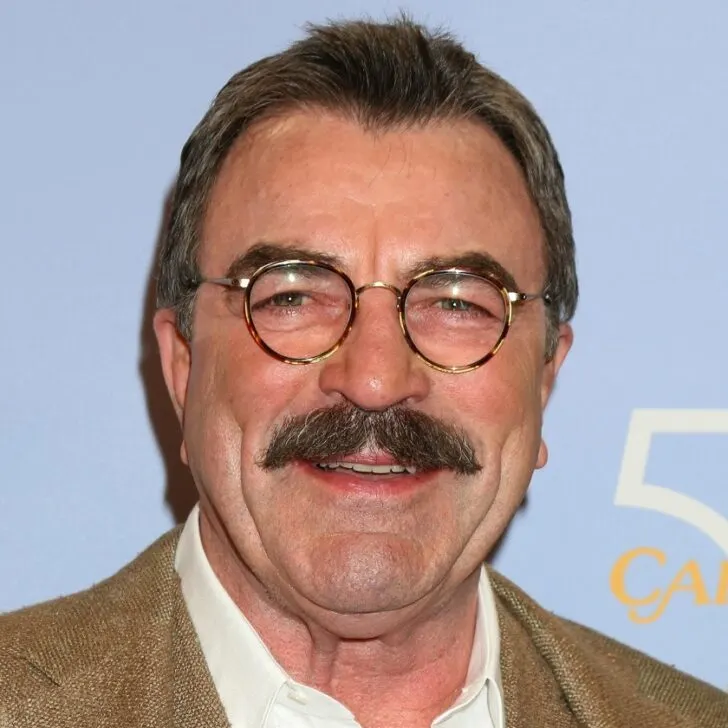 Selleck sported a light 70s mustache during his early actor career.
He appeared on a TV series without a mustache in 1973.
His mustache style became famous as Selleck lands the role of Thomas Magnum and was a trending mustache style in the 80s.
He again shaved his facial hair in 1983.
Selleck briefly experiments with a beard during his brief hiatus from Hollywood in the 90s.
Selleck reverts back to the solo mustache, maintaining its bold and full look in "Friends."
Selleck's mustache transitions into a slightly grayer shade reflecting his mature roles in films like "In & Out" and "The Love Letter."
The clean-shaven look is short-lived, and Selleck's mustache returns in full force for his role in "Blue Bloods."
Selleck's mustache remains consistent, with minor trimmings and stylings according to his roles, becoming a constant symbol of his career.
The mustache goes through a natural graying phase, adding a distinguished look to Selleck's appearance in his later roles.
Tom Selleck's iconic mustache remains a constant, reaffirming its status as one of Hollywood's most enduring symbols.
Tom Selleck Mustache Styles
Tom Selleck's mustache styles can be categorized as clean-shaven and chevron mustache. Over the past few decades, he has worn different styles of the chevron mustache. Check out his different variations of with and without mustache styles from the 70's Mustache to this day.
1. 70's Mustache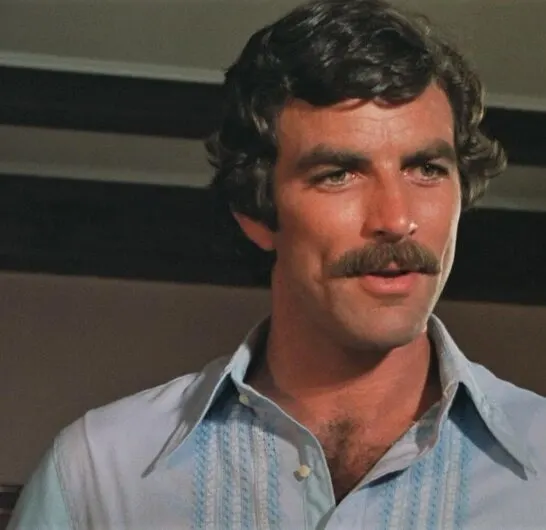 From the early stages of his career, Tom Selleck sported a thicker chevron mustache. This is a classic example of the 70s mustache style that covers the upper lip. A triangle-shaped gap is created in the lower center part of the mustache and the sides of the mustache just extend past the edges of the lip.
2. Tom Selleck without Mustache
The TV series "Wide World of Mystery" aired in 1973, Tom Selleck played the role of an ex-cop named Mark Brolin. The picture depicts a classic Tom Selleck no mustache look. He clean-shaved his mustache and beard for the role. The pompadour hairstyle with his clean face perfectly matched his role.
3. 80s Magnum Mustache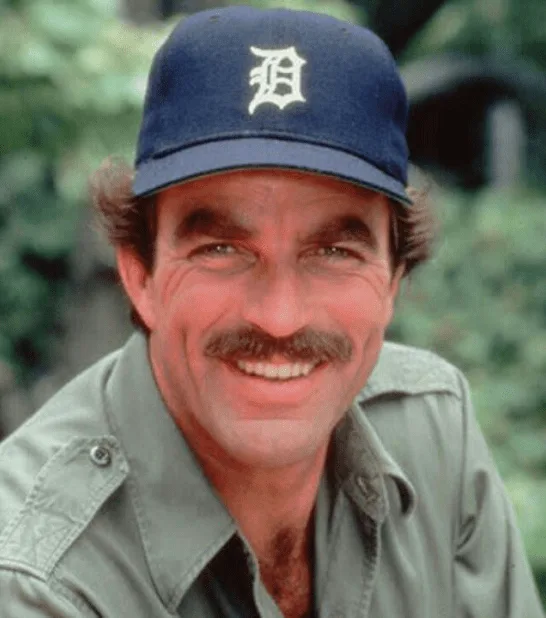 When Selleck landed the role of Thomas Magnum, his mustache style became famous. This is a full, thick mustache that covers the entire width of the lip. It's one of the most popular 80s mustache styles and continues to be trendy today.
4. Back To Clean Shave Look
Once again, Selleck went back to a clean-shaven look in 1983. This time he changed his haircut to a mullet. This look is very easy to get but hard to maintain as you have to shave your beard and mustache every day. You can also improvise this look by pairing a beard with mullet.
5. Cowboy Mustache with Soul Patch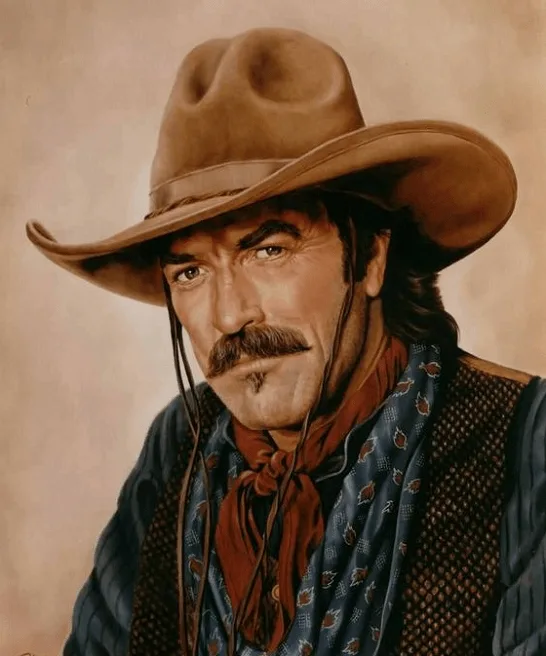 How highly would you rate his cowboy mustache? Paired with long hair and a soul patch, this style certainly makes a statement. Considering the blend of classic and modern elements, and the confident manner in which Selleck wears it, many might rate this style quite highly.
6. Bushy Long Mustache with Short Full Beard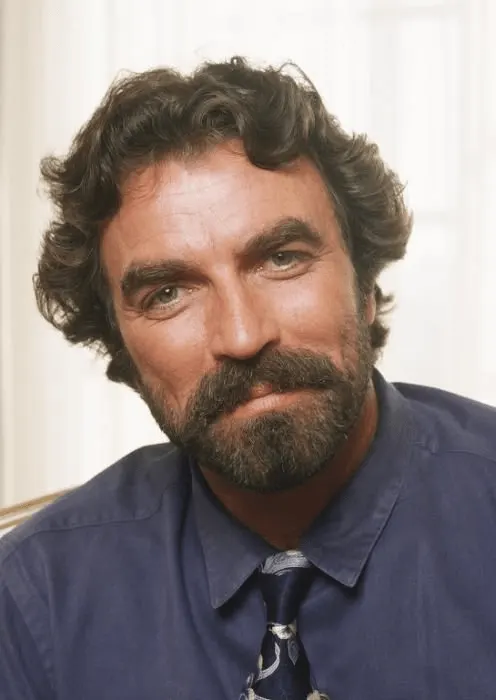 During the 90s, Selleck briefly experimented with his hair, beard, and mustache styles. This style includes a Verdi beard with a long parted mustache and wavy hair. It's a strong look that requires a bit more maintenance.
7. The Boxed Mustache with Medium Beard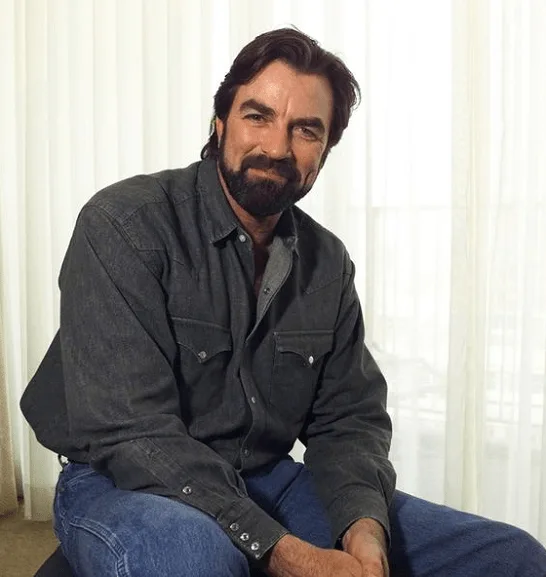 This is my personal favorite from tom selleck mustache styles. The thick mustache curves downward and connects with the dense medium-length full beard. The hair is long on the back and brushed on both sides. This style gives Selleck the perfect 90's men vibe.
8. Paint Brush Mustache with Long Hair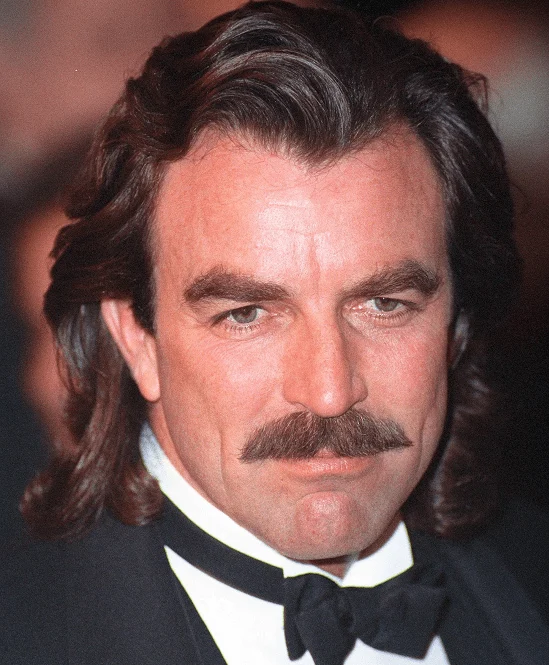 Tom Selleck with a paintbrush mustache and long, flowing hair. His mustache resembles the strokes of a paintbrush, while his hair cascades down in waves. The beard is shaved cleanly. You can try this long hair and mustache without beard style if you have less beard growth.
8. Friends Dr. Richard Mustache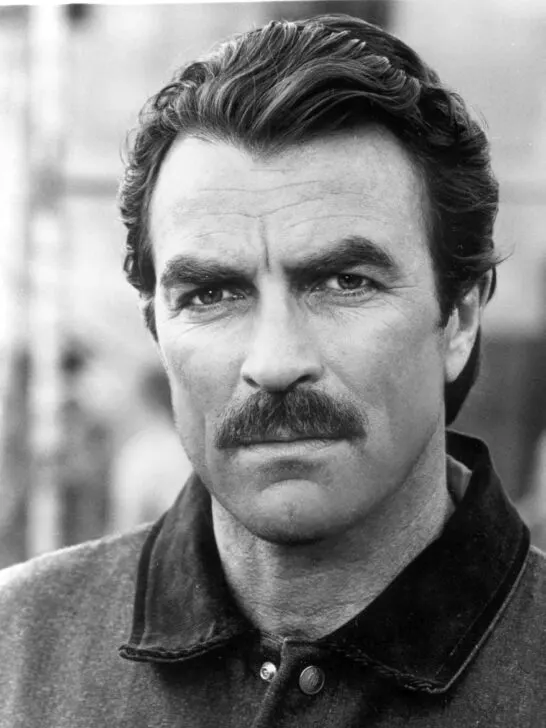 In his Dr. Richard role on "Friends", Selleck sported a bold solo mustache. This look is similar to the Magnum mustache, but the mustache style is more similar to a pyramid mustache than a chevron mustache. Friends fans can try this Dr. Richard mustache to show their love for the beloved series.
9. Lampshade Mustache with Goatee Beard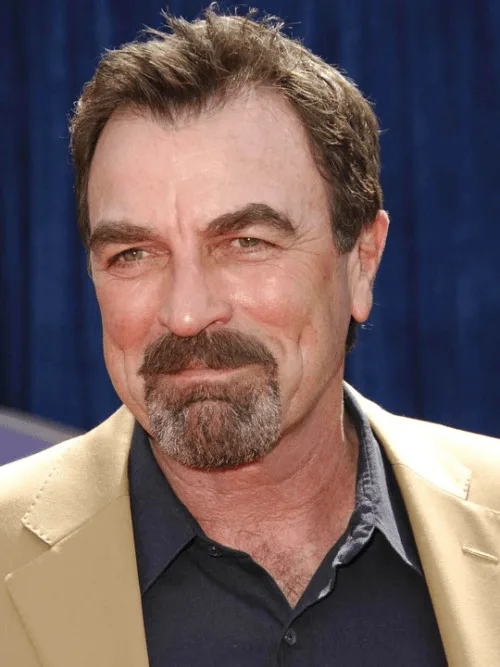 This Tom Selleck mustache style forms a subtle triangle, with the base of the triangle at the top of the lip and the point extending slightly down. The celebrity sported a goatee accompanying the beard. The presence of grey hairs in his beard serves as a gentle reminder of the natural aging process, reflecting his maturity and experience.
10. The Iconic Selleck Mustache with Salt And Pepper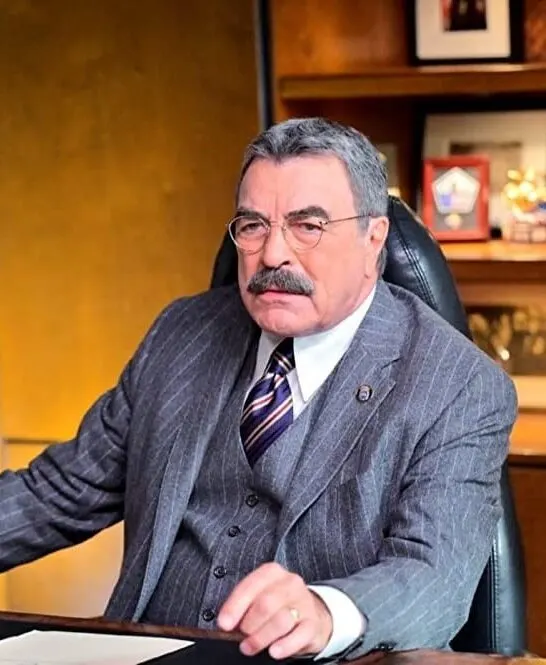 In 2023, Tom Selleck made a nostalgic return to his iconic mustache, a style that harks back to his Magnum P.I. days. However, the blend of black and white hairs in his mustache creates a striking "salt and pepper" effect, a testament to the passage of time. Our favorite actor may have aged, but he does so with a charm that's reflected in his classic mustache style.
How to Grow and Style A Mustache Like Tom Selleck?
Tom Selleck's mustache style is mainly a chevron mustache which is thick, wide, and extends horizontally across the upper lip. Tom Selleck's mustache width varies based on his character, but it is kept relatively thick and full. You can follow these tips to grow and style a mustache like Tom Selleck.
So, what is your opinion on tom selleck mustache styles? Did you find it appealing or impressive? Share your thoughts in the comment section!