When it comes to men's style, the '90s bestowed upon us some unforgettable trends. The decade was known for its diverse range of styles, with the notable 90s mustache being a standout trend.
As integral to '90s fashion as baggy jeans and graphic tees, there were several popular mustache styles that were flaunted by everyone, from the boy-next-door to celebrities like Tom Selleck, Freddie Mercury, and Hulk Hogan.
Trendiest 90s Mustache Styles
1. Long Mustache with Thick Goatee and Chin Strap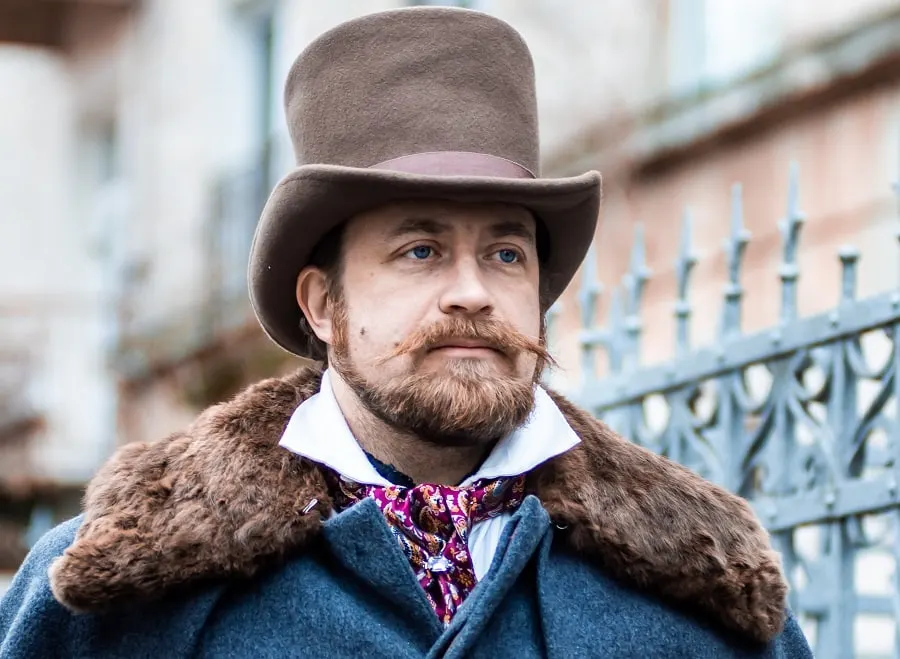 The early 1990 saw a resurgence of the long mustache that was popular in the '70s and '80s. The short beard runs along the jawline and connects with a long goatee.
The goatee and mustache give a perfect 90s vibe. The long ends of the mustache aren't curved or straightened as handlebar mustaches.
2. Lampshade Mustache with Messy Hair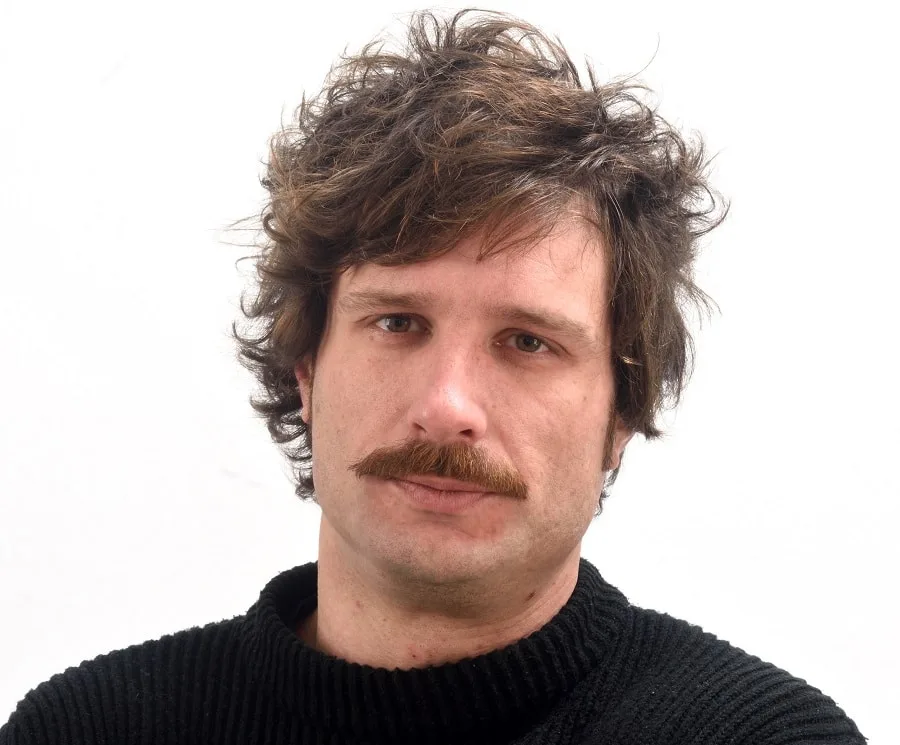 The mustache might not look to overpowering, but you get people's attention to it by shaving the rest of your beard clean. There are no goatees, jawline beard, soul patches, or other facial hair to take away attention from the mustache.
3. Inconsistent Blonde Handlebar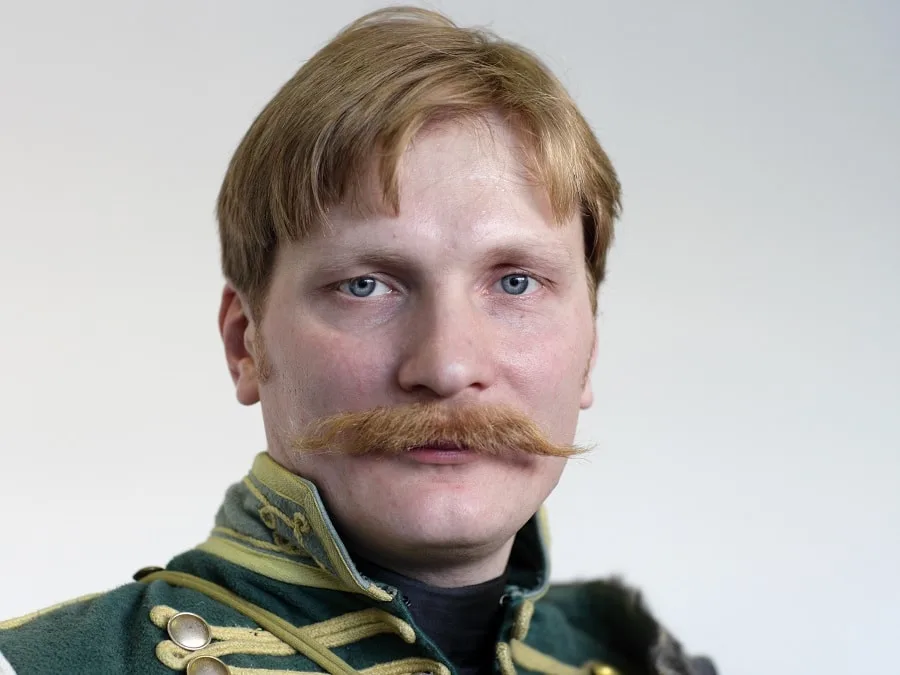 Make a statement with a big mustache that goes from one cheek to another cheek and then curves to become a handlebar. It's okay if the two sides aren't symmetrical–the mustache will still be the most noticeable part of your face for the onlookers.
4. Short Mustache with Mullet Hairstyle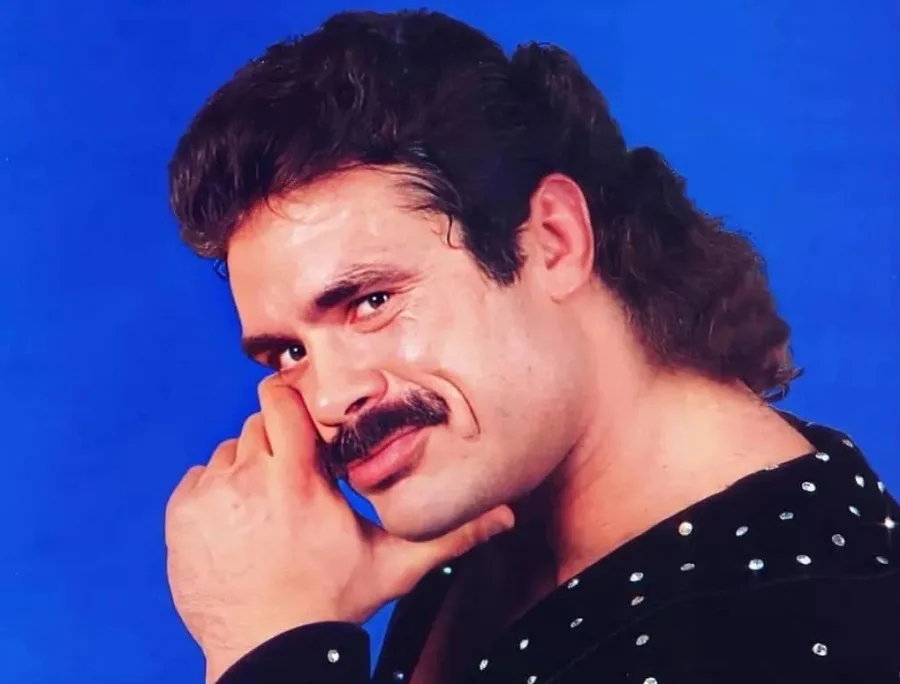 This 90s mustache and hairstyle will surely make a few heads turn to get a second look at you. The mustache isn't overly thick and overgrown, but big enough to be noticeable despite its short length. The mullet is the second star of the show and goes really well with this mustache style.
5. Chevron Mustache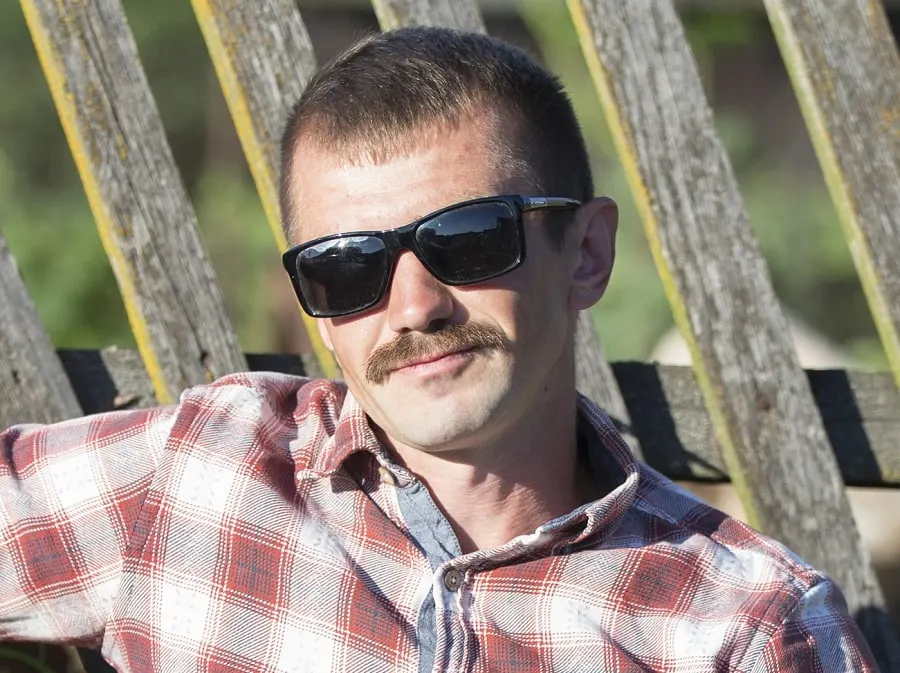 When discussing the 90s mustache trend, it's impossible not to mention Tom Selleck. As the star of the hit TV show Magnum, P.I., his chevron mustache became an iconic symbol of rugged handsomeness.
Yours might not be as thick as Tom Selleck's but go ahead and grow one since you can. You can decide to keep it a bit trimmed so it doesn't cover your upper lip as much as the original style is supposed to.
6. Handlebar Mustache with Light Stubble Goatee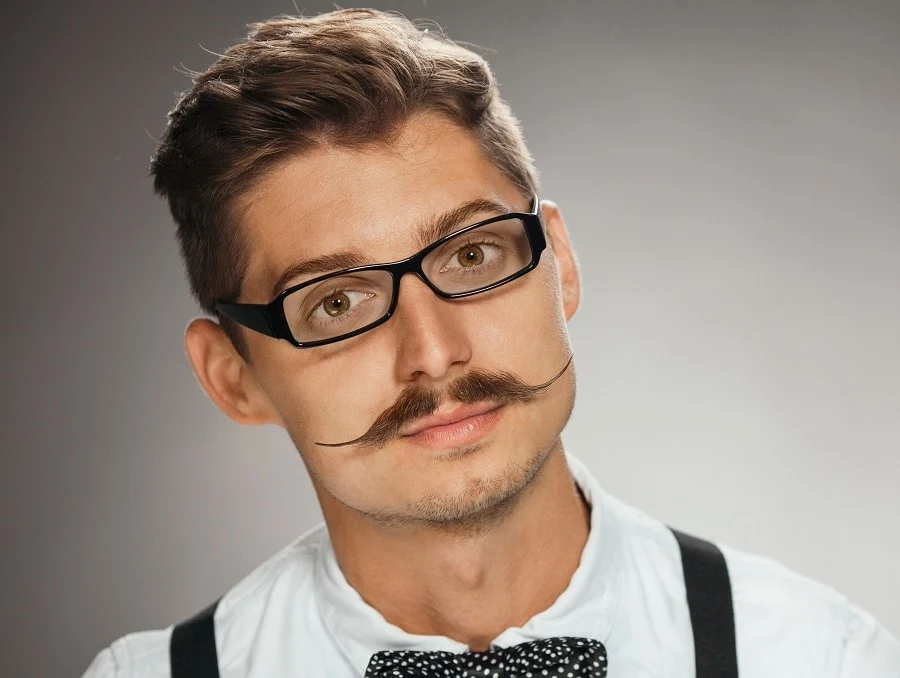 While you can count it among 90s mustache styles, a handlebar seems to have never gone out of fashion for several decades. Curve the ends of the mustache to get a proper handlebar look. A light stubble goatee can surely be the point that sets you apart from the rest.
7. Chevron Mustache with Light Stubble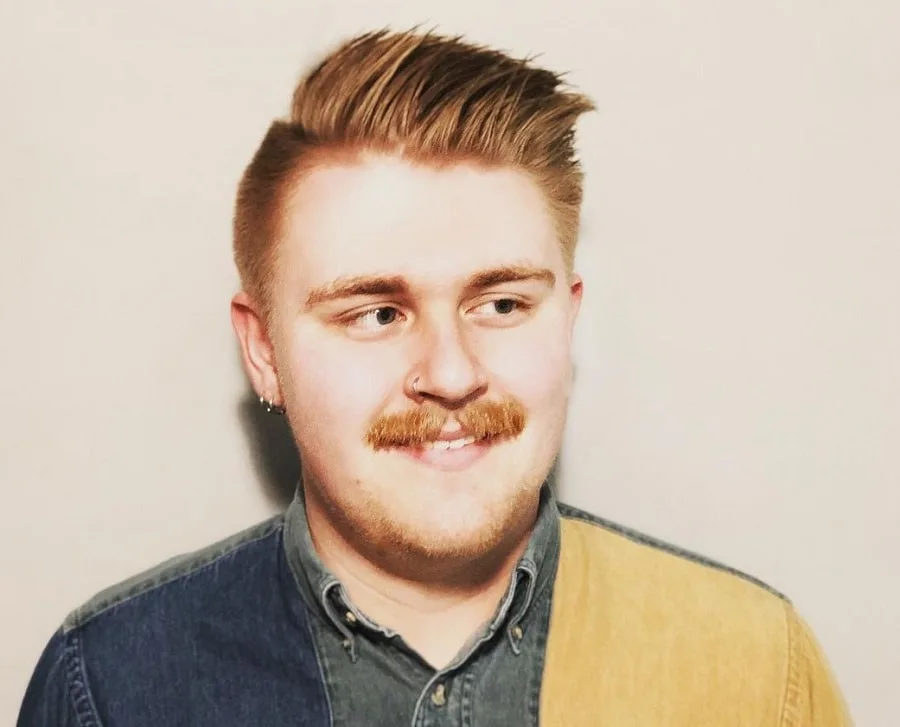 Most men choose to have a chevron mustache without any other facial hair, but there are no hard and fast rules. When you have red hair, you have an added reason to show other facial hair, such as a light stubble. If the mustache looks too old-style, pair it up with a modern hairstyle.
8. Light Chevron Mustache with Side Part Hair
Let your mustache grow naturally and shave it as soon as it makes a slight downward angle on both sides. You now have a chevron mustache. You can choose to keep it light by trimming the overgrowth that usually hangs on the upper lip in a typical chevron mustache. Pair with the timeless side part hair.
9. Short Caterpillar Mustache with Slight Overgrowth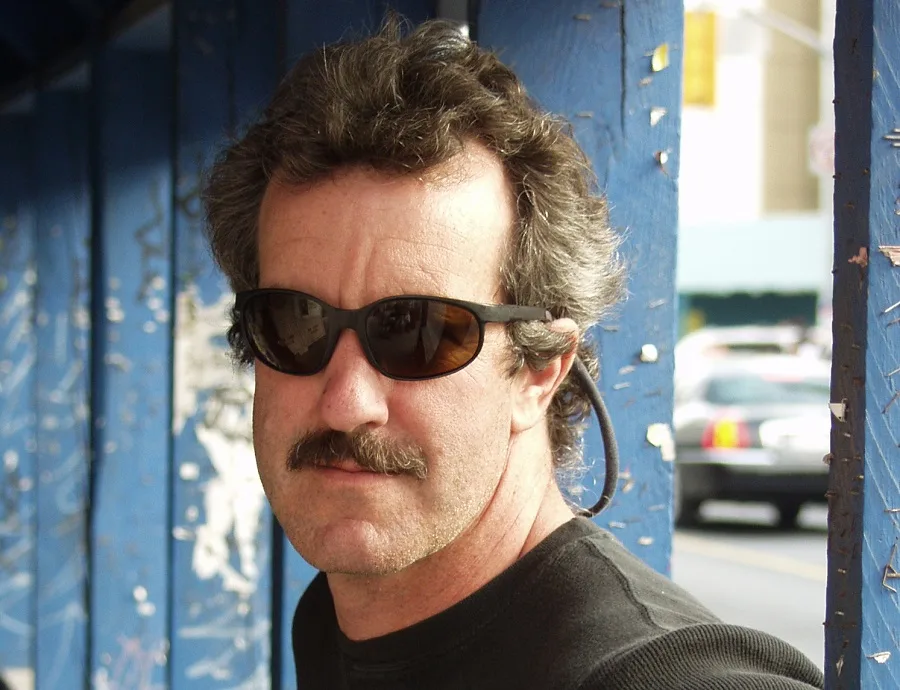 A short mustache is like a short yet effective statement. You shave the rest of the beard to make it noticeable despite it being petit. For those who wish to bring it more to the front, they can allow a slight overgrowth of hair that covers the upper lip.
10. Flat Top Painter's Brush Mustache with Soul Patch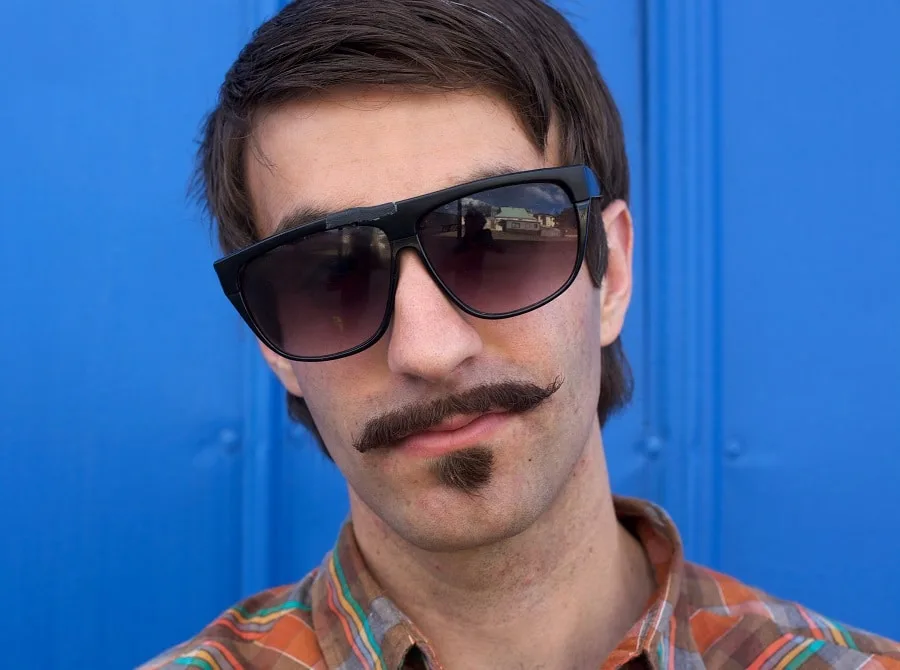 Shave the top part of your painter's brush mustache to have a clean horizontal cut. Let the mustache grow enough for you to be able to curve the ends. Pair it with a big soul patch that's in no particular shape. The curved ends of the mustache should be so subtle they don't qualify as a handlebar.
11. English Mustache with Medium Stubble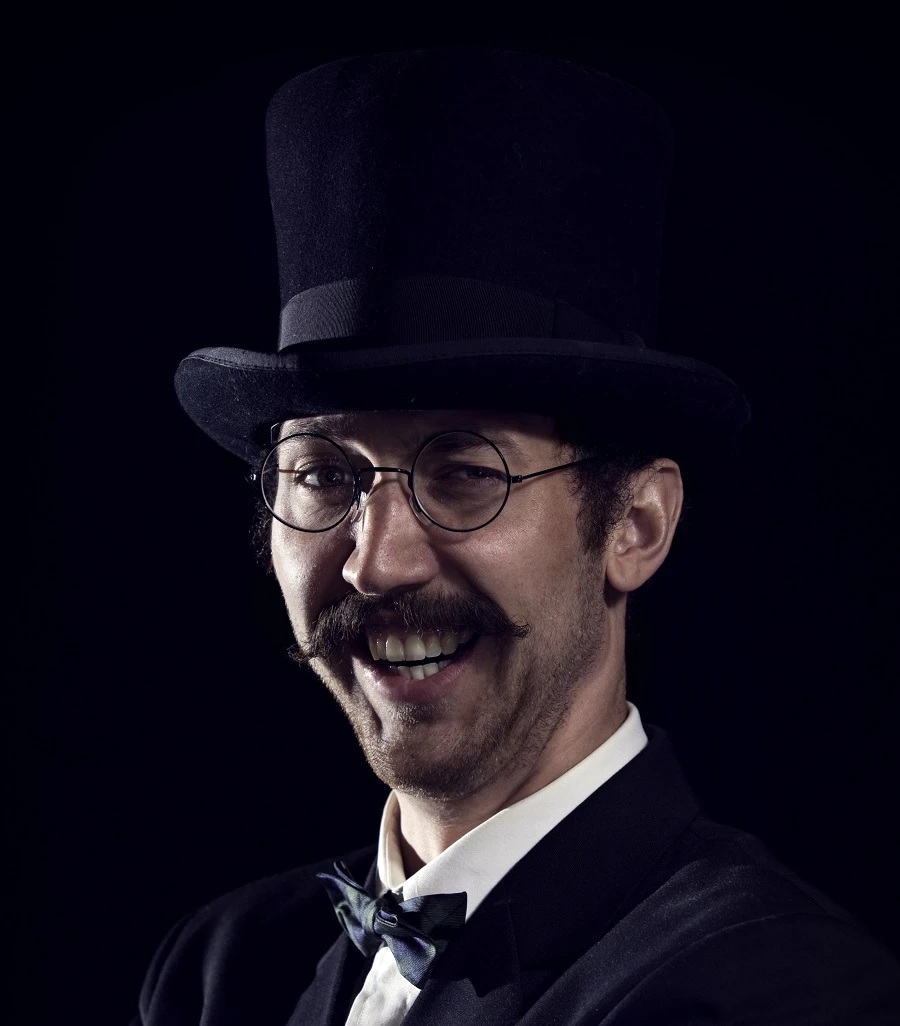 To achieve the English mustache effect, you wouldn't curve but rather straighten the ends of the mustache. It's okay if you don't want the straightened ends to be too long. You can make up for that with some stubble on the face that's not too light or too heavy.
12. Push Broom Mustache with No Sideburns and Facial Hair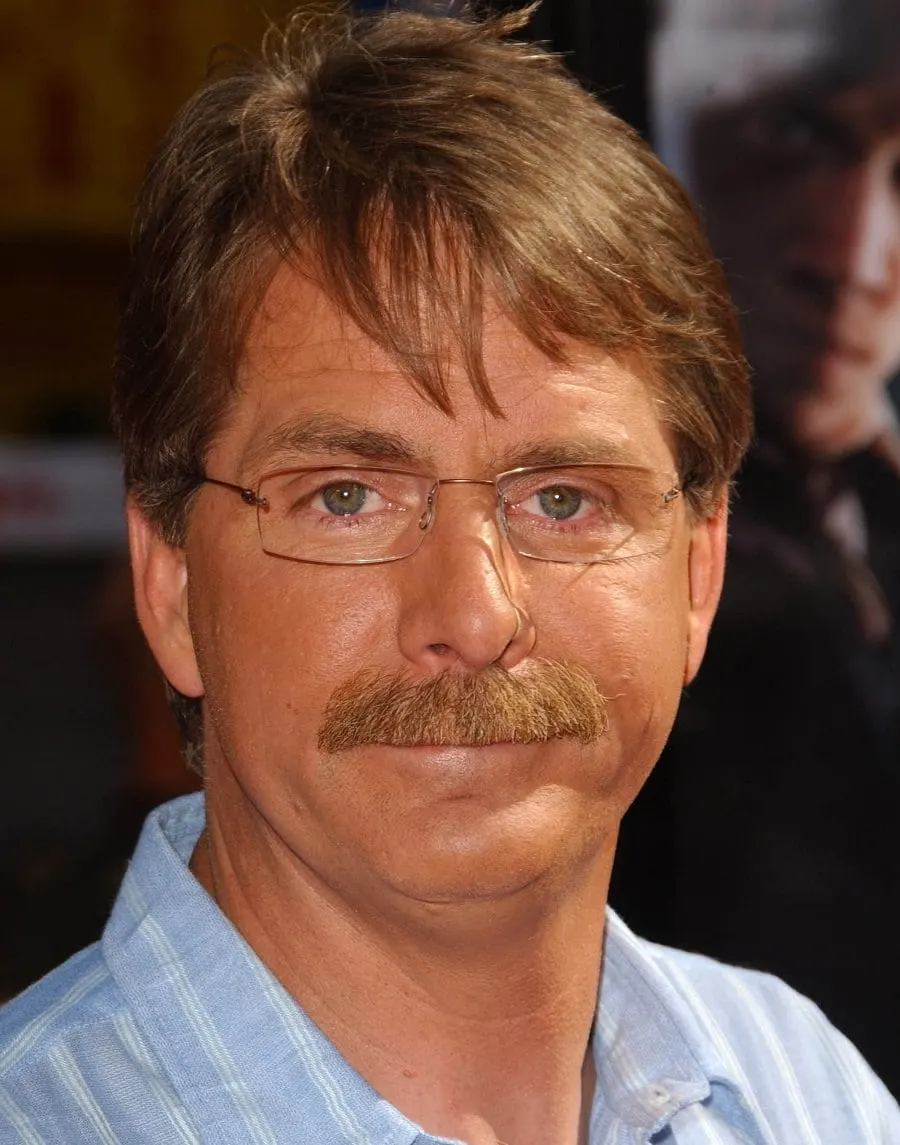 Jeff Foxworthy was the proud wearer of this style for decades until he decided to get rid of it at the start of the pandemic out of boredom. The mustache with no gap is a statement of its own. Make it the focal point on your face by shaving off the beard and sideburns.
13. Bushy Handlebar Mustache with Long Sideburns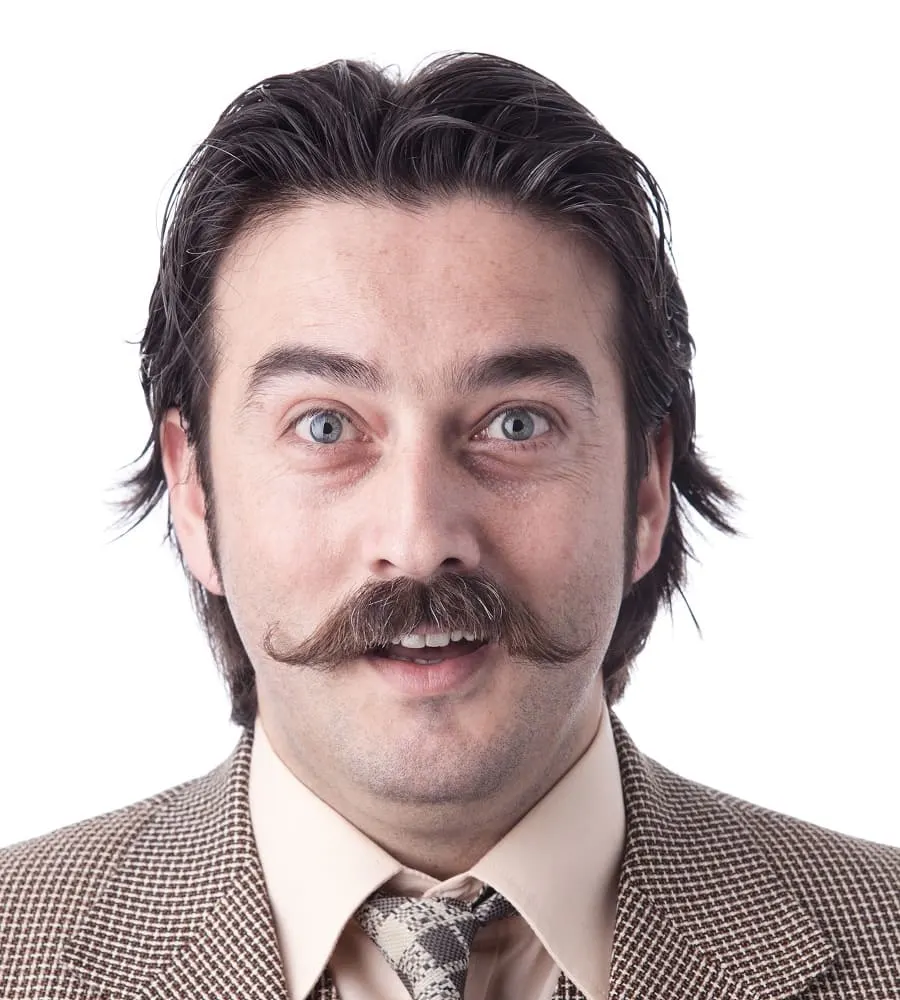 You could also call it the "Mangal Pandey" beard if you wish. The bushy handlebar doesn't require a fancy beard to look unique. Long sideburns (the same length as your ears) look great with this mustache. Parth your hair in the middle and you have the complete Mangal Pandey look.
14. Light Mustache with Big Gap and Curly Hair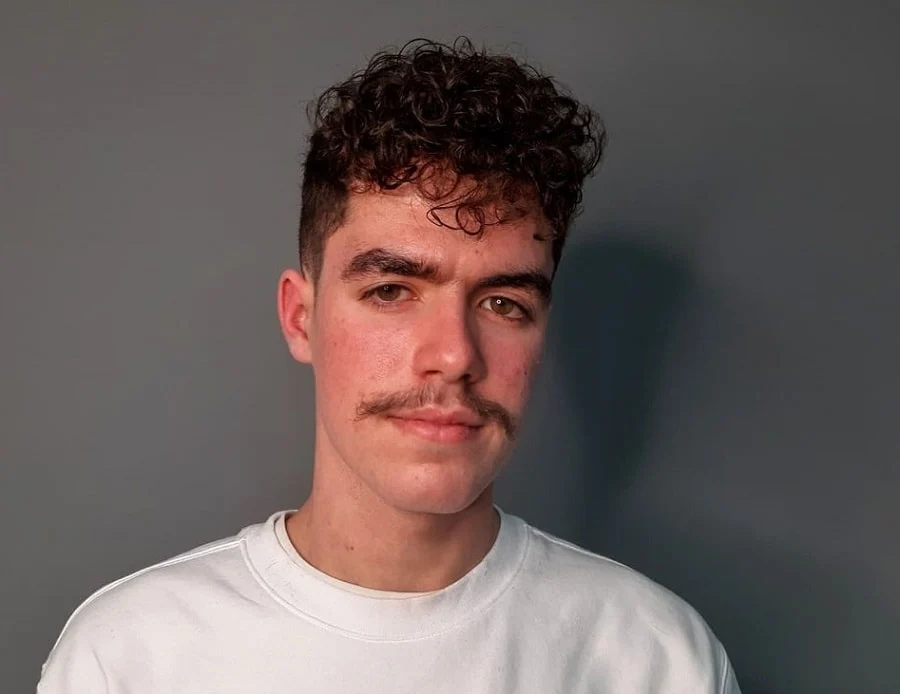 The mustache gap doesn't look bad when your mustache hair grows light. As a result, you can aim for a big and wide mustache–perhaps as wide as your eyebrows. This combo suits a heart-shaped face a lot. Add some sizzle to the look with curly hair and tapered sides.
15. Light Natural Mustache with Short Hair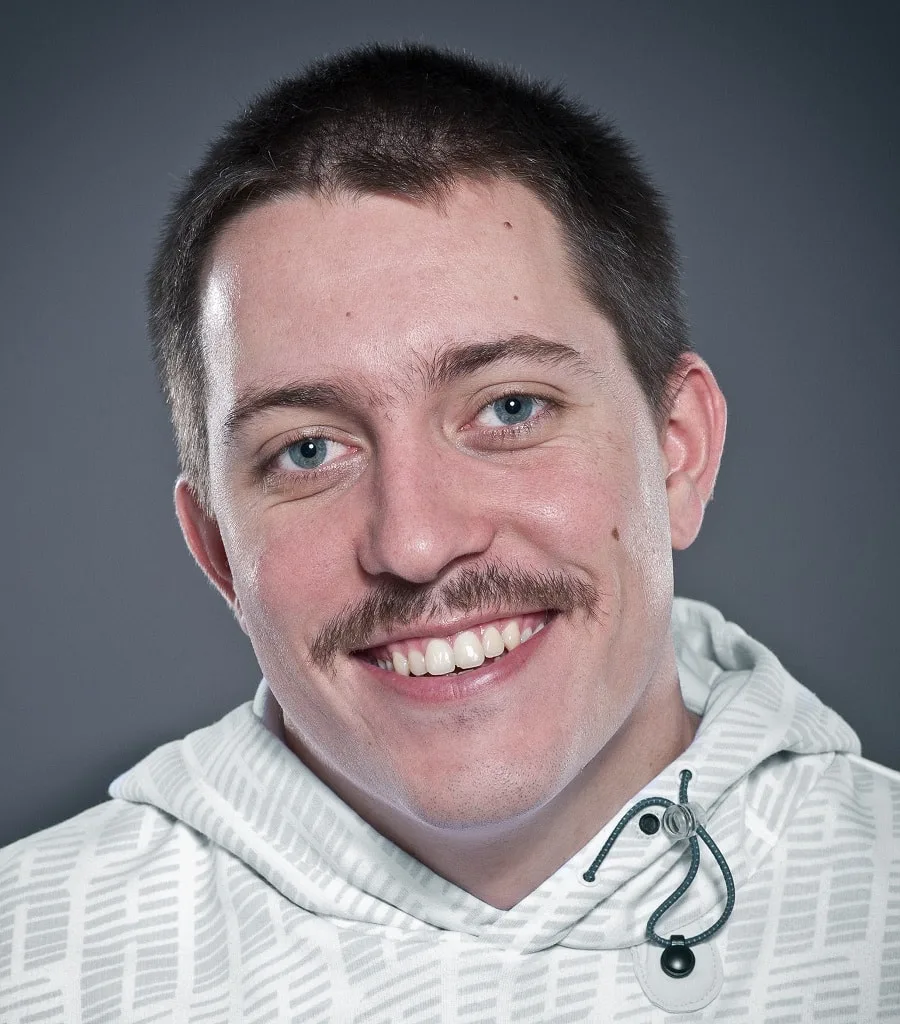 Don't be shy if your mustache doesn't grow as thick as other men. You're good for as long as it grows in a natural shape and extends beyond the corners of your mouth. Shave the beard, grow the mustache, and keep hair short to achieve this style.
16. Thick Red Mustache with Long Curly Hair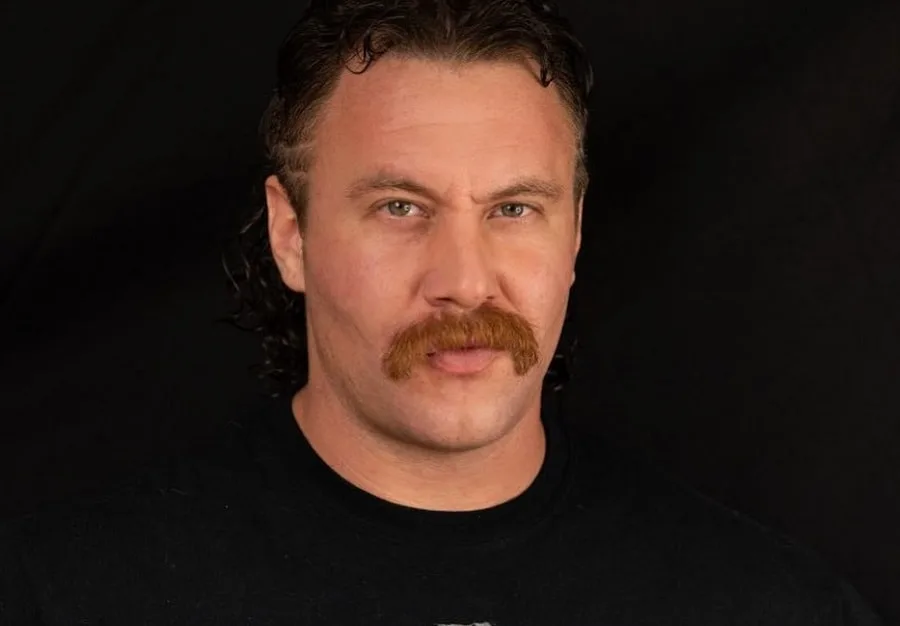 This style is unique in many ways. Firstly, the beard needs to be red despite your hair being black. Secondly, you grow your mustache just enough to be somewhere between a walrus and horseshoe mustache. The long curly hair is icing on the cake and gives you a "tough guy" look.
17. Thin Painter's Brush Mustache with Shaved Sideburns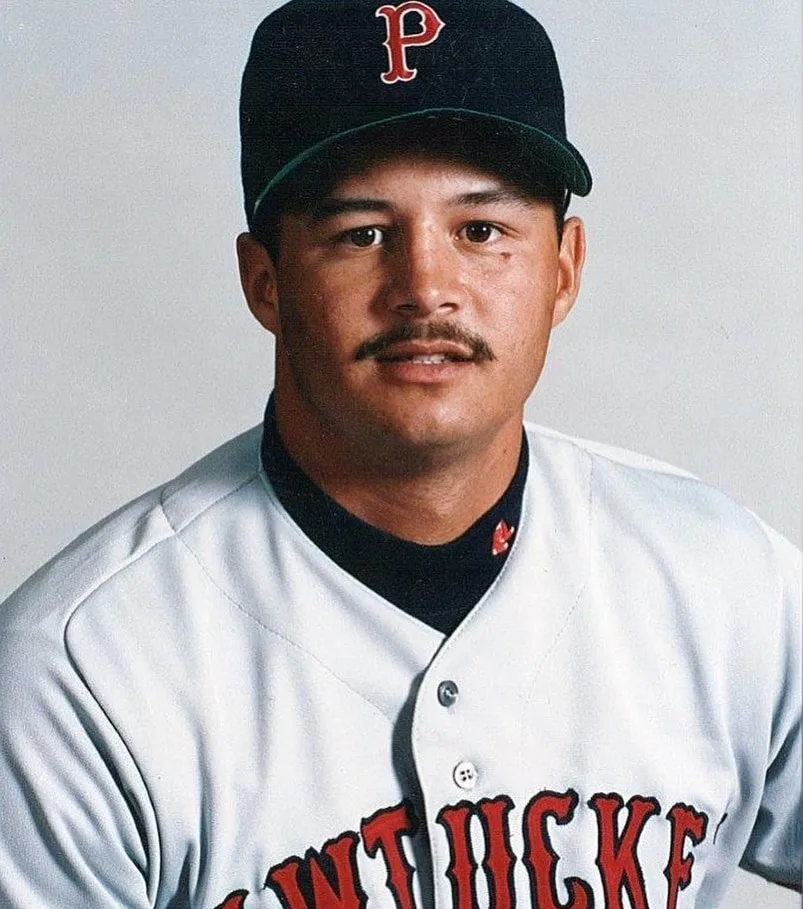 Shaving off your sideburns can be a risky move when you have a round face. However, get people's attention to a beautifully shaped painter's brush mustache that's thin, neatly trimmed, and barely goes beyond the corners of your mouth.
So, these are our top mustache styles picked from the 90s. As we look back at these top mustache styles from the 90s fashion trend, we are reminded of an era filled with memorable moments and timeless fashion choices. While some of these styles have stood the test of time, others are now fondly remembered as iconic representations of a bygone decade.