When it comes to facial hair styles, the combination of a long goatee with a short beard can create a unique and stylish look.
A long goatee with a short beard refers to a facial hair style where the goatee—the hair on the chin—is longer in length compared to the rest of the beard.
The goatee is typically shaped and styled to be more prominent and elongated, while the surrounding beard is trimmed shorter, creating a contrast in length between the two areas.
we will explore 20 different ways to rock a long goatee with a short beard, providing you with inspiration and tips to achieve the perfect style that suits your personality and preferences.
Stunning Long Goatee and Short Beard Styles
1. Curly Circle Beard with Short Sides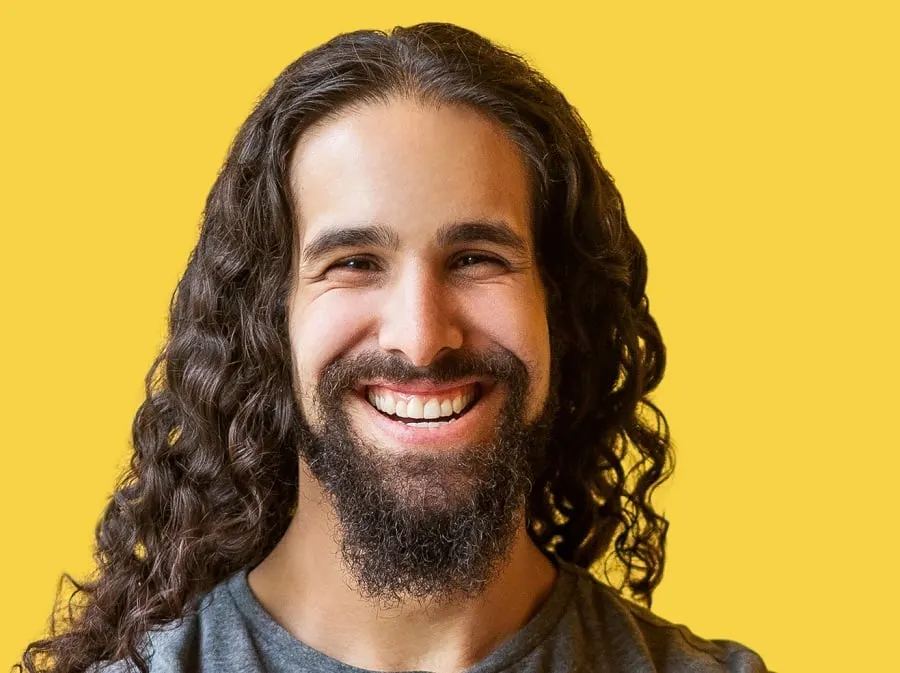 Grow a circle beard and then let the hair under your chin hang. It's a fun style when you have a curly beard and looks even better if you complement it with long curly hair. You do have slightly thick hair growth along the jawline and the area under your lower lips doesn't need any shaving.
2. Extended Goatee with Handlebar Mustache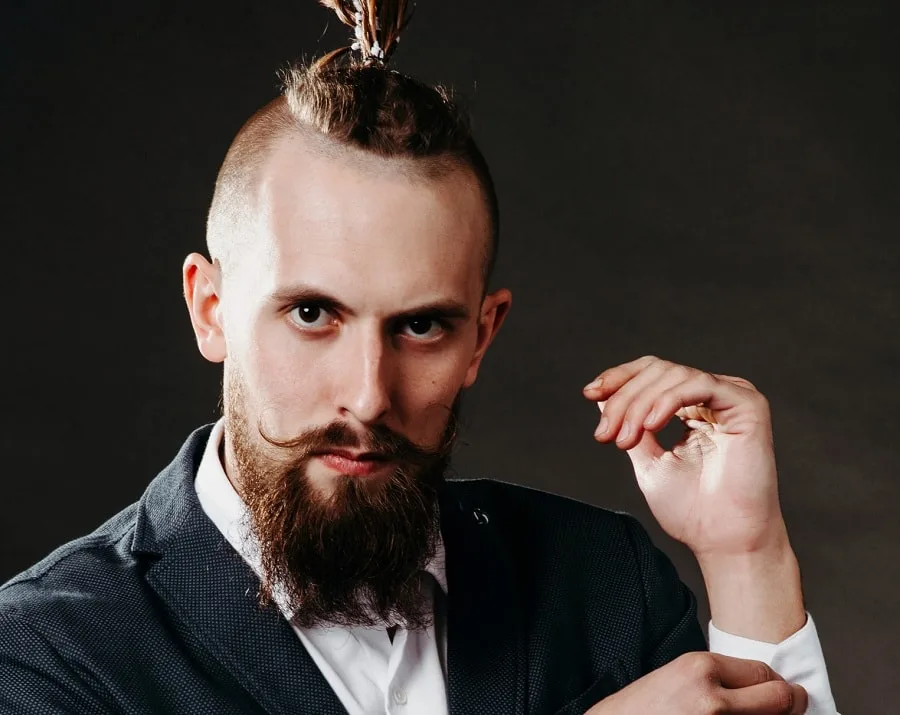 An extended goatee can be very trendy when you let it seamlessly fade near your sideburns. The unique part is the overgrown goatee under the chin, which isn't necessary but a welcome change to a classic extended goatee.
The handlebar mustache looks great with this style. You can also check these goatee with mustache styles if you want to pair a different mustache style.
3. Wavy Long Beard with Overgrown Mustache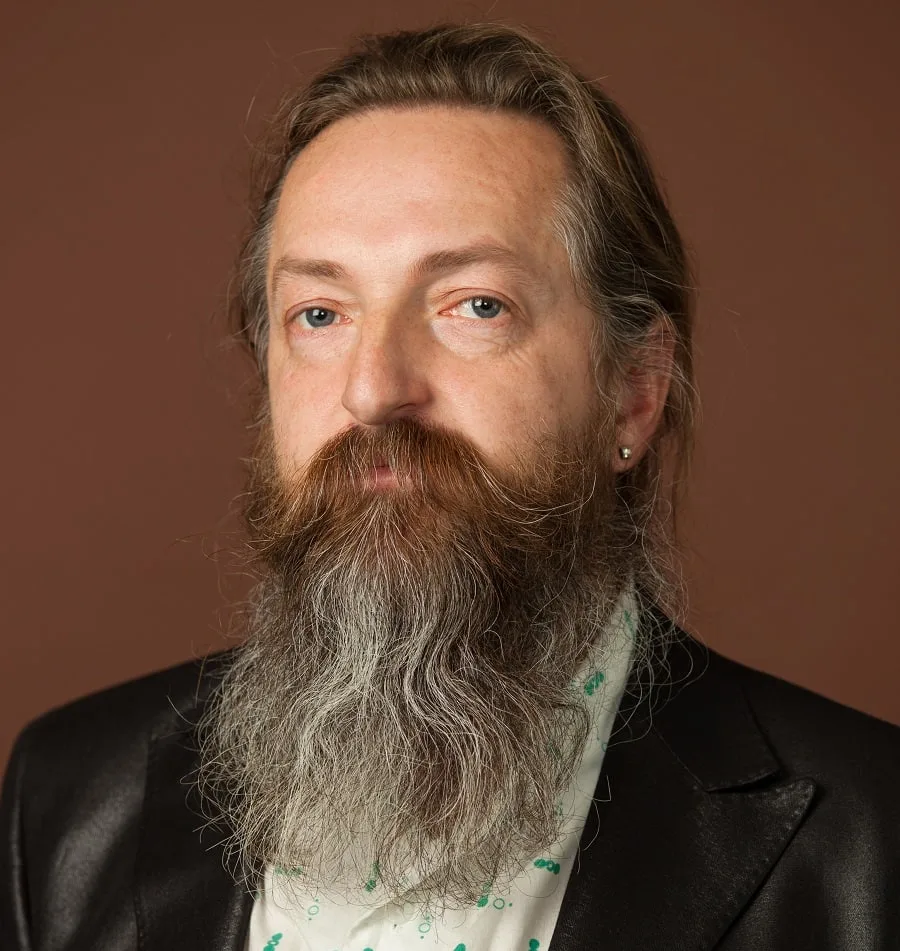 While the beard in this case is entirely long, the wavy and long goatee sticks out. It is also slightly greyer than the rest of the beard. Another notable part of this beard is an overgrown mustache that acts like a curtain on the lips and has slightly curved ends.
4. Long Goatee with Mustache and Narrow Side Beard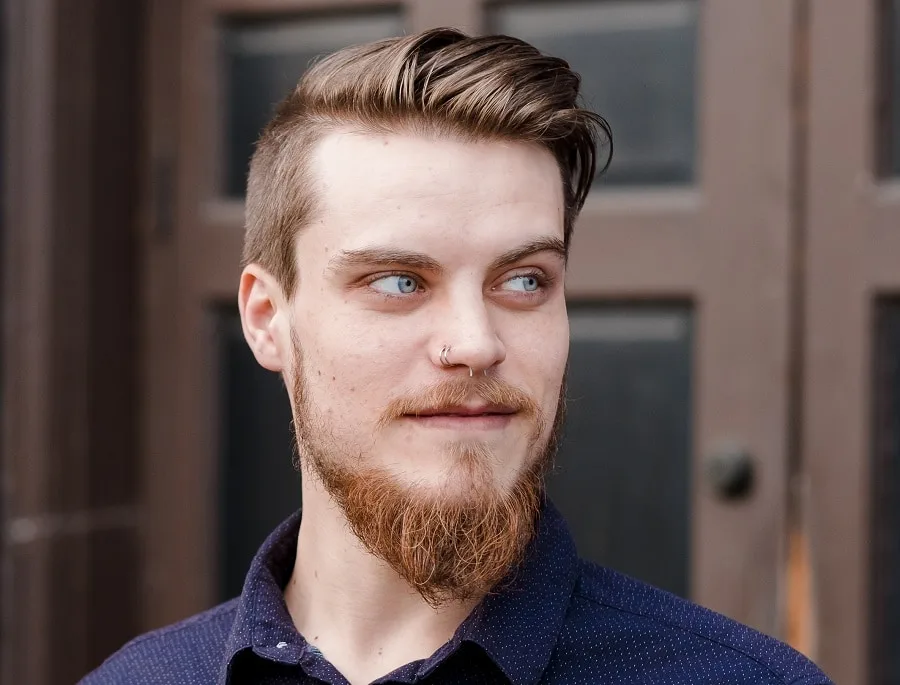 This beard is disconnected from the sideburns, starts narrow along the lower jaw and reaches maximum thickness and length under the chin. A thin mustache goes well with it but what really sticks out is the side part hair with tapered sides.
5. Patchy Short Beard with Extended Long Goatee
The patchy beard on your chin can act as an adornment when you combine it with a long and extended goatee. The look may be slightly rough but you can make it neat and fresh with a shaved head or proper crew cut.
6. Curly Two Tone Beard with Long Hair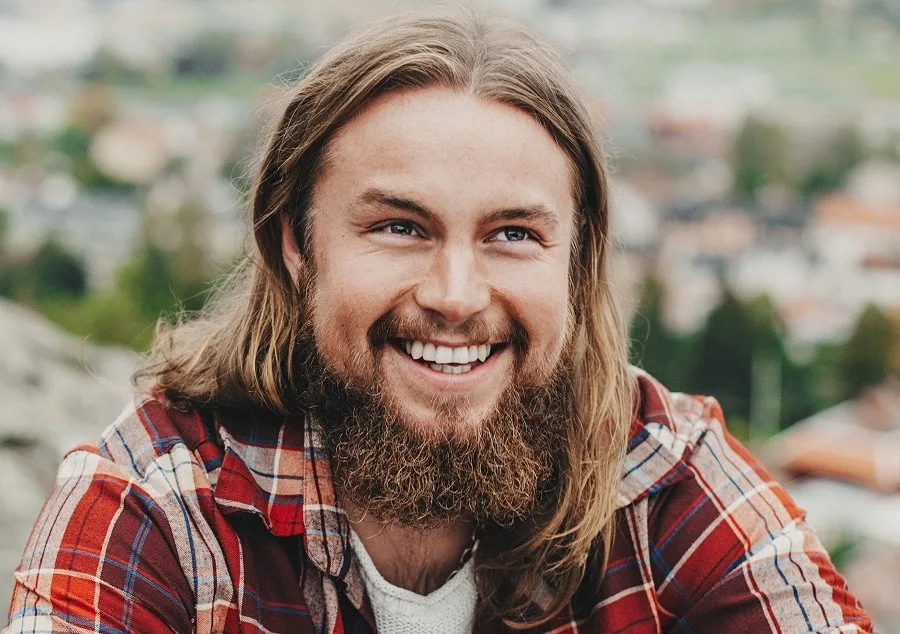 You would call it a short beard, but the goatee side of it stands apart due to the blonde hair. The rest of the beard is slightly darker and also shorter than the long and curly goatee hanging down the chin. Grow long hair to make it a fun look.
7. Long Goatee with Short Beard and Chin Stubble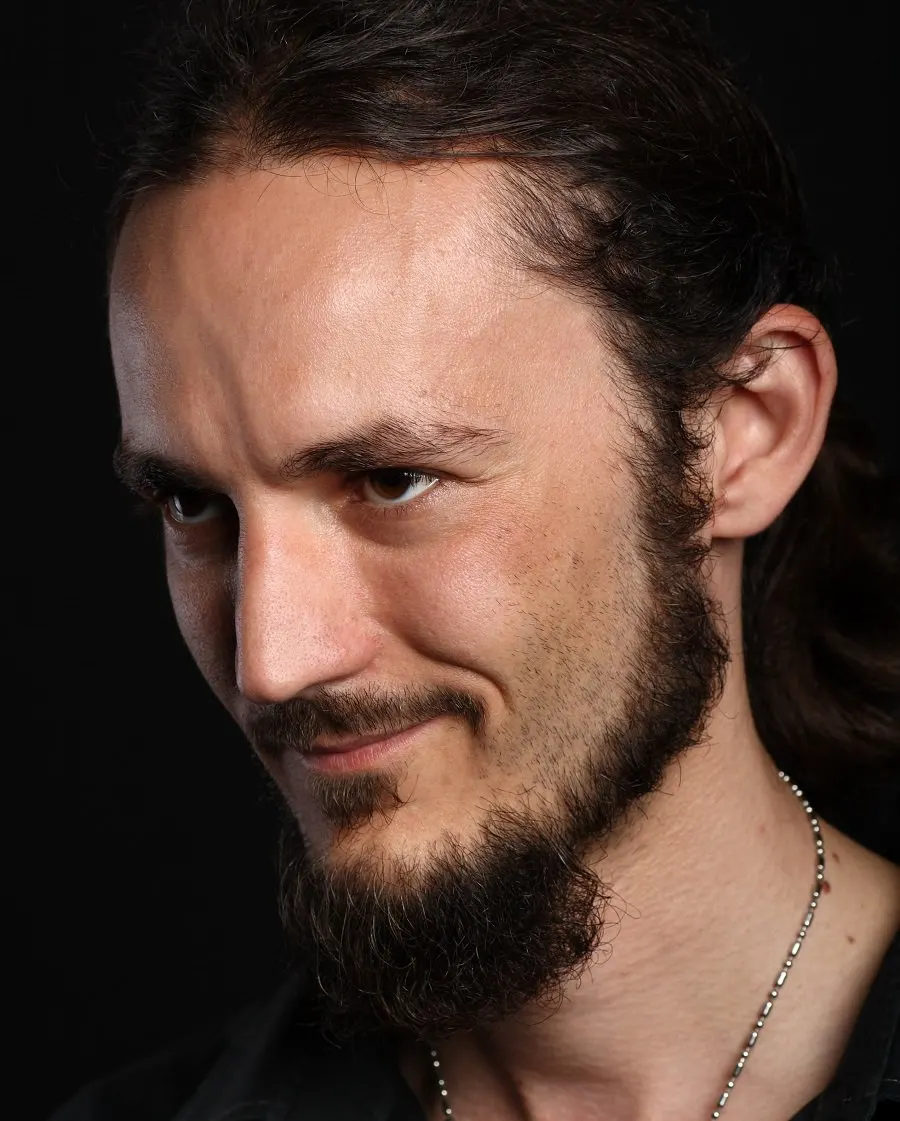 The more closely you look at this beard, the more details you notice. If you look closely, it's a slightly narrow beard along the jawline with slight stubble on the chin. The beard doesn't transition to a long goatee. Instead, it's an abrupt change in the length of hair. A thin mustache with a soul patch helps this style reach completion.
8. Red Goatee with Short Sides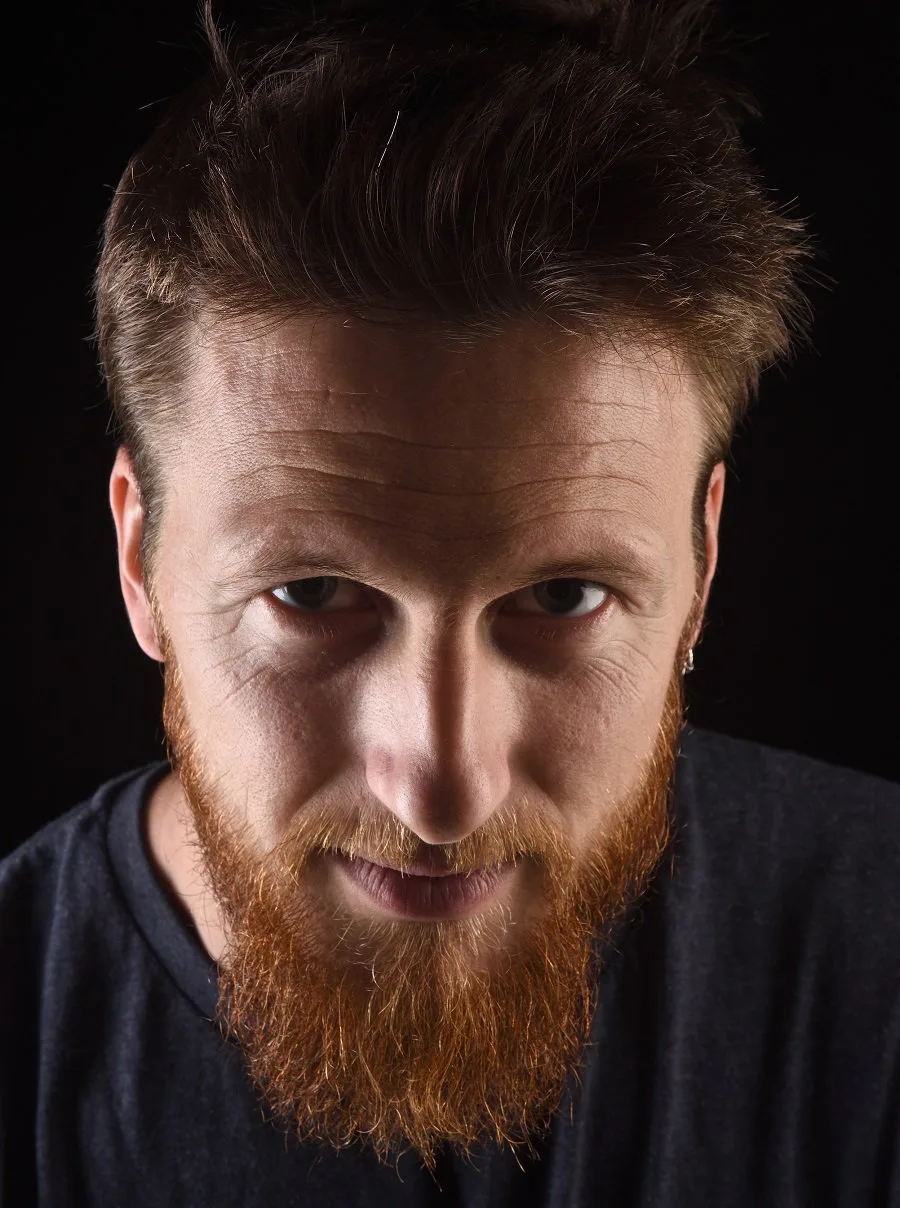 This style fits the description of a long goatee with short beard. Not only is it a long goatee but you're going to brush it straight to make it even longer. The sides are shorter and slightly tapered. The red hue of the beard makes it ultra-unique.
9. Long Circle Beard with Flyaway Hair and Light Hair on Cheeks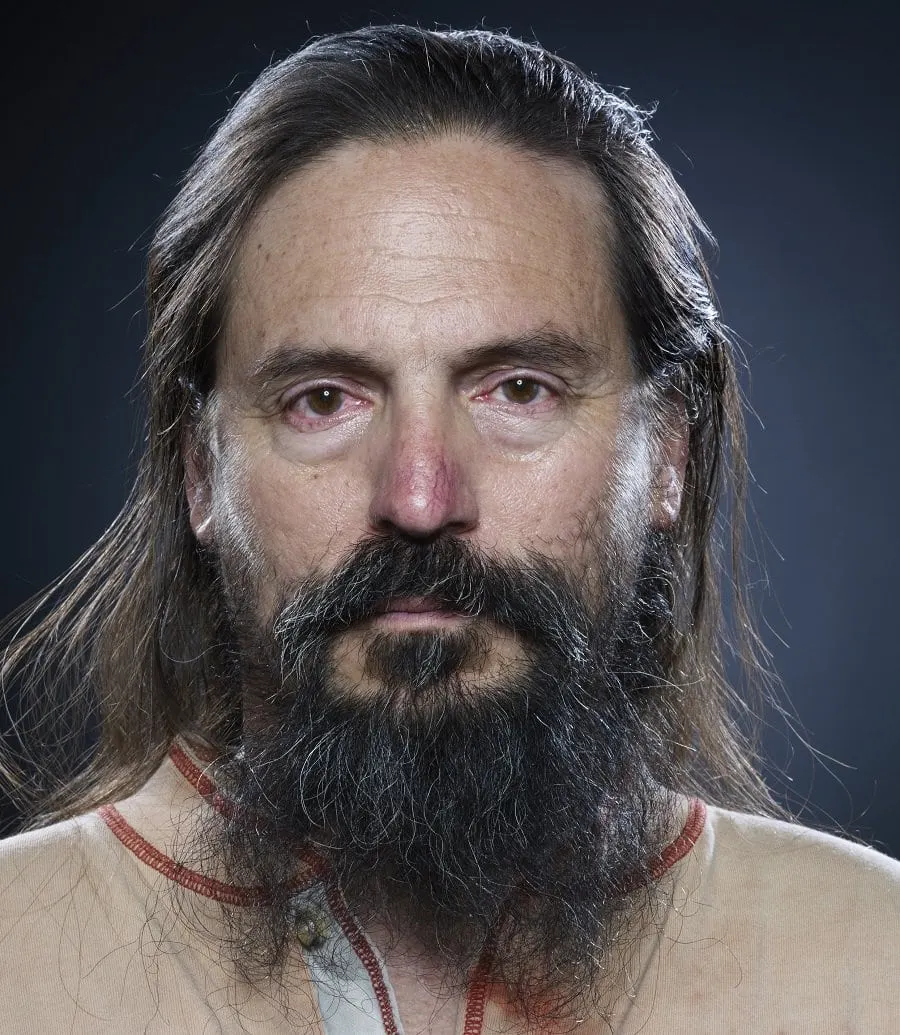 The first look at this beard shows that it has a lot of flyaway hair. It's a circle beard because the mustache connects with the beard, but then the goatee is thick and long. The hairs on the cheek are very light and thin. Long hair looks great with this style.
10. Blonde Curly Goatee with Shaved Sides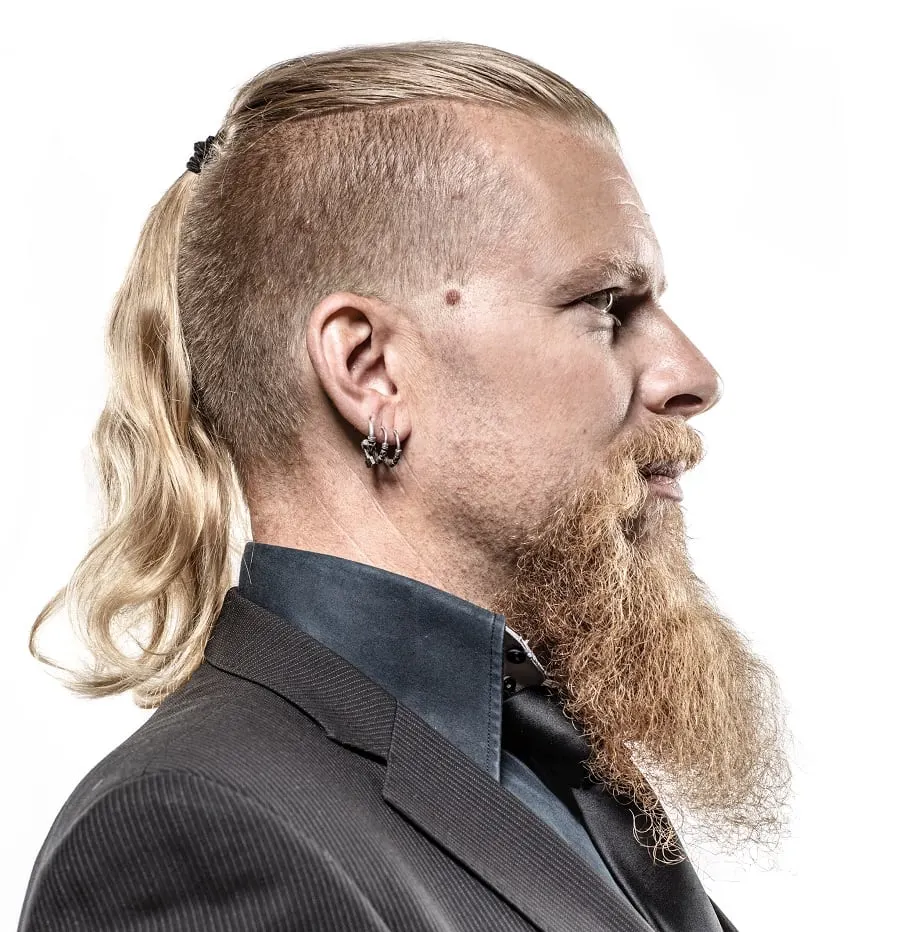 Grow a long beard if only the ends of your beard hair are curled. The beard on the chin along with sideburns is completely shaved to let the long goatee stand out. Even the haircut is unique with shaved sides and back, and a long top with a ponytail.
11. Long Ducktail Goatee with Lampshade Mustache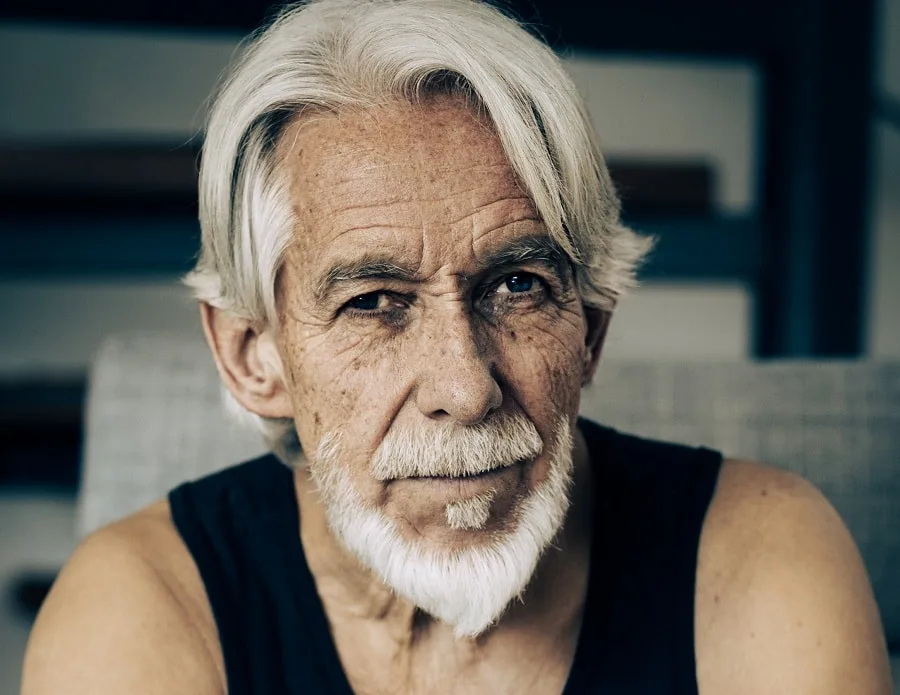 Can a goatee have a ducktail effect? The answer is in this picture wherein the white goatee is trimmed to have a pointy end. It also extends non-traditionally to the sides of the mouth, ending right in the middle of the cheeks. The neatly trimmed lampshade mustache is perfect for this look.
12. Overly Long and Thick Goatee with Short Beard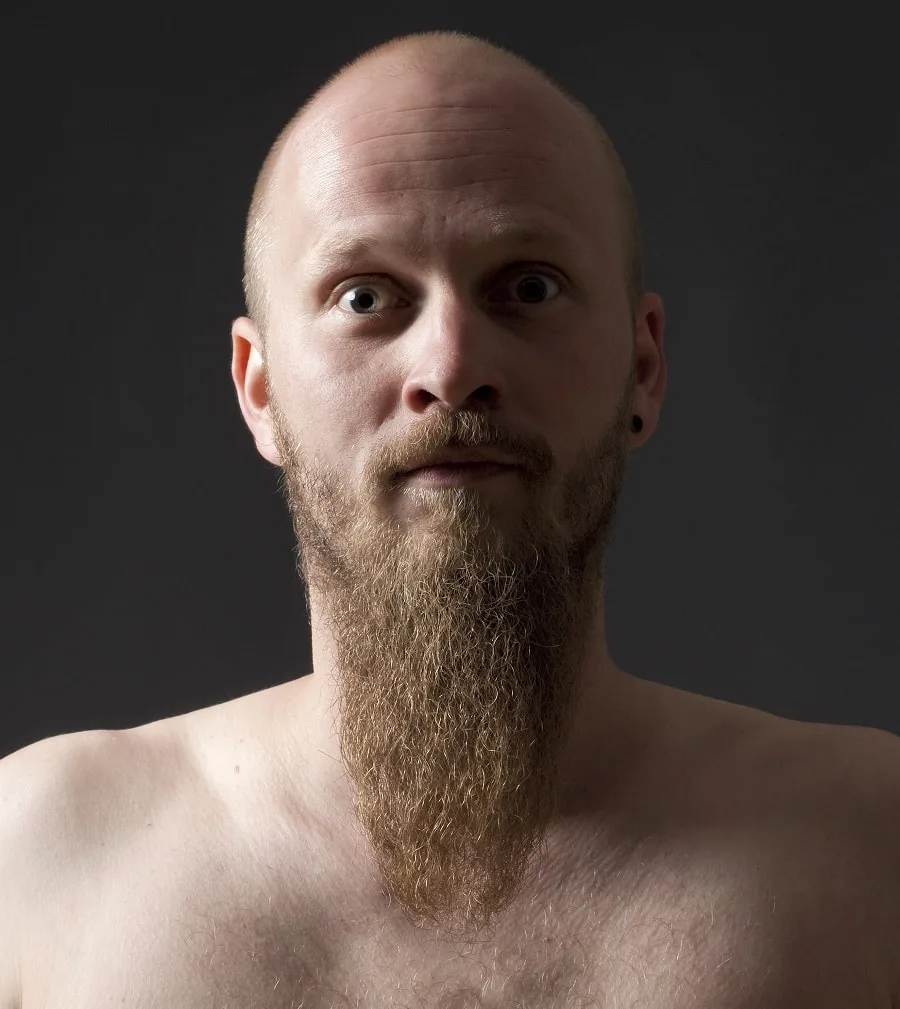 Why not go for an overly long goatee when the hair growth on your chin is so rich? This goatee is more than 6 inches long whereas the beard is short and patchy. Such a goatee can definitely snatch people's attention away from a bald head to your beard.
13. Long Bushy Goatee with Patchy Stubble Beard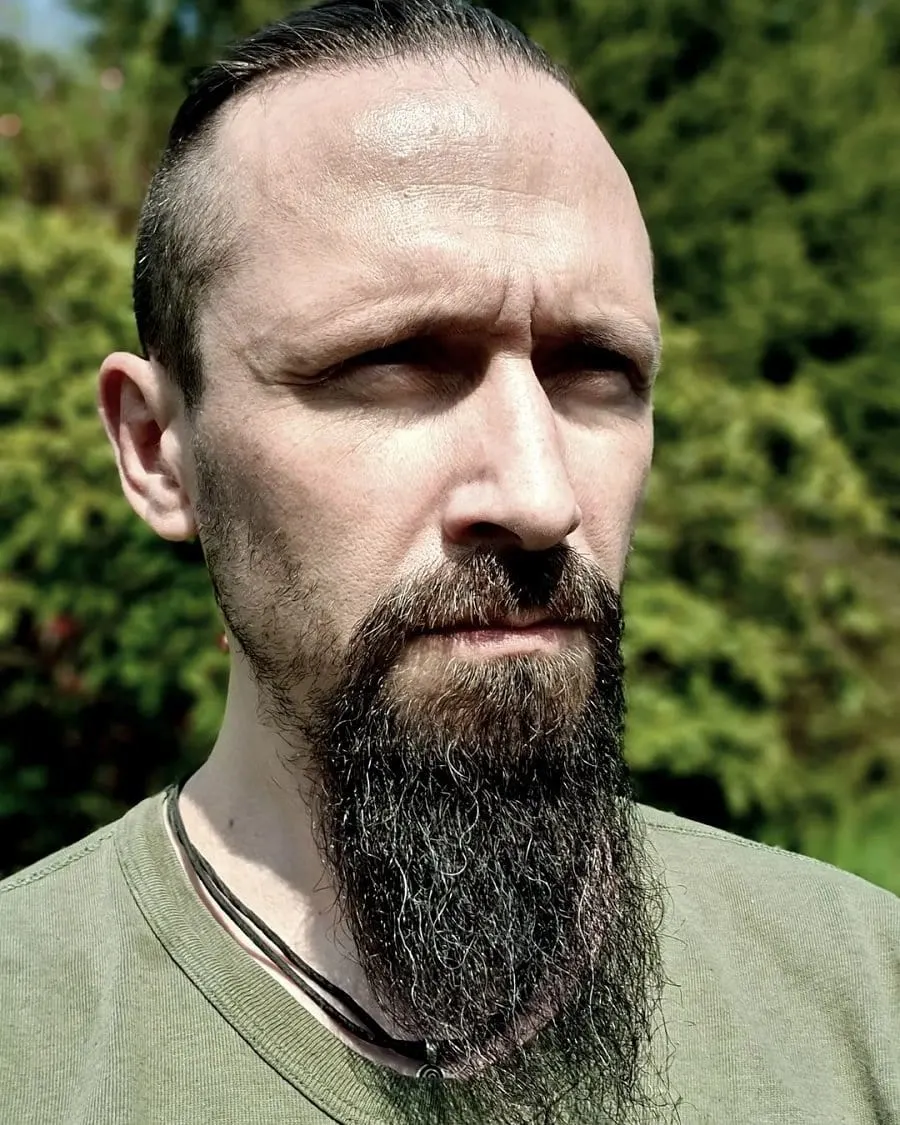 Here's another very long goatee that also seems to have slight hints of grey hair. The mustache is connected with the beard and very well trimmed. The patchy stubble on the chins is angled so that is seamlessly flows into the goatee.
14. Medium Long Goatee with Connected Mustache and Short Beard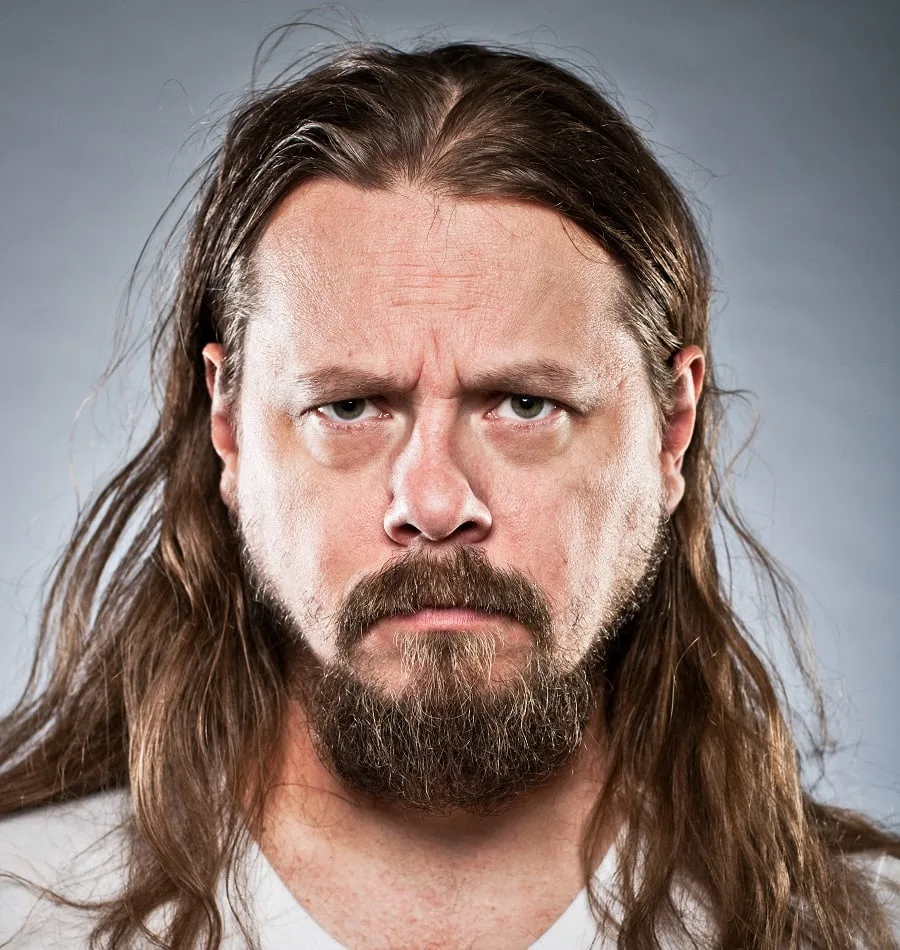 This long goatee with short beard style has very patchy and light hair on the cheeks and sides. The goatee, on the other hand, is only slightly long, so it doesn't hang onto your chest. The gapless mustache is just long enough to cover the upper lip.
15. Braided White Goatee with the English Mustache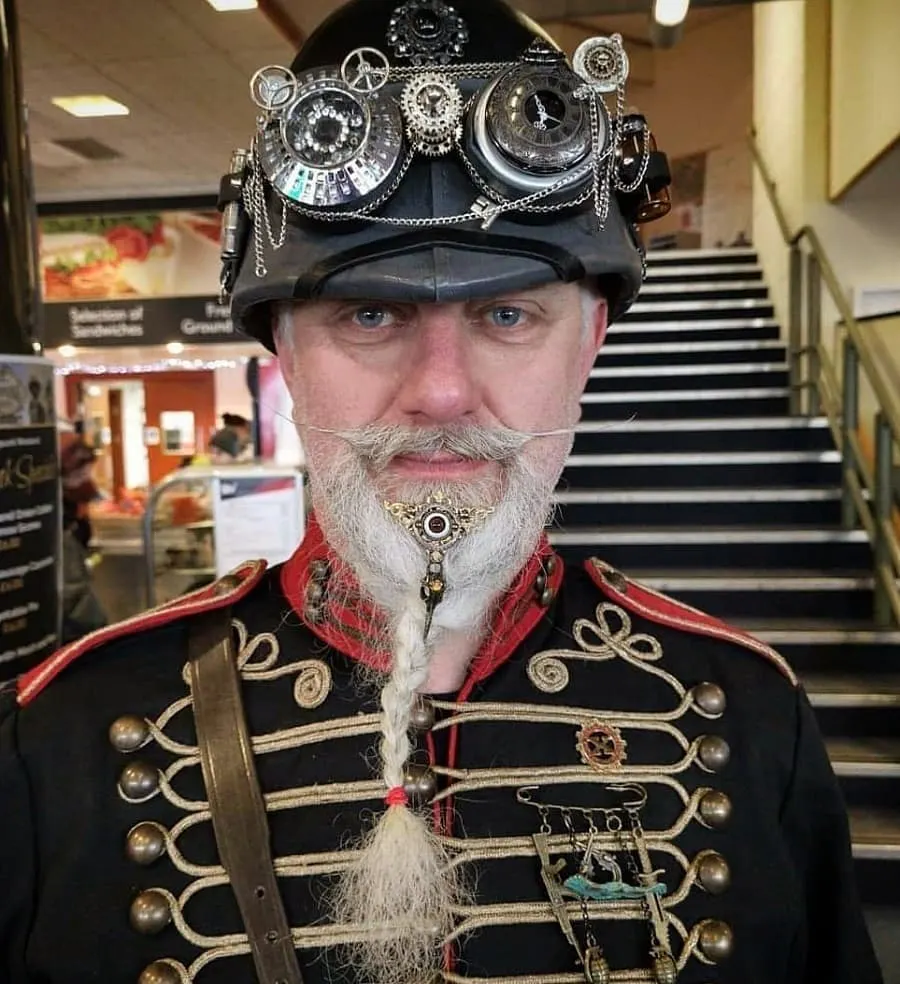 There's little chance onlookers won't be turning around for this one. The braided goatee is long enough to reach the end of your chest. If that's not enough, you'll be topping it off with the English mustache with long straight ends that go beyond the outline of your face.
16. Blonde Scraggly Goatee with Patchy Short Sides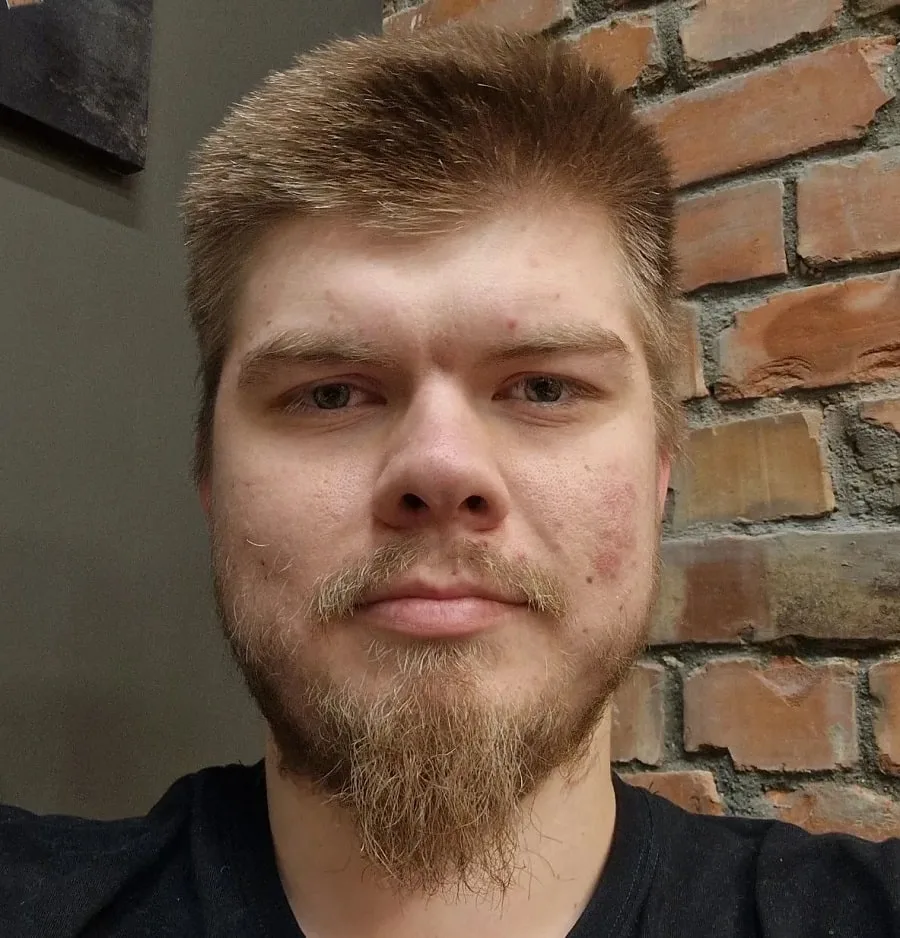 If your goatee is only an inch or slightly longer, the scraggly look shouldn't be bothering. The light and patchy short beard on the sides provides good support to this blonde goatee and looks good on a round face.
17. Petit Long Goatee with Stubble Beard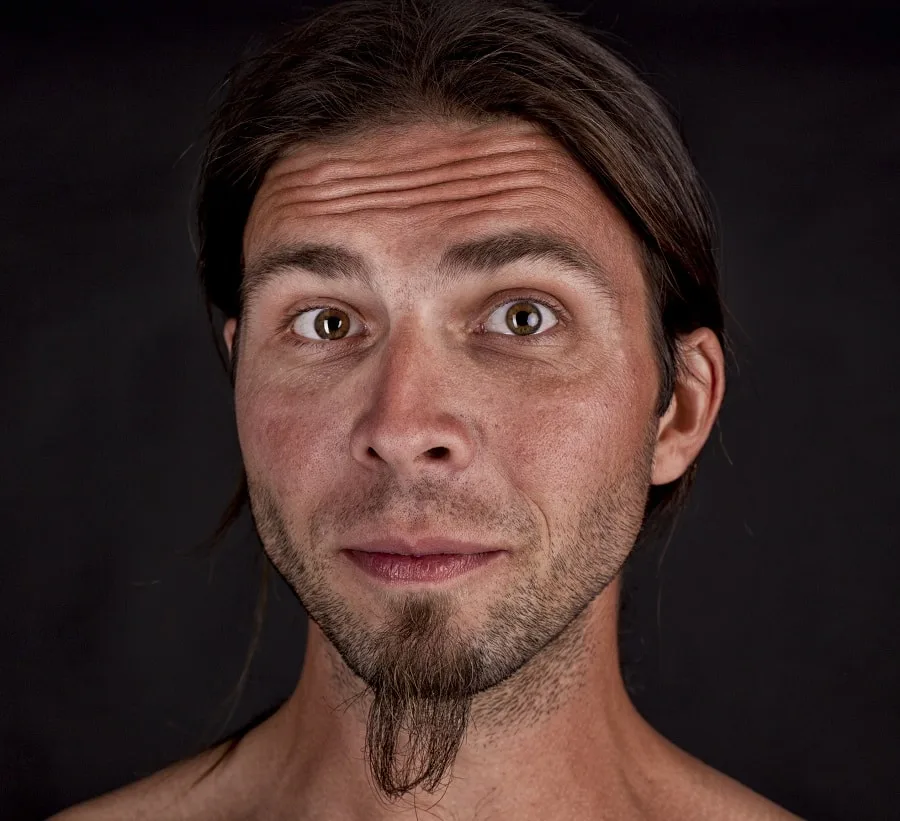 Grab attention with this beard that doesn't require a long, thick, and power beard. The petit goatee hangs one and half inch down the chin and covers an area on the chin no wider than an inch. The rest of the face has a nearly 5-day stubble and an even shorter mustache.
18. Long Curly Beard with No Mustache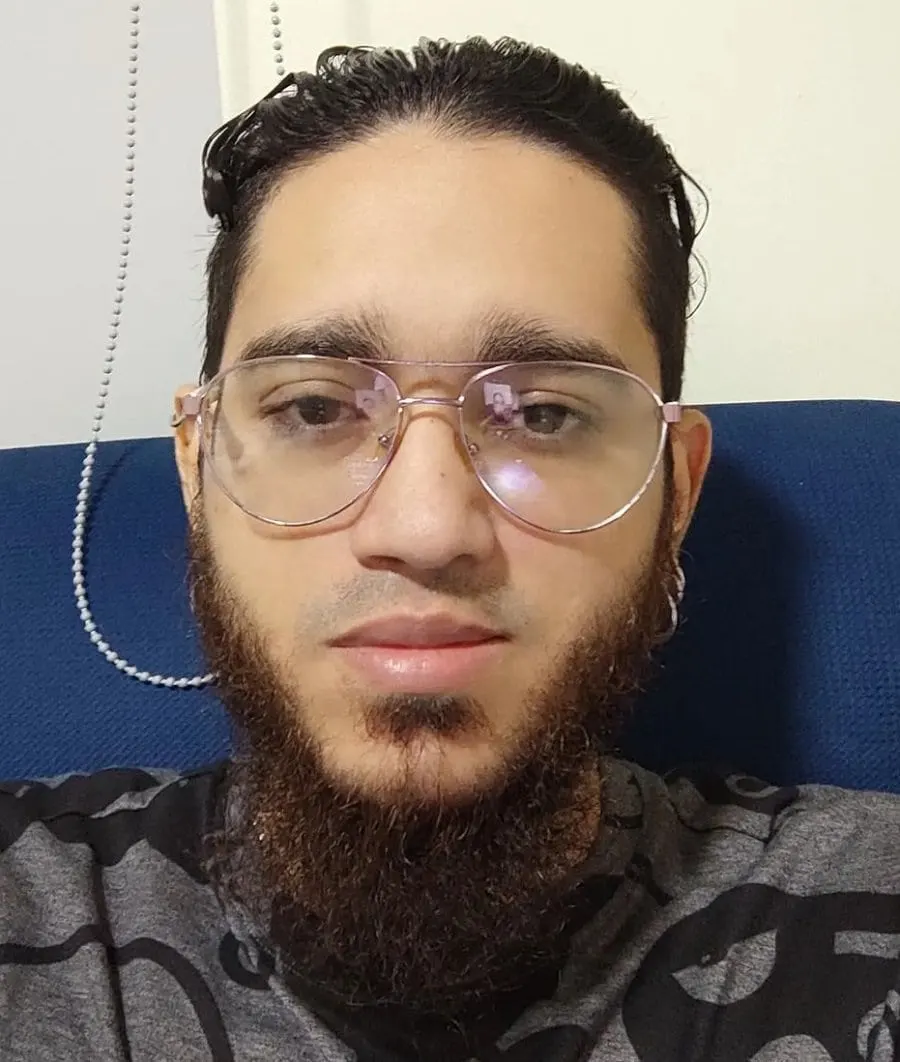 A first look at it wouldn't make the goatee obvious. However, trimming down the sides a bit will reveal a slightly longer and curly goatee. This style also carries a wide soul patch, but there is absolutely no mustache. You could call it a Muslim beard.
19. Long Ducktail Beard with Walrus Mustache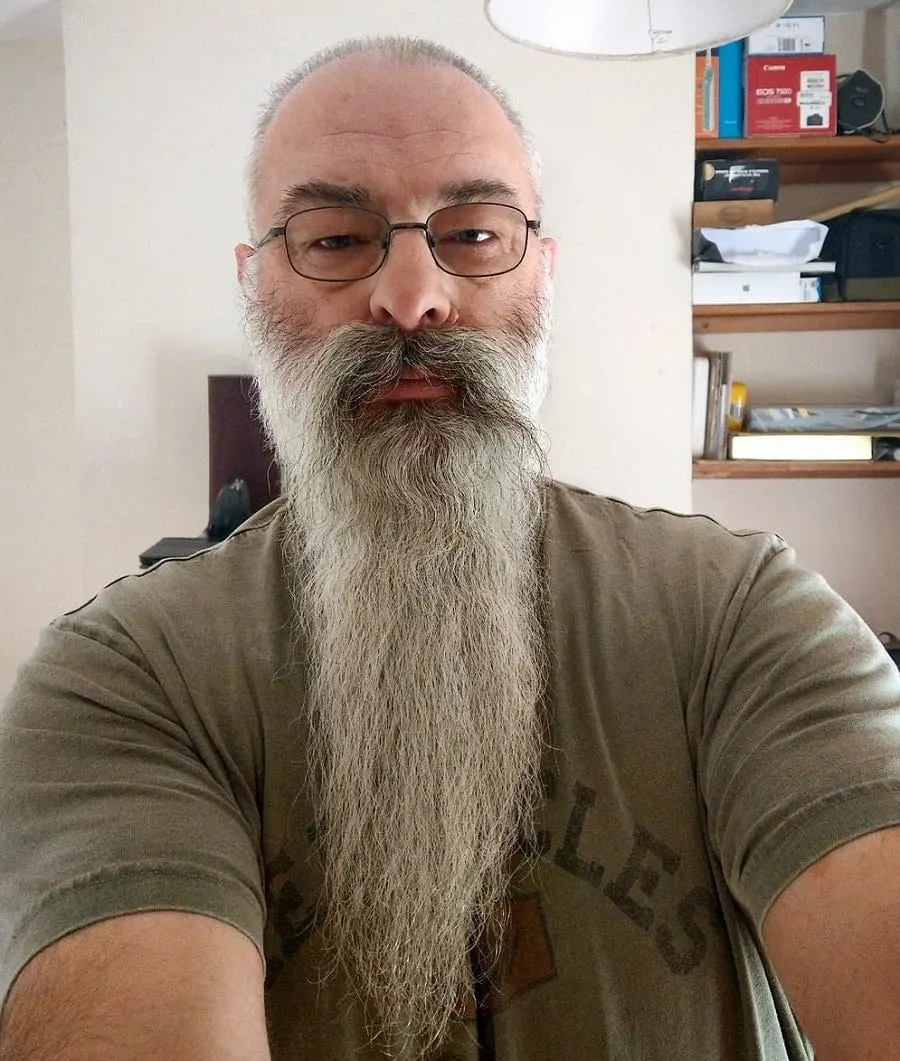 In this long goatee with short beard style, you can see a very long beard that continues to get narrower as you go lower. The short and neatly-trimmed sides make it look even longer and give it a proper ducktail effect. What makes it look even fuller is the walrus mustache with a very small window exposing the lips.
20. Red French Fork Goatee with Handlebar Mustache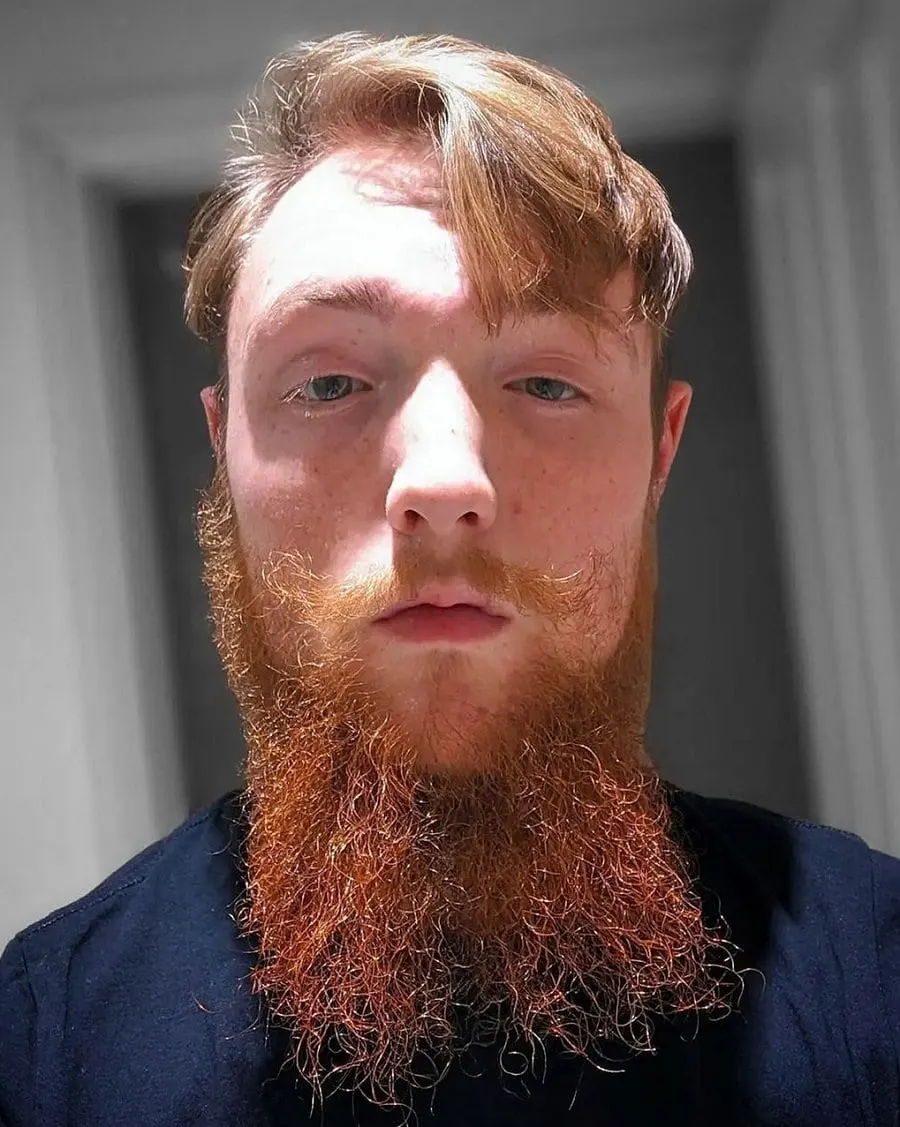 There are many identifiers in this style. The goatee part is quite long but parted in the middle, giving you a perfect French fork. The short sides have neatly trimmed outer edges. Complementing this unique setup is a beautiful handlebar mustache. Lastly, the (red) cherry on top is the fact that the beard is red.
Tips to Rock A Short Beard And Long Goatee
To rock your long goatee with a short beard there are some general tips. You can improvise these according to your personal preferences.
The length of your goatee in relation to your short beard depends on your desired style. However, a common approach is to keep the goatee 4 times longer than the beard, creating a noticeable contrast.
Trim your beard and goatee as needed to maintain the desired length and shape. Additionally, use beard oil or balm to keep your facial hair moisturized and healthy.
You can rock a long goatee with a short beard even if you have patchy facial hair. Embrace the natural growth pattern of your hair and work with what you have. By keeping the goatee longer and the beard shorter, you can create a stylish and intentional look.
A long goatee with a short beard tends to work particularly well for individuals with smaller or square faces, as it helps to add softness and balance. Experiment with different styles to find the one that suits you best.
You can opt for dyeing your goatee and beard in two different colors to create a striking look or choose complementary shades for a more harmonious appearance. Just make sure to use high-quality beard dye products and follow the instructions carefully.
So, grow a short beard with your long goatee and give yourself the change you are craving for.