The curly hair and beard combo is all about balance. You want your hair and beard to complement each other, rather than compete for attention. To achieve this look, you need to understand your hair and beard type and how they interact with each other.
You have to be as imaginative as you want when coming up with a curly hair and beard combo. It can be challenging to get the right look, but why not give it a try and see how this look works for you?
To Rock your curly hair with a beard, we have compiled a list of 30 curly hair and beard styles to inspire you. From short and tidy to long and wild, there's a style for every taste and preference.
Best Curly Hair And Beard Styles
We'll go over all the different types of curly hairstyles you can get, as well as all of the unique styles of beards that go well with them. Some of these popular options include:
1. Blonde Curls with Short Stubble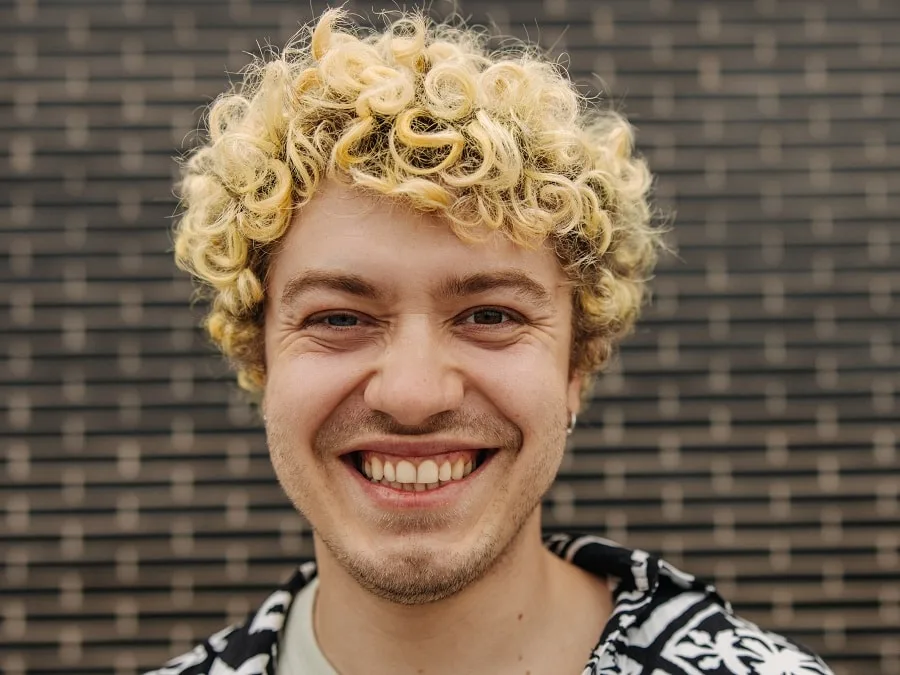 Dyeing your hair blonde can be fun, but maybe skip the bigger beard since it takes the focus off your hair. So you can grow some short stubble instead, which fits every face type and can look especially good with your curls.
2. Shoulder Length Curls with Low Box Ducktail Beard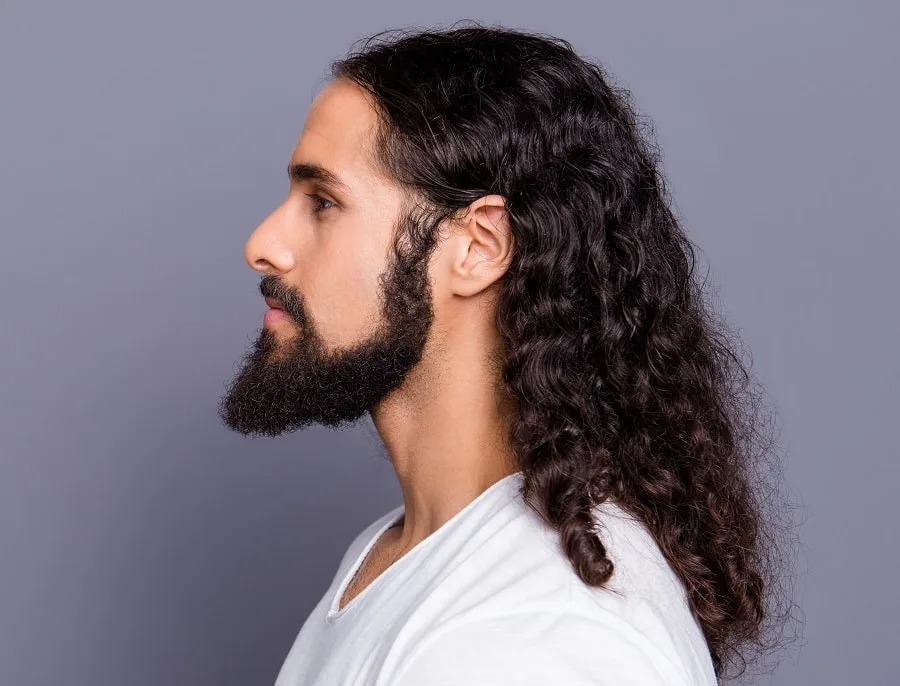 Now if you have long curls, you need a big enough beard to complement it. A curly, low box ducktail beard can be an excellent choice because of its low profile, clean curves, and the scruffy look complements your hair.
3. Waves with Garibaldi Beard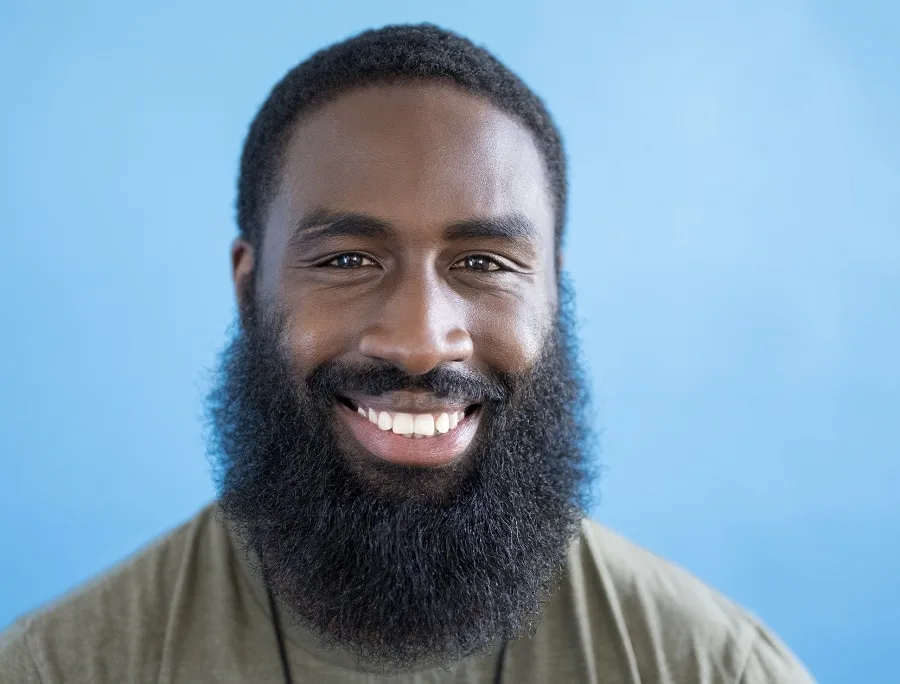 If you have shorter curls or waves, you can get creative with your choice of beards, and something round like the garibaldi can work well. Let your curly beard grow out and trim it along the cheek and neckline for a presentable appearance, but you want to flaunt that scruffy look.
4. Full Length Curls with Thin Goatee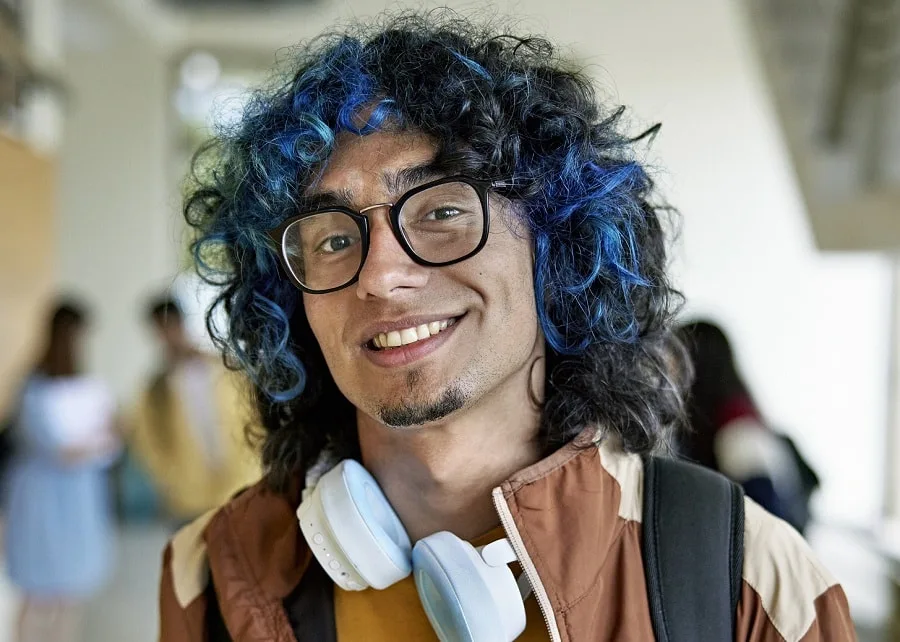 If you have full-length curls a thin goatee with a soul patch makes for a great look, since the won't cover your sharper facial features. You should especially consider this style if you wear thicker glasses.
5. Curly Curtains with Van Dyke Beard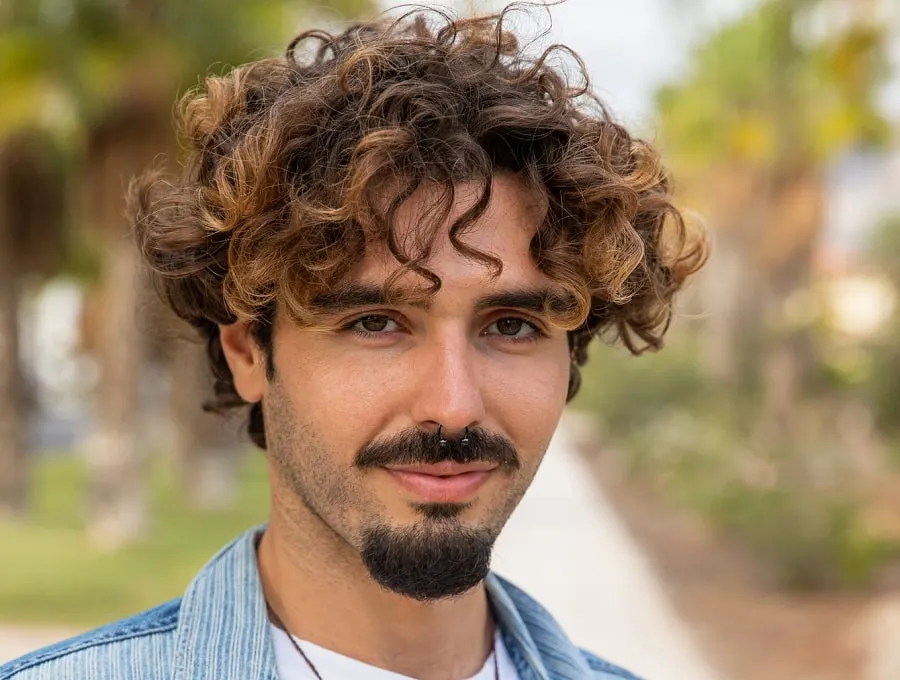 If you're looking to pair curly hairstyles with beards, remember that curly curtains might not look good with a full and thick beard. Instead, try the van dyke beard, which gives you a nice patch of facial hair, and lets you show off your jaw and cheek line.
6. Short Curls with Under-Chin Beard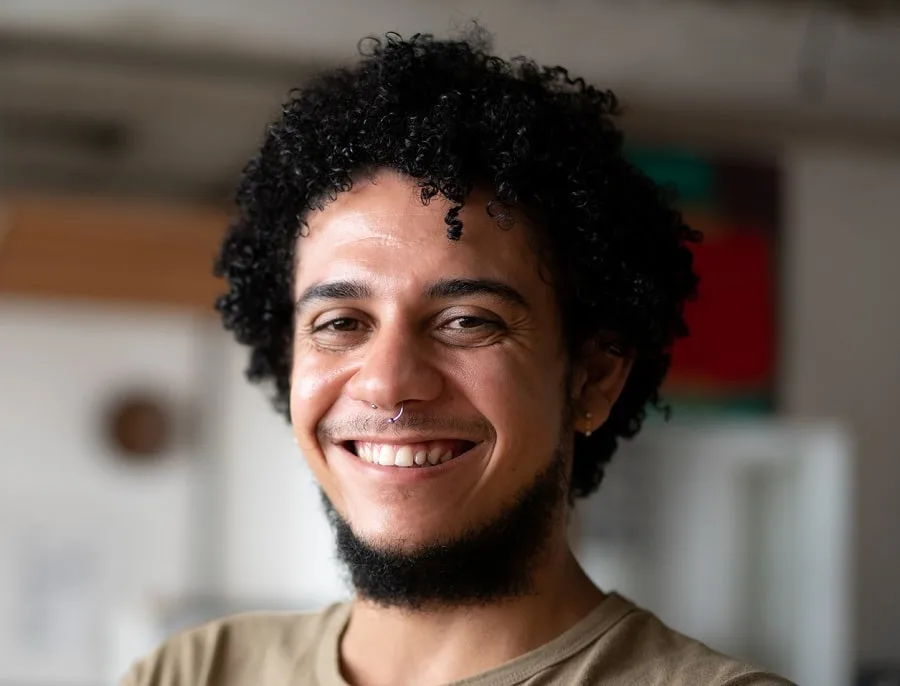 Let those short afro curls loose and complement them with a short under-chin beard. The thin mustache is also a welcome addition, but you can skip it entirely.
7. Tempered Fade Afro with Balbo Beard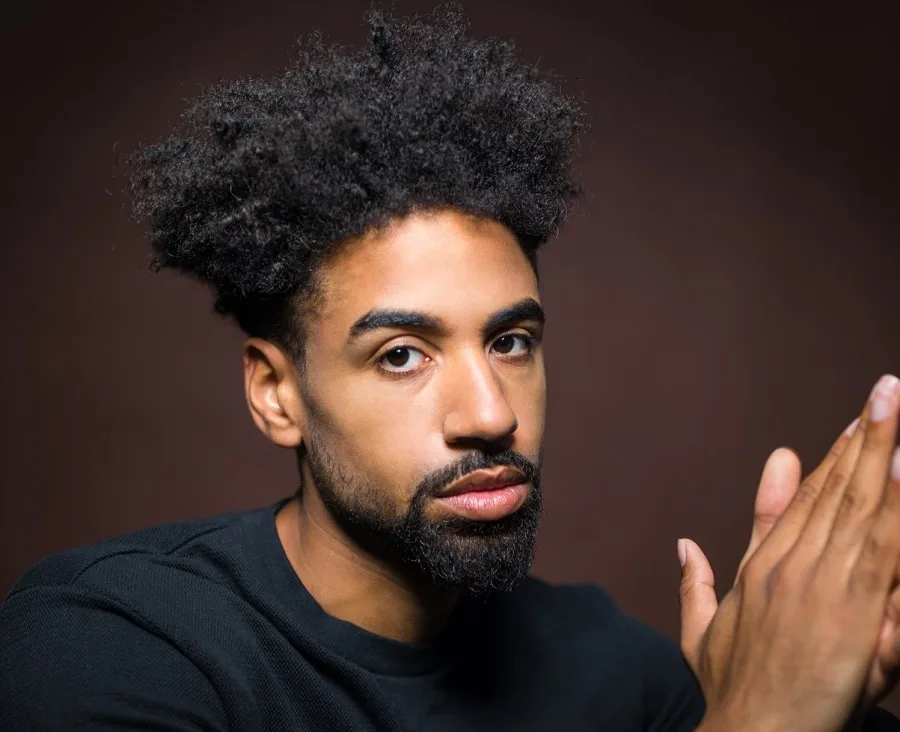 A tempered fade with an afro means you have plenty of volume on top, so you should consider to skipping a thicker beard. A thin balbo beard can offer a distinct look without taking attention away from your hair.
8. Short Curls with Light Stubble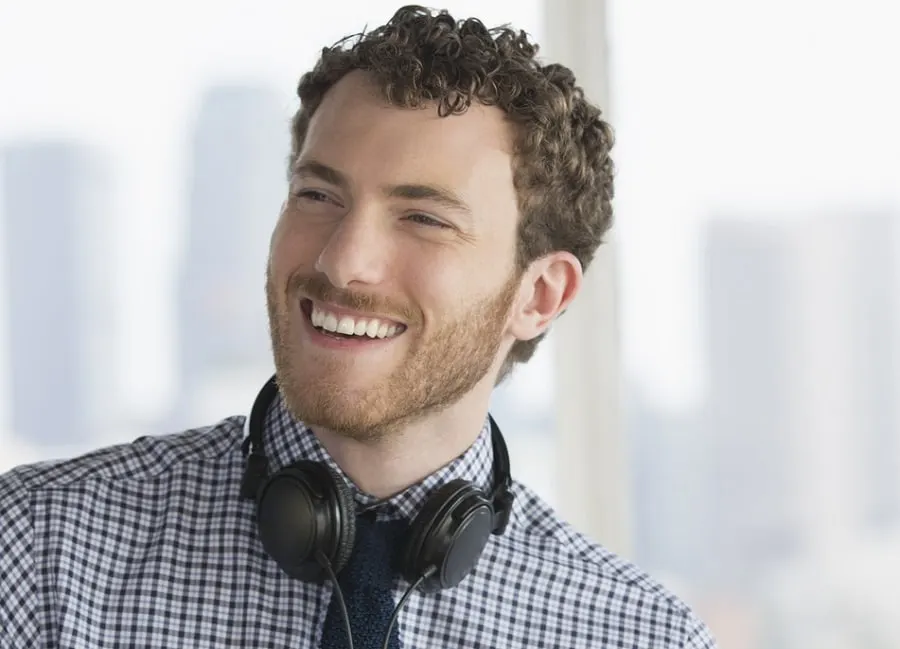 If you don't like dealing with long hair, then you can pair your short curly hair with light stubble. You can let the mustache grow a little thicker, but this is a much breezier style for people who don't want to stand out too much.
9. Curly Fringe with Light Stubble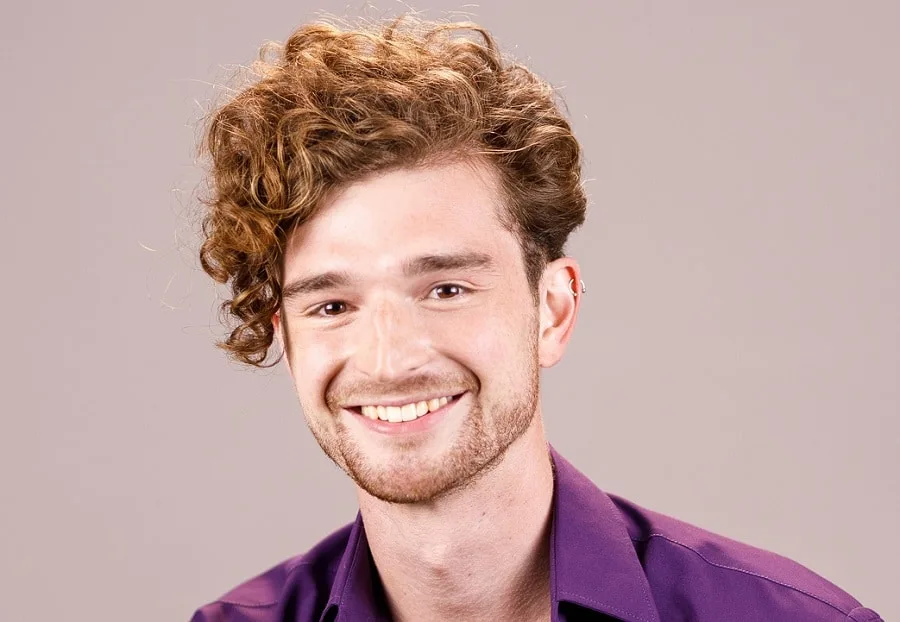 A curly fringe can look great on a more angular face, which is why a light stubble also fits here. The light beard doesn't take away from your face's more pronounced structure while letting you express yourself.
10. Dyed Afro Curly Hairstyles with Beard Patchy Stubble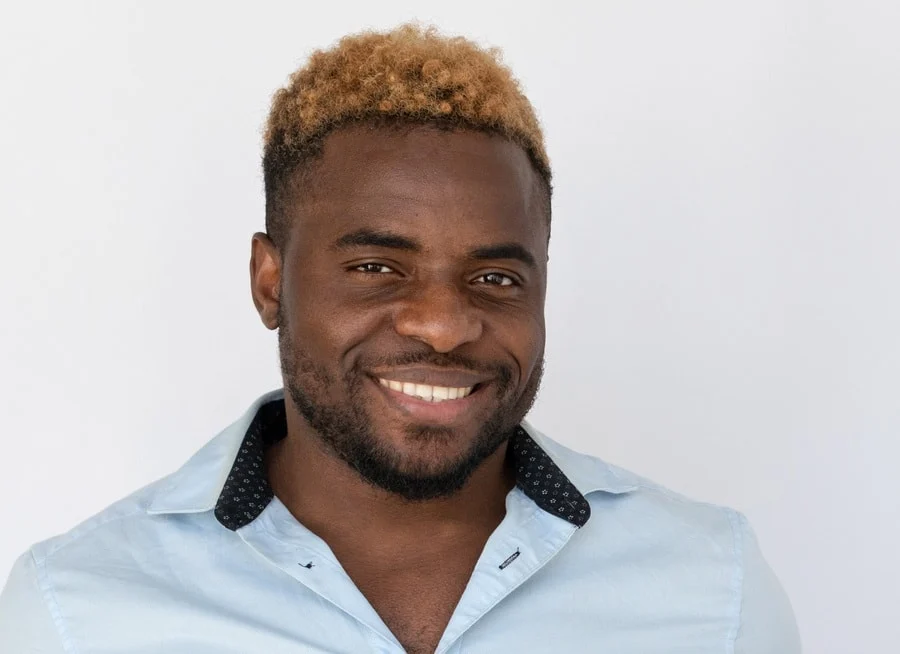 You can even dye your afro curls and pair them with a slightly patchy stubble. Embrace the patchiness in your beard with a more pronounced goatee that you can pair with stubble on the cheeks.
11. Short Afro Curls with Low Box Beard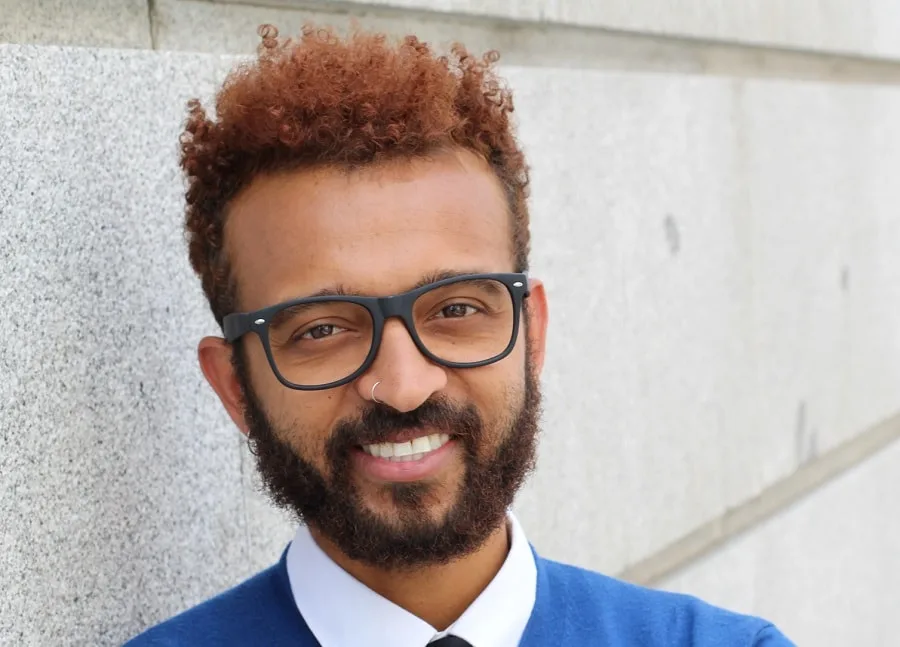 For a more uniform look, it doesn't get better than with this short afro curls matched with a low box beard. The beard will be about the same length as your hair, and you make your hair more pronounced by coloring them.
12. Glossy Curls with Full Garibaldi Beard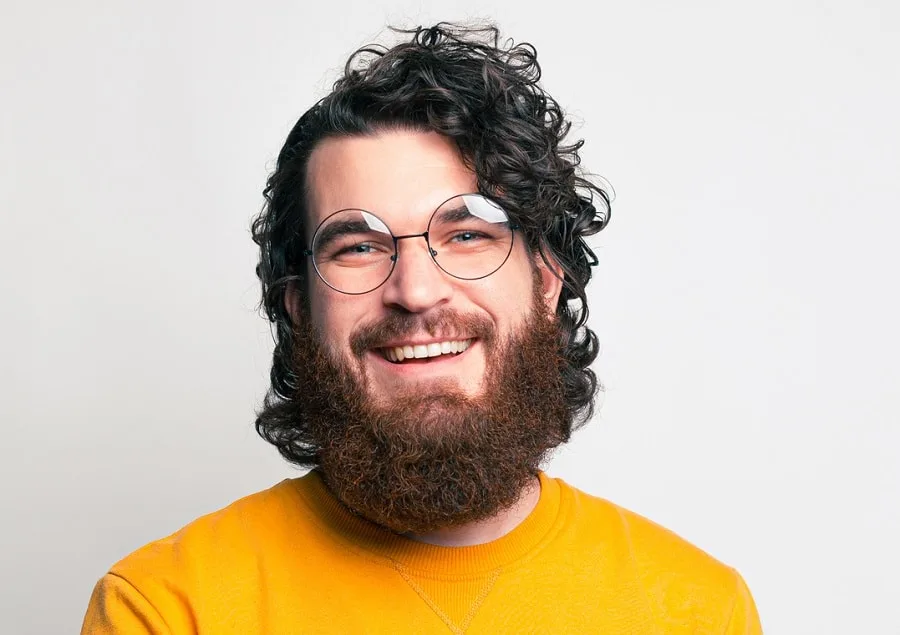 Glossy curly hairstyles with beard can work if you're growing a garibaldi beard. The smooth curls of your hair make for a good contrast to the rougher curls of your beard.
13. Medium Length Afro Curly Hairstyles with Beard Goatee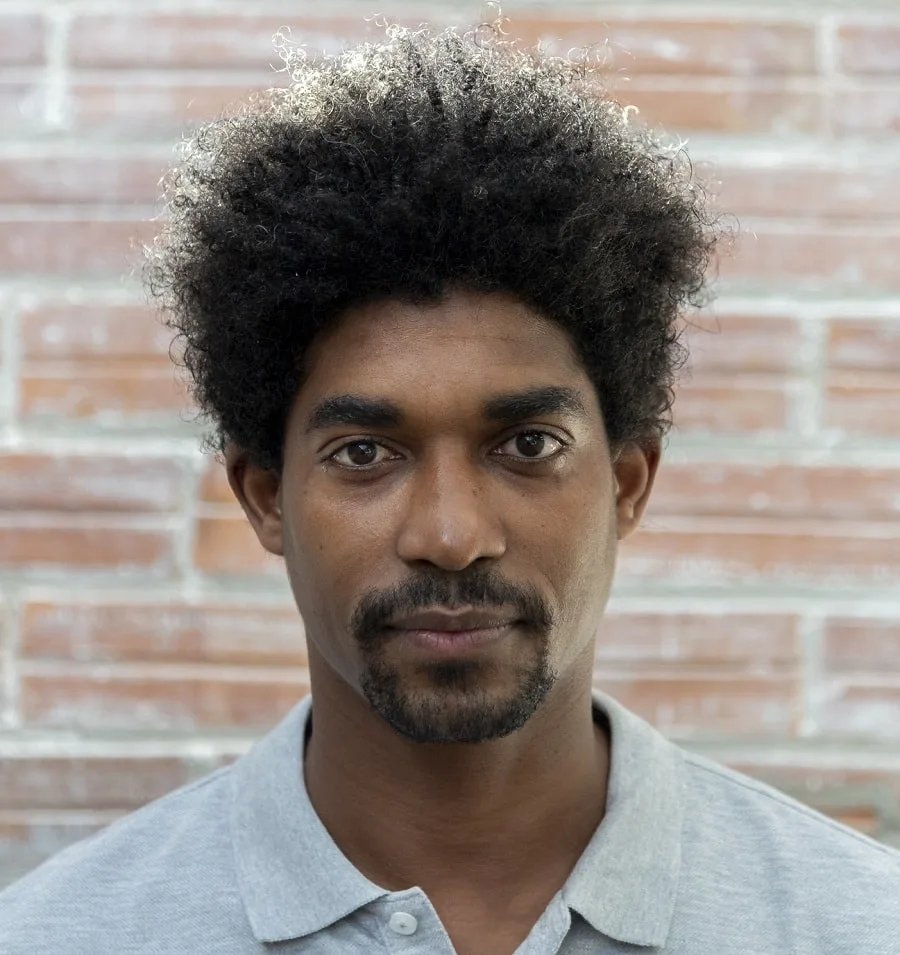 A medium afro can pair well with most short beards, but you can never go wrong with a full goatee. For a simple circle beard, you can skip the soul patch and grow out the beard on your chin.
14. Curly Man Bun with Scruffy Long Stubble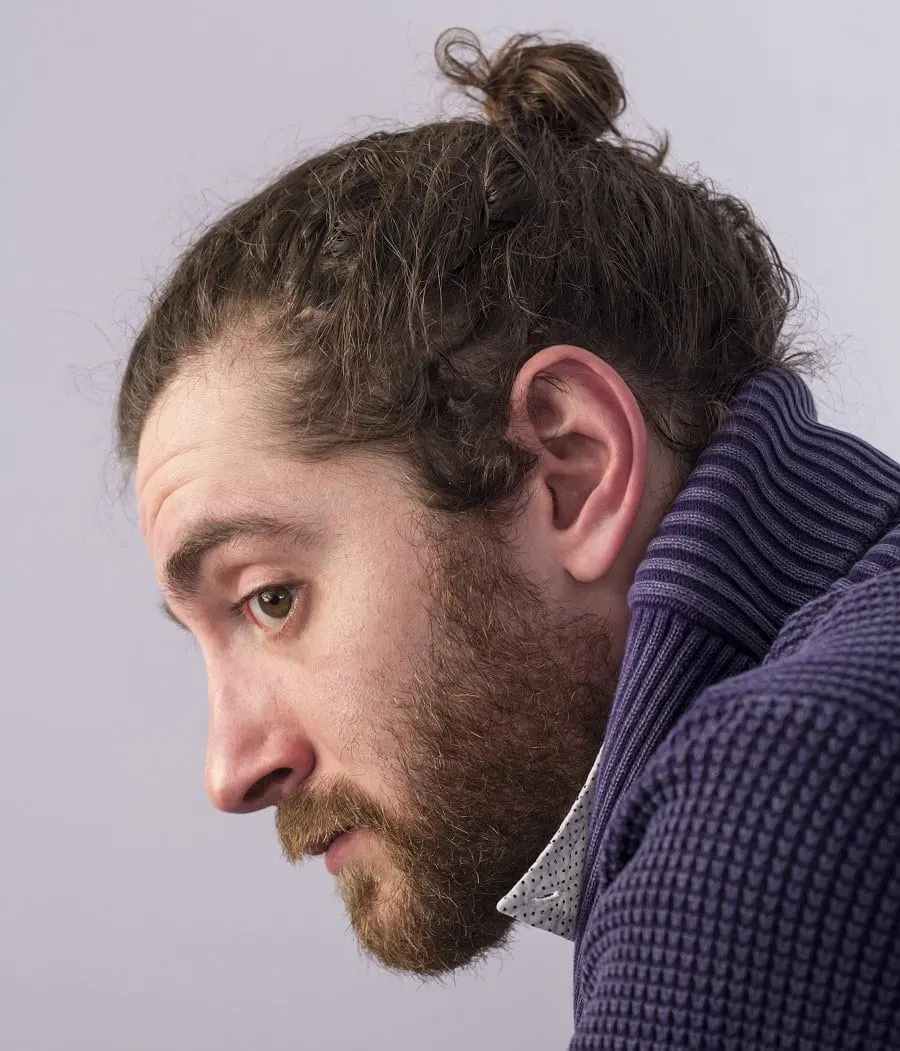 Tie those curls up in a bun and grow out a long stubble to get that modern hipster look. You can lean even further into the ironic hipster look by growing out your mustache into a handlebar.
15. Curly Blowout with Short Stubble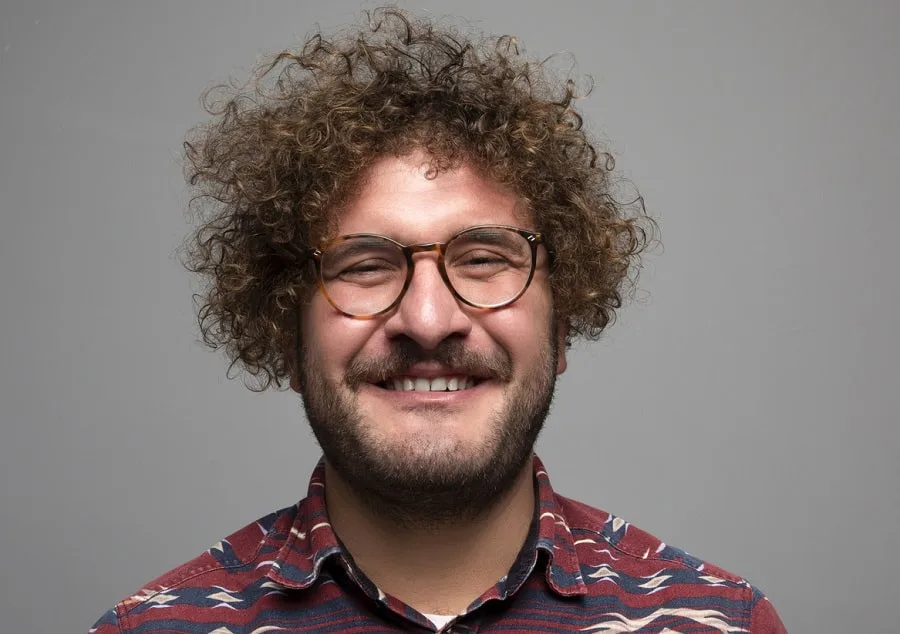 Lean into that effortlessly good-looking charm with that short stubble that goes well with a curly blowout hairstyle. This look is especially favorable if you wear thin-framed glasses.
16. Afro Surfer Curls with Goatee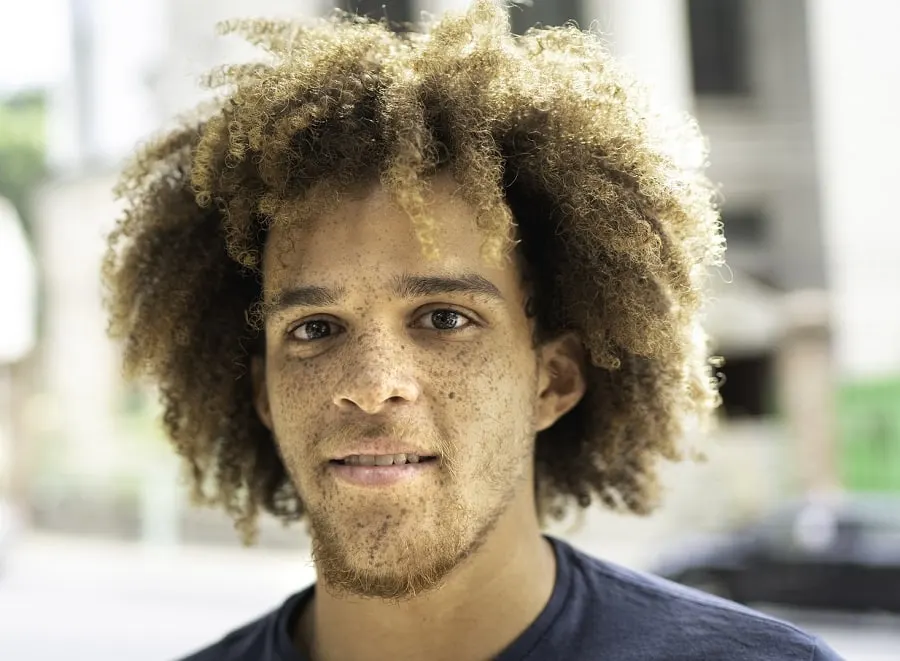 Get those afro surfer curls popping with a light and breezy goatee. It looks good, is easy to maintain, and doesn't get in the way of you catching those gnarly waves.
17. Afro Caesar Curly Hairstyles with Beard Extended Balbo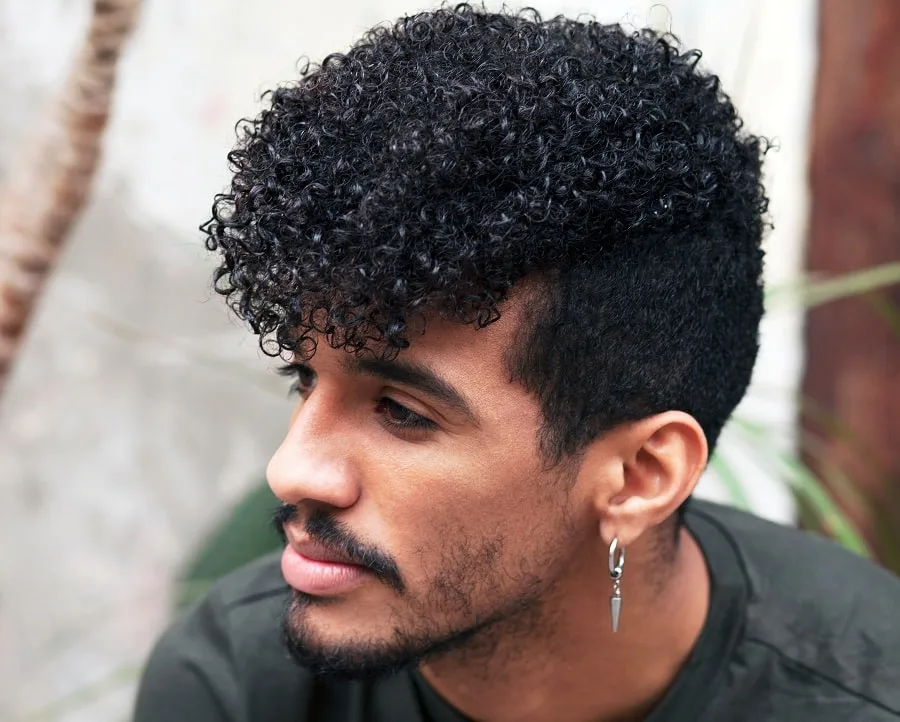 An afro Caesar cut doesn't need a very big beard to bring your look together, so you can get away with having a short balbo beard with a slightly longer mustache.
18. Gray Short Afro with Goatee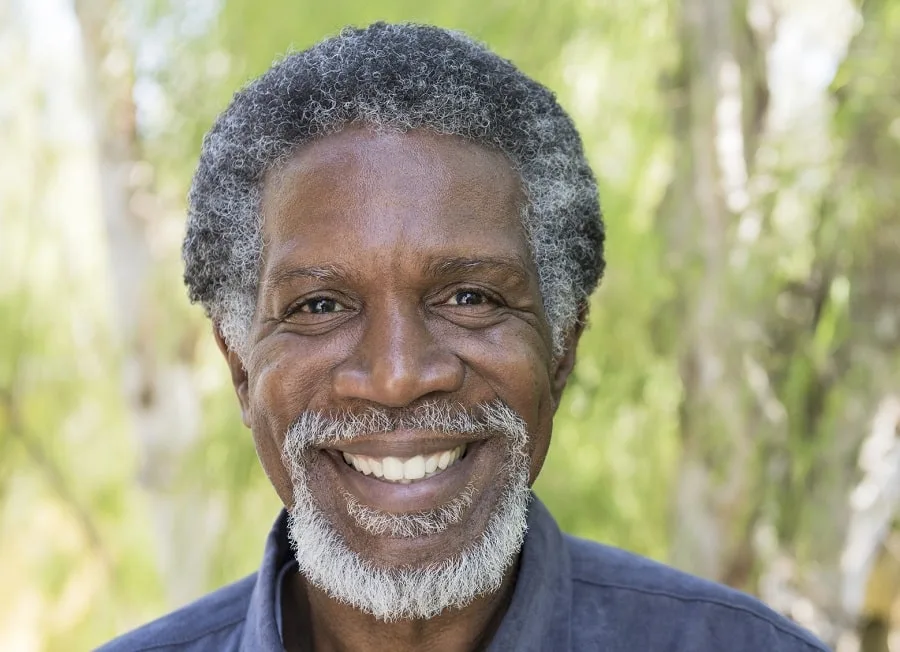 Flaunt those greys by growing your afro and your beard with a salt and pepper goatee. If you think having long stubble makes you look unkempt, then the goatee makes for a good choice.
19. Curly Middle Part with Chin Straps and Extended Goatee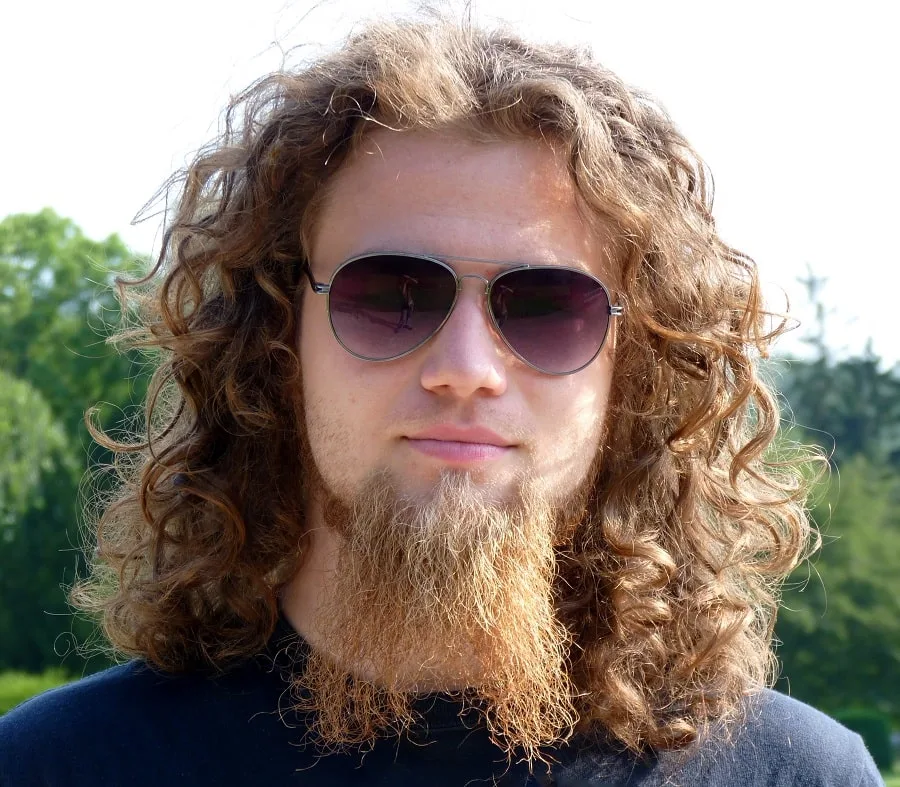 If you're looking to get creative, you can flaunt your long curls with a middle part and an extended goatee. You can grow out a mustache with the goatee, or you can pair it with chinstraps.
20. Dyed Curly Fringe with Long Stubble
Dyeing your hair with a fringe cut can give you a fresh look, especially when you pair it with clean long stubble. Even if the stubble is patchy, you can still pull off an incredible look.
When you're looking to get switch up your look, curly hairstyles with a beard are a match made in heaven. If you have fade or mid-length curls, you can try out shorter beards that don't take the attention away from your hair. The important part is that you have fun experimenting with different styles and find the right one.