So you just got new glasses and wondering which beard styles will be suitable with your frame? Well, in this list, we'll go over all the different glasses you can get and what beard styles go best with them.
If you're looking to make a more informed decision, this list will help you to choose the right frames depending on what beard style you like. So, here is a list of the best beard styles that work with glasses.
Choosing the Right Beard Style And Glasses
To Choose the perfect beard style and glasses for your beard follow these steps:
Step 1: Your face shape should be a factor when selecting glasses frames with a beard. Consider frames that balance the length and volume of your beard and complement your face shape. With the guidelines for each face shape, you can choose a beard style that complements your natural features and select glasses frames that balance out your facial structure.
Step 2: The style of the beard is also important when choosing glasses. Here are some beard styles and the type of frame that would suit them:
Short beard: Rectangle frames, square frames, and aviators.
Long beard: Bold frames with thick rims.
Stubble beard: Round or oval frames.
Beard with a mustache: Rectangular frames or aviators.
Step 3: Finally, Trust your instincts! If you feel confident and comfortable in your glasses and beard, then it's a winning combination. If you are unsure, seek the opinion of a trusted friend or family member.
The Best Beard Styles with Glasses
You can pair different beard styles with plenty of styles of glasses. In this list, we will go over why certain types of frames work best with certain types of glasses. Some of the best combinations include:
1. Vintage Frames with Full Beard
Vintage frames have a way of making a comeback, and a simple full beard can look great with it. Along with complementing the face, the style also gives a fun tech whiz look. You can trim the cheek and neckline to help it look a little cleaner.
2. Wayfarers with Full Goatee
These glasses suit a more angular face, and the smaller beard lets you show off your facial features better. Angular faces will get the most out of this, so a diamond face and a square face will benefit the most. It also helps if you have longer hair to go with the glasses.
3. Rectangle Glasses with Van Dyke Beard
Rectangle glasses come in and out of style, and you can pair them with a van dyke beard for that traditional French film student look. The handlebar mustache needs to be thin though since you want it to complement the thinner frames.
4. Wayfarer with Short Stubble
When looking at beard styles with glasses, you can never go wrong with the wayfarer frames and short stubble for that quintessential college student look. Bonus points if you pair this style with short curly hair.
5. Rectangle Frames with Extended Chinstraps
The thin rectangle frames with extended chin straps make an excellent choice for someone with a rounder face. The longer chinstraps make for a full beard and don't take attention away from your glasses.
6. Wayfarer with Soul Patch and Goatee
If keeping a mustache isn't what you're looking for in beard styles with glasses, then a small goatee with a soul patch can do just the trick. It's light, easy to maintain, and doesn't take attention away from your curls.
7. Clear Frames with Full Scruffy Beard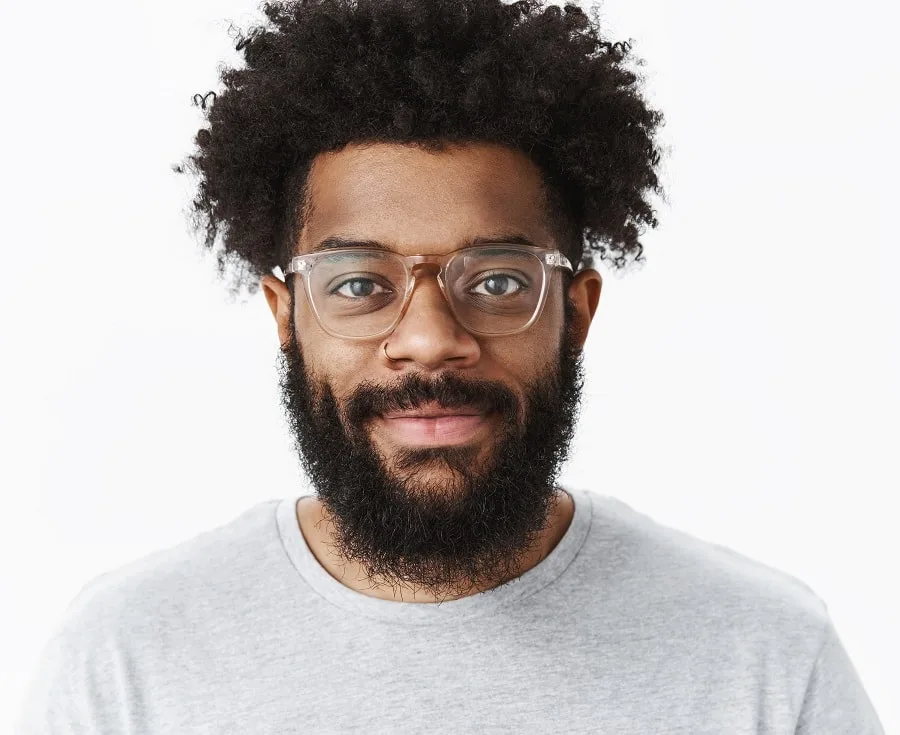 Pair the pristine look of clear frames with a scruffy beard, and you have something completely original to work with. You can even pair the scruffy beard with an afro, perfectly bringing your look together.
8. Square Frames with Long Stubble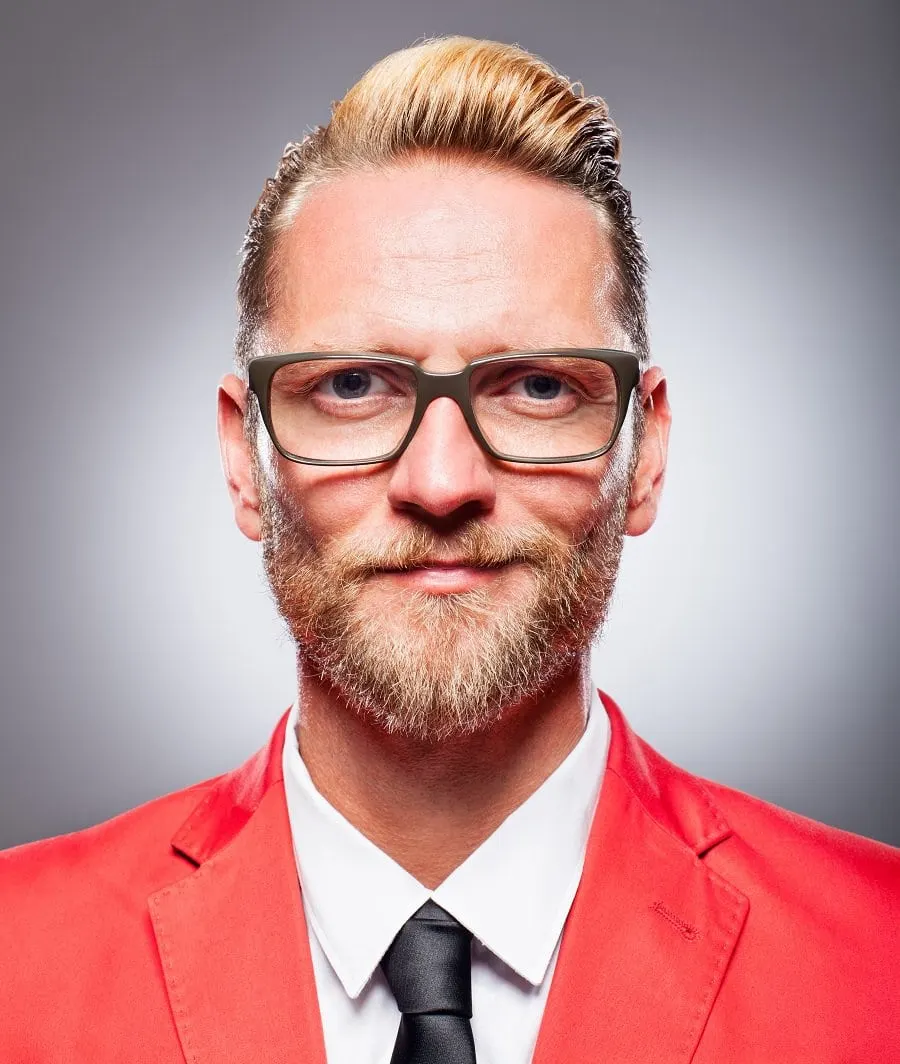 Perfectly square frames can make for a very good choice, but they only really work with short hair and a shorter beard. Long stubble can be the right choice since it gives off an organized/messy look.
9. Half-Rimmed with Low Boxed Long Stubble
These beard styles with glasses can even include something simple, like low-boxed long stubble, paired with half-rimmed glasses. These glasses look especially good on rounder faces, with the low-boxed beard complementing the rounder face and frame.
10. Thick-Rimmed Frame with Short Bandholz
If you're looking to get really creative with your choice of beards and frames, then thick rims with a short bandholz are the way to go. A thick and wavy beard doesn't take away from the equally thick-rimmed glasses, giving you a scholarly hip look.
11. Oversized Glasses with Short Stubble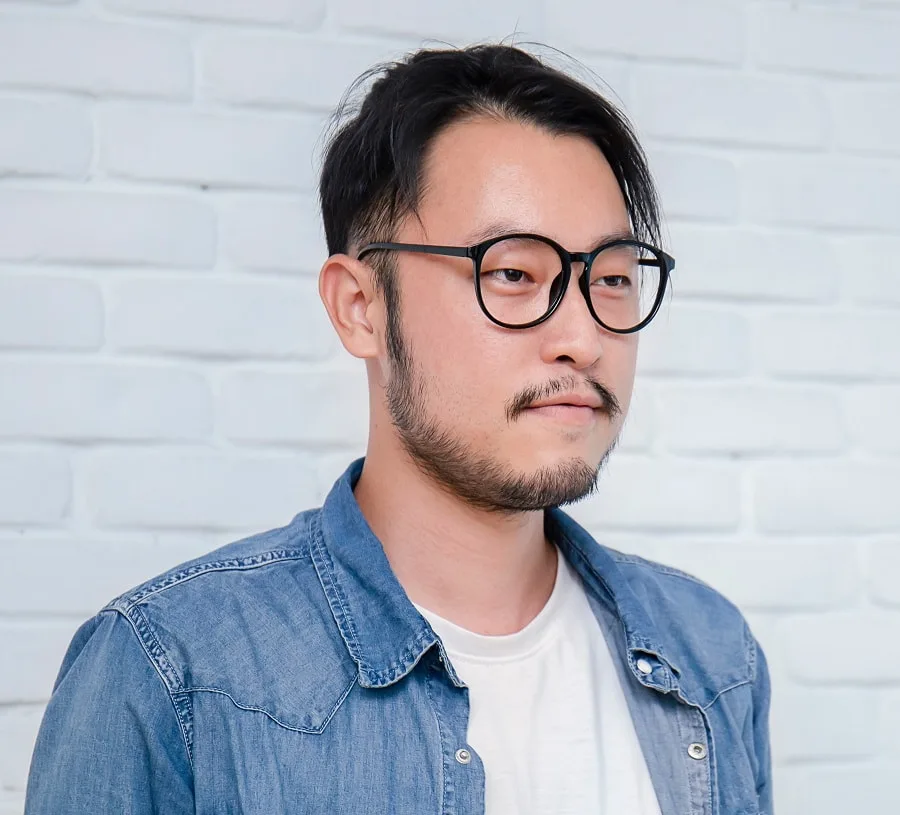 If you're not looking for something that makes you stand out too much, then you can grow a short stubble going down the chin with oversized glasses. This frame fits well with a longer face, and the short stubble can really bring the entire look together.
12. Oval Frames with Stubble and Curly hair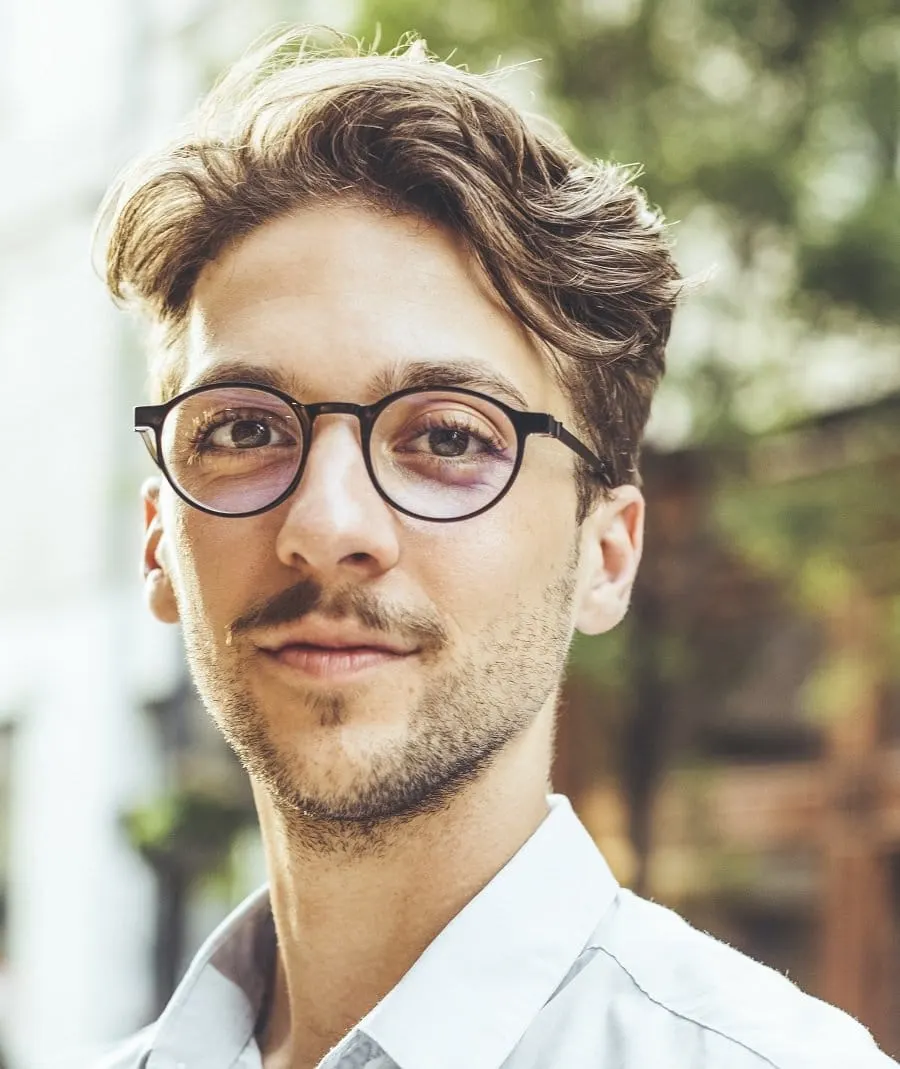 Your messy curls can go well with a nice pair of oval frames, and to bring the entire look together, you can finish off with light stubble. If you're looking for something that's more prominent, you can try long stubble instead, or you can grow your mustache into a thin handlebar.
13. Round Frames with Full Beard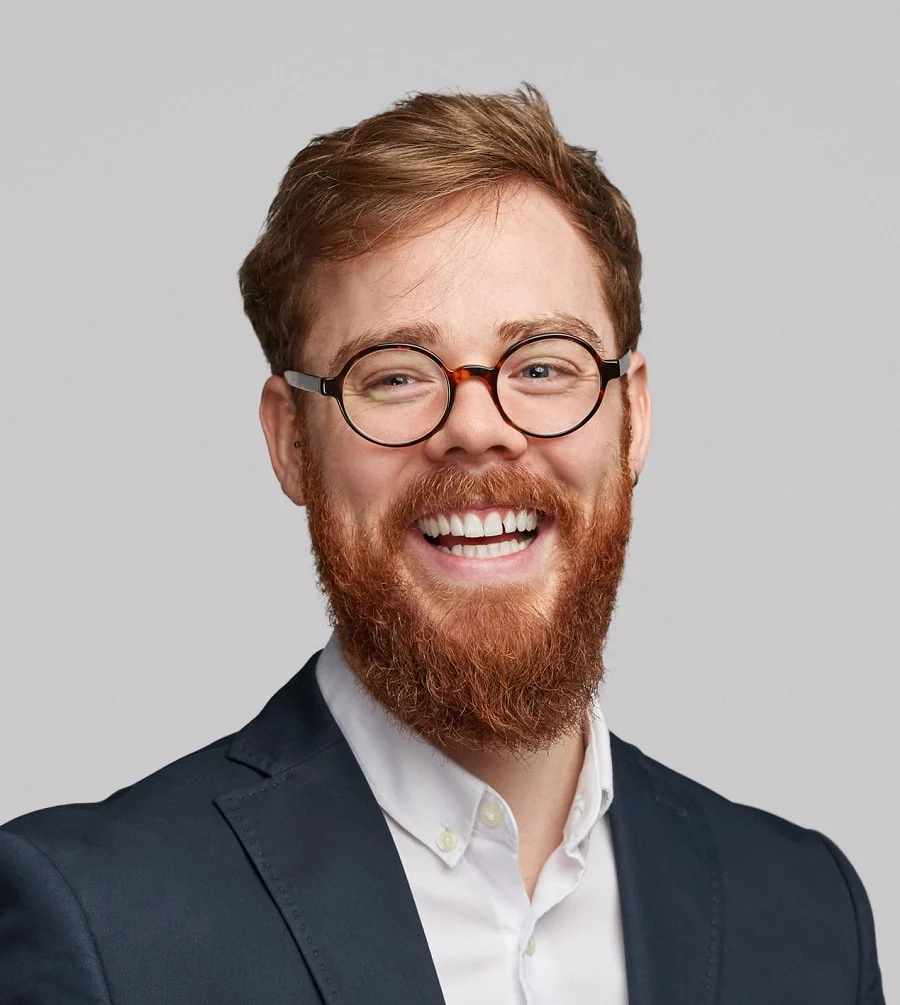 The round frames make for a great look on most faces, and you can even pair them with a full beard if the frames are medium to small-sized.
14. Rectangle Half-Rimmed with Goatee
Oval frames aren't the only ones that you can find half-rimmed since these rectangle frames will go really well with a salt and pepper goatee. The thin frames complement the thin goatee with neatly shaved sides.
15. Thick Rectangle Frames with Garibaldi Beard
If you want to try out a type of messy beard with a thick rectangle frame, you should grow out your garibaldi. This style looks especially good when you have short hair to go with it.
16. Thin Geometric Frame with Long Stubble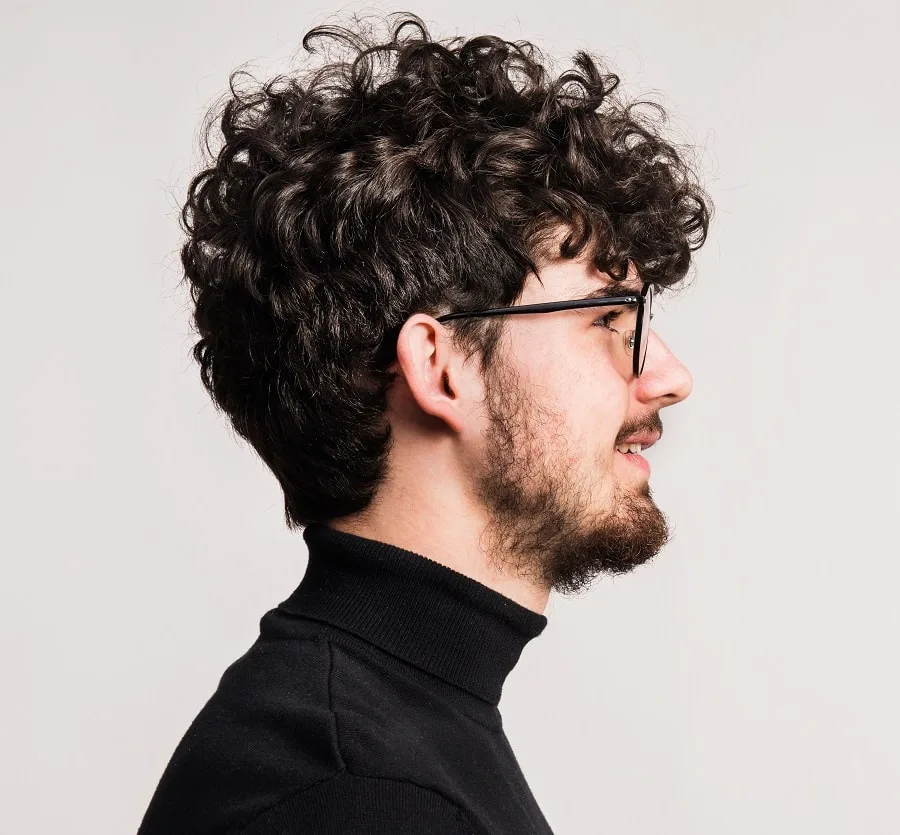 Long stubble goes well with thick curly hair, but then maybe avoid getting frames that are equally big or thick. A thin pair of geometrical shaped glasses can be a good fit here. You can also try a rimless frame if you have messy curly hair and a stubble beard like Jack Harlow.
17. Round Spectacles with Beard Knot
You can go for a wise sage look if you wear your round spectacles and tie your long beard in a knot. You could tie your beard using a hair tie, or you could get specific accessories like metal clips.
18. Geometric Frame with Goatee
A nice geometric frame with a thin and short goatee makes is a simple and effortless combination. You can even skip the mustache if that doesn't line up with your style.
19. Round Frame with Circle Beard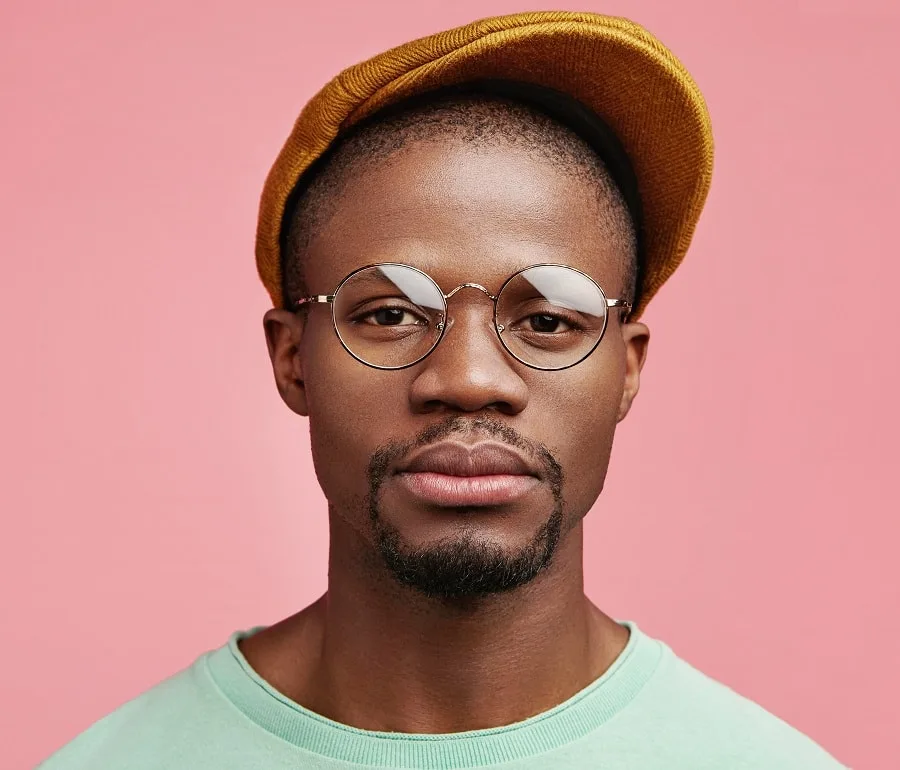 A circle beard is a great choice if you wear glasses, and if you have a thinner face shape, round frames and a neatly trimmed goatee can give your jaw a more sculpted look. Together, they'll definitely complement your face type.
20. Thin Round Frame with Garibaldi Beard
The famous harry potter glasses are surprisingly versatile since they can go with plenty of beard styles. You can even grow out a garibaldi beard with it, and bring the entire look together with shoulder length hair.
21. Thick Rectangle Frame with Beard Knot
Thick rectangle frames are surprisingly popular with longer beards, and they especially work with a beard knot. If you have thin beard hair, then you can tie it in a single knot, or you can tie multiple smaller knots.
22. Oval Frame with Low Box Beard
Oval frames are also surprisingly versatile since they go well with different face types. If you wear thinner frames, a low box beard with a thick mustache will look fantastic. You can improve your overall appearance with a man bun.
23. Oval Frame with Long Stubble
For a more refined and professional look, the oval glasses with a salt and pepper stubble can be a good choice. It's a cleaner beard style and generally requires very little maintenance.
24. Wayfarer Frame with Viking Beard Braid
Viking braids can be difficult beard styles with glasses, but you can pull them off with pair of wayfarers. Longer faces look especially good with this beard, and even more so if you opt for slightly thicker frames.
25. Wayfarer with Thick Curly Beard
You can even make the wayfarer work with a thick and curly beard, giving you that quintessential scruffy look. Slightly bigger frames work best since they give you a unique 'wanderer' appeal that's great for casual occasions.
FAQ's
Can I wear any style of glasses with a beard?
The right glasses for your beard depend on your face shape, beard style, and glasses color and material. It's best to try on different styles and see what works best for you.
Should I match the color of my frame with my beard?
It is not necessary to match your spectacle's color with your beard color. The key is to create a harmonious look that complements your overall style. A contrast between your beard and glasses can create an interesting and unique look.
Can I wear contacts instead of glasses with a beard?
Yes, you can wear contacts instead of glasses with a beard. However, glasses can enhance your overall look and add a touch of sophistication to your style.
So, Choosing from so many beard styles with glasses comes down to the frames you like. If you like thicker frames, you can even try a thicker and longer beard. But remember that the final choice really comes down to you and what you think looks good.