Diamond face shapes are not common, yet they are the most desirable facial structure among men. If you have this shape, you are already blessed to pull off some cool beard styles.
A diamond face has a narrow forehead, a defined or chiseled jawline, angular cheekbones, and a narrow chin. Since it is important to choose a beard style according to your face shape, finding the right one can sometimes be challenging.
From full beard to goatee, we have listed some of the most desired beard styles for the diamond face shape.
Considerations for Diamond Face Beard Styles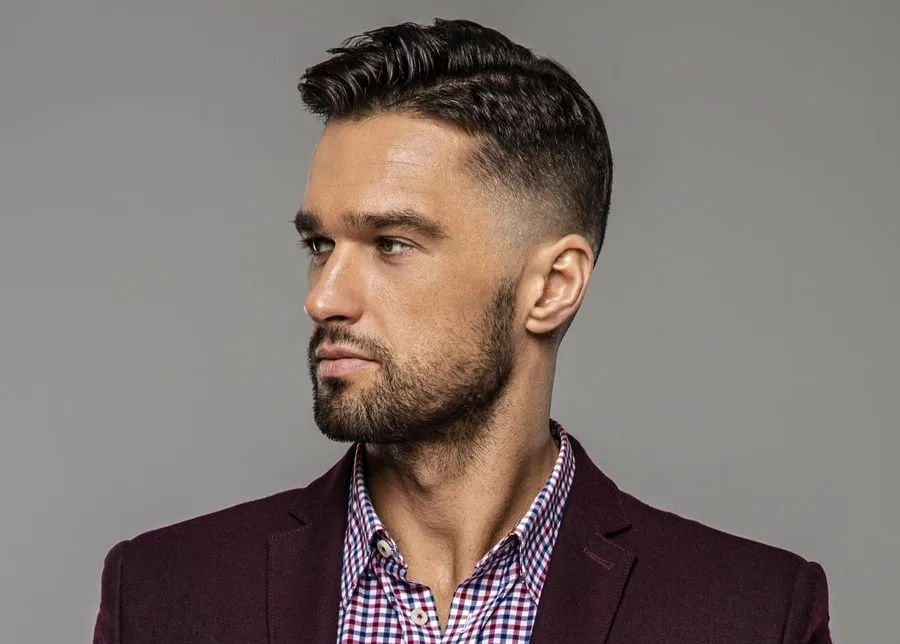 When selecting a beard style for a diamond face shape, there are a few key considerations to keep in mind. Choose a style that enhances your jawline, as this is a prominent feature of the diamond face shape. You can do this by rounding the bottom edge of your beard according to your jaw curve.
You can also choose to soften the angularity of the face by opting for a style that reduces the emphasis on the cheekbones. Between square beard and round beard styles, a square beard is preferable for softening your jawline.
Lastly, finding a beard style that balances the forehead can help create a harmonious overall look. Consider the length and width of your diamond face. If you are choosing a beard style for a small face, do not taper your beard. Try a full and long beard that will add length and width to your face.
Here are some tips on how to choose the right beard style for a diamond face
Keep the cheek line high to create the illusion of a wider forehead.
Keep the sides of the beard short to balance out the wide cheekbones.
Choose a beard style that is full and bushy. This will add width to the face.
Avoid beard styles that are too short or too thin. These styles will only accentuate the narrowness of the face.
Experiment with different beard styles until you find one that you like. The best way to find the right beard style for you is to experiment with different lengths, shapes, and styles.
Other Factors to Consider
To balance your overall look you should also consider some other factors besides your face shape. Your facial hair growth pattern, hairstyle, job type, etc need to be considered as well.
Different beard styles require varying amounts of facial hair. Consider your hair growth pattern and density to determine if your natural hair growth can support the style you desire. Also, consider how you should look with your beard and hairstyle combo.
Think about your personal style and the image you want to project. Your beard style can be an extension of your personality. Some styles may convey a more corporate or formal look, while others may give off a more rugged or casual vibe. Choose a beard style that aligns with your professional image.
Consider the time and effort you are willing to invest in grooming your beard. If you are always busy, choose a style that requires less time investment in grooming.
If you're still unsure about which beard style would suit you best, consider seeking advice from a professional beard barber or stylist. They can recommend the most suitable beard styles for you.
Most Attractive Beard Styles for Diamond Face
Considering you may want to accentuate or soften the angularity of your diamond face shape you have carefully selected 15 beard styles for diamond face shape. As you already know what you are looking for, have a look at these styles and choose the one that matches your criteria.
1. Stubble Beard
A diamond shaped face with a chiseled jawline looks good with a short stubble beard. It helps cover the chin lightly while squaring off the jaw's natural contours. Regular trimming and keeping the uniform length help accentuate your face shape.
2. Rounded Full Beard
A large forehead with no visible cheekbones is considered one of the most attractive face shapes. Styling it with a full rounded beard and with tapering pointy chin perfectly complete a diamond face.
3. Goatee with Mustache
While a diamond face tends to look gorgeous with a beard, not everyone is blessed with a perfect beard on their face. Some may have a patchy beard with thin facial hair on their jawline or chin. If that's the case, you may try a chin strap extended goatee with a mustache. This style can balance out the face while adding width to the chin area.
4. Neatly Trimmed Goatee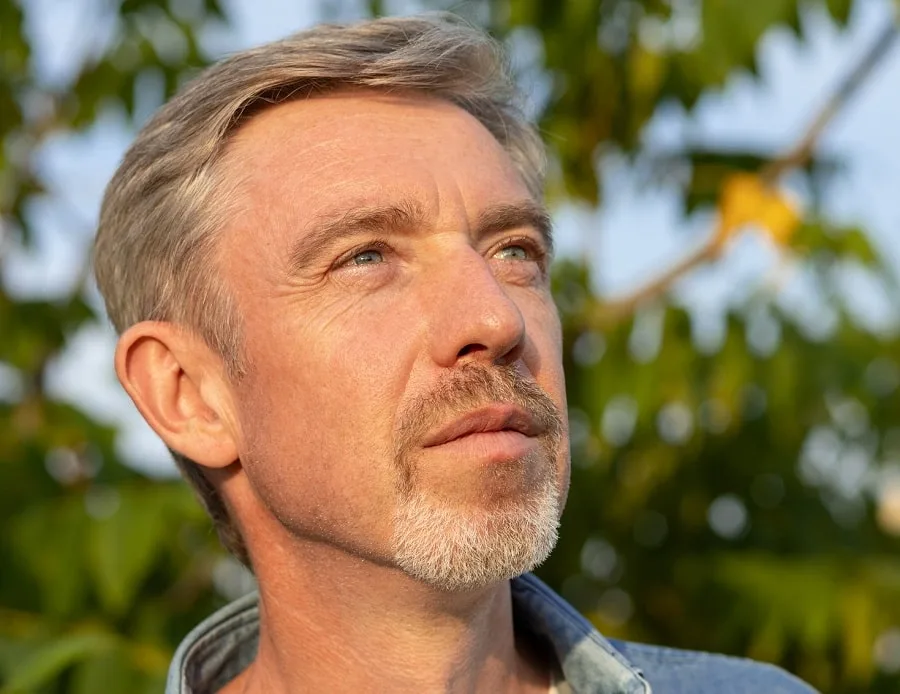 Although a goatee is great for a typical square face, it also works well with a diamond face. It can soften the angles of the face while defining the jawline. The connection of mustache and goatee style makes the look very attractive.
5. Boxed Beard
This medium boxed beard is good for almost all face types, but it stresses the jawline for the diamond shaped face. It includes up to 1 inch in length without fine trim. You need to clean the cheeks occasionally to give them a boxed look.
6. Medium Length Beard for Black Men
African American men can style their diamond faces with a medium-length beard style. It helps create a more square-shaped jawline to balance the overall facial shape. But you need to trim it regularly on the cheeks and mustache to have a neat and tidy appearance.
7. Extended Anchor Beard
This style combines the thick extended anchor beard. It is perfect for men who have a patchy beard on their cheeks. To shape your jawline, shave or trim the neck. Hence, you will get a stretched jawline, balancing out the sharp angles of the diamond shape.
8. Wide Chin Strap with Rounded Afro Hair Crown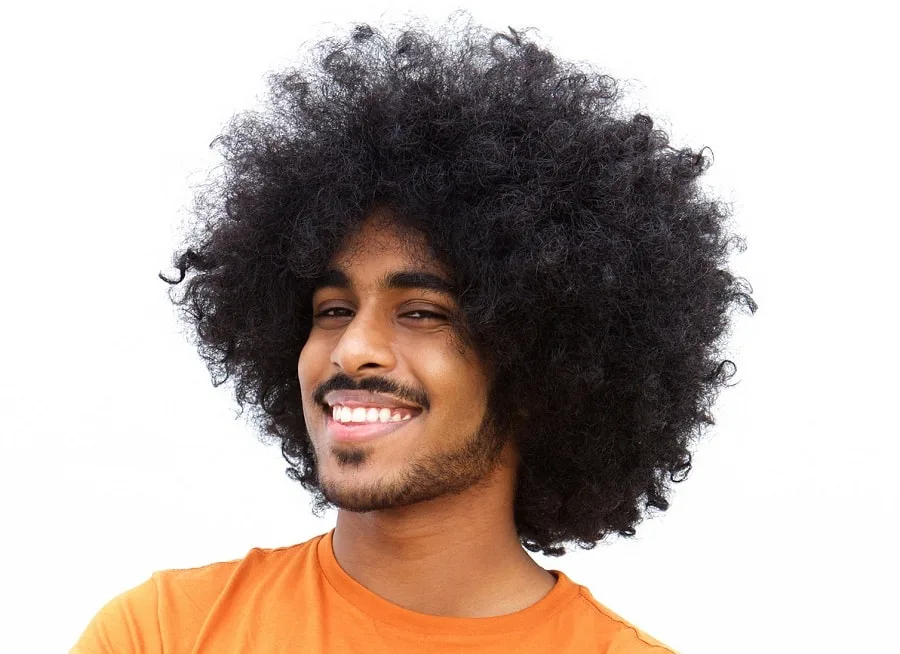 If you only have a beard along the jawline and chin, you can just grow out the beard to make it stubble size. It certainly balances out the angular features of the diamond face while giving a symmetrical appearance. However, you need regular trimming to keep the jawline attractive.
9. Curly Chin Curtain Beard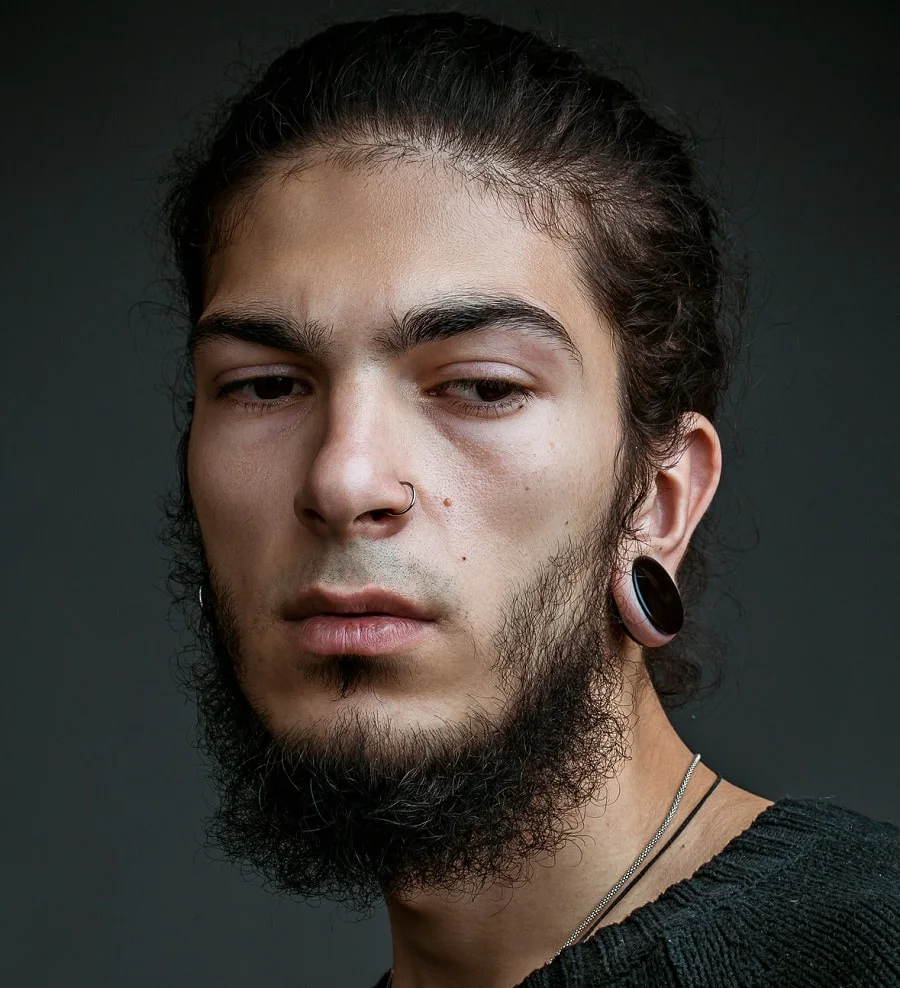 This style requires growing out the facial hair from the sideburns along the jawline and chin. For the diamond face, keep the lower half longer than the sideburns to create like shape from the jawline to the chin area. The shaved mustache with unkempt beard counterbalances the sharp angles.
10. 7mm Ginger Beard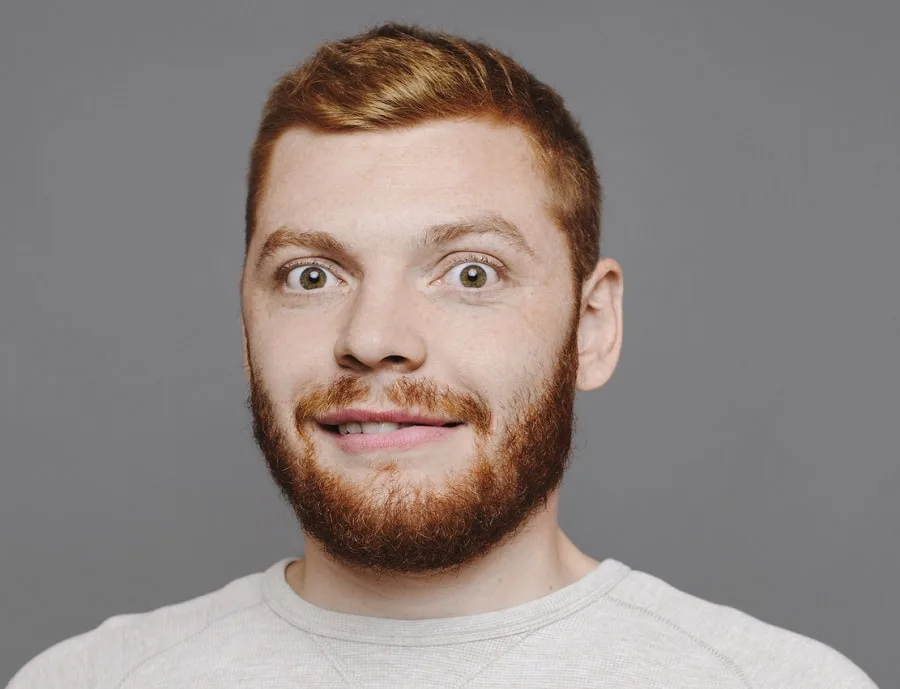 The 7mm beard on the diamond face isn't as voluminous as the full beard. They are 1/4 inch in length. The size is almost uniform in all places. This style helps a chubby guy with a diamond face look thin and slim. If you want to maintain the same size, you will need regular trimming with a trimmer guard length set to 0.2-0.3 inches.
11. Anchor Beard
Shaving the cheeks and neck while keeping a mustache and a thin patch of beard on the chin will give you this Johnny Depp beard style. Trim the chin area with a #1 or #2 guard to shape it out. However, they keep the mustache a bit longer in length than the hair on the chin.
12. Designer Stubble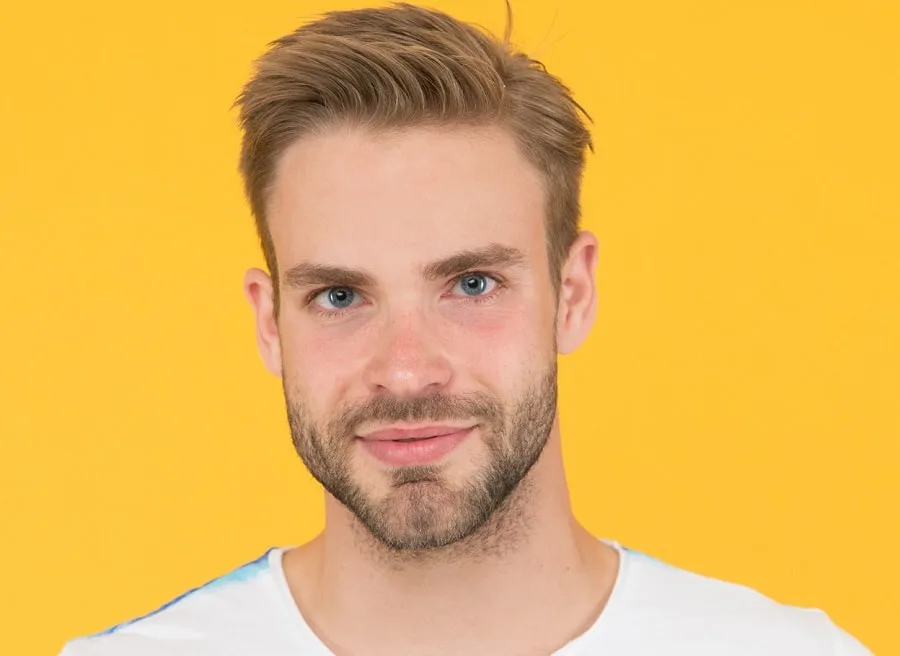 The large forehead with a taut jawline and smaller chin is one of the most attractive diamond shaped faces. And styling it with a medium stubble that covers the chin, cheeks, and upper lip area can add some depth to your facial features.
13. Short Beard with Burst Fade Haircut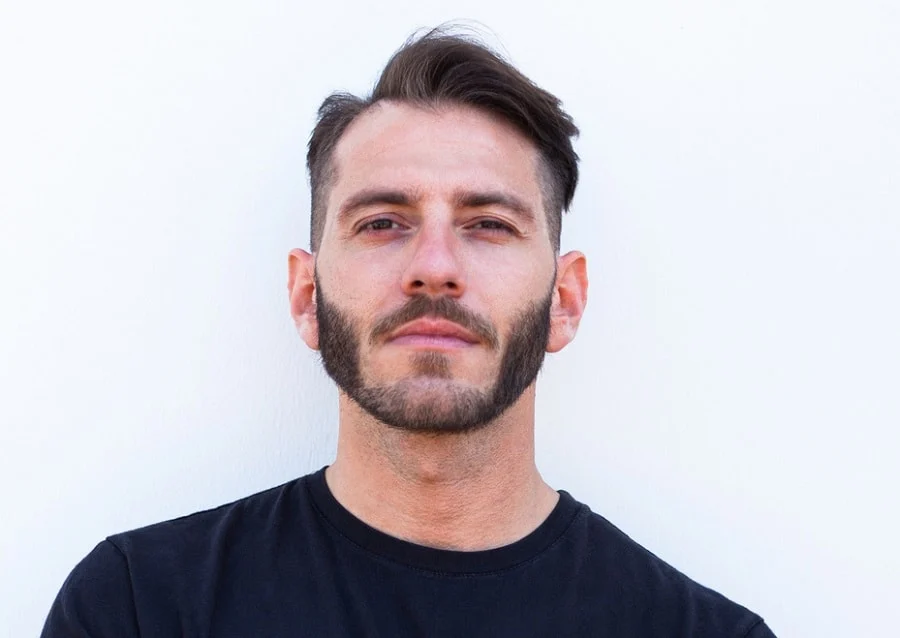 This beard style contains a short beard style. The beard is trimmed thinly on the chin area. Further, the disconnected mustache helps to get focus on the chin which resembles the mutton chop style. The burst fade hairstyle and beard blend just above the upper ear line.
14. Chin Strap with Black and White Goatee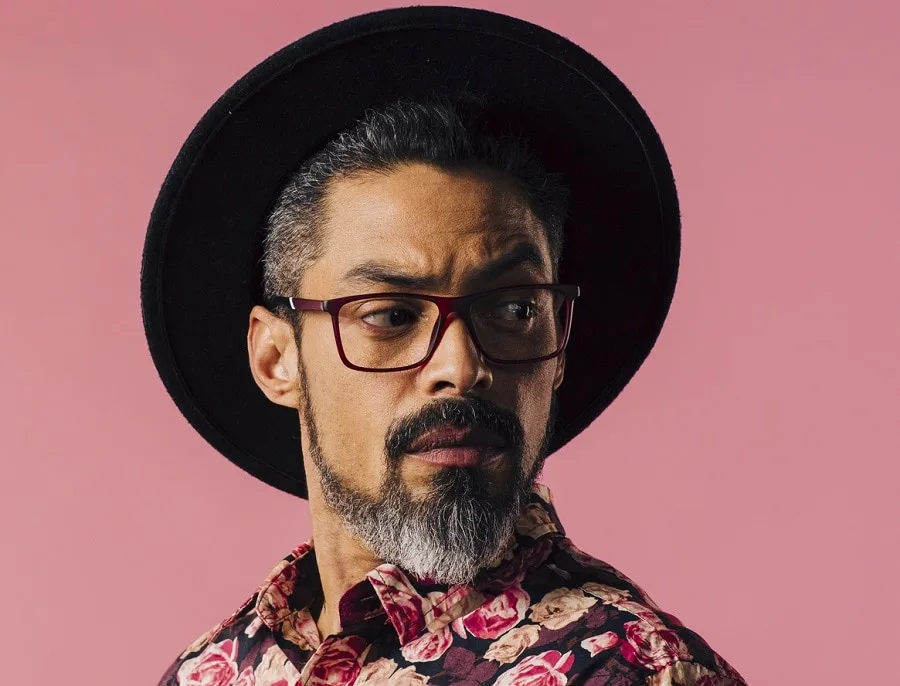 A thick beard for diamond shaped face combines two classic styles, a goatee, and a chin strap. And you need to style them individually. Therefore, shave the cheeks and connect your mustache with the chin hair underneath the lower lip.
15. Bushy Salt and Pepper Beard
A full and bushy salt and pepper beard certainly boost the confidence of men in their 40s. You just need to grow the beard for around two months and occasionally trim it with scissors to achieve a neat look.
Now that you have got many beard options for your diamond face shapes choose the right style and stay away from making regretful decisions. Simply look at these styles, match them with your beard type, and implement them.
Recommended For You:
65 Trending Beard Styles for Round Face Shape
18 Trendiest Beard Styles for Square Faces in 2023