Think a sprinkling of gray makes you too old to rock a great beard style? Think again!
We have compiled a list of the best salt and pepper beard styles just for the gentlemen of advancing years to prove that some things only get better with age!
What Does Salt n Pepper Beard Mean?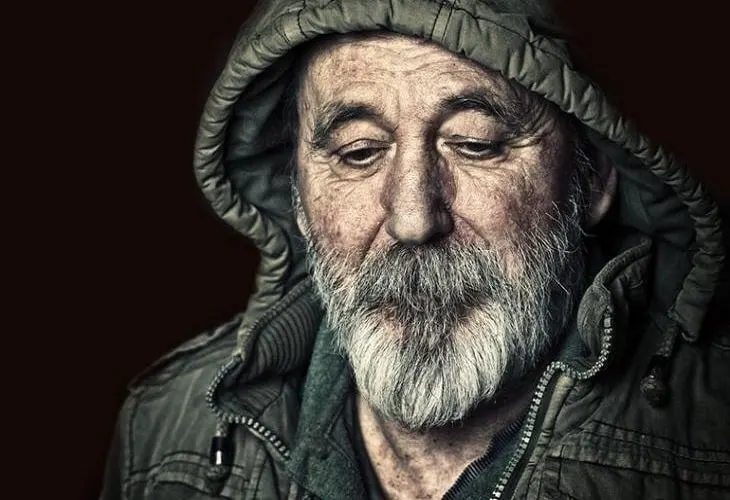 Imagine a plateful of salt with some pepper sprinkled on it. Well, think about the color scheme that comes through. A mix of white and black interspersed together.
Well, when your hair or beard also has a similar color scheme, it is called the salt and pepper look. This is one look that is in trend now. George Clooney, Alec Baldwin are just a few names that immediately come to mind.
Often the salt and pepper beard is seen as a sign of wisdom and experience. It is also a suave, sophisticated and sexy style statement. But, you can also get this beard look using a dye.
Generally, it is seen as someone who is confident in his skin and does not mind exhibiting natural grey hair. But that also needs a special technique for proper beard coloring.
Who Should Try a Salt and Pepper Beard?
Known for adding charm and rugged quality, salt and pepper beards are best for men 30 to 40 years old and older.
A salt and pepper beard telegraphs the message of being experienced and distinguished, yet young enough to be active and fun.
How to Dye Your Beard Salt and Pepper?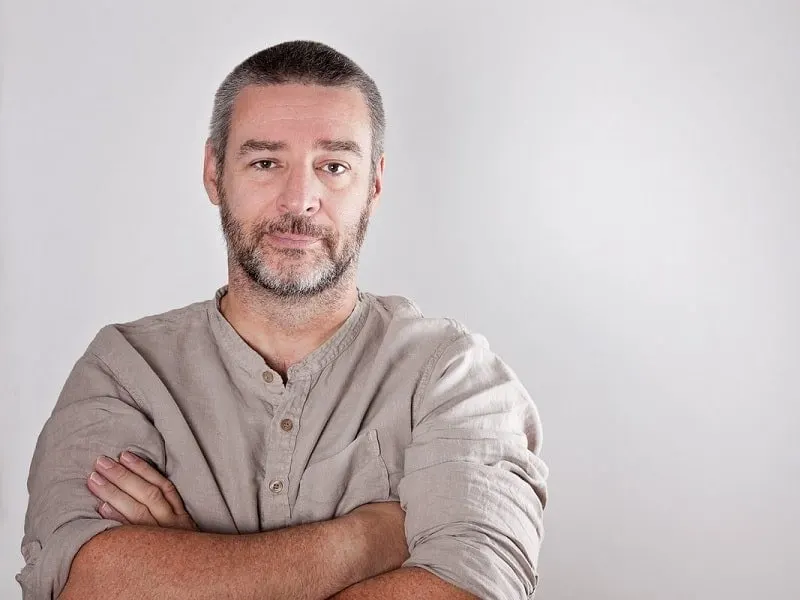 The process of applying dye to a beard is slightly different from that of applying color to your hair. The choice of the specific shade is most important.
There is a school of thought that feels that applying a shade lighter twice is better while there are some who would advise a darker shade for a lesser duration. The call is yours.
The first step is always to apply a small part of the mix to an inconspicuous part of your forearm. Check for possible inflammation or redness. If there is nothing, you are good to go.
The trick with salt and pepper coloring is that you don't have to color the entire beard. If you have gray streaks, then you must create a mental picture of how much you want to cover with silver color and how much you want to keep the black intact.
In case the hair has turned grey completely, coloring is simpler. You have to cover sections in shades of pepper. But remember, don't go for a jet-black shade. Look for lighter ones for a natural feel.
Once you get a shade of your choice, you can rinse the beard as per instruction according to the time mentioned.
You can shampoo your beard later as per the requirement.
Remember most beard dyes are semi-permanent in nature. You can also use tinted wax or instant color sprays for more temporary but satisfying results.
So when you are applying dye for the salt and pepper colored beard look, you have to keep this fact in mind and plan accordingly.
Grooming Tips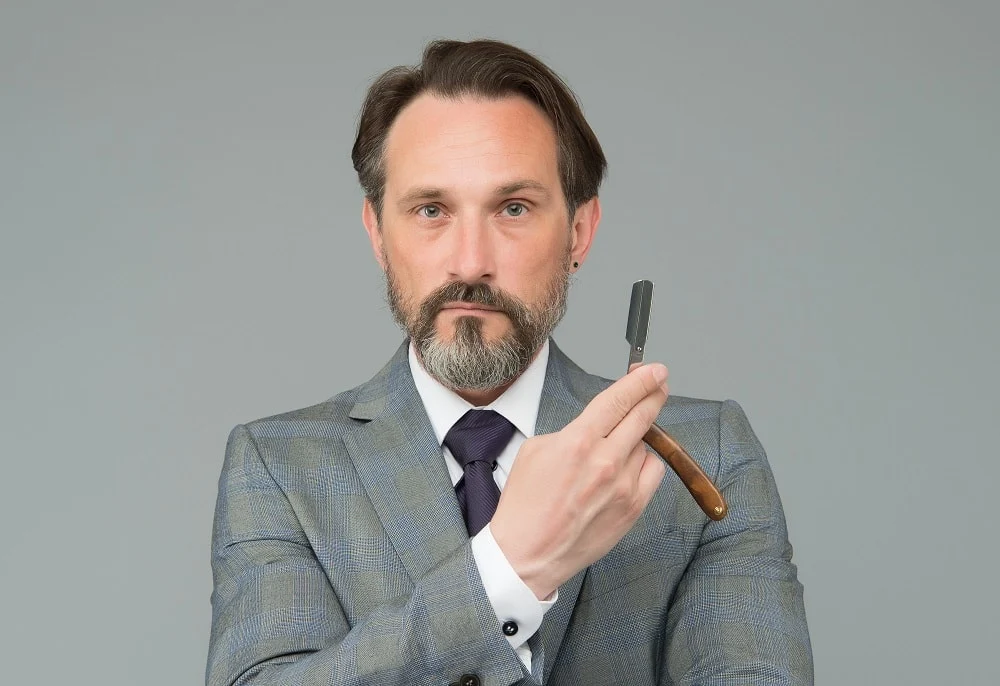 To rock a salt and pepper beard properly, keep it trimmed. Shorter salt and pepper beards are easier to groom. Longer grey beards can look unkempt or remind ladies of Santa Claus.
Treat your silver beard to a care regimen of beard wash and beard oil and use a good quality boar bristle brush to keep it groomed. Wash facial hair daily to keep your beard fresh.
Since beard hair is drier and coarser, beard oil will keep it moisturized, healthy, and soft.
If you want those silver hairs to lose a yellowish cast—common for grey hair—use a purple shampoo. These won't turn your hair purple or dye hair, but they do hide any brassiness, making silver a brighter platinum shade.
5 Celebrities with Salt and Pepper Beards
If you are transitioning to a salt and pepper beard, you're in good company.
Plenty of celebrities sport salt and pepper beards, turning heads on the red carpet. Mama Mia star and 007 Pierce Brosnan has a grey beard, and so do handsome actors John Hamm and George Clooney.
Funnyman and star of The Office Steve Carell is wearing a grey beard now, and so is Matt Leblanc, aka Joey from the hit TV sitcom Friends.
Pierce Brosnan
Mr. James Bond himself has been known for having different types of beards throughout his career. And in his older years, he effortlessly flaunts his salt and pepper beard and mustache. He has a full, long stubble beard, which goes especially well with his gray hair.
John Hamm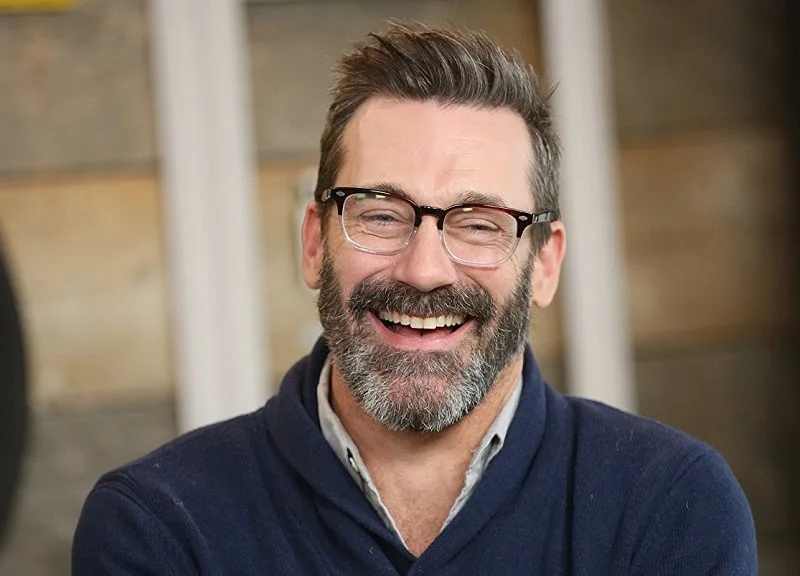 The star of Mad Men looks as good as ever in a full beard, despite his best-known character having a clean shave. The specks of gray mostly populate the chin and other parts of the beard, but the grays only add to his looks.
George Clooney
George Clooney has sported a number of beards in his career, but he usually falls back on his trusty long, stubble, full beard. Of course, he keeps it clean with a trim on the cheek and neckline, and he flaunts the grays in his beard.
Steve Carell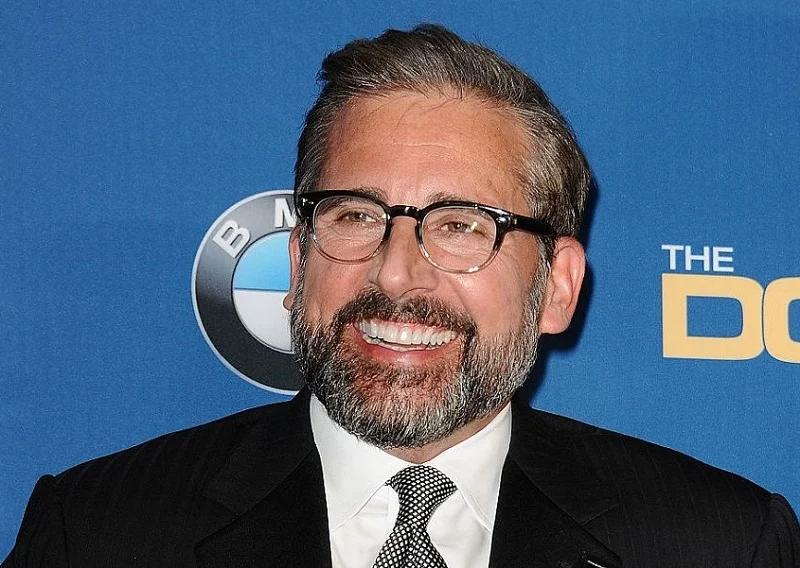 While Michael from The Office never grew out a beard, Steve Carell continues to keep a full long stubble. He effortlessly shows off his graying beard and hair as he enters his silver fox years.
Matt Leblanc
Matt Leblanc still remains a fashion icon. But even though you can rarely find him on the big screen in a beard, he's been known to strut the red carpet in a thick salt and pepper beard where he shows of all his grays and browns. And given his age, the beard only makes him look better.
Striking Salt And Pepper Beard Styles
In fact, some can only be worn by the salt & pepper bearded man. Whether you have a black beard, a ginger beard or a white beard there is a style out there that will add to your look in a perfectly gentlemanly fashion… but the salt n pepper one has an intrinsically elegant, classic feel to it that makes the wearer refined, statuesque and debonair.
Many a beard wearer sees those first few white or silver hairs coming through their beard and immediately reach for the trimmers. We are here to tell you that it doesn't need to be that way!
From George Clooney to Gerard Butler, men across the globe are waking up to the fact that gray can be striking when used the right way… and the salt and pepper beard is the lodestone of this whole movement. Here is a quick look at some of the most striking looks.
1. Full Beard With Salt and Pepper Hair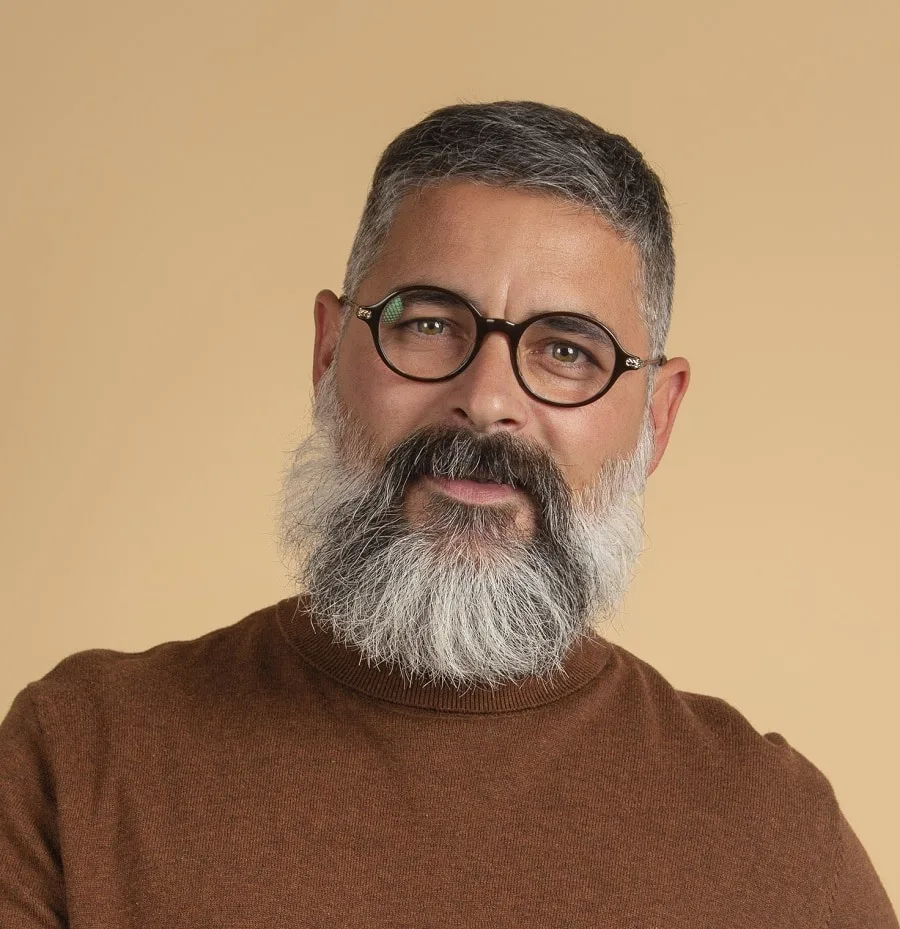 This style features a full grey beard with a black mustache and salt and pepper hair. The black mustache extends into the grey beard and gives the black and white shade. The rest of the beard is gray, which especially goes well with round glasses like these thick spectacles.
2. Salt and Pepper Short Beard with Trimmed Mustache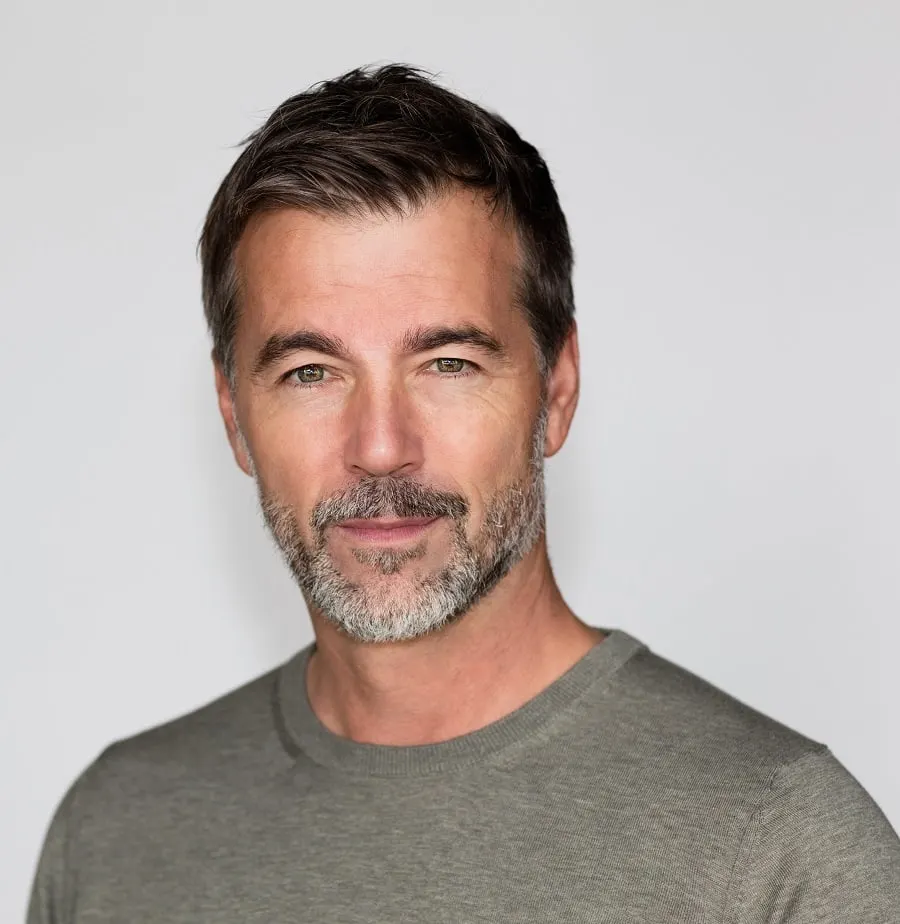 The short salt and pepper beard is an attractive beard style to try when you start seeing specks of grey and white in your beard. The style features a trimmed cheek and neckline for a cleaner look. It allows you to show off the jawline. It goes well with short hair and trimmed mustache.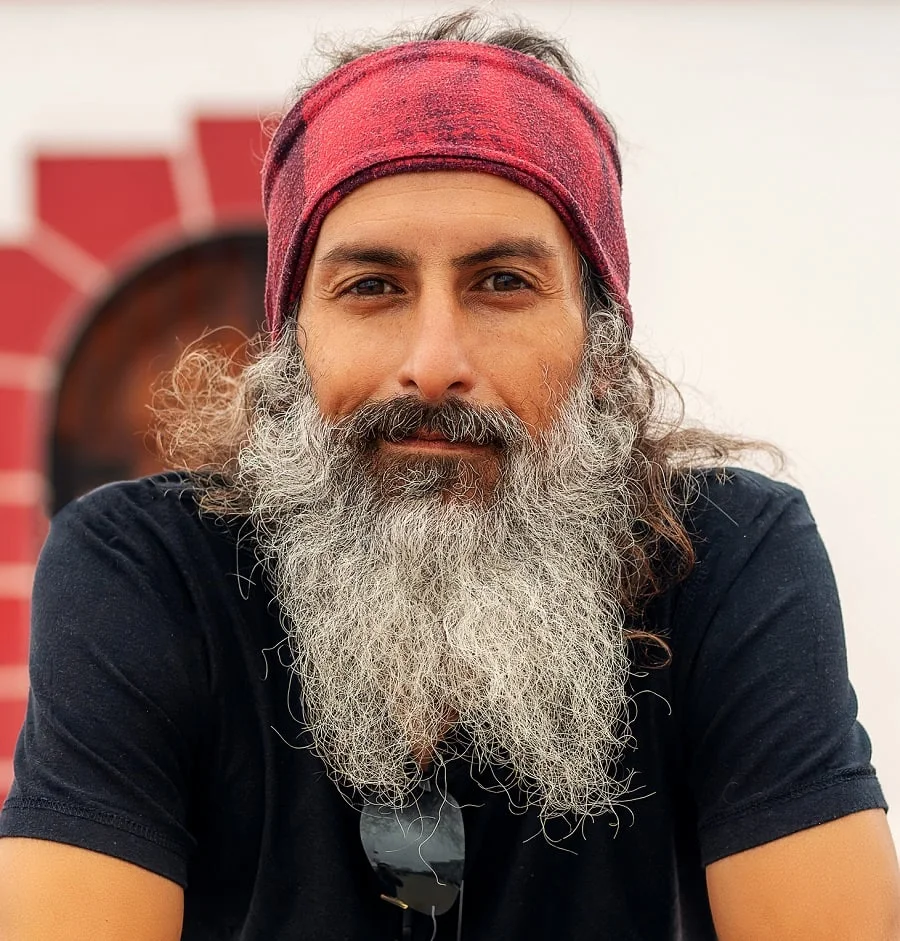 Get that witty look with a long curly salt and pepper french fork beard. This style has a higher ratio of white facial hair in the beard and a blackish thick mustache. If you don't have a naturally grey beard you can dye it white.
4. Salt N Pepper Garibaldi Beard with Thick Mustache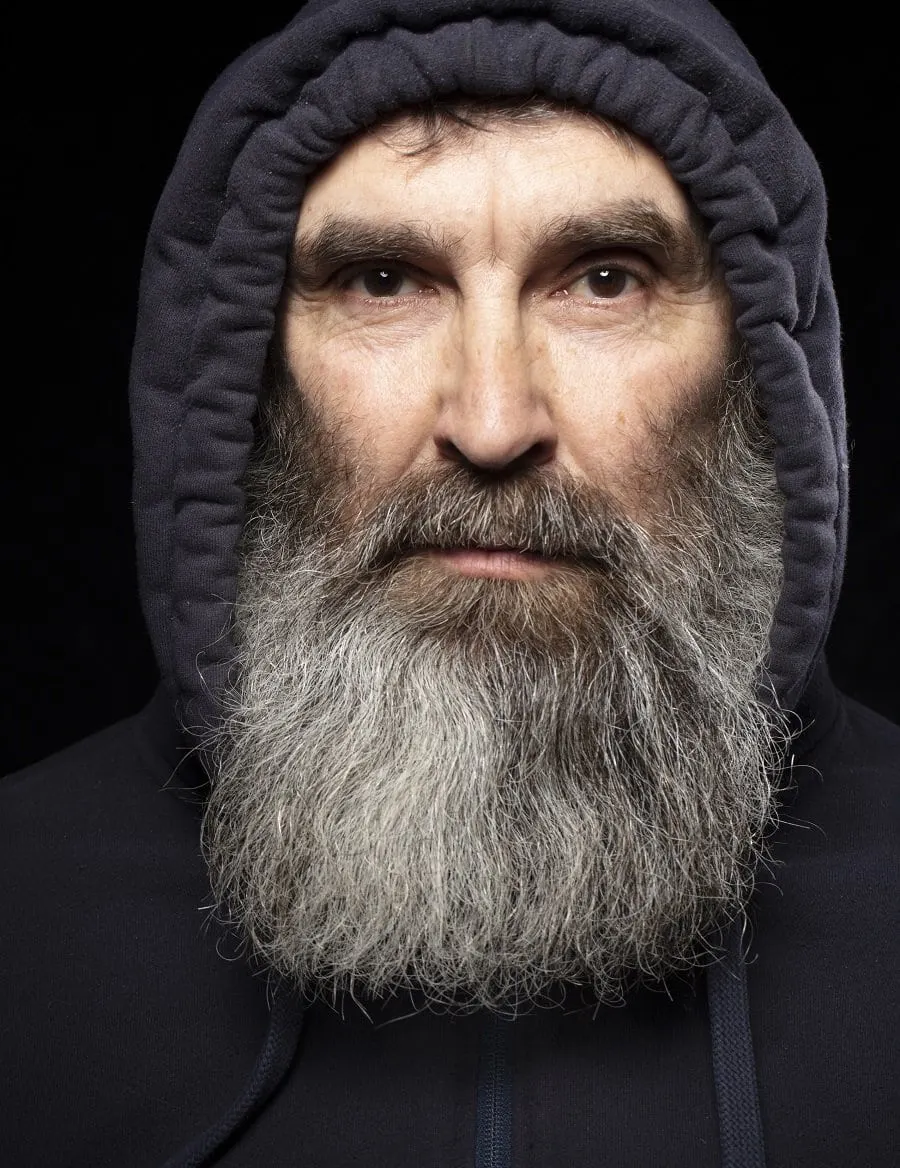 You can shape your beard into a garibaldi with half part of the beard salt and pepper and the remaining part purely grey. Give it a messier look by growing a beard on the cheeks.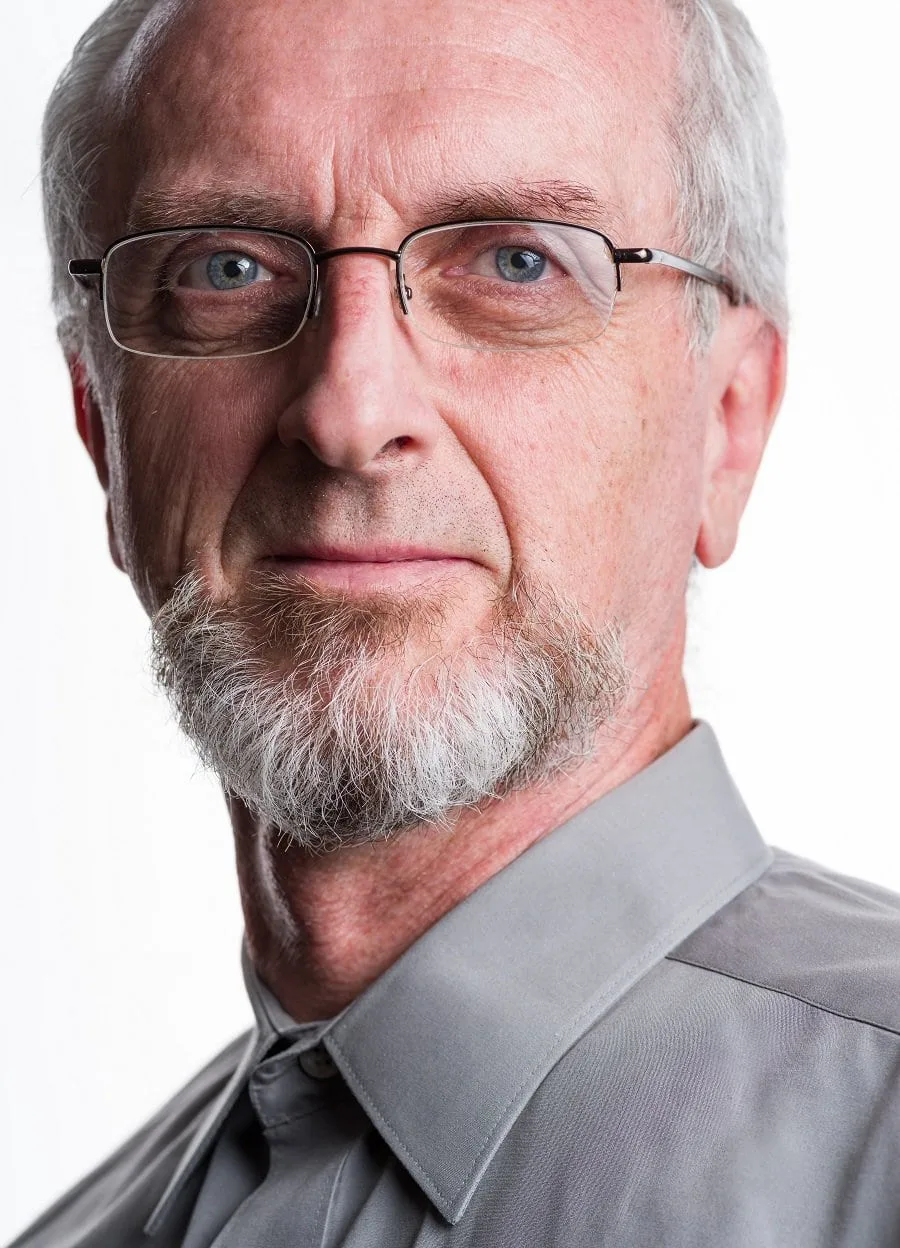 People with smaller faces can grow a short salt and pepper beard without a mustache. The beard can go well on all sorts of occasions.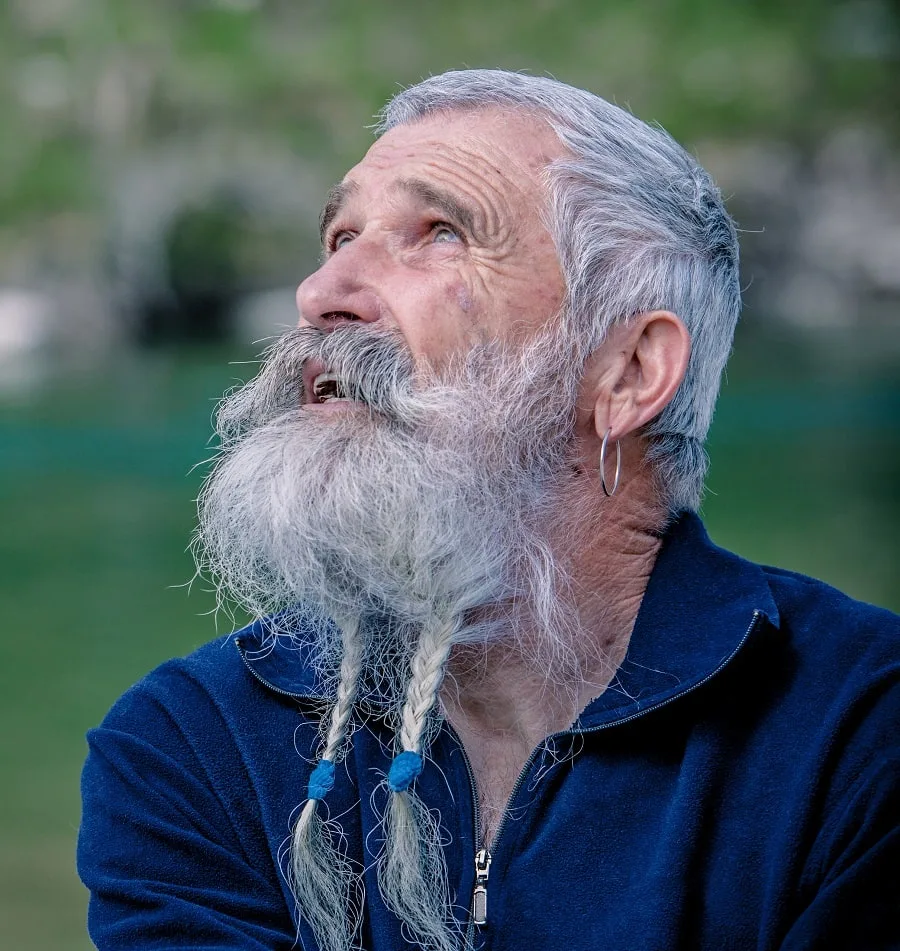 A braided Viking salt and pepper beard can be a great choice, especially if you don't want something that looks mainstream. You can even customize the braids with different accessories and experiment with different mustache styles.
7. Salt and Pepper Stubble Beard with Modern Haircut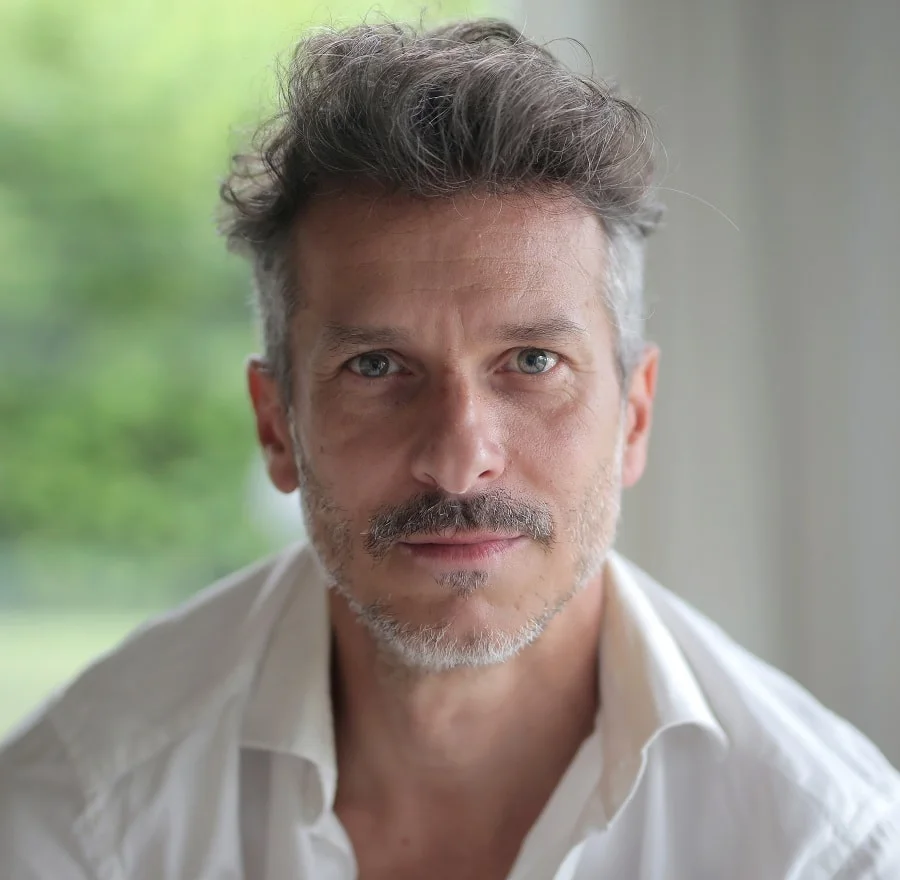 Short salt and pepper stubble beard looks good with modern haircuts. A high fade on medium-length or short hair with a black and white stubble beard makes a perfect combo.
8. Very Long Beard with Salt and Pepper Mustache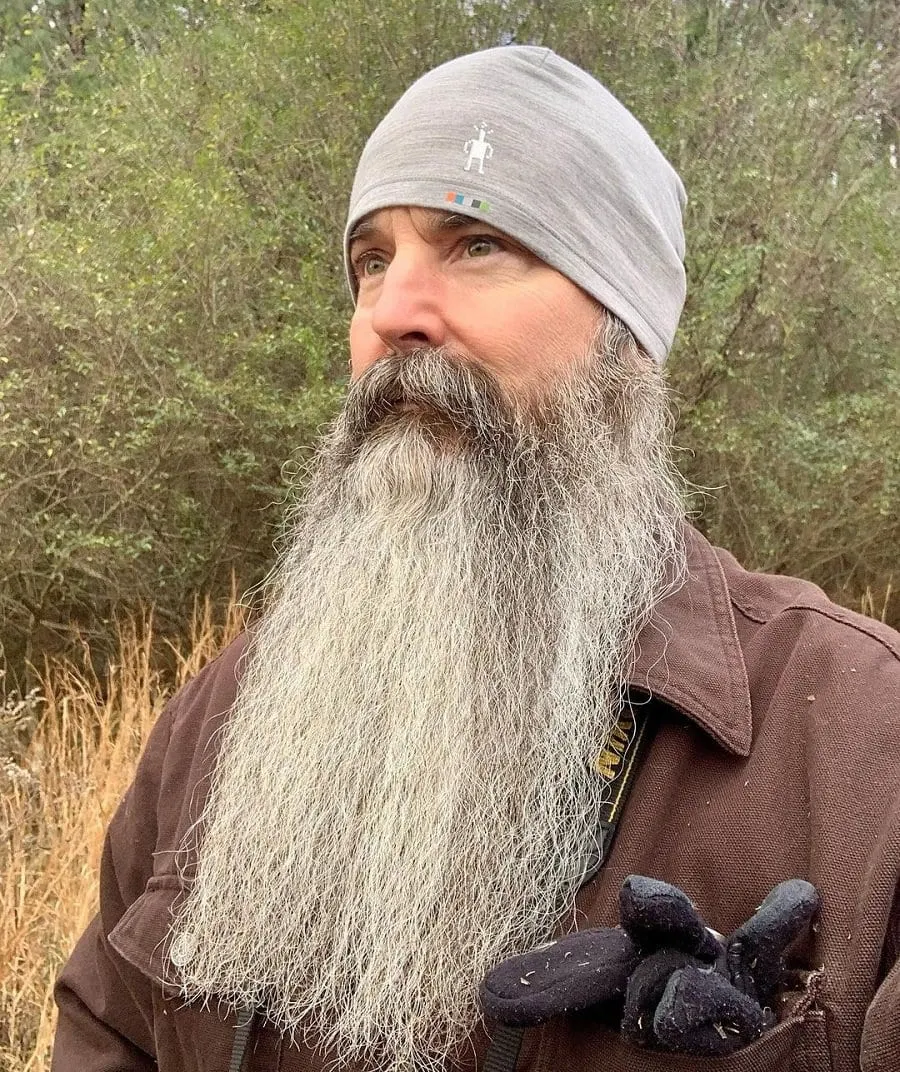 On the opposite end of something like short stubble, if you have a long beard, you can rock Gandalf the Grey cosplay. In all seriousness though, a long beard lets you show off your age and your beard maintenance skills.
9. Black Goatee with White Extension Beard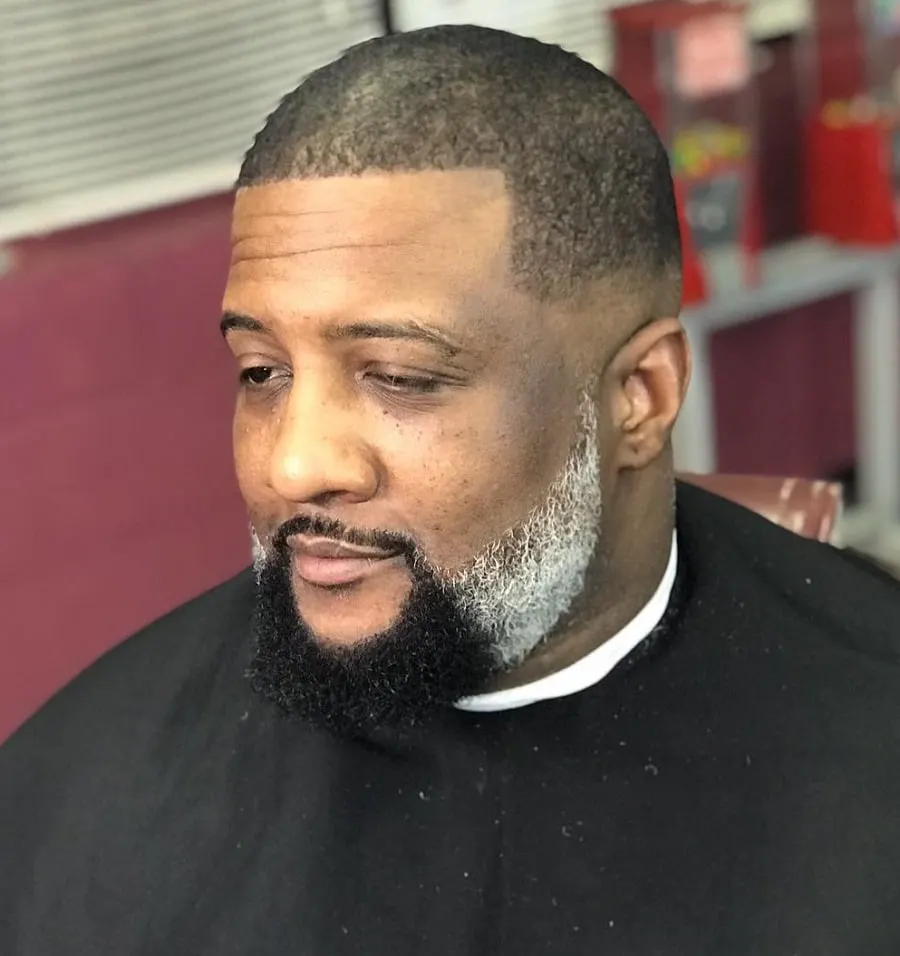 Just because you are a Native American man with a curly beard doesn't mean you can't get creative. A black-dyed goatee with a gray beard towards the sides is a great combination and doesn't make you look too old.
10. Salt and Pepper Full Goatee
The salt and pepper full goatee beard is a style that can make you stand out in the crowd. If you usually grow a very curly beard, then you can rock this facial hair without worrying about a messy look.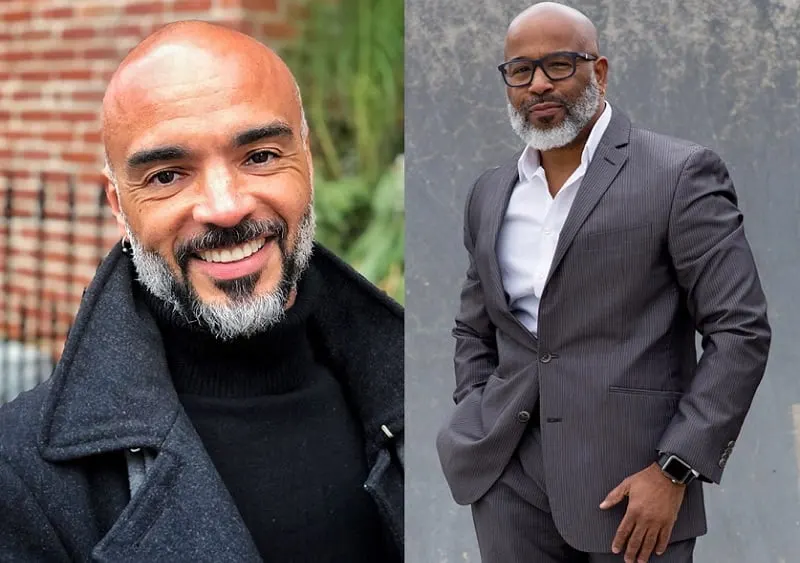 The salt and pepper look add a cool quotient to a conventional short boxed beard style. The beard is trimmed neatly and well maintained within a specific length for the best results. Whether you are a corporate or a thinker, this style suits most people.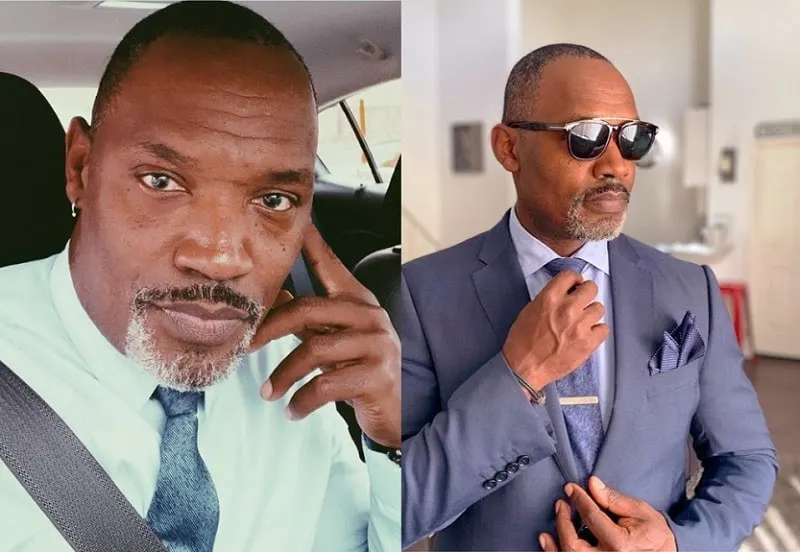 This circular beard style is sophisticated and looks great on those with a smaller chin. It broadens the chin, and the square jawline is in focus in case of this beard style. In the case of salt n pepper beard, you need to dye it carefully for the best results.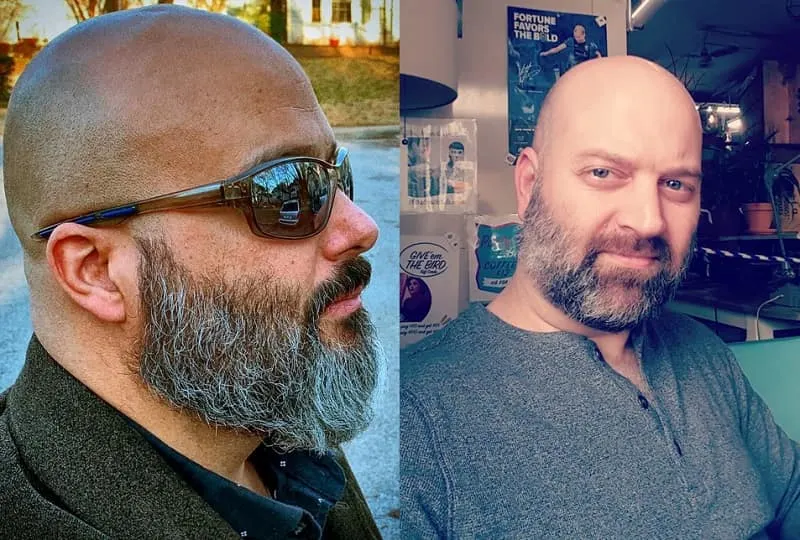 The beard here celebrates the natural hair growth and the natural hair color too. The connected mustache which is slightly darker in shade enhances the overall salt and pepper effect even further.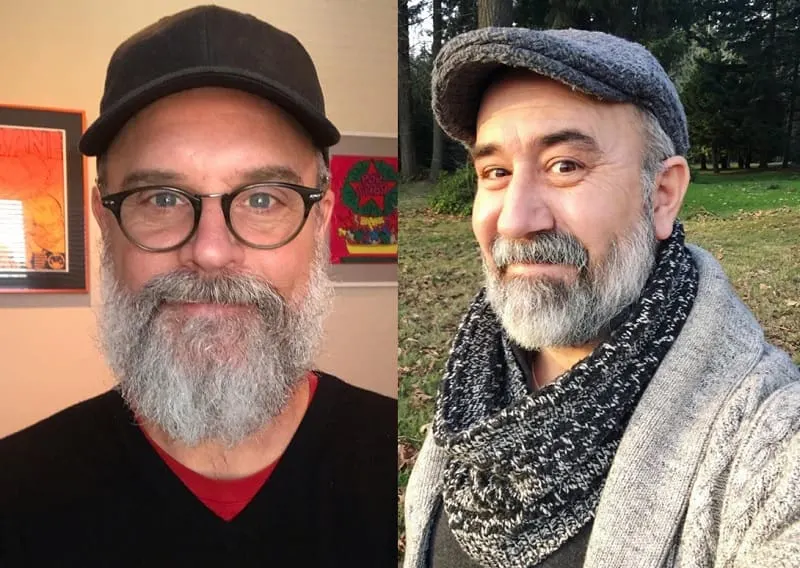 This is the type of beard that is one of the best examples of aging in style. It is classy, understated and absolutely well maintained for the best results. However, this requires both time and patience.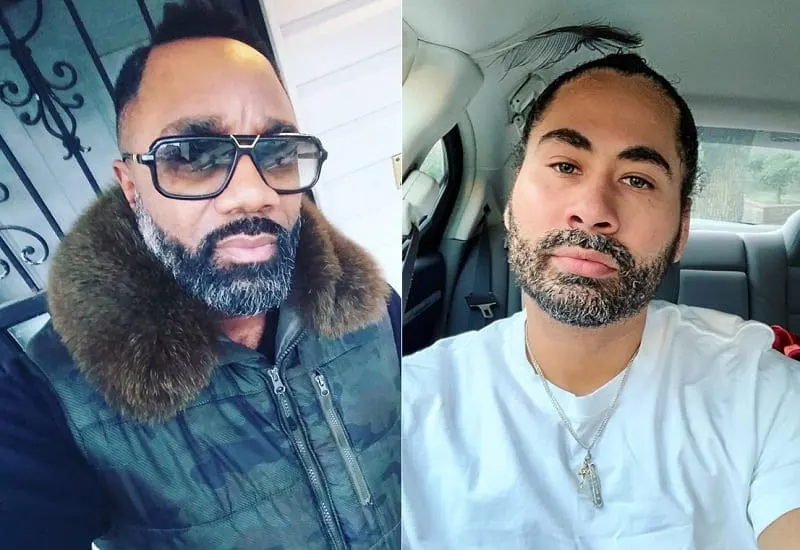 This is a great example of intelligently colored black and white beard. It combines both the color palettes intelligently, and at the same time, is properly trimmed for best results. The greater amount of black also adds a youthful quality to the beard style.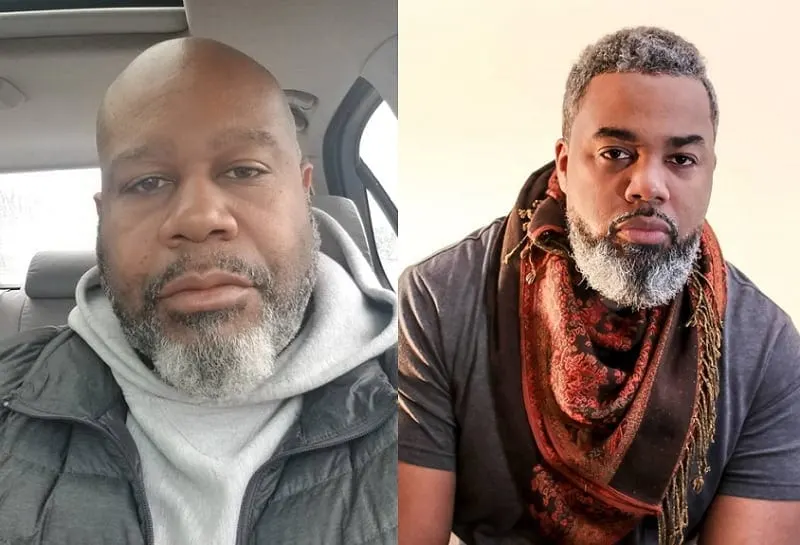 In this, the emphasis is on the circular French beard with a stubble along the jawline. So while the chin region is in primary focus, the rest of the jawline along the cheekbones is also covered and gives a matured sophisticated look.
This is salt n pepper beard growth of a few days. Often referred to as hard stubble it gives a rugged casual look and is quite successful in highlighting your raw masculine energy.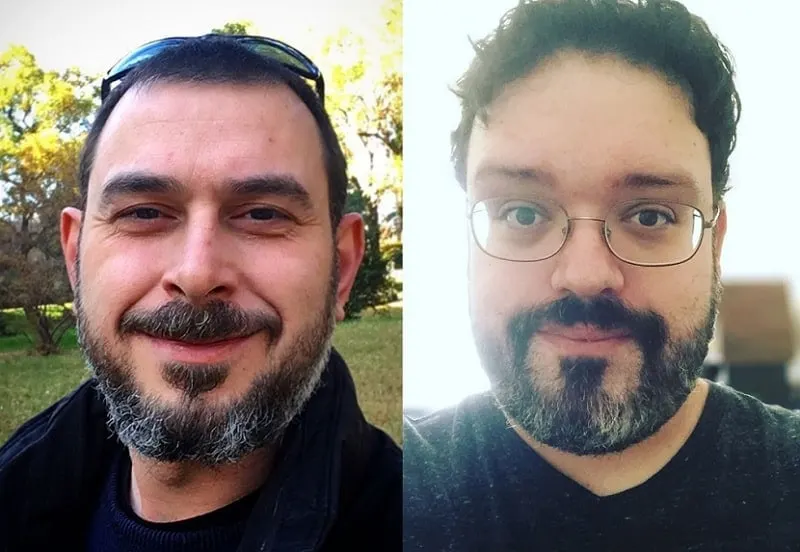 In this style, the beard is bushy but carefully trimmed to just cover the broad jawline along the chin and till the ears. The connected mustache also gives the image of a short boxed beard.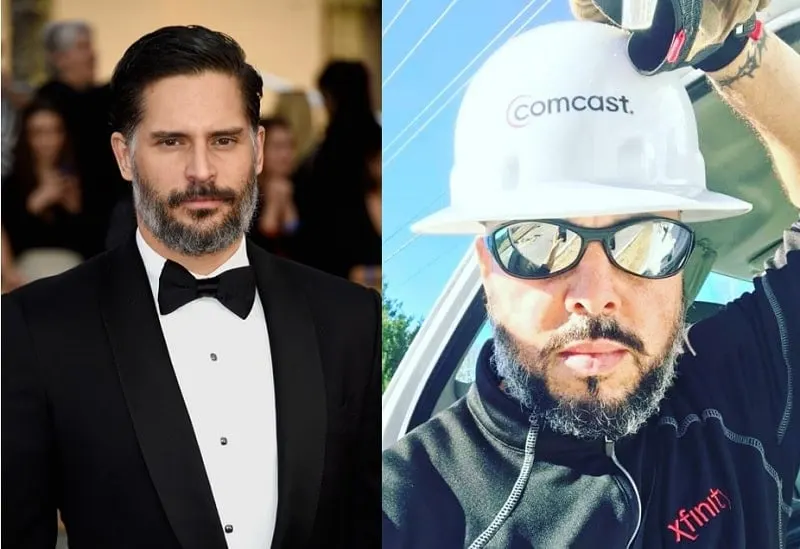 In this case, you have a curly full-fledged salt and pepper look that totally celebrates the cool but matured, the rugged yet responsible man.
20. Yeard
This is essentially a beard variation where the full beard has been allowed to grow more than a year. Of course, this needs careful upkeep too.
The beard needs to be washed and shampooed regularly, and the stray hair has to be trimmed. The overall length of the hair also has to be maintained.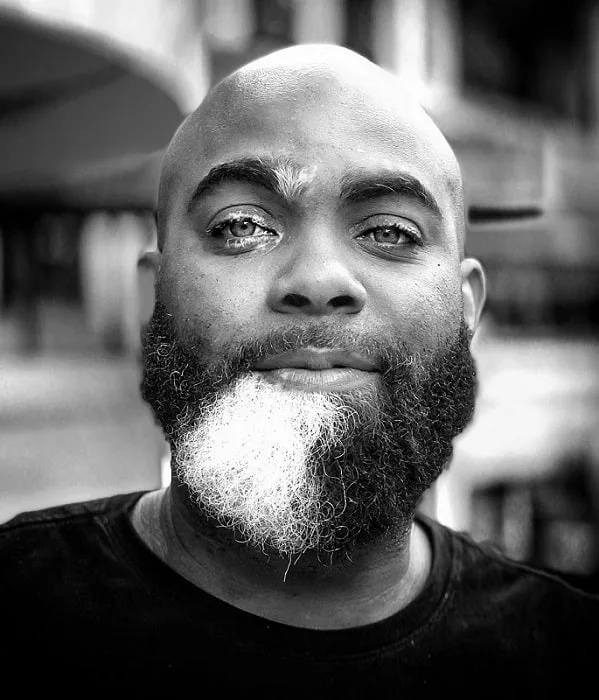 This is the funky boxed beard with a salt and pepper twist. In this, a patch has been dyed silver, the eyelash and the eyebrow color have been matched.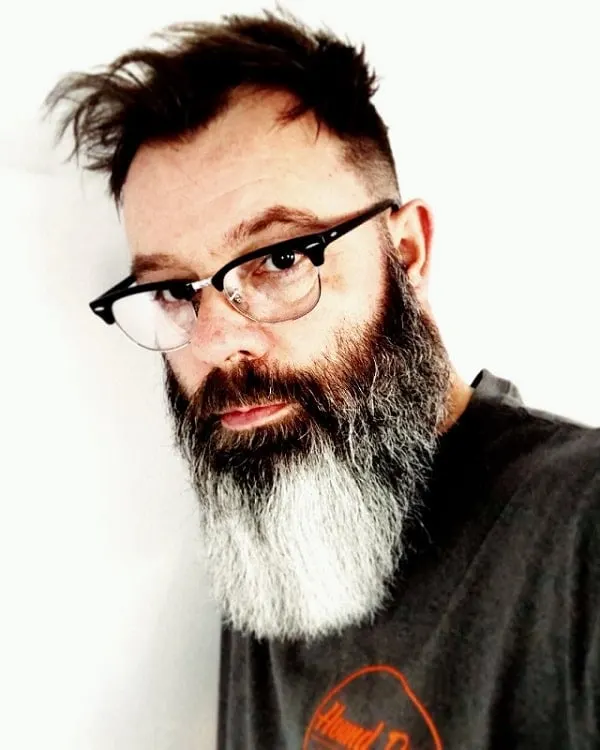 This long beard has been interestingly colored to blend in the natural salt n pepper with the artificially colored silver patch. It adds drama to the whole beard arrangement and cuts down years from your face.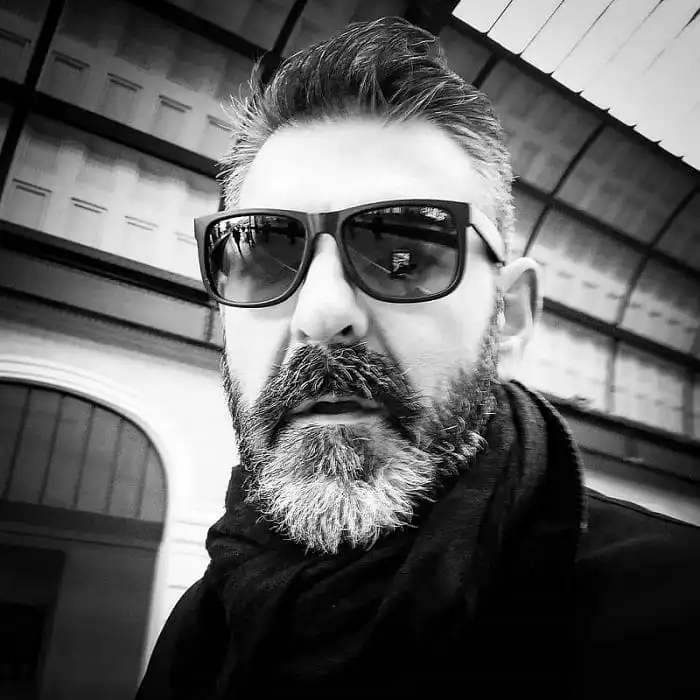 This is a continuous flow of beard from the chin downwards. The sideburns also extend up with a tight short cut.
The combed-over coif heightens the impact. This is one beard style that celebrates the roots fading from dark to grey.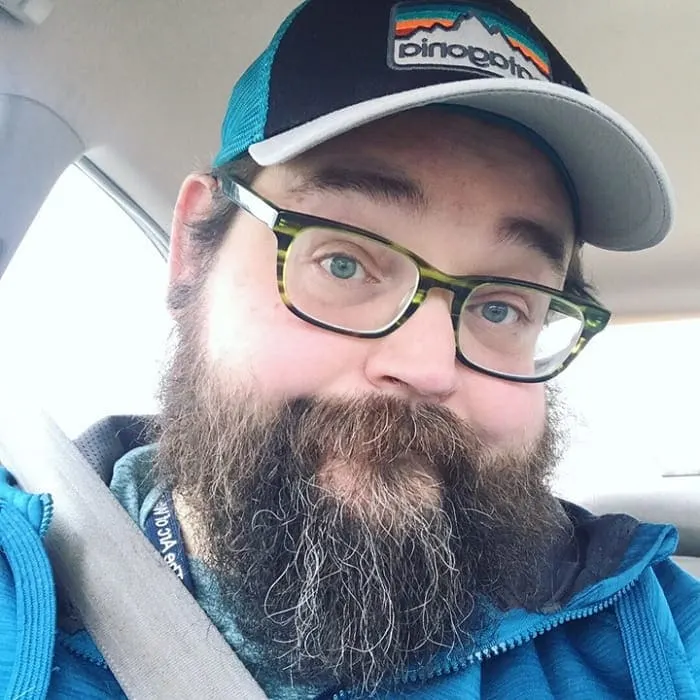 This salt and pepper beard celebrates the rustic appeal of the lumberjacks. The hair is allowed to grow in one continuous flow, and the slightly unkempt look adds to the rugged masculine appeal.
25. Wild And Carefree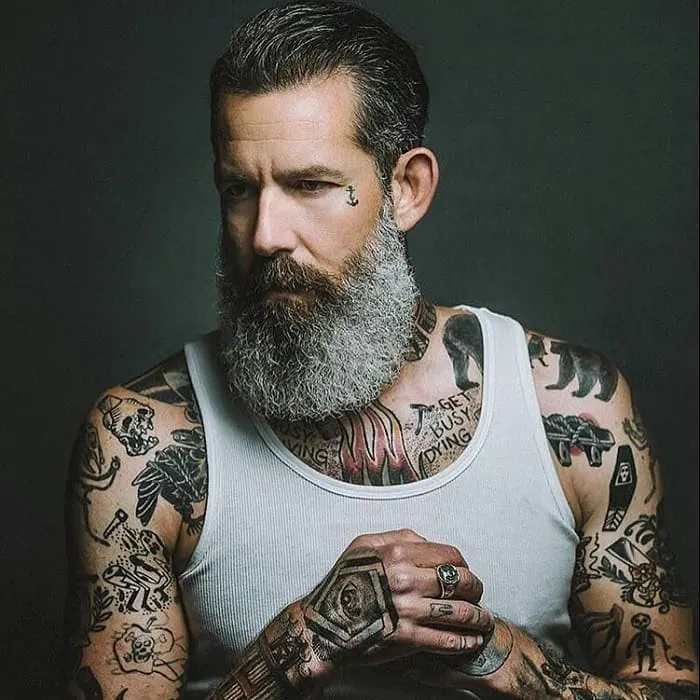 This is one of the cleanest and coolest long beard styles. The outline is trimmed into one uniform clean line, and this beard needs at least one year for this final look. This two-toned beard also highlights the absolute masculine energy.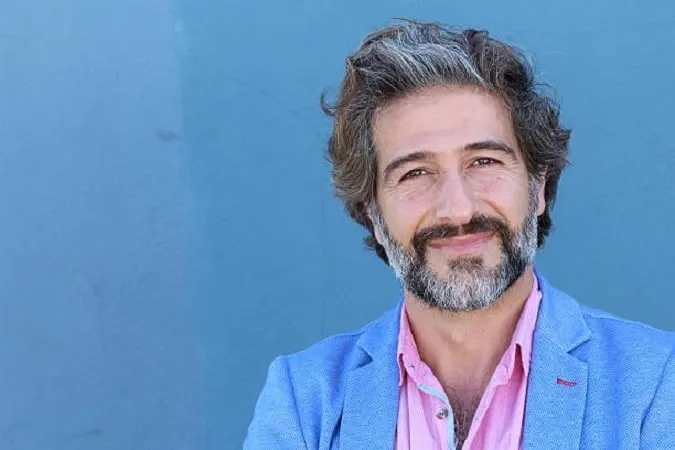 The medium-length box beard is urban, sophisticated and suave. It gives you a polished well-groomed image, and the salt and pepper look undeniably adds maturity and experience to your personality.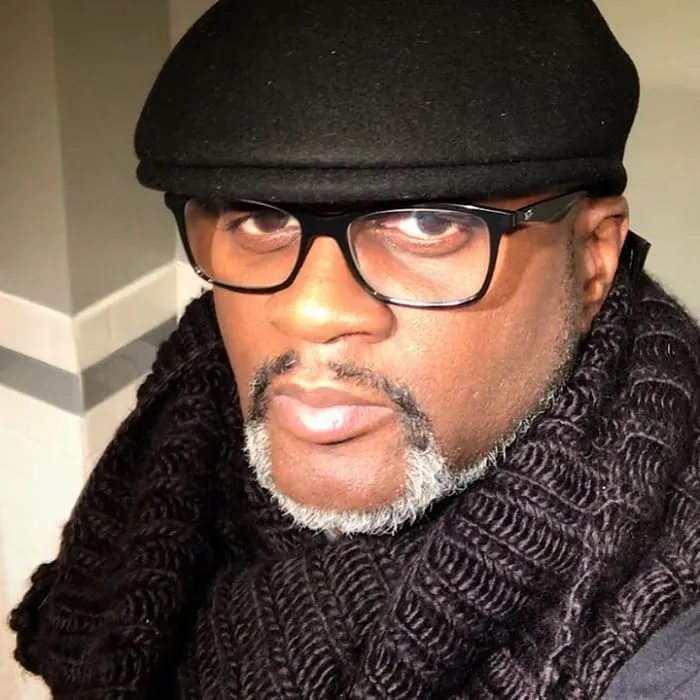 This is a clean well-trimmed and well-maintained variant that surely highlights your jawline, cheekbones and broadens the chin.
Don't be frustrated because the beard grows in patches. Just give it a stylish salt and pepper twist with this beard style for best results.
29. Wavy Salt n Pepper Beard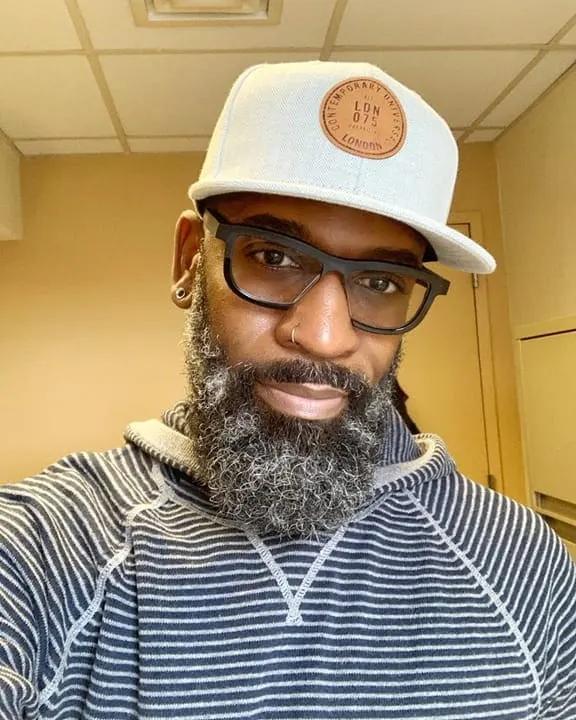 This is another variant of the full beard till medium length. The ends are not cut uniformly and appear rather wavy. The color scheme camouflages the unevenness.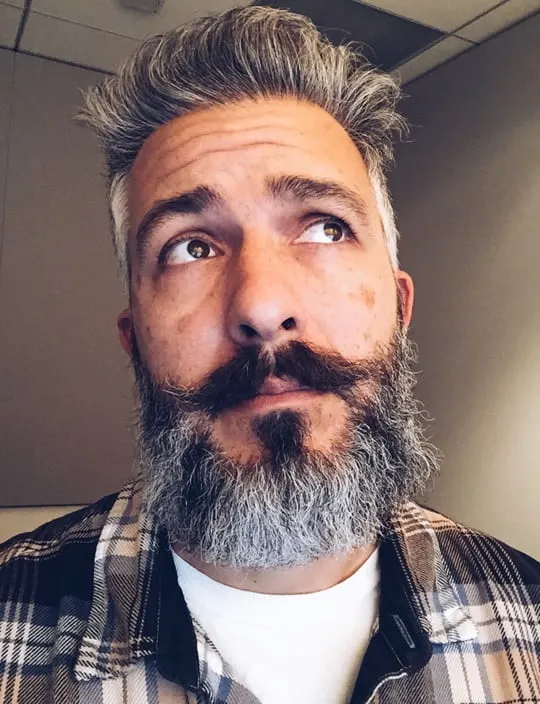 If your beard is beginning to gray, this is one of the most interesting ways to style with a handlebar mustache.
In this beard, the salt and pepper gradually become shorted to the sideburns to create a cool yet rugged look.
FAQs
You still may have questions about salt and pepper beards, but we have answers.
Is Grey Stubble Attractive?
Yes! Most find men with grey hair more distinguished, and salt and pepper stubble will attract attention.
Grey hair has been a trend for men and women recently, but salt and pepper beards are classic. Salt and pepper beards give men a rugged look as well as an air of authority. Men with grey beards are taken more seriously.
The salt and pepper bearded set seem at ease with their age and appearance. They're not dying their hair dark to grasp at youth. Many men find that grey beards and grey hair improve their looks, and some women find them very attractive.
Lots of women find men with a touch (or more!) of grey hot—so much so that some men dye their beards grey to get that look.
How Can I Hide My Grey Hair without Dying It?
We're advocates for letting those silver hairs show, but if you want to hide grey hair, there are options other than dying it. Grey-reducing shampoos can gradually darken hair, and beard mascara pens can hide grey hairs in a dark beard. If you hide grey hair, choose a shade lighter than your hair color.
How Did a Salt and Pepper Beard Get Its Name?
Do you know how a sprinkle of salt and a dash or two of black pepper add flavor to your favorite dishes? That's what a salt and pepper beard does for your look!
It's named for the two seasonings, one white and one black, since grey beards are often white hairs mixed in with darker tones.
What Race Is Least Likely to Get Grey Hair?
Every race gets grey hair eventually. Generally, caucasian people begin to grey the earliest, usually in their 30s, although some see greys in their 20s. Asian people grey by their late 30s, and those with African ancestry may see silver show in their mid-40s.
It, therefore, is obvious that the salt and pepper beard is not as easy to maintain as it appears. It sure does add maturity, confidence and cool quotient to your look but it is not easy to maintain.
For the best and the most striking beard style, you need adequate care and tending. This alone will make sure that you can completely own the look and rock it.