Do you want to blend your beard with a cool haircut? The taper fade haircut with beard might be exactly what you're searching for.
Tapering refers to the gradual narrowing in thickness, width, or length of hair. A seamless transition from longer to shorter hair from the top to the sides and back of the head is known as a taper fade haircut.
Combining a taper fade haircut with a beard provides continuity in style, be it a tapered beard, a long beard, or even a goatee.
Let's take a look at some cool taper fade haircuts with fittable beard styles.
Taper Fade Haircut with Beard
1. High Top Haircut with Faded Stubble Beard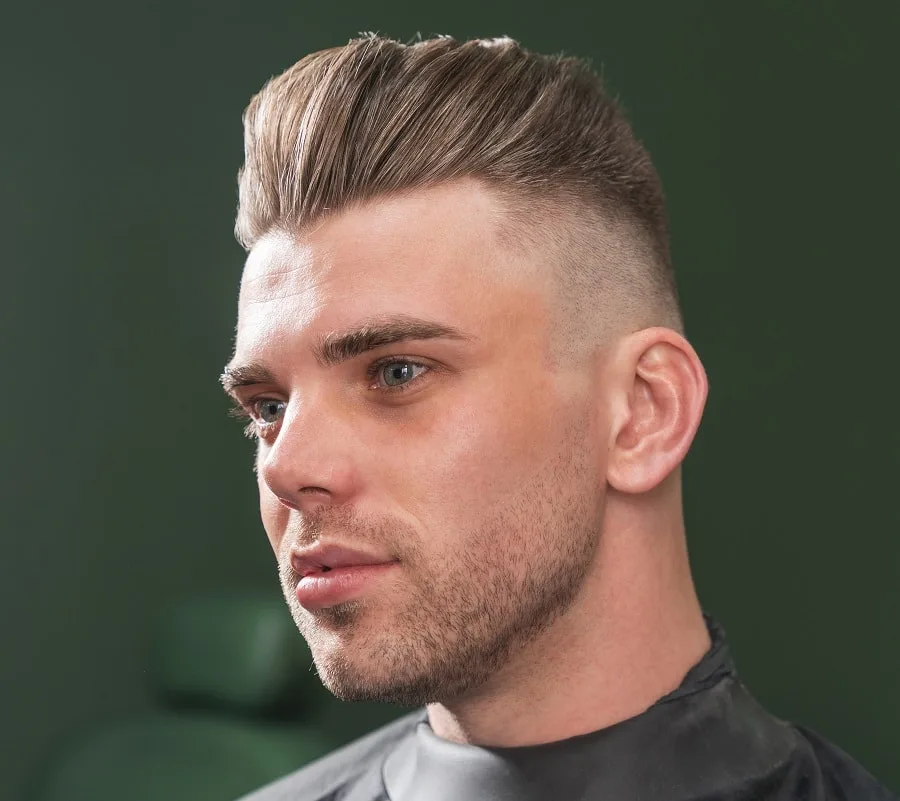 Brings two great styles together by going for a fade haircut and beard. Here, the high-top haircut is completely faded near the ears.
The stubble beard is disconnected from the hair as it is faded near the temples. Cover your chin, cheeks, neck, and above-lip area with a slightly visible stubble beard and mustache.
2. Mid Taper Line Haircut with Tapered Beard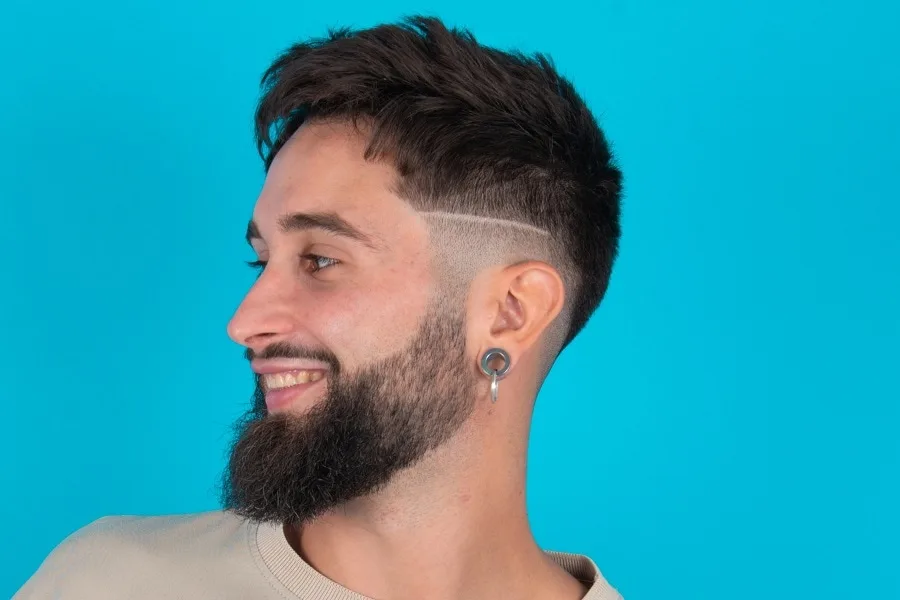 There's no rule that says you can't have tapered hair and a tapered beard style together. In fact, it looks better for continuity. Taper your full beard on the sides while keeping the chin area thick and full.
Trim the mustache thin, and add a cherry to the top with a line or hard part to embellish your taper fade haircut.
3. Tapered Dreadlocks with Chin Strap
This one's a truly tapered haircut where the hair length is enough to not consider it a fade cut. The beard needs no introduction, as it's the famous chin strap without any mustache or soul patch. It looks even cooler when you have long dreadlocks.
4. Mid Taper Fade Haircut with Heavy Stubble Beard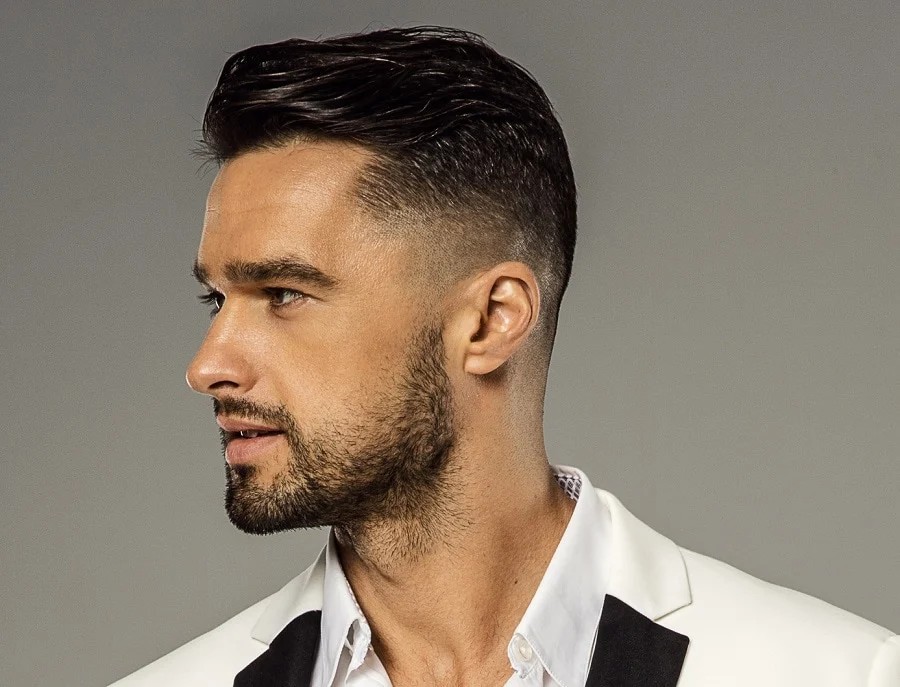 A taper fade haircut has a clean look, so you can go a bit scruffy with the beard. This haircut has mid-taper–slightly above the ears.
The beard is a heavy stubble that has grown for more than 10 days. There are no neck lines or sharp cheek lines in this style.
5. Low-fade Short Fringes with Long Beard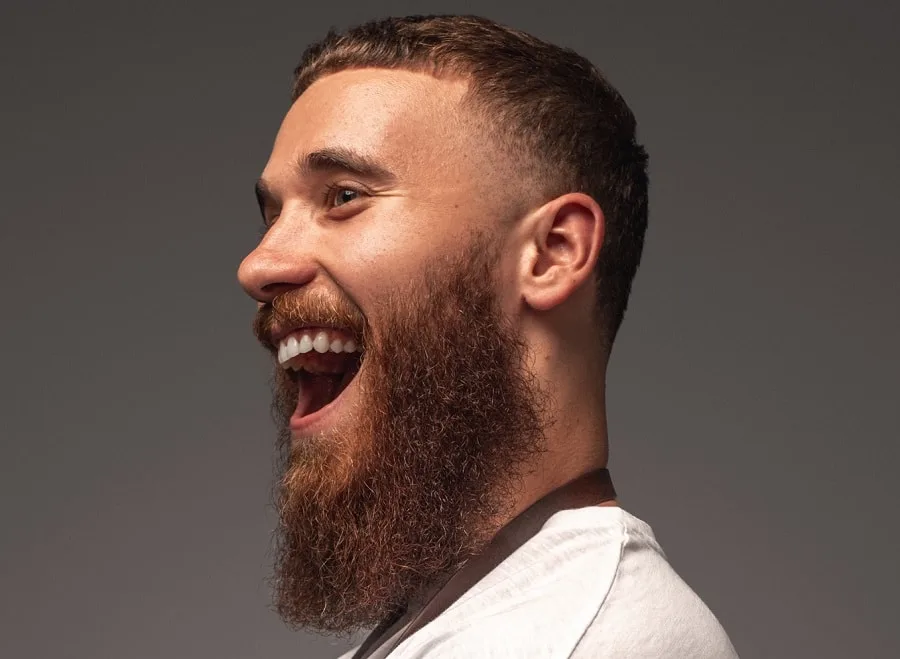 Love your full beard and don't want to get rid of it at any cost? You can keep the beautiful beard and maybe even complement it with a low-fade haircut with short fringes covering a very small part of your forehead.
6. Tapered Spiky Haircut with Patchy Stubble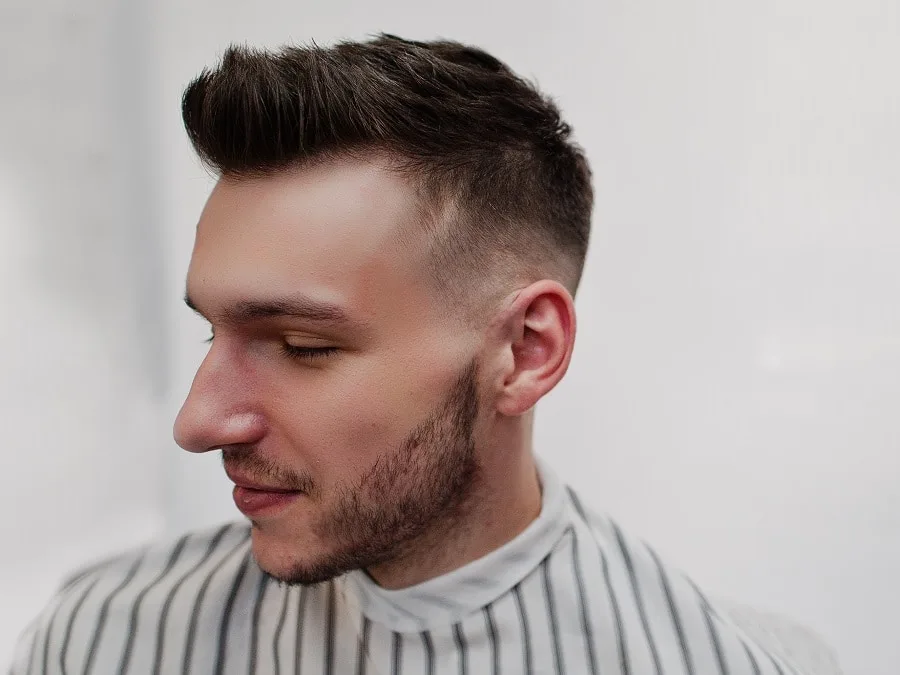 The taper becomes visible in the middle here and really complements the spiky haircut with a slightly long hair on top.
What's really clever about the beard is the angle of the cheek line which covers the slight patchiness of the beard really well.
7. Buzz Cut with Goatee and Classic Goatee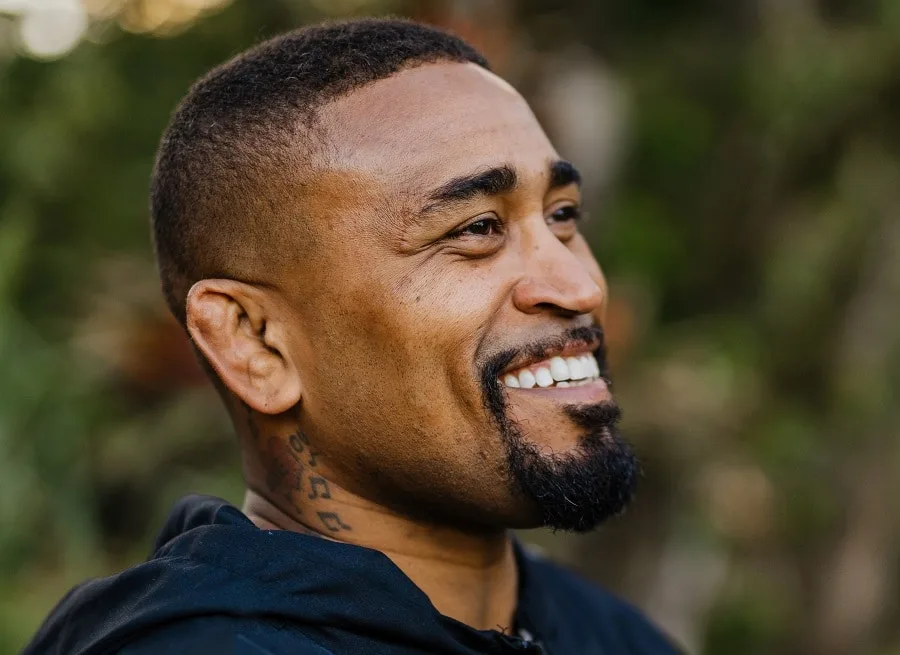 These two minimalistic styles look good together. A no-maintenance buzz cut makes your life easy as it requires no combing and brushing.
Similarly, a goatee beard doesn't need much maintenance too, but the mustache, in this case, has a slightly tricky shaving going on to make it thin width-wise.
8. Dreadlock Man Bun with Short Beard
The taper effect on these dreadlocks is very seamless, but it won't be wrong to say that the man bun might take the attention away from the taper. Combine the style with a typical short beard, mustache, and soul patch.
9. Low Taper Spikes with Short Beard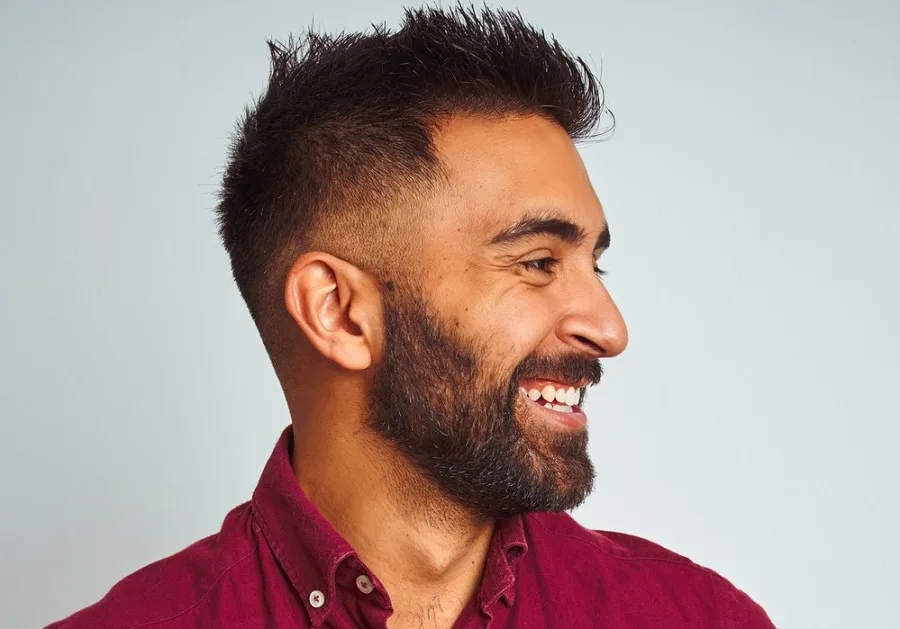 A short-length full beard is a go-to style for most men today as it goes well with quite a few hairstyles.
You can see that the low-taper spikes with the short beard make the gentleman look fresh and young. He has used a razor to draw a clear neck line though.
10. Bald Taper Haircut with Disconnected Stubble Beard
The color of the hair makes this style quite interesting. The fade isn't too high, but it gets close enough to the skin that you could call it a bald fade.
You'll shave the sideburns to disconnected to contrasted, short-stubble beard from the hair on your head.
11. Slick Back Hair with Full Beard and Handlebar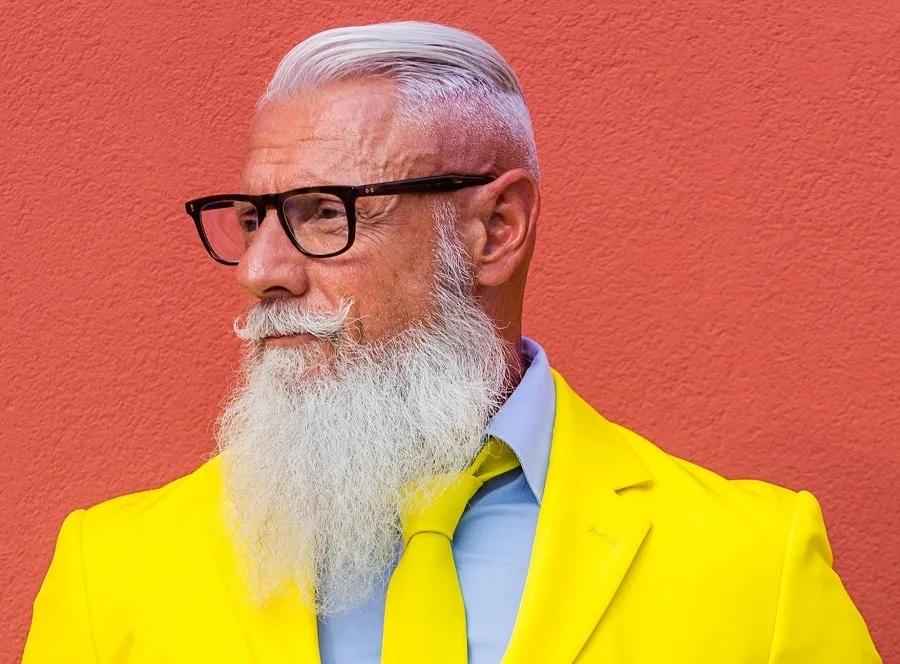 You'll surely have to put in some time to maintain this style. The details include a taper fade haircut with slick back hair.
Pair it up with a natural full and long beard, but let the mustache be the highlight hair. It's a handlebar mustache that makes this style very powerful.
12. Tapered Comb Over with Short Beard Fade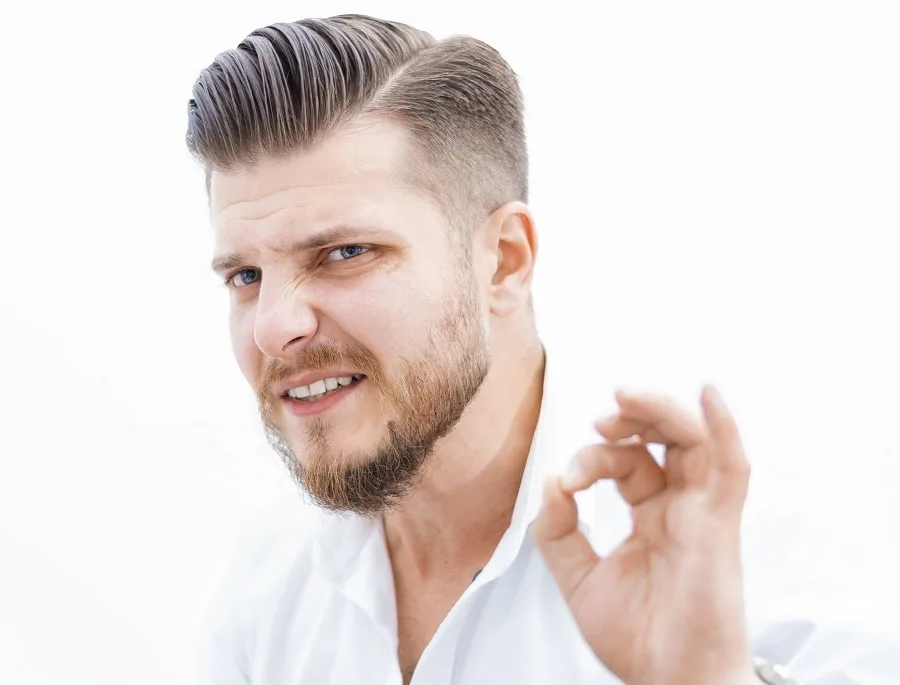 The comb over haircut can instantly make you look bright as it gives a full view of the face. A short works well with it, but where this style really shines is the beard fade on the sides.
It's a great way to make the missing patches of your beard look less prominent. The chin beard is slightly overgrown here.
13. Tapered Braids with Short Curly Beard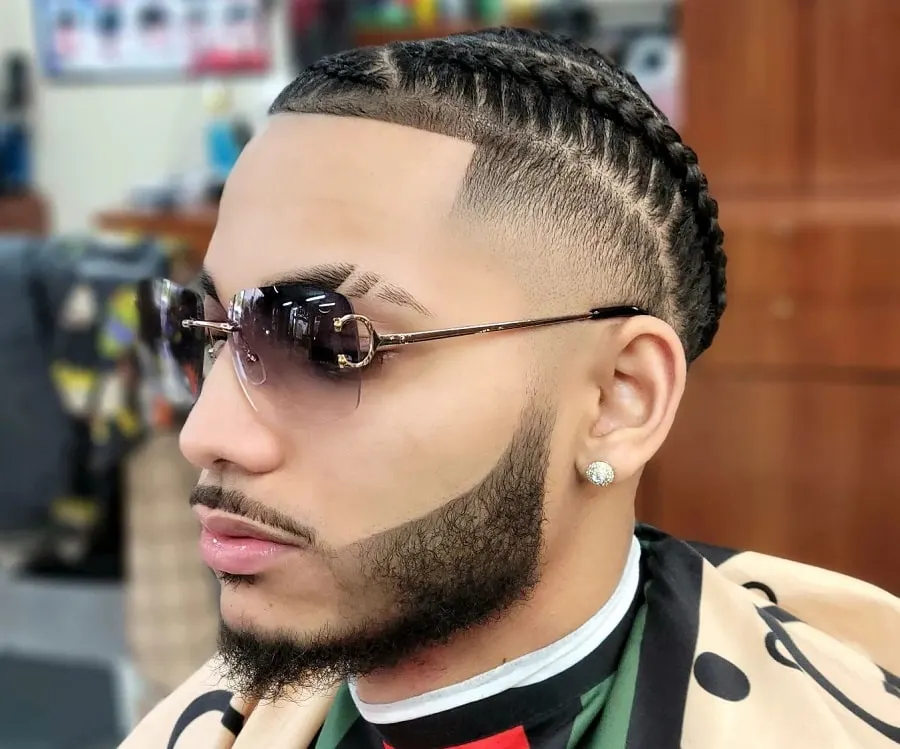 You'd be hard-pressed to find a beard sharper than this one because not only does it have a very clear cheek line, but also a very thin and neatly trimmed pencil mustache.
The braid hairstyle looks to be on a whole another level due to the low-fade effect.
14. Tapered Short Hair with Short-boxed Beard and Handlebar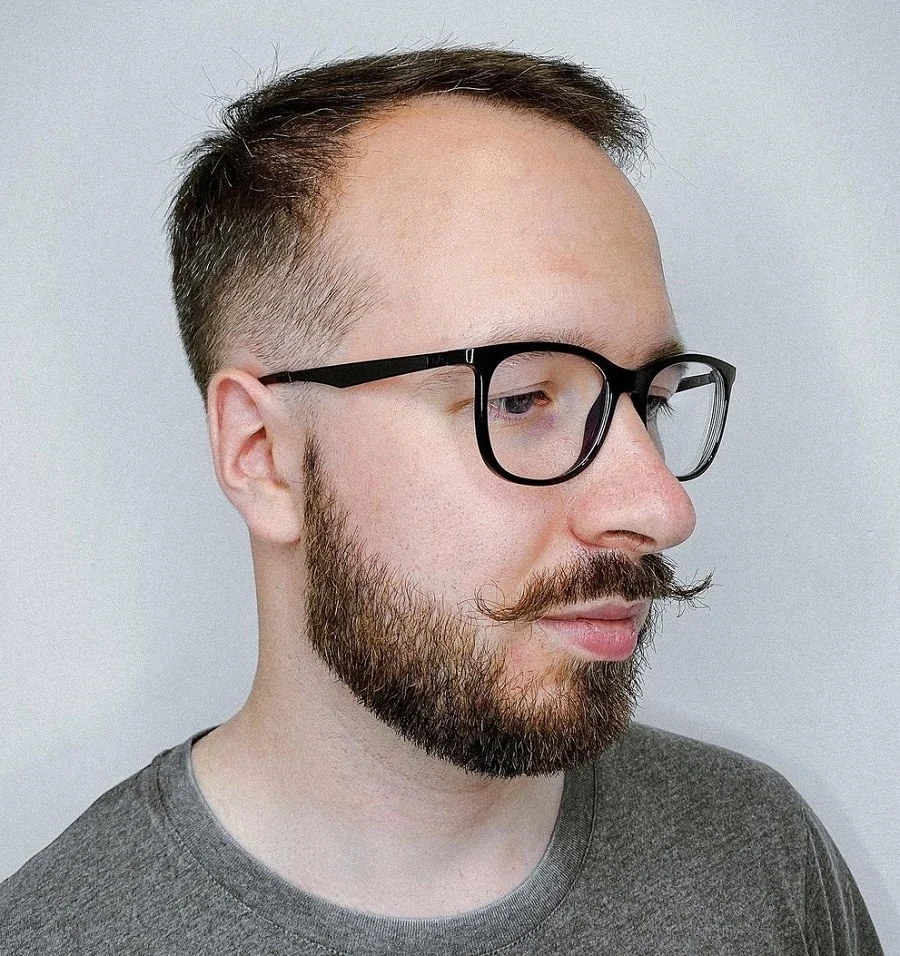 Does your receding hairline bother you? If yes, you can go with slight taper near the temples to kind of blend with the rest of your hair.
The clever move here is the short-boxed beard combined with a beautiful petit handlebar that pulls people's sights to your face.
15. Hard Cut with Curly Bangs with Beard Fade
You won't see a clear taper or fade effect in this style due to 2 shape-up lines. The bangs are curly and falling on the forehead.
There's something quite interesting about this beard as it's not only faded near your lower jaw but completely shaved to be a few centimeters away from your lower jawline.
16. Top Knot Shape-up Haircut with Short-boxed Beard
You'll love this style if you have a round face. The top knot gives your face length whereas the shape-up haircut with a boxed hairline and a typical short-boxed beard with a curved cheekline and squared lower ends takes care of the roundness of the face.
17. Mid-fade Mullet with Light Stubble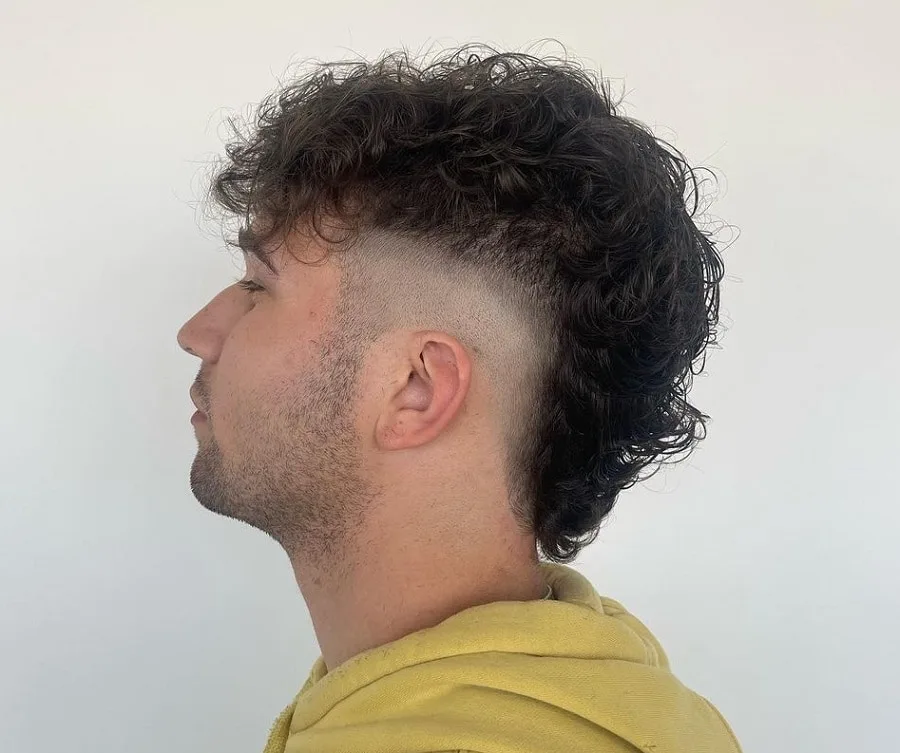 Think outside the box for a moment and combine your mullet with a mid-fade haircut, which isn't really a taper.
Since this hairstyle is already pretty unique and bold, you can leave the beard a bit simple by keeping very light stubble on the face.
18. Tapered Afro with Patchy Beard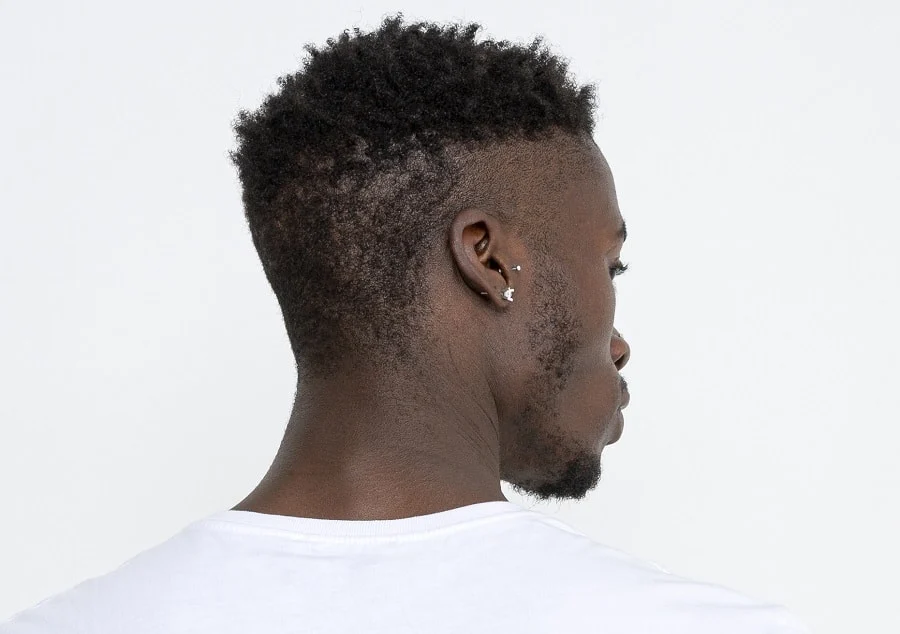 Afro hair looks amazing with taper or fade effect. What's unique about the style in question is that it's tapered on the back of your neck but faded on the sides.
This goes really well with a beard that's very patchy. A slightly thicker goatee can become an interesting addition to this look.
19. Two-tone Brushed Back Hair Faded Beard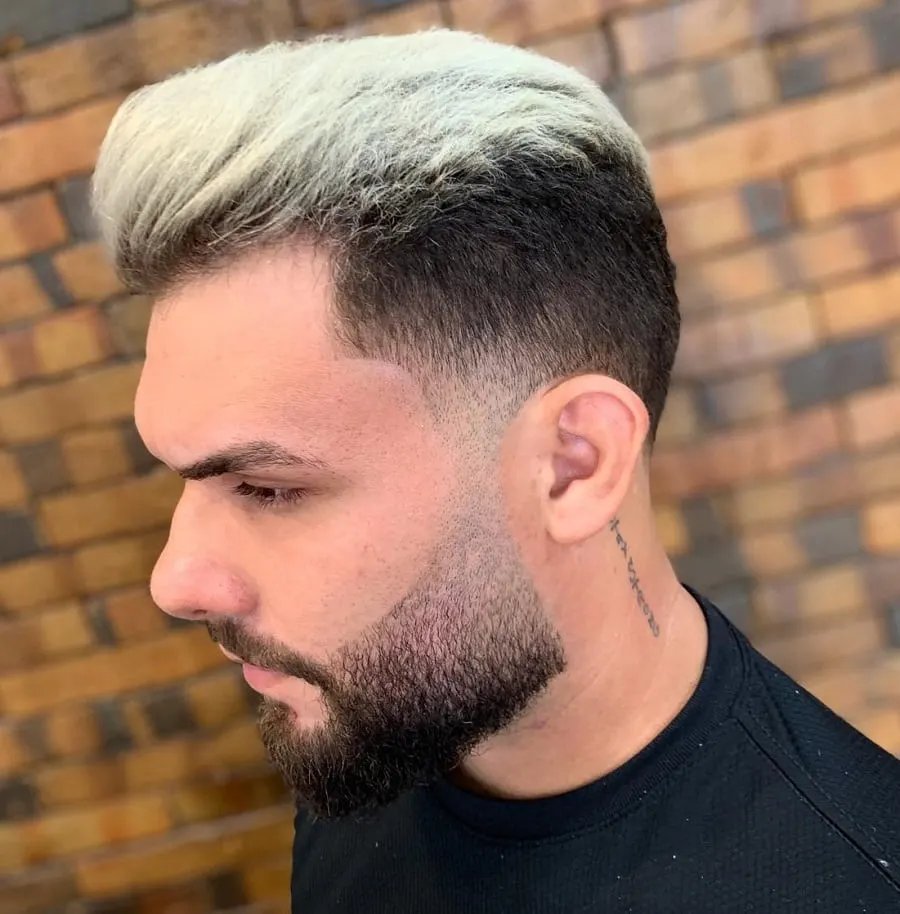 The top part of the hair in this style is completely dyed to be white or colorless. The sides are dark with very little and low taper.
You can admire the sharp cheek and neck line of this beard and how it seamlessly tapers near the cheeks and completely fades into the sideburns.
20. Mid-fade Colored Hair with Goatee and Thin Mustache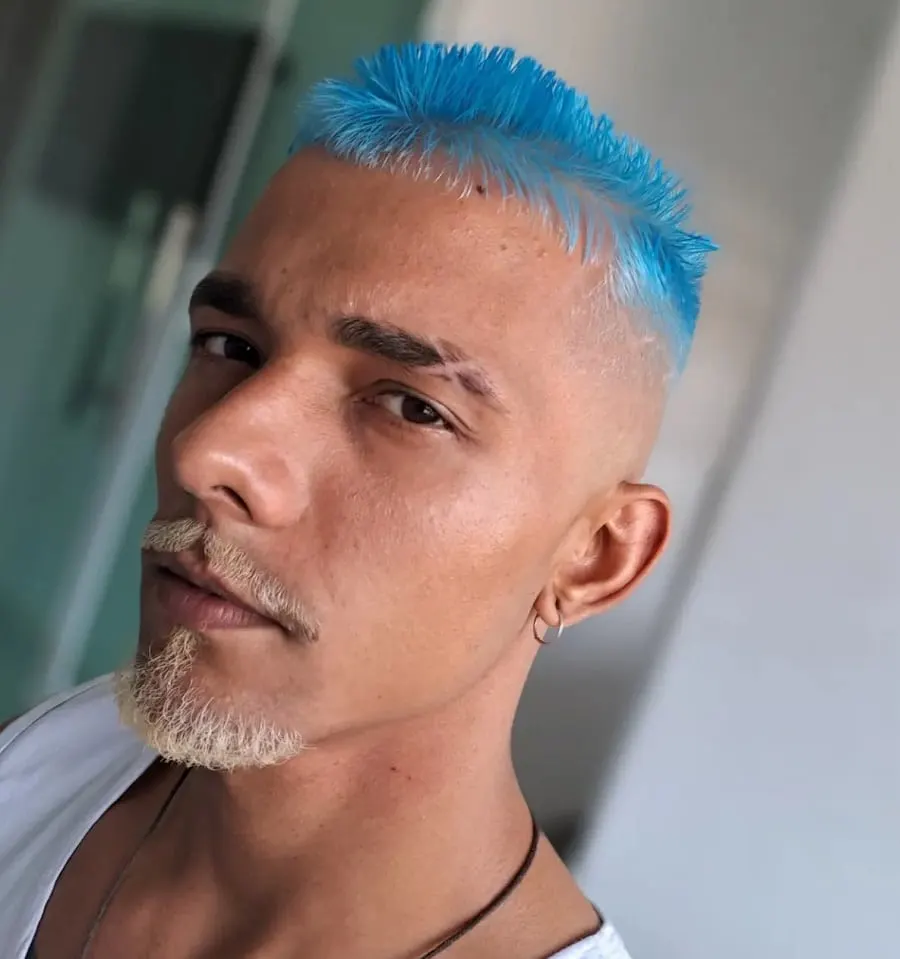 Do more with less by getting a mid-fade haircut and coloring the top blue. You will need to do a lot of maintenance to keep this style, as the mustache is also properly shaped and trimmed to look petite. Combined with the chin beard, it's a cool anchor goatee with an attention-grabbing hairstyle.
So, the next time you're considering a hairstyle change, remember the taper fade and beard combo. It's not just about looking good; it's about feeling good and making an impression.
FAQs
1. What is the difference between a taper and a fade?
While both involve a gradient of hair lengths, a taper generally retains some hair down the sides and back, whereas a fade tends to go down to the skin.
2. How often should I maintain my taper fade?
Depending on hair growth speed, most men find that a touch-up every 2-3 weeks keeps the fade looking sharp.
3. Can I style my taper fade without professional products?
While professional products offer better hold and finish, in a pinch, household items like aloe vera gel can provide some hold.
4. What beard style goes best with a high taper fade?
It's subjective, but many find that a tapered full beard pairs well, offering a nice contrast to the high fade.