Hello beard enthusiasts! Let me hit you all with the latest buzz on my favorite facial hair game-changer: the tapered beard.
A tapered beard is gradually trimmed facial hairs that create a smooth transition from a fuller length around the jawline to a shorter length towards the cheekbones.
It's like a waterfall of whiskers cascading down your face, it's a sight to behold! These beard styles are like a fine wine that gets better with age.
Imagine your beard gradually transitioning from a thick, luscious mane around your jawline to a sleek, smooth finish along your cheekbones.
Once you dive into this killer style, you'll be flying high with your beard game on fleek. So, buckle up and ride with me through the journey of this dope beard trend that's taking the world by storm.
How to Taper A Beard The Right Way
Fast forward to my own tapered beard journey. I started by seeking some advice from my trusted barber, who was more than happy to help me achieve that sweet, sweet taper.
As he worked his magic on my facial hair, I could see the metamorphosis unfold before my eyes. I felt like a butterfly emerging from a cocoon, ready to spread my wings and fly.
Now, let me share some insider tips for all the beard lovers looking to jump on the tapered beard bandwagon.
Required Tools:
The required supplies are
Wide-toothed comb
Trimmer
Razor
Scissors
If the tools are ready, now the procedure starts!
1. Know Your Angles
First, know your angles. You don't wanna end up with a janky taper that makes you look like you got caught in a lawnmower.
2. Invest in Quality Clippers
Second, invest in a solid pair of clippers – your beard deserves the best, after all. Get a high-quality set of clippers with multiple guard sizes. A beard comb and a pair of trimming scissors are also helpful for detailing and fine-tuning your look.
3. Define the neckline and cheek line
Shape your neckline by trimming the hair below your jawline, creating a natural curve that extends from one ear to the other. For the cheek line, create a clean edge by removing any stray hairs above the main beard line.
4. Begin tapering
Choose a longer guard for the clippers and start trimming the beard around the jawline. As you move upward towards the cheekbones, gradually switch to shorter guards to create a smooth transition in length.
5. Blend and refine
Use the clippers without a guard to blend any harsh lines between the different lengths. For a more natural look, you can also use a pair of trimming scissors to snip away any uneven hairs.
6. Detail your mustache
Trim your mustache to match the overall style of your tapered beard. Use scissors to carefully shape the mustache and remove any hairs that extend over your upper lip.
7. Don't Be Afraid to Experiment
And finally, don't be afraid to experiment. You never know what fire style you might discover when you let your creativity run wild.
Here are the highlights of the procedure:
Comb out the beard determining the straggly hair
Drag out the knots of the beard at the outward side of the beard
Trim it off keeping in mind that trimming too closely may end up cutting a whole bunch of hair
Trim slowly and make sure that the hair of the sideburns gradually grows long to the hair at the bottom.
Quick Step by Steps Guide to Follow While Tapering Your Beard
This is all about what tapering refers to. The beard will be shorter to long in length from top to bottom. Then, you can use a razor to pick up the cheek line, neckline and line them up perfectly. Use scissors to make the beard look evenly cut by cleaning the straggly hair. Trim the mustache if needed.
Fade Your Beard in Right Direction
Choosing the Right Tapered Beard Style
Different beard styles can accentuate or balance certain facial features. For example, a long tapered beard can help elongate a round face.
A short tapered beard can balance a longer face. So choose a style that complements your unique face shape.
Your personal style is another factor to consider when choosing a tapered beard style. Select a beard style that reflects your personality and preferences, whether you prefer a bold, dramatic look or a more subtle, understated appearance.
Check out these wicked-cool tapered beard styles I've curated just for you! Dare to experiment and uncover the ultimate look that'll make your style pop.
Top 22 Tapered Beards to Get Inspired
Here are some great examples of tapered beard styles.
1. True Tapering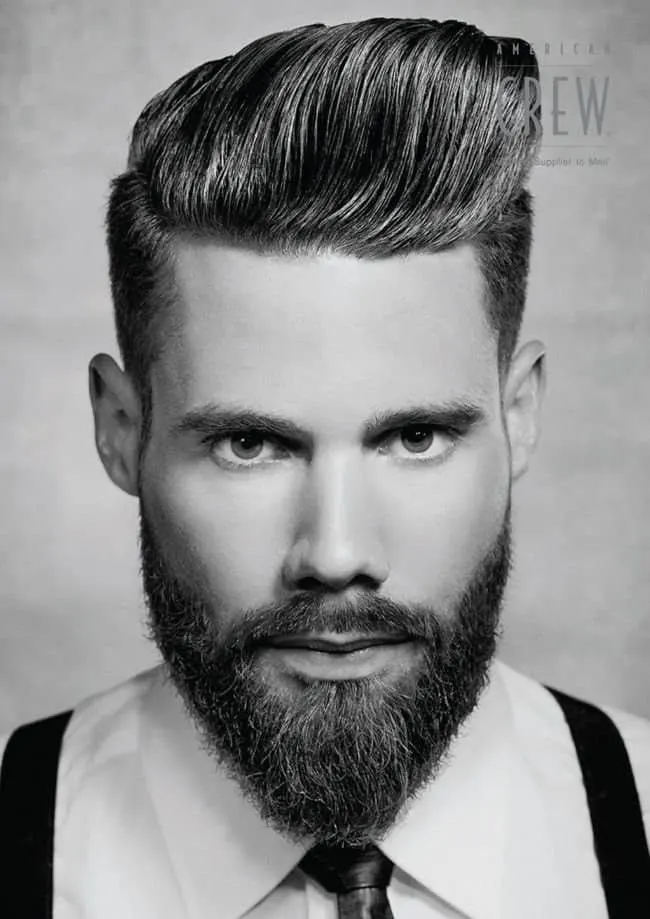 This is a better exhibition of a beard which shows how to taper a beard with perfection. The hair from the sideburns starts to grow long and reaches the highest the length at the end of the beard. One can try this tapered beard.
2. Fade and Taper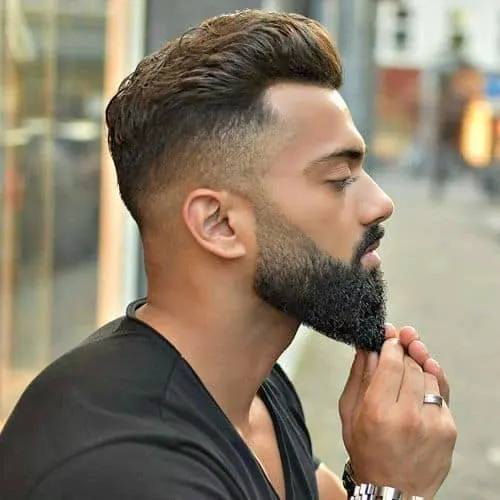 Both fading and tapering techniques will come into effect for this beard style. There is a fade between the hair and the beard.
You can also call this style a combo of a fade haircut with a beard where the hair is gradually faded from the hard part and the beard is tapered from the cheekbones to the end of the beard.
Amazing Garibaldi Beard Styles to Copy
3. Taper Hairstyle
One can wear a slightly faded taper hairstyle and beard together to get a compact look. This can change the overall look of an individual. Stand out from the bearded people around you by making the best use of a tapered beard style.
4. Taper Full Beard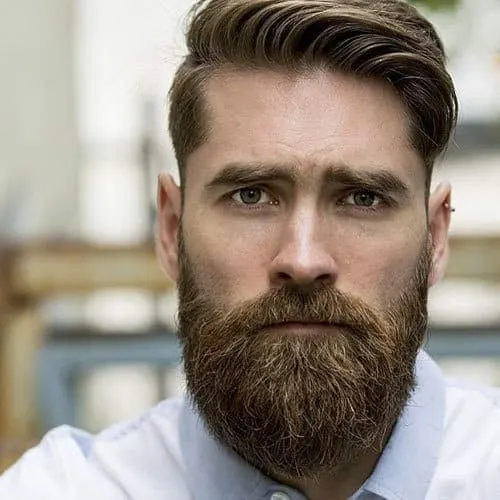 Tapered beard is mainly a special sort of full beard. If you don't have a full beard you actually don't have anything to taper. The right kind of tapering can complement the full beard you are having. So, never leave the full beard to flourish as a natural full beard. Taper it to make it look beautiful and sexy.
5. Tapered Lumberjack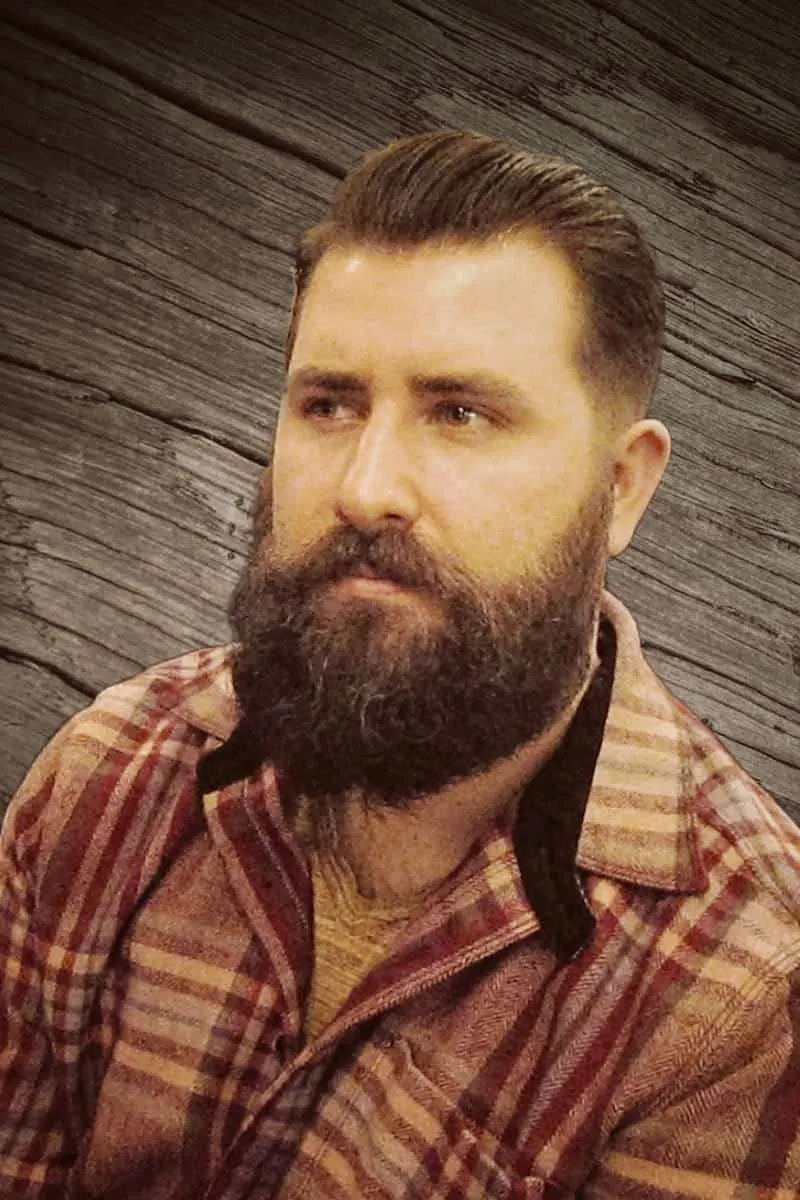 Lumberjack is a famous variant of a full beard. It will give the best look only if you know how to taper a beard. Taper the lumberjack beard and look attractive and desirable more than before. Make sure the tapering looks clean and even.
Grow Your Beard in Chin Strap Style
6. White Long Square Beard with a Fully Grown Mustache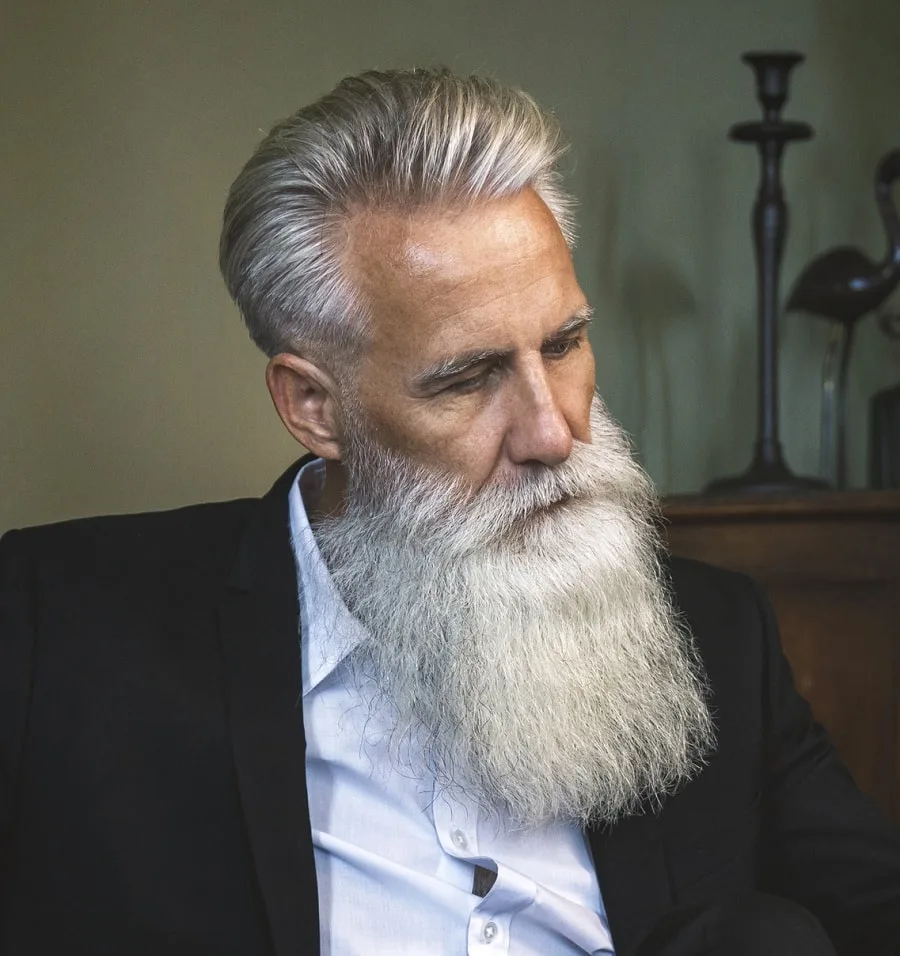 This long and wavy beard style shows off your white beard by complementing it with a thick mustache. Also, the tapered beard gives a much cleaner look when you trim the loose hairs along the edges.
7. Full Beard With Trimmed Edges and Buzz Cut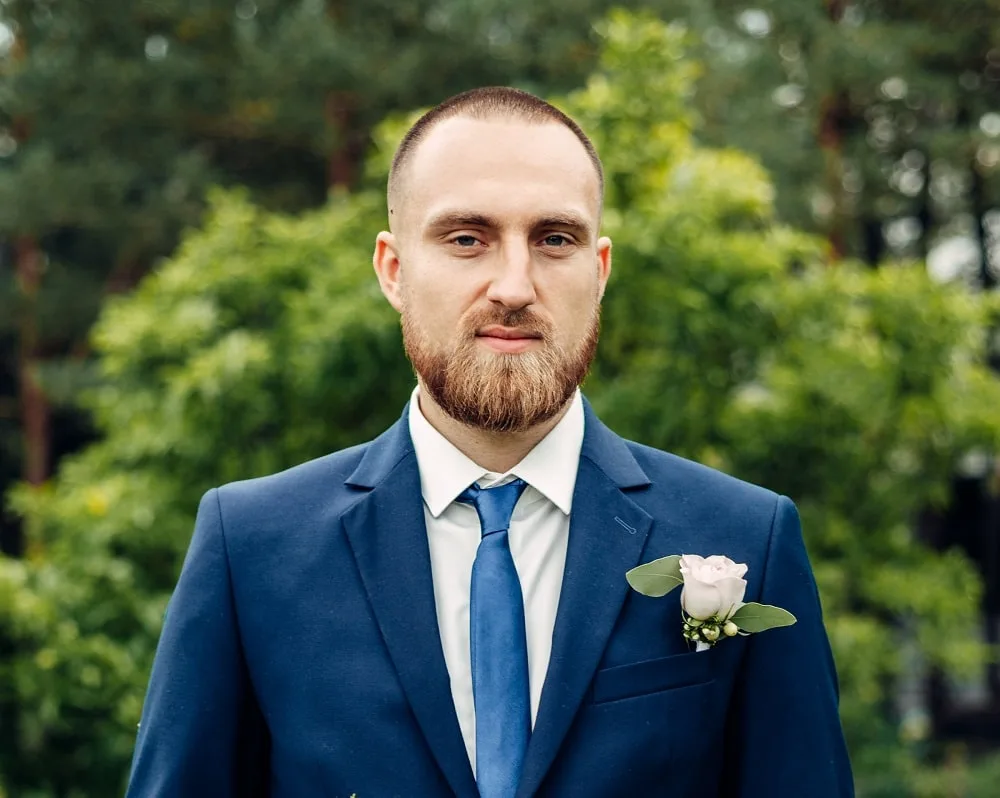 A good tapered beard is a versatile style that pairs well with different haircuts for many events. If you're not a fan of long hair but want something to complement your buzz cut, a tapered stubble beard is a good way to do it.
8. Mid-Length Wavy Beard With Clear Outline and High Fade Hairstyle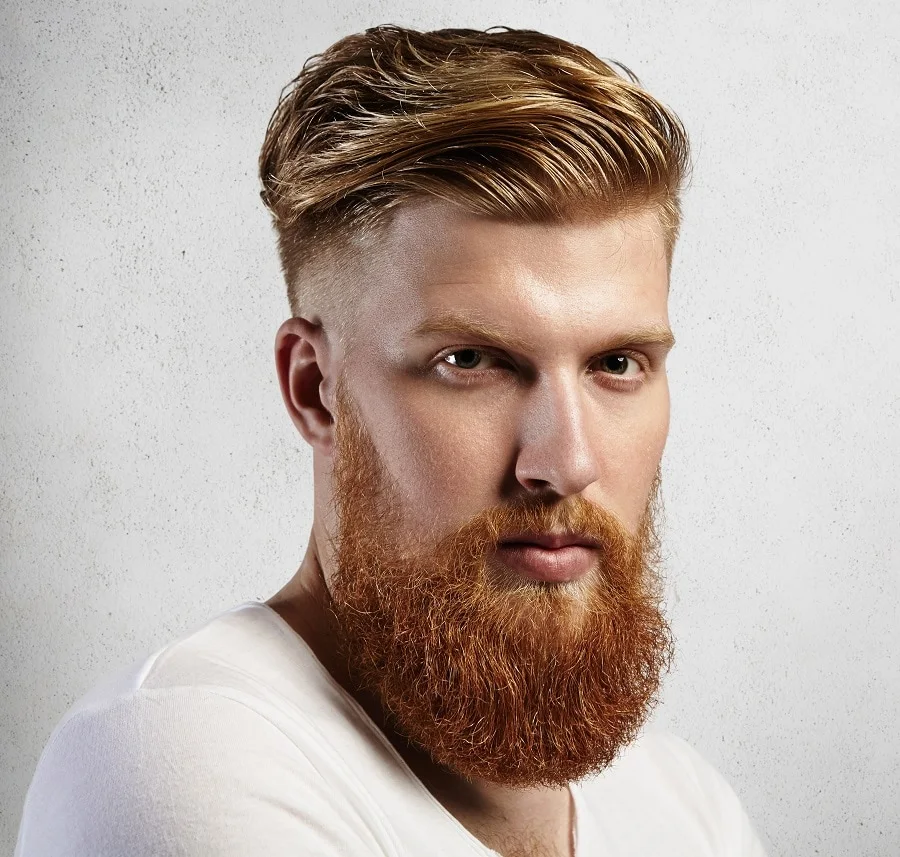 A tapered beard with a high fade haircut can highlight an oblong face shape by framing its core features. In this style, a full beard accentuates the cheekbones by covering the sides of the face, along with neat edges along the cheeks.
9. Salt and Pepper Circle Beard with Soul Patch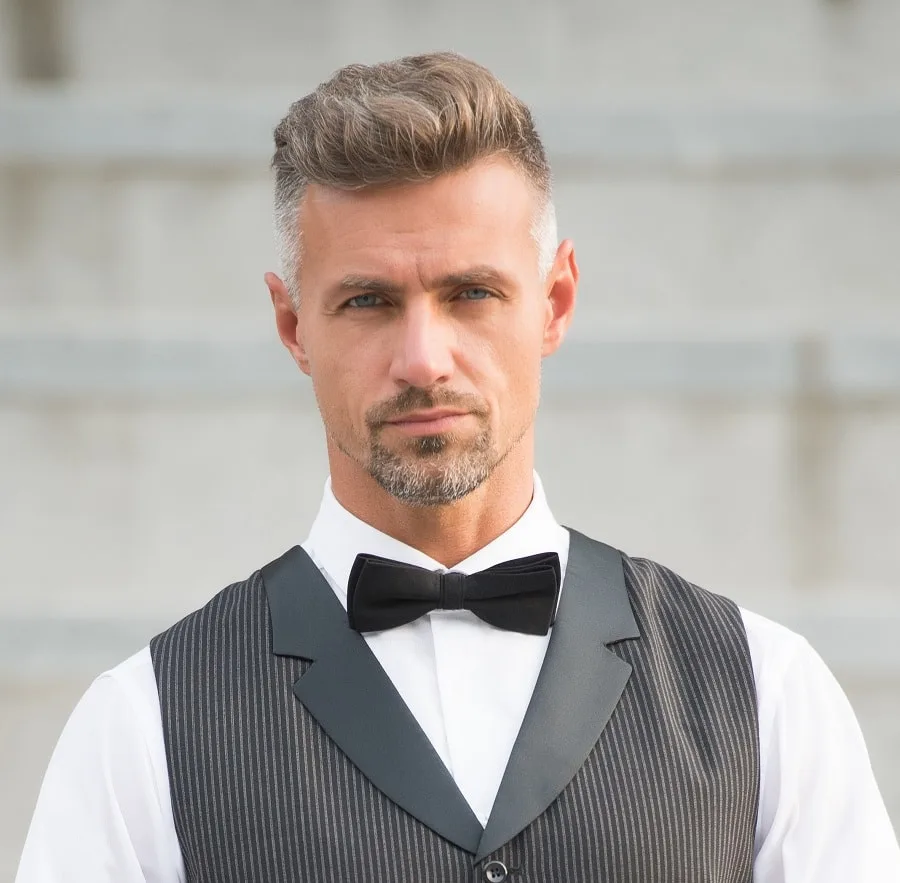 If you can't grow out a full beard, a circle beard can center your facial features and add more symmetry. Also, some light stubble across the jaw creates a shadow that sharpens your jawline.
10. Faded Boxed Beard with High Fade Hairstyle
A tapered beard doesn't just look good with straight or wavy hair, but curly hair as well. This style includes a fade along the sides so the beard transitions from stubble to a thick curly beard. The high skin fade brings attention to your facial structure, while giving a much cleaner look.
11. Long Stubble Beard with Faux Hawk Hairstyle
If you have a round face, a beard style that gives it an angular look is just what you need. This tapered full beard is complemented by a faux hawk haircut. It covers the sides and chin, framing your facial structure to give it a masculine appeal.
12. Short Beard With High Fade
This style creates a contrast between a blonde high fade and a tapered beard. With neatly trimmed edges along the neck, this beard has a clean edge where the jawline ends. You can also grow out a mustache for a balanced, complete look.
13. Curly Beard With Thin Mustache and Braids
If you're growing out your hair, there's no need to keep a shorter beard. In fact, a longer one can look just as good. This curly beard style calls for thick full beard with tapered edges. The wavy beard does a great job at contrasting with tightly knit braids.
14. Tapered Chin Curtain with Soul Patch and Light Mustache
The versatility of a tapered beard is that you don't need to grow thicker facial hair to try it out. This strapped beard includes light stubble that covers the jawline and a soul patch to give it a bit of symmetry.
15. Long Natural Beard with High Skin Fade
For facial structures with strong features, a long beard with a high skin fade is a great way to showcase them. This style includes a salt and pepper long beard with neatly trimmed edges along the cheeks and a full mustache.
16. Tapered Beard with Faded Sideburns and Fringe Haircut
Fringe hairstyles are a great way to soften an angular face shape, and you can complement them with a tapered beard style. This one is thicker along the jawline, with light stubble on the cheeks and an extended mustache.
17. Short Boxed Beard With Mustache and Wavy Mid-Length Hair
In this beard style, you can grow out a short boxed beard with trimming along the neck. Together, wavy mid-length hair and a tapered beard give you a combination that highlights your facial features.
18. Ducktail Beard with Light Stubble and Trimmed Mustache
The ducktail beard style can elongate your facial structure while accentuating your jawline. Instead of growing a full beard on the sides, light stubble creates a masculine appeal. This tyle also includes a mustache for a sophisticated look.
19. Salt and Pepper Full Beard with Thick Mustache and Bald Head
This tapered mid-length beard has a uniform and clean shape. It's a great choice if you grow a straight beard without any waves or kinks. It also includes a full soul patch and mustache for a voluminous look that complements a bald head,
20. Grey Long Stubble Beard with Mustache and Crew Cut
A clean crew cut hairstyle pairs well with a tapered beard. This beard style has neatly trimmed edges along the neck and cheeks, which gives it a cleaner look. It also has a thick soul patch and mustache to balance the minimalist haurcut.
21. Garibaldi Beard with Skin High Fade and No Sideburns
It's not easy to pull off a Garibaldi beard, especially if you don't want it to turn out messy. This beard style has a tapered edge and no sideburns for a uniform look. Just make sure to trim along the cheeks and take care of loose hairs.
22. Long Curly Beard With Trimmed Mustache and Soul Patch
Long and well-maintained beards can complement a bald head since they offer more volume. This style is close as you can get to a garibaldi beard and is tapered from the end to help accentuate the facial structure. It's trimmed along the cheeks and pairs with a thin mustache.
FAQ's
Below are some frequently asked questions about tapered beards to help you on your journey to discovering the perfect style.
1. How often should I trim my tapered beard?
The frequency of trimming your tapered beard depends on your tapered beard style and how quickly your facial hair grows. Generally, a touch-up every 1-2 weeks should keep your tapered beard looking fresh.
2. Can I achieve a tapered beard style at home?
Absolutely! With some practice and the right tools, you can maintain your tapered beard at home. Invest in a quality set of clippers and a beard comb, and don't be afraid to experiment with different lengths and angles until you find your perfect style.
3. Is a tapered beard suitable for all face shapes?
A tapered beard can be customized to suit various face shapes. By adjusting the length and angle of the taper, you can create a style that flatters your unique features.
So, to all my beard-loving peeps out there, give the tapered beard a shot. You might just find that it's the missing piece to your style puzzle. And, even if it is not your cup of tea, at least you'll have a gnarly story to tell.
Till next time, keep your beard game strong and your confidence stronger. Peace out!
There is no other rule for maintaining a full beard except for tapering, fading, and choosing the perfect neckline and cheek line. If one can do all these things, he will surely rock the party with a rocking beard style.