One of the most stylish and sophisticated looks for men these days is a fade haircut with beards. The clean-cut look of faded haircuts are currently at the height of popularity, so initially, combining them with a scruffy beard might seem odd. As you will see once you scroll down, the look is anything but.
In fact, fade haircuts add a polished quality to otherwise basic beard styles. Plus, they can be adapted to suit your unique sense of style. Whether you like low fades, high fades, or tapered looks with lusciously long beards, the perfect fade hairstyle is on this list. So, let's take a peek at different fade haircuts with beard styles!
1. Low Fade Haircut with Beard
Where you begin your fade is up to you. This low style involves a fade around the ear that is no more than two inches long. The overall effect is subtle, but its sharpening effect is undeniable.
2. High Fade with Beard
A high and tight style is the perfect way to create the ultimate contrast between your long hair up top and faded detail below. With a beard, a high and tight hairstyle like this blonde look is perfect for round or square face shapes, as the look is rather elongating.
3. Mid Fade Hair with Full Beard
Short haircuts with full beards have a lot of wiggle room in terms of length and style detail. Mid fade hair is trendy yet unique. To achieve this look, taper your fade to start lower on the sides of the head, at midway on the forehead.
4. Black Men's Fade Haircut with Chinstrap Beard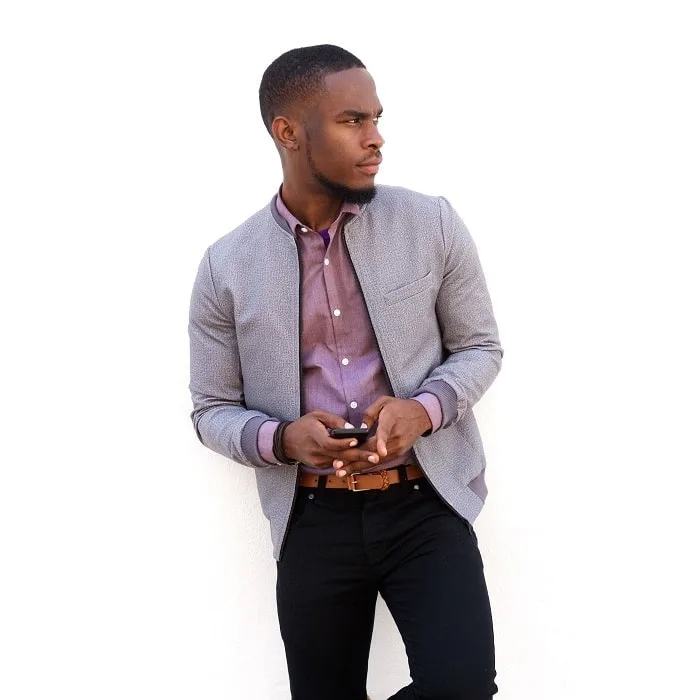 Faded hair with a chinstrap beard looks great on black men with textured hair. We love how clean cut this look is, so match the precise pruning of the beard to a perfectly maintained fade hairstyle.
5. Skin Fade with Faded Beard
Skin fades are fade hairstyles that involve a portion of the hair cut so close to the skin it's essentially bald. The look is particularly striking with a thick, faded beard and long, textured hair on top. A look like this takes maintenance but is well worth the effort.
Different Hairstyles + Beard Variations
6. Bald Fade with Faded Beard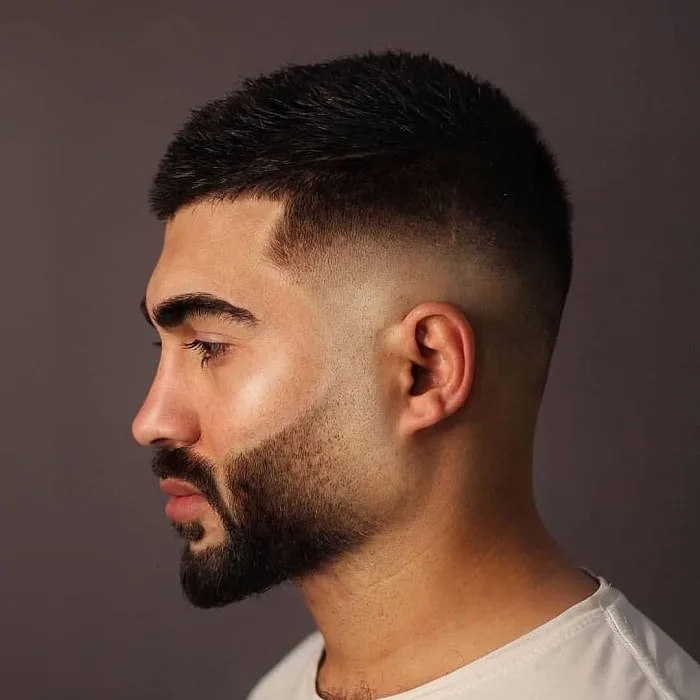 This bald fade is very similar to a skin fade, yet more intense as it fades down to zero or a 0.5. We especially love this effect around the ears as the fade is tapered into the beard as well.
7. Fade Haircut with Long & Full Beard
Full beards are less common these days, so why not give it a modern element like a sweet fade at the temples? This look is cool with solid hair, but is extra detailed with salt and pepper vibes. Plus, a long, full beard adds necessary balance to the pompadour.
8. Burst Fade with Short Beard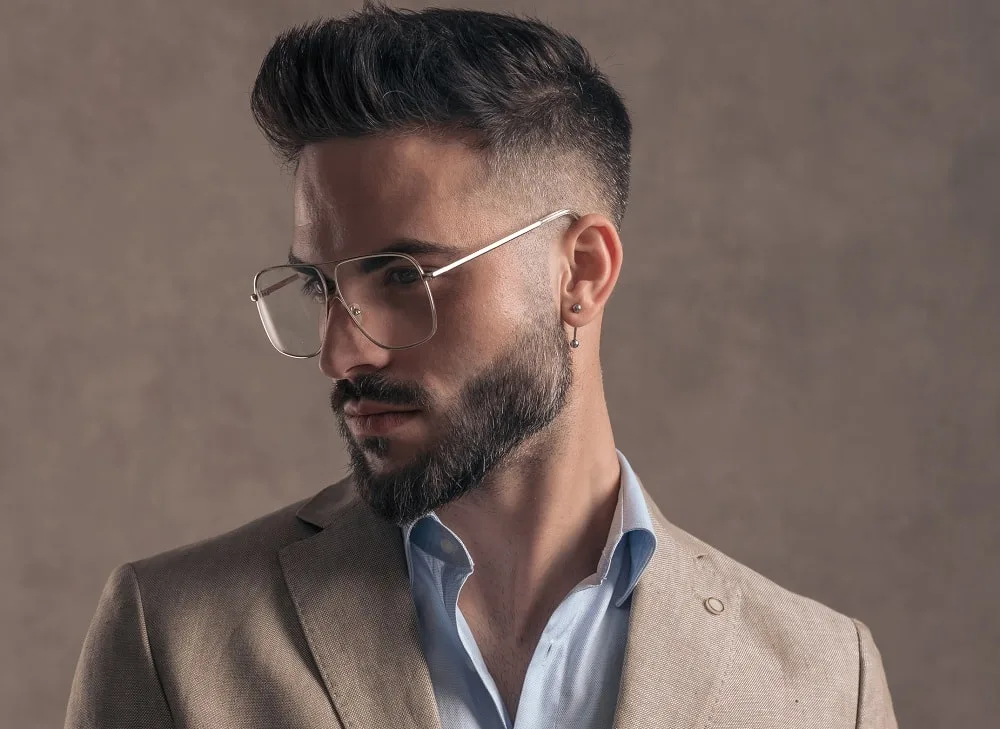 Burst fade with a beard is a trending fade haircut with a beard combo in 2023. The burst fade haircut features a gradual tapering of hair around the ears and temples, creating a unique fading effect. Pairing a short beard full beard with it result in a modern and eye-catching appearance.
9. Taper Fade with Stubble
Fades don't have to be abrupt. In fact, a stubble look is not only popular, but it gives your hair a little extra something by emphasizing the fade while serving up a little more style.
10. Zero Fade Hair + Long Stubble
A zero fade hairstyle combines a low, medium or high fade with long hair on top. This medium fade cut looks cool with angled bangs and scruff a quarter of the way down the neck. Here, fade details add a crucial pop of freshness.
11. Faded Hair with Medium Length Beard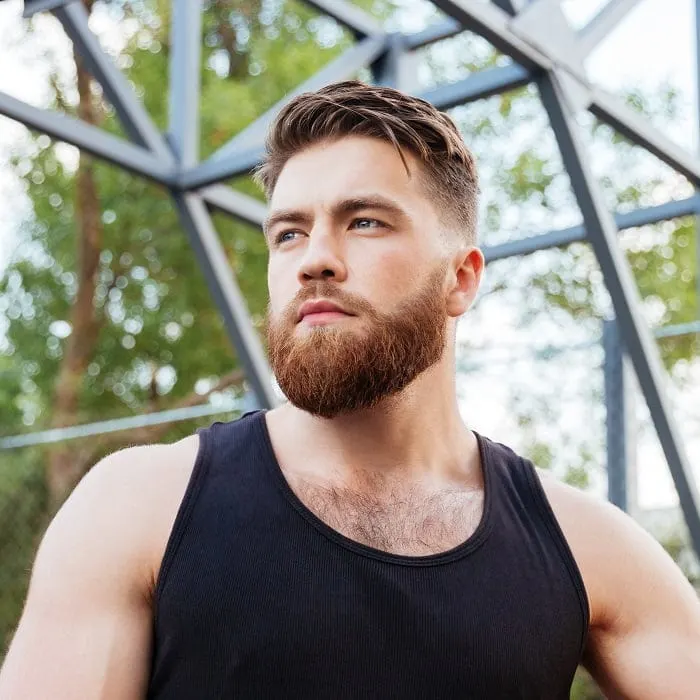 Fade haircuts are perfect with a classic medium beard style. Here, the fade is low and concentrated around the temples. This is perfect if you want a subtle fade that shows off long hair on top and a full, healthy beard below.
12. Slick Back Fade with Long Beard
Beard length can create variation in your look a lot. Fades are great for opening up your face if your beard is especially long. It makes your look rather modern and just a little edgy, too. If your hair is long on top, slick it back to continue opening up your handsome face.
13. Short Fade Hair with Goatee
Let your look reveal your clean-cut personal style. Goatees are extra sharp with a smoothly faded hairstyle. How you choose to style your goatee is up to you, just be sure to keep it all neat.
14. Spiky Fade with Stubble Beard
Fade haircuts look just as fresh on short beards that consist of stubble. In fact, this length works great with a tapered fade hairstyle, even if you decide to grow your beard out longer.
15. Asian Fade with Beard
Longer hair up top is great for fade hairstyles with beards. This mid fade style mirrors the roundness of the pompadour hair with a round beard- a perfect look for Asian guys with angular face shapes.
16. Fade Hair with Van Dyke Beard
Van Dyke beards consist of a small goatee underneath the bottom lip. This look is perfect for the artistic guy who wants to make his beard and hair fade style truly stand out. Any mustache that you prefer will work, but the pointed edges of handle bards are that much more inventive.
17. Bush and Coif with Faded Haircut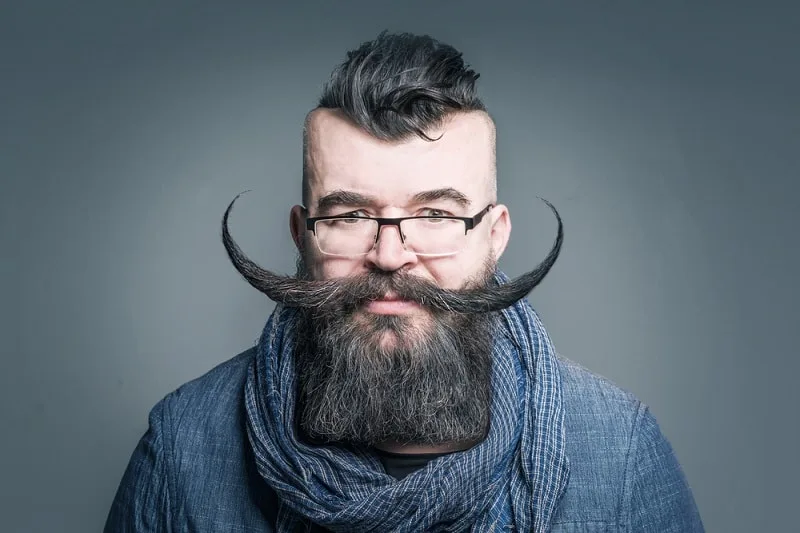 The mustache here is definitely a piece of art, and you can totally opt out of it, but this is what's possible when you combine an elaborate mustache, a long beard and faded haircut.
18. Faded Heavy Stubble with Skin Fade Curly hair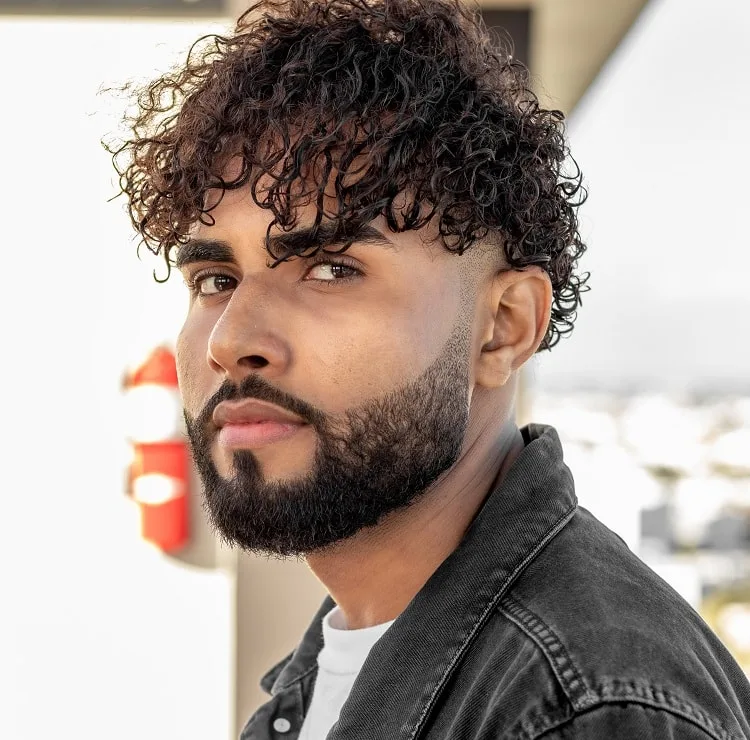 You don't always need a long beard, specially with curly hair and skin fade. A faded heavy stubble connecting the skin fade below your curls can make you look just as good.
19. Long Strands with Bald Fade and Heavy Stubble Fade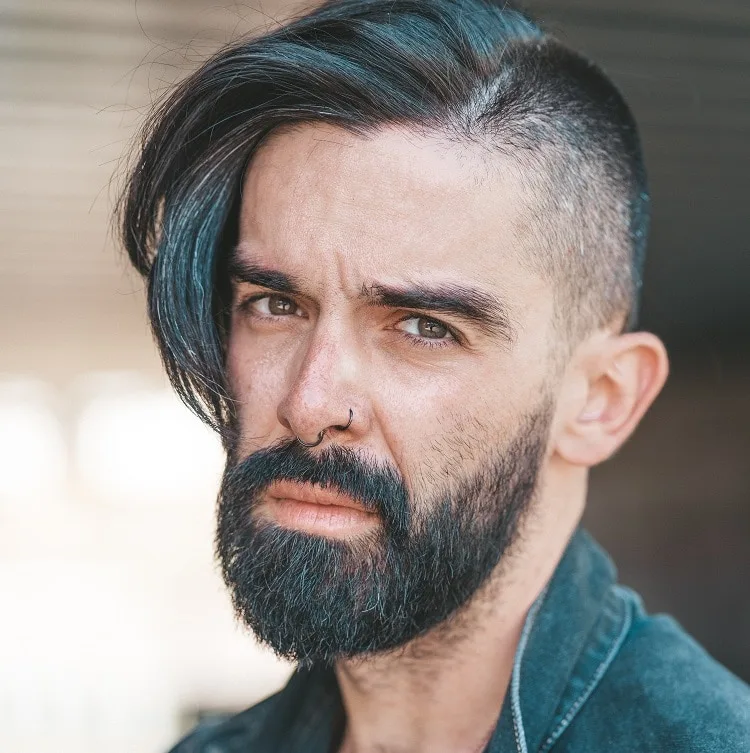 Just as you might thinking there aren't enough hairstyles to go with a heavy stubble you'll find that that's not true. Long strands of hair with a bald fade is a perfect combination for a faded, nicely trimmed heavy stubble.
20. Bald Fade with Ponytail and Long Beard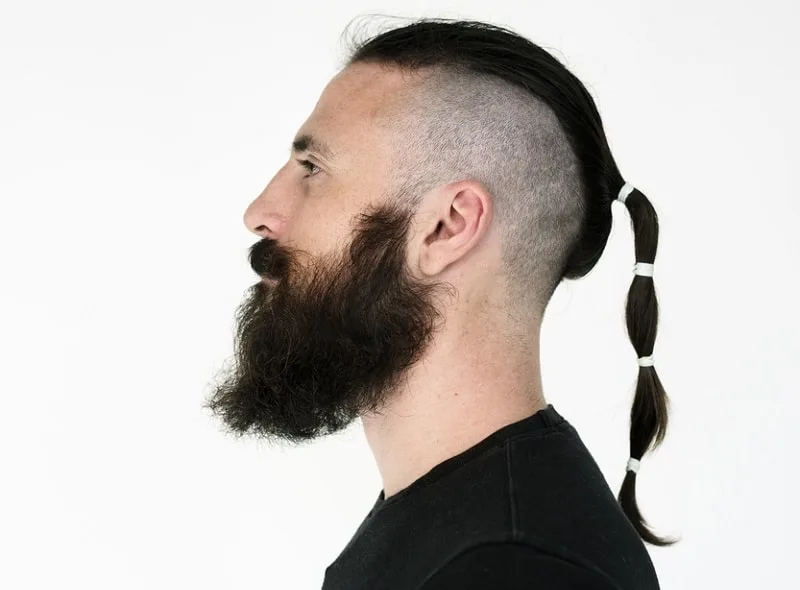 A long beard looks good with any style, but it looks even better with a bald fade ponytail. It's one of our favorites, and given the simplicity in growing the beard and maintaining this look, it should be yours too once you try it.
21. Skin Fades In Sides and High On Top with Faded Heavy Stubble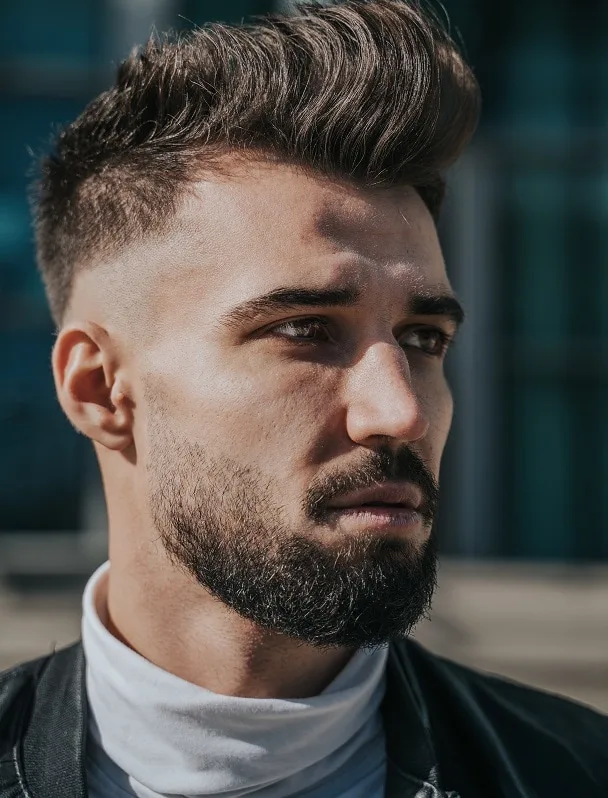 A faded heavy stubble with a disjointed mustache connected to a skin fade is a great beard look for faded haircuts. This is best for those with a rectangular and elongated faces and dense beard growth.
22. Bald Faded Sides with Slick Back in the center and a Long Beard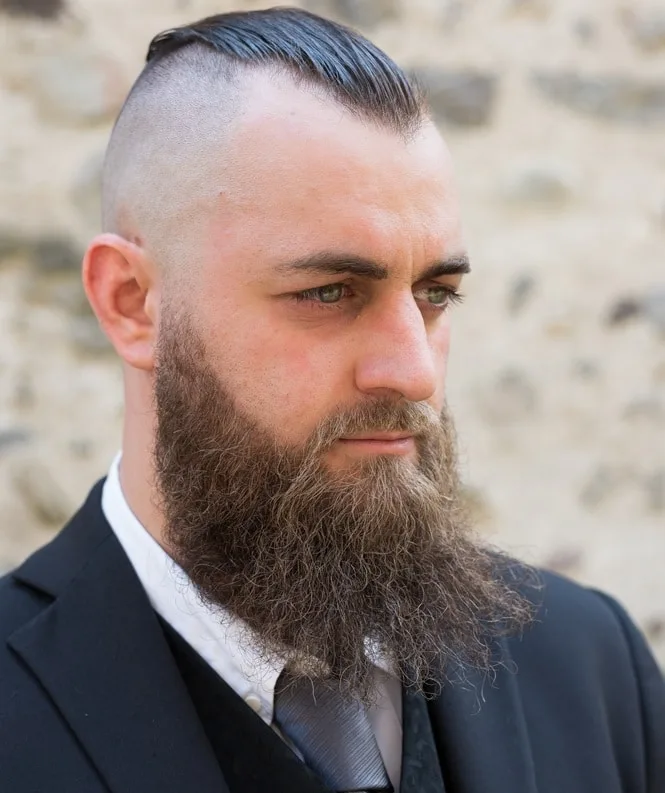 The long beard is kept untrimmed and untamed giving the wearer a rugged look. Combine that with a bald faded sides and keep the center slicked back and you'll look like a badass in no time.
23. White Hair with Tapered Fade and White Curly Long Beard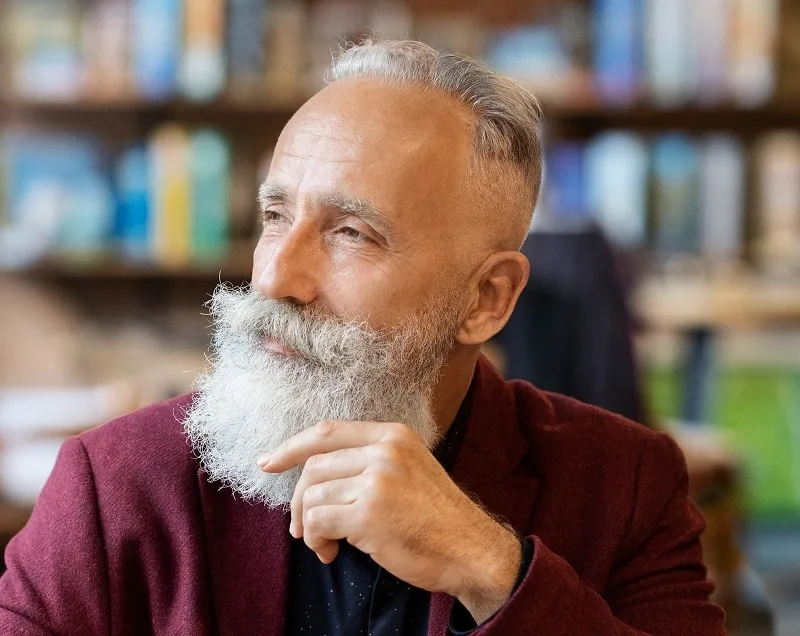 A curly beard shouldn't keep you from growing it. Keep the mustache and stray hair nicely trimmed and complement the beard with tapered sides and short top.
24. Afro with Faded Sides and Long Beard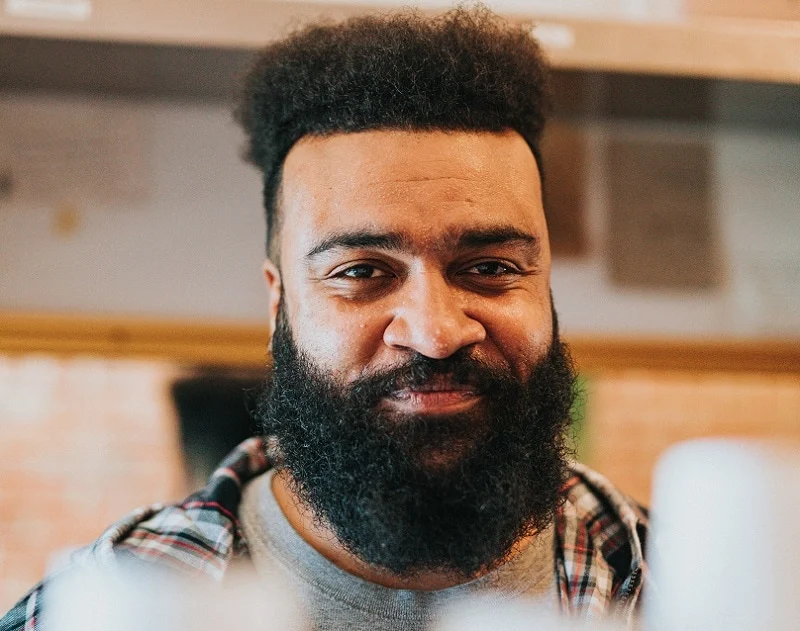 If you've got an afro with dense and deep beard growth, a faded side with a long beard could be the perfect style for you.
25. Short Hair with Faded sides and Goatee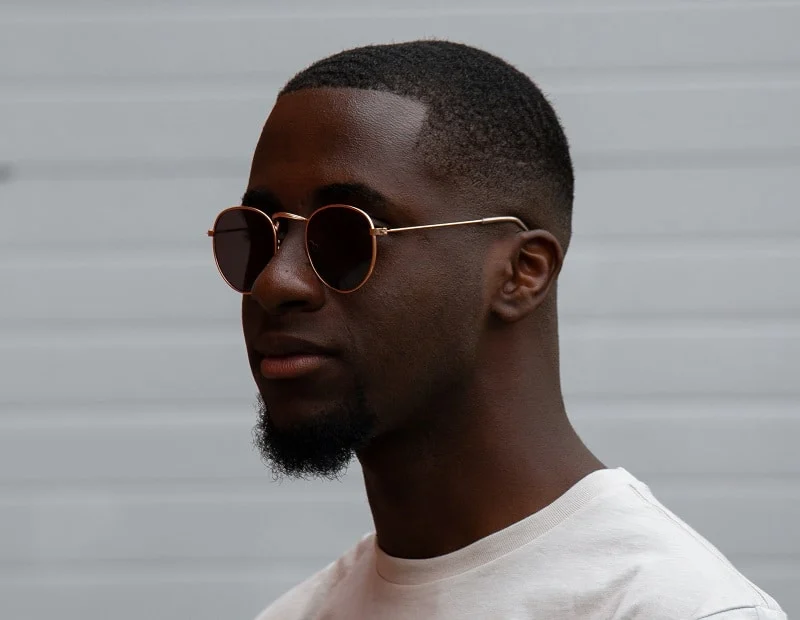 A short hair with faded sides, clean cheek and neck line, and a goatee on the chin is one of the best minimal beard styles out there. Not much maintenance is needed other than shaving the face almost everyday.
26. Dreadlock with Side Fades and Long Beard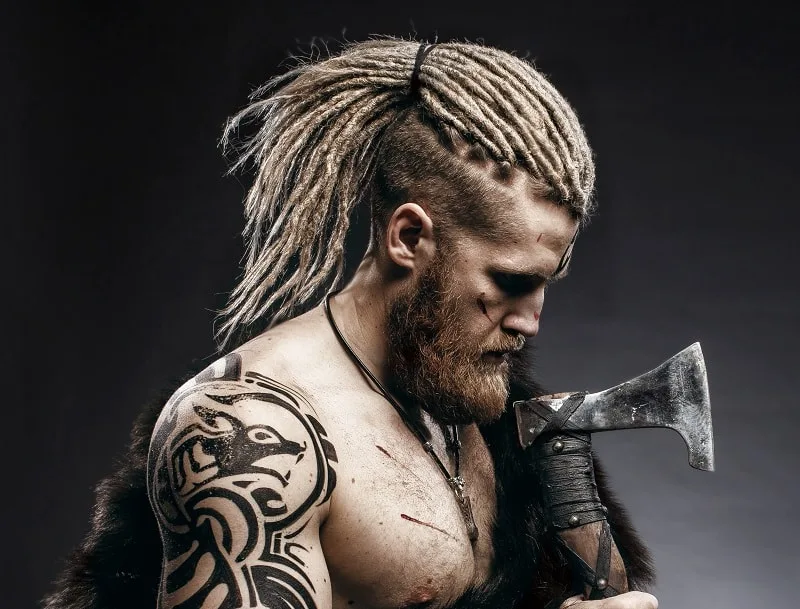 Berserkers might be out of date, but their beard styles are definitely not. A center dreads with side fades and long beard is one of the beard styles that shows strength and character more than any other faded haircuts and beard style combos out there.
Combining beards with fade cuts is not only cool, but it makes you look interesting and stand out from the crowd. Fades can clean up a bearded look, open up your face, and instantly polish your hairstyle with minimal daily effort. Whether your fade is high, low, or in between, it can suit your beard and most importantly, you!
Related Topics:
23 Trending Edgar Haircut with Beard for Men in 2023
15 Epic Mullet Haircuts with Beard to Make You Stand Out in 2023!