The high and tight haircut with a beard is a popular combination in men's fashion. These professional-looking hairstyles, paired with cool beards, form a partnership that mesmerizes onlookers.
In this article, we will explore some cool combinations of high and tight haircuts and beard styles for every individual.
What Is High and Tight Haircut?
The name high and tight haircut refers to the contrast between the short, closely cropped sides and the longer length of hair on the top of the head. It is often associated with military personnel, particularly in the United States.
In this haircut, the sides and back are typically buzzed or faded very short with trimmer or clippers, creating a clean and neat appearance. It can be high, mid, and low fade according to personal preference.
The transition between the short sides and the longer top is usually blended smoothly. The length of the hair on top can vary, but it is typically left longer than the sides, allowing for some styling versatility.
Overall, the high and tight is a classic and timeless haircut that provides a clean and sharp appearance while being relatively easy to maintain.
Best High and Tight Haircuts And Beard Styles Combo For Men
A high and tight haircut is very clean and precise, so it can look good with a beard that has a bit of an edge like a full beard. However, if you prefer a streamlined look, a short beard might be a better choice.
Here are some trendy high and tight haircuts and beard styles for you.
1. High and Tight with Short Patchy Beard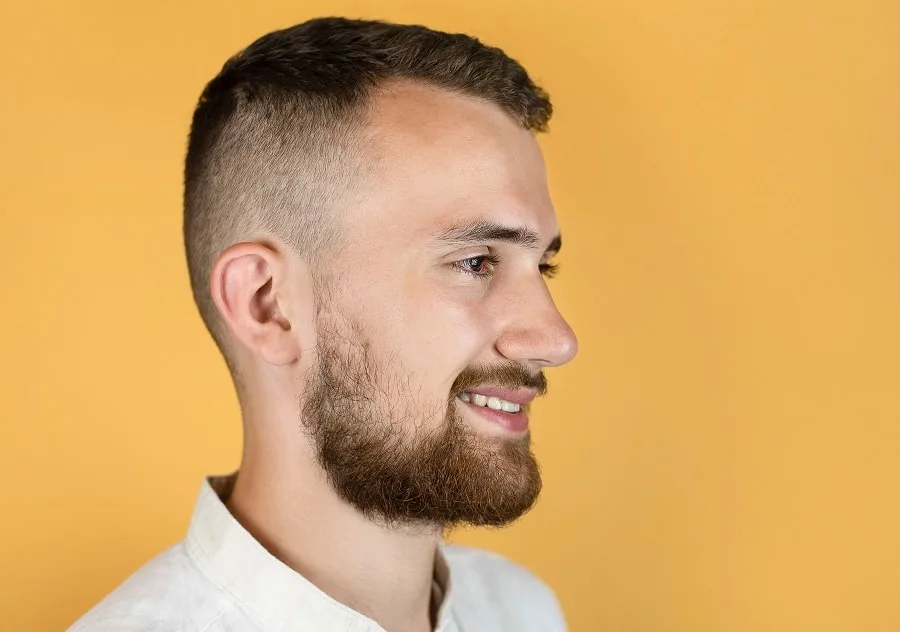 The high and tight in this particular case is quite close to a crew cut i.e. short hair on the crown with slightly more growth on top. The beard is slightly scraggly and bushy but quite short. The thick hair growth near the chin and neck makes up for the patchiness on the cheeks and sides.
2. Mid Fade with Red Short-boxed Beard
You don't necessarily have to follow the hairstyling rules down to every millimeter. The fade doesn't start too high above the ears, so let's call it mid-fade. The maximum hair length is on the frontal region of the head. A red short-boxed beard boasts style and neatness.
3. Low-fade with Line up and Short Beard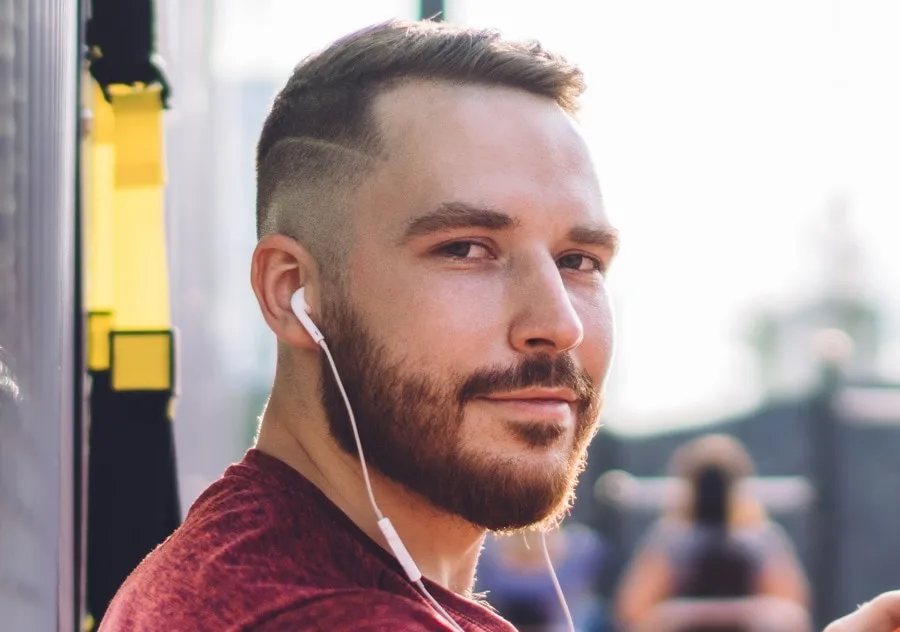 Can you look young with a full beard? The short answer would be yes. What really takes a few years away from your age is the haircut you pair up with your short beard. For example, get a low-fade haircut and embellish it with a line-up to look trendy.
4. Tapered Crew Cut with Light Stubble Beard
It's a very clever style wherein you notice details after taking a closer look. The sides aren't clipped too close to the skin so they don't seem bald as they usually do with a high and tight haircut. The light stubble beard is consistent with the sides of the head. The top has a patch of long hair.
5. High Fade Side Part with Grey Garibaldi Beard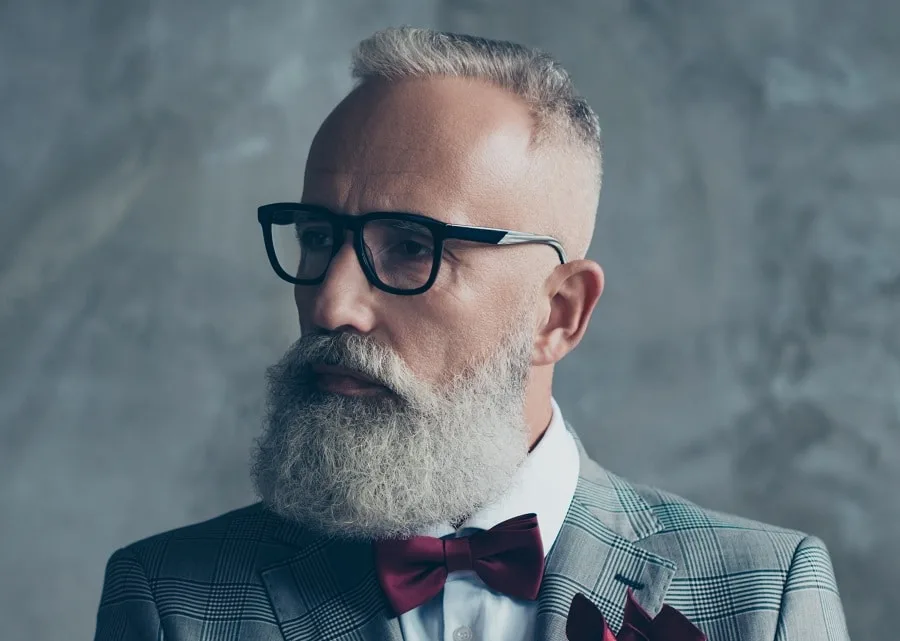 That's how you bring style, class, and trendiness in one place. A high-fade side part haircut paired with a sharp Garibaldi beard is sure to make people around you talk about you. The trimming of your mustache needs to match the neat cuts of your beard for you to look ever-fresh.
6. High-fade Haircut with Blonde Beard Fade
Let your blonde hair shine with this style as you go for a high-fade with a slightly long top hair that look a bit messy. Your short blonde beard should also fade near the sideburns and then flow seamlessly into your hairstyle.
7. Short Beard with Short Bangs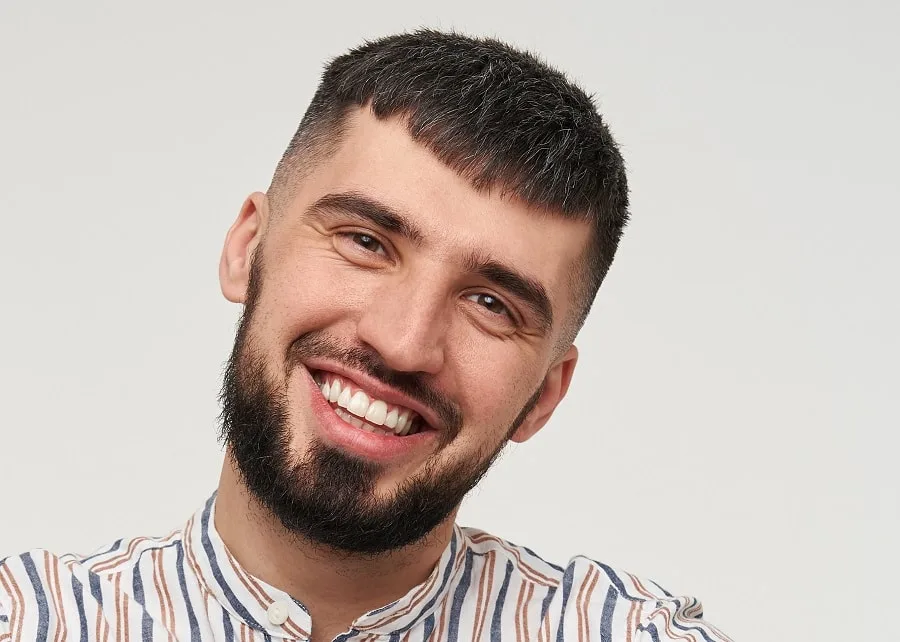 You can't help but admire how simplistic this style looks and hence quite easy on the eyes. The short bangs cover a small part of the forehead and sides are more akin to tapered than they faded. Due to the hair being clipped close to the skin near the temples, the beard seems disconnected.
8. Low-fade Shaved Head with Chin Curtain
Stand out from the crowd as you sport a low-fade shaved head and a beard that needs no introduction. The dark chin curtain is unique on its own but you can make it even more unique with a stubble mustache that almost resembles a horseshoe mustache.
9. Slicked Back Hair with Short-boxed Beard and Mustache
A high and tight haircut with a beard that's short is a match made in heaven. The overall look is neat and fresh, and you can tweak the little details to be unique. In this case, it's a typical short-boxed beard with a mustache and a high-fade haircut with a side part and slicked back hair.
10. High-fade High and Tight with Chinstrap Beard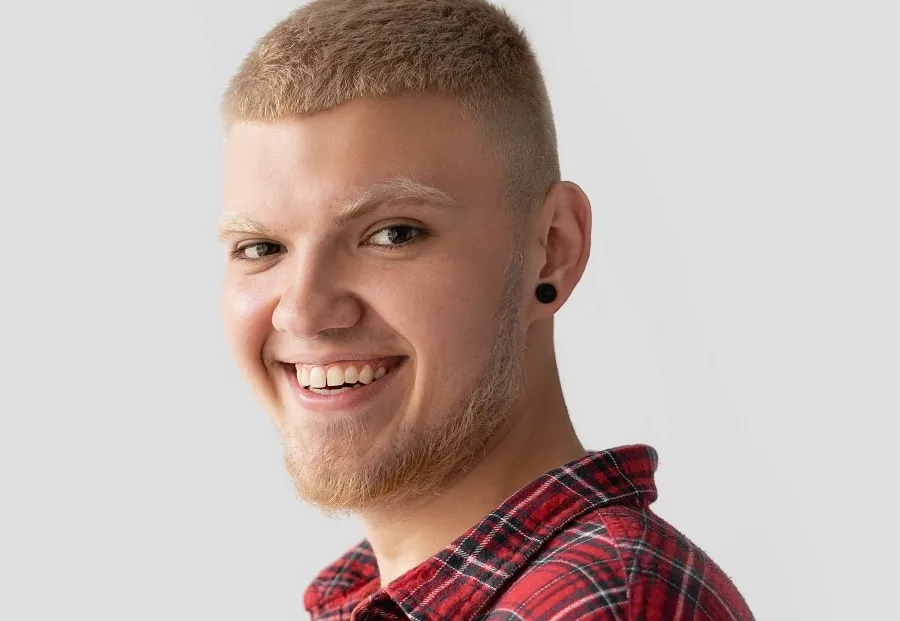 Are you looking for a haircut that wouldn't require any brushing and mainteinance? Go with the high-fade high and tight haircut, and top it off with a chinstrap. Shave off your mustache to keep this combination looking ultra-clean and neat.
11. Typical High and Tight with Heavy Stubble Beard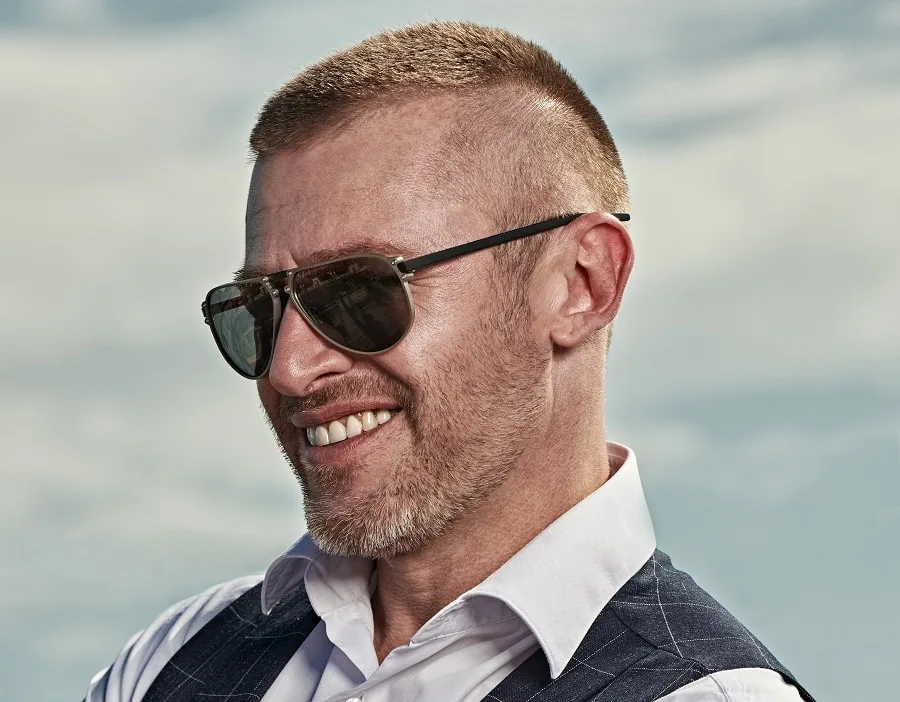 12. Bald Fade with Tapered Short Beard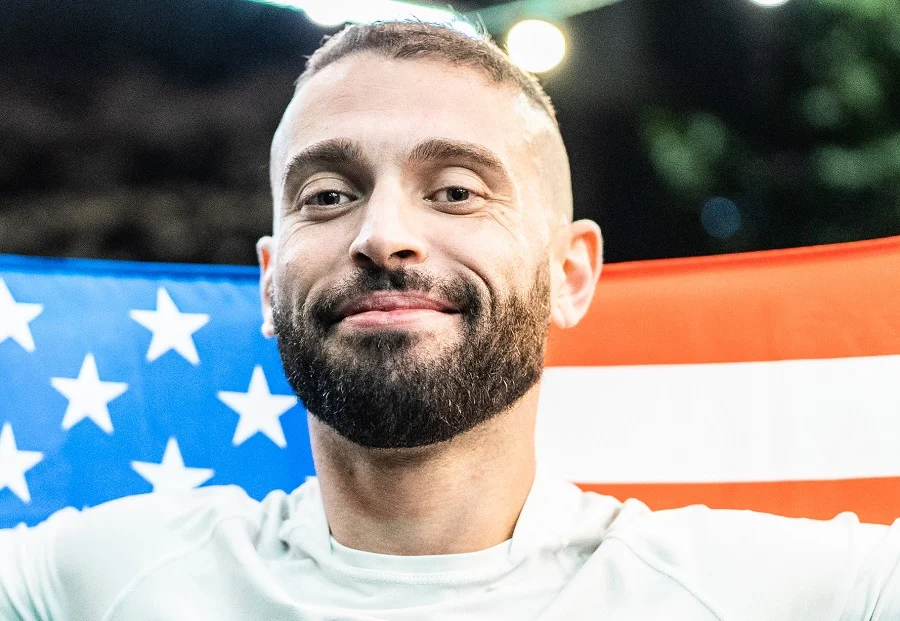 Some people just don't want to deal with hair on their head because it's a waste of time for them. Bald fade is the answer to all their concerns. The sides and back are completely bald with short hair on top. A short beard that tapers and disappears near the temples is a perfect pick with this hairstyle.
13. High Top Haircut with Goatee and Pencil Mustache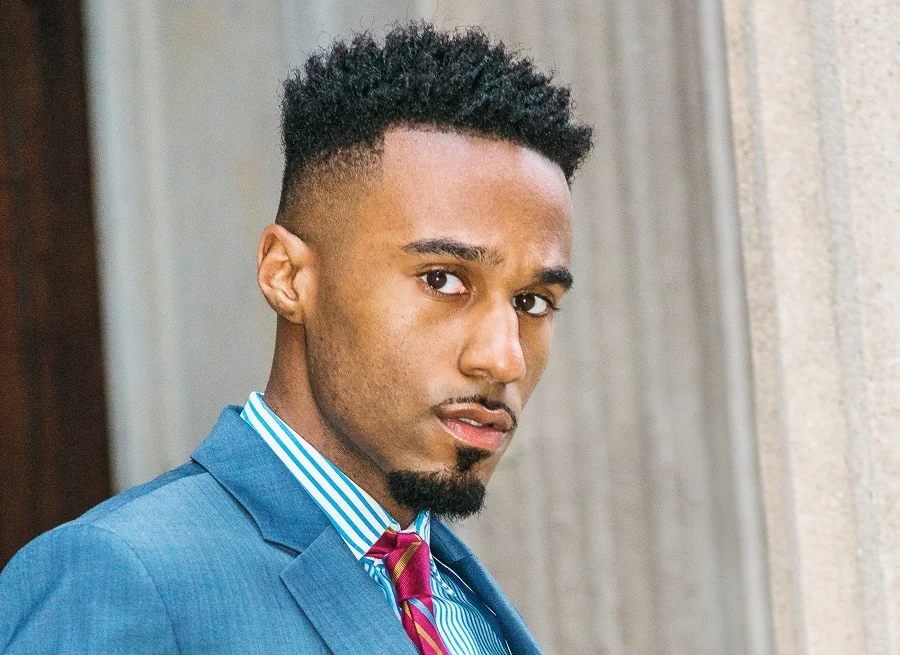 Don't mind spending time grooming and looking great? Choose this style that's neat and sharp. Go for a high-top haircut with low-fade and opt for an Egyptian goatee with a soul patch. The best detail in this style is the pencil mustache running along the edge of your upper lip.
14. Blonde High and Tight Haircut with Contrasting Beard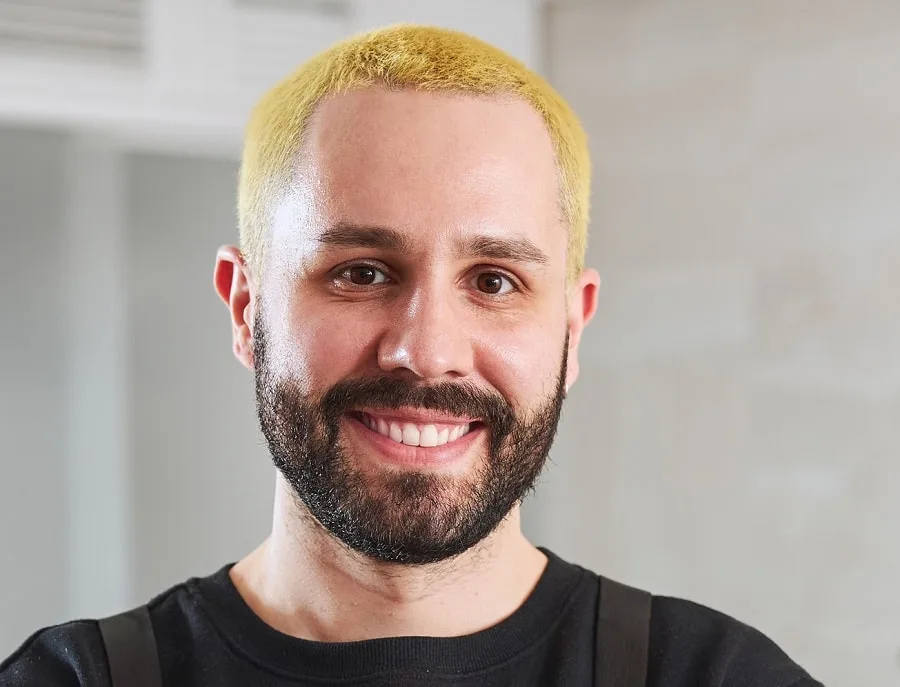 People are going to remember you for a long time for this look. The haircut and beard style aren't too detailed, it's their contrast that makes this look worthwhile. It's a tapered high and tight haircut with dark and short beard. The color transition begins at the top end of your ears.
15. High-fade Spiky Haircut with Stubble Beard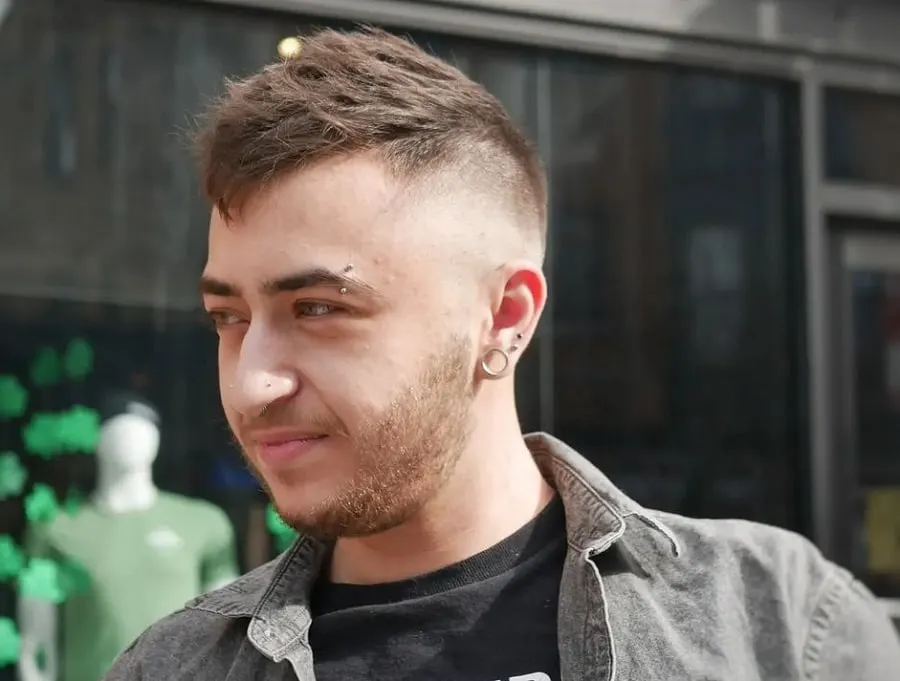 Get the sides clipped as close to the skin as possible and be a bit tricky with the hair on top. Put your hands on the sides of your head and push inwards and upwards to create a spiky hairstyle. Grow a 10-day stubble beard to complement this style.
16. Curly Front Hairstyle with Short Red Beard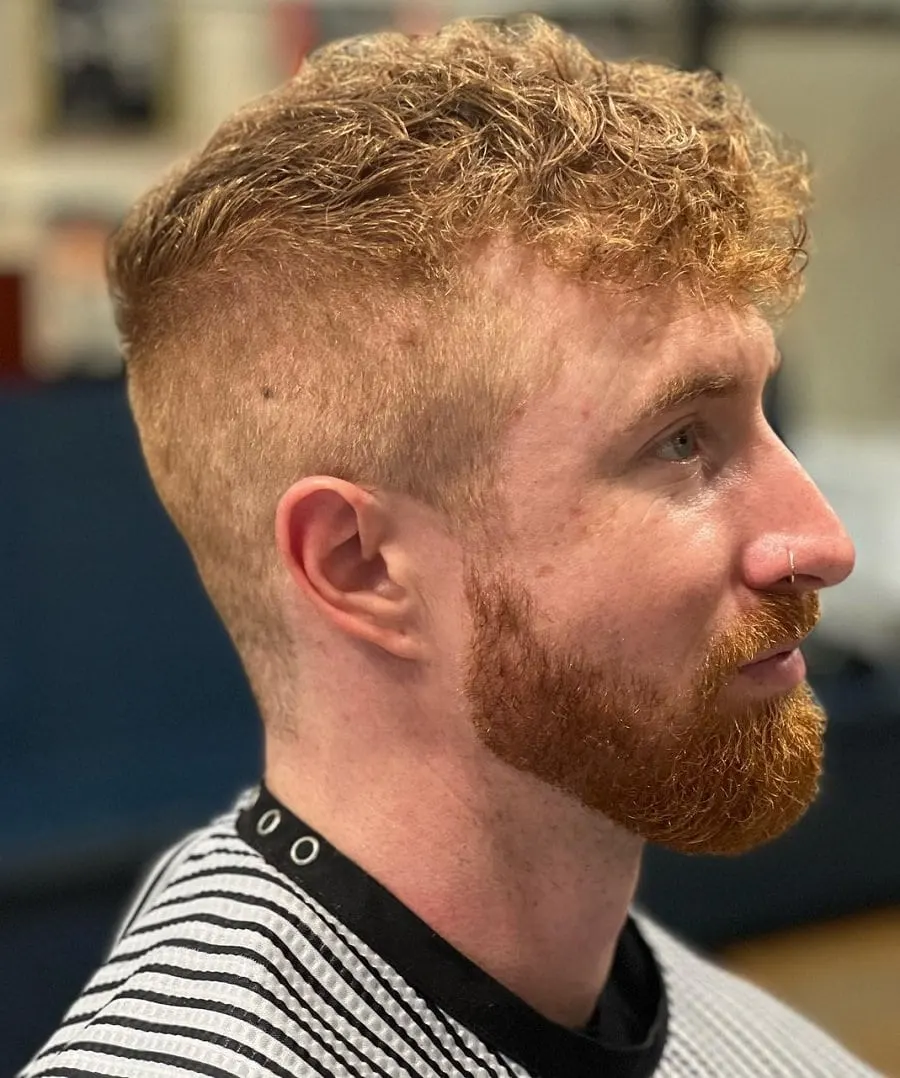 The frustration of people with curly hair is understandable. However, a perfect fit to your curly hair problem is high-fade haircut with a curly top. In a way, only the frontal region of your scalp has curly hair. As for your red facial hair, a short-boxed beard would look perfect with this style.
17. Typical Crew Cut with 1/4 Inch Military Beard
You have much more autonomy to curl, swirl, and part your hair when you go for a typical crew cut. That's what's happening with this style wherein the sides have a mid-fade whereas the stubble beard makes it an ideal military 1/4 inch military beard.
18. High-fade Crew Cut with Ducktail Beard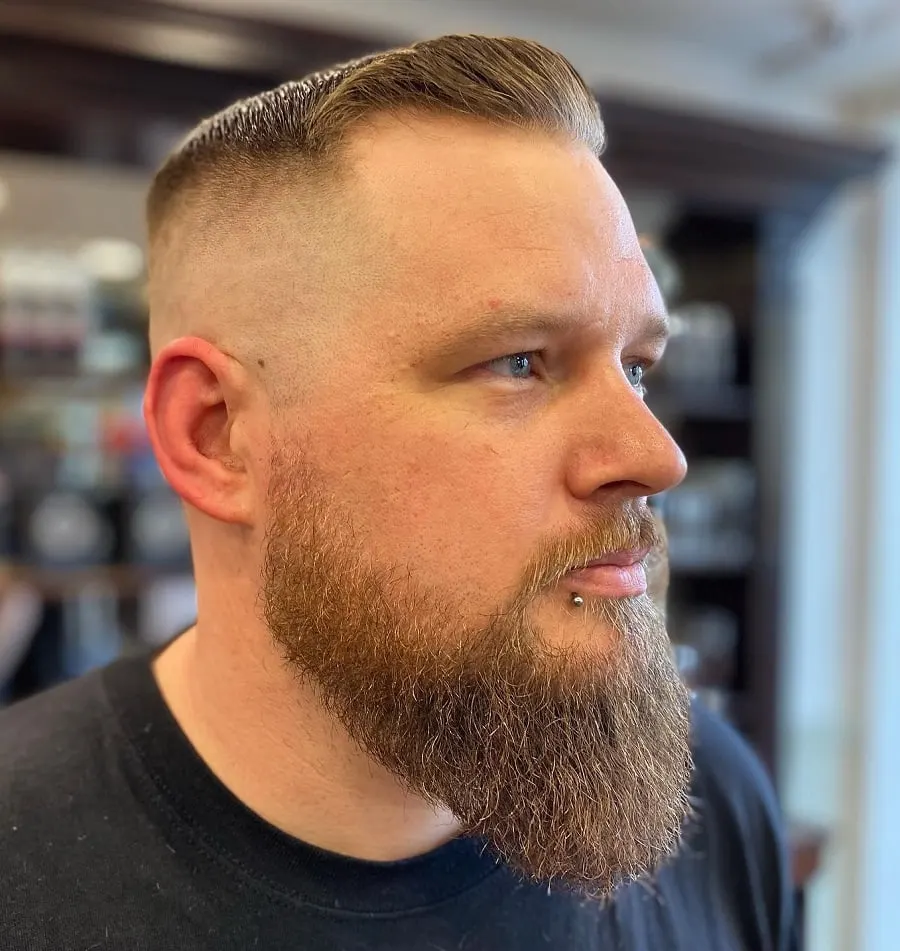 Who says a long beard can't look neat? This ducktail beard has a perfect taper on the sides but it doesn't completely fade. The longest part of the beard hangs down your chin–hence the ducktail effect. For the hairstyle, go for a typical crew cut with faded sides and back, short hair on the crown, and slightly longer hair on the top.
19. High and Tight with Mid-fade and Full Beard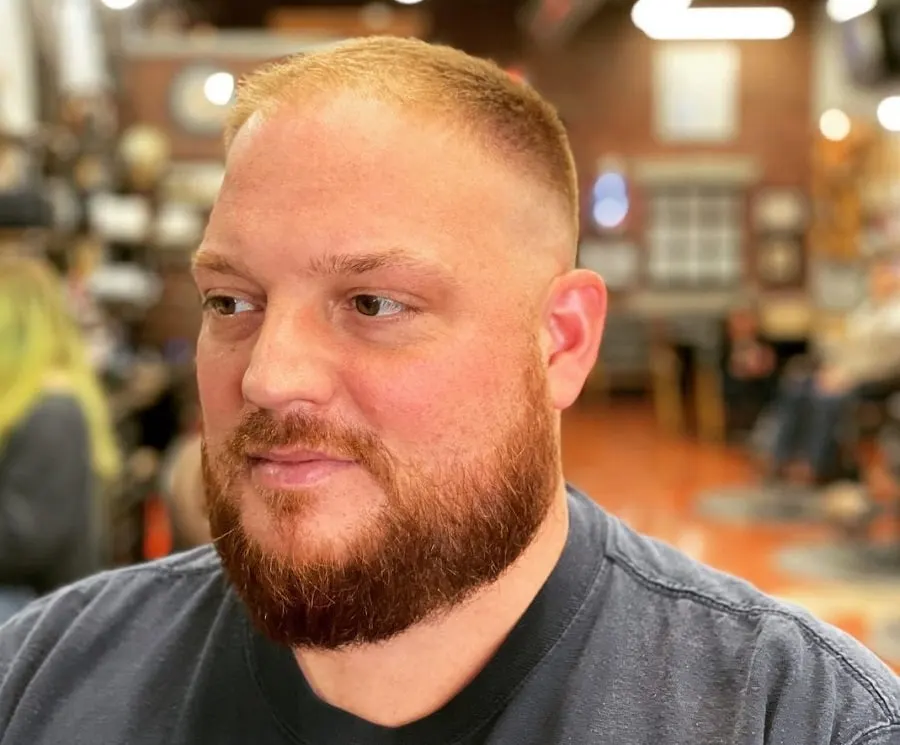 There is nothing fancy happening with this beard. It's a short beard that will require you at least a month to achieve the right hair length. What really makes this style ideal for a round face is the high and tight haircut with mid-fade.
20. High and Tight Shape up Haircut with Patchy Beard
It's okay if you can't shoot for a trendy full beard due to patchy facial hair. You can make a lasting impression with your hairstyle. Get a high and tight haircut and ask the barber for a shape-up to have a crisp hairline. This combined with a beard will be a great style for a round face.
So, these are the high and tight haircuts and beard styles for you. Whether you choose a short beard or something a bit longer, keep it well-groomed to match the tidy nature of your haircut.