General Guiseppe Garibaldi was an Italian general who played a vital role in the development of modern Italy. He is recognized as one of the best generals in modern history.
A special beard, Garibaldi Beard, is named after this great man. Garibaldi used to have a full beard and a mustache which looks a bit unkempt.
What Garibaldi Beard Looks Like
Garibaldi beard is actually a full beard having a round shape at the bottom. This beard style resembles the regular full beard style but the bottom edge of the beard is different than other full beards.
The bottom portion is not as unkempt as the Amish beard, rather it's trimmed carefully to maintain a round shape. The length of the garibaldi beard is around more than 10 cm and less than or exactly 20cm. This is also the primary difference between garibaldi and bandholz beard.
The Best of Garibaldi Beard Styles in 2023
Garibaldi style is one of the most simple beard styles as there is not much styling involved. But, as the beard grows longer, one must take good care of the beard to get rid of itches, rashes, and any discomfort. A beard oil or beard wax can come into effect at this point. Pay attention to your Garibaldi beard to prevent beard split ends and breakage of hair strands. Get the best inspirational Garibaldi beards on our website.
#1. Full Coily Beard and Long Hair with Browline Glasses
A curly Garibaldi beard is quite unique in that it looks tamed even if it isn't because the hair isn't flying in every direction. This beard looks cooler because of the disjointed soul patch.
Of course, how much you enhance the look depends on your fashion sense. You can grow long hair that cover your ears and make it a proper celebrity look with a pair of browline glasses.
#2. Red Brushed Beard with Short Pomp Hair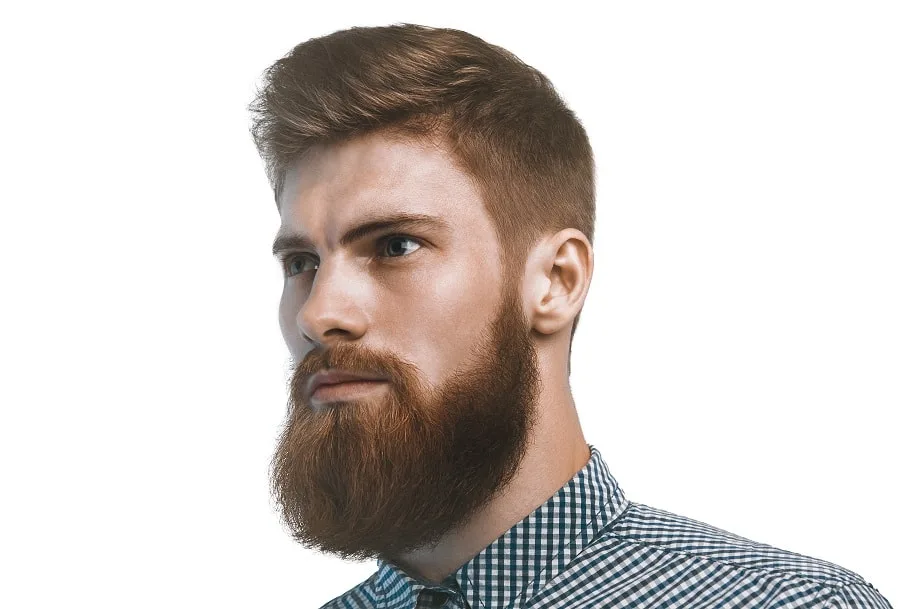 One way to stop your beard from looking unkempt is to brush or comb it regularly. With time, your hair will start getting set in the direction of your brushing, making the beard look well-groomed.
This clean look begs you to grow a trendy or a more "up-to-date" haircut, which you can achieve by going with this short pomp haircut with tapered sides for a cleaner look.
#3. Tapered Hipster Beard with Septum Ring and Dyed Hair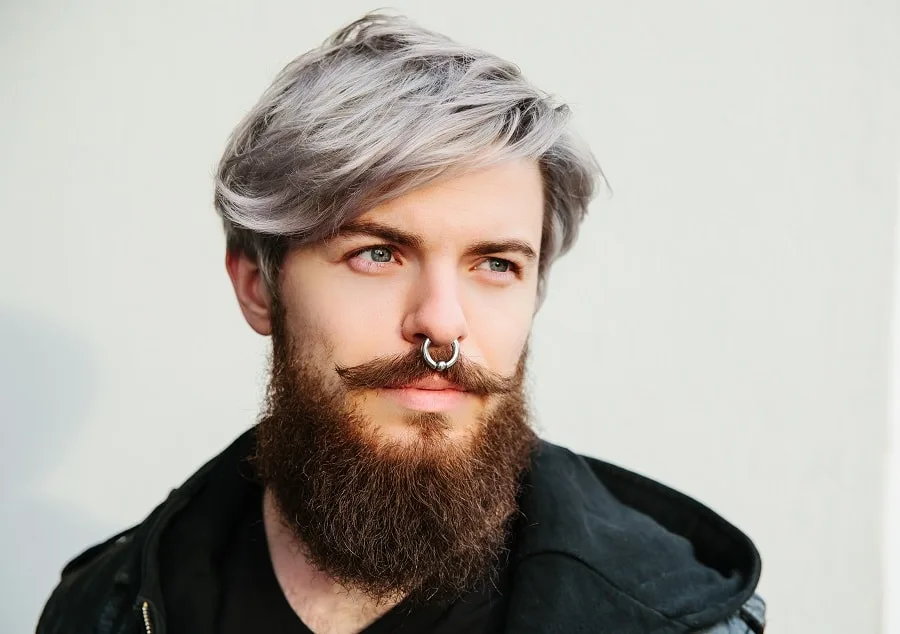 When you go for a hipster beard, you've already made a statement. With rough hair quality, it only makes sense that you keep the sides of the beard tapered like in this picture.
A curved mustache goes without saying with a hipster beard. Make your face more memorable with a thick septum piercing and dyeing your hair to contrast with your beard.
#4. Coily Ginger Beard with Rollie Fingers Mustache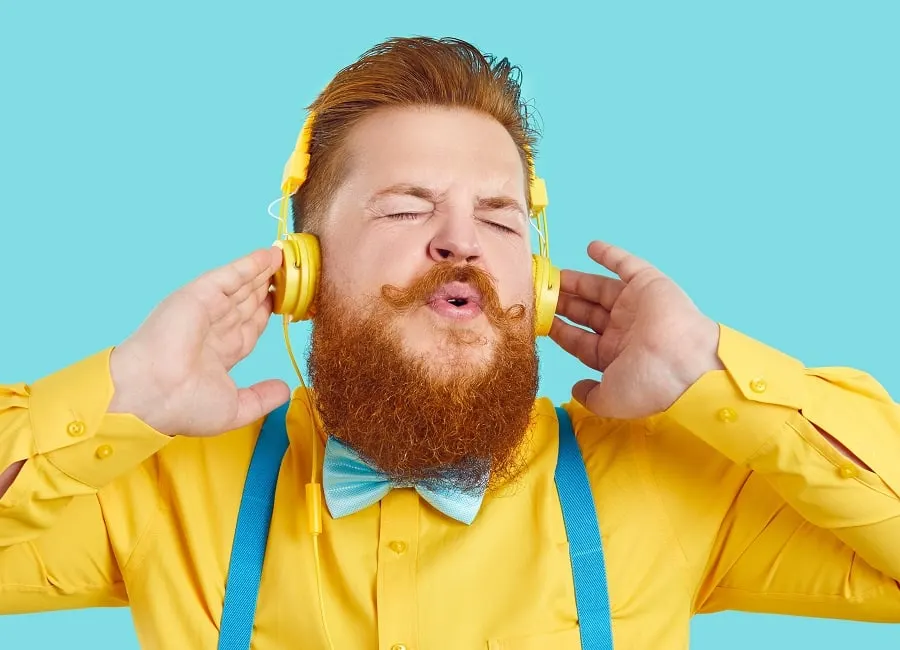 Red beard is rare and that should be your go-to reason to grow a full Garibaldi beard on your face, even if your hair is coily. Keep your beard in shape by opting for faded sides.
The faded sides coincide with the faded haircut, which looks like a simple brushed back haircut. Create a point of attention with that rollie fingers mustache with fully rounded ends.
#5. Wavy Grey Beard with Hungarian Mustache and Shaved Head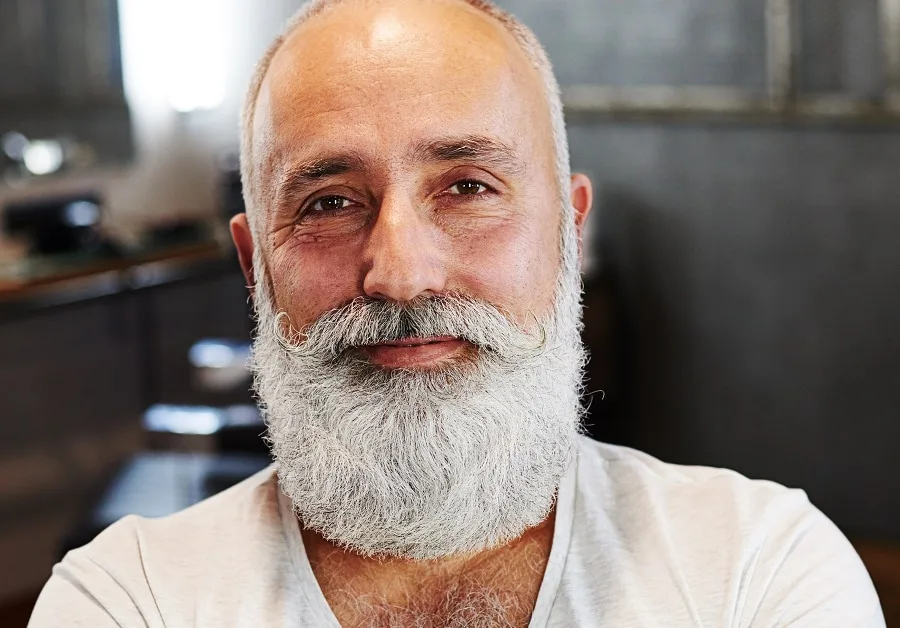 While a full beard is already quite attention-grabbing, you can't beat a grey full beard for its looks. Clip and trim the outer edges to give your wavy beard a clear outline.
Taper the sides to go along your shaved head, which is a great pick when your hairline is receding. Top it all off with a beautiful Hungarian mustache that stands its ground against a formidable beard.
#6. Short and Messy Garibaldi Beard with Walrus Mustache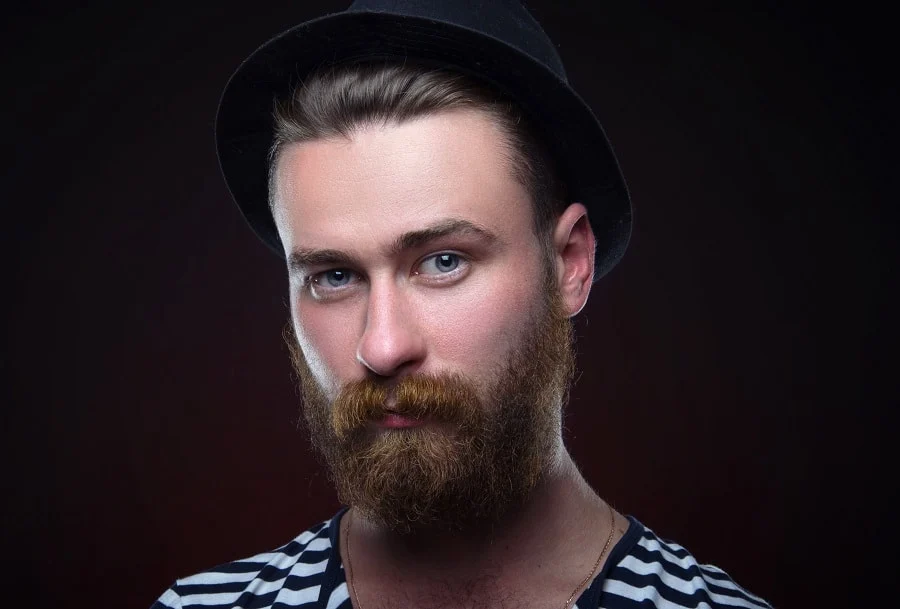 The beard is quite short here and that's the route you want to take when your hair quality isn't the best. The short beard looks slightly under control despite being a bit messy.
If you weren't to have your way with your beard, you can certainly try something with your mustache. This walrus mustache is thick and almost peeking into the mouth, which is what this mustache is all about.
#7. Sculpted Full Beard with Slicked Hair
Tired of seeing men trying to cover their long faces with different beard and hairstyles? Well, wear the shape of your face with pride with this sculpted beard that's longer on the chin and tapered on sides.
The clean cheek line and trimmed outer edges give it a unique sculpted shape. You can keep the look consistent with slicked hair combed to the back and tapered sides for that "business" look.
#8. Long Bushy Beard with Disconnected Undercut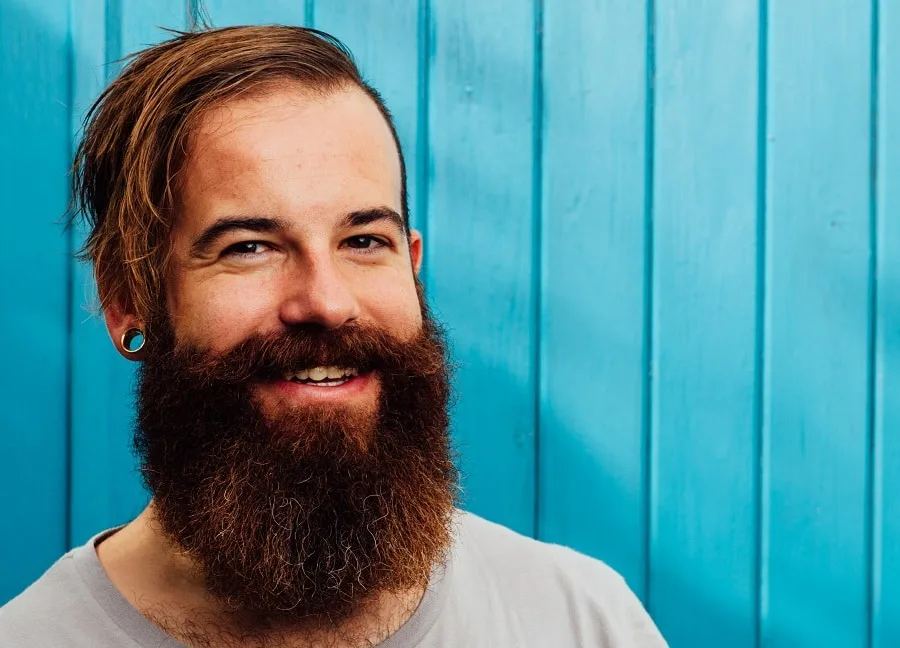 Are you a fan of that outdoor life and don't have enough time to keep your beard in shape? If yes, you can opt for this longer and slightly bushy version of a Garibaldi beard.
It's quite close to being a Bandholz beard due to the big mustache. The choice of haircut is interesting hair with very long hair on top and completely shaved sides i.e. a disconnected undercut.
#9. Salt and Pepper Bandholz Beard with Tinted Square Glasses
You can't call it a Bandholz beard unless you have a mustache that makes itself known from miles away. The salt and pepper effect makes the overall setup very interesting.
Is it too black and white for your liking? If that's the case, you can bring more color to the setup by wearing a tinted pair of square glasses. Let the golden frame shine on that black and white background.
#10. French Fork Beard for Black Men with Buzz Cut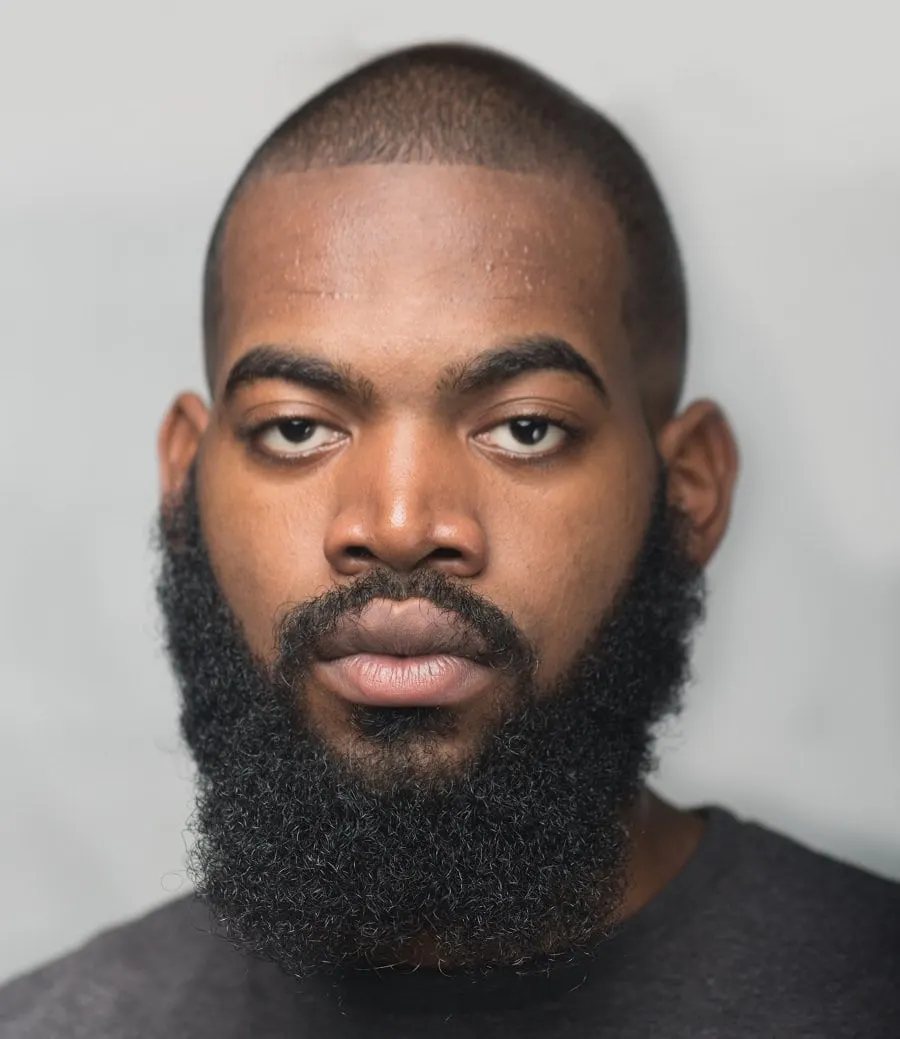 It's a Garibaldi beard with a slightly different appearance. Notice the small rift in the middle splitting the beard in two? That's what makes it a French fork beard despite being very subtle.
Do you feel the thick beard has covered a big part of your face? Open things up a little with a buzz cut that looks stylish and keeps your face from drowning in a sea of hair.
#11. Faded Sideburns
Let your beard and mustache grow long. Then trim it keeping the bottom edge round. Fade the beard with great care so that there is a smooth transition between the sideburns and the head.
Get Perfectly Trimmed Neckline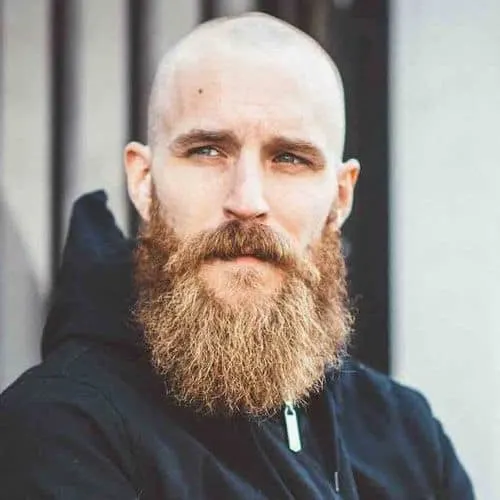 The process is similar always. You just can add diversity by changing the hairstyle and overall look. Shave the head off to have Garibaldi beard with a mustache like this bald man.
#13. Garibaldi with Monkey Cap
A simple piece of cloth can change the outlook of an individual. Monkey caps, hats, cowboy hat etc. can enhance the beauty of a person in many ways. One can try his look wearing a monkey cap along with a Garibaldi beard.
#14. Long Beard with Long Hair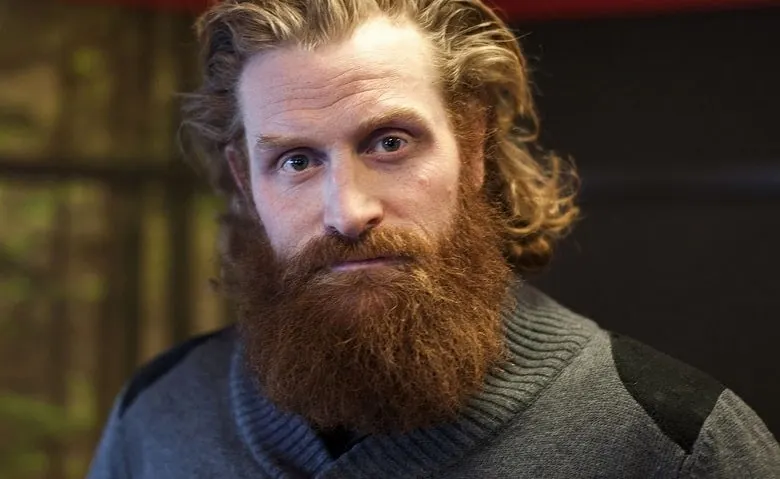 If anyone wants to show off his ability to grow hair, he can choose this style. Let your hair and facial hair grow together. And, get the charm of long hair with Garibaldi beard.
#15. Well-groomed Garibaldi Beard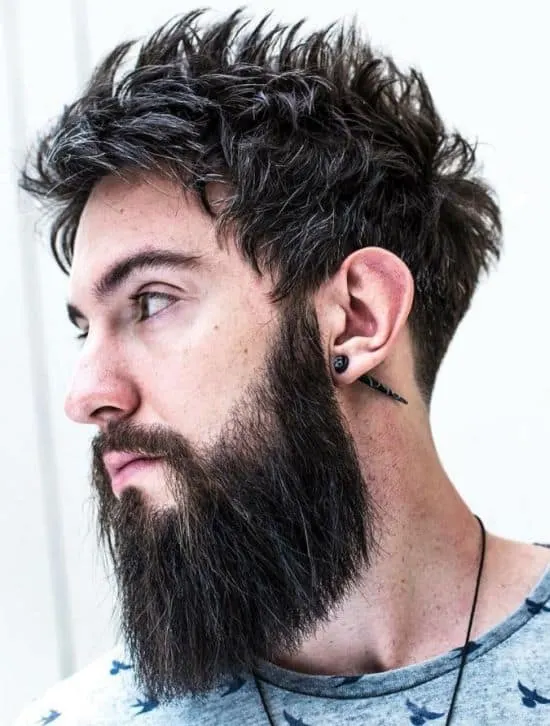 It's not mandatory to make one's Garibaldi beard look like an unkempt one. Making the cheek line and neckline clean can give a positive impression about you. And, using beard wax and beard oil is suggested to look sexier and manlier.
Garibaldi beard is a variant of the long beard. If you already have a long hair, put a little effort and convert it into a Garibaldi beard very easily. It's better to have a well-defined beard style rather than wearing a random one.