Ever wondered how a beard can make your bald head and round face become the highlight of your personality?
After thorough research and gathering expert opinions, we've compiled a list of exclusive beard styles for you. These trending round-face beard styles, ranging from classic to contemporary, are designed not only to complement the contours of a round face but also to balance and enhance a bald head.
Best Beard Styles For Bald Head and Round Face
Here are some handpicked beard styles that are bound to suit your round face and enhance your bald look, transforming it into a statement of masculine sophistication.
1. Thick Goatee and Soul Patch Without Mustache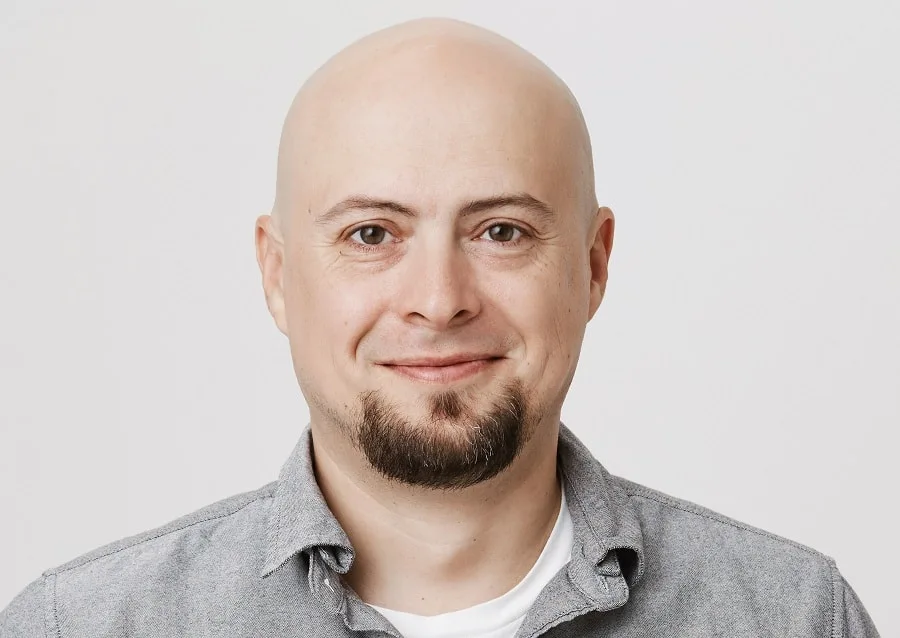 This is a short beard style for round face and bald head. This beard style has a goatee and soul patch without a mustache. The goatee takes care of the roundness of the face by adding length on the chin.
2. Bushy Beard with Extended Mustache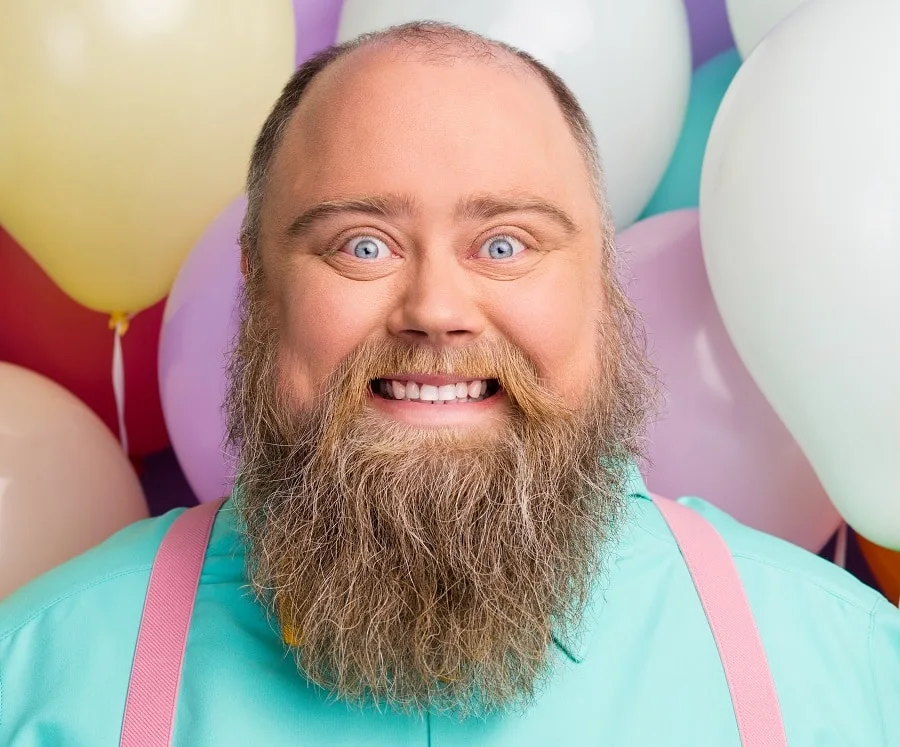 Here's a bushy full beard with a rounded end and extended mustache. This beard style covers the sides of the face and is roughly trimmed along the cheeks. The mustache has longer ends that extend and connect with the beard for a fuller look.
3. Long Goatee With Walrus Mustache Clean Cheeks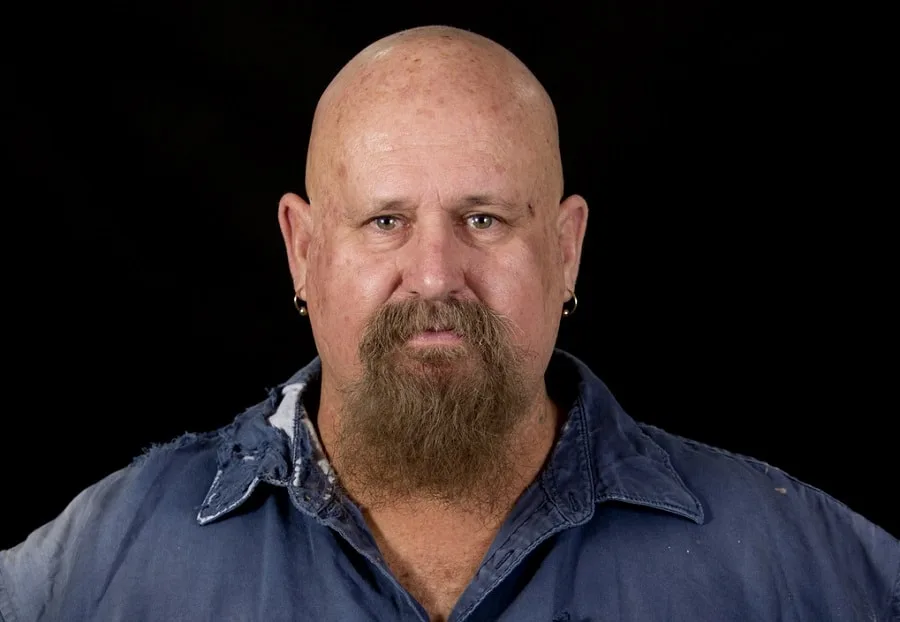 This look includes a long goatee with a walrus mustache that covers the top lip. Let the goatee grow enough to hang from the chin to attain this style, while the sides of the face should be neatly shaved.
4. Short Stubble Beard With Light Mustache and Connected Soul Patch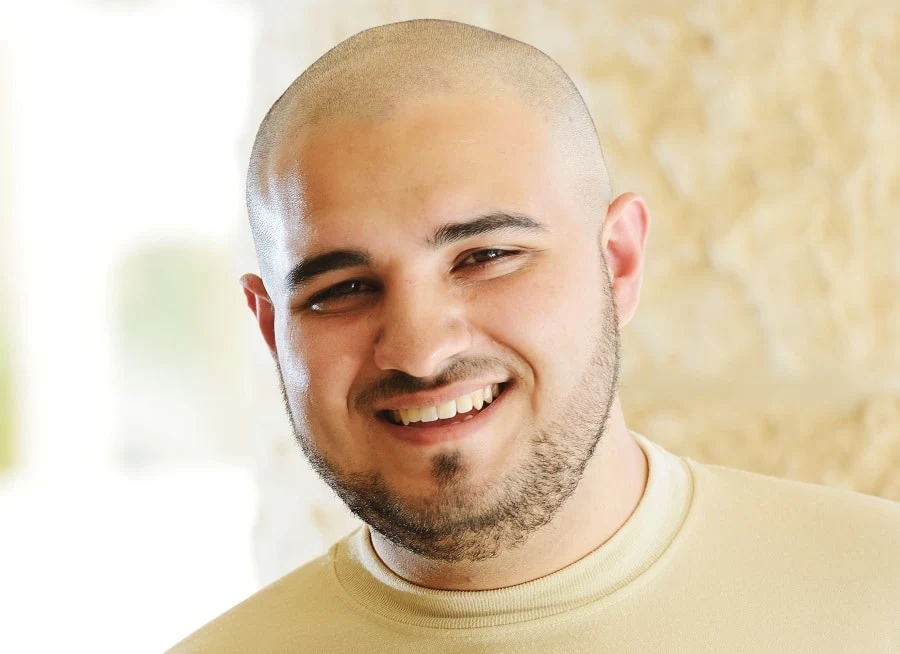 A light stubble beard with a connected soul patch can pair well with a round face and bald head. This style has neatly trimmed edges on the sides of the face and along the neck line. Also, the thin stubble mustache can balance the look by creating symmetry.
5. Salt and Pepper Boxed Beard With Soul Patch
Who said you can't sport a boxed beard with round face? This salt and pepper boxed beard style has a shorter length but offers more coverage from the sides of the face and the chin. It has trimmed inner and outer edges, as well as a thin soul patch. Plus, it pairs well with rectangular frames.
6. Curly Full Beard With Untrimmed Mustache
A grey curly beard can frame rounder faces to give them a more angular look. This is a suitable beard style for black bald men with grey beards. includes a full beard that covers the jawline, along with a patchy mustache and soul patch. The edges are roughly trimmed on the sides of the face for a softer look.
7. Red Beard With Soul Patch and White Specks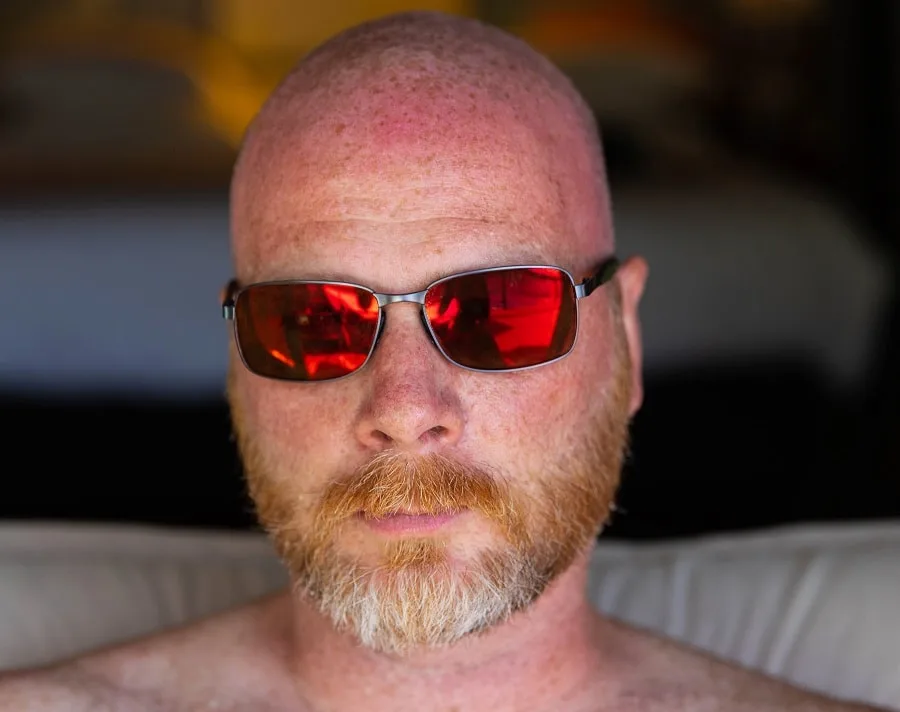 A red beard with specks of white can make for a unique combination. This beard style covers the sides of the face and the chin while trimming along the neck line. The red soul patch and mustache can complement the white beard on the chin.
8. Black and White Beard With Trimmed Inner Edges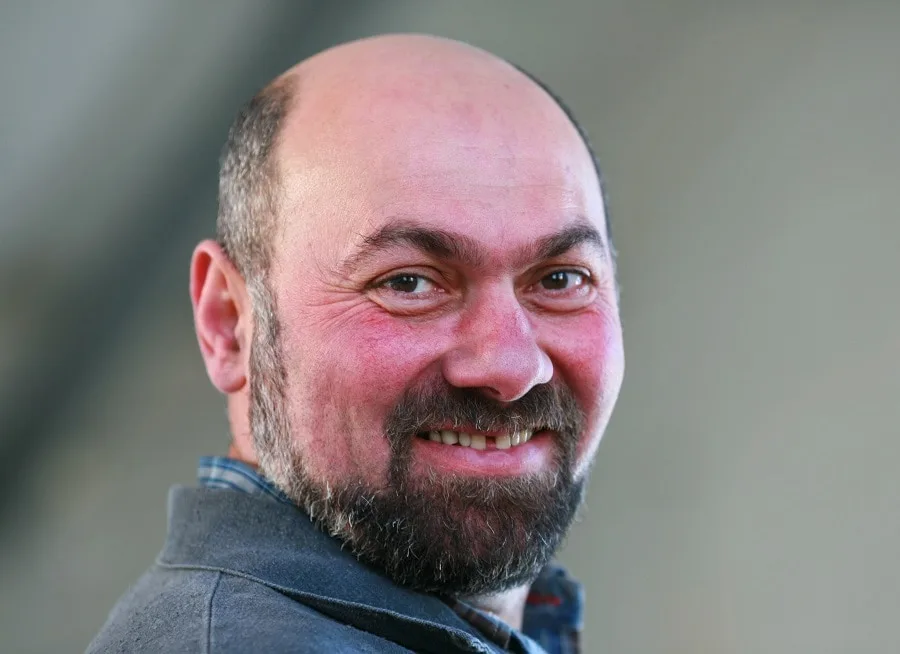 The boxed beard style is known for providing the face with uniform coverage and contrasting with a bald head. The difference between this style and a regular boxed beard is that it has trimmed inner edges with a sharp crease.
9. Short Goatee With Thin Mustache and Soul Patch
Try this thin goatee and soul patch combination if you're sporting the bald look. The thin mustache creates a balanced look with better symmetry, and instead of shaving the sides of your face, you can leave some light stubble.
10. Long Beard With Overgrown Mustache and Trim
Growing out a long beard with a tapered end and trimmed edges along the cheeks is an excellent way to define and enhance your face shape. This style has a thick soul patch with no empty spaces and an overgrown mustache.
11. Extended Goatee With Short Stubble Mustache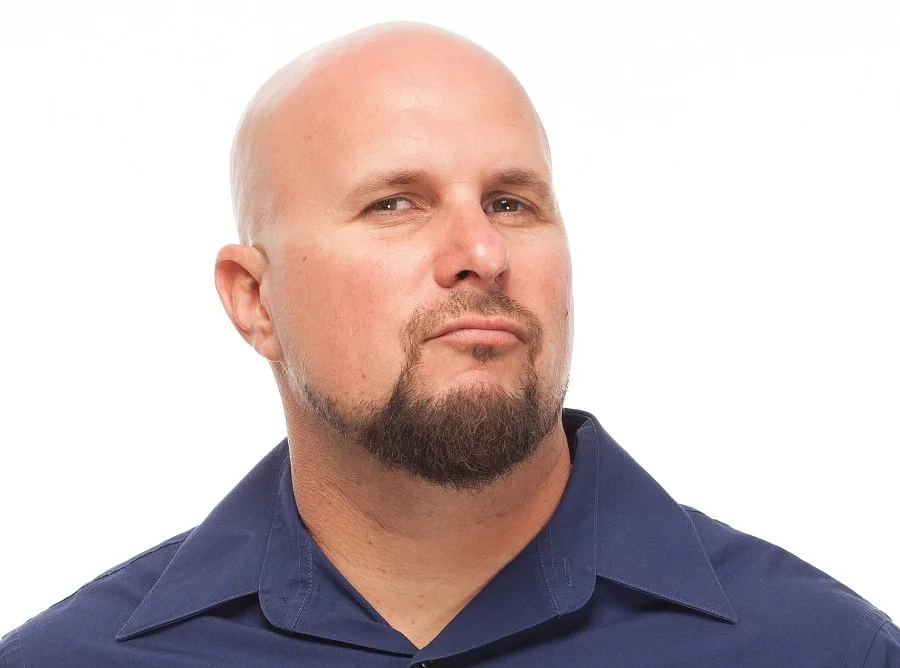 The goatee is a classic beard style that pairs well with a round face and bald head. This look includes a short stubble mustache and an extended goatee with a thin soul patch. It also has light stubble along the outer corners of the chin.
12. Stubble Chinstrap With Stubble Mustache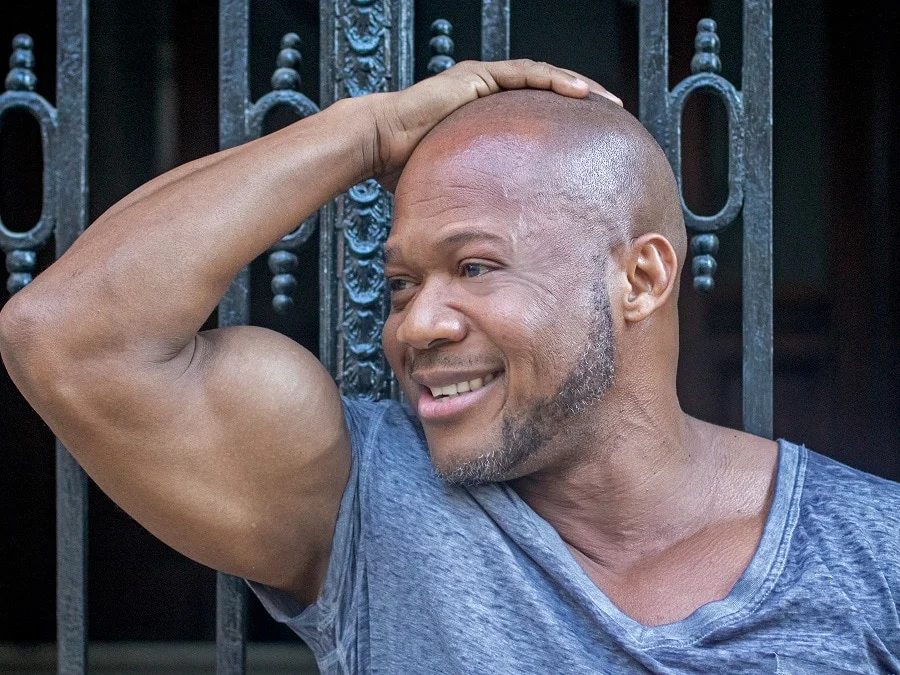 The chinstrap beard is a minimalist style that's suitable for round faces when combined with a stubble mustache. This look has neatly trimmed edges along the cheeks and just under the jaw for smooth, clean lines.
13. Stringy Long Beard With Middle Part Mustache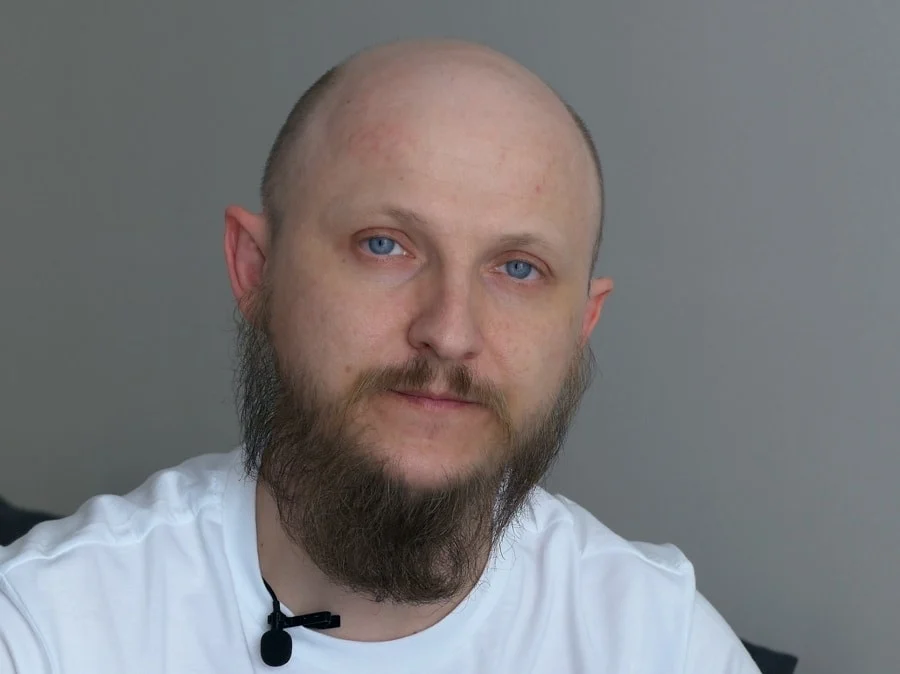 Even a stringy beard can enhance your face shape if you choose the right style. This look has a long beard that covers the sides of the face and has roughly shaped edges. It pairs well with a middle-part mustache and doesn't have a soul patch.
14. Short Stubble Beard and Mustache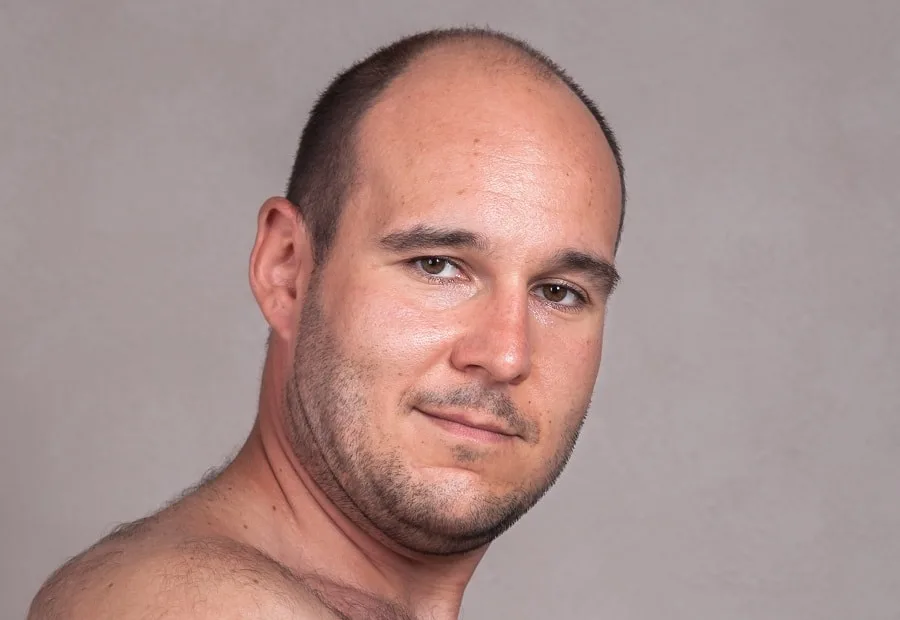 Short stubble creates a shadow effect that gives your facial features more depth. This style includes a short stubble beard with trimmed edges along the sides of the face and a stubble mustache.
15. Messy Full Beard with Untrimmed Soul Patch and Mustache
A thick beard with a mustache and soul patch can complement a bald head by framing the face and highlighting the facial structure. The untrimmed soul patch connecting with your beard can make the face look a bit elongated.
16. Long Beard with Mustache and Trimmed Edges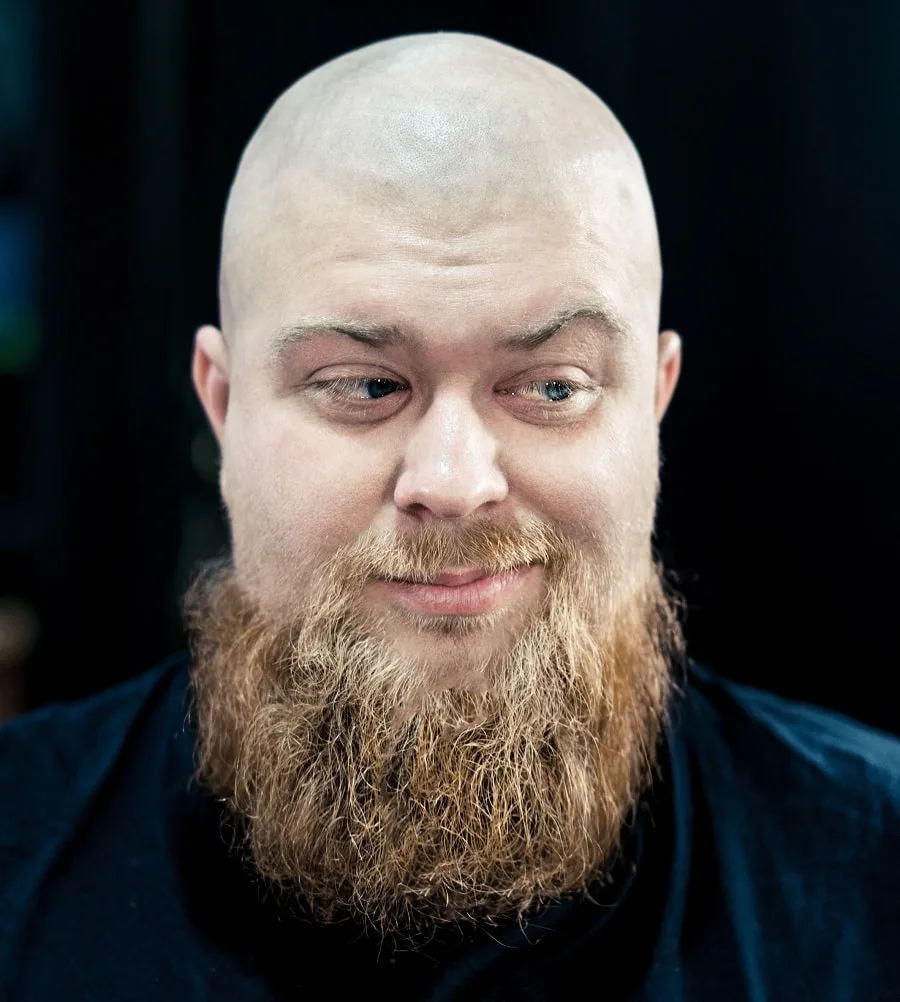 If you don't like the coverage of a full beard but prefer a long beard, this beard style will suit your taste. It offers more length and the beard to the sides, covering the jawline. It has trimmed inner and outer edges, with a mustache that connects to the beard.
So, go ahead and rock any of these stylish beard looks, tailored to enhance your round face and bald head.
Recommended For You: