Black men sporting a beard coupled with thick curly hair is a sight to behold. But what about black men who are also bald? Do they still carry the same charisma with a beard?
Baldness is not a setback for styling your beard. It can actually open up new possibilities for beard styling. NBA player Kobe Bryant to actor Samuel L. Jackson, many bald celebrities have shown how to confidently rock a beard as a bald black man.
In fact, some young black men are now willingly shaving their heads and growing a beard just to look cool.
How to Choose A Beard Style for Bald Black Men
Baldness is fairly common among men, with 42% of men experiencing moderate to extensive hair loss. This number increases with age. As it is becoming a more common problem, black men are embracing the beard to create a contrast.
There are many classy beard styles for bald men but because of the unique curly texture of black men's beards, some styles may suit them better than others. As a black man choosing a beard style for balancing the bald head needs some considerations.
Beard Densities and Growth Direction

African American men often have unique beard textures and growth patterns.
Take note of your beard densities to understand how thick or sparse your facial hair is in different areas.
Identify the growth direction of your beard to determine how it naturally flows and falls.


Consider Your Face Shape

Your face shape influences the most flattering beard style for you.
Oval Face: Most beard styles complement an oval face shape, providing versatility in options.
Round Face: A beard with more length on the chin can add structure and lengthen a round face. You can check these beard style for round face and bald head.
Square Face: Maintaining clean lines in a well-groomed beard can accentuate the angles of a square face.
Rectangular Face: A fuller beard can add width and balance to a rectangular face shape.

Opt for a Tapered Look:

Due to the curly nature of many black men's beards, a tapered beard style is often suitable.
Keep the beard longer around the chin area and gradually shorten it on the sides.
This style accommodates the curly texture, offering a clean and sharp appearance.
18 Beard Styles for Black Bald Men
Here are some of the best beard styles for black bald men to give you some inspiration.
1. Chin Curtain for Chubby Black Men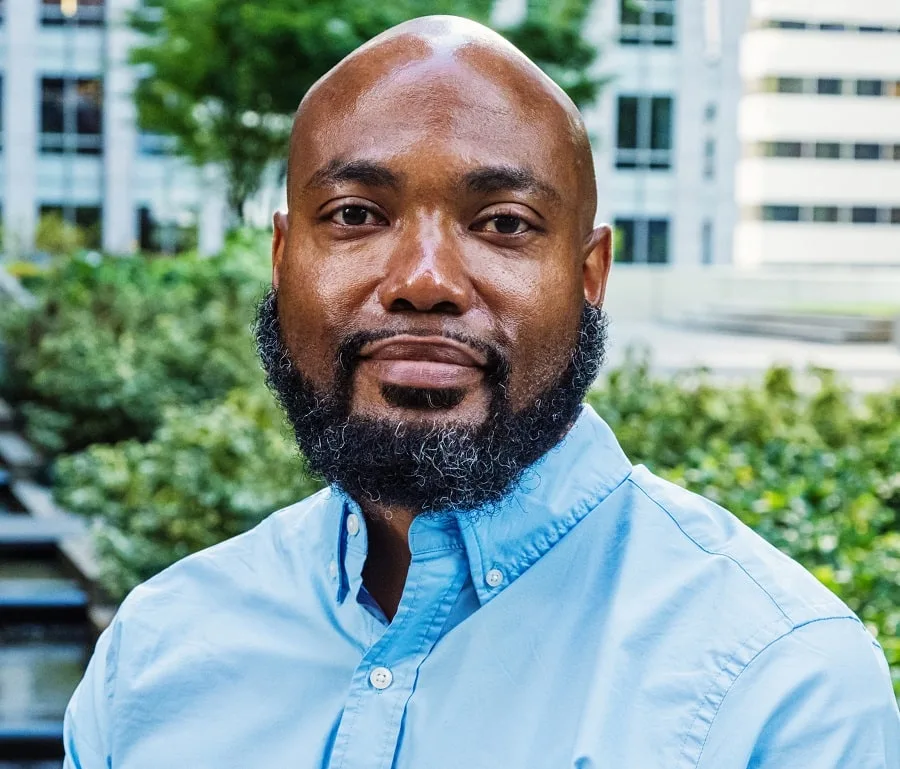 This curly chin curtain beard style is for the African American bald person who has a chubby face and capable of growing a full beard. The length of your beard on the jawline makes your face look less chubby. The medium-length bushy beard is thick and it has white hair in it.
2. Salt and Pepper Beard for Oblong Face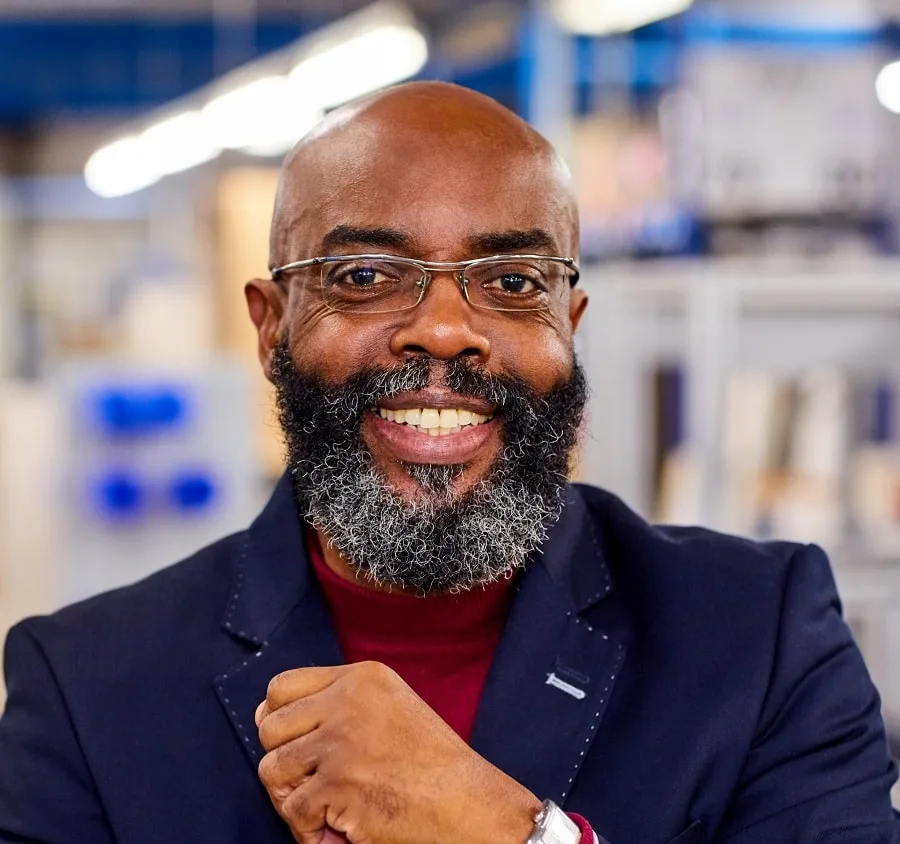 This classic style exudes sophistication and maturity; the salt and pepper beard with some curls and added length overwrites the facial borders giving them a softer look. This beard style is best for bald men with glasses.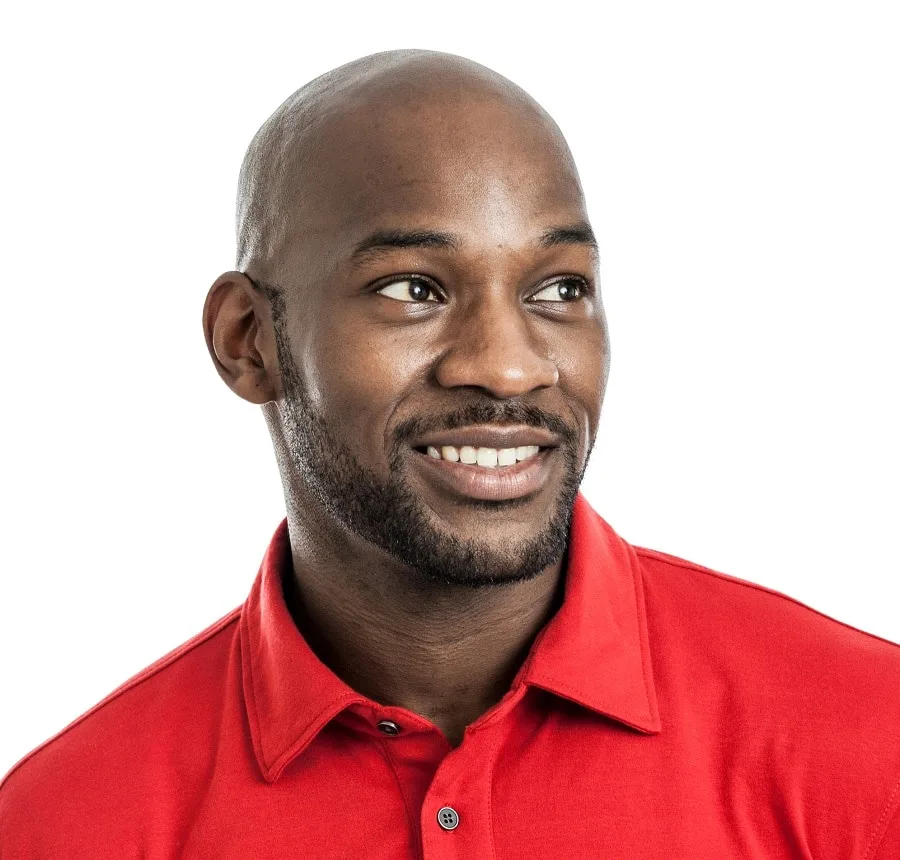 This style is perfect for guys who want to keep things simple. Instead of covering up your facial structure with a bushy beard, grow a short box beard that has bald spot on the chin. This style is recommended for those who have an oval face and a sharp jawline.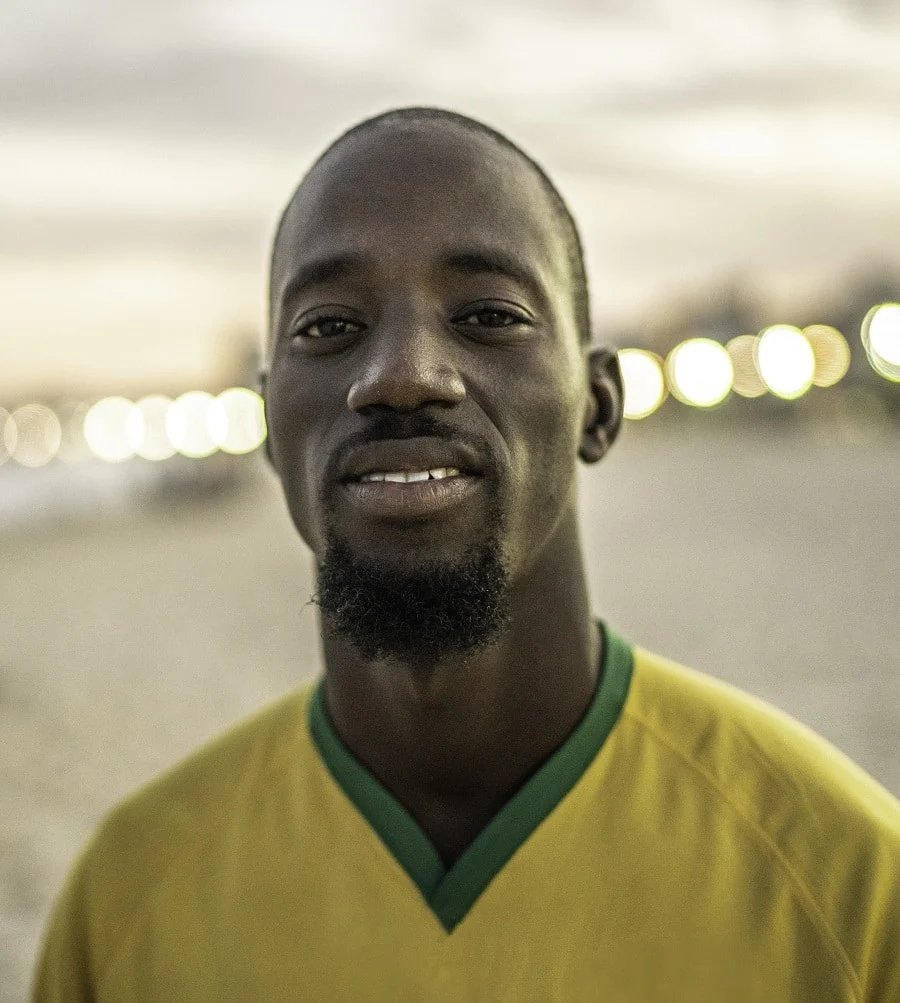 If you have a long face type, this style is perfect for you. The goatee and thin mustache bring more attention to your cheekbones and jawline, making them more prominent.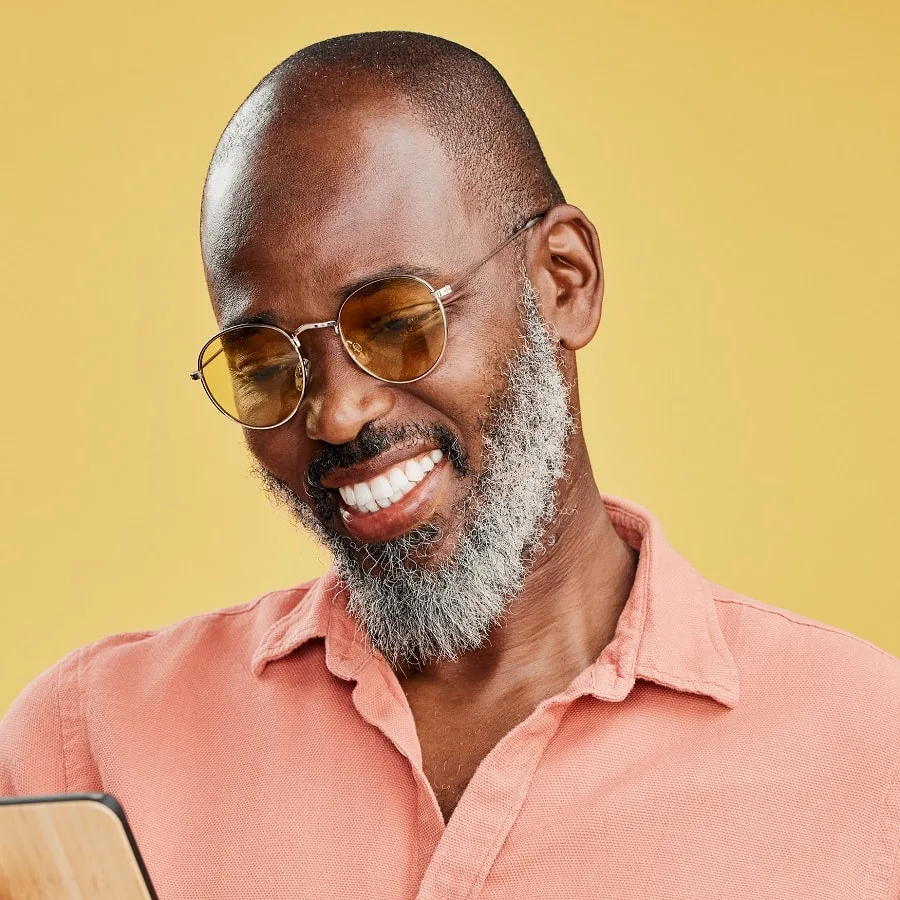 For a more casual and artistic look try out this mid-length grey beard style with bald head. It starts near the ears and moves along the jawline for even coverage. Meanwhile, the round glasses show your creativity and playfulness. Perfect for black men with a triangular face shape.
6. Chin Beard for Square Face
This style is perfect for the modern black man. The chin beard is a more suitable beard style for square face shape. Gives you a sharp, clean look. Just allow the beard on your chin to grow for a few weeks and shave the rest off. Try this style in casual and professional settings by pairing it with the right type of clothing accordingly.
7. Circle Beard with a Soul Patch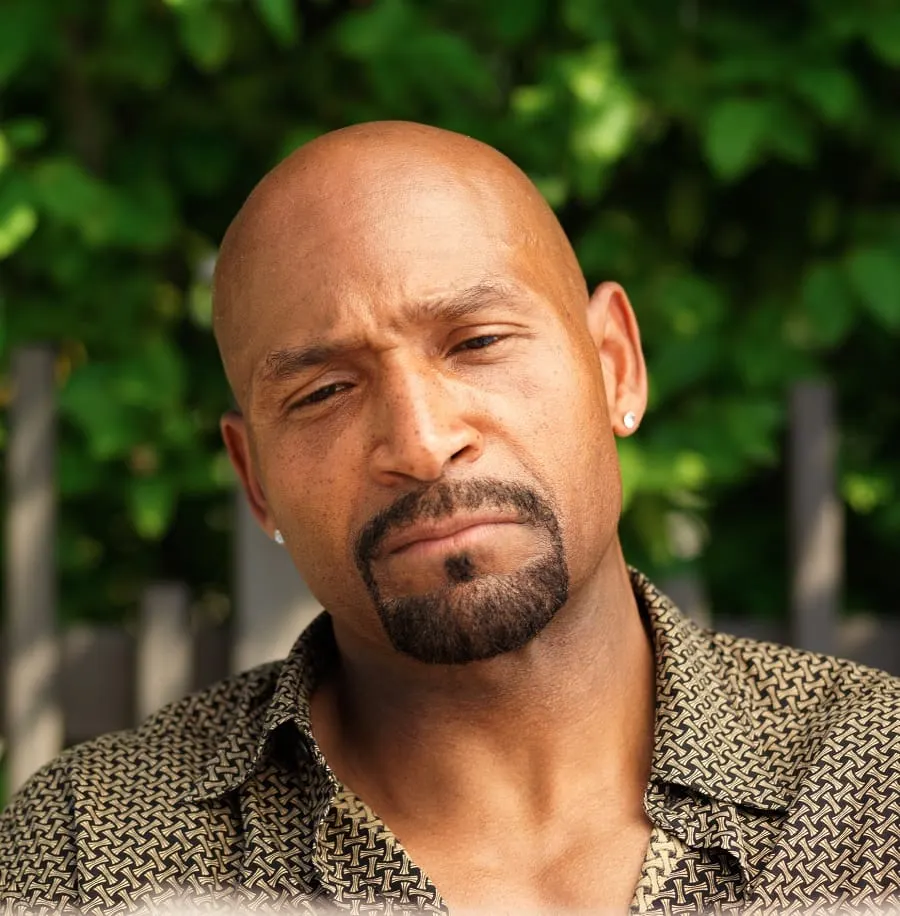 This circle beard requires a lot of maintenance to preserve that clean, finished look. Enhance the look with jewelry like earrings or a chain for an even more daunting look, making it the perfect beard for men with square or oval faces. It must be trimmed regularly for a clean chiseled appearance.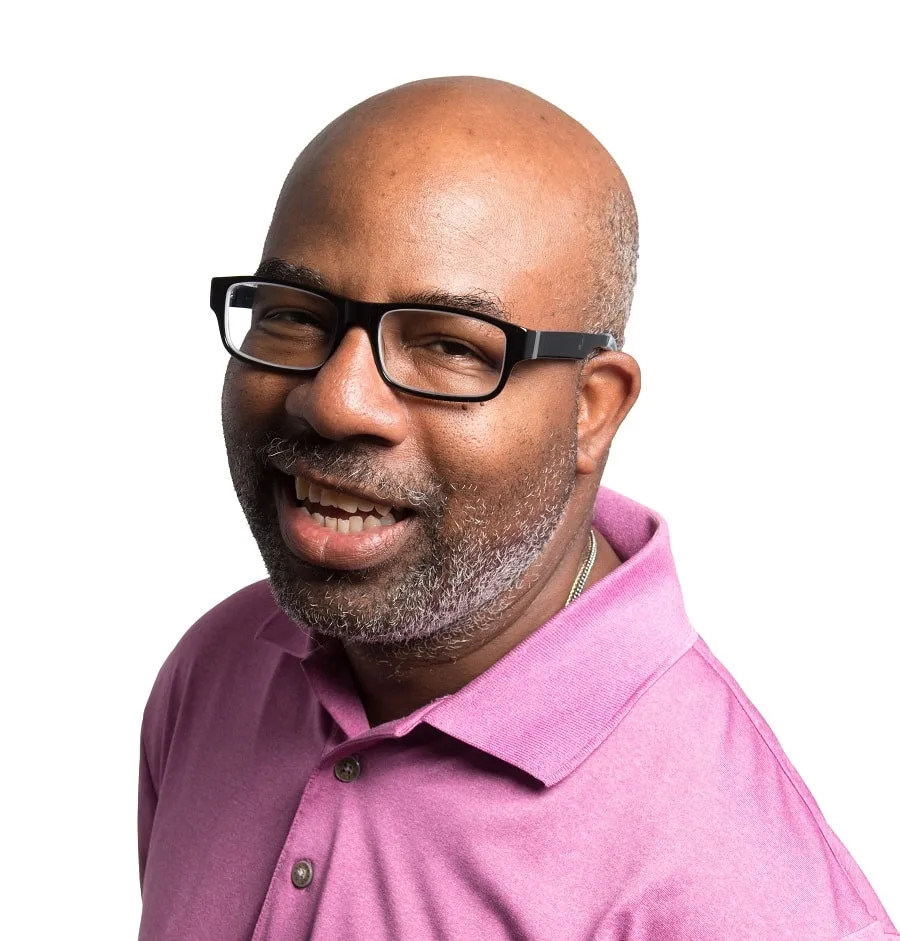 If you don't like long beards and the headache that comes with them or just maintaining them, this style is just for you. All you have to do is to make sure to trim the stubble from time to time so it's the right length. Recommended for individuals with a round face.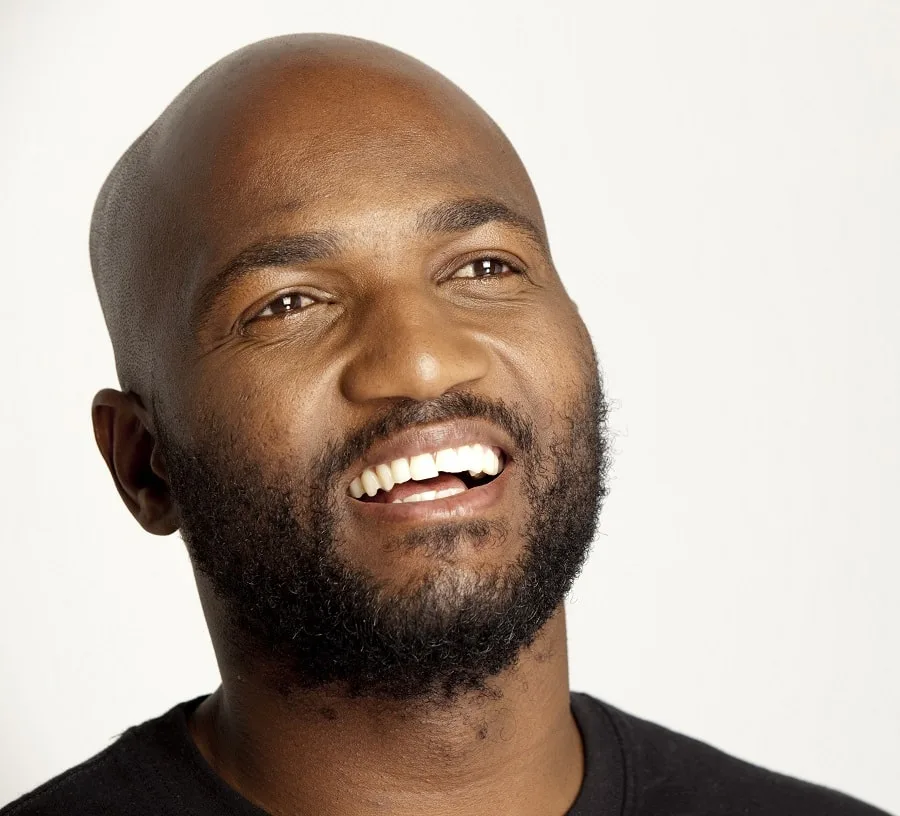 This is a laid-back style that doesn't require a lot of maintenance. The beard covers all the sides of your face under the chin. Connect your beard with a mustache for a well-rounded look. This style is great for someone with a round face.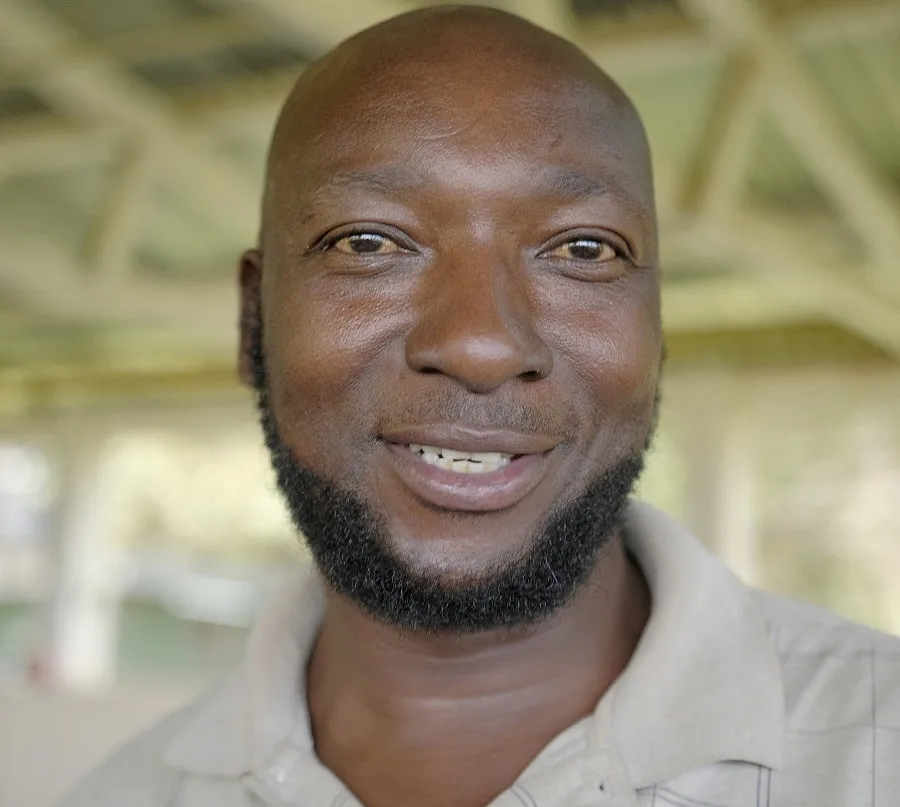 This Dutch beard style covers the jawline and chin perfectly and the mustache is shaved. Grow a beard on your jawline and add some length to give some fullness to your face. Keep in mind to trim the edges regularly for a cleaner look.
11. Light Stubble with a Mustache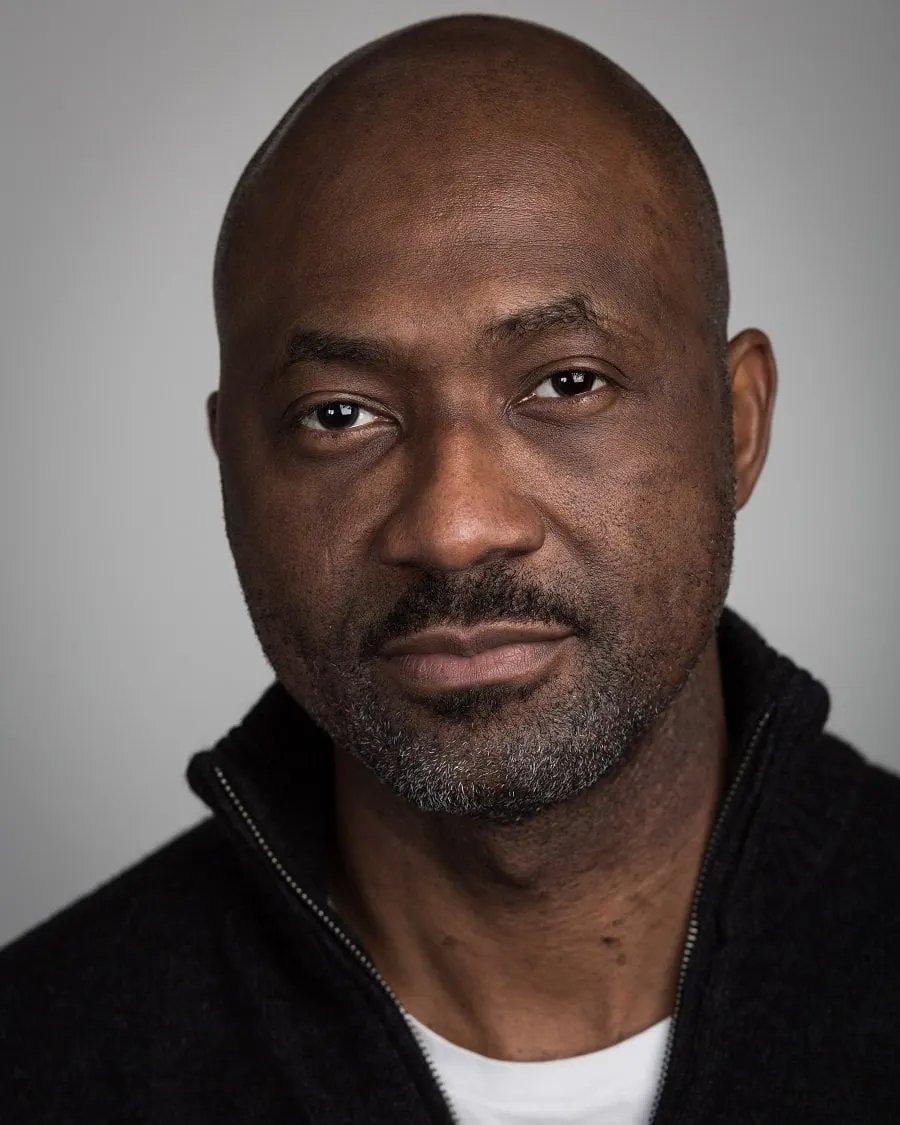 A short mustache and a light scruff are best for the ones with an oval face and a sharp jawline. It makes you appear stern and serious. It's a non-nonsense look that you can pair with various styles. Trim it regularly for a clean maintained look.
12. Harden's Philly Beard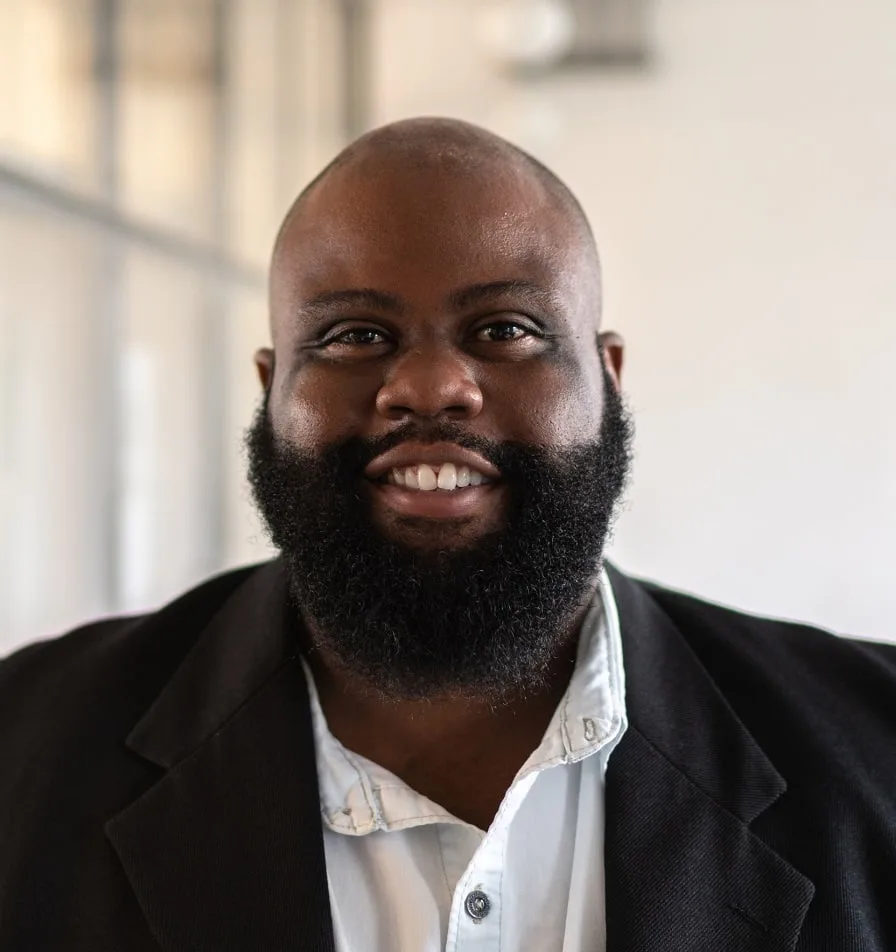 This style is similar to the NBA star James harden's Philly Beard. The beard amplifies the prominence of cheekbones and overwrites the facial structure. Gives you an overall friendly and approachable look.
13. Extended Goatee for Oblong Face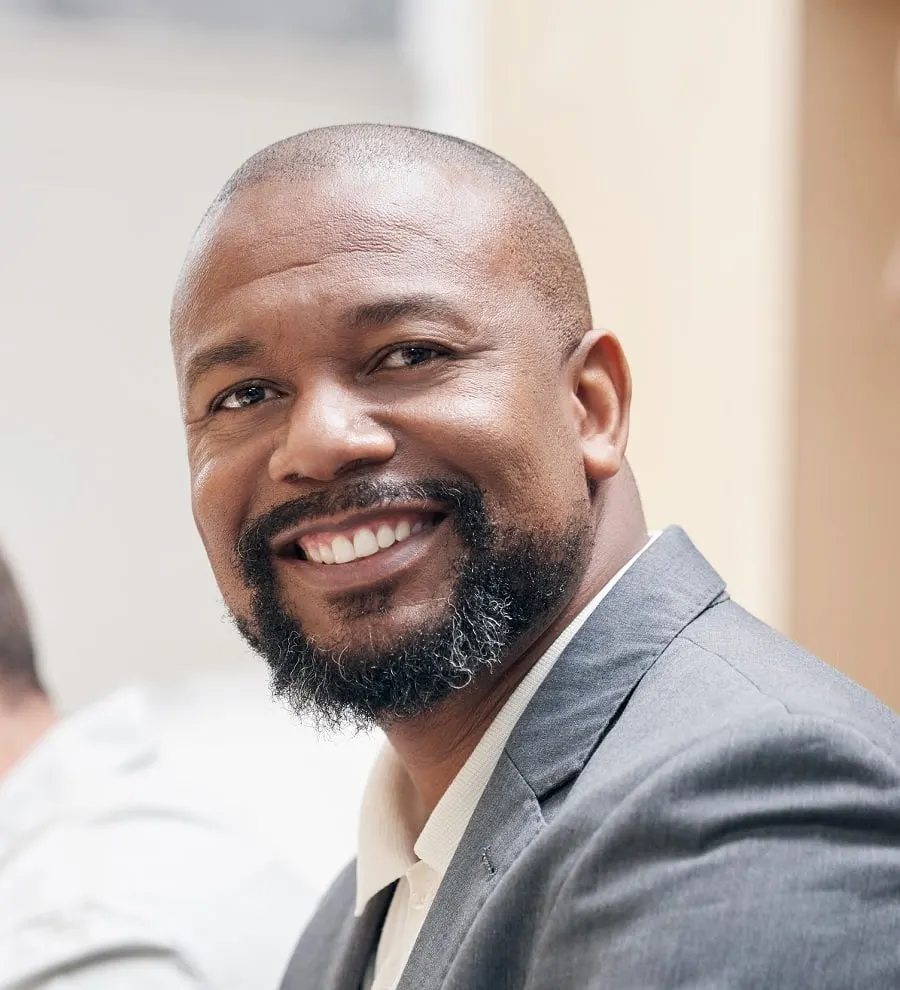 The square goatee is a dashing style that'll showcase your unique sense of fashion. Perfect for those with a square face shape. Just remember to trim the inner and outer edges of your goatee for a well-groomed appearance. Recommended for professional settings.
14. Stubbly Goatee with a Soul Patch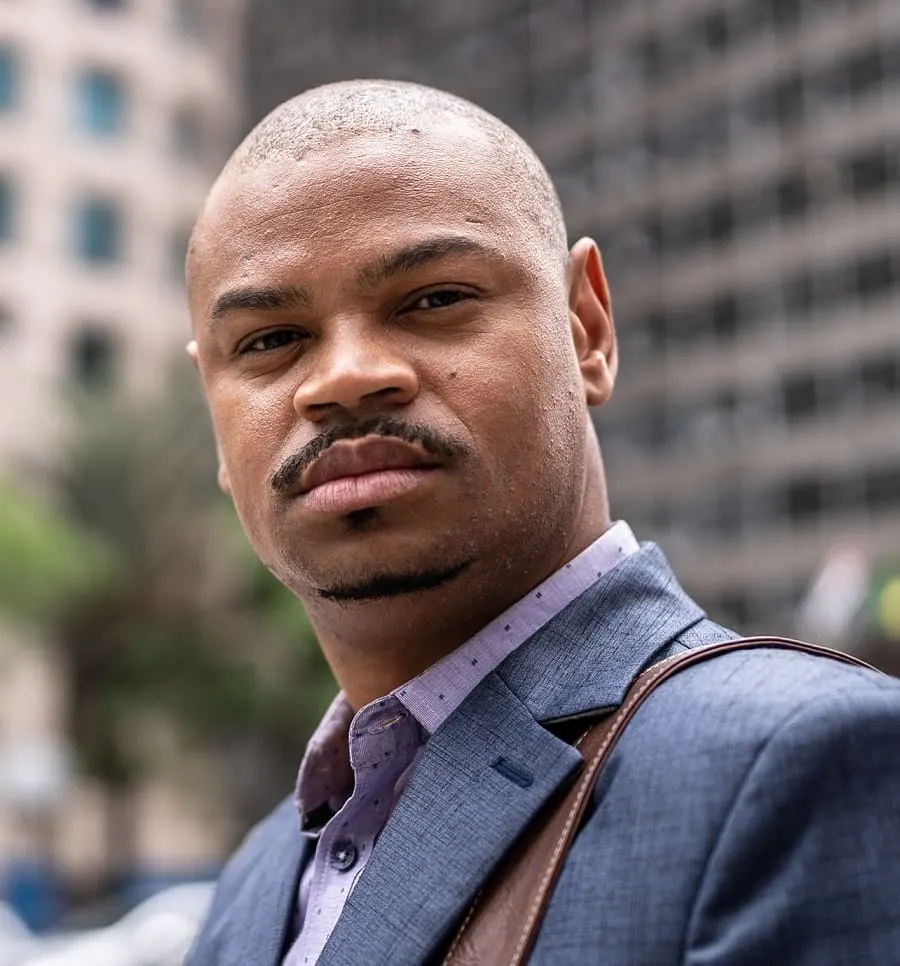 This is for the ones who wish for a sharp yet low-maintenance look. Black bald men generally look handsome with the disconnected goatee due to the definition this style gives to other unique distinct facial features. Perfect for people with a square face shape.
15. Braided Full Beard with Diamond Face Shape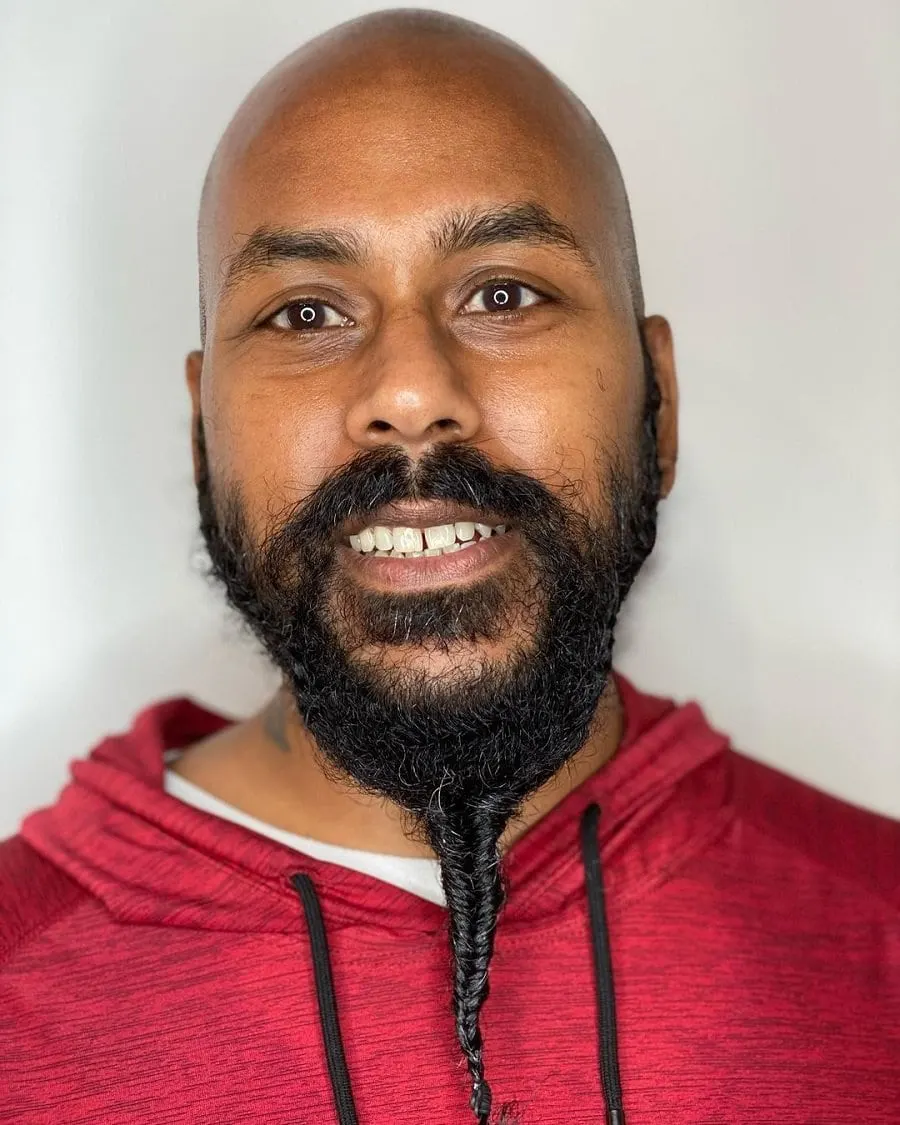 Now, this is an attention-grabbing style because it braids your beard and offers an opportunity to add some accessories as well. Perfect for those with a diamond face shape. It doesn't require much maintenance, but you'll need to see a stylist to braid your beard.
16. Long Beard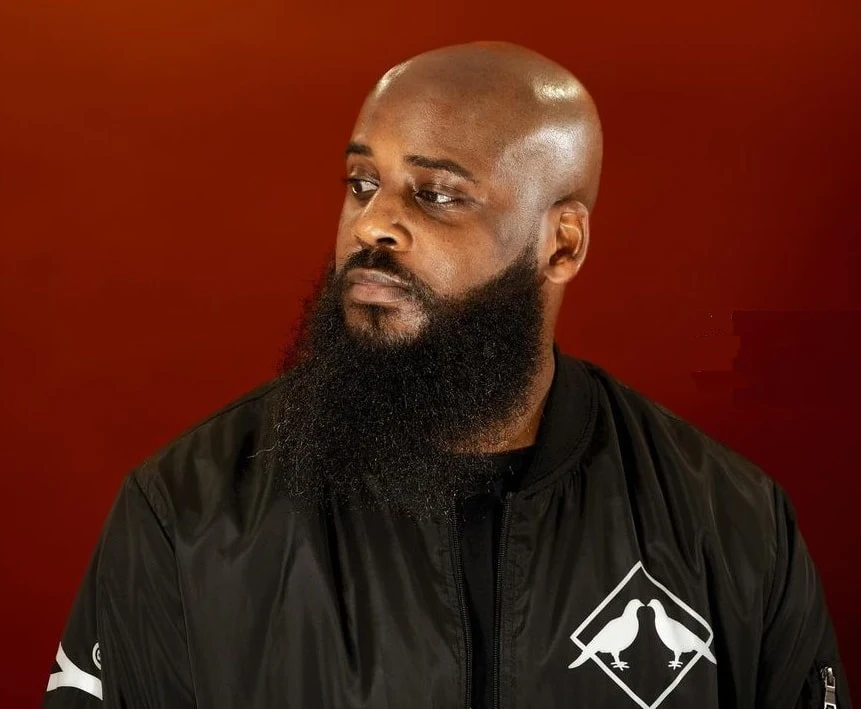 This style gives you a carefree yet focused look. Just allow the beard to grow naturally and trim the sides when necessary. Use a blade to carve out the edges to make it look well defined. Perfect for people with oval faces.
17. Thin Chinstrap with a Mustache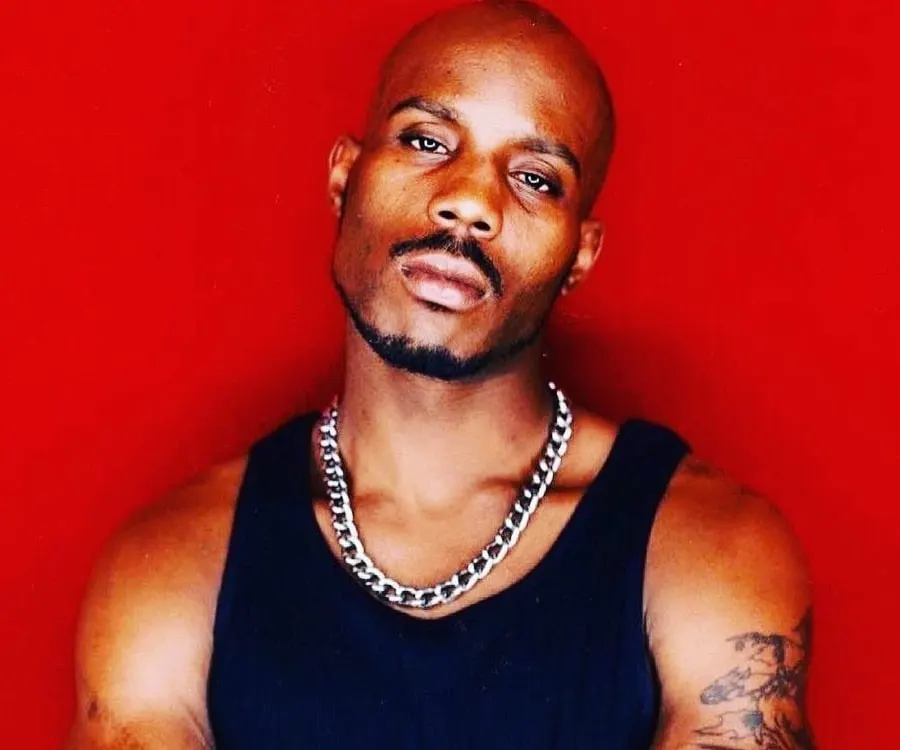 In this style, your beard enhances the jawline while the thin mustache directs the attention towards the other facial features. Use a razor to give it a regular time and make sure it continues looking fresh. You can even pair this style with chains and tattoos, and accessories.
18. Red Beard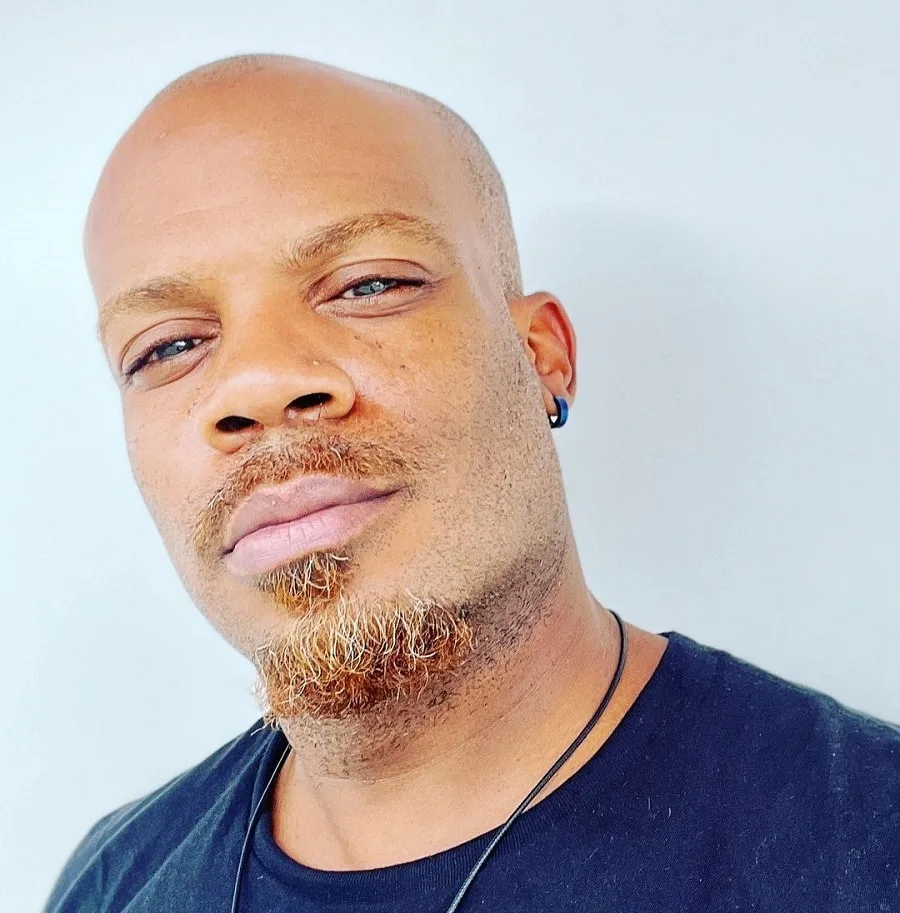 Color your beard red to stand out from the crowd. Use beard oil frequently to keep it looking fresh, and pair it with earrings to make a bold fashion statement. Trim the sides regularly to keep a fresh look.
Conclusion
In conclusion, black bald men have a wide range of beard styles to choose from to complement their bald heads. There is a beard style for every type of face and every type of person. All you need to do is practice different styles and find what suits you. It is about time that black men own this bold and masculine look.