Beards have become a growing trend among NBA players. Players are using their beards to express themselves beyond their basketball skills to create an identity. They also try to add a touch of ruggedness to look aggressive on the pitch.
But this trend didn't just appear out of nowhere. Throughout NBA history many players have rocked the beard and set the beard trend in NBA. As we look ahead, it's clear that beards will be popular in sports like NFL, NBA, etc.
Players like Wilt Chamberlain and Bill Russell were famous for their circle goatee beards besides their on-court rivalry. In recent times, James Harden, LeBron James, and Anthony Davis continued the legacy of beards in the NBA on and off the court.
Check out our top picks of NBA players with a beard in 2023.
Why Do NBA Players Grow Beard?
The reason behind the rise of NBA players growing their beards can vary. Sporting a beard not only showcases individual style, but also helps them stand out, and intimidate opponents.
On the court, the beard has become a symbol of toughness and grit, with many players using their facial hair to intimidate their opponents.
Off the court, the beard has become a fashion statement, with fans and non-players alike embracing the trend and incorporating it into their own style.
Some NBA players have chosen to grow out their facial hair during the playoffs as a way to show their solidarity and commitment to the team. This is similar to the way that NHL players grow out of their playoff beards.
The popularity of the NBA beard has an economic impact, with players such as Harden and Westbrook using their facial hair to sell merchandise and build their personal brands. This has led to a new market for beard grooming products.
NBA Beard Styles
Basketball players continue to showcase their creativity and individuality with a variety of beard styles in 2023. Here is our top 30 bearded NBA players list:
1. James Harden with full bushy beard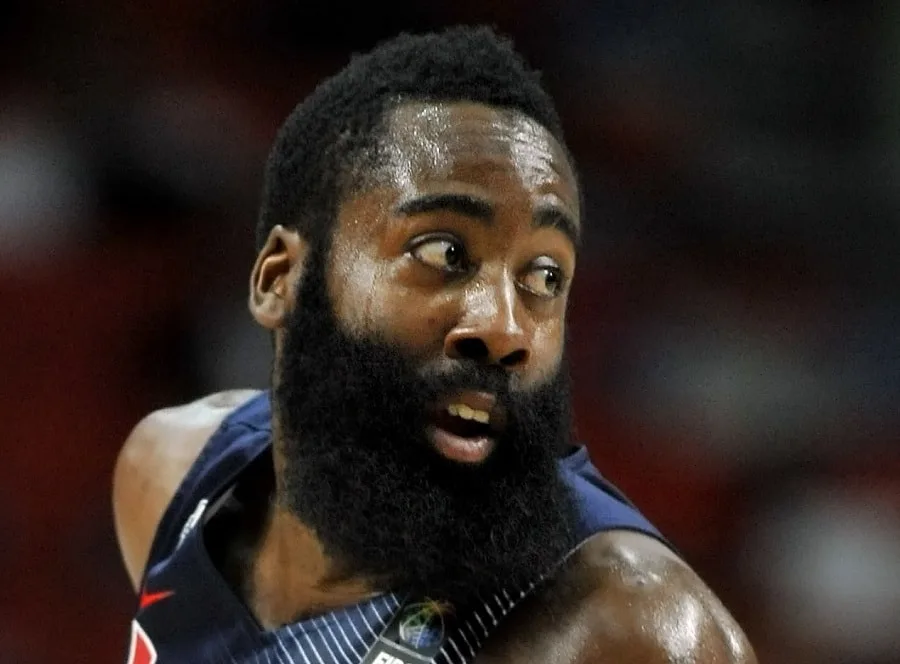 The Philadelphia 76ers superstar guard James Harden is arguably the most famous NBA player with a beard. His signature look has become synonymous with his on-court skill and performance on the basketball court.
Harden started growing his beard in 2009. It is hard to imagine James Harden without his beard. Harden's beard is full and bushy, with thick, dark hair that covers his chin, jawline, and upper lip.
The beard has become such a defining feature of Harden's appearance that it has even been trademarked as his personal brand.
2. Anthony Davis with messy curly beard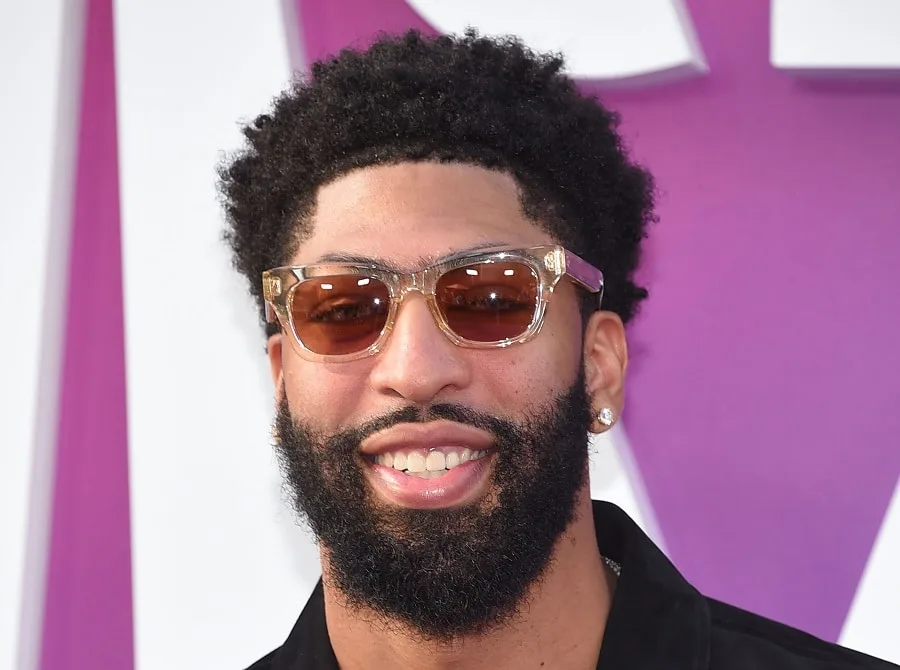 Though he is widely recognized for his prominent unibrow, his beard style also caught the attention of NBA fans. This Lakers power forward has a thick full curly beard that covers most of his cheeks, chin, and neck and it meets the trimmed mustache.
3. Domantas Sabonis classic full beard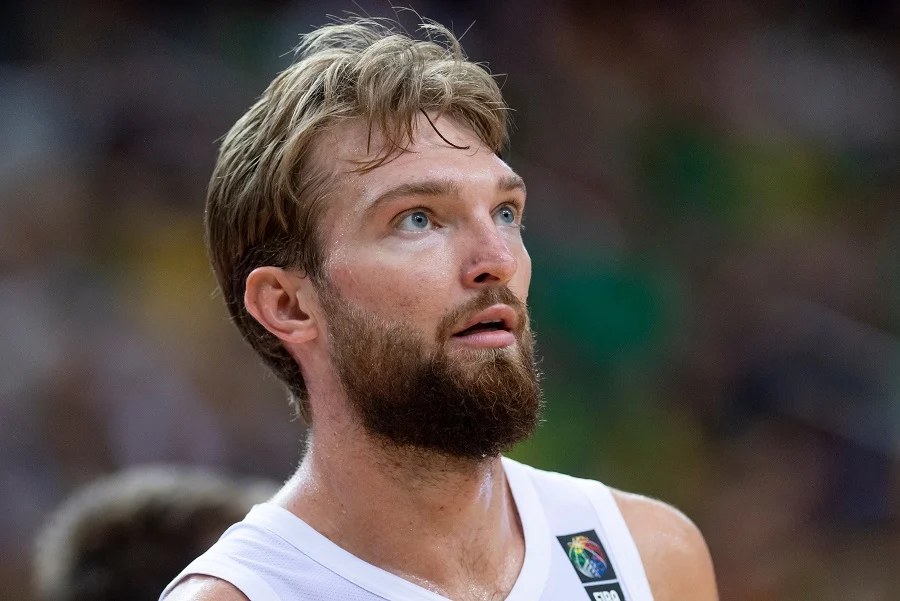 Sabonis' classic full beard covers his chin and jawline and grows longer towards the bottom. However, he cleanly shaves his cheeks to create a defined line between his thick beard and his face and neatly trims the hair on his neck to a zero size for a clean and polished look.
4. Trae Young with stubble goatee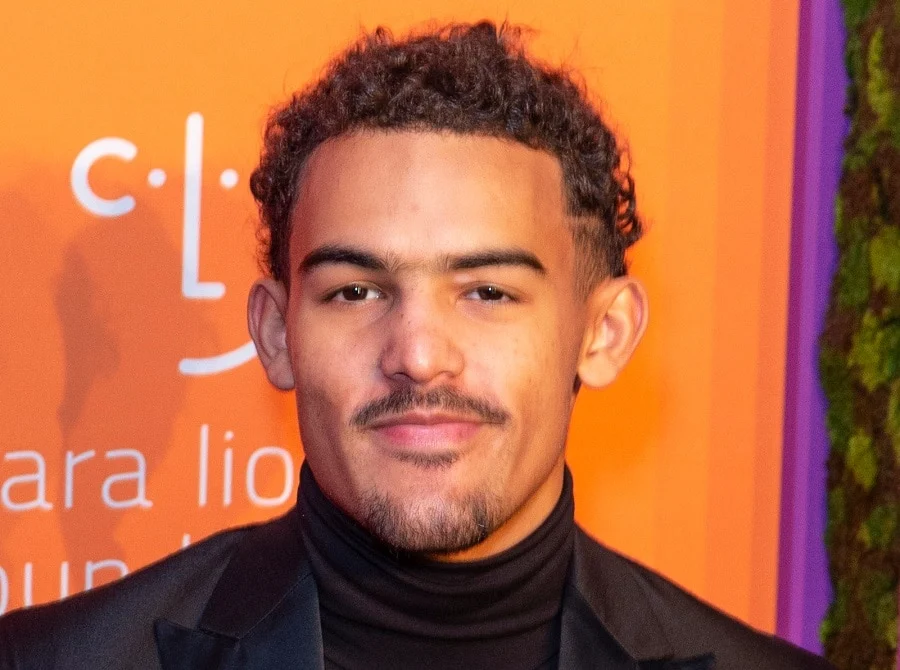 He has a thin strip of hair on the chin that is evenly trimmed and a tiny line of a mustache. The rest of Young's facial hair is clean, with no visible neck hair or stray hairs on the cheeks.
5. Lebron James with chinstrap beard
This NBA star's Philly beard or beard with chinstrap is a beard style that originated in Philadelphia, Pennsylvania.It is trimmed to a 1/2-inch length. To complete the look, Lebron James trimmed the beard on his chin. He also blended a thin mutton chop to give it a unique appearance. This look works best with medium to thick facial hair.
6. Luka Doncic with stubble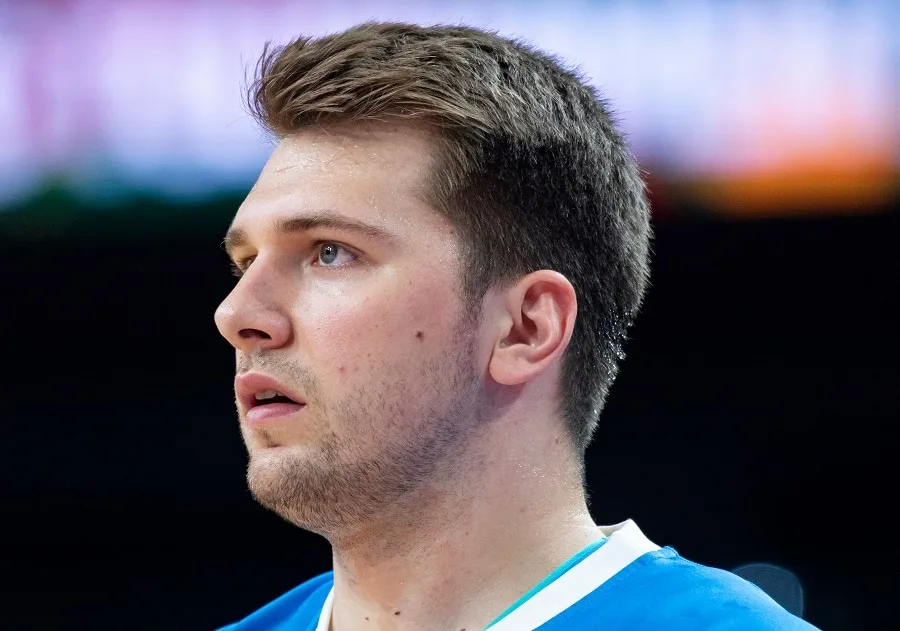 The Slovenian-born NBA player has been keeping a short stubble beard since his rookie season in 2018, which has become a recognizable part of his image. You can compare Doncic's beard to many other professional athletes' five-o'clock shadow style. Ultimately, the short-stubble style helps to give him a mature appearance and helps to emphasize his chiseled facial features.
7. Kyrie Irving with medium-length full beard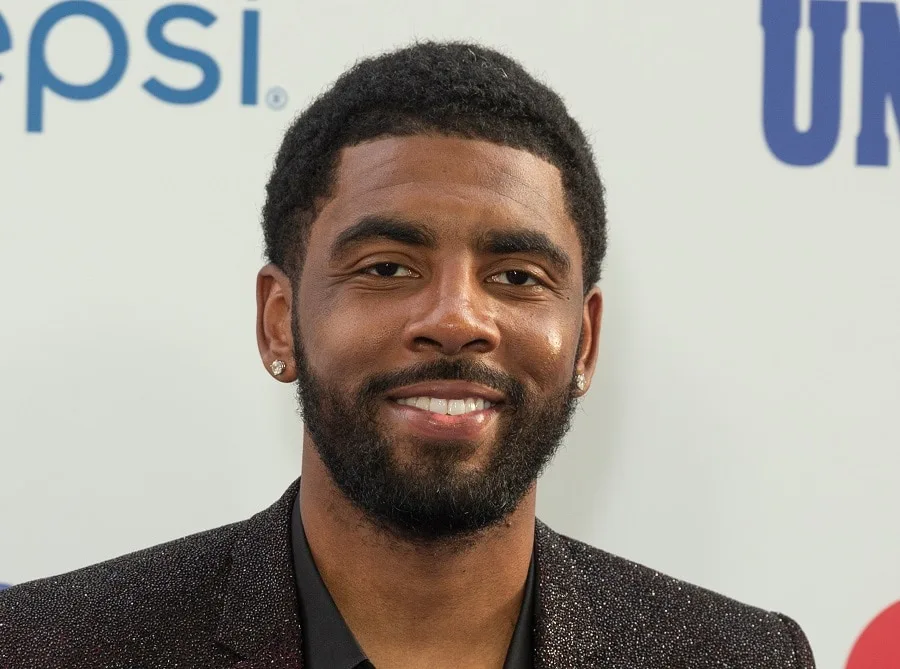 Kyrie Irving's box-style medium-length full beard helps him to show his handsome appearance and gives him a perfect look for any occasion. Nevertheless, a light curl on his facial hair defines his strong jawline and balances out his face. On top of that, the Mavericks star's neatly lined mustache adds a touch of sophistication.
8. Rudy Gobert with short boxed beard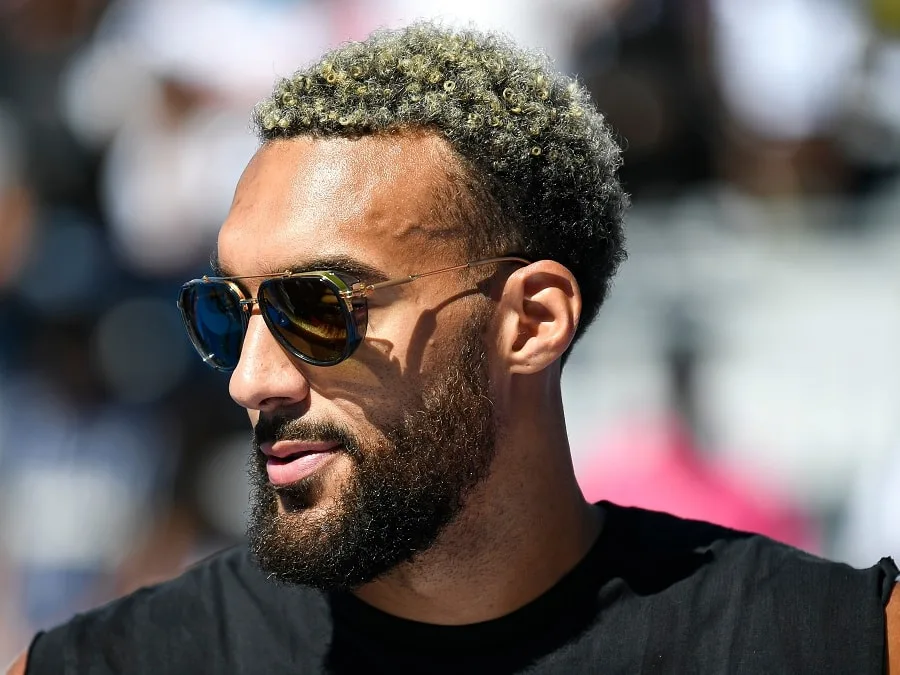 Gobert's beard style is characterized by its tightness, length, and symmetry. This NBA player's facial hair is trimmed to be even on both sides and is kept at a medium length with a downward direction, giving it a uniform look. The trimmed cheeks and jawline create a parallel appearance.
9. Klay Thompson with trimmed sideburns
The Golden State Warriors shooting guard keeps his beard relatively short but messy. He keeps the sides of his beard low and tight while the bottom remains full and thick.
10. Paul George with circle goatee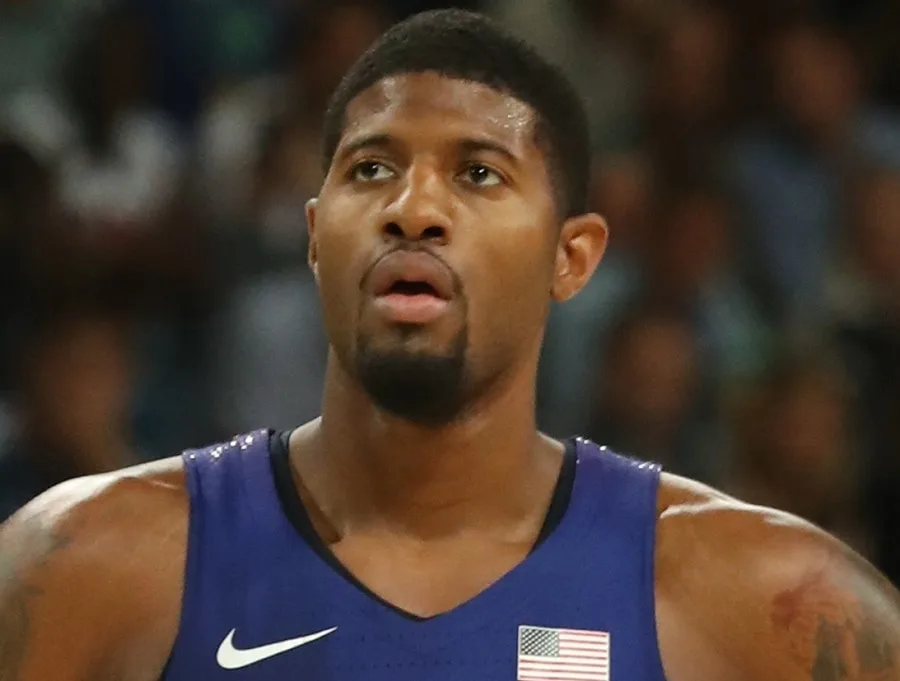 Based on the classic goatee, George's style is distinctive for its tidiness and evenness. He keeps a thick beard thick at the chin, with a well-defined mustache and a thin line of hair connecting the two. Paul regularly trims and shapes his goatee to keep it neat and well-groomed, usually opting for a shorter length to prevent it from growing too long or unruly.
11. Donovan Mitchell with goatee and thin mustache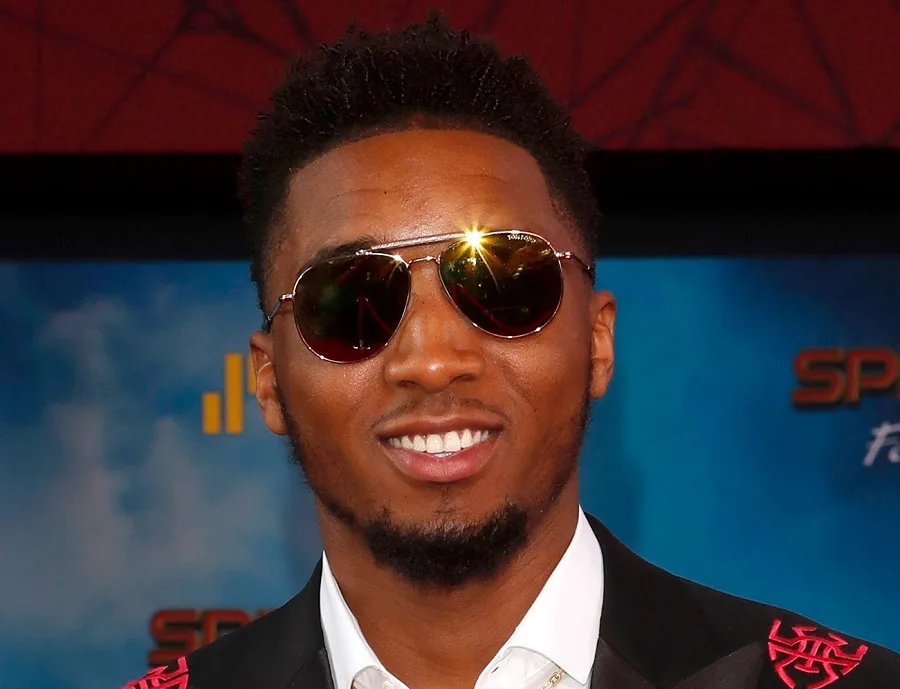 This NBA celebrity has a goatee with a thin line of mustache that almost looks like it is drawn in with a pencil. His beard is quite short and barely covers his chin.
12. Jayson Tatum with unkempt full beard
Tatum maintains an unkempt full beard and trims a neat mustache for a clean and mature look. However, he keeps the facial hair well-groomed, blending the mustache with the beard to create a seamless look. This NBA player's beard style demonstrates how stylish and professional a beard can be.
13. Gordon Hayward with light stubble
Hayward trimmed the beard very short and prevented it from growing too long, creating a neat and tidy look. He looks younger with his light stubble beard.
14. Fred VanVleet with full round beard
A neat, round shape characterizes this parallel style, with the sideburns slightly tapered. Cutting the top in a round and keeping the beard to a medium length, VanVleet looks great with his round shaped beard.
15. Devin Booker with thick chin strap beard
The next one on the list is the thick chin strap beard of Devin Booker that runs along the jawline connecting with a thin sideburn. However, like regular chin straps, his beard doesn't connect with the mustache but creates a distinct and impressive look.
16. Giannis Antetokounmpo with extended goatee
Antetokounmpo's beard is made up of a thin beard on his chin with a tiny line of a mustache. The mustache and the hair on the chin is disconnected. It seems perfect for his face shape, framing his features and giving him an aggressive look.
17. Danny Green with a goatee and connected soul patch
The NBA player Danny Green has a goatee beard consisting of a small tuft of hair on the chin and a thin shade around the mouth. His beard goes well with his cool confidence and determination to become the best.
18. Brandon Ingram with a full curly beard and thin mustache
Brandon Ingram's medium-full curly beard with clean cheeks and thin mustache has become a signature look for the NBA star, giving him an Amish-like appearance. The beard and mustache combo perfectly match his face shape. However, he doesn't comb his beard to keep an unkempt look.
19. Stephen Curry with Full Beard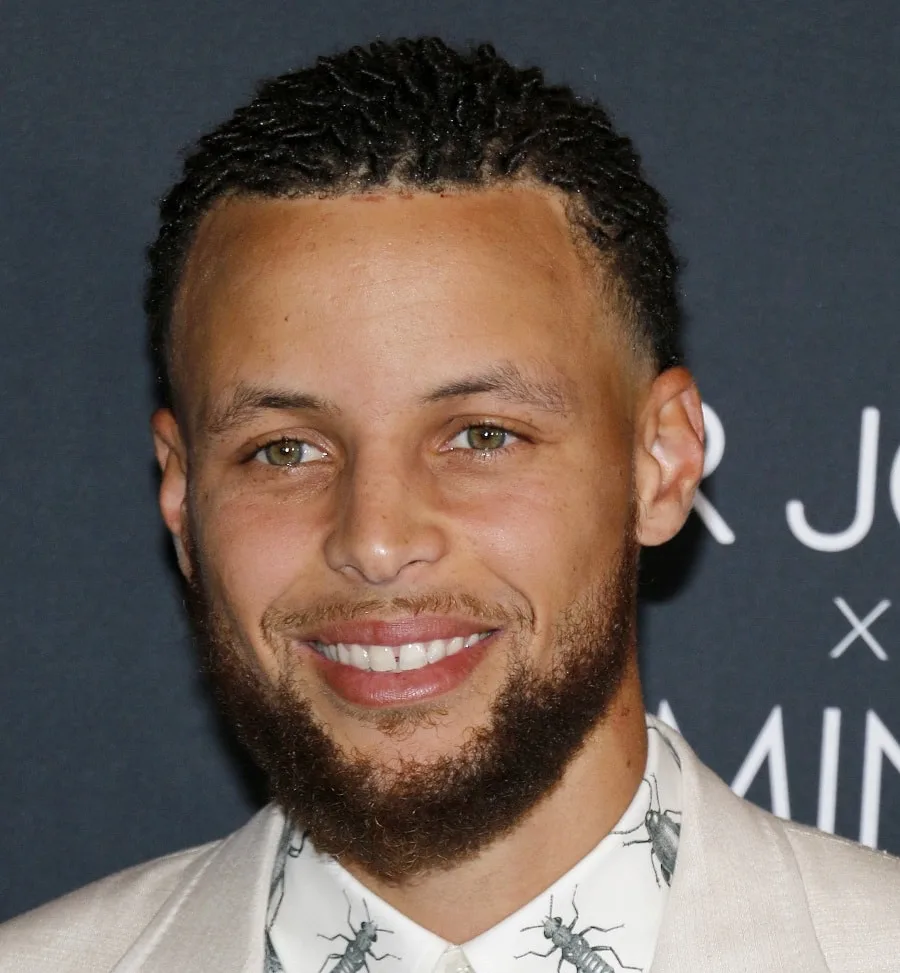 Steph Curry keeps his medium-length full beard unkempt and short on the sides while the mustache remains very thin and clean. The overall look is clean and professional but still has a bit of an edge to it. The thin mustache also helps to frame the face, providing a subtle accent to the overall look.
20. LaMelo Ball with chin puff goatee
LaMelo's chin puff goatee involves growing a full beard on the chin while leaving the cheeks area clean-shaven. However, unlike the regular goatee, he doesn't shave the mustache; instead keeps a thin line on his upper lip.
21. Kevin Durant's patchy circle beard
The Phoenix Suns forward and reigning NBA MVP has been sporting a patchy circle beard, and it has become one of his defining features. It is a mix of facial hair and bald spots, with an unkempt goatee in the center.
22. Jimmy Butler with thin beard on chin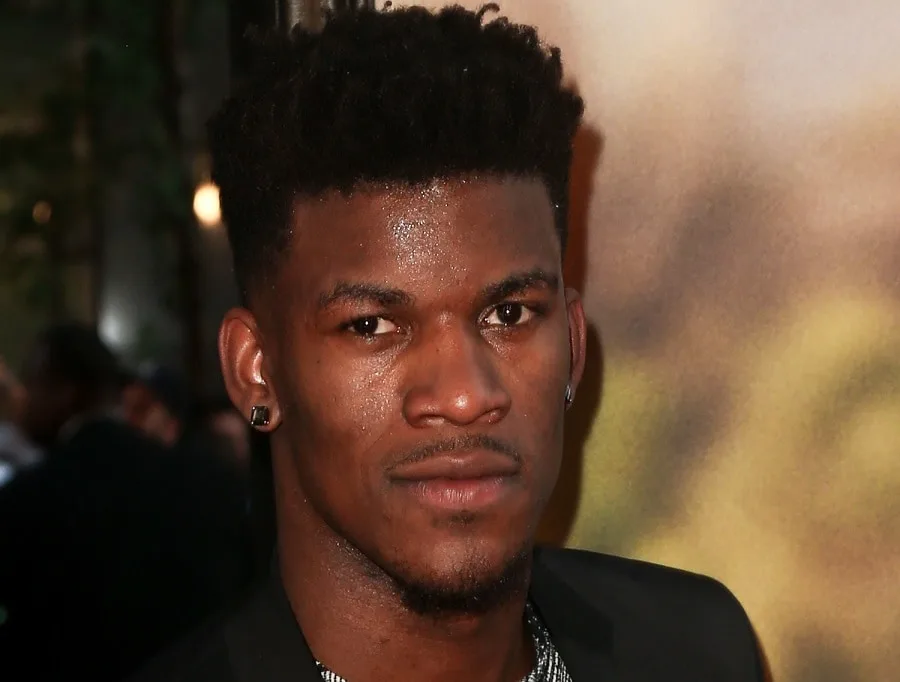 Jimmy Butler's facial hair consists of a thin beard on his chin and a disconnected small lampshade mustache above the upper lip. However, the rest of his facial hair is cleanly shaven, giving him a glossy look.
23. Jaylen Brown with full curly beard
Celtics shooting guard Brown has a thick, tightly coiled, curly beard that extends down the sides of his face to his jawline. The sharp line on the cheek gives the beard a crisp, defined look that adds to the NBA player's overall masculine appeal. He takes great care in keeping his beard well-maintained, trimming it to perfection, and ensuring that every curl remains in place.
24. Jamal Murray with boxed beard
NBA star Jamal Murray sports a boxed beard, which is defined by its square shape. In addition to that, it is accompanied by a goatee, which is an extension of the beard that extends down the chin. Some may also mix it up with a short ducktail beard.
25. Carmelo Anthony with patchy beard
Carmelo's facial hair style contains a thick patchy line of beard on the sides with an extension to the chin. He neatly trims and grooms the beard with a sharp line along the neckline for a polished appearance. Also, Anthony enhanced the look with a touch of mutton chops for an extra bit of character, which will add an air of ruggedness.
26. Karl Anthony Towns with garibaldi beard
Karl Towns has a shorter beard on the sides and a thick beard on the chin, which resembles a garibaldi style. However, unlike a regular garibaldi, his sideburns remain thin and neatly trimmed.
27. Jrue Holiday with circle beard
NBA star Jrue Holiday has a distinctive facial feature with a combination of short curls and a circle beard connected with thin mustache. The best thing is that he takes great care to keep it neatly trimmed and styled to its best appearance.
28. Tyrese Haliburton with thin anchor beard
Tyrese Haliburton maintains a clean-shaven face but keeps a thin anchor beard on the chin. It is a relatively simple style that involves a short and narrow patch of hair around the chin. To add sophistication to his look, this NBA playmaker keeps a pencil mustache.
29. Chris Paul with a stubble box beard
The NBA Point God, Chris Paul, grooms his facial hair with a stubble box beard to a specific length, making it full and thin. However, the chin and upper lip have slightly thick hair, while the sides and neck are kept shorter. He ensures the look is neat and clean, with no stray hairs, usually keeping it between 1/8 to 1/4 of an inch in length.
30. Zach LaVine with heavy stubble
He keeps his beard at a medium length, typically around 2-4mm, which gives it a slightly rough and textured appearance. LaVine trims evenly on the sides keeping a slightly thick on the chin giving it a medium stubble look.
These are our top 30 NBA players with beards in 2023 who rock the beard on and off the court.
Recommended For You:
12 Greatest Baseball Players with Beards