James Harden's beard is one of the most iconic in the history of athletes and players with a beard. Due to his long and thick facial hair, he is often referred to as 'The Beard', a nickname that has become synonymous with James Harden.
The last time we saw James Harden without a beard was back in 2007. After that, his facial hair began to grow in earnest. And the long beard which is considered the best NBA beard style emerged around 2012.
Apparently, Harden's facial hair gives him strength. As his beard grew longer, his performance became phenomenal. From the most recent Philly beard to the early days' boxed style, this point guard appeared with very few styles.
However, we have researched Harden's all-time favorite beard styles and facts related to his beard.
The Evolution of James Harden's Beard
James Harden's face was clean-shaven prior to 2007. He didn't sport a beard until after his high school days at Artesia. Though it is unclear to us whether he was one of those teenagers who couldn't grow a beard or if he simply chose to shave regularly.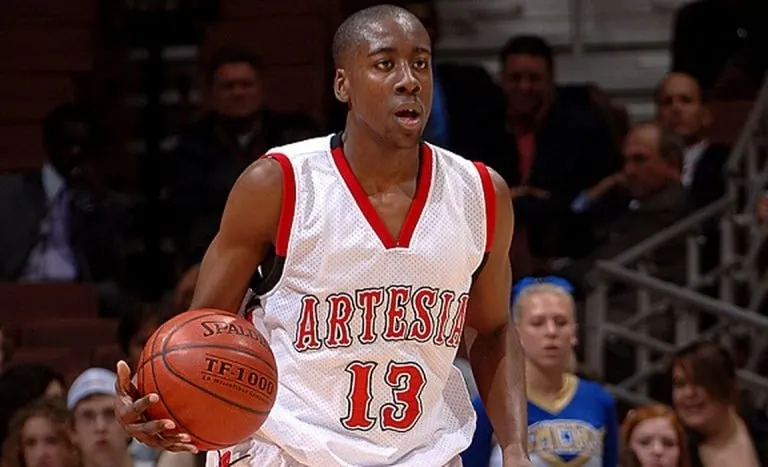 James Harden's beard journey starts at Arizona State University. It was during this time that he started growing his beard, reportedly out of sheer laziness. The beard that started as simple stubble gradually turned into an iconic symbol of his persona.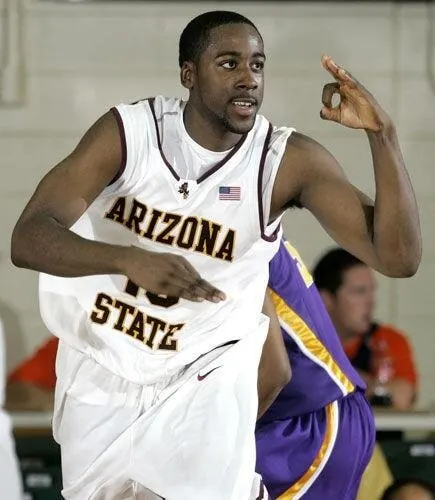 As Harden's career progressed, so did his beard. He sported a medium-length beard in 2010-12 when he played for Oklahoma City Thunder. It hinted at the more substantial, fuller beard that was to come – a beard that would not only become a personal trademark but also a symbol of his influence in the world of basketball.
The beard gained more prominence during Harden's time with the Houston Rockets. It became his signature look, setting him apart from other players and making him instantly recognizable on and off the court.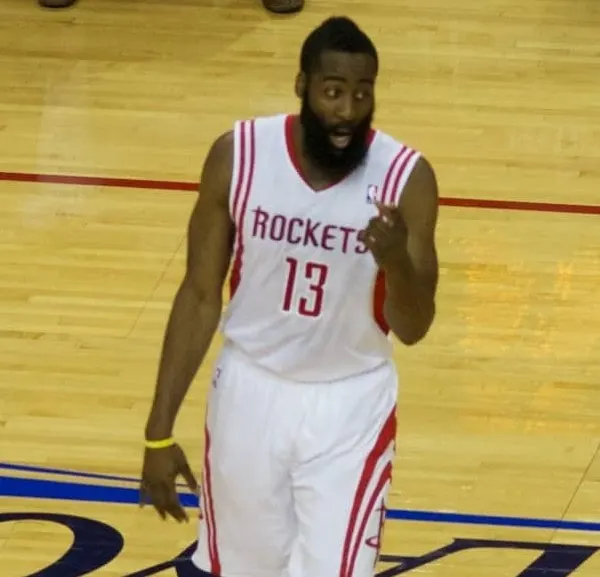 Harden's beard has become a symbol of his identity. It's one of the first things people think of when they hear his name. It's become so iconic that it's been featured in video games, on t-shirts, and even in memes.
It's also been a marketing tool. From endorsements to merchandise, The Beard is everywhere. It has helped Harden create a personal brand that extends beyond the basketball court.
James Harden's Performance: Before and After the Beard
Interestingly, Harden's beard has also stirred discussions about its impact on his basketball performance. It's fascinating to observe Harden's rise to stardom alongside the growth of his beard. The beard has become a symbol of his journey, marking his evolution from a talented rookie to one of the NBA's most formidable players.
Before Full Beard: The Early Years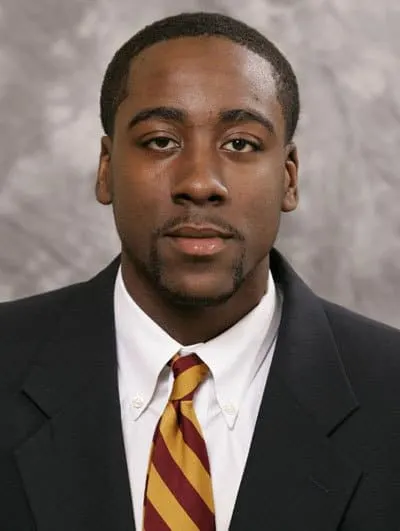 Before the beard, Harden was still an exceptional player but he was not as famous as he is now. At Arizona State University, he was named a consensus All-American and Pac-10 Player of the Year in 2009.
His promising performance earned him the third overall pick in the 2009 NBA Draft by the Oklahoma City Thunder. During his time with the Thunder, Harden showed great potential as a Sixth Man, earning the NBA Sixth Man of the Year award in 2012.
After Growing Full Beard: A Rise to Stardom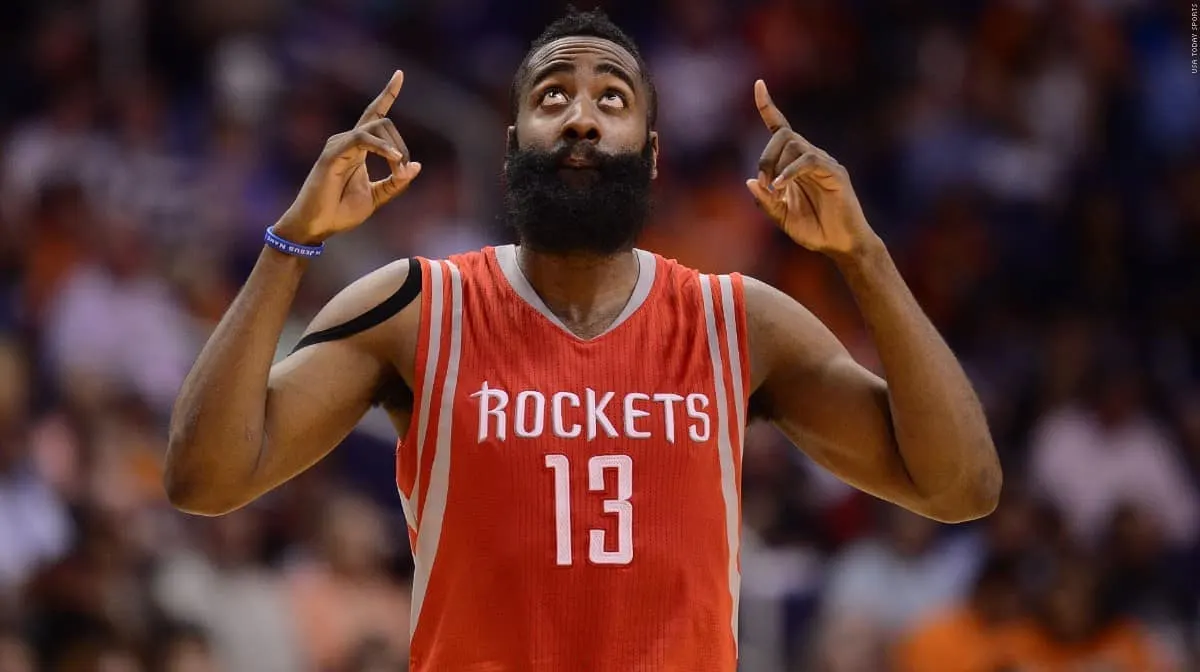 As Harden's beard began to grow, so too did his on-court performance. After his move to the Houston Rockets in 2012, the same year he started to grow his beard, Harden's career took off. He quickly established himself as one of the top players in the league, earning multiple All-Star and All-NBA team selections.
In the 2017-2018 season, Harden had a standout performance that earned him his first MVP award. He was also the NBA's scoring champion multiple times, a testament to his offensive prowess.
While correlation does not imply causation, it's fascinating to observe Harden's rise to stardom alongside the growth of his beard.
Superstition or Strategy?
Is it a superstition or a strategic decision? Some might argue it's both. Harden has indicated that the beard gives him a certain level of comfort and confidence on the court.
Athletes, like people from all walks of life, can be superstitious. These superstitions can provide a sense of control and predictability in a field where outcomes can often be uncertain.
In Harden's case, his beard could be seen as a good luck charm of sorts. As his career took off around the same time he started growing his beard, it's possible he associates his beard with his success on the court.
On the other hand, the beard could be seen as part of Harden's strategy. In the high-pressure world of professional sports, mental games can be just as important as physical skills.
An unusual and iconic look like Harden's can potentially serve to intimidate opponents or at least distract them momentarily. The phrase "Fear the Beard," often associated with Harden, plays into this idea.
James Harden's Epic Beard Styles
The NBA star has not only made a name with his powerful performances but is also made a name for himself as an African American celebrity with a legendary beard. For the past 10 years (2013-2023), Harden has been letting his beard grow long and bushy. We've observed several variations in his beard styles. Let's check them out.
1. Harden's Latest Beard Style- Unkempt Philly Beard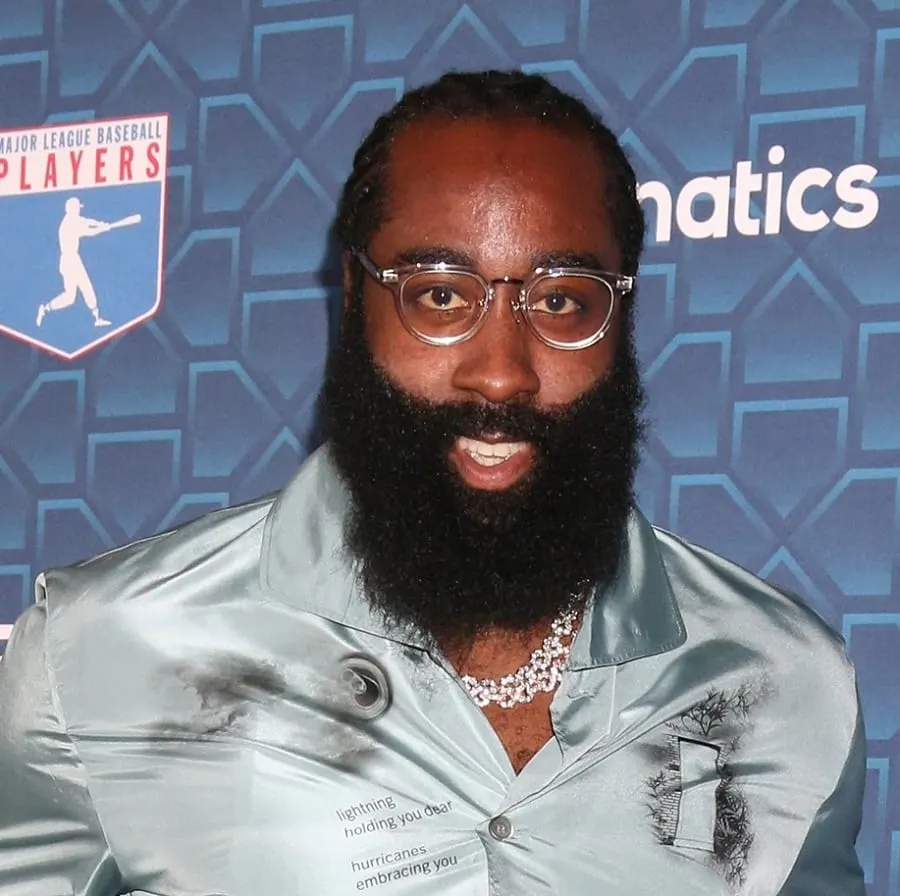 James Harden has had a bushy beard for a long time, but this specific Philly bearded look is from the 2019 NBA season. He grew out the facial hair thick with a shorter beard on the cheek area and longer on the chin. And apparently, he rarely combs it, and the final outcome is an unkempt look.
2. Wide Chin Strap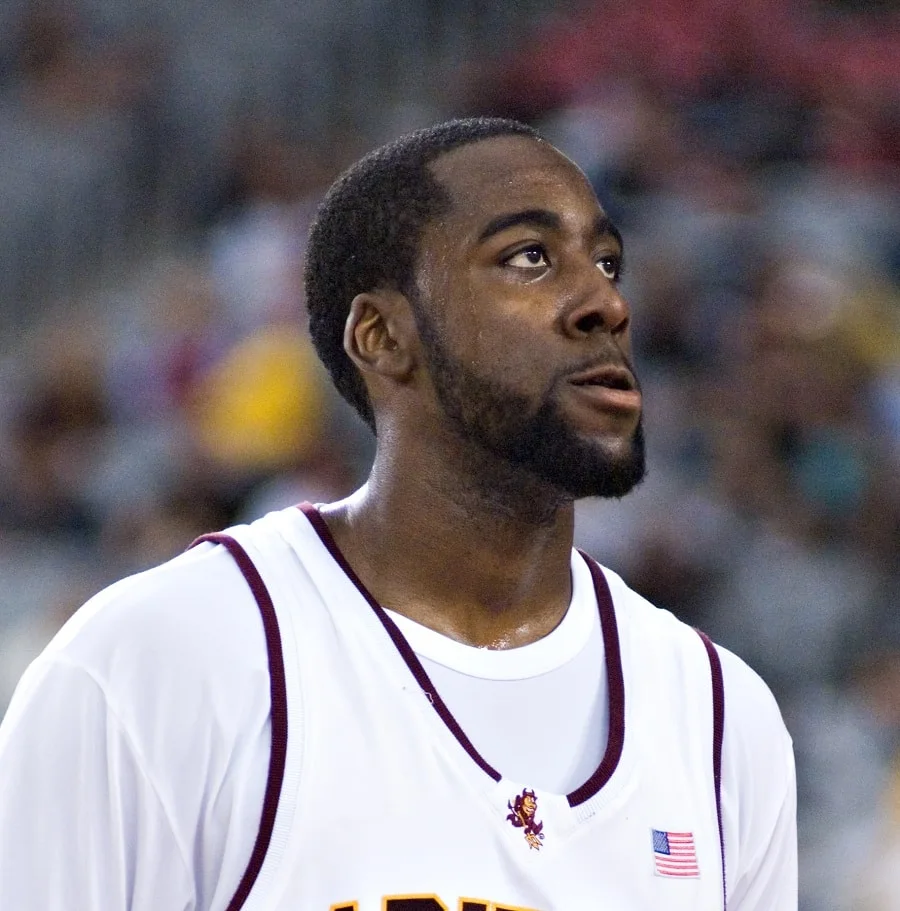 The 76ers point guard started sporting a smaller trimmed beard back in 2009. And he used to keep a wide chin strap in college basketball days with Arizona State. He kept a parallel shape with the jawline and cheek line while the neck and cheeks remained clean.
3. Full Garibaldi Beard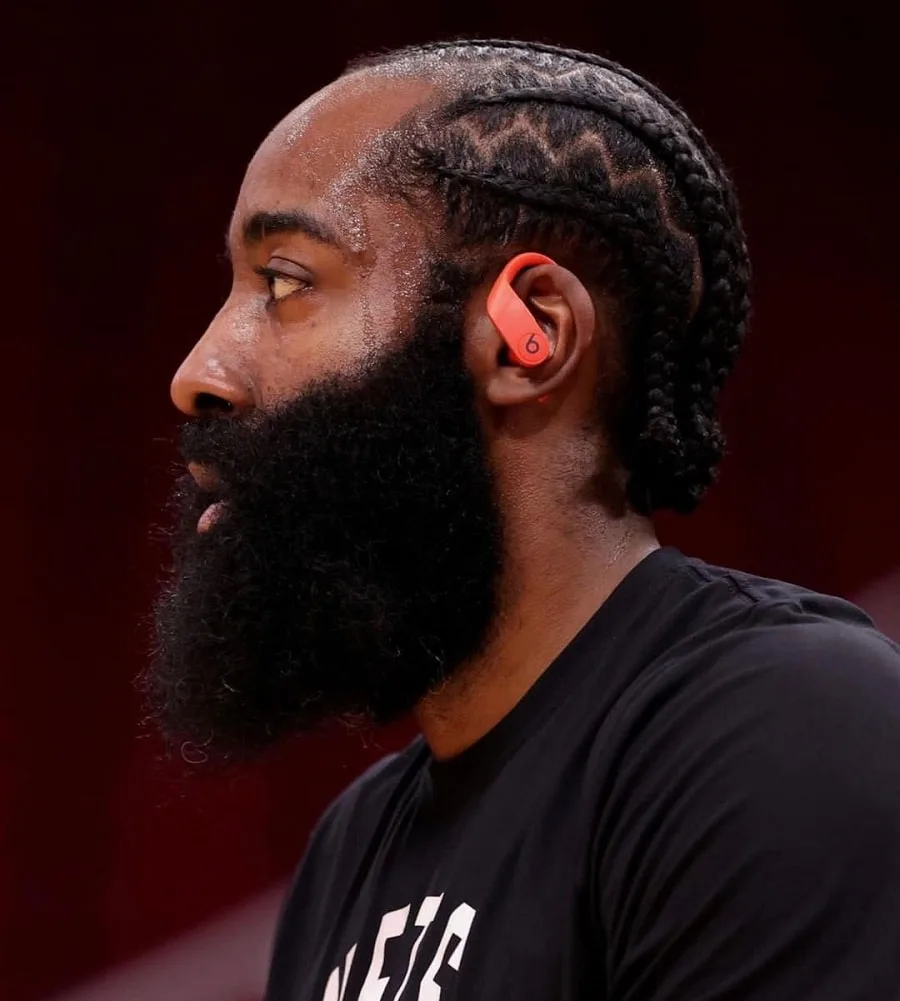 This is a more mature look for Harden and has become a sort of trademark. This garibaldi beard style has a semi-rounded wide bottom that extends past the chin. Eventually, it gives him an advanced level of ruggedness.
4. Thick Boxed Beard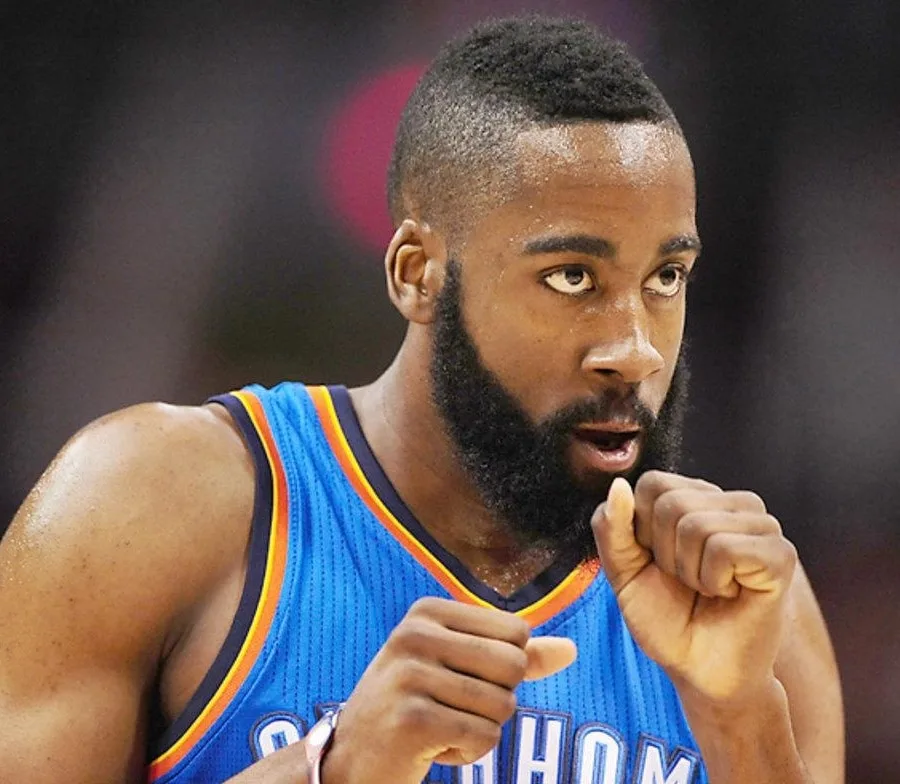 James Harden styled a thick boxed beard when in 2010 when he was with Oklahoma City Thunder. He nicely lined the cheek and cleaned while the neck was also shaved. With this style, he started growing it big to camouflage his late teenage look.
How to Grow and Maintain a Beard Like James Harden
Growing and maintaining a beard like James Harden's is no small feat. It requires patience, the right grooming practices, and proper care. Here are tips to grow and maintain a beard like James Harden:
Growing a beard takes time. Harden's beard didn't appear overnight; it's the result of years of growth. You'll need to resist the urge to trim or shave for several weeks, if not months, depending on your genetics and overall health.
Your beard's health is a reflection of your overall health. Eating a balanced diet rich in vitamins (particularly B vitamins) and proteins can enhance hair growth. Staying hydrated is also important as it helps flush out toxins that can inhibit growth.
Regular exercise improves blood circulation, which stimulates hair growth. Harden, being an NBA player, gets plenty of exercise, but even a regular regimen of cardiovascular exercise can help promote beard growth.
Harden's beard is very long and a long beard needs proper maintenance. Moisturizes the skin beneath your beard to avoid dry beard and reduces itchiness. Use a Good beard shampoo and conditioner to keep your beard clean and soft.
While you should resist trimming your beard short it is necessary to trim the beard ends every month. This will remove any split ends.
By following these steps, you can grow and maintain a healthy beard. It is perfectly fine if your beard does not grow in the same way or at the same rate as Harden's. What's important is that you care for your beard. This will result in a long beard that's healthy and perfect for you.
So, that was our article about James Harden's Beard. The beard has certainly become a symbol of his identity and success, and now it's hard to imagine James Harden without it.