When you hear the name, James Harden, you immediately think about the Houston Rockets forward, his three-pointers, his euro-step, and last but not least, his beard. But, there was once a James Harden without a beard, which is just as hard to imagine for us as it is for him.
The NBA eight-time All-Star and six-time All-NBA First Team selection no doubt have one of the most iconic beards in NBA history. He's always had potential and shows up with some flashy moves, but ever since growing his beard, it has brought in confidence that was noticeably missing from his play before.
Over the years, he has altered his look from a complete clean shave to a heavy stubble, to his final form, the full lumberjack beard. Not surprisingly, the full lumberjack beard made him instantly recognizable. Even people who didn't even watch the NBA know James Harden's nickname "The Beard".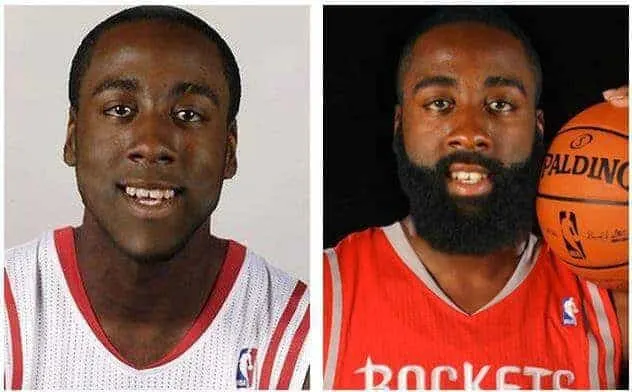 James Harden Without Beard Timeline
James Harden began growing his beard in 2009 while he was playing for Arizona State College. Before 2012, he didn't have the long beard that has earned him the nickname "The Beard". Here is the timeline of James Harden without a beard:
2005: James Harden is clean-shaven at the NCAA 2005 Reebok ABCD Camp.
2007: James Harden remains clean-shaven while playing basketball for Artesia High School in Lakewood, California.
2009: James Harden was spotted with stubble during his time at Arizona State University.
2012: James Harden's beard has significantly grown and become one of his most recognizable features
This timeline showcases James Harden's journey from a clean-shaven appearance to his iconic bearded look, which has become synonymous with his basketball career. Prior to 2009, he was known for his youthful and clean look, but his decision to grow a beard in college transformed his image and after 2012 his beard became popular in the NBA.
James Harden Without Beard Photos
There were days when James Harden had no beard at all. He usually wore a youthful look ranging from a clean shave to light stubble and mustache. Here are some hilarious James Harden without a beard looks.
1. Without Beard and Mustache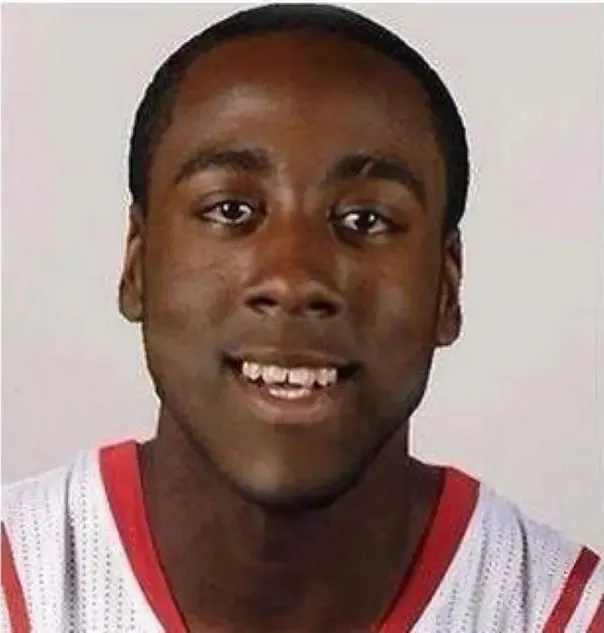 Cleaned shaved beard is free from any facial hair on the face, aside from the eyebrows, eyelashes, and shortly trimmed sideburns, of course. A clean shaved look requires you to shave your beard on a daily or a couple days basis depending on your growth. It makes sense that Harden had time to clean shave given that he still wasn't a NBA superstar by then.
Before James Harden started his career in the NBA, he attended Artesia High School in Lakewood, California and later led the school's basketball program to state championships in his junior and senior years. He then earned an invitation to play in the 2007 McDonald's All-American Game were he met J.J. Hickson, Kevin Love and Michael Beasley, among other then-future NBA stars.
Look closely in this tweet and you'll see a beardless Harden in his No. 13 jersey:
2. The Early Beardless Years – 2005 Reebok ABCD Camp
This photograph from the NCAA 2005 Reebok ABCD Camp, shows his early days without a beard. You can see the 15-year-old clean-shaven Harden, a stark contrast to the iconic bearded look he would later adopt in his professional career.
At this stage in his life, he displayed immense potential and talent as a basketball player, well before his rise to NBA stardom. As an elite high school basketball player, Harden showcased his skills alongside other talented athletes, with NCAA and NBA coaches and scouts in attendance.
3. Fresh-Faced High School Look- 2007, Artesia High School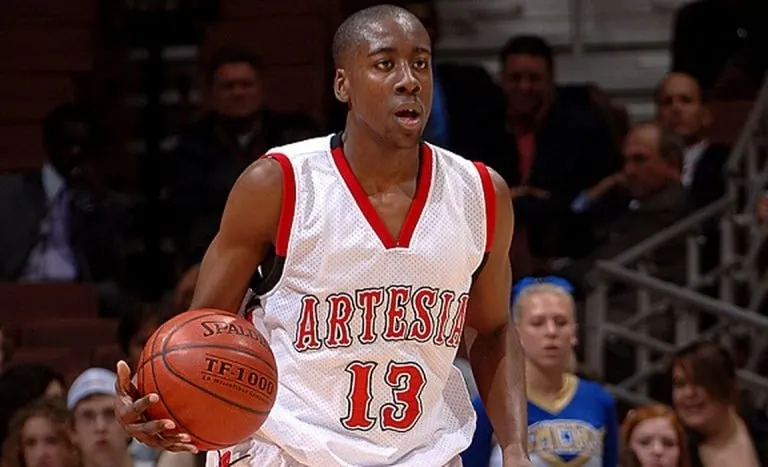 In this photograph taken on February 6, 2007, James Harden is seen playing basketball for Artesia High School in Lakewood, California. Even as a senior high school student, James Harden played basketball without his now-famous beard.
4. The Unbearded Harden with Hard-to-Notice Mustache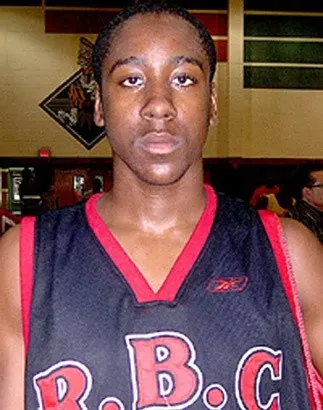 As with any endeavor, James Harden started small with a light mustache. Look closely and you'll see an incredibly light mustache. You might also notice a few facial hairs on the chin.
This style is just as time-consuming as a clean shaved look as not only do you have to keep your neck and jawline clean regularly, but trimming the goatee, mustache, and sideburns to make sure it doesn't grow too much is a hassle for any beardsmen out there.
5. No Beard Look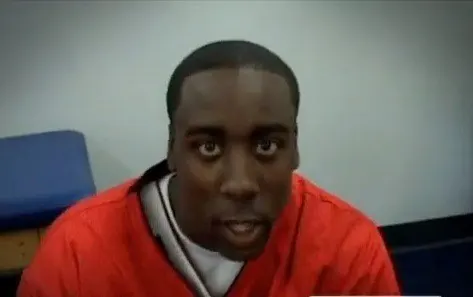 His fresh look with a trimmed beard is one of the easiest beard styles to choose from, and a perfect one for lazy people who still want to keep some facial hair but don't want to end up looking like a mess. All you need to do is use a trimmer set to your preferred length and trim any beard on your face every few days. Unless you're keeping a stubble you don't have to worry about your neck or cheek line either.
6. Pencil Mustache Connected with a Small Goatee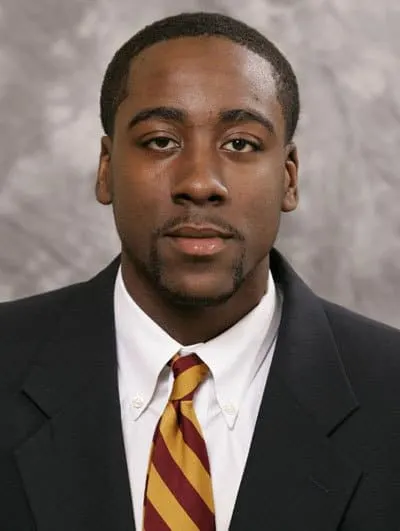 This beard style incorporates a thin pencil mustache that extends down squarely from both sides to connect to a small trimmed chin goatee. The sideburns are short with a clear neck and jawline. This is one of the neatest looks of James Harden before growing a full beard.
Later on, around this time, he did bring his pencil moustache and goatee on to a slightly heavier style, connecting it to his really thin sideburns using a thin line of beard on the jawline as we can see on this Sports Illustrated cover.
With a cleanly shaved mustache, the facial hair on the chin looks prominent. This James Harden without a beard look was the early stage of the trademark beard Harden proudly wears today.
7. The Stubble Beard
In this picture, Harden can be seen wearing a stubble, otherwise knows as the "10 day beard", which is around 4 mm to 5 mm in length. Stubble beards are allowed to grow for a few days without any intervention. A clearly defined neck and cheek line is one of the key aspects of a stubble. The areas below the neck line and above the cheek line should definitely kept clean shaved every other day to maintain this look.
As we'll see in the next one, Harden finally started keeping a proper beard when he showed up with a heavy stubble.
8. Heavy Stubble -2009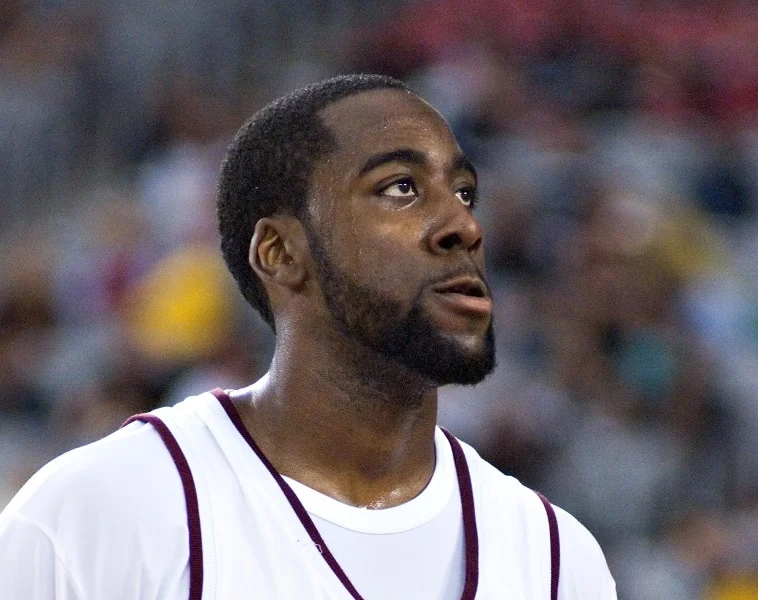 Somewhere around season four of Harden's career with Arizona state, where he had his breakout season and was scoring on average 27.4 points a game, he went from good to straight-up amazing. This unexpected leap can only be attributed to him finally growing out his beard.
How to Get Conor McGregor Beard
James Harden's "The Beard"- (2012-present)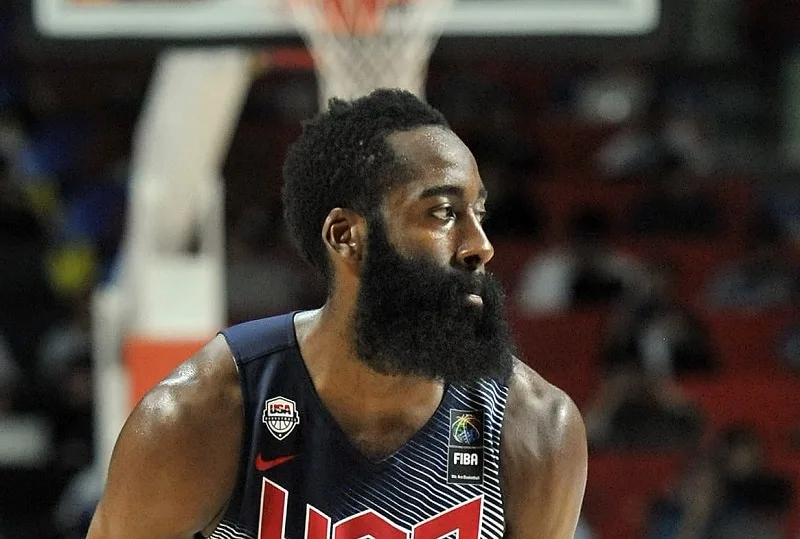 It feels a bit too coincidental that his career took off exactly around the time he started growing a beard. A probable likelihood is that his body underwent physiological and hormonal changes that made it possible for his magnificent beard to propel him to NBA superstardom.
With his beard finally, in its fully evolved form, James Harden became not only a sports icon but also a style icon whose beard styles ended up being copied all around the world. It has become a source of pride for him and his fans.
Harden has said that he would never shave his beard, and it is clear that it is a part of his identity. His beard has also become a source of inspiration for others, and many people have grown their own beards in his honor.
The Houston Rockets and Harden's success of making it to the NBA finals and winning the Olympic gold medal can thus be rightly linked to the growth of his beard from clean shave to full lumberjack beard.
Recommended For You:
Kyrie Irving Beard: Top 6 Styles and How to Rock Them