NFL players are well known for their distinctive appearances. And among all the various grooming trends, the beard style has become a bold feature.
But who has the best beard in NFL? Just like the performance on the field, this is also a fiercely debated topic among fans and analysts. Well, it is tough to announce a winner.
Let's dive in and discover the top contenders for the best beard in the NFL and find out yourself.
Top Beard Styles in NFL
With so many NFL players sporting impressive facial hair, the following are the top National Football League players with the most iconic beard styles.
1. Odell Beckham Jr. with Full Curly Beard
While Odell Beckham Jr. is known for his incredible on-field skill in the NFL, he is also famous for his flashy beard style. Over the years, we have seen him in different beards, but the full beard is the most classic one. He keeps his long curly beard bushy while the mustache is nicely trimmed and lined.
2. Tom Brady with Medium Stubble
Tom Brady appeared with a clean-shaven face for most of his career. However, he sometimes styled with a carefree medium stubble. It seemed he couldn't manage time to shave before the game.
3. Russell Wilson with Stubble Beard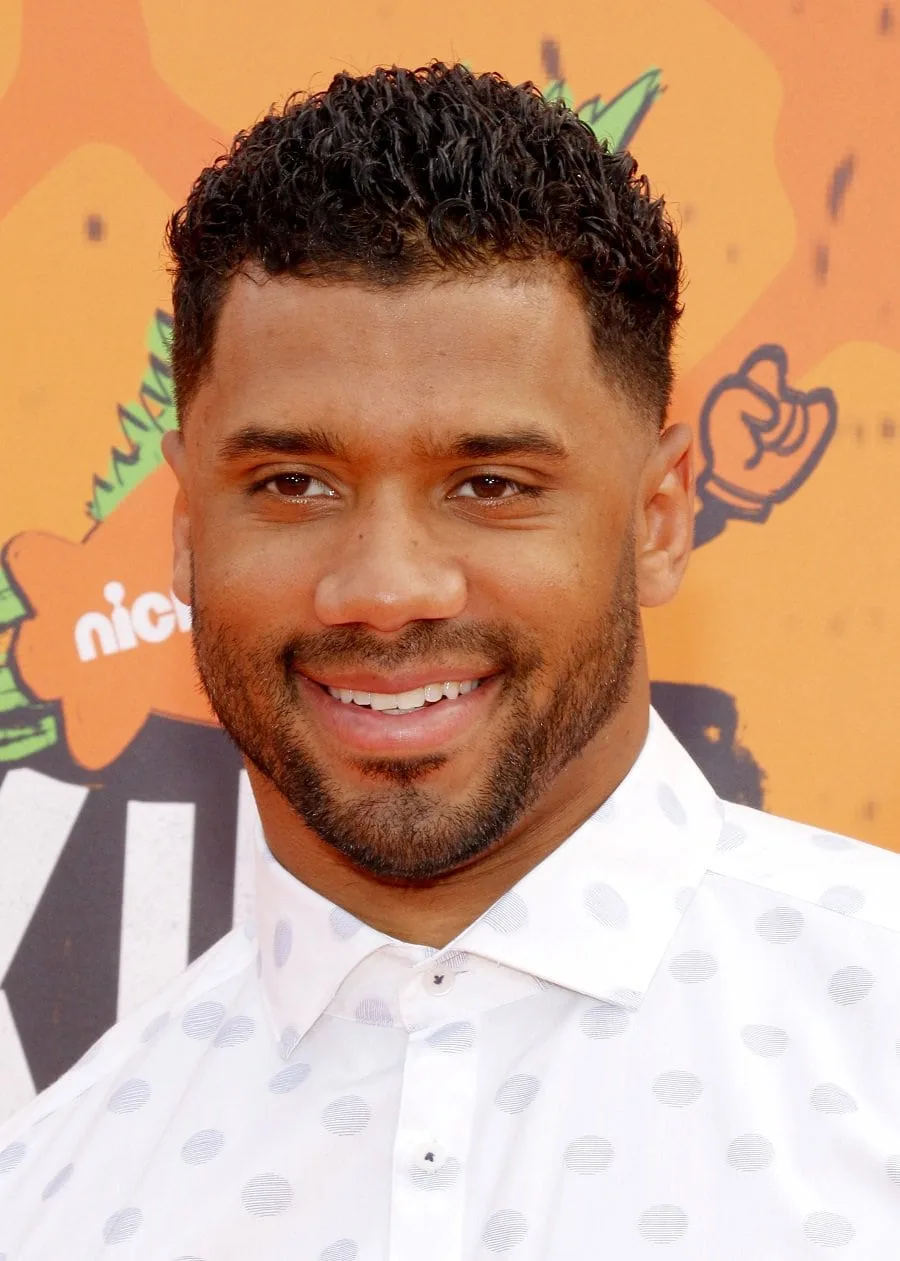 You have probably seen Russell Wilson in clean-shaven most of the time. As they grew older and matured, he started keeping a stubble beard to enhance his manly look. This Broncos star has a nicely trimmed beard that accentuates his angular face.
4. Patrick Mahomes with Egyptian Goatee
Mahomes is not lucky enough to have facial hair on his cheeks or sides. He just has a small patch of beard on the chin, which he styles like an Egyptian goatee. Unlike a regular goatee, the Kansas City Chiefs quarterback keeps the hair on the chin short.
5. Travis Kelce with Scruffy Full Beard
NFL star Travis Kelce is picky about his beard style. He has been rocking with a scruffy full beard for years. Anyone can get this style by stopping shaving and trimming for a while. After 2-3 months, shape it using a trimmer and tidy up the messy edges. But while growing, make sure you comb the beard regularly.
6. Colin Kaepernick with Long Stubble + Chiseled Cut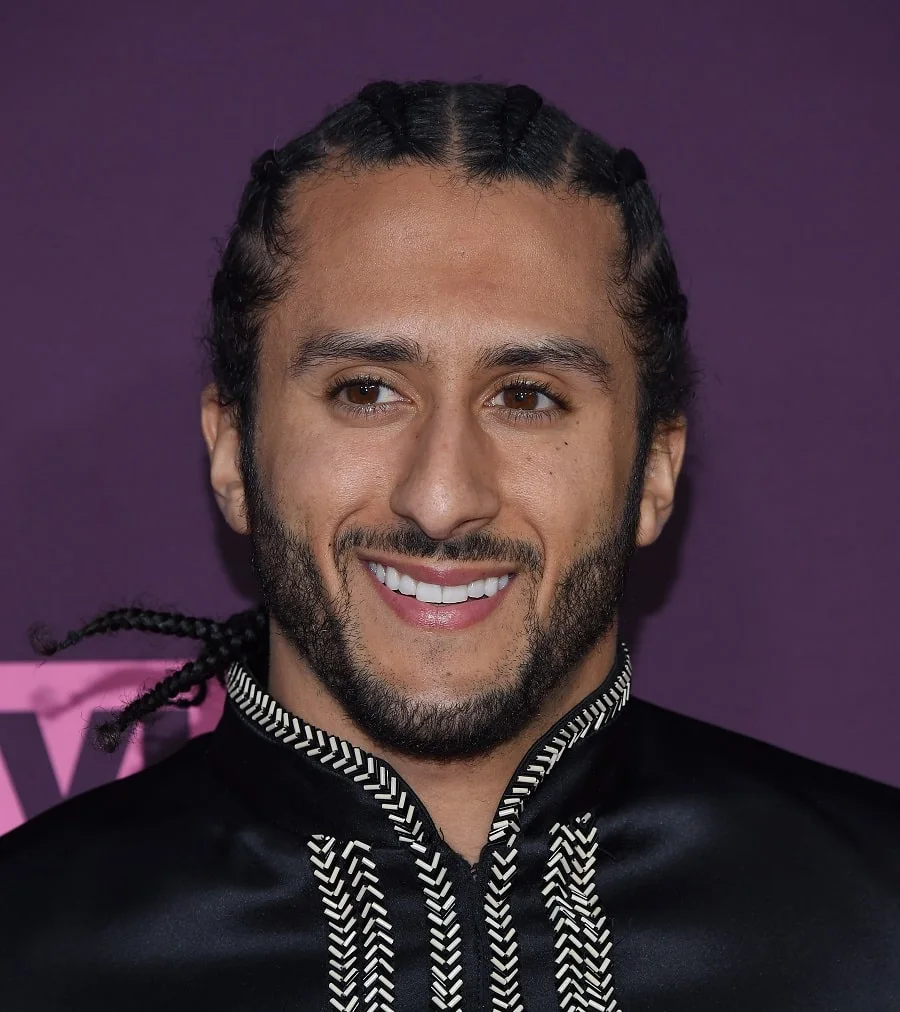 Kaepernick likes to change his appearance from time to time, and mostly he does it with different beard styles. But most of the time, he is seen with a long stubble beard blending with a chiseled cut for a stronger jawline. The former 49ers quarterback keeps a short beard all over the mouth while creating a line on the cheeks.
7. Creed Humphrey with Messy Old Dutch
Unlike a regular Dutch beard, Creed Humphrey keeps it messy. But, he follows other basic Dutch beard requirements, such as it is curved around the jawline while connected from sideburn and doesn't have a mustache. This gives him a carefree look, and it seems like he is too focused on football.
8. T.J. Watt with Medium Stubble
There is no doubt that Watt is an incredible linebacker in the NFL and portrays a fierce and tenacious style of play. And his medium stubble beard perfectly complements his rugged and gritty persona on the field.
9. Myles Garrett with Curly Patchy Stubble
Garrett has a typical African curly patchy beard. That is why he doesn't grow it, as it will be difficult to maintain. The NFL star keeps it in the stubble stage so that he can focus on playing.
10. Ryan Fitzpatrick with Medium Garibaldi Beard
Ryan Fitzpatrick has been keeping his massive garibaldi beard since 2009. It all started when he joined Buffalo Bills, and the cold weather forced him to grow a full beard, which turned into garibaldi. Eventually, it became one of the most iconic beards in the NFL.
11. Xavien Howard with Full Beard
Howard's unkempt full beard is a prominent feature of his look as it gives him a rugged appearance. His thick and bushy facial hair gives Howard a distinguished and mature appearance among the defensive NFL players.
12. Josh Allen with Patchy Boxed Beard
Buffalo Bills quarterback Allen maintains a boxed-like beard. However, it may not look like an actual boxed shape as he has a patchy beard on the cheeks. Also, the length may give you a long stubble beard vibe.
13. Jonathan Taylor with Disconnected Goatee
Jonathan Taylor is a rising NFL star, but his beard style is already getting some buzz. Taylor rocks his style with a unique goatee beard which is disconnected between his mustache and chin. The small line of beard on his chin gives him a youthful and edgy style.
14. Jimmy Garoppolo with Stubble Beard
The clean-shaved baby face was Jimmy Garoppolo's iconic look in his early NFL days. But, lately, he grew his facial hair and never grew it longer than the 5 O'clock shadow phase. In recent years he has been styling a stubble which tends to vanish his iconic baby face appearance.
15. Micah Parsons with Medium Beard
Micah Parsons styles his facial hair with a medium beard, complemented by a thin mustache. Although he has a patchy beard on the side, the medium length of his beard nicely blends with his cheeks.
16. Davante Adams with Short Angled Beard
Davante Adams' facial hair features sharp, angular edges on his cheeks resembling a boxed beard. The sides and chin area are trimmed short, making his jawline visible.
17. Cooper Kupp with Short Garibaldi
NFL wide receiver Cooper Kupp has a curly beard which is time consuming for him to style in a neat and tidy way. Hence, he grows the facial hair and styles it with effortless short garibaldi.
18. Jarvis Landry with Medium Full Beard
Jarvis Landry's beard is the shorter version of Odell Beckham's full beard. Landry keeps it in medium length and precisely lines up the cheeks to get an angular look. Further, the trimmed mustache gives him a clean appearance.
19. Gardner Minshew with Patchy Stubble
NFL Quarterback Gardner Minshew keeps a stubble beard while the mustache is a bit longer. He has a patchy beard on the sides and the stubbly appearance camouflages the patchy part.
20. Aaron Rodgers with Long Stubble
Green Bay Packers star Aaron Rodgers usually rocks a long stubble beard that adds rugged masculinity to his already impressive persona. He seemed to grow the beard for a week or two to have a long stubbly appearance. And an occasional trim is required unless Rodgers shaves and starts to grow the facial hair again.
21. Cameron Heyward with Unkempt Full Beard
Cameron Heyward keeps his full beard in medium length while the sides remain shorter than the chin area. However, he maintains a considerably short mustache and achieves an overall professional yet masculine look.
22. Aaron Donald with Boxed Beard
Aaron Donald, the star defensive tackle in the NFL, sports a sharp and well-groomed boxed beard. Styling an Aaron Donald-like beard is easy. Grow your beard for a month and then use a trimmer to create straight lines along the cheeks.
23. Mark Andrews with Boxed Beard
Mark Andrews' boxed beard is neatly trimmed with uniform length all over the face. But the best part of his beard style is his clean cheek with a curvy-shaped box connecting his mustache.
24. Trent Williams with Boxed Full Beard
Trent Williams maintains a well-groomed full beard. To have a classy appearance, the 49ers' offensive tackle cautiously trims the upper lips. In addition to that, Williams uses a razor to create an angled line on his cheek.
25. Brett Keisel with Hipster Beard
Brett Keisel's beard style had transcended his game. His hipster beard genuinely looked like a lion's mane on the lower part of his face, which gave him a vicious appearance in the field.
These 25 players with beards in the NFL have become iconic and became fan favorites.
What is NFL Playoff Beard?
The NFL playoff beard is a tradition in which players grow out their facial hair during the postseason. The playoff beard practice started in the 1980s when members of the New York Islanders hockey team refused to shave until they were eliminated from the playoffs.
The Islanders went on to win the Stanley Cup that year, and the playoff beard became a symbol of unity and superstition. Since then, the tradition has spread to other sports, including the NFL and NBA.