The beard has been a hotly debated topic in boxing for years. With the IBA's decision in 2023 to allow boxers to grow beards while implementing certain regulations, we have seen an increase in the number of boxers with beard.
Some people believe that beards give an unfair advantage to the wearer, while others believe that they are simply a matter of personal preference.
This article explores the regulations of beards in boxing, some popular boxing celebrities like Conor Mcgregor, and Mike Tyson's beard style, and the pros and cons of having a beard in boxing.
Regulation of Beard in Boxing
Regulations about beards in boxing are a source of constant discussion. Different boxing organizations, leagues, and countries have varying rules—some permit well-groomed beards, while others enforce a clean-shaven policy.
For example, the International Boxing Federation (IBF) prohibits beards because they can be caught on an opponent's gloves and cause a cut.
A recent, noteworthy amendment from the International Boxing Association (IBA) has brought about significant change in this regard. In January 2023, the IBA endorsed a pivotal modification to its rules. The adjustment permits boxers to have a beard and a mustache, on the condition that they do not shroud the neck or exceed 10 centimeters (3.9 inches) in length in all IBA contests.
The global boxing community warmly embraced this rule alteration. Odai Al-Hindawi, the silver medalist of the Asian Games and a boxer from Jordan, was amongst those who hailed this new rule. Al-Hindawi, being a Muslim, views this revision as a favorable stride that lets him preserve his beard, aligning with his religious convictions.
This shift in regulations is a significant milestone in the ongoing discussion about beards in boxing. It showcases the sport's adaptability and its willingness to honor both the personal and cultural values of its athletes.
Popular Boxers With Beard
Notable boxers throughout history have sported impressive beards that have become part of their iconic image. Let's take a look at our pick of the top 16 boxers who have rocked impressive beards.
1. Mike Tyson- Grey Beard with Bald Head
When it comes to iconic figures in the boxing world, Mike Tyson surely tops the list. Known as "Iron Mike," his fierce reputation in the ring is only rivaled by his distinctive appearance. this iconic black celebrity athlete has embraced his age, sporting a distinct grey beard alongside his bald head.
2. Conor McGregor- Blonde Chin Curtain with Fade Haircut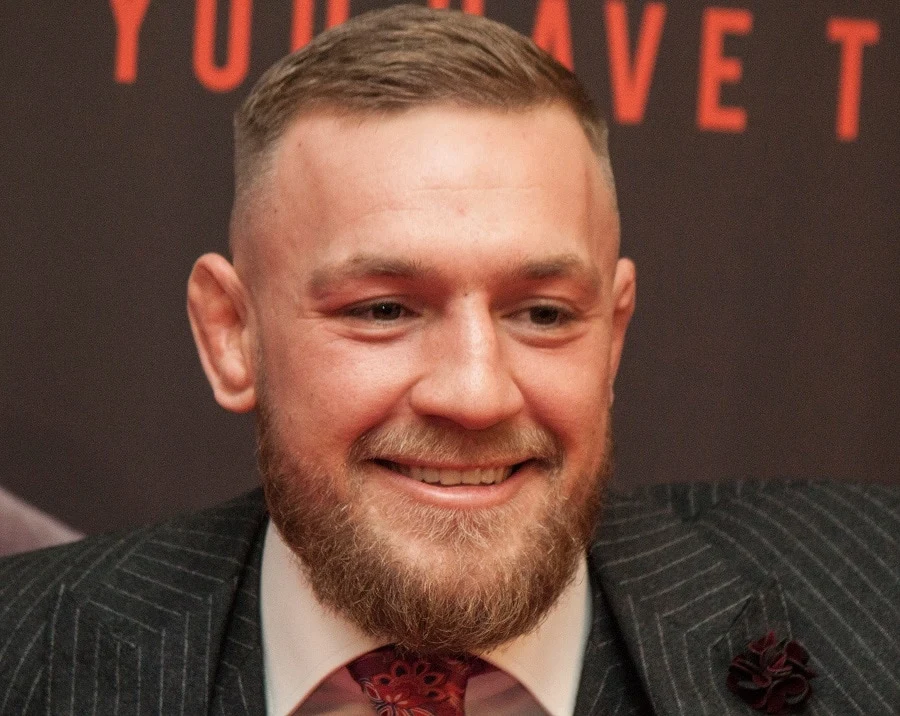 UFC superstar Conor McGregor's beard style is as audacious as his fighting technique. His blonde chin curtain beard, a bold frame for his face, enhances his assertive personality. The boxer's full beard and fade haircut combo suits his quick knockouts and charismatic bravado in the MMA world.
3. Keith Thurman – Chin Strap Beard with Man Bun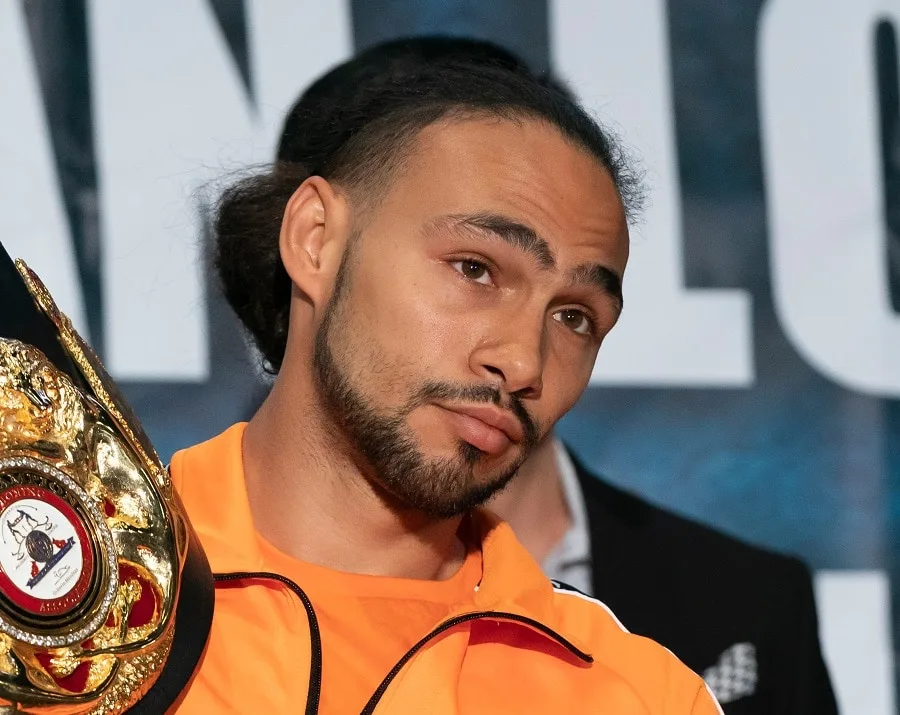 Former unified welterweight champion Boxer Keith Thurman exudes a blend of cultured intensity with his short full beard and man bun. The chin strap beard creates a sharp angle with the sideburns and the mustache is kept thin. The man bun is neatly pulled-back much like his sportsman spirit in the ring.
4. Lennox Lewis- 7mm Short Beard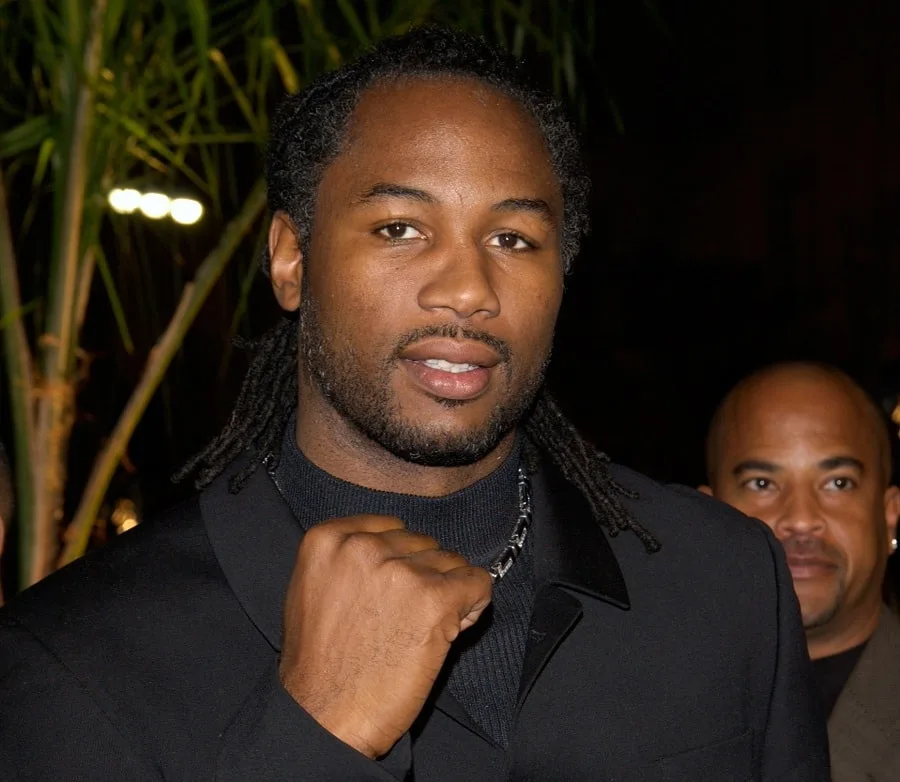 Lennox Lewis, a legendary heavyweight champion boxer renowned for his tactical brilliance, carries a 7mm short beard. This beard is a reflection of his reflex inside the ring. Just as each of his moves in the ring is calculated and purposeful, each hair in his beard is kept at a precise length.
5. Tyson Fury- The Wild Beard with Bald Head
Tyson Fury, the towering heavyweight boxer known for his unpredictable fighting style, adorns a wild beard that complements the bald head. This unique style, wild yet deliberate, much like his boxing persona, makes a distinctive statement. His look is as unconventional and hard to ignore as his remarkable comeback story in boxing history.
6. Vasiliy Lomachenko- Short Box Beard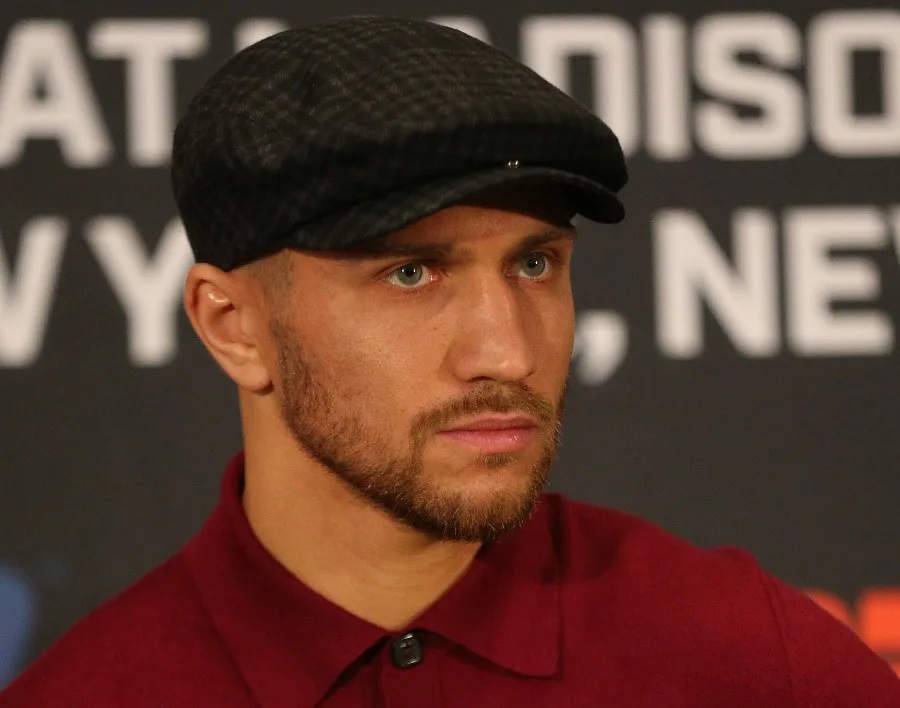 Vasiliy Lomachenko, often referred to as "The Picasso of Boxing" for his technical skill, wears a short box beard. Just as Picasso was a master of his craft, Lomachenko's beard reflects the boxer's mastery over his own canvas: his face and the boxing ring alike.
7. Terence Crawford- Stubble Beard with Buzz Cut
Terence Crawford, an accomplished boxer known for his strategic adaptability in the ring, carries a stubble beard with a buzz cut. The short, evenly shaved stubble mirrors his tactical precision, while the buzz cut, simple and fuss-free, reflects his focus on functionality and effectiveness.
8. Canelo Alvarez- Heavy Stubbly Golden Beard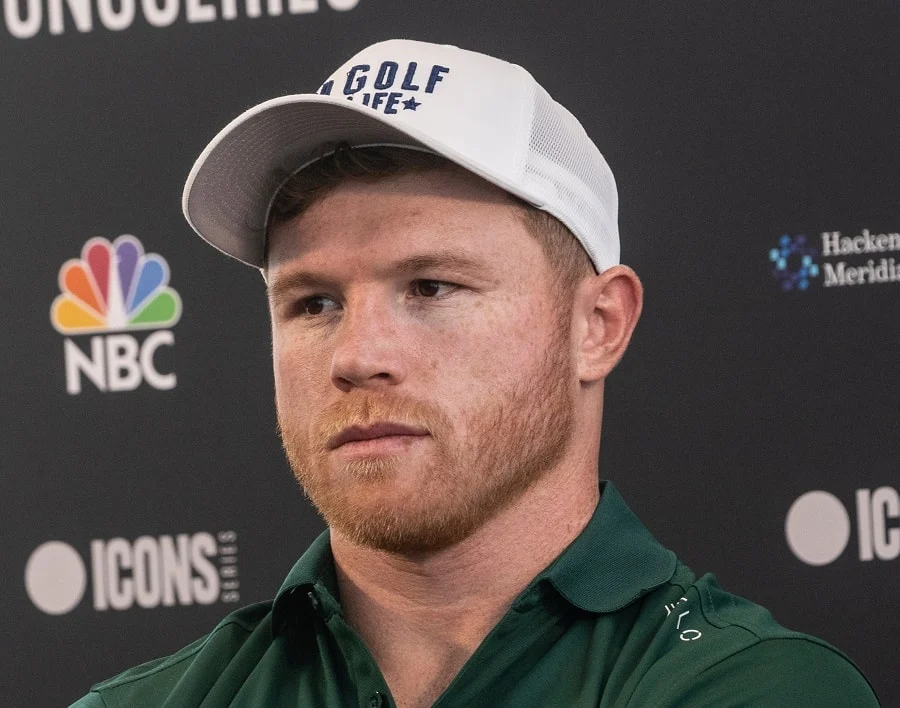 The fiery redhead Mexican boxing sensation sports a heavy stubble golden beard. His beard, as golden as his gloves, adds an element of unpredictability to his look. His patchy beard, raw and unrefined, symbolizes his fearless approach to his bouts.
9. Andre Ward- Light Stubble with Short Hair
Andre Ward, a retired undefeated boxing legend, often carried light stubble with short hair. This minimalist grooming choice reflects his humble and disciplined nature. The light stubble, barely there yet present, aligns with his quiet yet unyielding presence in the boxing world.
10. Deontay Wilder- Medium Length Curly Beard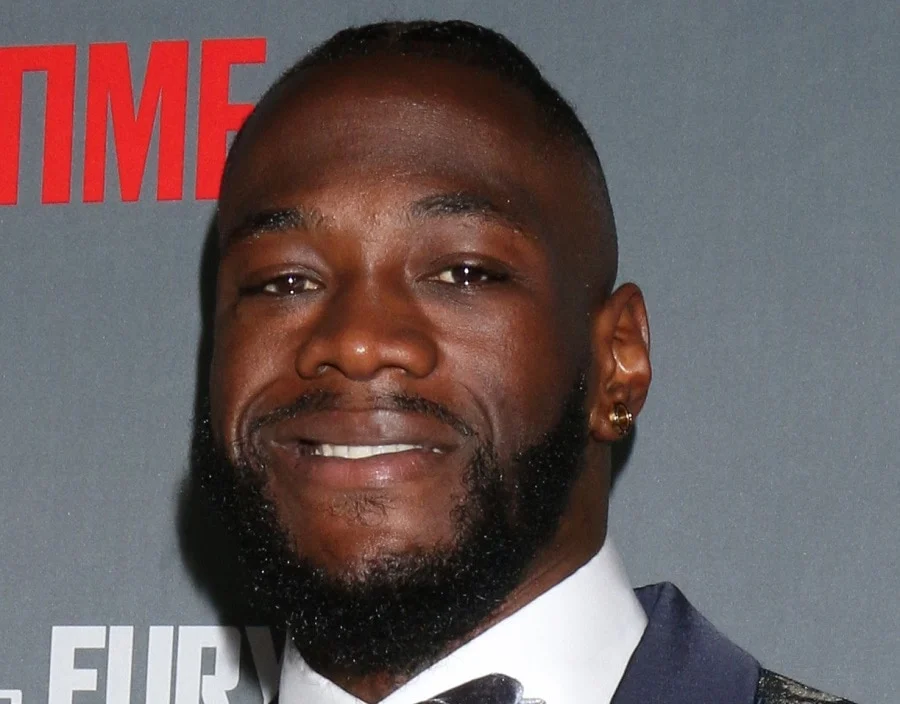 Deontay Wilder, known as "The Bronze Bomber" for his explosive power, wears a medium-length curly beard. This untamed and full-bodied facial hair is a testament to his wild and powerful punches. His beard is as uncontainable as his energy in the ring.
11. Roy Jones Jr. – Precise Circle Beard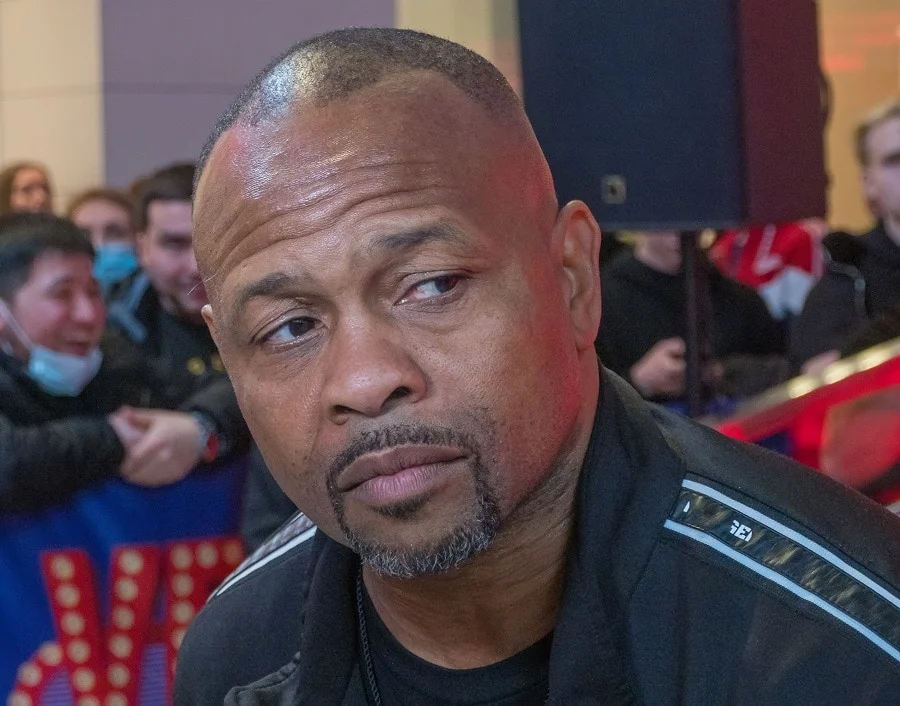 Roy Jones Jr., one of the fastest boxers the world has ever seen, is known for his precise circle beard. This carefully sculpted beard style aligns with his precise and fast punches that have left many of his opponents bewildered. The circle beard, neat and defined, mirrors his accurate and strategic fight plans.
12. Gervonta Davis- Goatee
Gervonta Davis, a dynamite in the boxing ring celebrated for his powerful punches and knockouts, carries a classic goatee with a mustache. The goatee, a timeless style choice, echoes Davis's impact in the sport — direct, memorable, and enduring.
13. Floyd Mayweather Jr. – Messy Circle Beard with Bald Head
Floyd Mayweather Jr., the bald-headed celebrity, known for his undefeated record, showcases a messy circle beard with a bald head. The unkempt circle beard, a deliberate departure from the norm, symbolizes his unorthodox yet successful boxing style.
14. Victor Ortiz- Designer Stubble Beard
Victor Ortiz, a thrilling fighter known for his action-packed bouts, carries a designer stubble beard. The beard, maintained at a stubble's length, lends him a rugged charm, while the goatee, centered around the chin, reflects his focused and energetic performance in the ring.
15. Manny Pacquiao- Long Goatee
Manny Pacquiao, a boxing legend and a beloved figure in his home country of the Philippines, often sports a long goatee. The elongated beard style, centered on the chin, is a testament to Pacquiao's endurance and longevity in the sport.
16. Nonito Donaire- Soul Patch Beard
Nonito Donaire, fondly known as the "Filipino Flash" for his lightning-fast speed, is recognized for his soul-patch beard. The small patch of hair beneath his lower lip, also known as a soul patch gives a spark of excitement to his fights.
Pros and Cons of Sporting a Beard in Boxing
A beard can have both advantages and disadvantages for a boxer. Let's examine the pros and cons:
Pros of having a beard in boxing
Protection: A beard can provide some degree of protection for the chin and jaw area during a fight. It can act as a cushioning barrier against incoming punches, reducing the impact and potential damage.
Intimidation: A boxer with a well-groomed beard can have a more intimidating presence in the ring. It can create an aura of toughness and make opponents think twice before engaging aggressively.
Identity and Branding: Some boxers choose to maintain a distinct look with their beards, which can help them establish a recognizable brand and identity. This can be advantageous in terms of attracting fans and sponsors.
Psychological Advantage: Wearing a beard may enhance a boxer's self-confidence and self-image. Feeling good about their appearance can have a positive impact on their mental state, translating into improved performance inside the ring.
Cons of having a beard in boxing
Grasping and Holding: During clinches or close-quarters exchanges, an opponent might be able to grab and hold onto a boxer's beard. This can give the opponent an unfair advantage, impeding the boxer's movement and ability to escape.
Cleanliness and Hygiene: Maintaining a clean and well-groomed beard requires extra effort and attention to hygiene. Sweat, blood, and saliva can accumulate in the beard during a fight, potentially leading to skin infections or other issues.
Facial Recognition: In some instances, a beard can obscure facial features and make it difficult for judges or referees to accurately identify a boxer during a match. This can lead to potential confusion or incorrect scoring decisions.
Regulations and Safety: Some boxing organizations have rules that prohibit beards. These rules are usually in place to prevent injuries.
So, hope you have got what you were looking for and liked our list of popular boxers with beards.
FAQs
1. Can boxers have beards?
Yes, boxers can have beards, but the regulations concerning facial hair differ among various boxing organizations. For example (IBA) allows boxers to have beards, as long as they are trimmed to a certain length and do not cover the neck but the International Olympic Committee (IOC) still prohibits boxers with beards or mustaches.
2. What is the maximum allowed length of beard for boxers?
According to the International Boxing Association (IBA)'s Technical & Competition Rules, the maximum allowed length of a beard and mustache is 10 centimeters or 3.9 inches.
3. Did Mike Tyson always have a beard?
No, Mike Tyson did not always have a beard. The choice to sport a grey beard came later in his life. It is now a part of his distinctive persona along with his bald head.