Will Smith the actor, producer, and rapper has been in the limelight for decades, winning the hearts of millions with his talent and charisma. Besides the incident involving Chris Rock in Oscar 2022, he remains one of the most popular black actors with amazing beard styles in the Western hemisphere.
Ever since he became a superstar for his role in the Fresh Prince of Bel Aire, the 54 years old celebrity has been inspiring men as a modern style icon for more than three decades. In recent years, he has been at the top of celebrities with a goatee beard.
So, let's find out the evolution of Will Smith's beard, why it is so popular, and how you can maintain a beard like his.
Will Smith Beard Styles- The champion of the Goatee
Will Smith is actually the champion of the goatee beard. Many of his most famous beard styles are brilliant new takes on the classic goatee beard look. He regularly changes his goatee style so that he can keep fans interested. Our list includes some of his coolest beard looks, as well as other Will Smith beard styles.
#1. Clean Shaven- 1990
In the early 90s, when Will Smith starred in the popular sitcom "The Fresh Prince of Bel-Air," he sported a clean-shaven look. This youthful and fresh appearance was a trademark of his character, but it wouldn't be long before his facial hair would take center stage.
#2. Perfect Circle Beard- 1995
Will Smith appeared with a perfect circle beard in 1995 in the movie "Bad Boys" and got the badass look. This facial hairstyle is perfectly trimmed and shaped. The hair is a uniform length throughout the style to enhance his cool groomed look. Will chooses a square shape to make his jawline look stronger.
#3. Heavy on the Chin- 2004
In the beard style, Will Smith rocked the goatee look again in 2004 (I, ROBOT). He mixed things up a little bit by leaving his hair much thicker on his chin whilst his mustache is only stubble-length. His salt and pepper coloring also shows that he is growing old gracefully.
Wanna Grow a Brad Pitt Beard? Check These
#4. Soul Patch and Chevron Mustache – 2006
This style has a soul patch below the lower lip, while the chevron mustache covers the entire upper lip. It was will smith's beard style in 2006 in pursuit of happiness.
#5. Stubbly Goatee – 2007
Shave down your goatee beard to give a fresh facial hairstyle. The stubbly beard style gave Will Smith the perfect look for the Legend character.
#6. Extended Goatee Beard-2014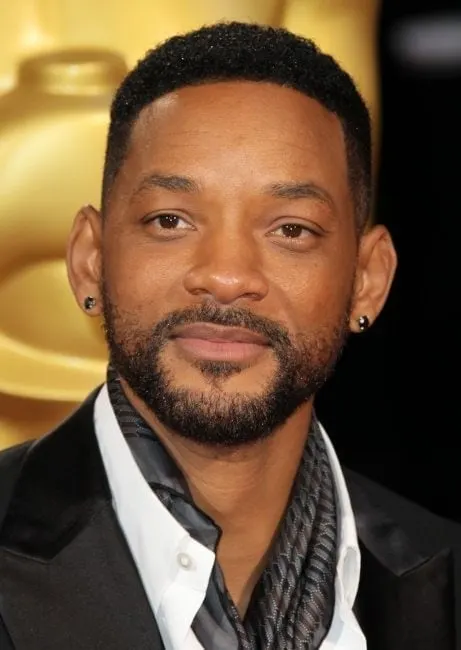 This Will Smith beard style is fuller than some of his other looks, but still makes use of his trademark goatee style. He wears his beard in a patchy beard style up over his cheeks for a bit of a wild look.
#8. Bald and Bearded- 2016
Will Smith lets his beard do the talking in this standout facial hairstyle in the DC movie. Because he hasn't got any hair on his head, the beard on his face is the most important part of his look. He keeps his beard thick but groomed.
Most Popular Tony Stark Beard Styles
#9. Curly Low Fade Taper Beard- 2021
Will Smith and his beard should stay a style icon for years to come. His son is now following in his father's fashionable footsteps. Will's beard styles are great for all guys; whether young professionals or cool fathers. Try out a Will Smith beard style today to see which look you can rock.