Kyrie Irving has been seen with a beard for nearly his entire NBA career except his college days at Duke. And he rocked some seriously stylish beard. He even shaved off his beard in 2017 to start fresh. However, he soon started to regrow it, and before long, his beard was back in full force.
Kyrie Irving isn't the only NBA player to rock a full beard, but he's undoubtedly one of the trendsetters. His distinctive beard style has influenced not only fans but also fellow players.
This article will explore Kyrie Irving's beard styles, which may also help you find inspiration for your next grooming journey.
Who is Kyrie Irving?
Kyrie Irving was born in Melbourne, Australia on March 23, 1992. He began playing basketball at a young age, and he quickly showed that he had a natural talent for the game. Irving attended St. Patrick High School in Elizabeth, New Jersey, where he led his team to three consecutive state championships.
After high school, Irving was drafted by the Cleveland Cavaliers with the first overall pick in the 2011 NBA draft. He quickly became one of the Cavaliers' best players, and he helped them reach the NBA Finals in 2015 and 2017. In 2017, Irving was traded to the Boston Celtics.
Irving is a two-time NBA All-Star and a two-time All-NBA selection. He is also a two-time NBA champion, having won with the Cavaliers in 2016.
The Evolution of Kyrie Irving's Beard
Kyrie Irving's facial hair journey is as compelling as his basketball career. Let's chronicle its growth and transformation.
The Early Days: No Beard at Duke
During his college days at Duke, Irving mostly maintained a clean-shaven look. It was a fitting image for a young player just getting started, but little did we know how his style would evolve. You can see Kyrie Irving without any beard in Nov 2010 in his Duke Blue Devils days in the picture.
Early Career in NBA: The Birth of the Beard
Upon entering the NBA with the Cleveland Cavaliers, Irving began to experiment with his style. He started growing a beard, and this new look quickly became a part of his signature style.
One of the most significant periods in Irving's career was his time playing alongside LeBron James at the Cleveland Cavaliers. Together, they led the team to an NBA Championship in 2016. Both James and Irving are not only recognized for their exceptional skills but also their similar style choice — a full beard.
A Fresh Start: The 2017 Shave
In a surprising move in 2017, shortly before his transfer to the Boston Celtics and later the Brooklyn Nets, Irving decided to shave off his beard entirely. Irving himself has said that he shaved his beard because he wanted to "start fresh" and "be a new person."
His fans were shocked. Even Lebron James mocked his shaved beard. But they didn't have to wait too long for the beard to return. Irving grew back his beard, reaffirming its place in his style.
Kyrie Irving's Latest Beardstyle (2023) – Short Boxed Beard
In 2023, Irving's beard style is as cool as his crossover dribble. His latest beard style is the short boxed beard, which is a modern and trendy look that perfectly complements his dynamic personality.
This beard style is characterized by a short-length, full beard. It's a bold yet refined choice, reflecting Irving's ability to merge edginess with sophistication.
Popular Kyrie Irving Beard Styles
The following Irving's facial hair is a symbol of his individuality beyond the basketball court and his careful devotion to grooming adventure.
1. Long Neck Beard + Chin Strap

This appearance from the premiere of the comedy movie "Uncle Drew" gives Irving an innocent look. Grow your beard without trimming for 1 month. Let your neck and chin beard grow longer and shape your sideburns and connect with your beard.
2. Ducktail Beard with Buzz Cut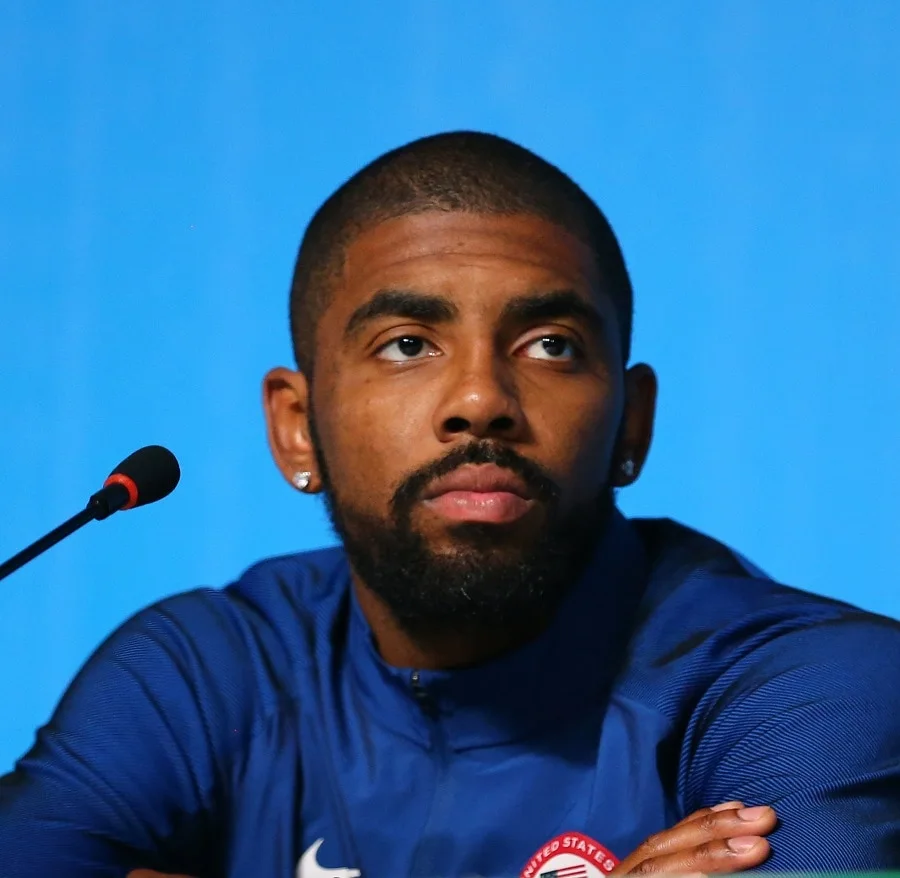 Kyrie Irving joined the Rio Olympics in 2016 with a 2-3 inches long chin beard extending with a sharp curve at the sideburns. Seemingly he kept the beard longer on the chin like a ducktail beard that connects with the mustache. The beard and buzz cut looks cool on him.
3. 7mm Full Beard with Short Fade Hair

Present Dallas Mavericks point guard Kyrie Irving sported a uniform-length 7mm beard. The full beard blends with the short burst fade hair. Although Irving has patchy facial hair on the jawline, it clearly differentiates his jaw from the cheeks.
4. Slightly Squared Beard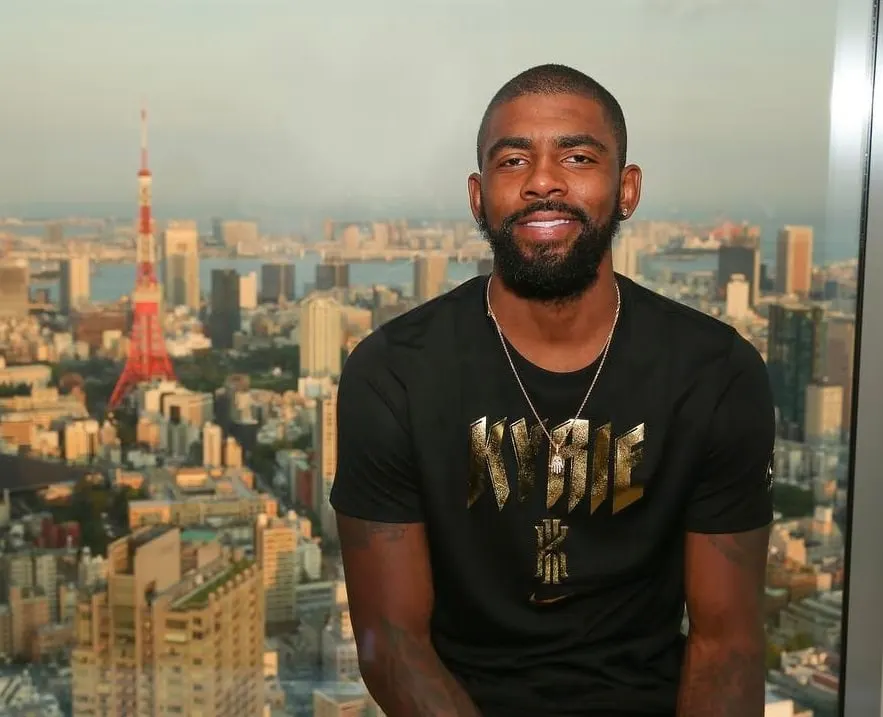 This Irving appearance from 2017 features a full beard while the sides are slightly short but give a fuller look. However, he didn't forget to trim the mustache and keep them shorted than the overall facial hair.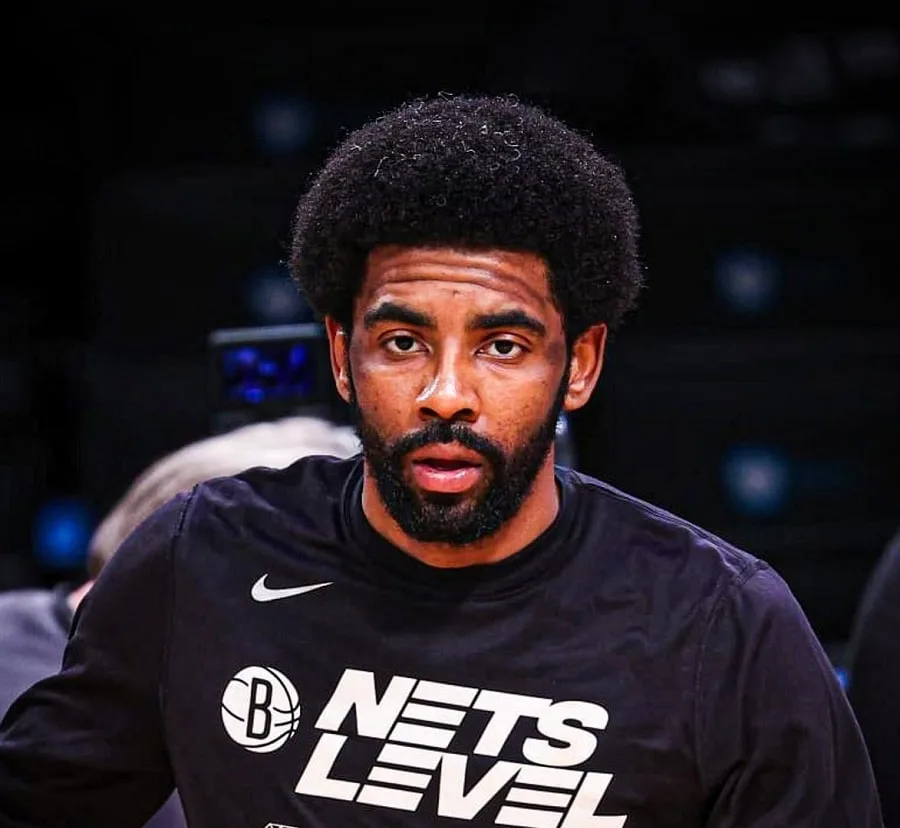 Kyrie Irving's style evolution doesn't stop at the court. This Kyrie Irving's hair and beard combinations have been turning heads and setting trends. One of his most striking looks is the chin curtain beard paired with an afro crown hairdo.
6. Medium Length Full Beard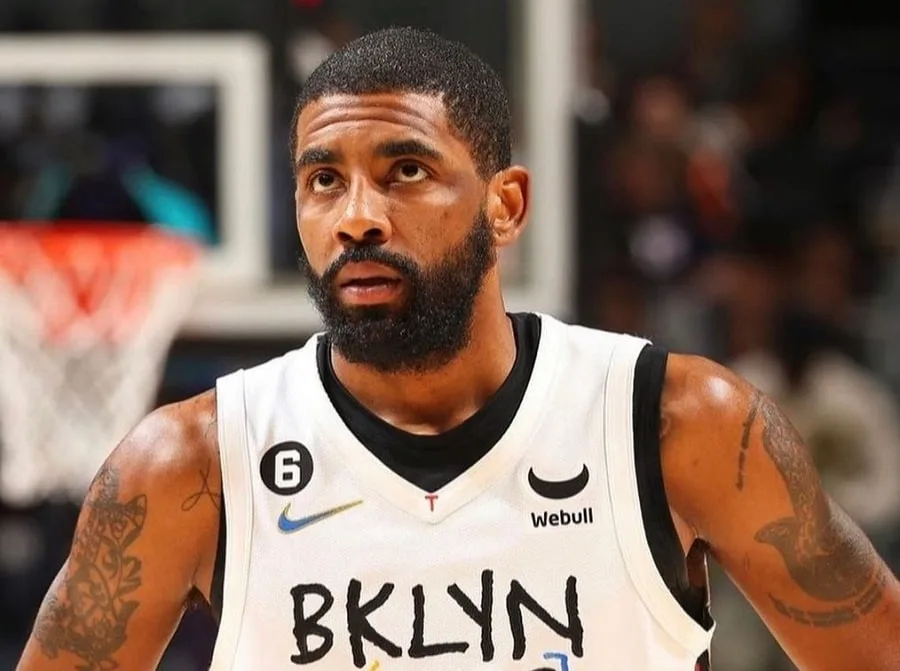 This appearance from the late 2022s made him look more mature than the previous seasons. He grew the facial hair for about 3 months to get the full beard look. But the former Brooklyn Nets star trimmed the mustache and cheeks to get a sort of neat look.
From these styles, it is visible that Kyrie Irving knows how to keep the style interesting. Ultimately each of his beard styles adds a unique touch of personality to his overall appearance.
How to Achieve the Kyrie Irving Beard Style
If you want to achieve the Kyrie Irving beard style, there are a few things you need to do. First, you need to grow your beard for at least a few months. Once your beard is long enough, you can start to style it.
There are many different ways to style a beard. You can keep it neat and trimmed, or you can let it grow out and be more natural. You can also experiment with different styles, such as a goatee or a mustache.
No matter how you choose to style your beard, the most important thing is to make sure that it is well-groomed. Keep your beard clean and trimmed, and use beard oil to keep it soft and healthy.
Maintenance Tips
Here are a few tips for maintaining your beard:
Wash your beard regularly with a gentle shampoo.
Condition your beard regularly with a beard conditioner.
Use a beard brush to brush your beard regularly.
Trim your beard regularly to keep it neat and tidy.
Use beard oil to keep your beard soft and healthy.
By following these tips, you can keep your beard looking its best.
Recommended For You:
James Harden Without A Beard: 8 Hilarious Photos
7 Cool Beard Styles of NBA Superstar Stephen Curry
So, that's all about Kyrie Irving's beard styles. As Irving continues to impress on the court, his unique beard styles continue to make waves off the court.