The burst fade haircut with a beard has become a popular choice for modern men. This flexible and trendy combination offers many options for those who are not afraid to stand out.
With so many fade haircuts and beard combinations to try, finding the perfect burst fade hairstyle for your beard style can be confusing.
To narrow down the perfect burst fade haircut and beard style options for yourself, we have put together an ultimate guide on this trendy combo style.
What is Burst Fade Haircut?
A burst fade haircut is a hairstyle that features a gradual reduction in hair length around the ears and temples, resulting in a fading appearance. It seems as if the hair is "bursting" out from the sides of the head.
The fade starts at a shorter length near the ear and gradually increases in length as it moves upward and outward. It is also mixed up with skin fades, high fades, or low fades.
How to Pair Burst Fade With A Beard
The burst fades truly shine when paired with a beard. The beard not only complements the haircut but also adds definition and character to the face. It works well with various beard lengths, from stubble to a full-grown beard, allowing the individual to tailor the look to their preference.
To pair a burst fade with a beard, follow these steps:
Decide on the desired hairstyle and length of your burst fade and beard.
A burst fade requires precision and expertise, so it's crucial to find a barber who has experience with this style. Do some research, check online reviews, or ask for recommendations from friends.
When you visit your barber, explain the burst fade with the beard style that you're aiming for. Show them pictures if possible, to ensure you're both on the same page.
Your barber will begin by tapering your hair around the ears and temples, creating a distinctive burst effect. They will then blend the fade into the rest of your hair, ensuring a smooth transition.
After your haircut, your barber will trim and shape your beard, ensuring it complements the burst fade. They may use clippers or scissors, depending on your beard's length and desired style.
That's it. That is all you have to do to successfully achieve a burst fade haircut with a classy beard.
Burst Fade Styles with Beard
To give you a better idea about your looks here are some trendy pictures of different burst fade haircuts with beard styles. Read the descriptions of the pictures carefully so that you can make your barber understand what you want.
1. Burst Fade with Hard Part + Fade Beard
Get the best of both worlds, the hot burst fade and a cool beard style with this hair and beard combination. The burst fades with hard-parted short hair is a bold look that's perfect for the modern man, while the fade beard adds extra depth and dimension.
2. Coiled Hair on Top + Full Beard and Uneven Sideburns
This style is perfect for African American men with curly hair. The coiled hair on top creates a fun and playful look. The full beard with uneven sideburns is a cool black men's beard style that can create a balance with the coiled burst fade.
3. Mid-Burst Fade Buzz Cut + Patchy Extended Goatee
The mid-burst fade buzz cut is a low-maintenance haircut with a little bit of edge. The goatee is thicker on the chin with a bald spot below the chin. The extended part of the goatee is thinner on the cheek and sides.
4. Comb Over Burst Fade + Short Boxed Beard
Make a statement with this bold and edgy comb-over burst fade and short boxed beard. The short-boxed beard blends to the burst fade near the middle of ear length.
5. Flat Top Burst Fade Frohawk + Short Curly Beard
Usher the singer rocked a flat top frohawk which is a curly mohawk hairstyle that is burst faded on the sides. The hair on top that is styled upwards to create a flat surface in a rectangular shape. This style burst fade with beard style is perfect for men with diamond face shape.
6. Textured Quiff + 7mm Beard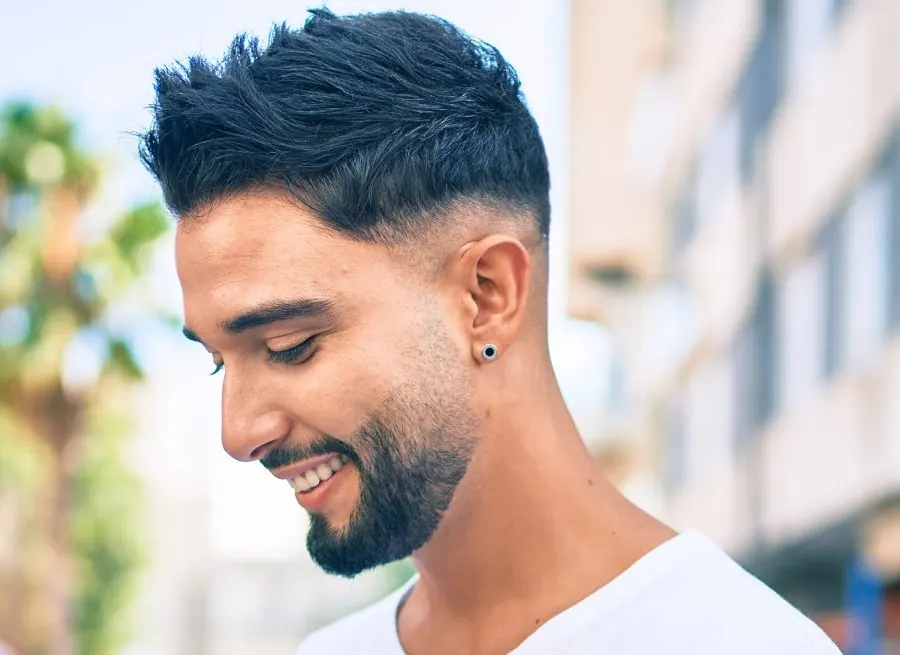 Showcase your textured quiff burst fade hairstyle with a 7mm beard. The quiff hair is swept upwards and back from the forehead and the beard is rounded by keeping the length 7mm from the chin to 2-3 inches above the curve of the jaw on both sides. The thick beard rapidly faded above the curve.
7. Messy Curls + Heavy Stubble
Try the messy curly burst fade hairstyle with a heavy stubble beard. The unkempt hair on the top creates a relaxed and natural appearance. The mid-fade burst and heavy stubble blend a perfect look that might take your look to another level.
8. Afro Burst Fade + Thick Beard
This combination features an afro with a burst fade on the sides, paired with a full, thick beard. It offers a great contrast between the voluminous hair on top and the well-groomed facial hair.
9. High Burst Fade + Chin Beard
For the man who appreciates a sleek and modern appearance, this high burst fade with slicked-back hair is the way to go. Complement the edgy haircut with a small chin beard to accentuate your facial features.
10. Curly Mohawk Mid Burst Fade+ 3 Month Beard
Dare to stand out with this bold mid-burst fade curly mohawk, paired with a 3-month-old beard. The striking contrast between the edgy haircut and rugged beard creates a captivating look that is sure to turn heads.
11. Patterned Buzz Fade + Designer Stubble
The patterned burst fade features intricate designs shaved into the sides. Paired with designer stubble, this burst fade hairstyle with a beard offers a perfect blend of artistry and sophistication for a truly distinctive look.
12. Burst Skin Fade + Short Garibaldi Beard
The style combines a burst skin fade hairstyle which is also known as burst bald fade with a relatively shorter garibaldi beard. Try this powerful look to merge your short hair with a full beard.
13. Short Mullet + Thin Beard
Channel your inner rock star with this contemporary twist on the classic mullet. The shorter hair on top and thin beard lends an air of nonchalance to this fun, stand-out style.
14. Burst Fade Crew Cut with Spiky Front + Wavy Yeard Beard
Achieve the perfect balance of clean-cut and rugged with a burst fade crew cut featuring a spiky front. The wavy yeard beard adds an intriguing contrast to the polished hairstyle, creating a captivating look.
15. Burst Fade Ginger Pompadour + Dyed Black and White Beard
Improve your style game with this colorful combination of burst fade ginger pompadour with a black and white beard. The chin beard is dyed white with a dye the rest is kept black which connects with burst fade. Only dye the top hair ginger and keep the burst fade part natural. If you are not brave enough to stand out in the crowd consider a ginger beard with this burst fade hairstyle.
Hope you liked the styles. Show your favorite one to the barber and also explain to your barber to clear up any confusion.
Maintenance Tips
To maintain your burst fade with a beard, follow these tips:
Use a shampoo and conditioner designed for your hair and beard type. Do not use your hair shampoo on your beard.
To maintain the burst fade's shape and texture, use a pomade, wax, or gel that suits your hair type. Avoid using excessive amounts, as this can make your hair look greasy and weighed down.
Brush and comb your hair and beard regularly to remove tangles.
Nourish your hair and beard with natural oil
Revisit your barber every 2-4 weeks for a touch-up.
With the right upkeep and attention, burst fade hairstyle and beard combination can become your go-to, signature look. So, go ahead and embrace this trendy combo.