The combination of a crew cut and a beard is a timeless trend in men's grooming. You might wonder, what makes this style so popular?
A crew cut is a specific type of haircut where the hair on top of the head is cut relatively short, with the length gradually decreasing from the front hairline to the back of the crown.
The hairstyle takes its name from its popularity among university rowing teams – the "crew" teams – in the early 20th century. It's versatile, easy to maintain, suitable for various face shapes, and also professional.
When paired with a beard, it creates a potent blend of power and refinement. This hair and beard style combination not only sharpens your appearance but also frames your face, giving off a mature vibe.
Why Combine Crew Cut with Beard?
The beauty of this combination lies in its contrast and versatility. The neat and clean-cut nature of the crew cut pairs beautifully with the rugged and masculine character of a beard.
The crew cut has several variations, including the classic crew cut, the Ivy League, and the high and tight. All of these versions involve different lengths and gradients but maintain the same fundamental structure.
When you combine a crew cut with a beard, you not only create an appealing contrast but also open up a world of grooming possibilities.
Depending on your personal style and facial features, you can experiment with different beard lengths and styles, from a full beard to a goatee or stubble. This allows you to change your look and keep it fresh, while still maintaining the classic appeal of the crew cut.
Best Crew Cut And Beard Variations
Pairing a crew cut with a beard provides a range of stylish options that can dramatically transform your look. Let's explore some cool combinations:
The sides of the head aren't as closely shaved to the skin as a typical crew cut would require. The haircut has tapered sides and the length of the hair seems equal to the length of the 10-day stubble beard.
2. Spiky Front Haircut with Contrasted Stubble Beard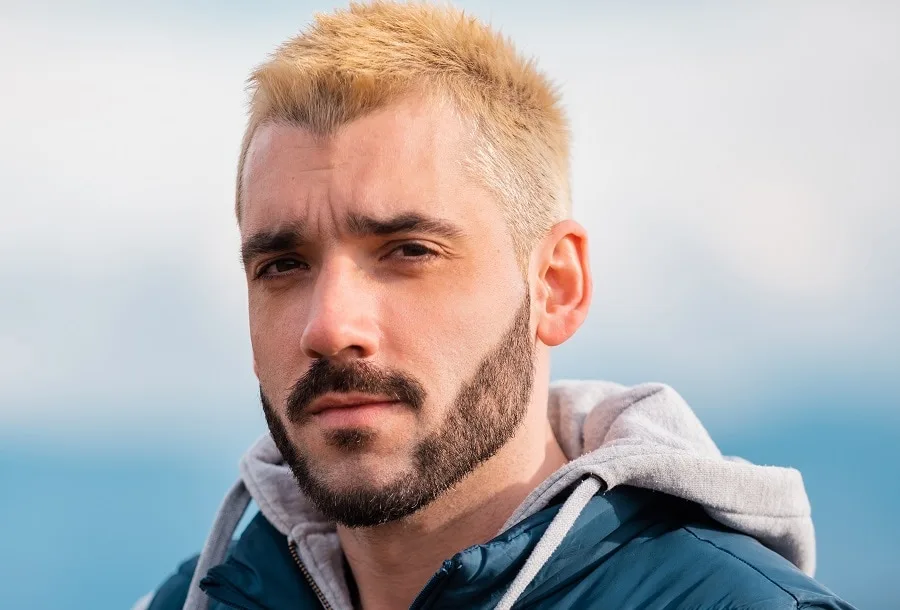 The idea is to have a dark black beard with either blonde or red hair. The haircut requires short sides but not to the point of being bald.
The beard has heavy stubble given a sharp cut at the cheeks. The interesting part is the mustache that's disconnected from the beard.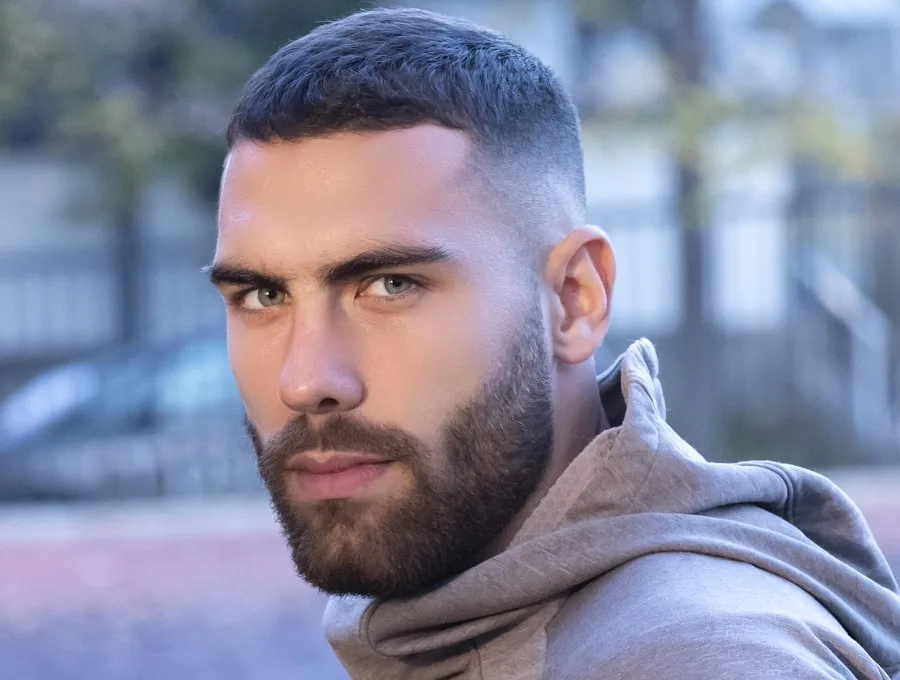 Get this manly look by having mid-fade sides with slightly longer hair in the frontal region. The hair shouldn't be parted in any particular direction or styled in a specific way. Pair it up with a short-boxed beard that's a tad bit more than heavy stubble.
4. Afro Buzz Cut with Patchy Beard
Afro buzz cut can be the ideal choice for people with curly hair and uneven beard growth. Other than the sides, the rest of the hair is the same length. Grow a patchy beard to complement the style and a light mustache to complete the look.
5. Swirled Short Front with Short Goatee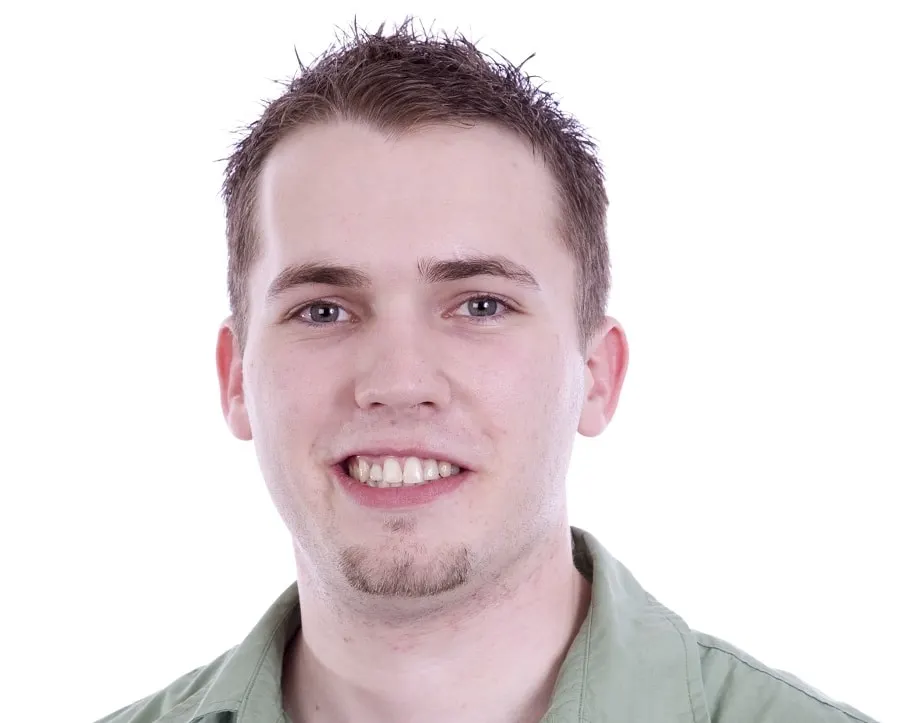 Some people have a natural swirl in the hair on the front of their head. If you have one, you can style it by going with a crew cut as it won't require a lot of care for the front hair. A short stubble goatee adds up to the look without being too much.
6. Short Pomp with Stubble Beard
A crew cut lets you experiment with the hair on top and front, so it's your chance to go for a short pomp. Aim for that desired scruffy look by growing a stubble beard that doesn't have a clean neck line.
7. Grey Sides and Spiky Hair with Salt and Pepper Stubble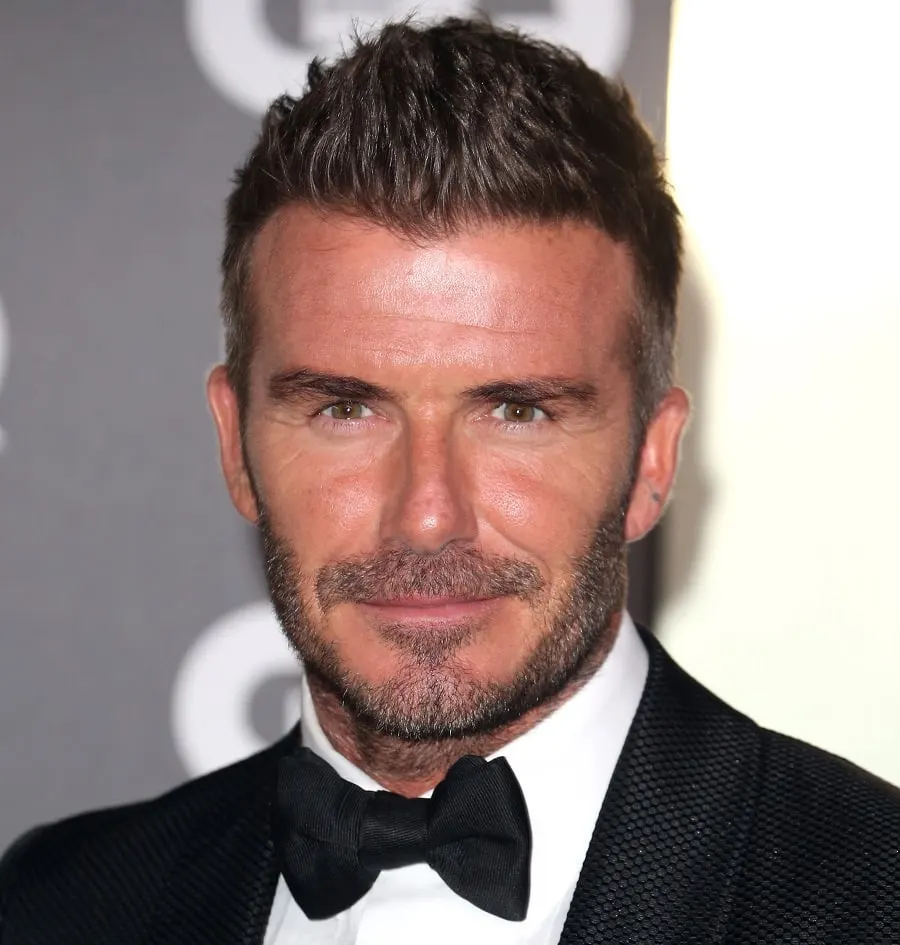 Rock this look if you're a fan of David Beckham and are in your 30s and 40s. The sides of the head are grey whereas the hair on top is spiky.
The look isn't complete without a rugged, salt and pepper stubble beard extending down to your neck and Adam's apple.
8. Faded Spikes with Patchy Short Beard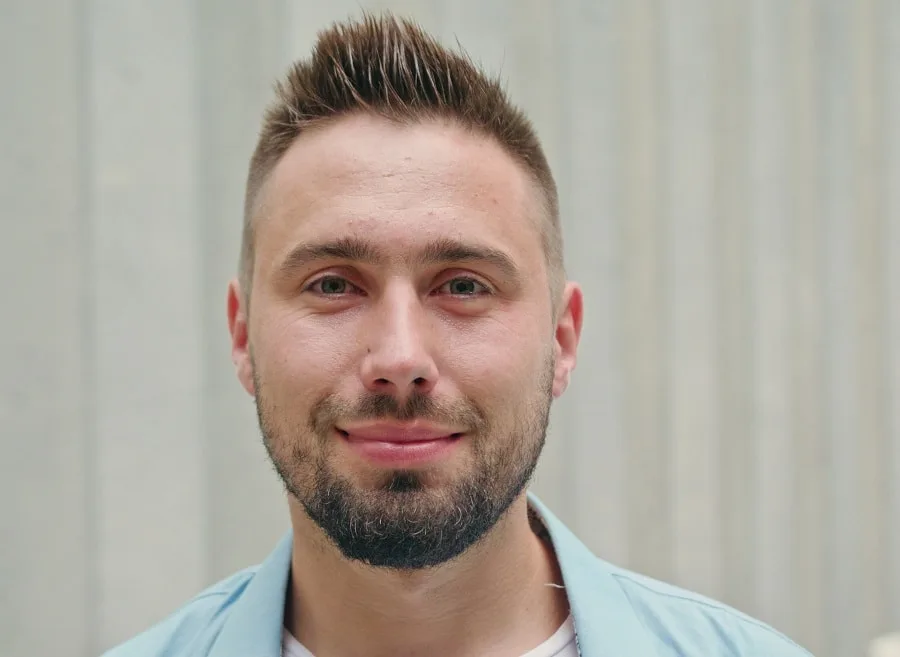 Spikes haircut works even if you don't have a great hair volume on the head. Let the spikes stick out by opting for a skin-fade around the sides of your head.
The short beard looks like stubble on the cheeks due to the patchiness, but slightly thick growth on the chin shines through.
9. Wavy Undercut with Beard Fade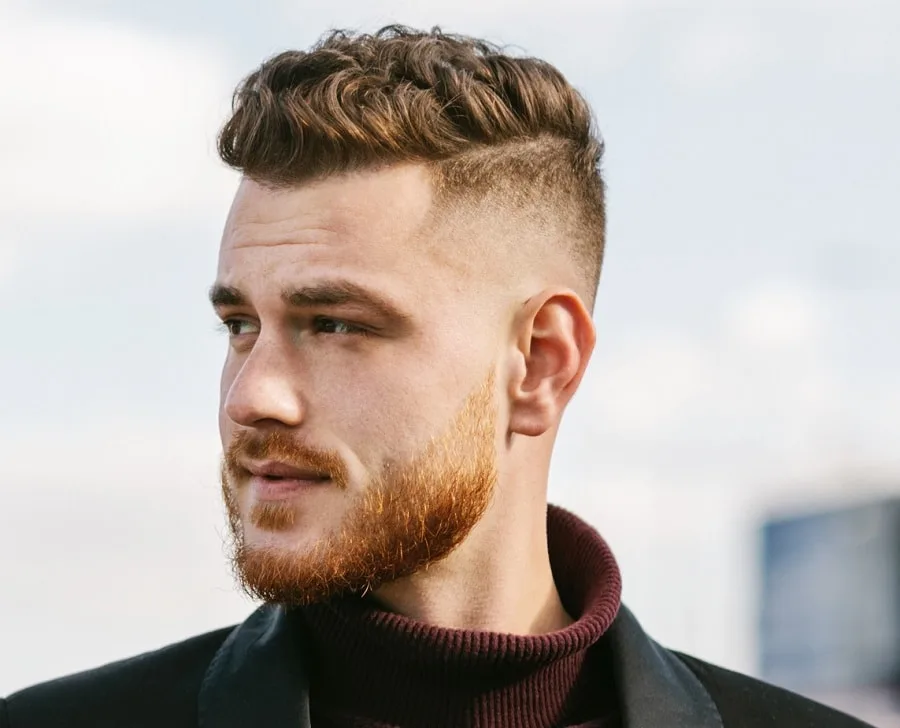 There's something about a faded red beard that makes it very attractive. In this style, it fades completely near the temples and sharp cuts and lines show that it's a short-boxed beard. The hairstyle is a proper undercut with low to mid-fade on the sides.
10. Long Crew Cut with Light Stubble Beard
If you're not in the military, you can have your way with the crew cut. The subtlety to note here is that the sides aren't really faded. Instead, they abruptly transition into long hair. Let a light stubble outline your oval face and pointy chin.
11. Hard Cut Haircut with Short Beard Fade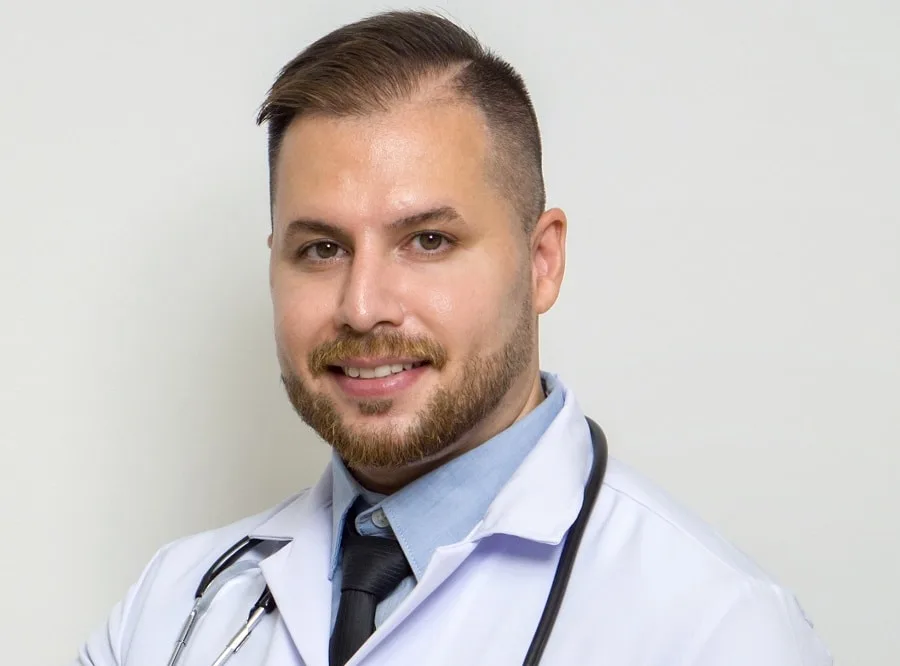 This sharp look requires you to take three big steps. One, you go for a hard part that's visible from a mile away. Two, you keep every element of the facial hair disconnected i.e. mustache, soul patch, and beard. Three, you let the beard fade on the sides, near your temple.
12. Short Ivy League Haircut with Salt and Pepper Stubble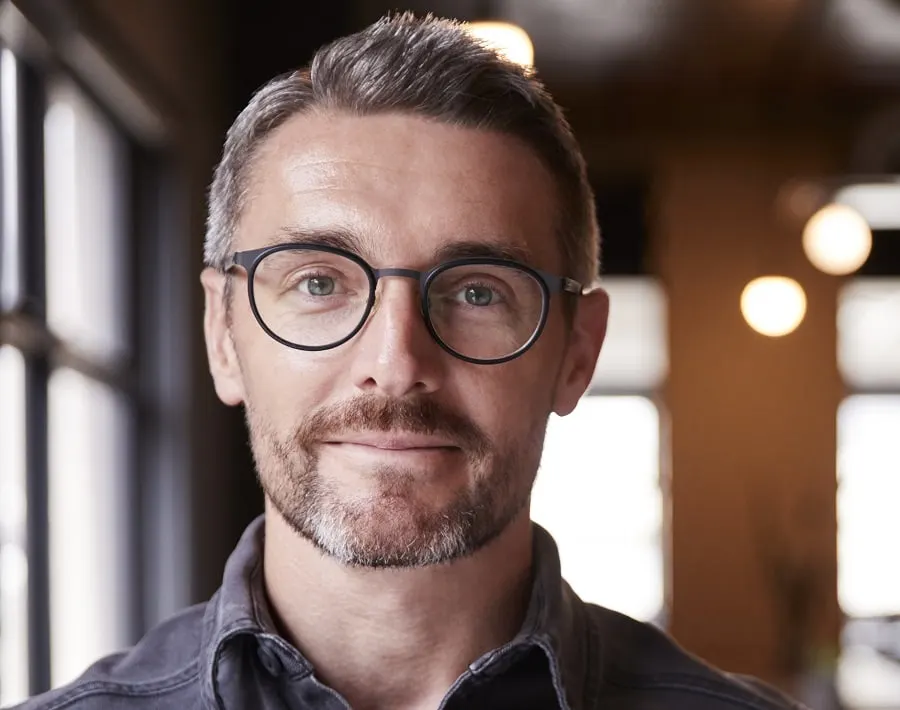 A side part with a crew cut never goes wrong. It looks neat and professional, and suits just about any face type e.g. rectangular, square, round, etc. You can make the look even more executive with salt and pepper stubble and a pair of glasses.
13. Long Crew Cut Highlights with Short Beard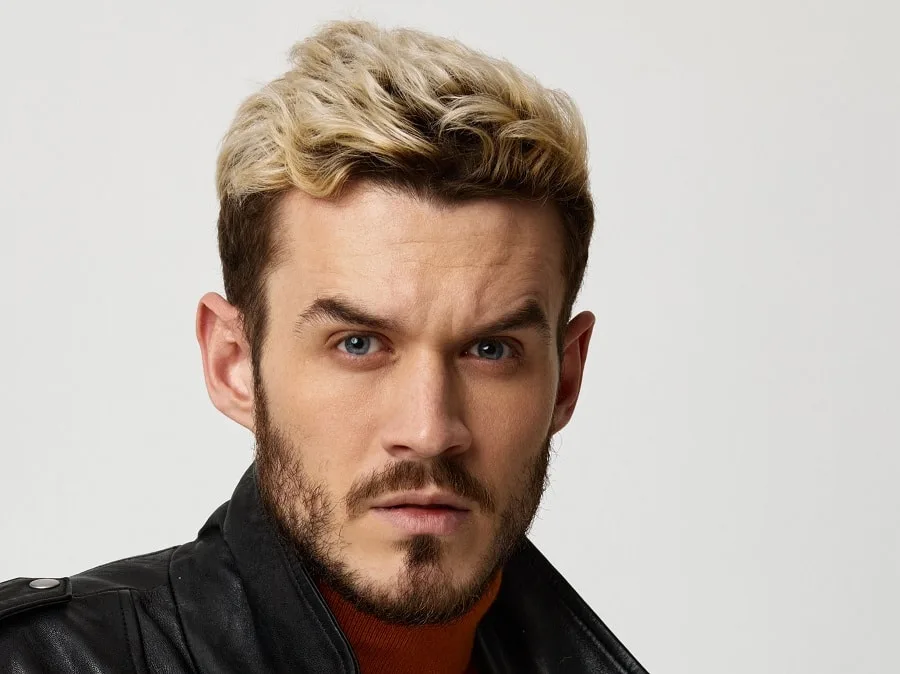 A lot of men these days go for a shot haircut with a short beard. Let's change it up a bit with this crew cut that has grown a bit on the sides and top. The highlights help the hairstyle pop whereas the short beard assists in maintaining the scruffy look.
14. Combed Over Haircut with Scruffy Beard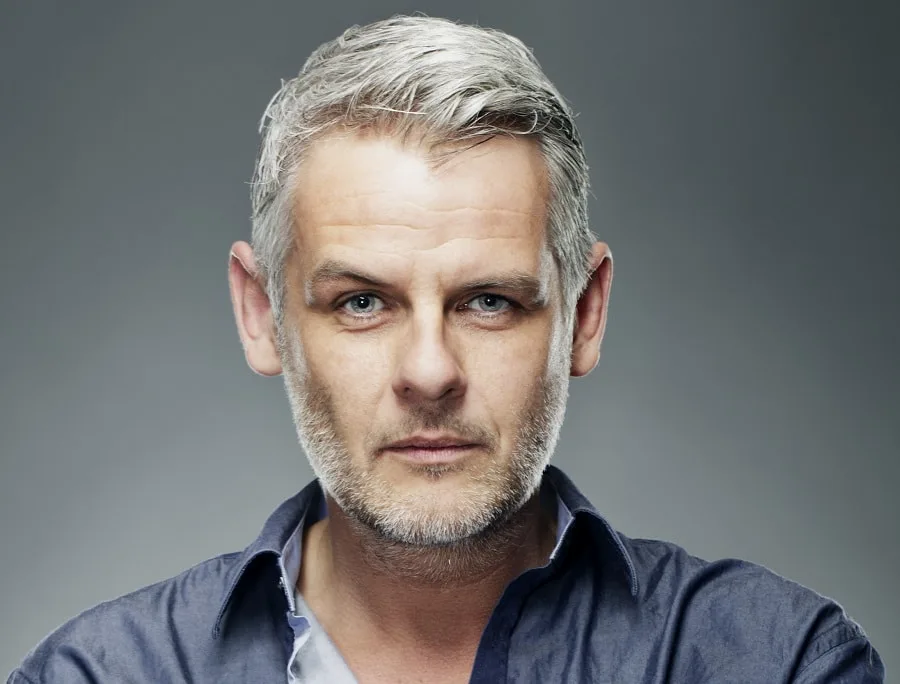 A comb over haircut with slightly shorter sides looks great when the hair on the top and front of your scalp aren't too thick. The overall style is quite manly with a scruffy beard that's not lined on the cheeks and extends onto the neck.
15. Medium Length High Top Haircut with Messy Short Beard
The style in question is medium length high top with tapered sides. The hair on the top and frontal region is a bit spiky too. A messy beard isn't a bad choice at all since it is just short enough to not let the "messy effect" be overpowering.
16. Colored Crew Cut with Extended Goatee
Make an impression with two simple moves. The first move is to keep a long crew cut and color the top of your hair blue or any other color of your choice. The second step is to grow an extended goatee with no soul patch or mustache. The style is more attention-grabbing than you might imagine.
17. Afro Crew Cut with Short Natural Beard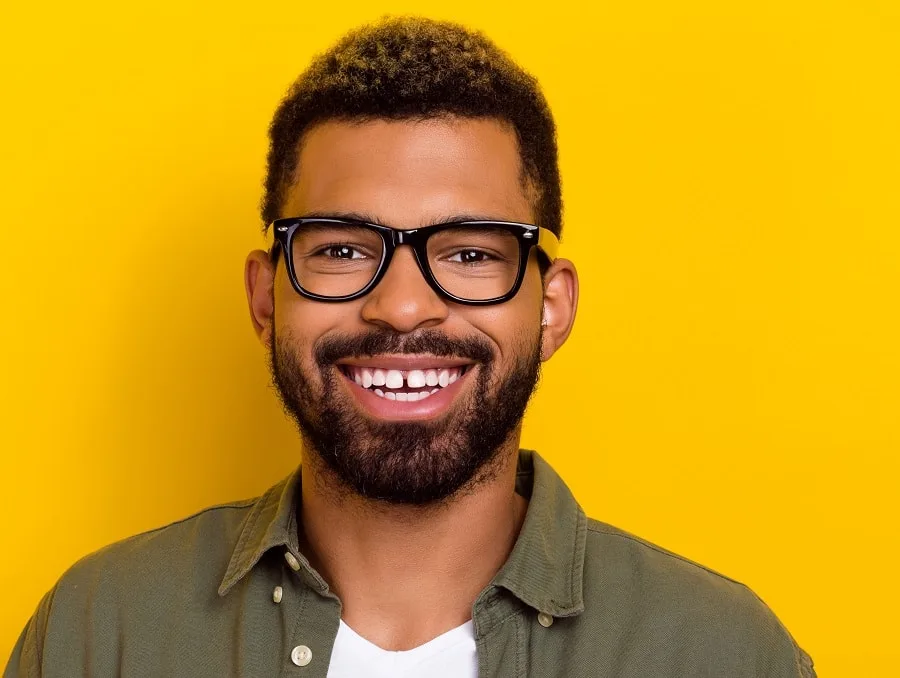 The term natural means you aren't going to use a blade to angle your beard a certain way. It's a natural and short beard that covers your face and a little bit of your neck. The afro crew cut is heavier on top with only slightly tapering sides.
18. Red Dyed Side Swept Hair with Hipster Beard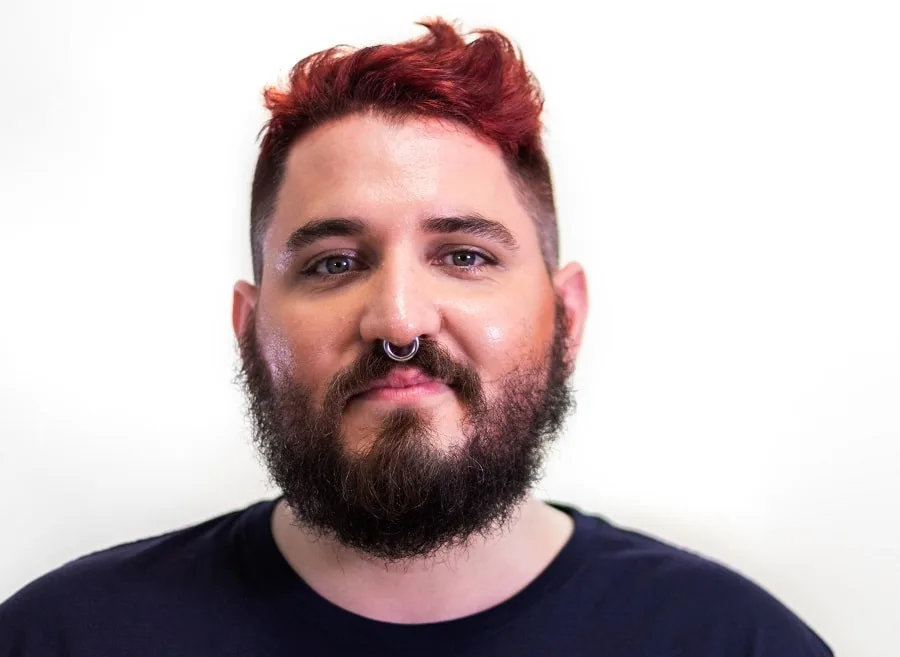 You can easily make a round face seem slightly oval or long by keeping a hipster beard and a haircut with tapered sides. The beard can be slightly scraggly to give the impression of thick hair growth. To make this style stick out, dye your hair red–even if it's only a small part.
19. Light Fade Crew Cut with Red Short-boxed Beard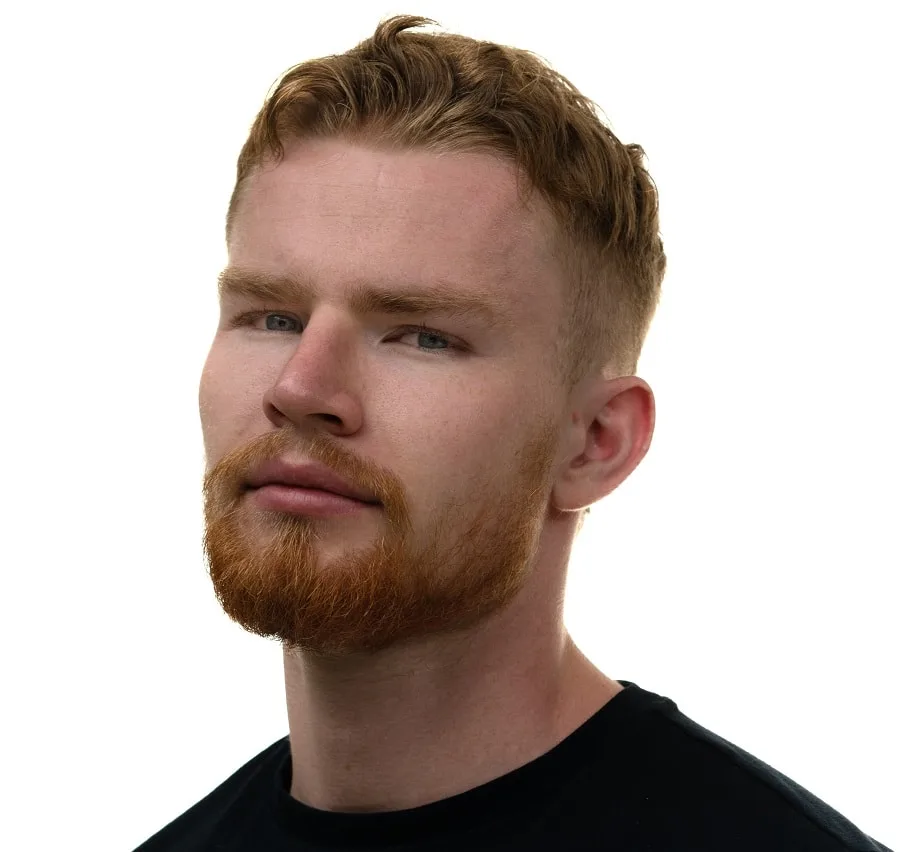 Don't want the sides of your head to be too short? Go for a light fade and opt for hair that's long enough to let your curls and swirls be visible.
The faded sides transitioning into a red short-boxed beard give your face a perfect outline, especially if you have a sculpted jawline.
20. Side Combed Long Crew Cut with Short Beard
Overall, it's a neat style with nothing too fancy going on. It's a short beard with no tapering on the sides, probably to blend seamlessly into the sides of the head since the hair there is the same length as the beard. The top hair is combed to the side.
21. High-fade Short Pomp with Goatee and Mustache
That's as high as the fade can be with the fade ending nearly 2 inches above the ears. The top and front hairs have been combed to get a short pomp.
An overgrown goatee hanging from the chin and a mustache that's just as long are the other important aspects of this style.
22. Wavy Bangs with Long Grey Beard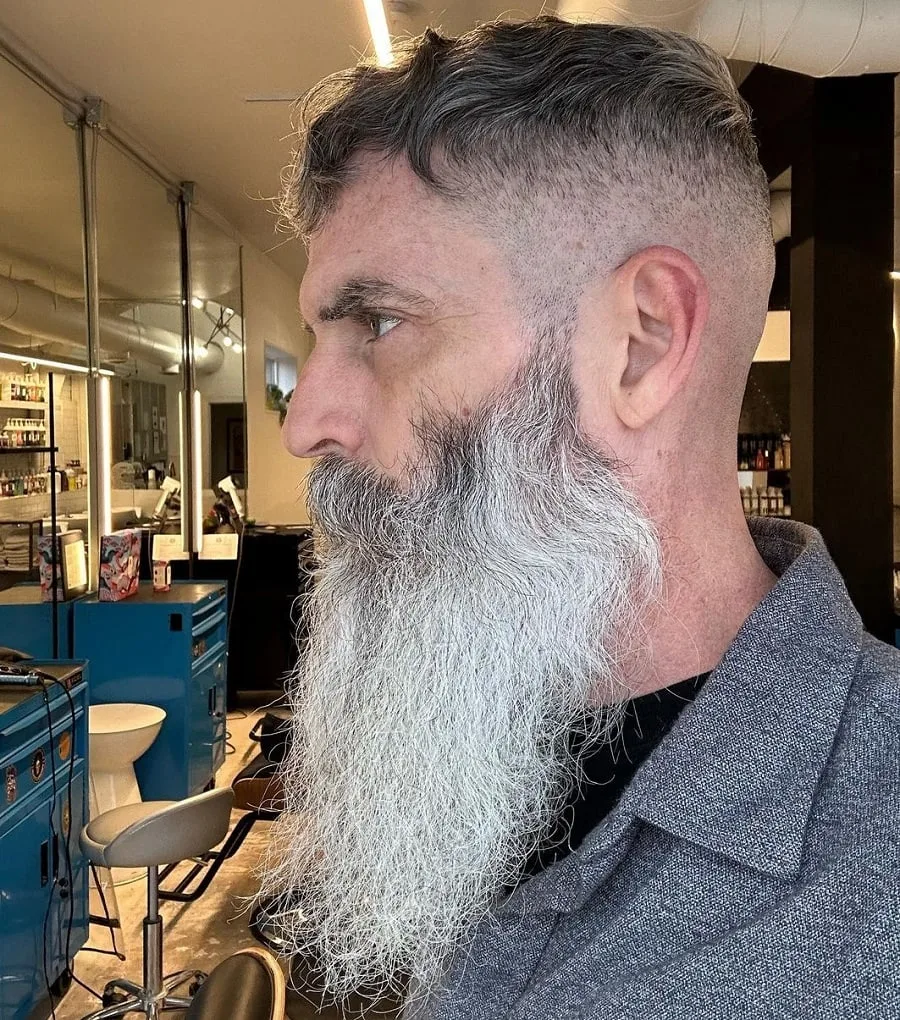 Dare we call it a style that combines two generations? The haircut is trendy with faded sides and wavy bangs drooping onto the forehead.
The beard is on a whole new level–it's long, grey, and bushy with an overgrown mustache covering the lips.
Remember, style is not just about how you look; it's about how it makes you feel. And with a crew cut and beard, you will not only look great but also feel confident and ready to conquer the world.