Just because there's more grey in your beard as you grow older doesn't mean you can't get creative with it. You can still pull off plenty of fun and interesting beard styles with your grey beard.
Embracing your natural grey can give you a sophisticated look. We have picked some of the best grey beard styles that you can try out.
How to Choose Your Perfect Grey Beard Style
Before choosing your gray/grey beard style you have to make some guess on how it will look on you. To make your guess more realistic consider these steps:
The shape of your face can play a big role in what beard style looks best on you. For example, if you have a round face, a long beard can make your face less chubby. If you have a square face, a shorter, more sculpted beard will be more suitable for you.
Check out the images of men with stylish grey beards in this article to get some inspiration. Find the style that you think would suit your face shape and personal style.
Choose the style that you can maintain. For instance, if you can't give enough time for your beard care, getting a short grey beard style will be more realistic for you.
If you are still not sure about what style would look best on you, consider asking a trusted friend or family member for their opinion.
Popular Grey Beard Styles
Your grey beard isn't something that you should be worried about. In fact, here are a few unique beard styles to give you some inspiration and help you pick the right one. The most popular ones include the following:
1. Grey Long Stubble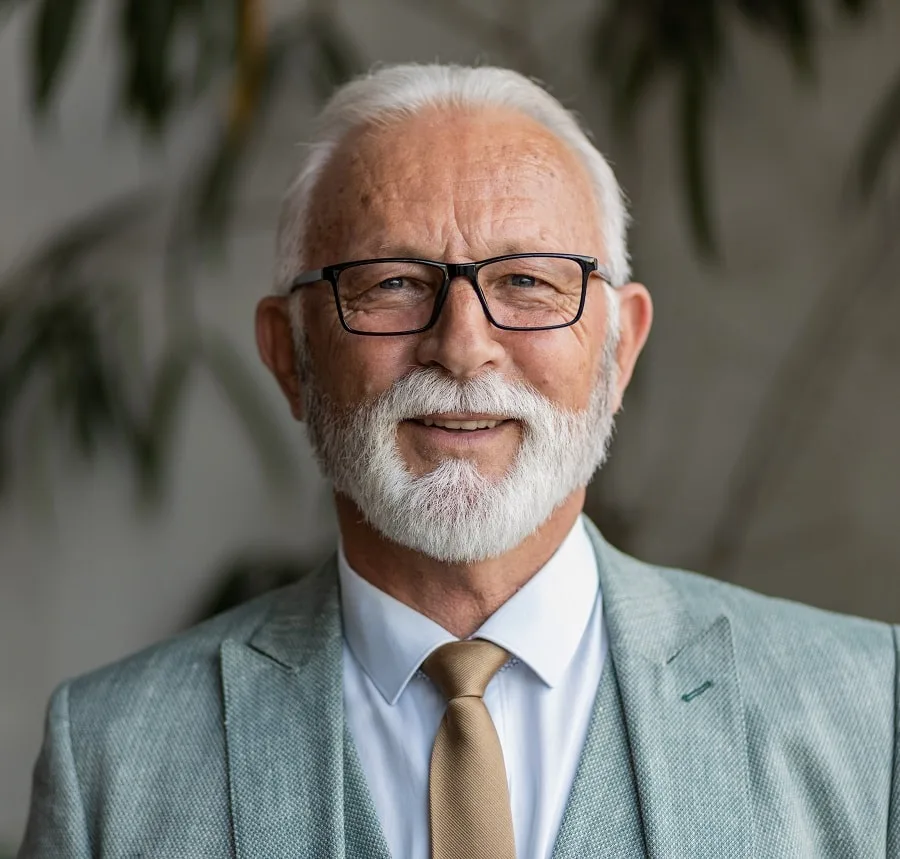 Show off those greys with a full long, stubble beard that's well trimmed from the cheeks and the neck. Being a simple beard style that complements all face types, it's easy to maintain and looks good on all occasions.
2. Goatee with Salt and Pepper Mustache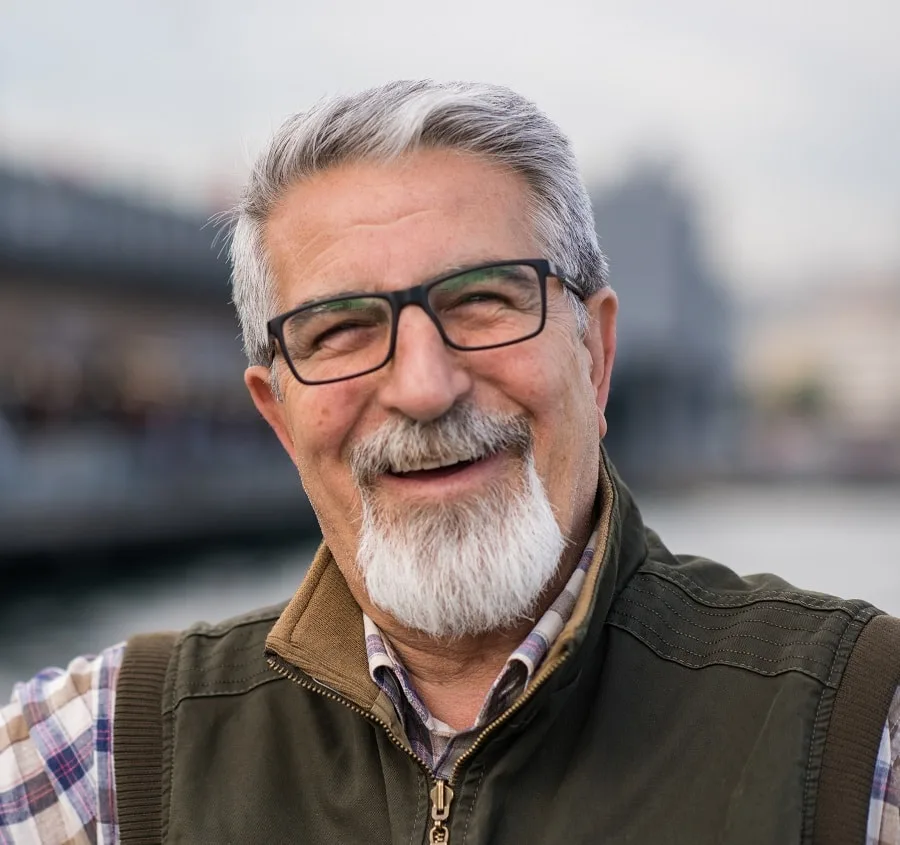 This classic style involves growing hair on the chin and trimming the rest of the beard short while letting the mustache grow out to showcase the salt and pepper color combo. It will provide a sophisticated look to you.
3. Bandholz Beard with Classic Handlebar Mustache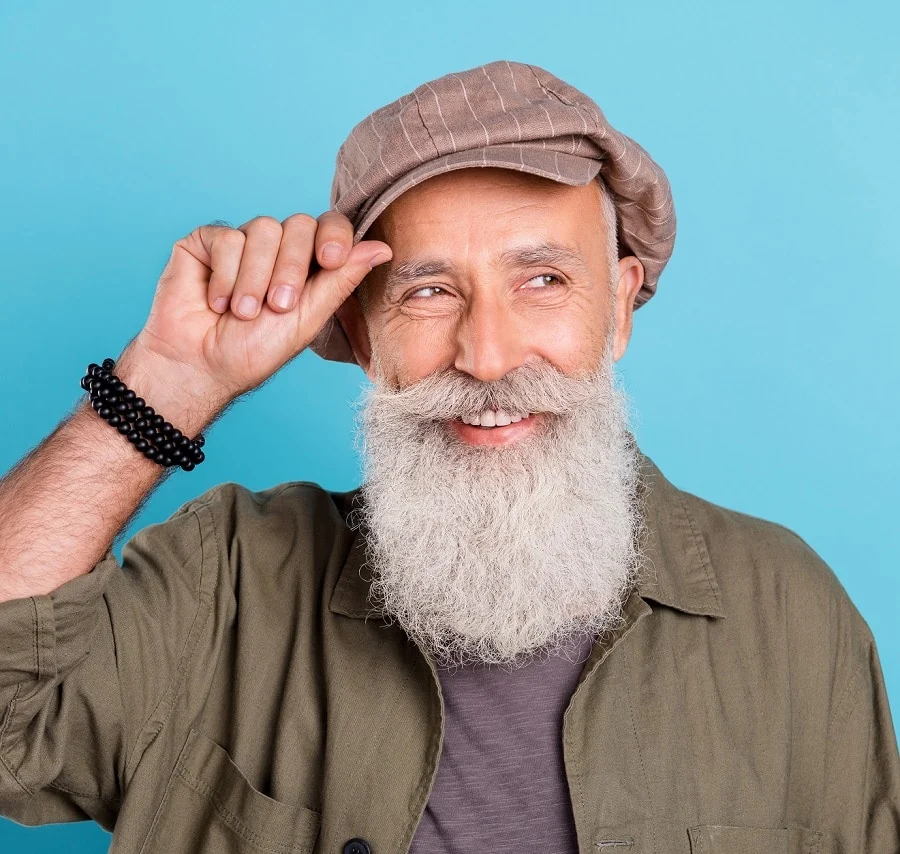 A bandholz beard paired with a classic handlebar mustache is always a great choice if you're in the mood for a funky old grey bearded man look. It gives you a chance to grow your beard out, but make sure to brush and oil it on a regular basis.
4. Skunk Stripe Beard with Handlebar For Bald Men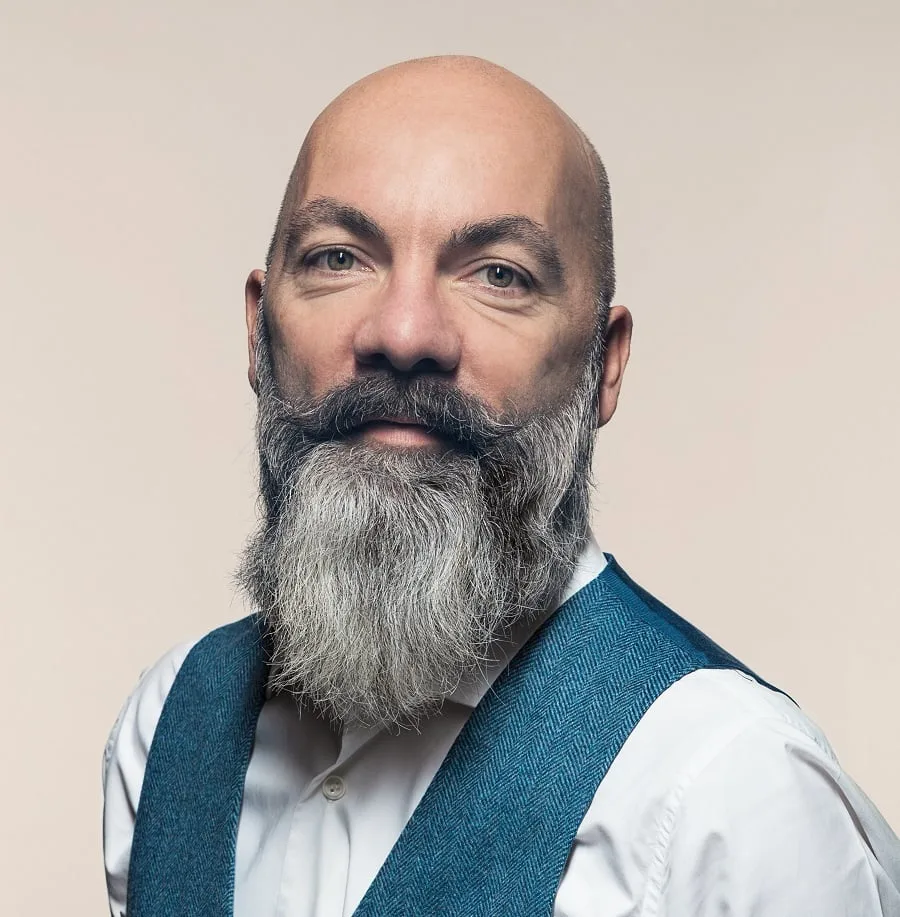 In case you want to try a modern style with your grey beard and bald head, you can try experimenting with a skunk stripe beard. This unique color combination is white from the middle and black at the sides. You can dye your beard grey and black to achieve the skunk stripe effect. Pair it with a thick handlebar mustache to get a rugged look.
5. Viking Style Braided Beard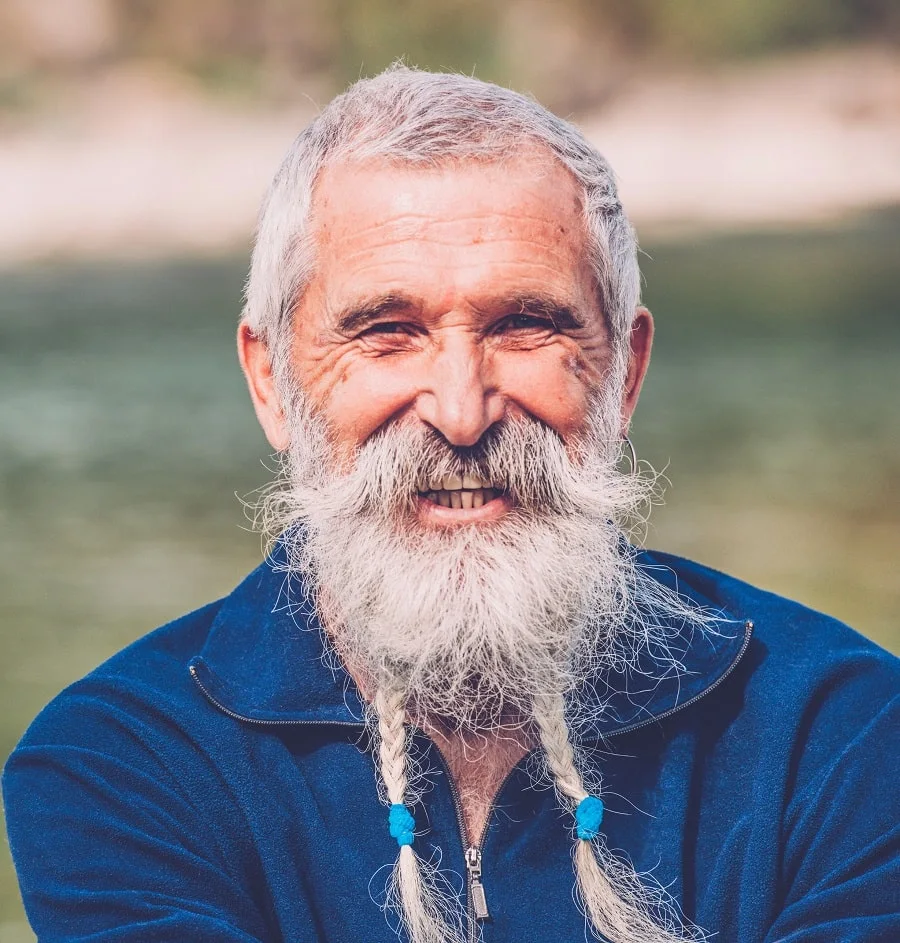 If other styles of beards are too boring for you and you're looking to get creative, try braiding your beard hair. A braided Viking-style beard is a great choice because you can try different braids or accessories as well.
6. Full Goatee with Chin Curtains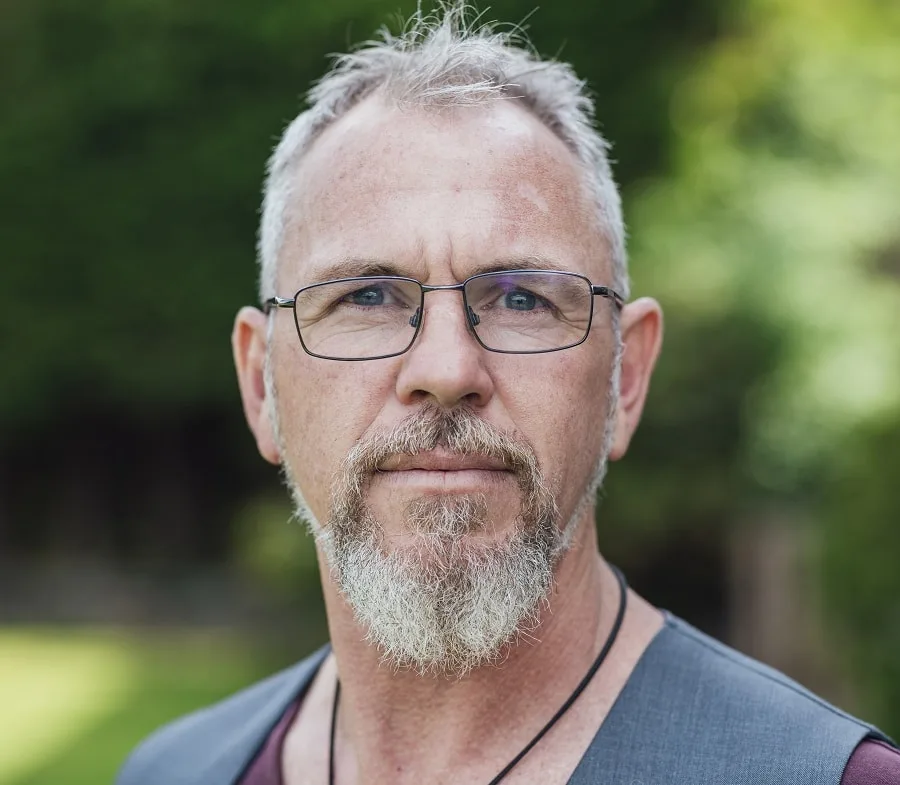 You can connect your goatee with chin curtains for a classic look. These chin curtains can be thin to avoid taking the attention away from your goatee, or they can be longer to give your face a fuller shape.
7. Long Stubble Goatee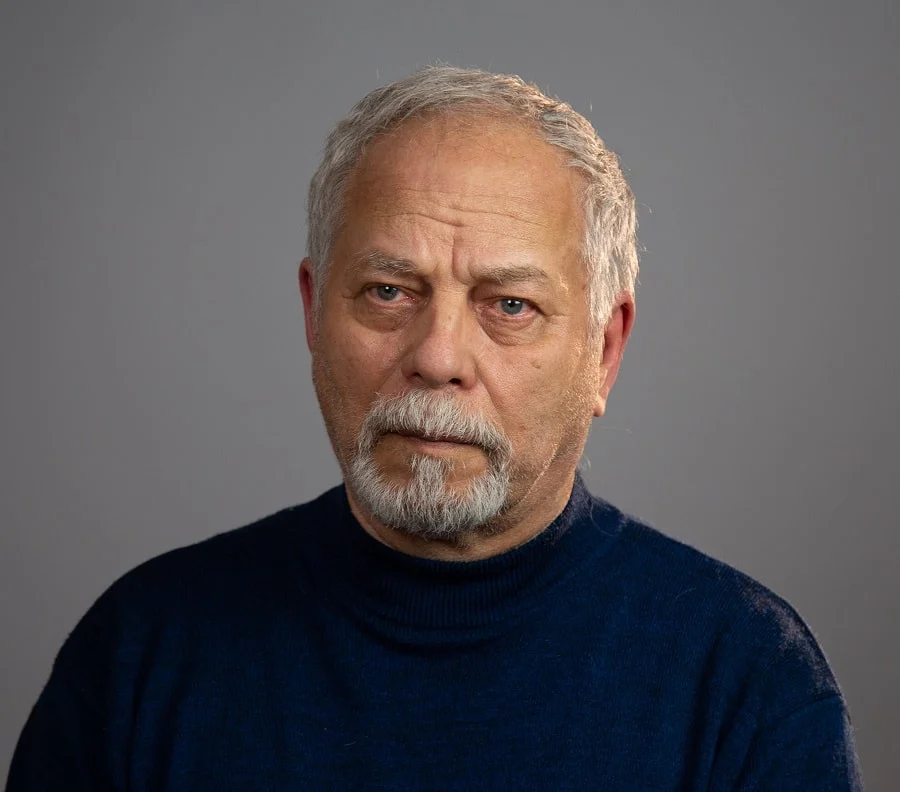 There are plenty of ways to style your goatee beard, one of which includes connecting it to your mustache. For a detailed look, you can take it a step further by connecting the soul patch to your goatee. And what you get is a full-circle beard with neatly trimmed soul patch that connects to the goatee.
8. Full Curly Beard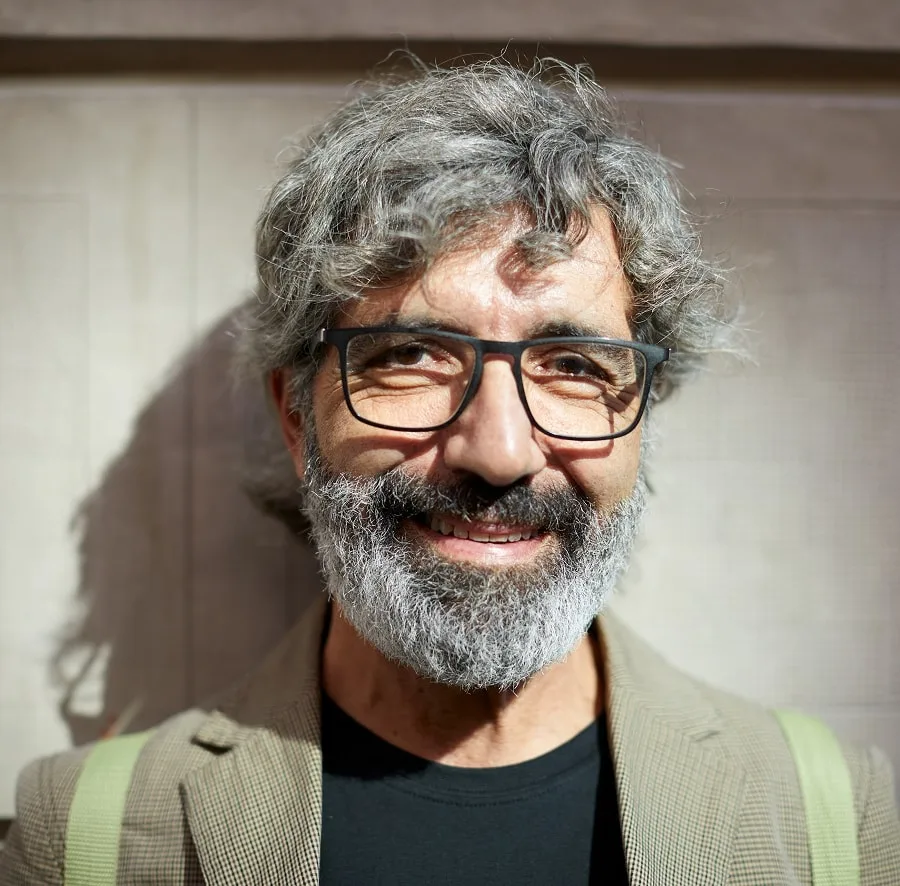 A full, curly beard will be just perfect for you if you are looking for that scruffy look. You can trim the cheek and neckline for a slightly sophisticated appeal. Skip the trimming if you prefer something casual.
9. Messy Garibaldi Beard without Cheek Trim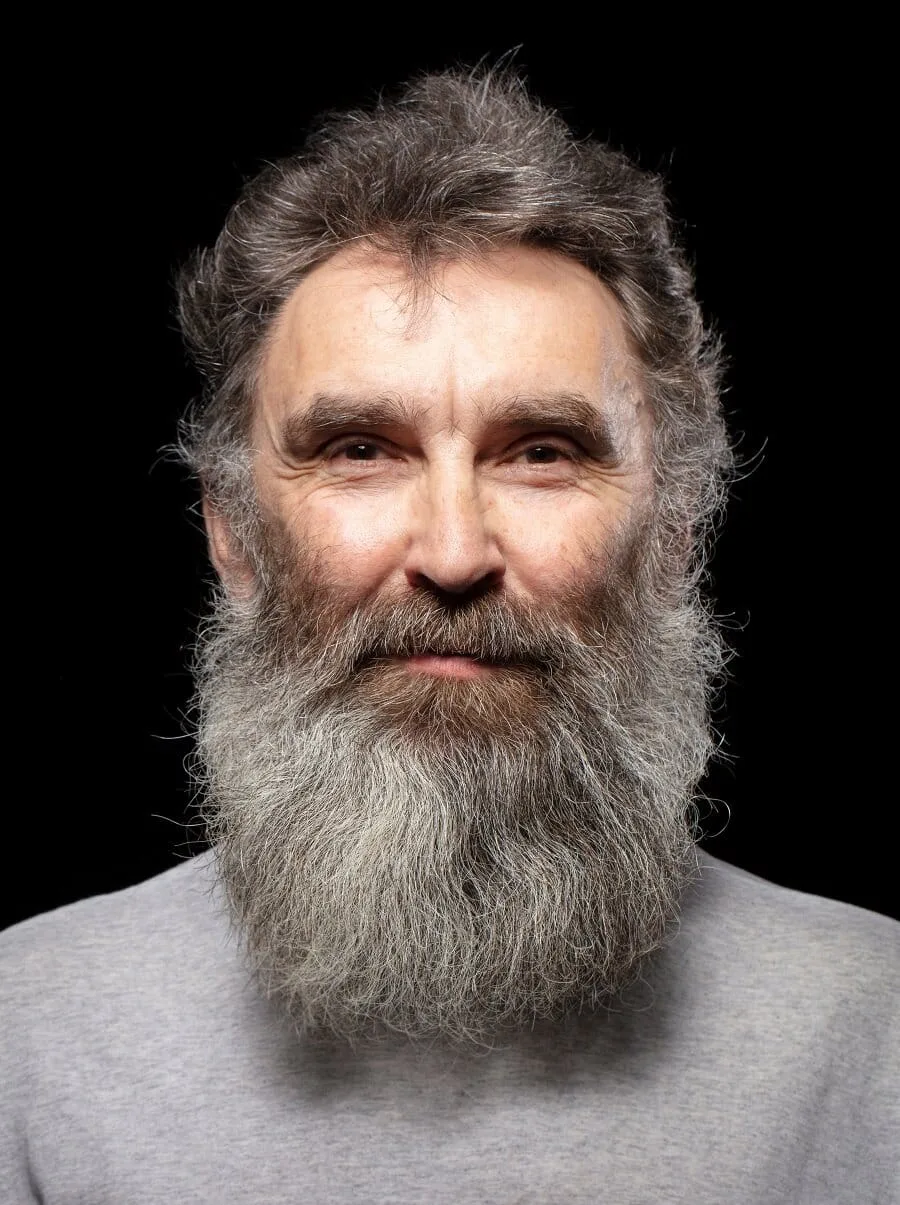 For people with wavy beard hair, you can grow a garibaldi beard without the cheek trim if you prefer to keep that scruffy look. An important part of this style is to grow out from the sides of your beard to give it a fuller appearance.
10. Light Stubble with Bald Head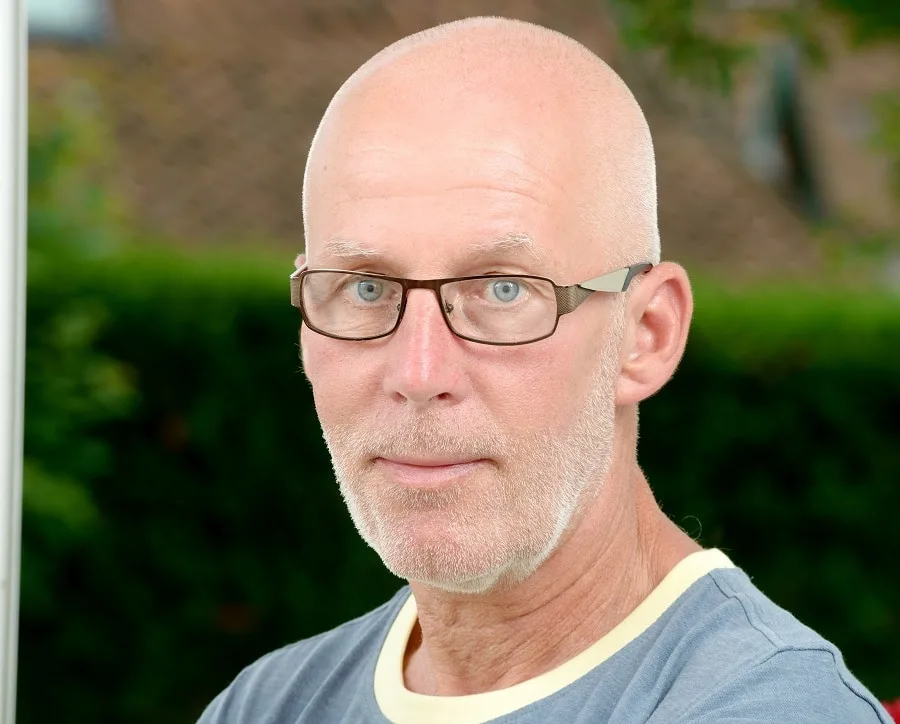 If you're not ready for the responsibility that comes with maintaining a beard, stubble is much easier to manage. So before you commit to a full beard or neatly trimmed goatee, grow out a light stubble along your chin and the sides of your face.
11. Full Beard with Sides and Cheeks Trimmed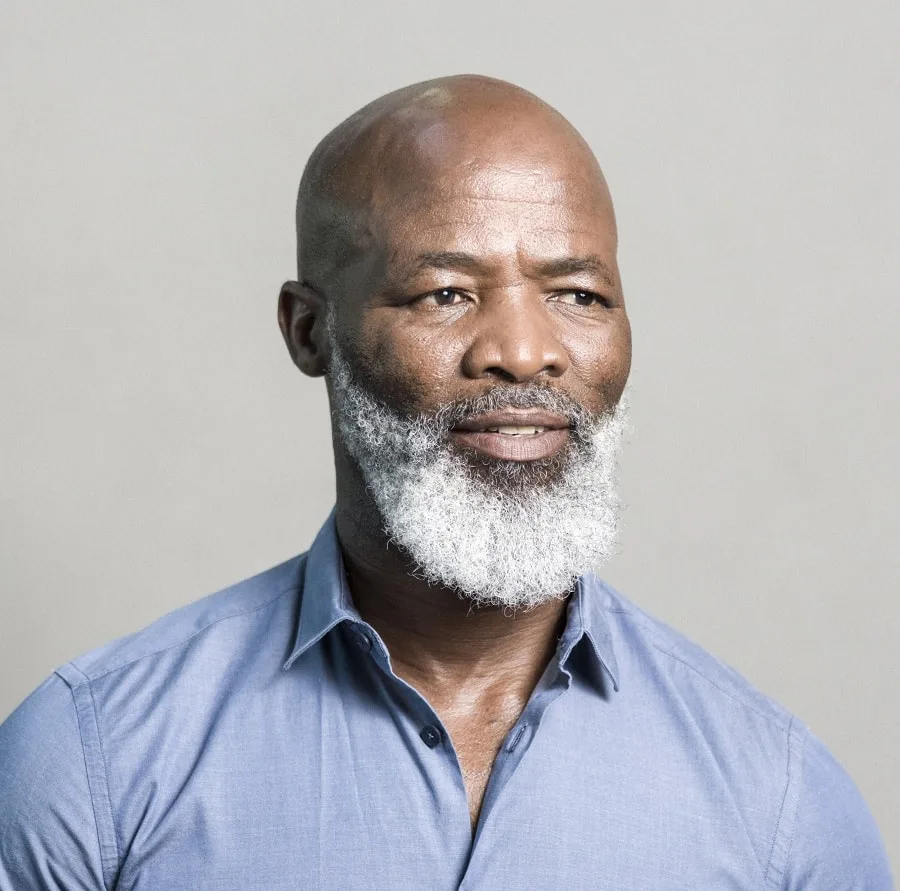 Grow out a full, curly beard, but trim it along the cheeks so it has a cleaner shape. If you have a round face, you can trim the ends of your beard to give it defined edges that accentuate your jawline.
12. Full Rounded Wavy Beard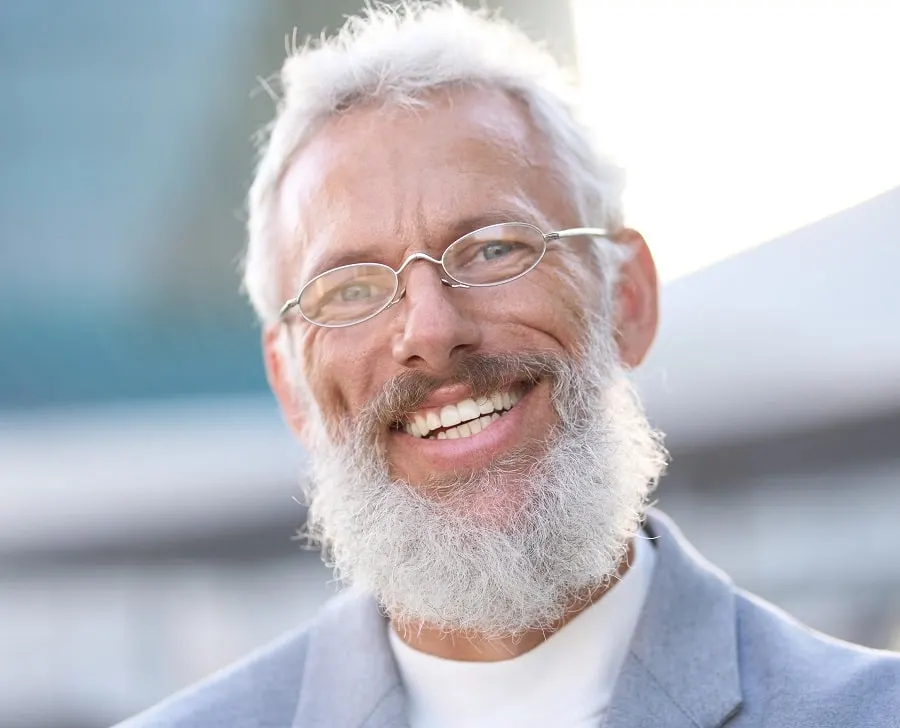 You can never go wrong with a full, wavy beard that shows off your wonderful greys. The best part is that you can trim and shape the beard based on whether the occasion calls for a refined or scruffy look.
13. Thin Long Beard with Longer Mustache Ends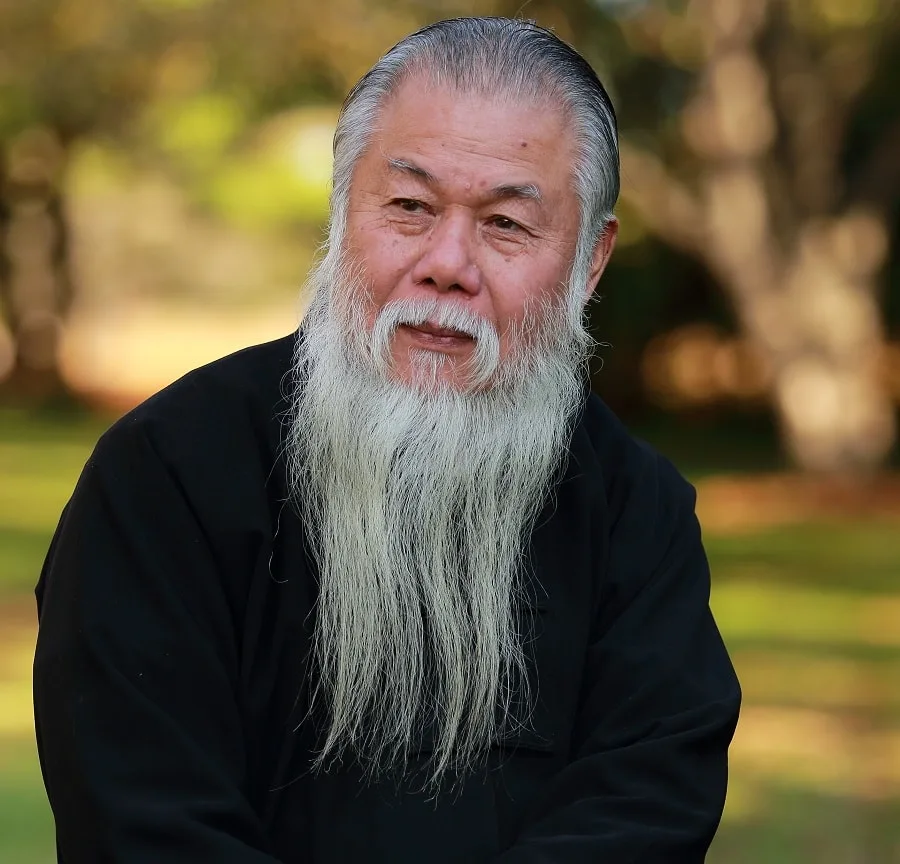 Plenty will say that you should keep a thin beard short, but there are no rules to creatively styling your beard. Even if your beard is thin, you can balance the look of a longer beard by growing out your mustache.
14. Squared Bandholz Beard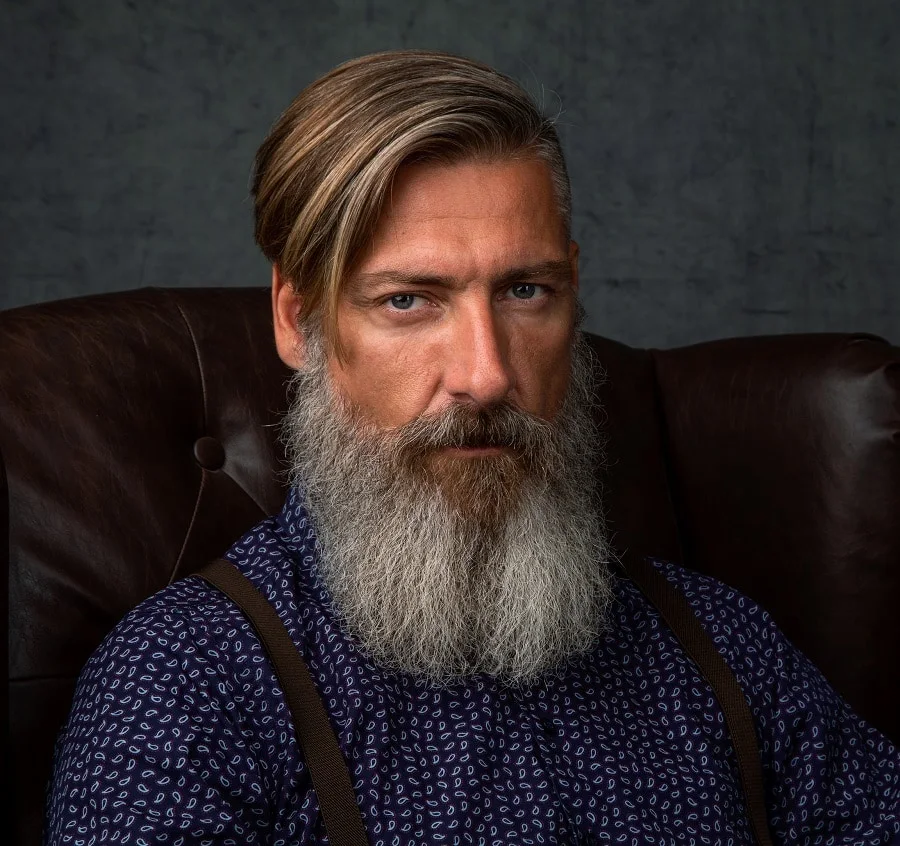 How you shape your beard goes a long way toward defining your personality. By squaring the ends of your bandholz beard, you can get that sugar daddy appearance that's perfect for your evergreen soul.
15. Extended Wavy Goatee
If the regular goatee is too boring, then you can extend the goatee into a mini beard. While the style suits wavy beards because of their texture, you can try it with a straight beard. Just make sure to neatly trim the edges.
16. Dreadlock Beard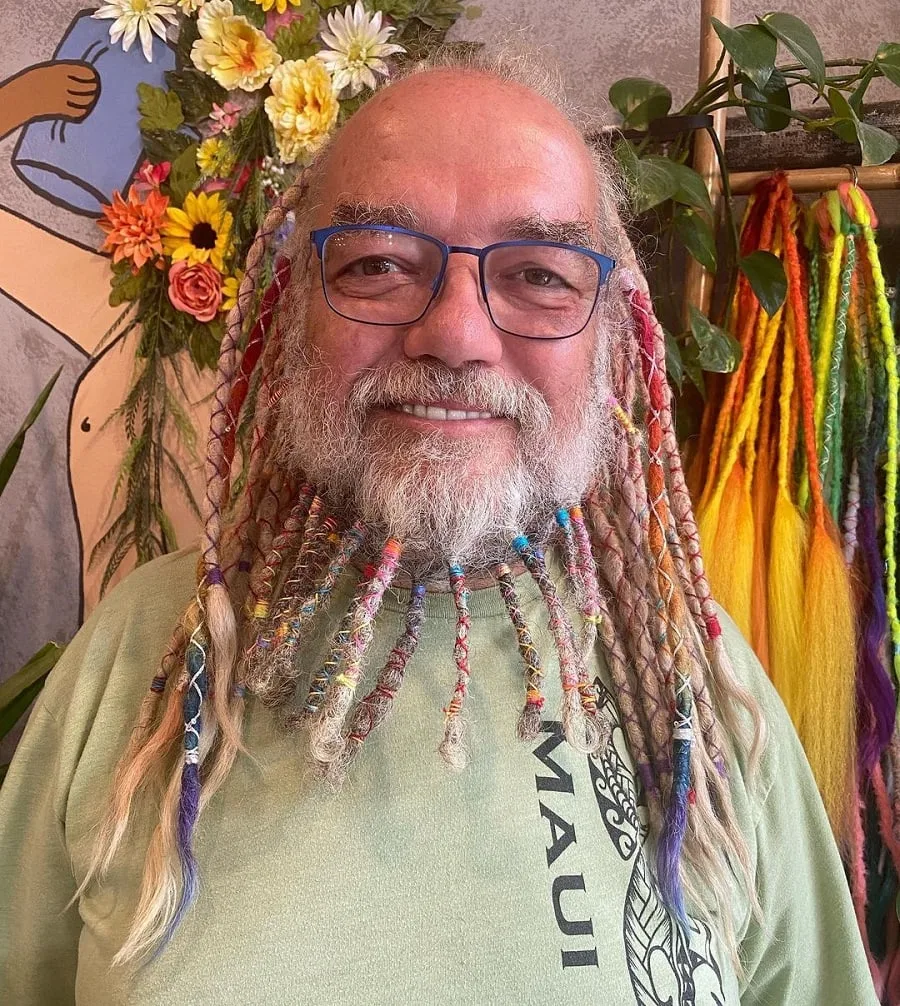 What better way to make your grey beard look interesting than braiding them in dreadlocks. It's an ideal choice if you're curious about more creative beard styles that even incorporate accessories.
17. Squared Chinstrap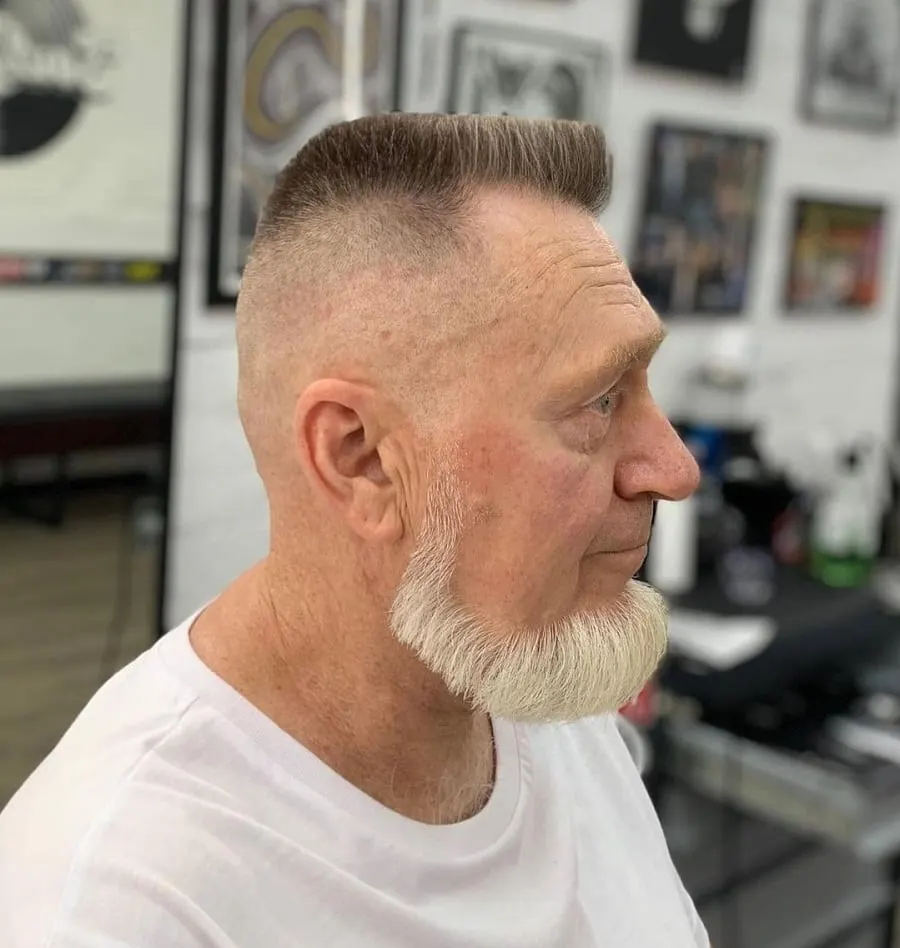 Don't like the look of a mustache on your face but still prefer a beard with more coverage? In that case, you can grow your beard in a chinstrap and trim the inside edges for a distinct appearance.
From all these styles to choose from, you can certainly find something that suits your face. So, get ready to show off your grey beards in a classy way.
Tips for Maintaining the Grey Beard Style
Here are some tips to keep your grey beard looking great:
Wash and condition your beard regularly
Comb or brush your beard regularly
Trim your beard as needed to keep it uniform in length
Use products specifically designed for the grey beard to keep it healthy and hydrated
You can always grow your beard out or try a new style if you're not happy with the outcome. You can also try wearing glasses with your grey beard to change your overall appearance. So, avoid overthinking and try the style that looks suitable for you and try a different one if it doesn't come out as your expectation.