With how popular mullet haircuts have gotten, you might be thinking of getting one that perfectly encapsulates your personality. That being said, remember that there are plenty of beard styles that look fantastic with a mullet.
Here are a few popular types of mullet haircuts with beards that you can choose from.
How to Choose a Beard According to Face Type
Choosing a beard according to your face type isn't very difficult since you first need to determine what shape of you have. Styles like the ducktail beard suit an oblong face shape since it flows to a point.
Square or more angular faces can benefit from shorter beards, like a goatee, since it helps show off the face's more prominent features. It's important to know your face shape so you can choose a beard style that suits you.
Best Mullet Haircuts with Beard
We gathered all of the best mullet haircuts that can work with a beard as well as a more in depth description of whether it will work for you. Let's begin:
1. Modern Mullet with Red Garibaldi Beard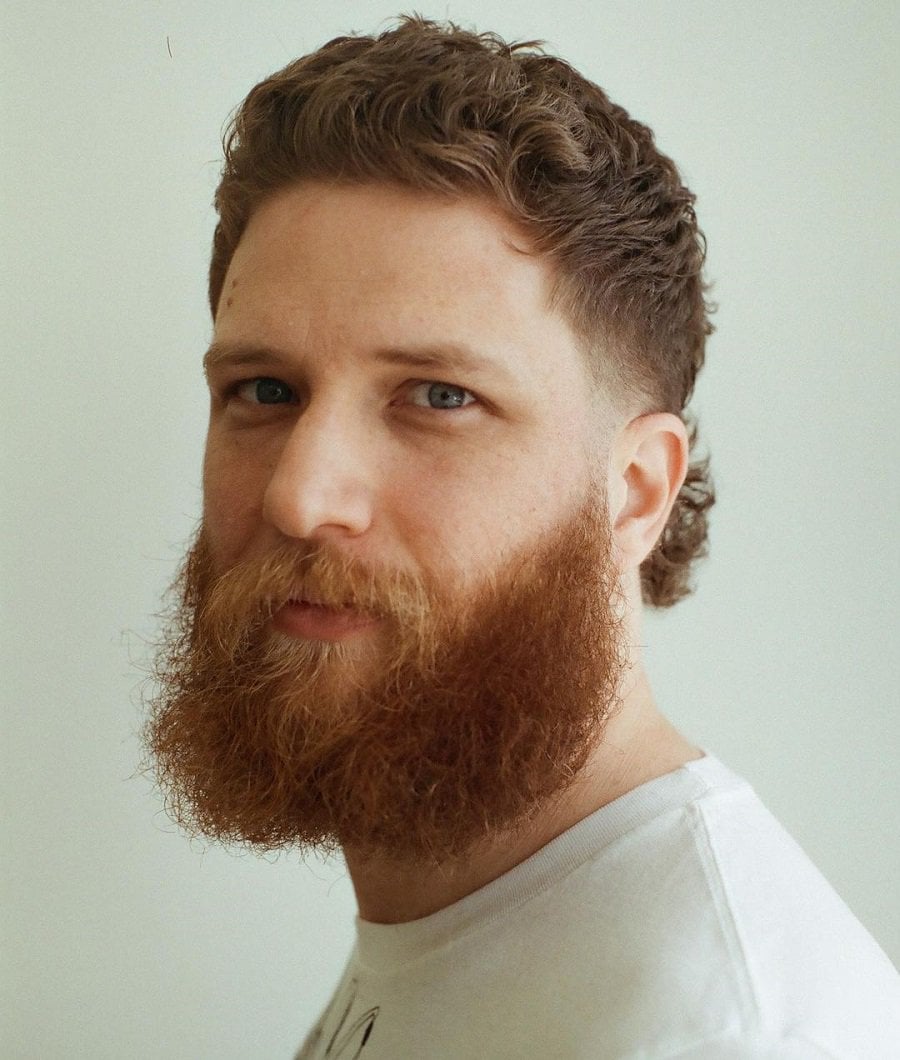 While dyeing your beard might not be the first idea that comes to mind, growing a full garibaldi beard with your modern mullet can be an excellent look to pull off. You can keep a short mustache with it too if you like, and have a finely trimmed cheek line too.
2. Classic Mullet with Van Dyke Beard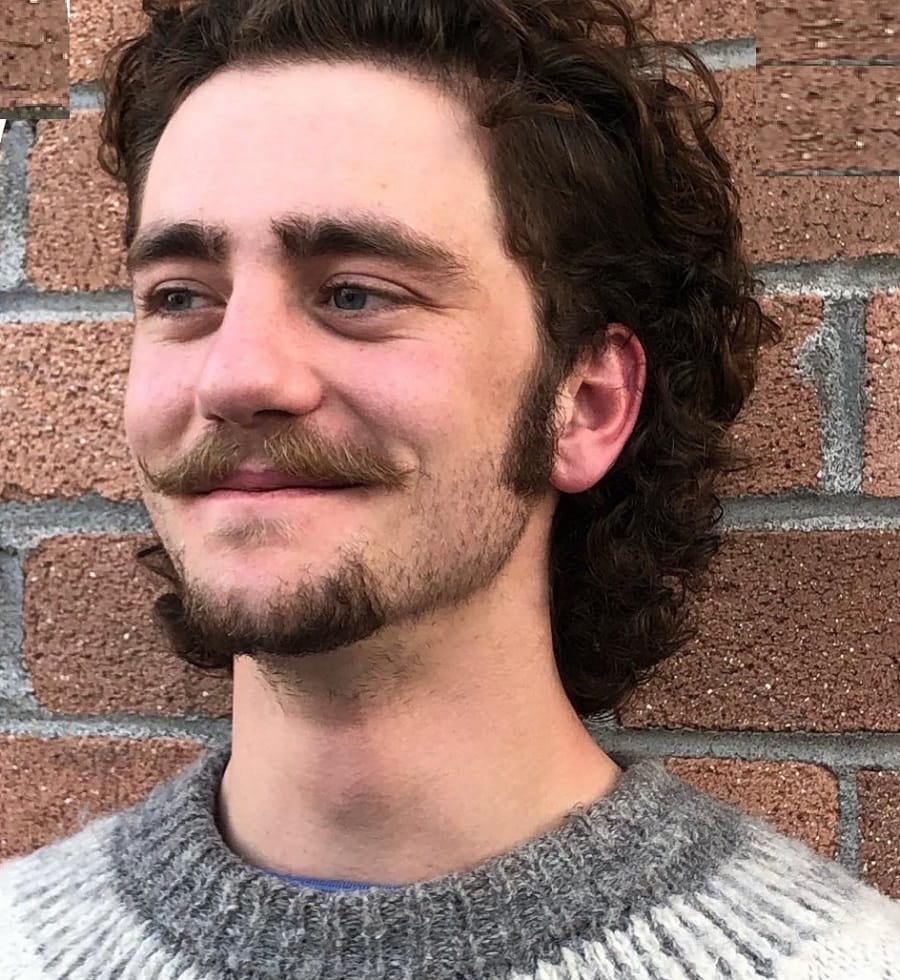 A bigger beard could take away from your mullet, so how about settling for a van dyke beard instead. It's small and easy to maintain, with the small handlebar mustache perfectly complementing these types of mullet haircuts with beard.
3. Curly Side Mullet with Goatee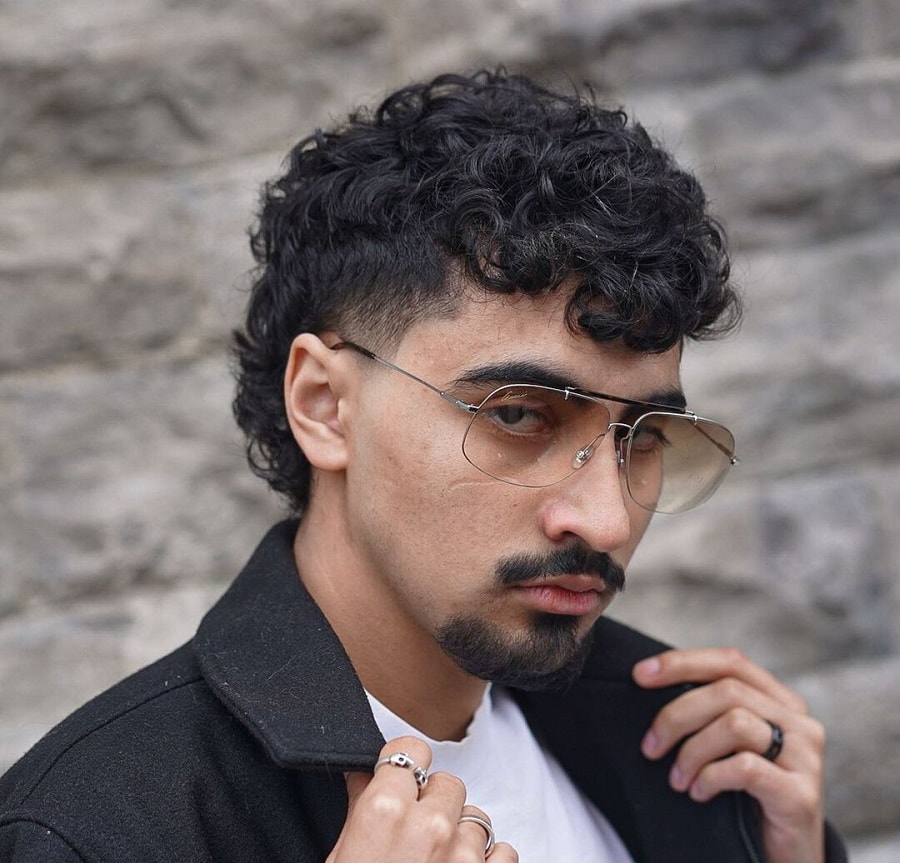 A smaller beard can complement a short and curly mullet, especially a goatee with a thin mustache. You could even extend the goatee in length or connect the mustache to the chin to create a circle beard.
4. Modern Short Mullet with Chin Curtain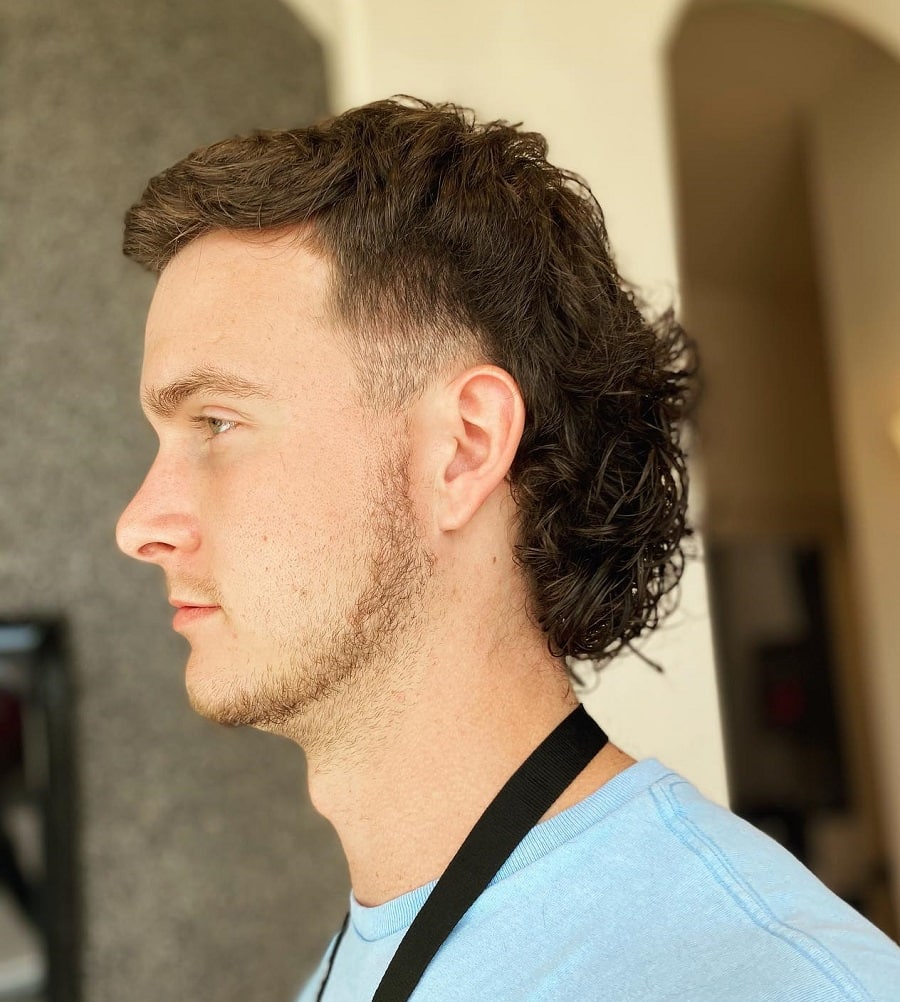 If you're looking to keep things light and breezy with your mullet, stubble chin straps are just what you need. The light stubble makes it easier to focus on the modern short mullet, and it doesn't require any maintenance.
5. Shaved Sides Long Mullet with Ducktail Beard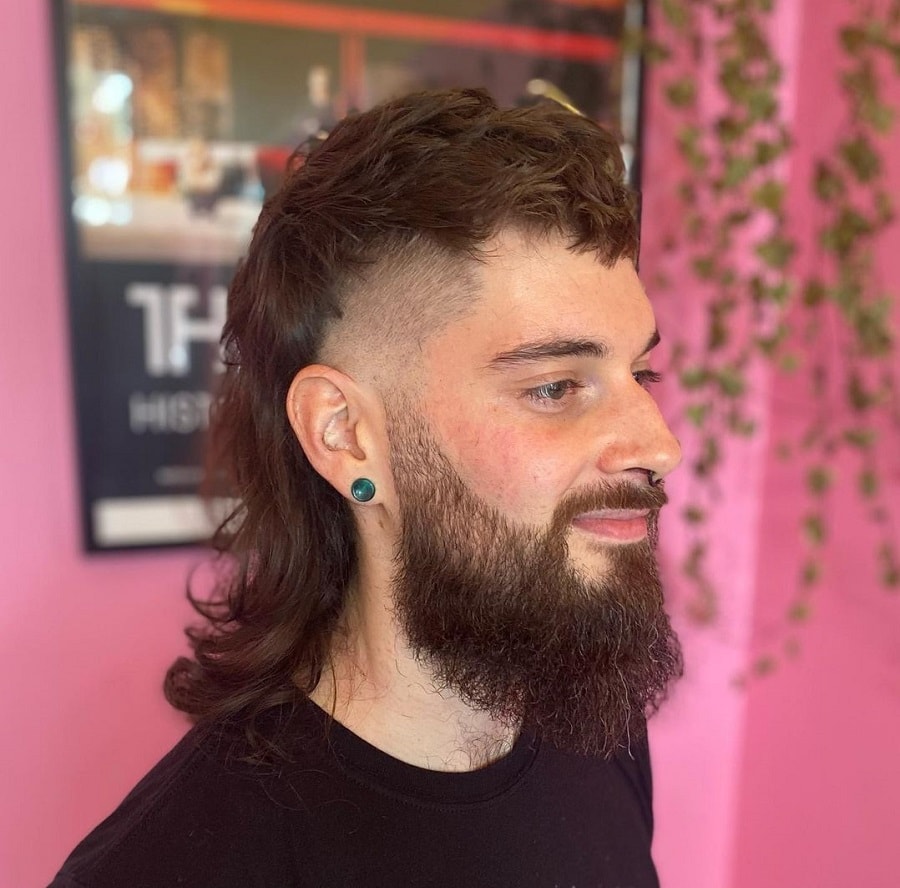 A mullet with shaved sides can go great with a ducktail beard since the sides transition well into a faded beard. And with the trimmed sides, it flows perfectly to the chin to make a ducktail.
6. Colored Mullet with Walrus Mustache and Stubble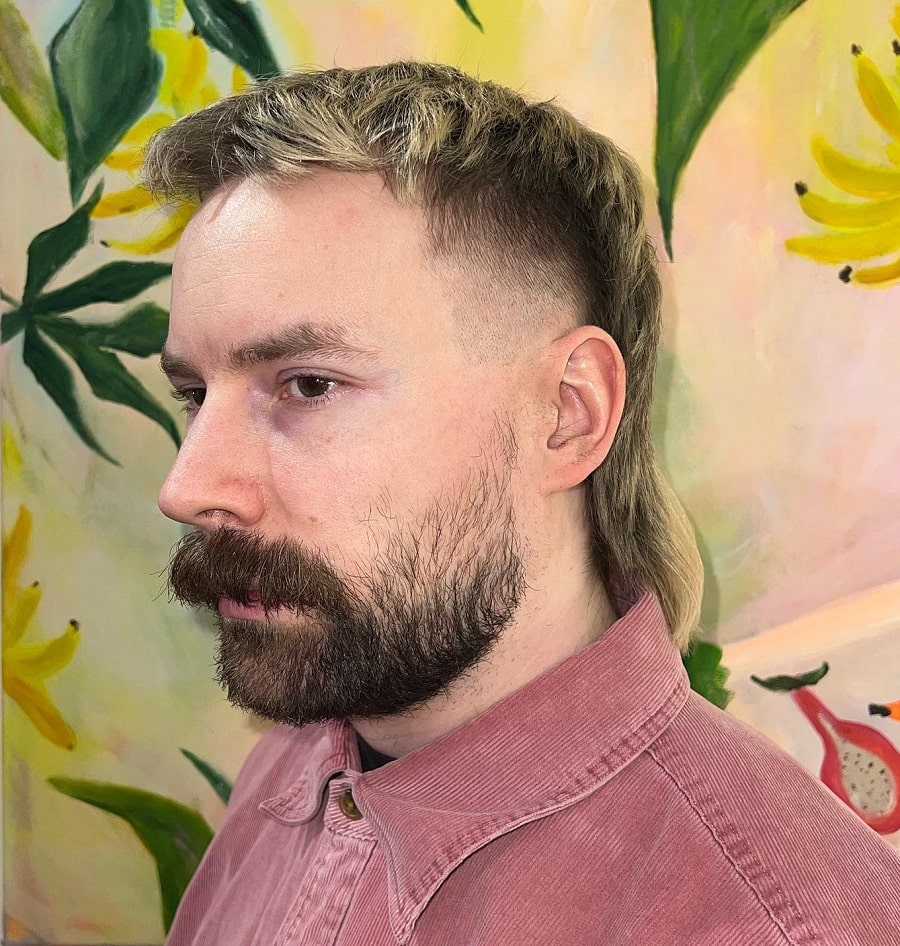 Dyed mullet haircuts with a beard can be a great way to express yourself, with the walrus mustache being a definitive way to style your facial hair. You can accompany the walrus with a beard like some long stubble, but anything bigger and that can take away from your cut.
7. Mohawk Mullet with Full Beard
If you're getting a Mohawk mullet, then a full beard can look great with your hairstyle. And if you can grow out a thicker beard, then you can trim out the sides to help it flow better to the chin.
8. Short Mullet with Balbo Beard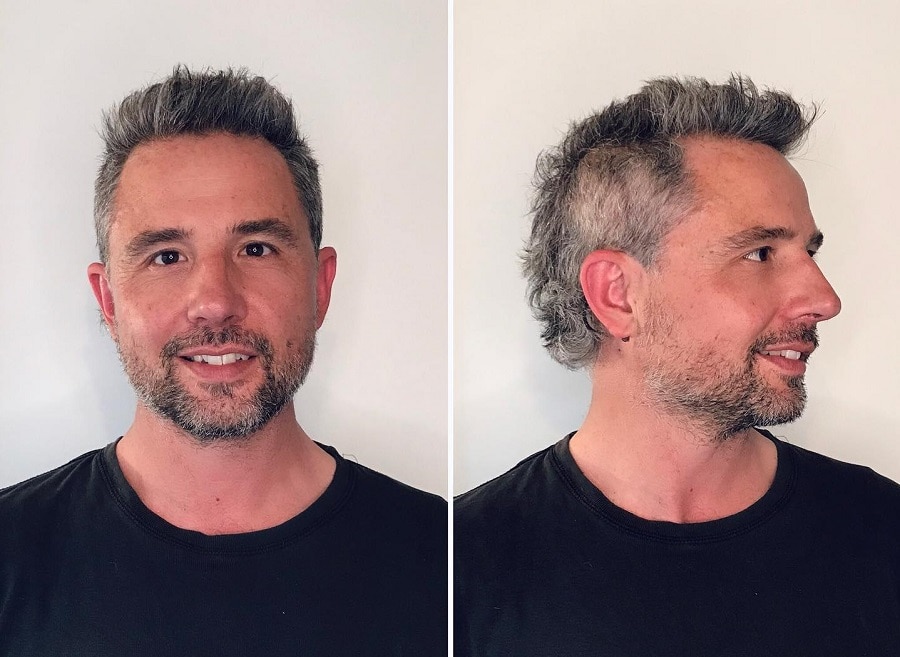 You can never go wrong with a short balbo beard paired with a mullet. While a salt and pepper beard can look good if you're starting to see those greys, you can even grow out the balbo for a fuller beard.
9. Long Mullet with Chevron Mustache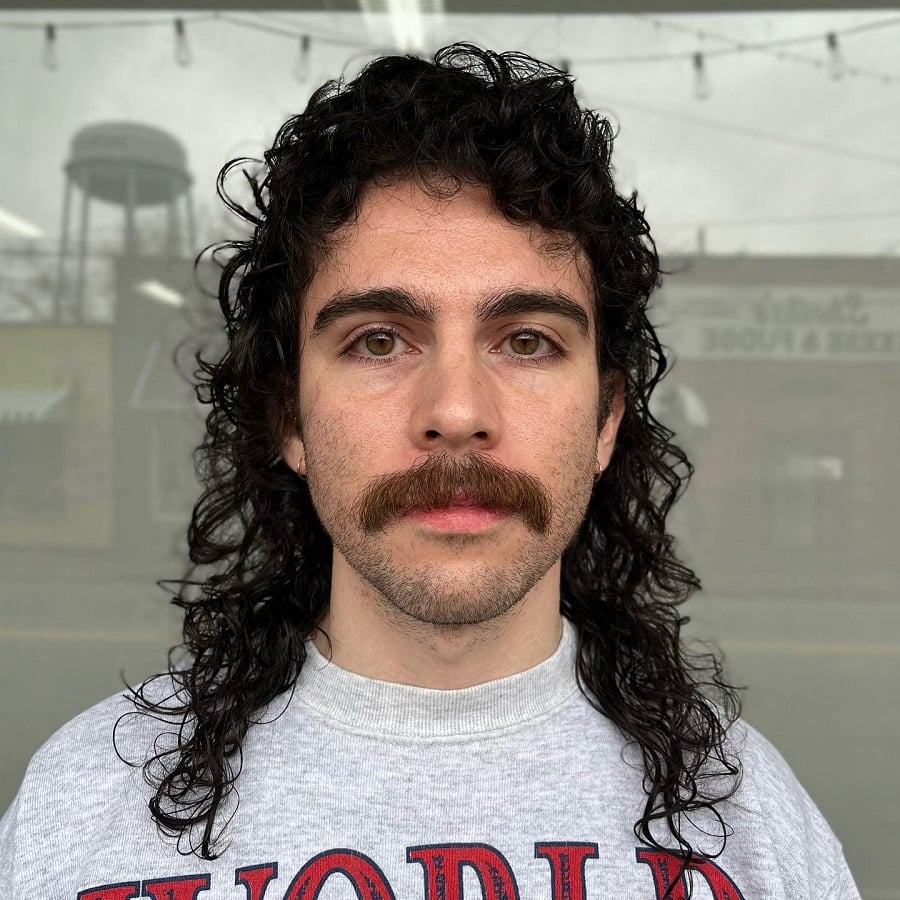 Growing out that mullet means you need to find a beard or mustache that can go well with it. The chevron is a fuller mustache, so you can complement it with some stubble. For more formal occasions, you can trim the stubble and mustache for a refined look.
10. French Crop Mullet with Trimmed Short Stubble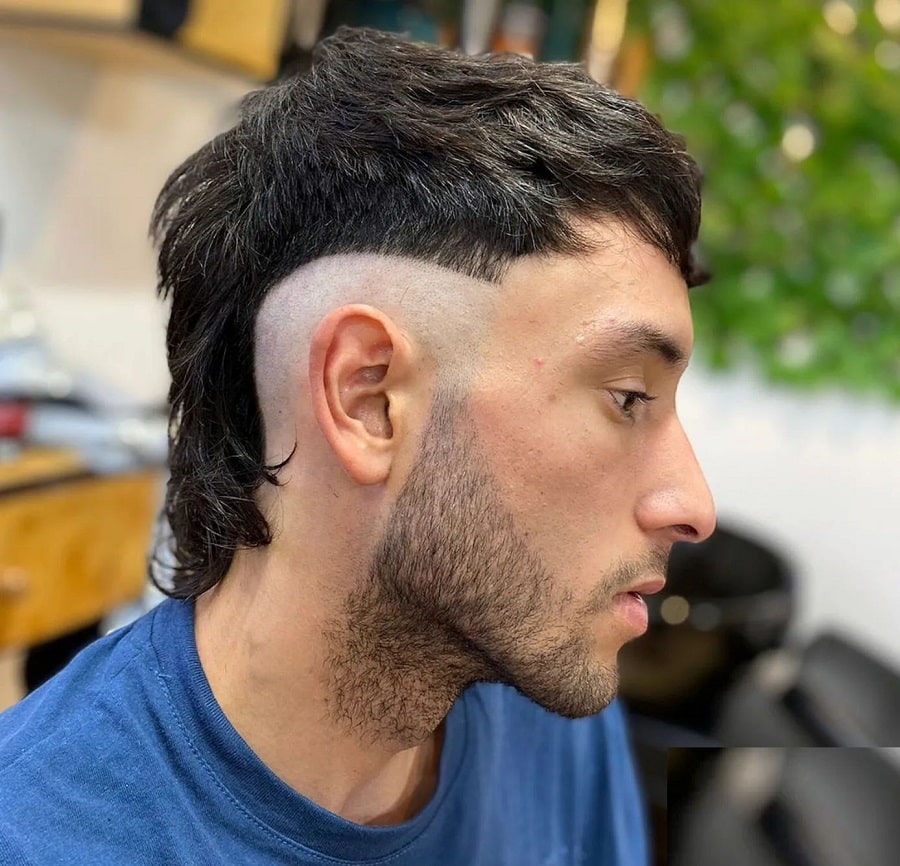 If you're not interested in a fuller beard, you can instead go for short stubble with the French crop mullet. Since the side of the head is completely shaved, the short stubble makes for a clean transition into the beard.
11. Wavy Mullet with Short Beard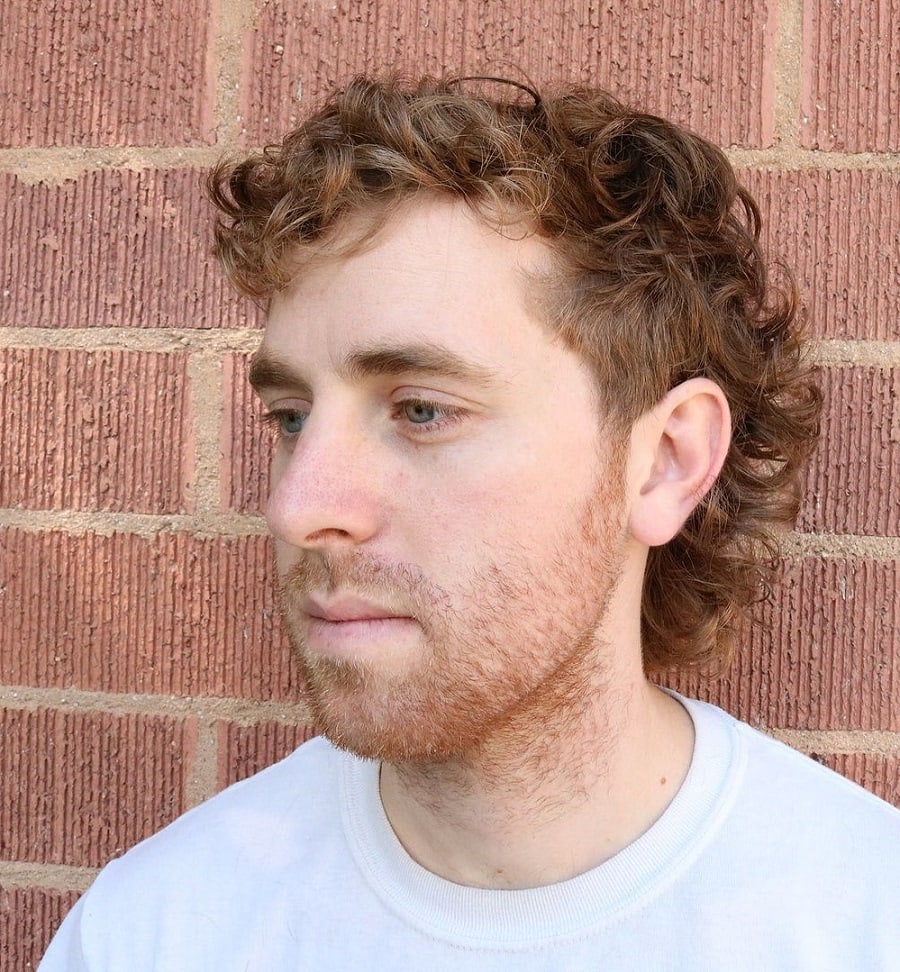 A curly mullet hairstyle with beard makes for an excellent choice to pull your scruffy look together. But if you add a beard to that, it might look a little unkempt, so short stubble around the face looks just fine.
12. Shaved Sides Mullet with Ducktail Beard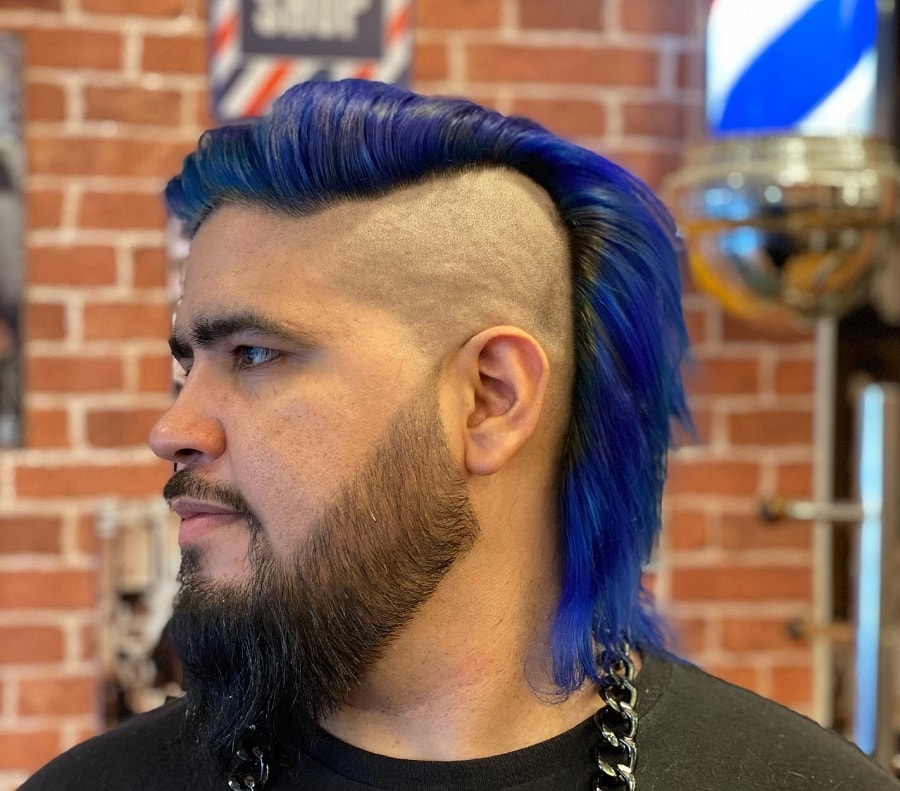 Shaving the side of your head for a mullet can be a difficult look to pull off, but you can balance it with a good beard. A good ducktail beard fades in and flows right into the chin.
13. Undercut Mullet with Short Stubble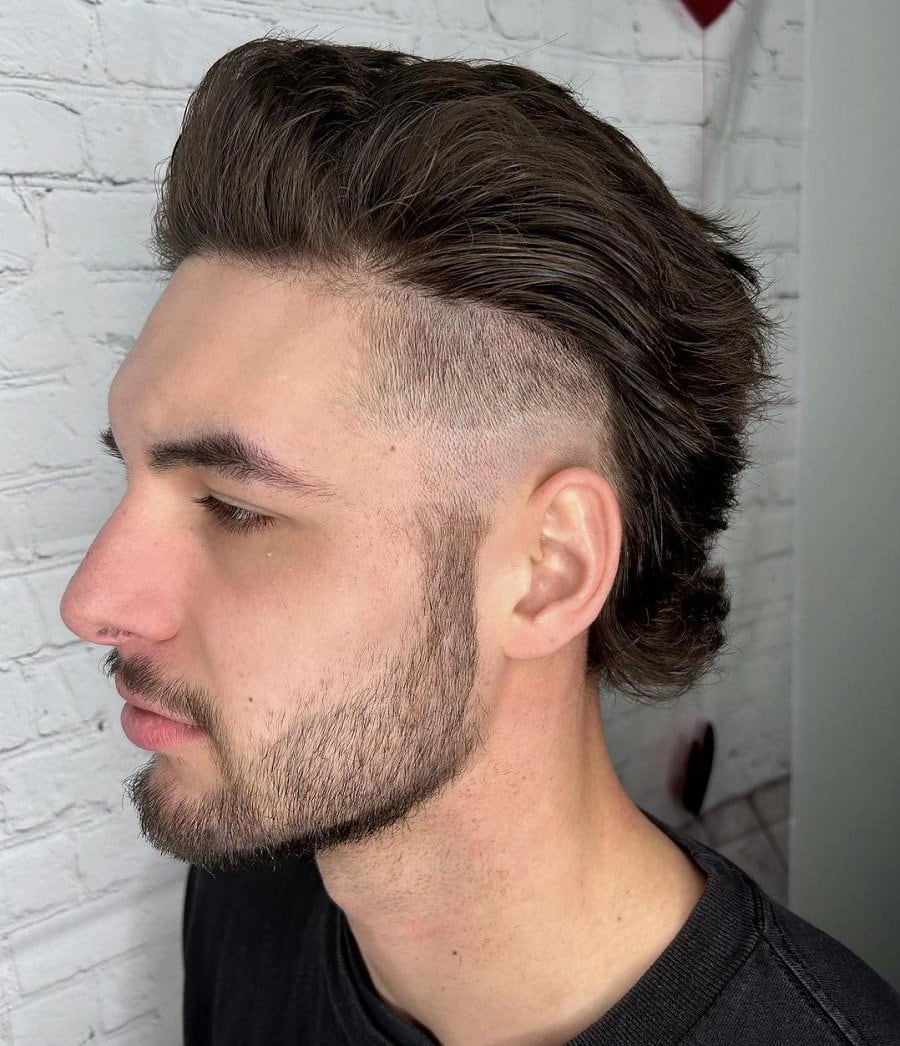 An undercut mullet with long hair can pair well with short stubble if you have a thinner face. For a cleaner look, you can even trim the neckline and cheekline.
14. Modern Mullet with Low Boxed Beard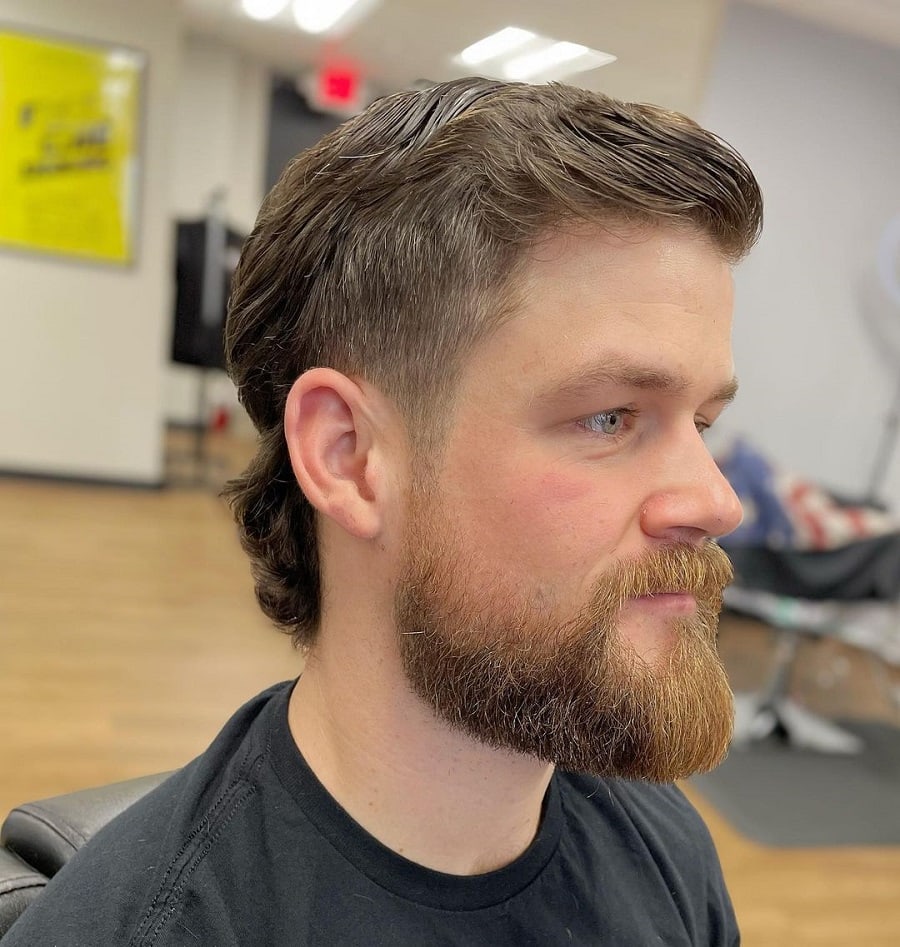 A short mullet hairstyle can look good with a low-boxed beard since the hair complements the beard, and neither is fighting for attention. These types of mullet haircuts with beard are a good choice for people with square faces.
15. Blown Out Mullet with Goatee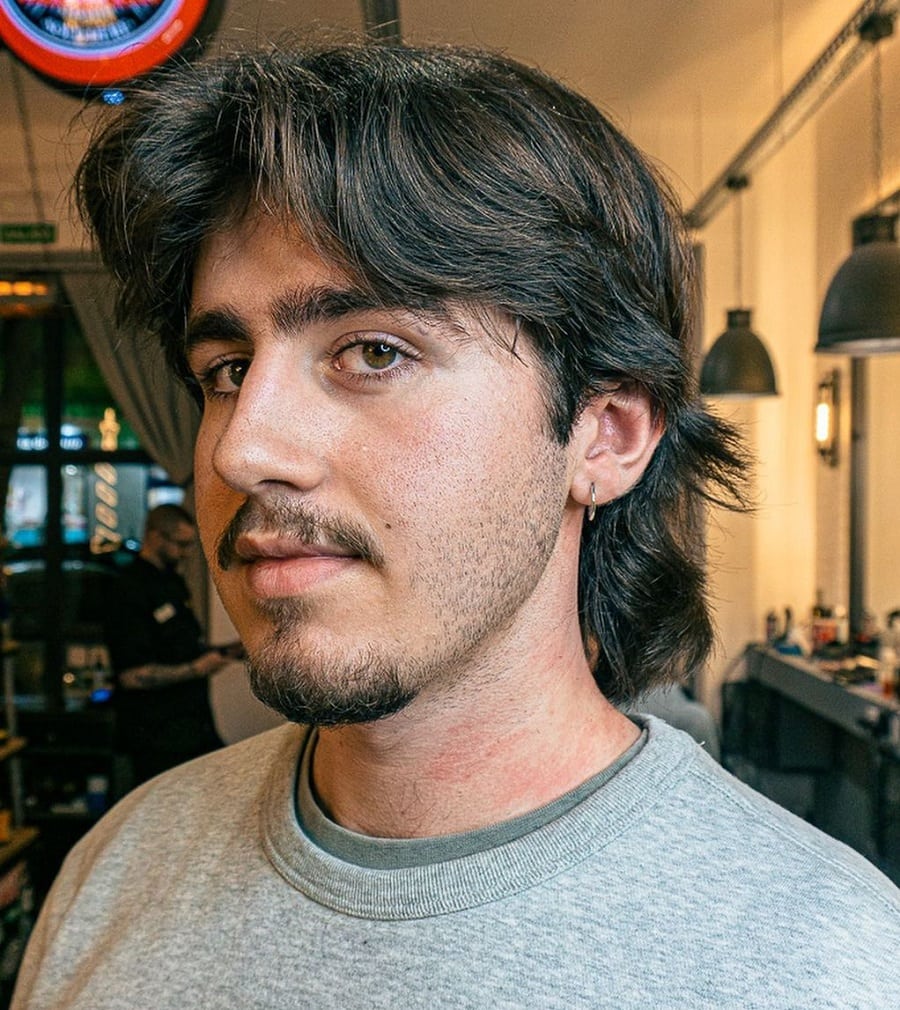 Again, you don't want a big beard taking the attention away from your blown-out mullet, so a simple goatee with a mustache will suffice. While the picture features a middle part, you can also get defined side parts for your style.
With all of these different types of mullet haircuts with beard to choose from, you can find the right one that fits you. It's important that you not only grow out a beard that fits your style of mullet but also fits your face.