The Edgar Cut with Beard is a popular new trend that combines a modern haircut with a stylish beard. Edgar cut is a low-maintenance yet versatile hairstyle that features short hair on top with tapered sides.
Pairing a well-groomed beard with this haircut adds a masculine and rugged touch to the overall look. It flatters nearly every face shape, but add a beard, and you are on a whole new level of style. Just play around with different beard types, and you will find the perfect match in no time!
Depending on your beard type, you can modify your beard style to check which one looks best on you. We have done our research and picked the most flattering Edgar cut with the beard. This can help you to depict a unique look.
The Edgar Cut
Origin
It turns out that the amusing tale of the Edgar haircut being inspired by a design of Major League Baseball player Edgar Martínez is simply a myth. The fact is that the Edgar haircut originated in Mexico. Its creator? None other than a barber, coincidentally named Edgar!
This sleek and fashionable hairstyle turned heads, especially among young men in the Latino community. And now? It's the top pick for gents from all corners of the globe.
What makes the Edgar haircut a standout?
An Edgar is a hairstyle that has a short back and sides, with a longer top that is styled into a textured fringe that covers the forehead like a bowl. Over the years, the Edgar cut's popularity has only soared, making it a go-to hairstyle for many style-savvy men searching for a trendy look.
Characteristics of the Edgar Cut
Length
The Edgar cut features a short, buzzed top with faded or tapered sides. The top is typically kept between 1/4 to 1/2 inch long, while the sides and back are blended seamlessly.
Texture
The texture of the Edgar cut can vary. Some opt for a smooth, sleek look, while others prefer a more textured, messy finish.
Styling Options
The Edgar cut is a versatile hairstyle. It can be worn with or without a hard part, and the fade on the sides can range from a low fade to a high skin fade.
Best Edgar Cut Hairstyle with Beard
From buzzed sides with a 7mm beard to a bowl, Edgar cut with long stubble, this haircut with different beard styles makes a good combo. Let's check them out.

1. Buzzed Sides + 7mm Beard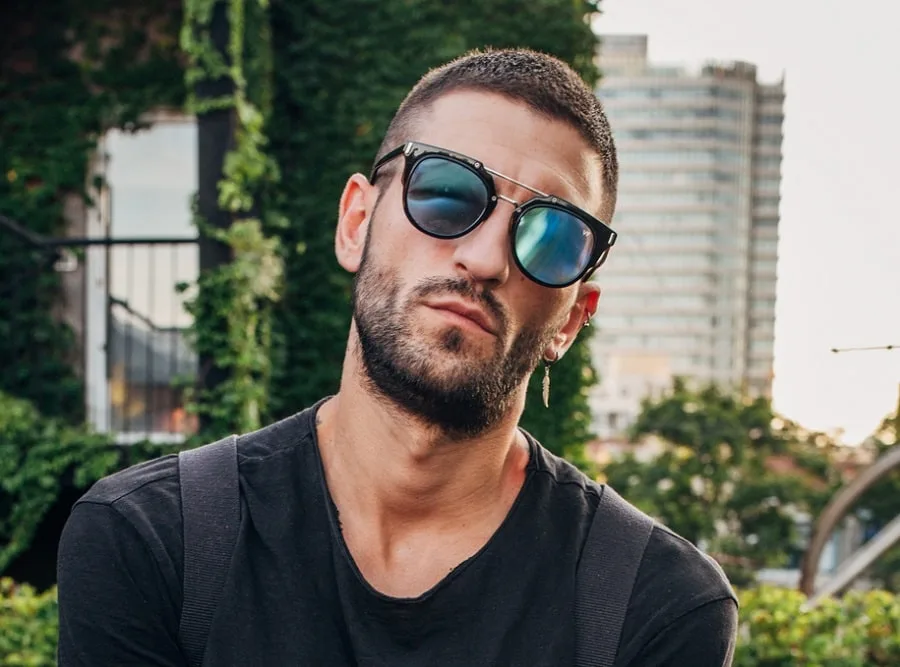 It is not necessary that Edgar's always has to be blow cut with bangs. You can cut the overall hair short while buzzing the sides into fades. Additionally, you can combine this style with a 7mm beard for a more rugged appearance. Depending on your facial hair's growth, grow the beard for 1-2 weeks to copy this look.
2. Designed Edgar Cut + Stubbly Mutton chop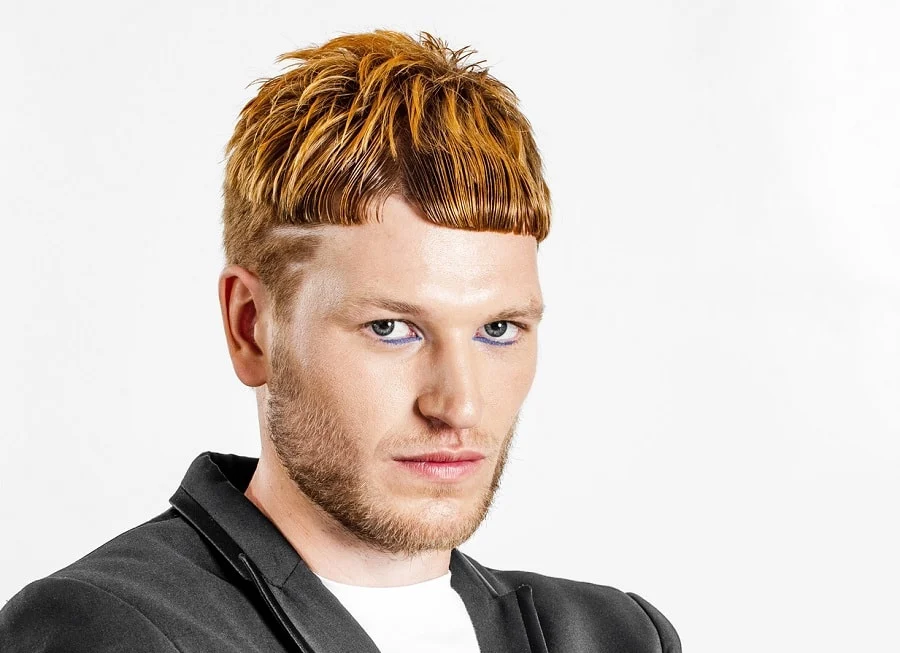 The short sides with lined designs are popular among men in their 20s. This Edgar cut can give you originality, and you can boost your uniqueness with a stubbly mutton chop beard. Just keep a regular stubble beard and trim or shave the mustache along with the lower lip.
3. Short Edgar + Thick Chin Strap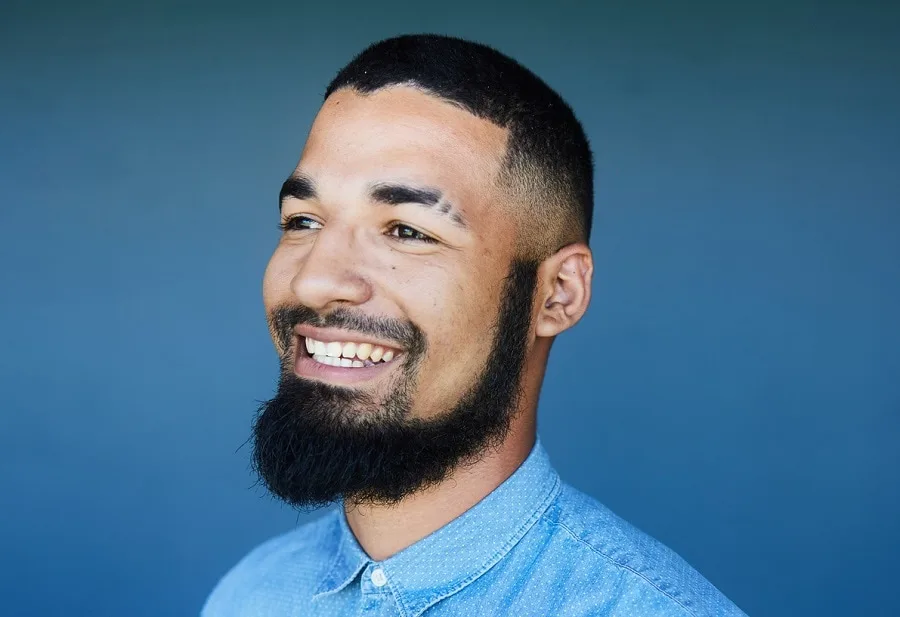 This Edgar cut blends with the buzz cut by fading the sides. Integrating this style with a well-groomed thick chin strap beard started from sideburns creates a strong and masculine appearance. The facial hair should extend more like a curtain shape from the jawlines to the chin.
4. High and Tight + Boxed Beard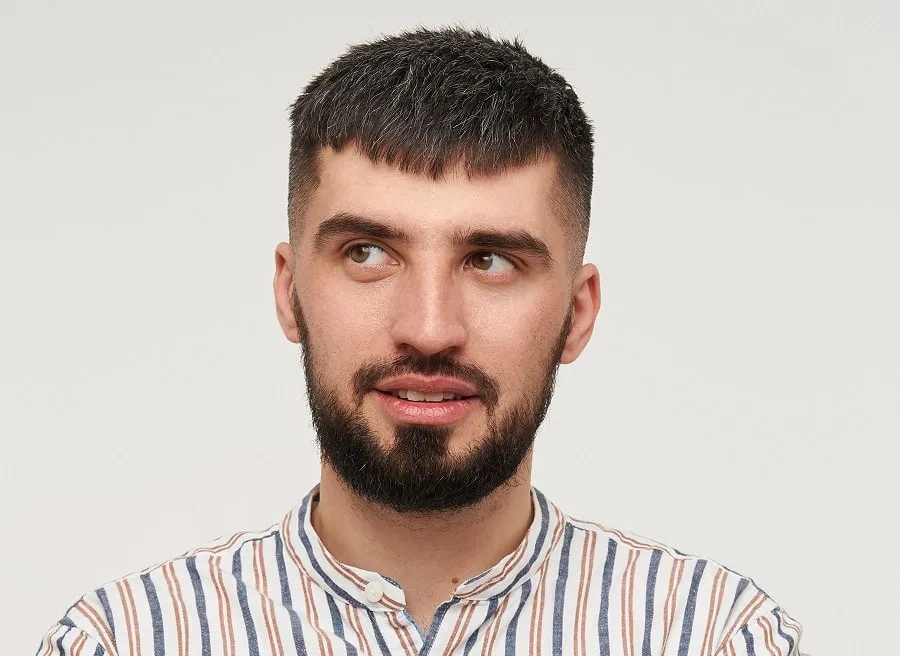 A high and tight haircut with fades gives a modern feel to a classic look. Keep a little length on the top while gradually fading it down. When it comes to a beard, you can keep it medium length and style with a boxed shape. The final outcome will be a trendy stylish appearance.
5.

Trimmed Hair with 3-Day Short Stubble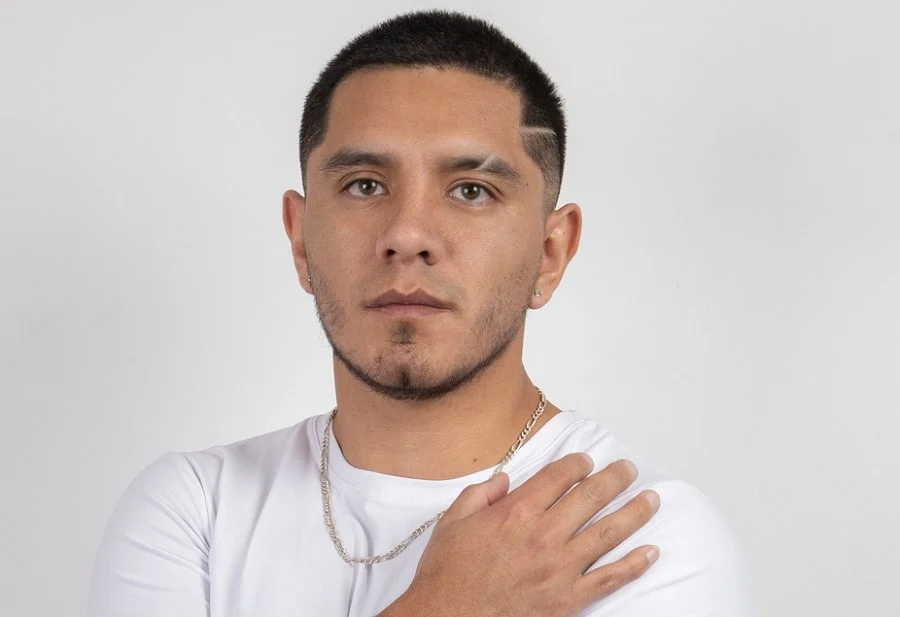 At a first glance, it may resemble a faded buzz cut with a design on one side and gives a hip-hop-type style. You can emphasize this style further by sporting a short 3 days stubble beard. Just shave your beard and wait 2-3 days to grow. However, the mustache should be clean-shaven for a polished look.
6.

Crewed Edgar Cut + Unkempt Medium Beard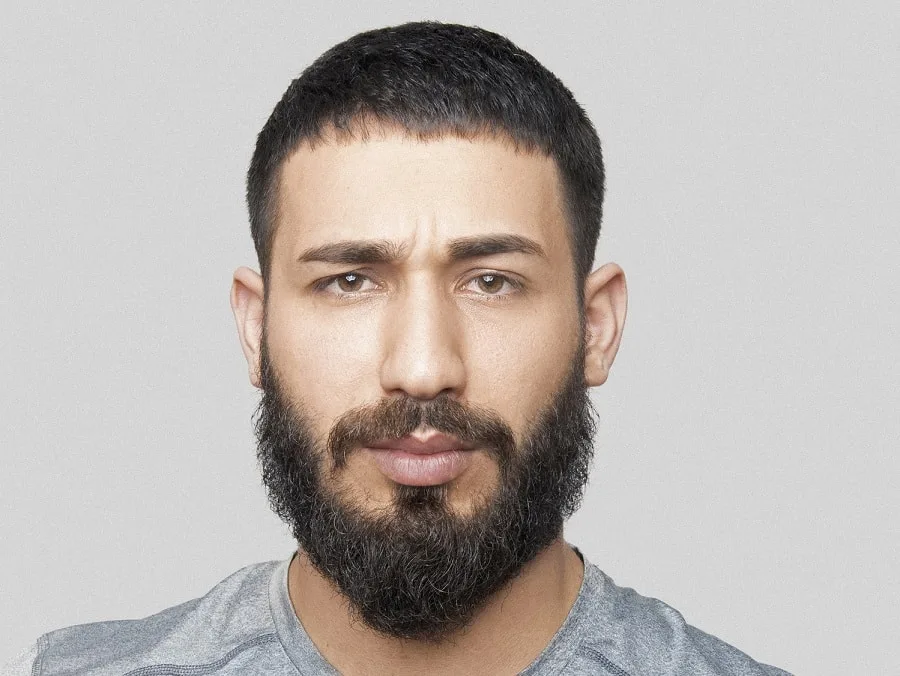 This Edgar cut features a short tapered cut on the sides while the top remains a bit longer. You can complete this appearance with a messy unkempt medium beard style.
7. High Fade + Medium Stubble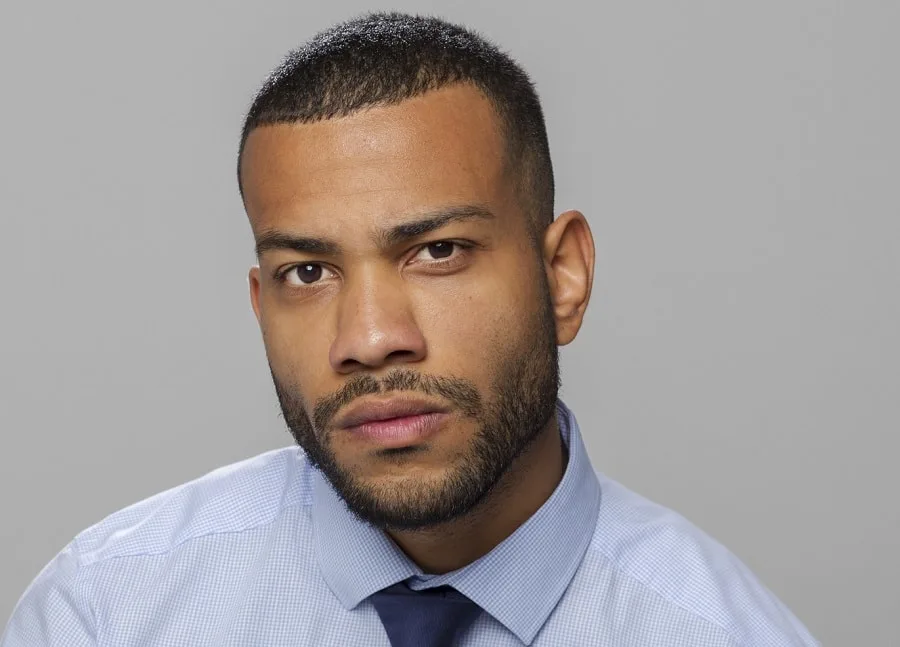 With a high fade, you can keep the top at any length. Even the buzz-cut-inspired Edgar style will also look good. And you can achieve a white-collar look with a medium stubble beard.
8. Buzzed Side + Circle Beard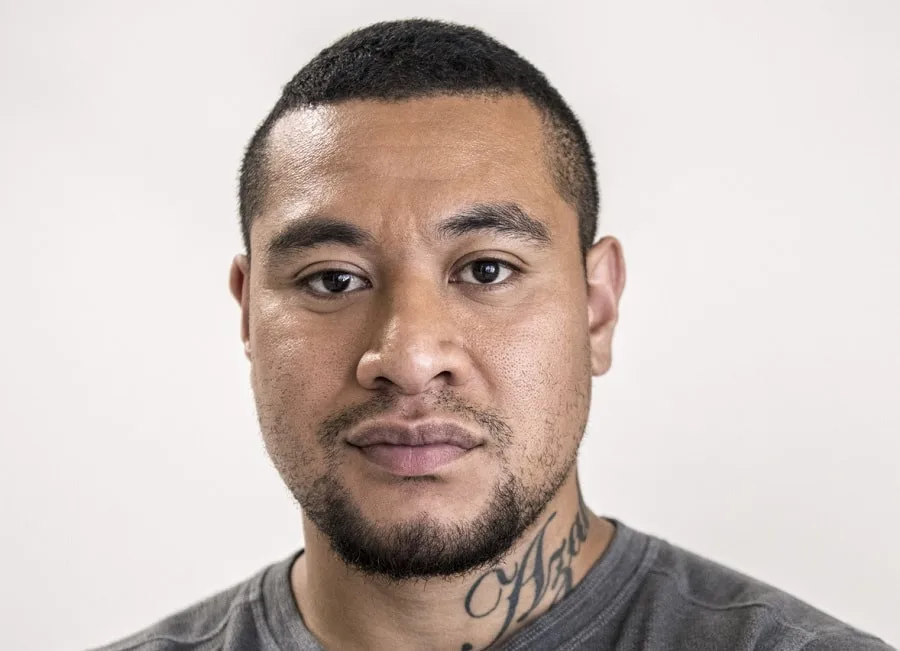 You will need to trim the hair on the sides and keep the top a bit longer compared to the sides. Combining it with a circle beard with a patchy mustache can give anyone a manly appearance.
9. Defined Edgar + Thin French Cut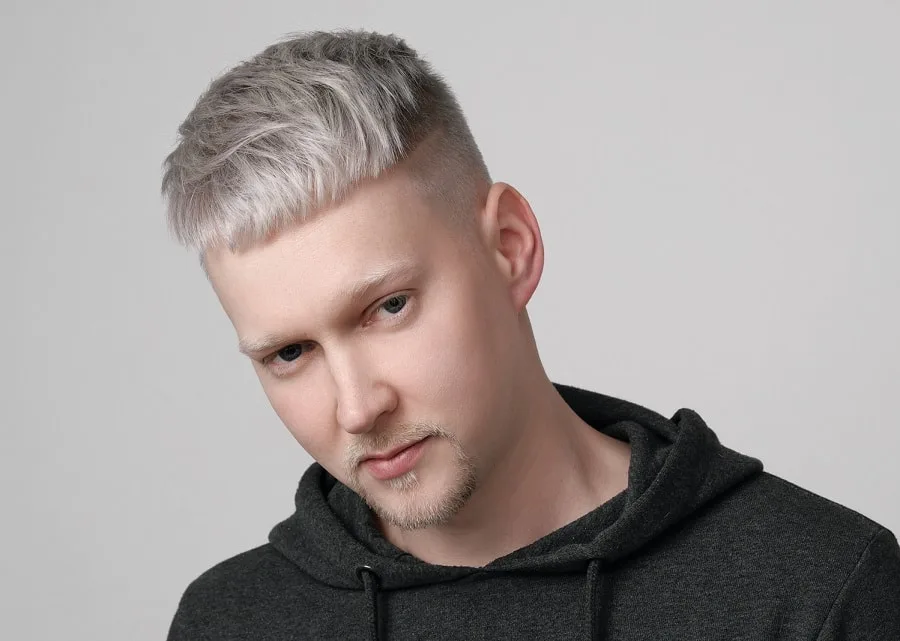 This particular style is an ideal match for anyone with straight locks looking for a casual yet striking appearance. Usually, the front fringe remains short, an inch or two below the hairline on the forehead. The thin French beard boosts the rugged yet refined persona.
10. Afro Edgar with Full Curly Beard

This hairstyle has many similarities with the mid fade for black men. With a sharp contrast between the sides and a full beard, it gives a voluminous look.
11. Short Edgar + Asian Chin Strap
This hairdo is perfect for Asian men with low-volume hair, balancing short fringe with the hairline. Additionally, the chin strap beard balances the style by lining out the jawline.
12. Skin Fade + Medium Garibaldi
The skin fades with a crew cut can also represent an Edgar cut. The short hair on the crown coordinates well with the faded sides. And blending the fade with a nicely groomed garibaldi beard can give a fresh appearance.
13.Faded Sides + Stubbly Ginger Beard
With a close similarity to a crew cut, this faded Edgar style can look good on the oval-shaped face. The stubbly ginger beard style can shape out the facial structure and camouflage the slight double chin.
14. Edgar Cut with Ducktail Beard
The forward combed temple fade haircut offers a safer and inoffensive style for men in their early 30s. The fades gradually match with sideburns, and the beard is grown to a ducktail end, which helps hide a shorter or double chin.
15.Defined Lines + Light Patchy Beard
It seems this look emphasizes hair density on the top while the shaven sides give an edgy Edgar texture. And the light stubble helps to achieve a rough look, which perfectly matches a rectangular to oval face shape.
16. Buzzed Sides + Salt and Pepper Full Beard
This style works well on coarser hair types and gives a natural flow with a forward comb. Paired with a salt and pepper full beard will help you to hide aging skin.
17. Temple Faded Edgar+ Goatee
Temple faded with a choppy top, this Edgar is medium, simple, and sharp. The goatee under the chin joins up with the soul patch, giving it a cool look.
18. Silver Edgar + Faded Stubble
It features a straight-cut fringe to match the classic Edgar cut. And the bowl shape accentuates the silver hair colors. Further, the faded stubble beard points out the chiseled jawline.
19. Bowl Edgar Cut with Chin Curtain
This resembles a classic Edgar cut with a bowl shape hair and tapered side. Unlike the classic style, the fringe is not cut evenly and is shaped by combing forward with fingers. You can keep a short chin curtain beard to cover up your almost chubby cheeks and chin.
20.Drop Fade with Patchy Beard
This Edgar cut features a mid drop fade starting from the bottom, and gradually getting longer at the top. The front part has an edgy end with a sharp line. This helps to get all the attention on your hair, neglecting the thin patchy beard on the sides.
21. Half Black and Half Golden Hair + Boxed Beard
It is a classic Edgar cut with half black and half golden hair. The sides are styled into a drop fade which helps emphasize the dark boxed beard. It is great for men with rectangular face shapes.
22.Medium Edgar Hair + Faded Mutton Chop
This is another classic Edgar style with faded on the lower temple. The beard is styled in a mutton chop with faded sideburns. It is perfect for men in their early 20s who want to remove their baby face appearance.
23. Low Fade Edgar with Neat Hipster Beard
A low fade Edgar maintains a length around the top while the sides and back are thinned out. Then the hair is paired with a clean-shaped hipster beard and an impressive imperial-like mustache.
These are our top Edgar cut hairstyles with a beard, and any of these styles can help you achieve an effortless and perfectly groomed look.
Combining the Edgar Cut and Beard:
Tips for a Perfect Combo
To achieve the perfect Edgar cut and beard combination, consider the following tips:
Choose a beard style that complements your face shape and enhances your features.
Maintain the balance between the hair on top and the beard, ensuring that neither overpowers the other.
Experiment with different beard lengths and styles.
Consult with a professional barber to ensure a seamless transition between the Edgar cut and your chosen beard style.
Maintenance and Care
Here's how to keep your Edgar cut and beard in tip-top shape with these nifty tips:
Lather up! Use the right shampoo and conditioner duo to keep both your hair and beard squeaky clean and oh-so-healthy.
Pamper that facial fuzz! Slather on some beard oil or balm to keep it soft, moisturized, and impeccably groomed.
Buddy up with your barber! Swing by for regular trims and touch-ups to maintain your hair and beard's killer shape and length.
Comb it out! Grab a beard brush or comb to distribute those natural oils, kiss tangles goodbye, and keep your facial hair neat as a pin.
Style it up! Experiment with hair styling products like pomades or gels to nail your desired look and hold for that fabulous Edgar cut.
Related Topics:
FAQ's
1. How often should I visit my barber to maintain the Edgar cut and beard?
Though it depends on your beard style length and growth, typically, every 2-4 weeks is recommended to maintain the desired length and shape of your Edgar cut and beard.
2. Is the Edgar cut suitable for all hair types?
The Edgar cut is versatile and can work with most hair types. But it might be challenging to achieve the desired look for those with very curly or unruly hair.
3. Can I achieve the Edgar cut and beard look at the home?
While it is possible to achieve the Edgar cut and beard look at home, it's best to consult with a professional barber for getting the perfect shape.
And there you have it! Follow these tips, and you'll be rocking that Edgar cut and beard combo like a pro.