Want to turn heads as you walk down the street? The fade haircut with a beard makes a great pair to give a stunning look to black men.
This article offers an incredible list of fade haircuts and beard style combinations for black men of various face shapes and personalities. They go from flat tops and short afros to geometric waves and frosted tips.
The best part? All of these haircuts are versatile, letting you pair them with different beard types too.
Cool Fade Haircuts And Beard Combinations For Black Men
With so many different fade haircuts and beard styles to choose from, here are some perfect pairs for black men.
1. Wavy Bald Fade with Full Curly Beard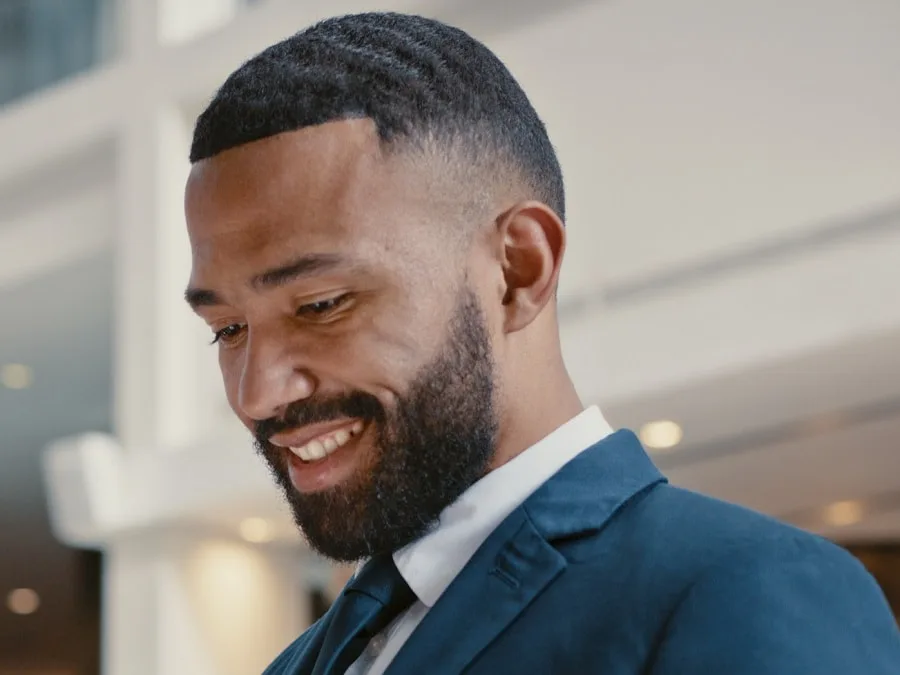 The wavy hair and beard texture of African American people makes it a good fade haircut and beard combination for black men. The bald fade with a beard is suitable for any formal or social event.
The short full beard connected with the mustache and disconnected from the hair due to the fade. Create some geometric waves on the top of the hair with a trimmer
2. High Top Fade with Short Beard
If you are looking to draw more attention to your haircut than your beard, you can try out this curly high-top fade with a short beard. You can personalize the haircut with a high mid or low fade on the sides according to your face shape.
3. Brunet Afro Mid Fade with Heavy Stubble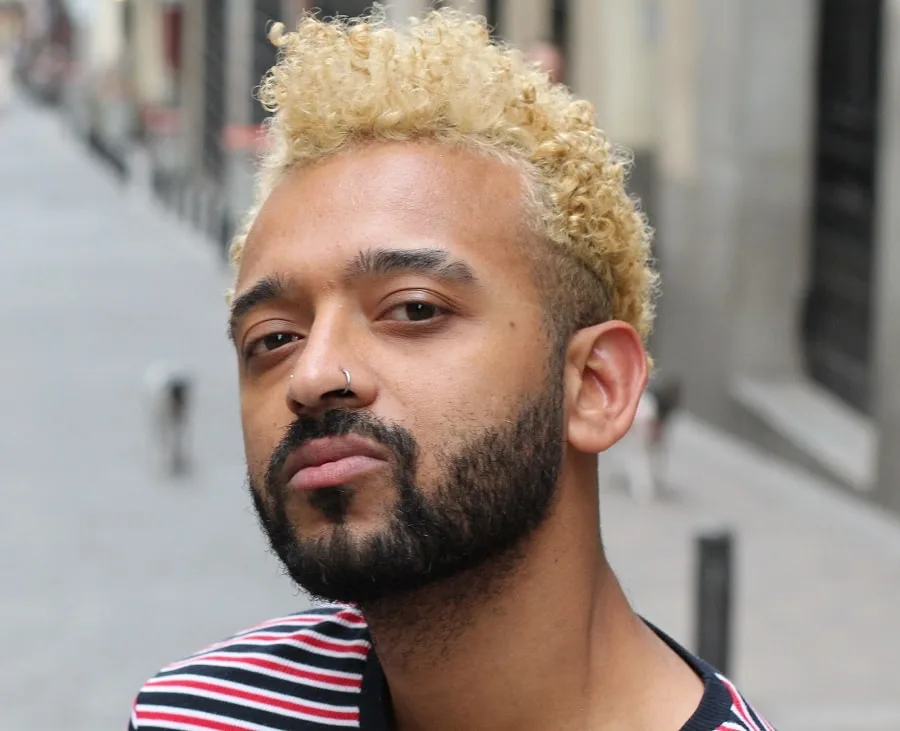 An afro fade haircut tends to look better with long curls, but you could make it work with shorter hair. A longer or bushier beard might take attention away from your hair. Heavy stubble beards can strike a balance between the faded haircut and beard for black men.
4. Curly Hair with Chin Curtain Beard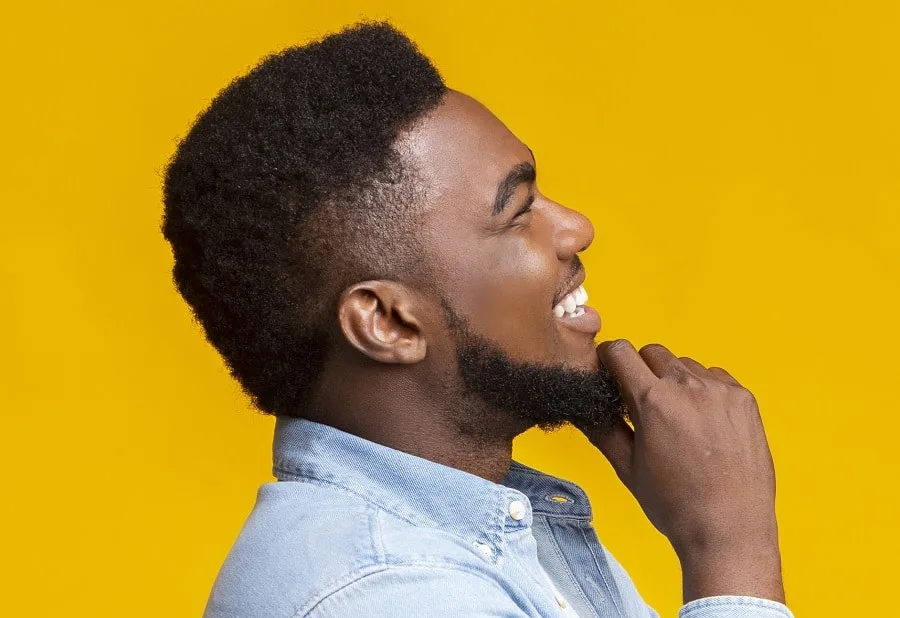 Who said you can't grow a mullet if you have a curly hair? Let that mullet grow out from the back, and then pair it with a burst fade or a high-top fade. A high-top fade looks a little better with a longer mullet, and you can pair it with a low-profile beard like the thick chin curtain with a trimmed mustache.
5. Frosted Afro Tips with Patch Beard and Pencil Stache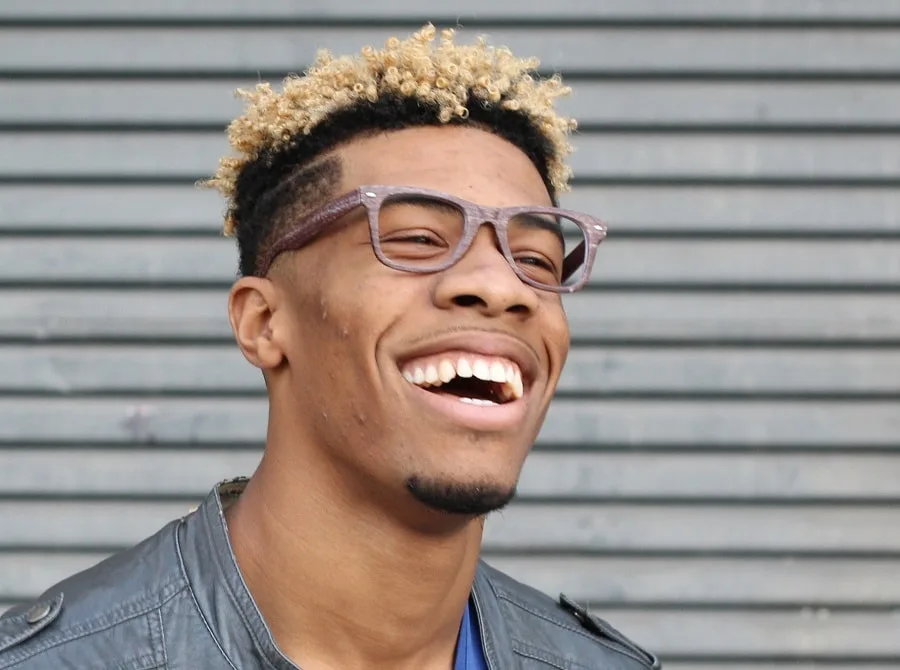 Frosted afro tips with a mid-fade haircut and glasses will make you look like a cool black hip-hop guy. The beard is a minimalistic goatee patch, which looks cool with a pencil-thin mustache.
Let your frosted tips stand out with a hard part that separates them from the faded sides. The short beard style is more suitable for rounder face shapes.
However, black men with oblong faces can also try this fade hair and beard pair by keeping the goatee very short so that it doesn't make your face longer.
6. 80s Rounded Top Fade with Patchy Beard
This one's sure to stand out in this list of fade haircuts and beard styles for black men. The rounded high top works with round faces. Black men with patchy beards should try this style in informal events. The tapered sides and the high top keeps people's attention off your patchy beard.
7. Buzz Cut with Rounded Beard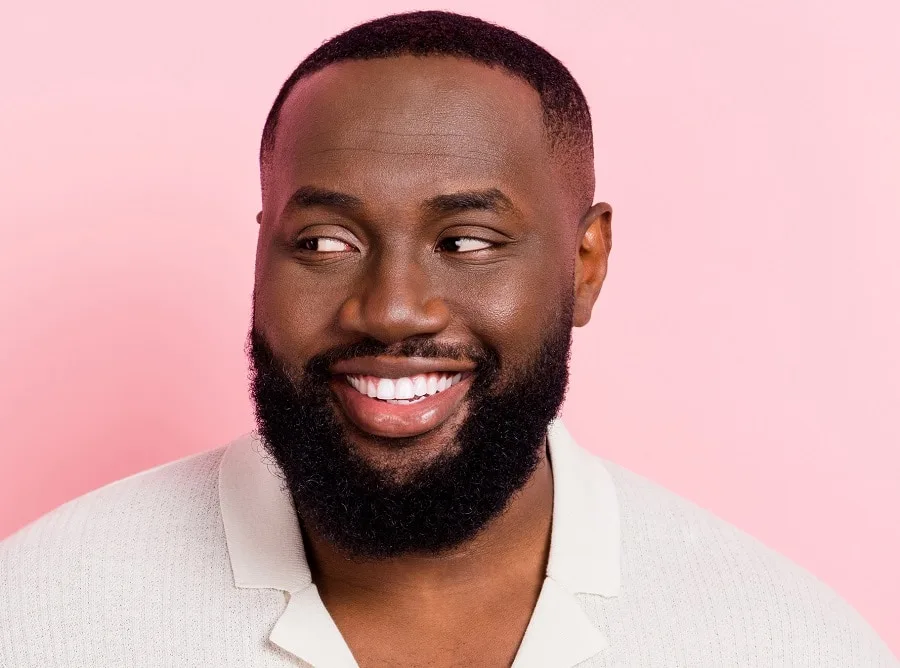 Want to bring a lot more focus to your beard than your hair? Well, this very short fade haircut and bushy beard combo for black men can help you to do that.
The buzz cut is very low maintenance, so your beard can get the tender loving care it needs. A curly mustache may look untamed, so you'll have to keep it thin and trimmed.
8. Long Braids with Faded Beard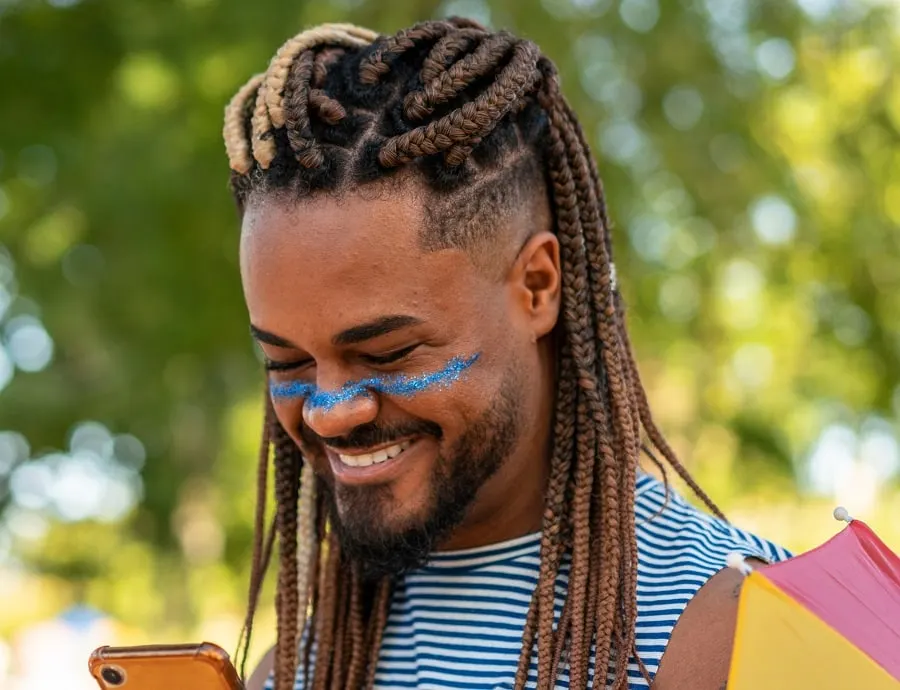 Look closely and you'll notice layers of details in this black man with his fade haircut and beard. The long hair is braided, but it also has a bleached patch. The sides are low-fade and go quite nicely with a short beard fade.
9. Low Fade with Disconnected Light Scruffy Beard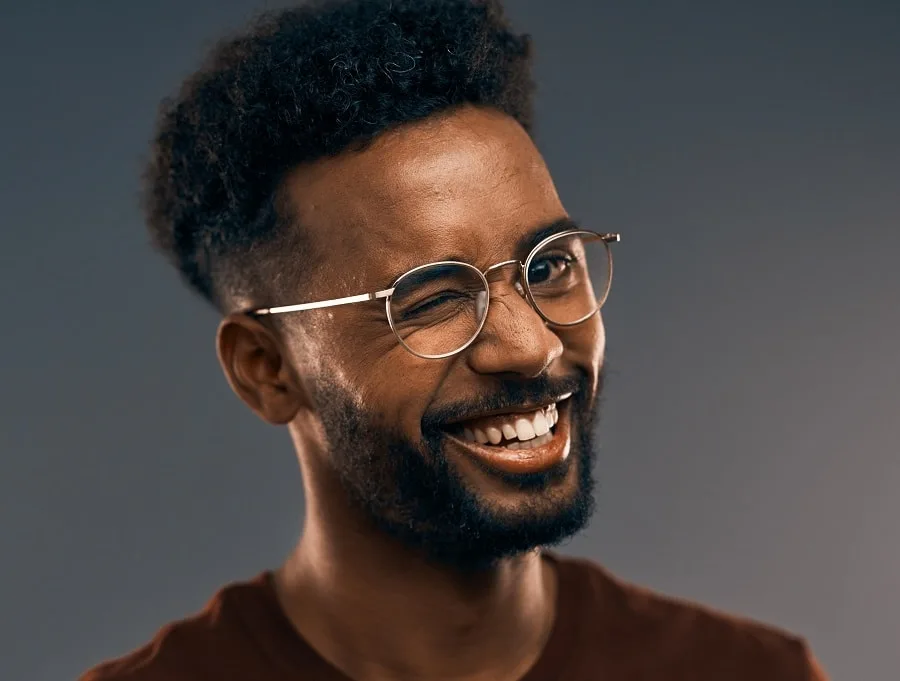 When in doubt, you can never go wrong with a simple low-fade haircut. It's a timeless combination of thicker curls on the top and a gradual fade toward the bottom.
The scruffy boxed beard has clean lines along the jaw and stubble on the cheek. The beard is disconnected from the hair at the sideburns.
10. Colored Fade With Design and Circle Goatee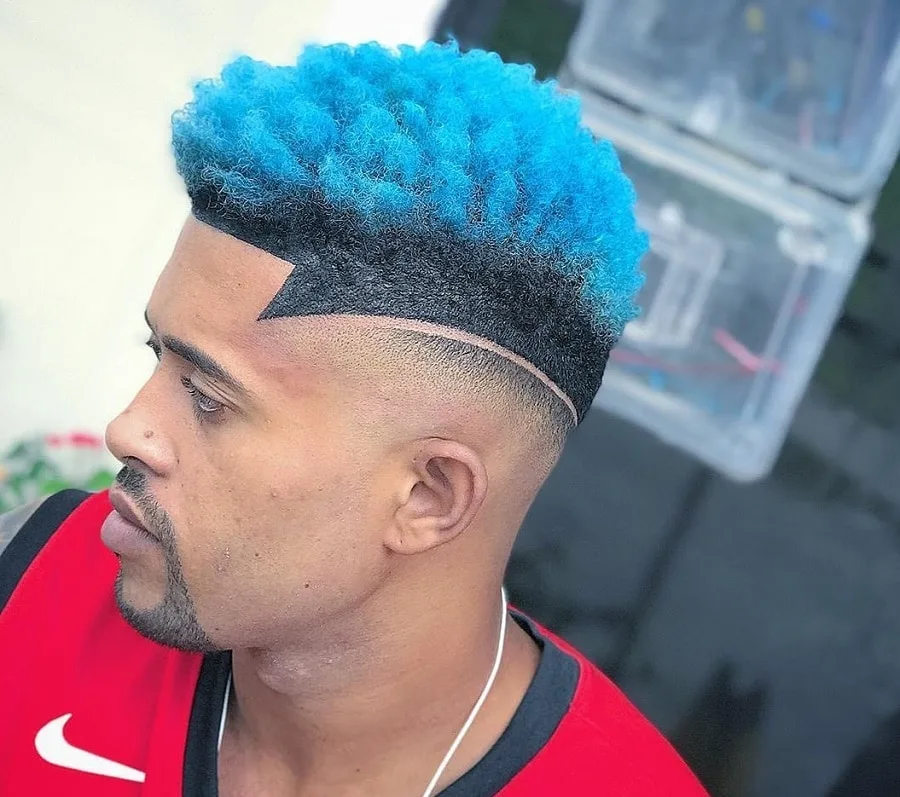 The design below the hard part really makes this fade haircut stand out. You have the faded sides separated from the dyed hair with the design and the front is also shaped up.
The circle goatee is created by trimming a stubble beard. To be honest, this fade haircut and beard combination are for those black men who are very brave and confident about their looks.
So, get creative with your hairstyle today and choose one of these fade haircuts and beard styles for black men.