Are you unsure whether a short beard can complement a round face? We understand your concerns, but let us put them to rest. The truth is, a short beard style can work wonders for your round face shape.
You've likely explored various beard styles for round faces and conducted thorough research to find the perfect fit. While you found it is recommended to sport a long beard for round, chubby and fat faces, you have a preference for short beard styles. Guess what? Short beards can work their magic on round faces too!
Bid farewell to doubts as we have curated a list of short beard styles specifically designed for round faces. These styles will leave you exuding confidence and effortlessly cool vibes. Get ready to discover the perfect short beard style that complements your round face and leaves a lasting impression!
Best Short Beard Styles For Round Face Shape
To get a better idea of how you would look with a short beard, we have described various short beard styles tailored to different round face shapes, including fat, chubby, and small faces.
1. Short Stubble With Bald Head
Short stubble is a great idea when you have a bald head and round face and you're not looking to get much coverage. Trimming your beard a few times each week keeps it at a manageable length that's not too short but doesn't look unkempt either.
2. Chinpuff with Soul Patch and Long Hair
If your facial hair doesn't grow evenly around the jawline, a simple chin puff with stubble on the upper lip can enhance the rest of your features. Asian faces can feel rounder near the cheeks without any facial hair, so this is an excellent option to elongate the face shape.
3. Chin Strap With Square Goatee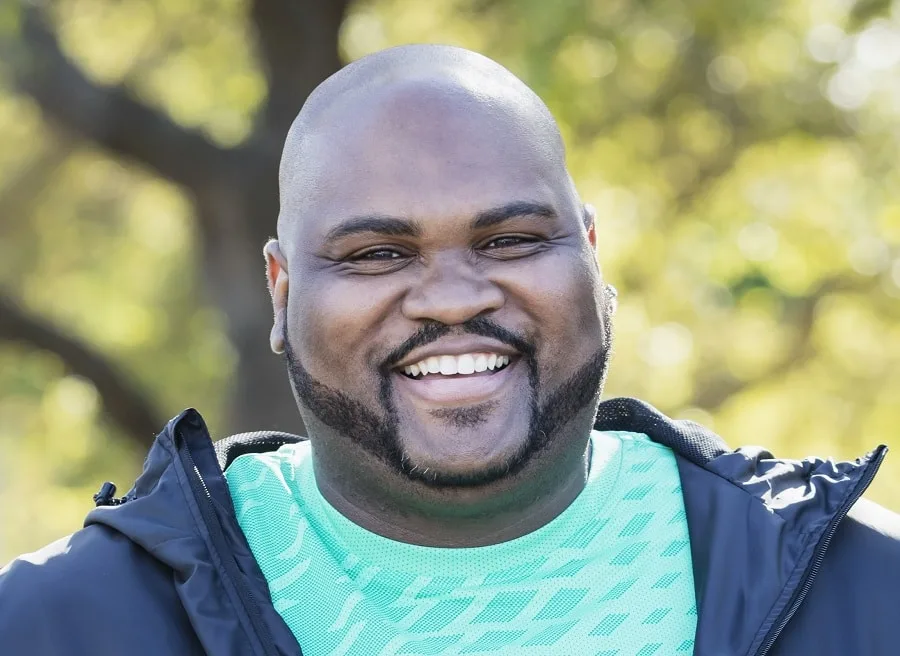 If you prefer a boxed beard style for your round face, this low-coverage short beard is for bald head black men since their faces can grow heavier and rounder under the chin. The style includes a chinstrap and goatee to define the jawline and frame the chin to give it an angular look.
4. Curly Hair with Stubble Beard and Mustache
Pairing curly hair with a short stubble beard is a great option for a round face. Simply grow out your stubble on the sides of the face and upper lip, letting it extend to the neck. You can pair it with a mustache and trim along the cheeks and inner edges for a finished look.
5. Short Amish Beard with Glasses
The short Amish beard is a style that covers the sides of your round face as well. It extends from the sideburns and covers the cheeks to become denser and thicker on the chin. Regularly trim along the cheeks for a neat look.
6. Short Boxed Beard with Short Hair and Fade
Short-boxed beards have an even length all over, making them a suitable style for rounder faces. It has angular edges and doesn't extend towards Adam's apple, staying close to the jawline. As a result, it gives the appearance of a sharp jawline.
7. Ducktail Beard with Soul Patch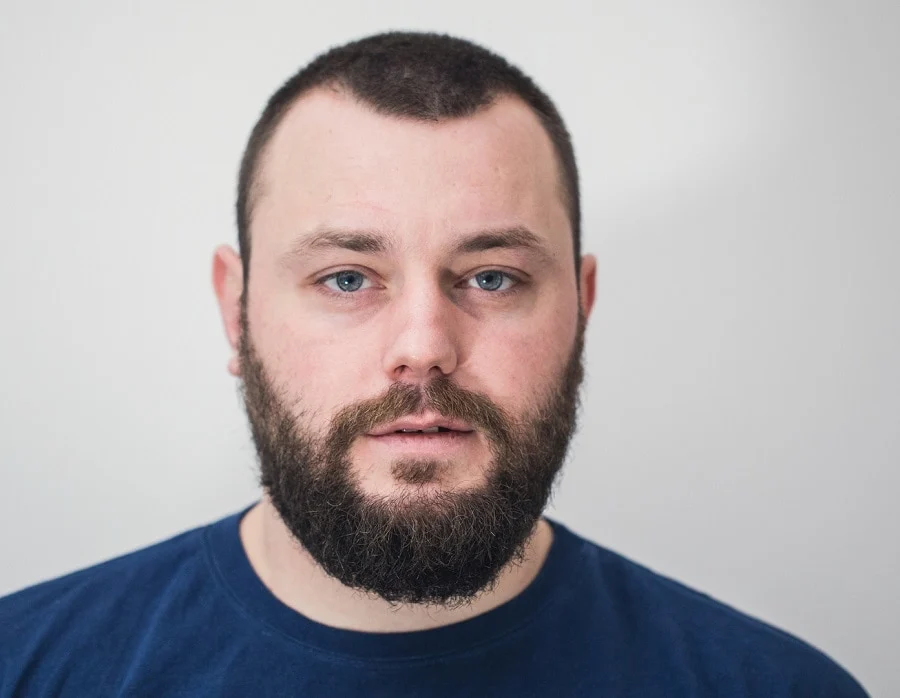 Short ducktail beards are ideal for men with rounder faces and less-defined jawlines. This beard style covers the sides of your face with an even length with a slightly longer length on the chin that looks like a tail of a duck.
8. Short Blonde Beard with Wavy Hair
When you have brown hair and fair skin, a short blonde beard is a great choice for defining your face shape. This style has a scruffy beard along the sides of the face and chin. It extends to the neck and also includes a scruffy mustache.
9. Short Chinstrap with Stubble Mustache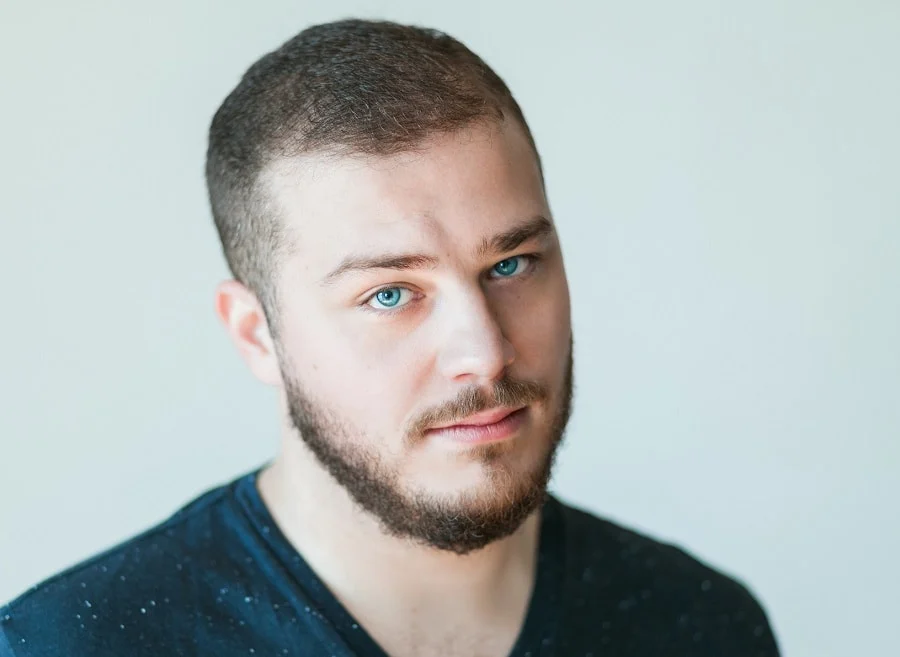 If your face is rounder under the chin, a short chinstrap beard can elongate your facial structure. This style calls for a beard that extends from one end of the jaw to the other, maintaining an equal length on all sides.
10. Extended Goatee with Short Hair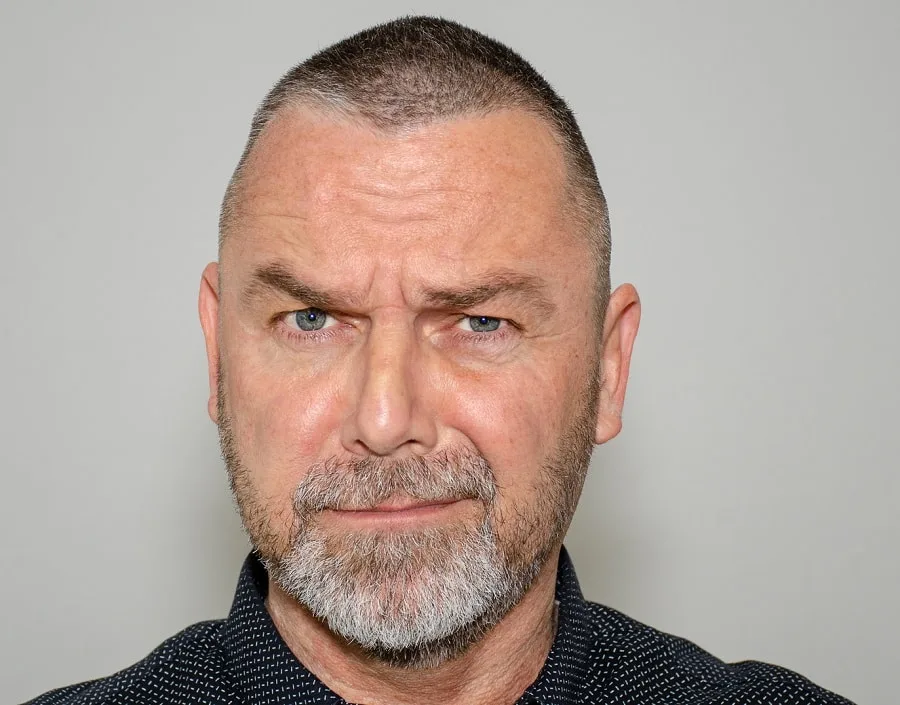 A beard like the extended goatee can sharpen the jawline for faces that are rounder near the bottom. This style includes stubble across the sides of the face to define the facial structure and a scruffy goatee that's denser along the chin.
11. V Shape Beard
While there are plenty of beard styles to try, your options are different if your facial hair grows out in patches. You can try a V shape beard for a round face by keeping some extra length on the chin. It will add length to your face to make it look less round and at the same time, you will enjoy the cool short beard style.
12. Short Grey Beard With White Hair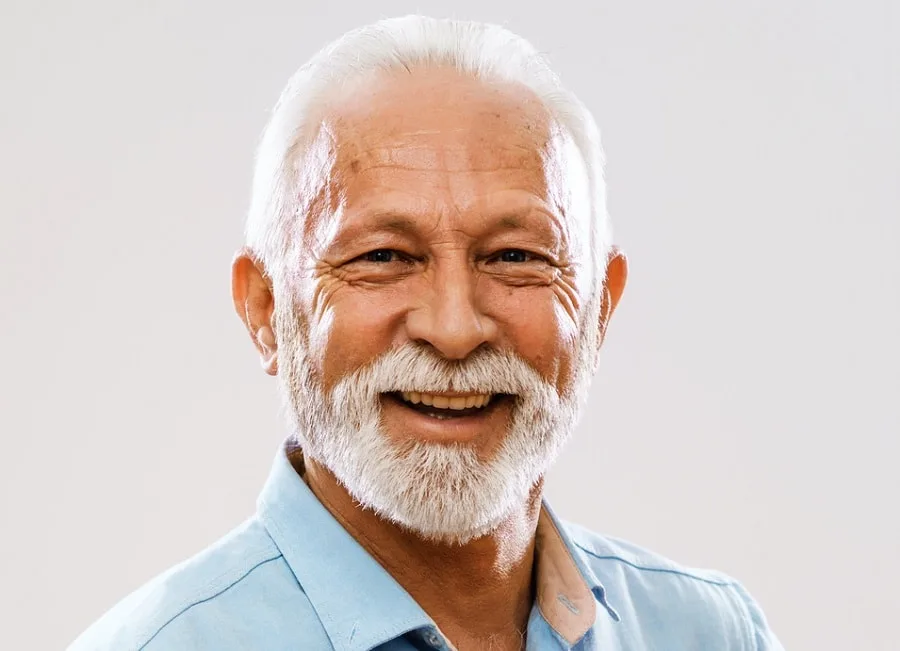 If your greys are starting to show, here's a short grey beard style for a round face. This style covers the sides of the face with scruffy stubble and is denser along the chin. With no shaved inner edges, it also covers the upper lip for a full-bodied look.
13. Rounded Beard and Mustache
This style includes a rounded beard that covers the chin and jawline but isn't very dense in terms of hair growth. The area between the chin and lower lip is clean shaved with the beard looking thicker under the chin.
14. Salt and Pepper Chinstrap Beard With Soul Patch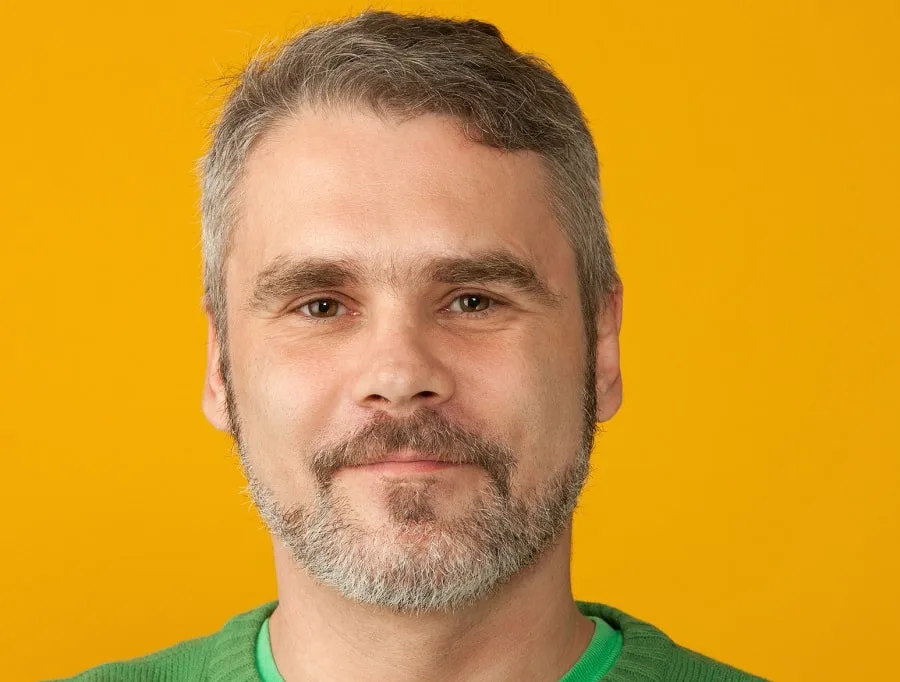 If your greys are starting to show, here's salt and pepper beard for round faces. This style includes a chinstrap with neatly trimmed inner edges. You can also grow the stubble on your upper lip to highlight your core facial features.
15. Goatee Beard With Soul Patch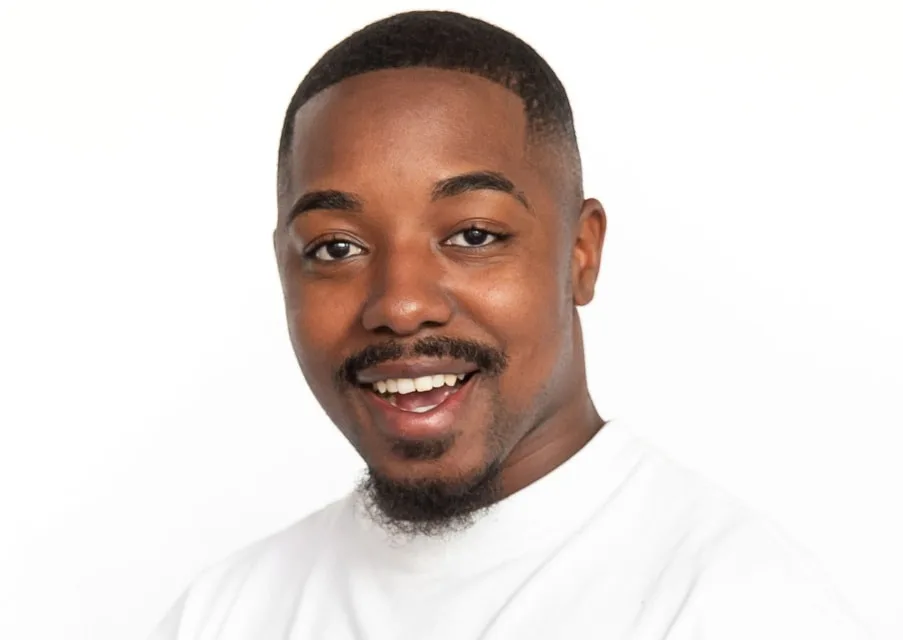 The goatee beard includes a thin mustache, making it great for round faces. In this style, the beard is thicker and denser under the chin, with clean-shaven sides and a trimmed mustache.
16. Chin Curtain Beard With Man Bun
Since a man bun adds length above your head by pulling the hair up pair it with a chin curtain beard to complete your look. This simple short beard covers the jawline and chin and has an equal length from all sides.
17. Full Beard With a Fade Haircut
This short, stubble beard casts a shadow along the jawline to give your face an angular look. It's perfect for black men since their faces can look rounder along the chin and jawline. It includes dense stubble that covers the sides of the face, upper lip and goes down the neck.
18. Short Goatee With Trimmed Sideburns
Try out a short goatee beard if you have a round face and your facial hair grows in small patches. The style calls for patchy stubble on the chin with light sideburns along the face. You can grow out a mustache to pair with this beard style.
19. Heavy Stubble Beard With High Buzz Cut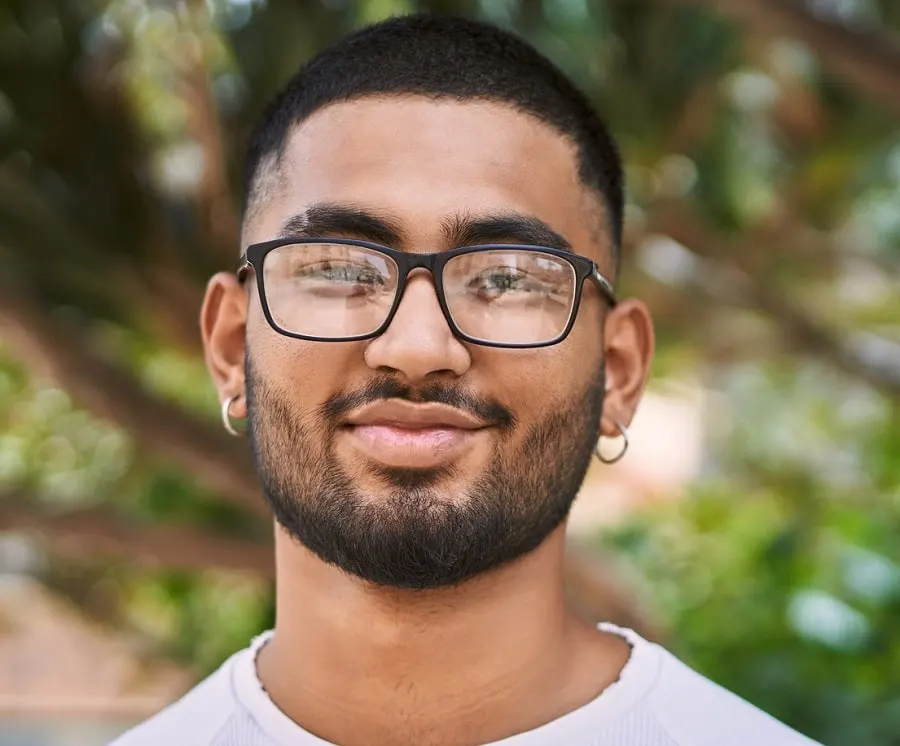 You can grow out a heavy stubble beard to sharpen your jawline if you have a round face with fuller cheeks. For this style, you can grow out stubble on the sides of the face, with a dense beard along the jawline and chin.
20. Thin Chinstrap with Short Goatee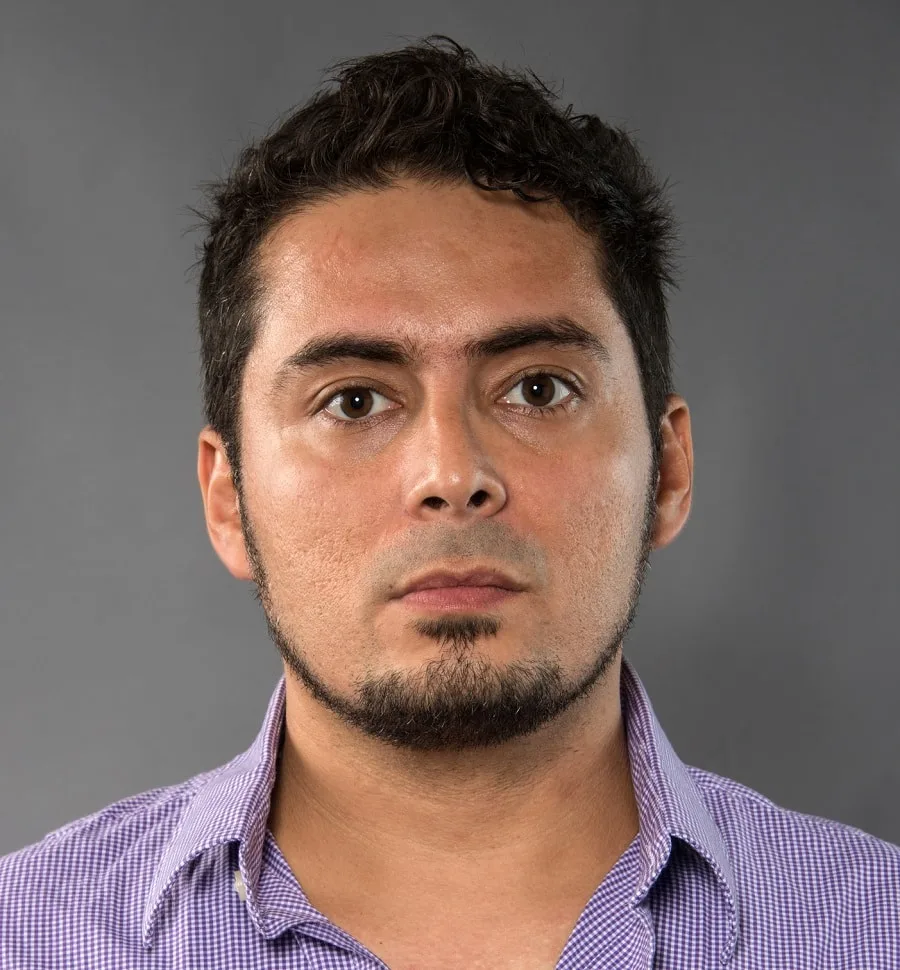 A thin, finely trimmed chinstrap and short goatee that only covers the chin is a no-nonsense beard style that simply frames the face. This style looks great if your face is round but has firm edges. You'll need to regularly trim the beard and shave your upper lip for this look.
21. Short Stubble With Outgrown Soul Patch
Light stubble is a good choice for a beard when you have a buzz cut and want a beard style that complements your hair while defining your facial structure. It includes light, even stubble across the cheeks, chin, and upper lip. It extends to the neck and only requires a weekly trim to maintain its length.
From these short beard styles hope you got a suitable facial hairstyle for your round face.
How to Trim Beard For Round Face Shape
Here's a general guide for trimming a beard to complement a round face shape. Remember that personal style and comfort are just as important as following these guidelines.
For a round face, having a bit more length at the bottom of the chin helps in giving the face an oval look. A goatee or a van dyke beard could be a good option. You could also try styles like a short box or a balbo beard.
Comb out your beard to remove any tangles. Make sure to comb in the direction your beard grows.
Set your beard trimmer to a high setting to take off less hair. You can always trim more if you need to. Trim from the ear down towards the chin on both sides to maintain symmetry.
Keep the sides of your beard shorter, and let the hair at the chin grow longer. This helps to make the face appear more elongated and less round. Trim carefully to keep the longer parts neat.
Use a razor or precision trimmer to define the areas around your beard like your cheek lines and neck. The neckline should be just above Adam's apple. Avoid trimming too high as it may make the face appear fuller.
Don't forget to trim your mustache as well. Use a pair of grooming scissors to keep the hair above the lip neat.
Remember to give your beard time to grow. It may take a few weeks to get to the point where these steps are applicable.