Panasonic beard trimmers are well-known in the beard community because of its high quality and affordable pricing. In this post, we are going to review the top 5 Panasonic beard trimmers based on the price, design, build-quality and rating given by real buyers.
It takes months to grow a beard you always wanted. It should take much less to find an ideal beard trimmer. Many men spend hours looking for a perfect trimming tool to keep their beard looking amazing without too much effort.
An ideal beard trimmer can keep your efforts to a minimum while making sure you don't spend too much time with the tool in hand. Unfortunately, there are many low-quality beard trimmers on the market today. Finding a good one using a trial and error method can cost you your beard. That's why we decided to help you make a choice by reviewing several top-quality trimmers.
The Best Panasonic Beard Trimmer to Buy in 2023
Panasonic Milano All-in-One Trimmer, ER-GB40-S – Our Best Pick
This Panasonic trimmer is fabulous and we certainly hope it will become your favorite beard care tool as well. This electric trimmer comes with 19 attachments making it easy to deal with a beard of any length. You can use this tool to trim any body hair, including a mustache, neck, and even head. The trimmer is water-resistant and very durable.
Beardstyle Product Rating: 9.8/10
Full Reviews: Top 5 Panasonic Electric Beard Trimmers
#1. Panasonic Milano All-in-One, ER-GB40-S
This particular Panasonic facial hair trimmer is a top pick for the number of functions, durability, and design. The 19 attachments allow you to vary your hair length from 1 to 10 mm with 0.5 increments. You can use this trimmer in the shower and clean it by fully immersing the tool in the water.
The stainless steel blades are very sharp, making the trimming process faster. Besides your beard, you can use this trimmer on your legs, arms, armpits, and other body hair. It's truly an all-in-one hair care tool.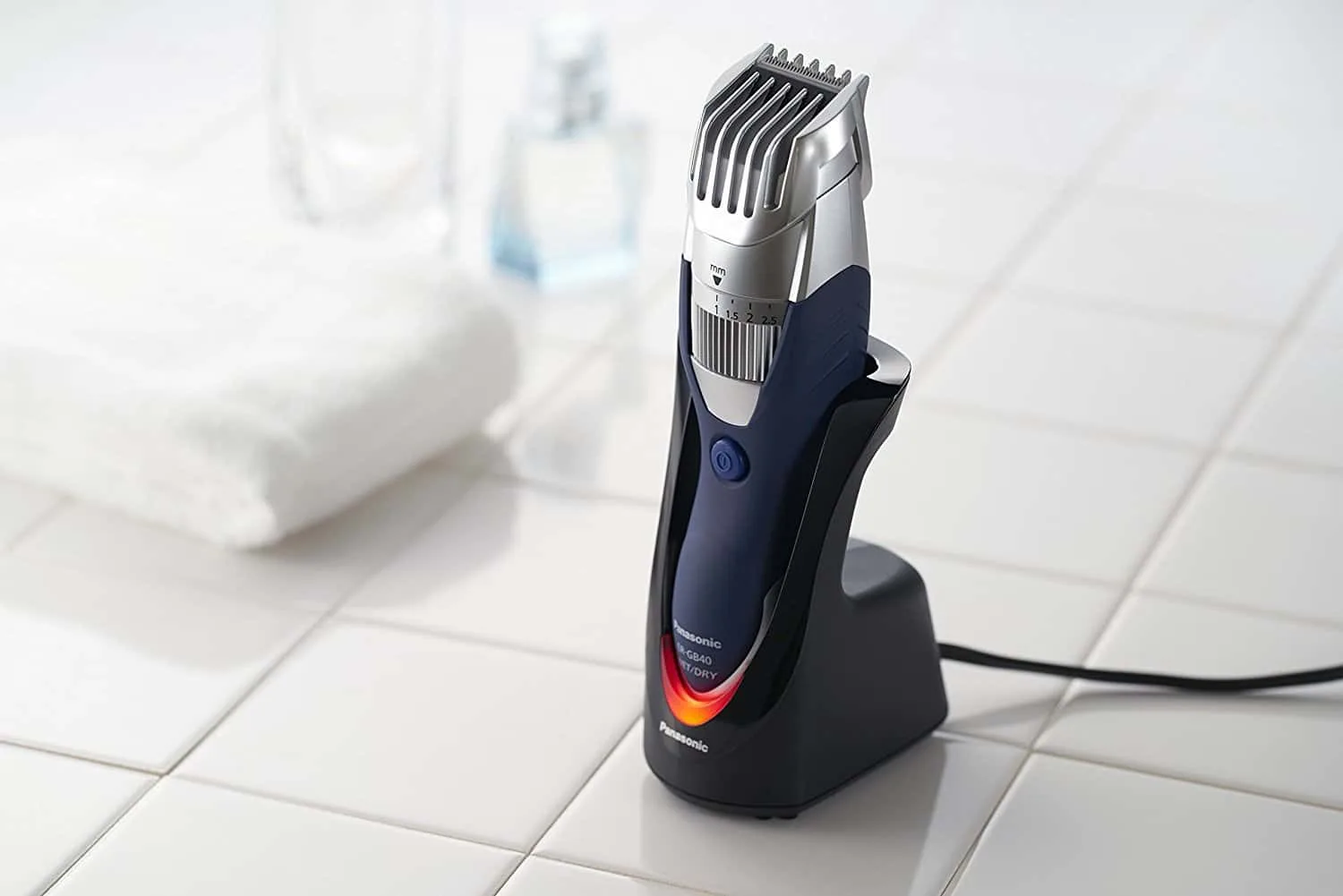 Panasonic Milano All-in-One,ER-GB40-S
Opinion
The rubbery grip makes this tool a pleasure to hold and use. It's lightweight, maneuverable, and nice to the touch.
Pros
19 attachments
Extra sharp blades
Comfortable grip
Versatility
Cons
May not work fast on thick hair
The guard is hard to remove
#2. Panasonic Wet and Dry Cordless Electric Beard and Hair Trimmer ER-GB370K
This Panasonic electric beard trimmer works on both wet and dry hair. Its 45-degree stainless steel blades offer excellent cutting performance. You can choose from 19 different trim settings (1 to 10 mm, 0.5 increments). You can use this trimmer in the shower. Since it's waterproof, it's fairly easy to clean. In fact, it takes only a few seconds after each trim to rinse the trimmer.
The unit comes with a comb attachment, which you can use to trim the hair on your head or the upper lip. It takes about 8 hours to charge the battery fully.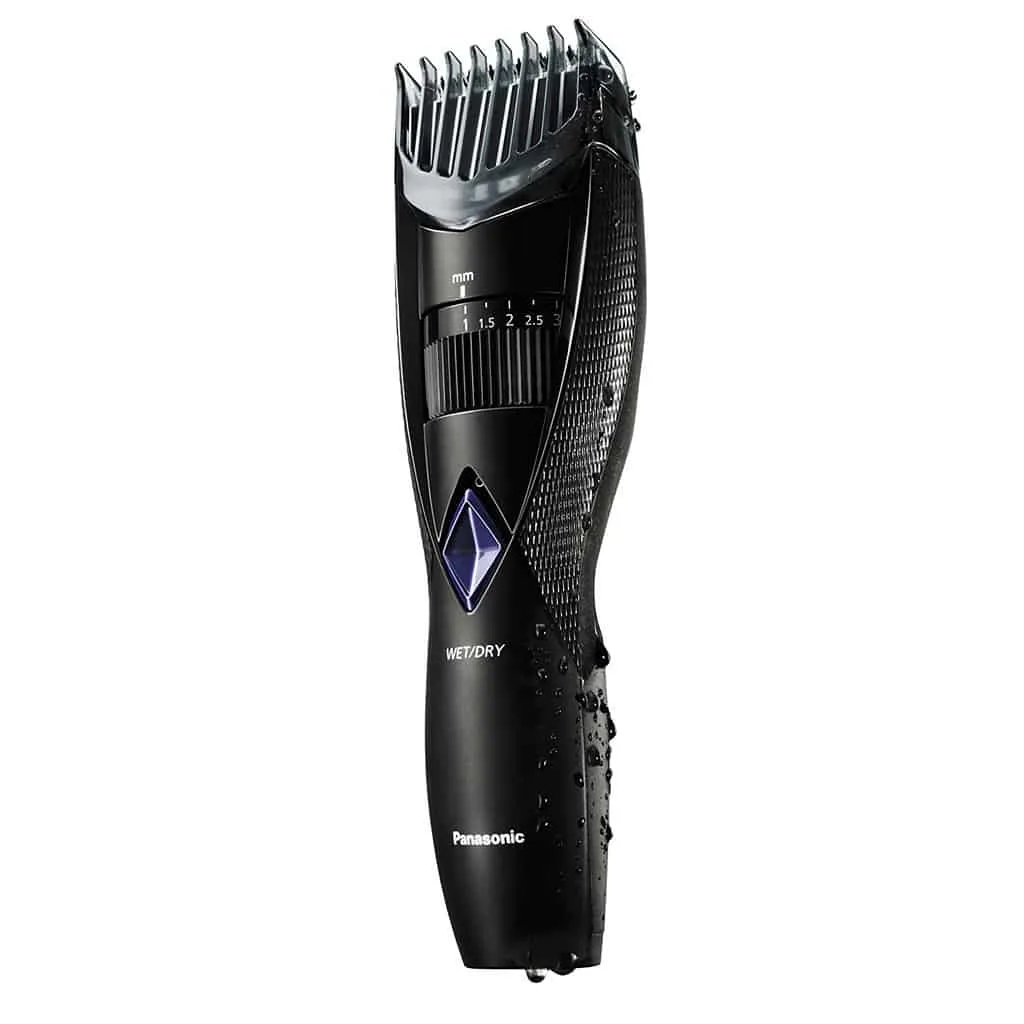 Panasonic Wet and Dry Cordless Electric Beard and Hair Trimmer ER-GB370K
opinion
We liked how durable this trimmer looked and felt while weighing only about 7 ounces. It's a great option for men, who need a versatile trimmer.
Pros
19 trim settings
Versatility
Water resistance
Lightweight
Cons
Slow charging
Cheap charger design
#3. Panasonic ER-GB80-S Body and Beard Trimmer
This trimmer has a whopping 39 trimmer and clipper settings. You can use in on all parts of your body. The 45-degree stainless steel blades do a wonderful job dealing with hair of all length and thickness. The trimmer dial is easy to adjust depending on your preferences. The trimmer is well designed and offers an easy grip.
If you like traveling, you'll enjoy the trimming kit since it has a universal adapter. The attachments and a cleaning brush come in the box.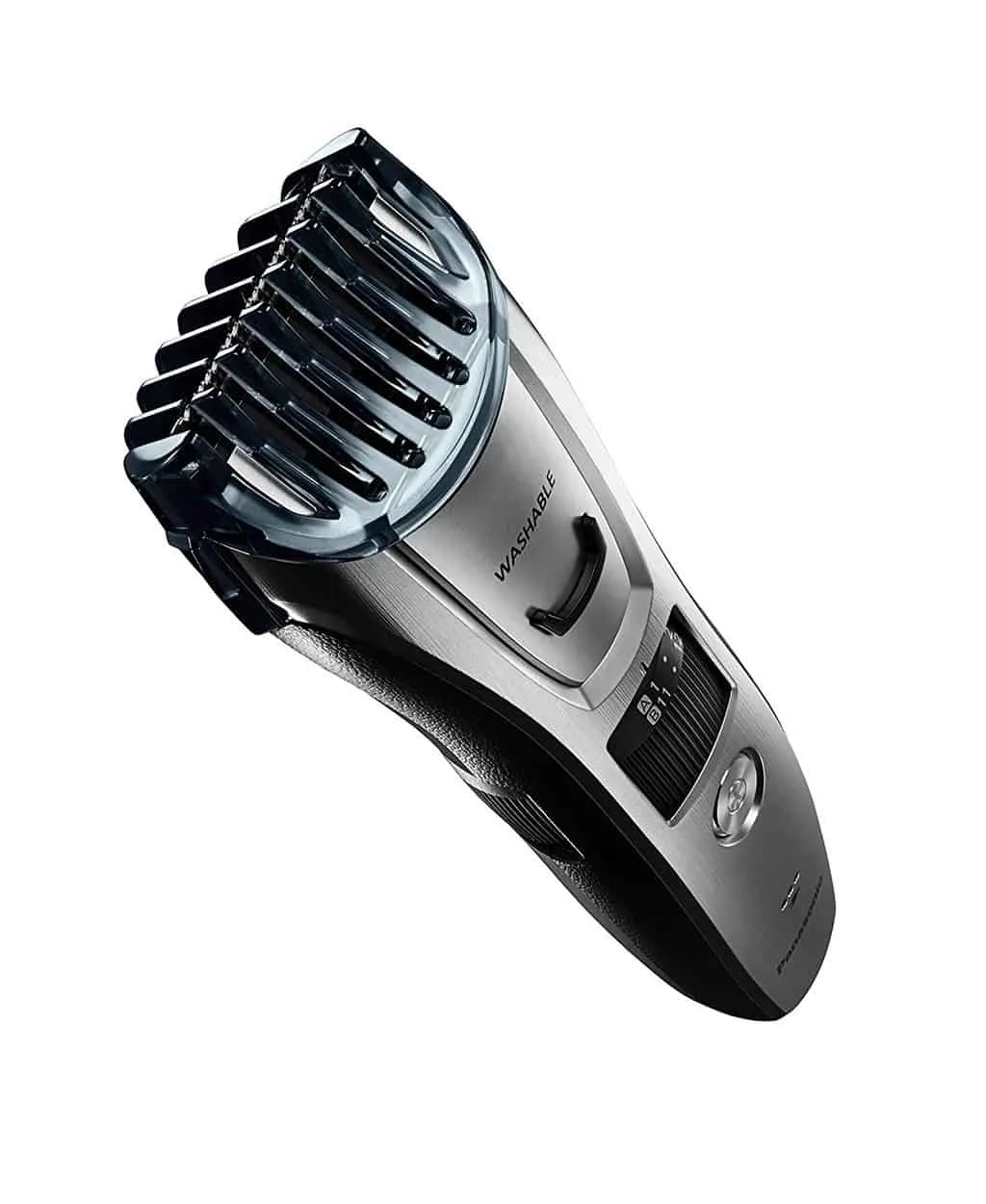 Panasonic ER-GB80-S Body and Beard Trimmer
opinion
We liked the option of using this clipper when plugged into the socket as well as without a cord. The corded operation makes the trimmer more powerful and easy to use. It's waterproof too!
Pros
39 trimmer and clipper settings
Universal adapter in the box
Nice design
Easy to use
Versatile
Cons
Formidable price tag
Needs frequent cleaning
#4. Panasonic ES-LA93-K, Arc4 Electric Razor
This high-quality Panasonic beard trimmer model is a shaver with trimming elements. It has a precise 4 blade system, a powerful motor, and a great design. You can use this razor if you have a short beard since the trimming elements are not too varied. Men with goatees and stubbles can appreciate the power of this model. The pop-up trimmer is built-in. The model provides wen and dry operation. You can enjoy a clean shave and a precise trim in the shower.
The ergonomic design makes this razor easy and enjoyable to handle.
Panasonic ES-LA93-K, Arc4 Electric Razor
Opinion
This is obviously a top-notch product. It feels great and works fast. However, it won't help you trim the hair on your body since its trimming powers are limited.
Pros
Powerful motor
Beautiful design
Nanotech blades
Ergonomic handle
Cons
Noisy Cleaning Section
Blinking Display of Charger Section
#5. Panasonic ER224S Men's Cordless Wet/Dry Hair, Beard and Body Electric Trimmer
This is a great versatile trimmer for men, who are on a tight budget. It deals with all types of hair, including beard, mustache, neck, arms, and more. The sharp stainless steel blades make trimming fast and simple. It's a waterproof model so you can use it in the shower.
The Panasonic trimmer has 14 adjustable trim settings to help you pick the length of your hair. It has a certain learning curve, so you need to spend some time reading the manual before starting a trimming session.
Panasonic ER224S Men's Cordless
Opinion
This trimmer seems to have all the necessary features of a good versatile model. It also comes at a fair price. However, when you hold it and adjust the settings it seems to lack durability.
Pros
Versatile
Water resistant
Stainless steel blades
Lightweight
Moderate price
Cons
Somewhat flimsy
Has a learning curve
Final Verdict:
It was a tough job to find the best Panasonic beard trimmer on the market. After experimenting, testing, and reading other reviews, we came up with a winner Panasonic Milano All-in-One Trimmer, ER-GB40S
Panasonic Milano All-in-One, ER-GB40-S
It has everything that a good trimmer should. It's light, versatile, fast, powerful, moderately priced, and ergonomic. It has many different length settings and attachments and holds the battery charge for 50 minutes.
Pros
Versatile
Easy to handle
Sharp blades
Cons
Not suitable for thick hair
Lack of power
Things to Look for When Choosing A Beard Trimmer
Design: Is it lightweight and portable?
Usability: How many attachments does it have (which increments)?
Versatility: Can you use it to trim the hair on other body parts?
Blades: Are they sharp and precise? Stainless steel blades usually do the job well.
Durability: Does it look and feel durable?
Cord: Does it offer corded and/or cordless operation?
Battery power: How long does it take to charge the battery? How long does it last after one charging session?
Grip: Does it have a comfortable handle?
Price: Is it fairly priced for your needs?
Warranty: 1 to 2- year warranty is a nice bonus for any trimmer.
Reviews: Does it have more positive than negative reviews?
Accessories: Such accessories as a travel bag, oil, and cleaning brushes are a great addition.
Learning curve: Does it take a while to learn how to use the trimmer?
Tips for Using Beard Trimmers
Oil the trimmer before each use and clean it after.
Start by trimming the neck and cheek hair, move on to the mustache, and finish with the beard.
Always keep your trimmer charged.
If you are using a trimmer for the first time, start with a longer attachment comb.
Remember that wet hair is longer than dry hair so it's better to work on a dry beard.
Invest in a large mirror to make beard trimming easier.
If you need more power, use a beard trimmer when it's plugged in (only works for trimmers with a corded option).
If the trimmer is making strange sounds, turn it off, clean, charge, and try again.
Try to find a comfortable position before starting to trim your beard. You'll need to stand/sit like this for a while.
Frequently Asked Questions
Q: How often should I clean my beard trimmer?
A: It depends on how often you trim your beard and how thick your hair is. Ideally, you should clean the unit after each trimming session.
Q: Is oiling a trimmer really necessary?
A: There is a reason why most trimmers come with a small oil bottle. Oiling your trimmer before each trim keeps it working better longer. If your trimmer doesn't come with an oil bottle, you can use any vegetable oil instead.
Q: Can I use a beard trimmer to shave?
A: Some beard trimmers work as razors if you don't use any attachments. However, you may not get a close shave unless you choose a versatile trimmer specifically built for shaving.
Q: Can I wash my trimmer?
A: Carefully read the manual. Some trimmers are water resistant and can be washed. If your trimmer is washable, it makes the cleaning much easier.
Q: How can I manage the thickness of my beard?
A: If a trimmer comes with a length guard comb, you can use it to correct the thickness.
We hope you'll find out reviews useful when choosing your perfect beard trimmer. Even if you don't like the above-mentioned trimmers, you can take advantage of our tips when looking for your ideal model. A beard trimmer is an irreplaceable assistant. Even if you are just starting to grow a beard, consider investing in one.
Last update on 2023-03-28 / Affiliate links / Images from Amazon Product Advertising API