A short beard accompanying a long mustache can bring out an utterly different personality of a man. Some guys are afraid to grow a long mustache with light stubble or any short beard and some guys take the risk to try an innovative combination.
If the style fits the personality, it brings an elegant manly vibe with distinct confidence and more self-esteem. It can be a great option for those who want to add some character and style to their look without committing to a full beard.
The contrast between the short beard and the long mustache creates a striking visual effect that can make a bold statement without being too overwhelming. Plus, the versatility of the style means that you can customize it to suit your personal preferences and style.
Let's take a closer look at the combination of short beards and long mustaches. Also, explore how to grow, trim and shape it.
What's A Short Beard and Long Mustache Style?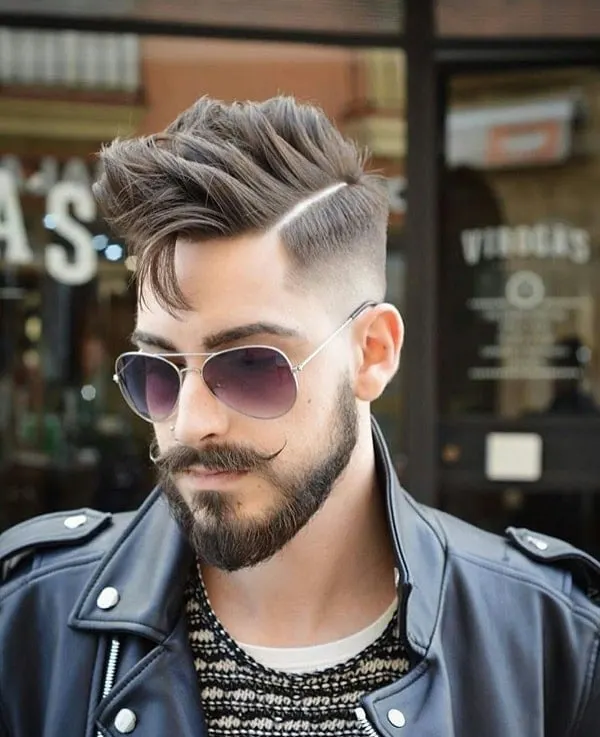 A short beard style means allowing the hair on the cheeks, chin, and jawline to grow out, but keeping it relatively short in length, typically no longer than 2 inches (5 cm). It should be also at least 0.3 inches (0.7cm) else it will be called a stubble beard, not a short beard.
Short beard and long mustache is a combination of facial hair where the beard is kept between 7mm to 50mm and the mustache at least crosses the edges of the upper lip.
This style is often associated with a vintage or classic look, but it can be updated to suit modern trends and can be customized to suit a wide range of face shapes and personal styles.
How to Get A Classy Short Beard and Long Mustache
Follow the below tips to get the perfect short beard with a long mustache:
Step 1- Decide Your Short Beard Style
The short beard can come in any shape and style (i.e. goatee, medium Stubble, soul patch, chin strap, etc.). Decide the beard style according to your face shape and preference.
Step 2- Grow A Short Beard
Let the beard grow for at least 2 weeks to achieve the minimum length of a short beard (7mm). This growth period may vary from man to man according to facial hair growth speed and lifestyle. You can wait and grow a full beard but make sure to trim the beard length below 5cm.
Step 3- Grow Mustache
While growing a short beard, pay extra attention to your mustache as it is a core part of your whole look. Let your mustache grow, Take proper care of it. Apply mustache wax or gel to shape it, once you achieve a long mustache.
Step 4- Shape the Mustache
You can shape your mustache into any style you like. There is no restriction in shaping the mustache. If you want an edgy look, apply beard balm on both ends of mustache and twist it into the upward pointed directions. This pointed look fits on thick short beard, goatee and soul patches e.t.c. You can shape the long mustache into horseshoe shape as well.
How to Trim Short Beard and Long Mustache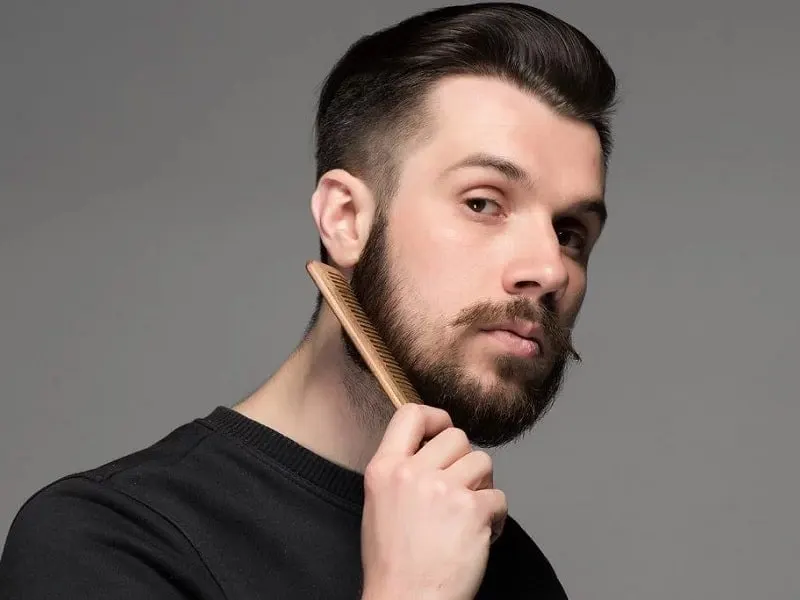 Wash and Dry: Start trimming when you achieve long mustache and at least 2 cm short beard length. Before trimming, wash and thoroughly dry your beard. Never trim your wet beard.
Trim Neckline: While trimming the short beard, avoid trimming above the neckline area. Trim the neckline hair above the few distances away from Adam's apple. If you want to have only a soul patch, clean-shave the cheeks and neckline area, and leave few facial hairs below the lower lips in the triangular shape.
While trimming the neckline, maintain the symmetry. We proposed you to visit the professional barber for this purpose.
Trim Cheek lines: Trim the cheeks and cheek lines with the help of a clipper. Set the clipper size according to beard styles. Your barber will do a perfect job for you.
Trim Mustache: Trim your long mustache with the help of small mustache scissor while combing the mustache hair downward. Only trim the mustache hair that's covering your upper lips. Lift the mustache's ends and trim it in such a way that it turns into handlebar shape.
Watch The Following Video on How to Trim Short Beard at Home while Keeping the Mustache Long
Cool Short Beard Styles With A Long Mustache
If you are searching for the best combination of the long mustache with a short beard, you are in right place. Here, you will delve into an amazing compilation of long mustache and short beard styles.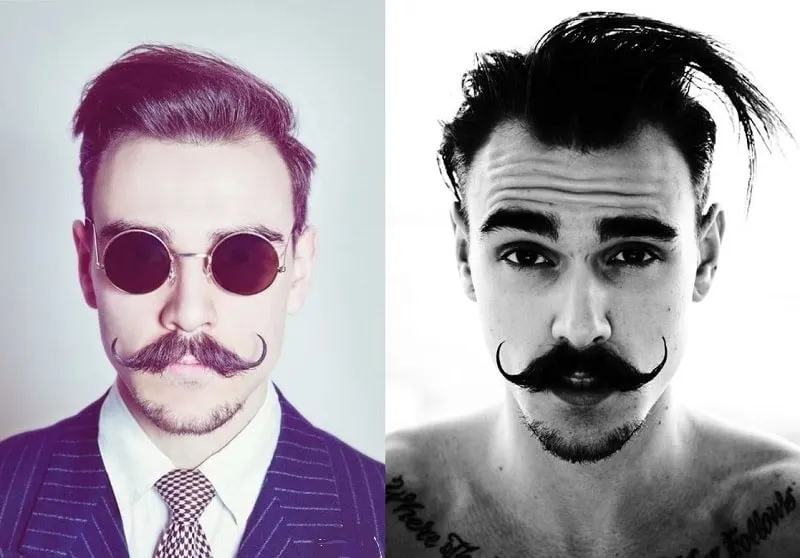 This combo has its own swag. Long handlebar mustache along with trimmed goatee looks so impeccable that you will forget about growing long, bushy beards. You need mustache balm or gel to turn the mustache into a pointed curve.
2. Soul Patch With English Mustache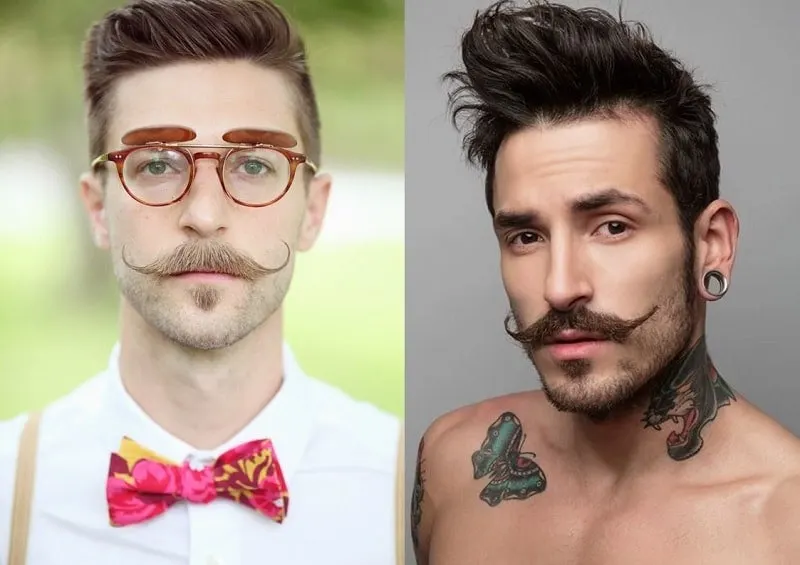 Break the stereotype of growing a long mustache with a long beard and go with this superbly delightful and unique combo that will be formed by combining 3-day stubble, soul patch, and a long English mustache. The incorporation of blonde dye will add more charisma to the whole style.
3. Short Full Beard and Long Mustache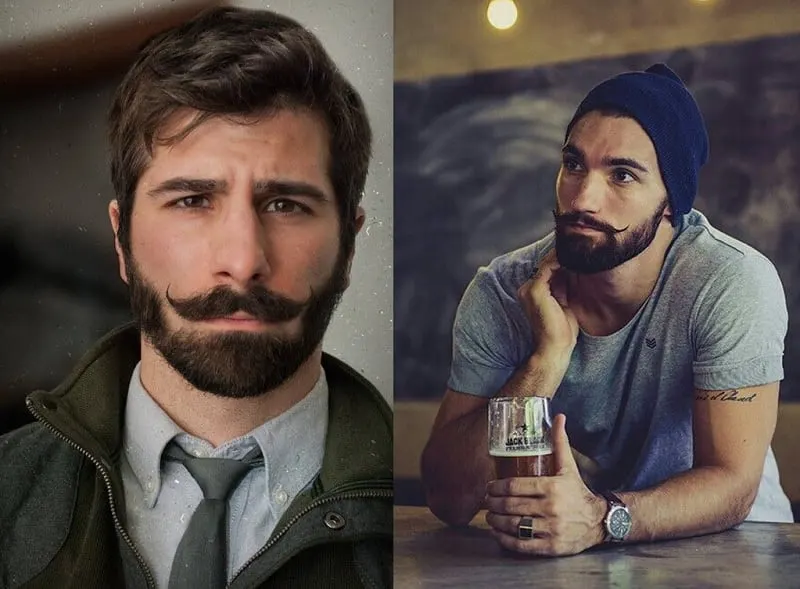 Give more impact and masculinity to your short beard by growing a prominent thick, long mustache. Maintain the cheek lines and neckline area neat for a polished and presentable look.
4. Patchy Short Beard & Petite Handlebar Mustache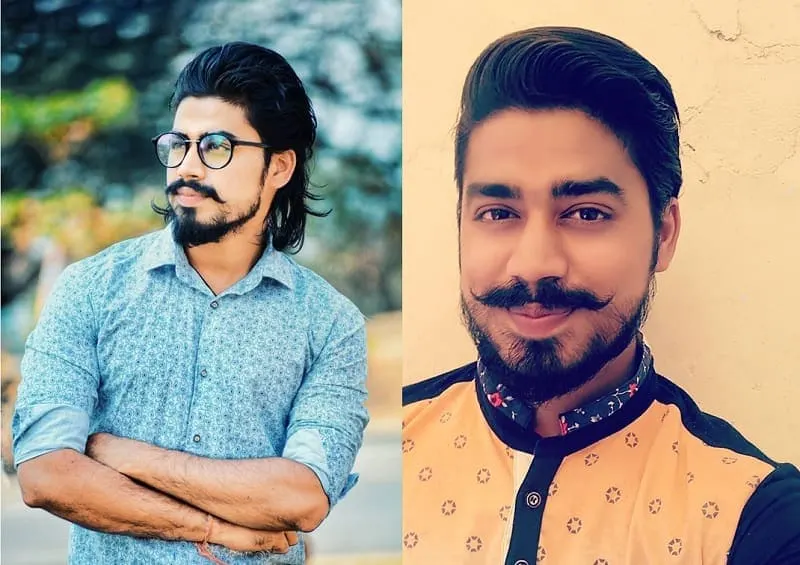 Do you have a patchy beard? No worries! Focus on the grooming of your mustache, give it proper shape and when you will observe the power of your mustache, you will be amazed to know that how astonishingly it will be complimenting your patchy beard.
5. Short Ducktail Beard and Long Walrus Mustache
After seeing this short ducktail beard and long walrus mustache combo, it will become difficult for the ladies to hold their hearts! It is beyond aptness. Apart from the fact that it is an Irish beard, the way it is groomed, trimmed and maintained; no one can deny its original beauty.
6. Long Horseshoe Mustache and Short Beard
It's one of the coolest mustache and beard combinations. It is for sure, not for office guys but for those who are adventurous and in need of continuous research to try something bold. Horseshoe mustache is pairing with light stubble in a marvelous way.
7. Soul Patch and Pointed Horseshoe Mustache
Want to try something out the box? This innovative and unusual combination is particularly for you. It resembles a horseshoe mustache, but have pointed and curvy ends. No need to grow stubble or full beard as soul patch is enough to play the entire game.
8. Daring Dali Meets Chin Curtain
Unleash your artistic side with a Salvador Dalí mustache, characterized by its sharp, upwardly curled ends. Pair this striking mustache with a minimal chin curtain beard, adding sophistication to your daring look.
9. Handlebar Hero and Stubble Sidekick
Command the room with a bold handlebar mustache, its ends curled to perfection. Combine it with rugged stubble, creating a harmonious balance between refinement and a carefree spirit.
10. The Imperial Adventurer
Become the talk of the town with an Imperial mustache, featuring grand, outward curls. Complement this regal style with a short, well-groomed beard that showcases your taste for adventure.
11. Chevron Chic and Soul Patch Swagger
Sport a Chevron mustache with curled ends for a suave appearance. Accentuate this style with a small but stylish soul patch, adding a touch of modern charm to a classic look.
12. English Elegance and Goatee Grace
Embrace the refinement of an English mustache, its whiskers curled gracefully at the ends. Enhance this sophisticated look with a sleek goatee, the perfect complement to your polished appearance.
13. Hungarian Hustle and Disconnected Delight
Showcase your bold side with a bushy Hungarian mustache, its ends curled and full of personality. Pair this with a disconnected short beard, adding an edge of modernity to a traditional style.
14. Walrus Whimsy and Barely-There Beard
Channel your inner walrus with a long, droopy mustache that gently brushes your upper lip. Combine this playful style with a barely-there beard, creating a unique, lighthearted look.
15. Long Dandy Mustache and Anchor Beard
Wear a dandy mustache, its ends curled to create an air of sophistication. Anchor this look with a well-groomed anchor beard, making a lasting impression wherever you go.
16. Cowboy Mustache and Stubble Charm
Embrace the wild west with a cowboy mustache, its ends subtly curled for a rugged touch. Pair it with a charming short stubble, showcasing your fearless spirit.
17. Fu Manchu and Short Balbo Beard
Explore your adventurous side with a Fu Manchu mustache, its ends curled upward. Pair this striking style with a bold Balbo beard, emphasizing your fearless persona.
18. Long Royale Mustache and 7mm Short Beard
A royale mustache, featuring majestic outward curls. Complement this regal style with a 7 mm beard adding a touch of modernity to a time-honored look.
19. The Horseshoe and Chin Puff
Sport a pointed horseshoe mustache with curled ends, showcasing your individuality. Pair this with a dashing chin puff, adding a touch of poise to your maverick style.
20. The Walrus and Short-Boxed Beard
Channel the surrealist master with a bushy walrus mustache. You can make its ends connect with the beard in a box shape and rock a dashing short beard with a long mustache.
So, you see growing a facial hair can be so much fun when you implement creative ideas just like the abovementioned short beard and long mustache styles. These styles have broken the stereotype, i.e. short mustache can only be grown with short beard and thick, long mustache suits long beard only. But, now we hope you got the concept and will try at least one the above-given styles to rock your looks.