Facial shape and structure are very important factors to keep in mind when choosing the proper beard style. Since certain styles don't look good on certain faces, it's best to know which styles would suit you the most. Round face shapes are a bit complex, as they offer no definitive jaw bone structure, leaving the face looking less than masculine.
The key to styling round faces is elongating the face in order to make it appear clean, staying away from bushy sideburns, and creating some type of jawbone structure. Here are some perfect beard styles to consider if you have a round face shape.
Tips to Style A Beard for Round Face
Round face can be challenging for men while styling a beard. A perfect beard style can change the semblance of the round face shape to lean, long or even plump. But among all the varieties of styles & sizes to pick the one that will best complement your shape to look it more symmetrical or slender is crucial.
Let's find out how to style beard on your round cheeks and own it like a PRO.
Keep Your Cheeks Less Bushy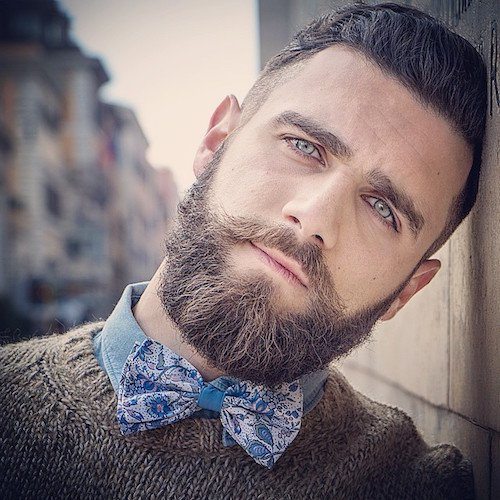 As the round cheeks are naturally chubby a full bushy beard adds more to it & make it look bigger. So I guess it goes without saying that stubble or clean shaven cheeks will drag out your cheekbone more and give you a slim look.
Make Your Beard Long
Combination of a disc-like face shape and voluminous facial hair doesn't bode well for a slimmer look. Not to mention volume on sides will make the face more round. Hence, trimming the strands short on sides and long on cheekbones can help you have a full beard with a stretched look.
Cut Your Beard in Straight Lines
Straight lines help to lessen the round shape and to make it look thinner and more defined. By cutting your beard straight will help you get a thinner and chiseled jaw shape.
Shape The Chops Correctly
Chop's shape can make changes to your face shape. A round face may appear longer and thinner by the chops that are straight and have less volume. The chop should be less bulky and shouldn't extend to the cheek otherwise, it will look awkward.
The goatee is a very good option as in this style the cheek area is less focused. So the face looks longer and thinner because of the parallel straight lines of the goatee.
Grow Beard On Your Neck Area to Hide Your Double Chin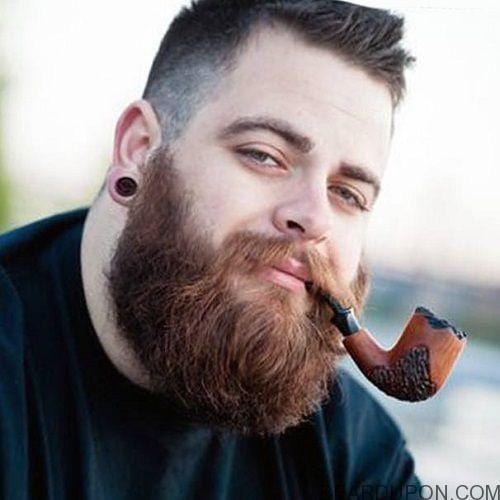 Beard on the neck area is a very good idea to hide the double chin if exist. And also you can make your round face looking vertically continuing by the neckbeard and can have a thin face look.
Keep Your Beard Aligned
If you have a round face, then you may want to have a long and thin face look using your beard. For this, you need to avoid the full beard and any misaligned beard style because, in these styles, the cheeks are highlighted. You can use some tools to draw such as scissors, razors and also use a hot brush, a wooden comb, and other beard accessories to align your beard.
Explore Various Beard Styles
Undoubtedly these tips are very useful but those aren't, like, set in stone or anything to give you your ideal beard style. Since it is unpredictable whether the styles will suit you or not so it's better to try-out styles to find out the best complementing styles for you.
Best Beard Styles for Round Face
The goatee is more of a go-to option for round face shapes. Since the goatee brings more focus to the chin and mouth, the roundness of the face becomes semi-defined. Here are a few great goatee looks to choose from.
1. Short and Sweet
This goatee features a clean shaved faced with a mustache, beard and small soul patch. You can decide whether or not you want your mustache to extend to your beard, but this style is detached.