Facial shape and structure are very important factors to keep in mind when choosing the proper beard style. Since certain styles don't look good on certain faces, it's best to know which styles would suit you the most. Round face shapes are a bit complex, as they offer no definitive jaw bone structure, leaving the face looking less than masculine.
The key to styling round faces is elongating the face in order to make it appear clean, staying away from bushy sideburns, and creating some type of jawbone structure. Here are some perfect beard styles to consider if you have a round face shape.
Tips to Style A Beard for Round Face
A round face can be challenging for men while styling a beard. A perfect beard style can change the semblance of the round face shape to lean, long or even plump. But among all the varieties of styles & sizes to pick the one that will best complement your shape to look it more symmetrical or slender is crucial.
Let's find out how to style a beard on your round cheeks and own it like a PRO.
Keep Your Cheeks Less Bushy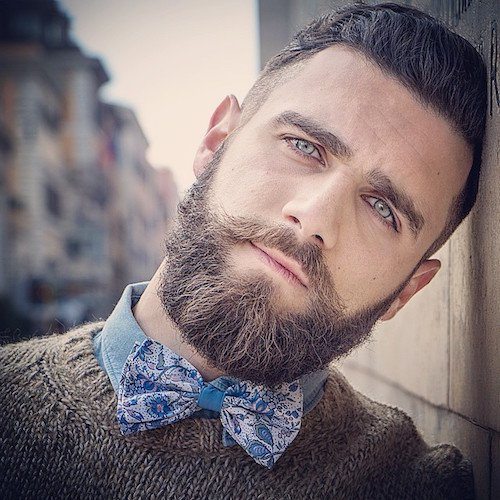 As the round cheeks are naturally chubby a full bushy beard adds more to it & makes it look bigger. So I guess it goes without saying that stubble or clean-shaven cheeks will drag out your cheekbone more and give you a slim look.
Make Your Beard Long
Combination of a disc-like face shape and voluminous facial hair doesn't bode well for a slimmer look. Not to mention volume on sides will make the face more round. Hence, trimming the strands short on sides and long on cheekbones can help you have a full beard with a stretched look.
Cut Your Beard in Straight Lines
Straight lines help to lessen the round shape and to make it look thinner and more defined. By cutting your beard straight will help you get a thinner and chiseled jaw shape.
Shape The Chops Correctly
Chop's shape can make changes to your face shape. A round face may appear longer and thinner by the chops that are straight and have less volume. The chop should be less bulky and shouldn't extend to the cheek otherwise, it will look awkward.
The goatee is a very good option as in this style the cheek area is less focused. So the face looks longer and thinner because of the parallel straight lines of the goatee.
Grow Beard On Your Neck Area to Hide Your Double Chin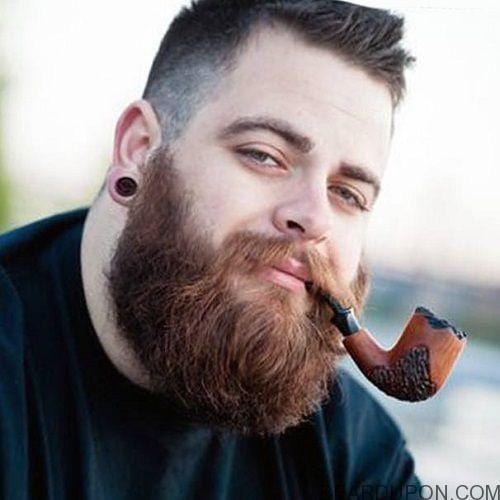 Beard on the neck area is a very good idea to hide the double chin if exists. And also you can make your round face looking vertically continuing by the neckbeard and can have a thin face look.
Keep Your Beard Aligned
If you have a round face, then you may want to have a long and thin face look using your beard. For this, you need to avoid the full beard and any misaligned beard style because, in these styles, the cheeks are highlighted. You can use some tools to draw such as scissors, razors and also use a hot brush, a wooden comb, and other beard accessories to align your beard.
Explore Various Beard Styles
Undoubtedly these tips are very useful but those aren't, like, set in stone or anything to give you your ideal beard style. Since it is unpredictable whether the styles will suit you or not so it's better to try-out styles to find out the best complementing styles for you.
Best Beard Styles for Round Face
The goatee is more of a go-to option for round face shapes. Since the goatee brings more focus to the chin and mouth, the roundness of the face becomes semi-defined. Here are a few great goatee looks to choose from.
1. Unkempt Heavy Stubble
This is one of the most popular beard styles out there for those with round faces. The unkempt look due to the grown-out neck area adds the feeling of freedom and less regard for the rules.
2. Heavy Stubble
A heavy stubble is a popular reason, one of them being that it accommodates faces of all different shapes and sizes.
3. Patchy Light Stubble
If you think that patchy beards and round faces don't go well together, you've been going reading the wrong articles. As you can see here, a patchy beard, if maintained well, can be a fine complement to a round face.
4. Long Beards
Long beards of all shapes and sizes are perfect for a round face. Especially if you want to add more length and manipulate the width into what suits you best.
5. Goatee
A goatee, unlike popular belief, is a good fit for a round face, especially if you keep the rest of the facial hair in a very light stubble.
6. The Garibaldi
The Garibaldi is a long beard that is shaped to appear as if it's growing in a slanted direction towards the outside and lifted slightly pointing upwards. This is a hard look to get to but is definitely worth it.
7. The Hulihee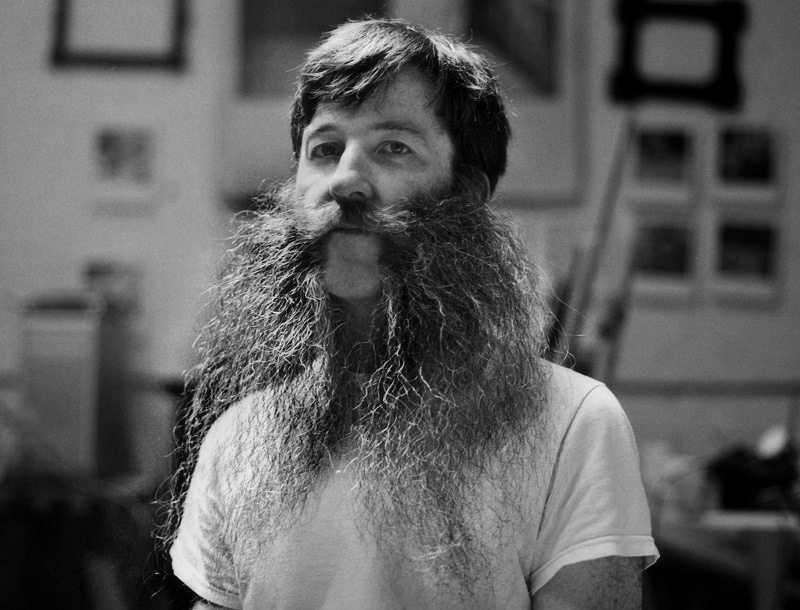 The Hulihee beard style consists of growing out your mustache and sideburn and connecting them with facial hair and then letting it all grow out. It helps customize the depth and width of your cheek and jaw area to your liking as it completely hides your cheeks.
8. The Hollywoodian
The Hollywoodian is any beard grown around the chin and jaw lines that connects with your sideburns. While the mustache is an option you can or can not go for, the cheek area is kept completely clean shaved. One of the most popular beard styles for a round face.
9. The Lumberjack
While there are many variants of the lumberjack beard style, this one is certainly one of the most accommodating for a round face.
10. Handlebar Mustache with Long Beard
A long beard can allow you to change the apparent width and length of your face, but adding a handlebar to it can completely change the game.
11. White Full Beard
If you have white facial hair, the best thing you can do for yourself is growing it into a full beard.
12. Friendly Mutton Chops
Round faces usually give off a friendly vibe anyway, combine that with friendly mutton chops. It's a perfect look to customize your face's apparent length and width however you want.
13. Neck Beard and Extended Goatee
If you have a high beard growth rate around the neck, you should definitely grow a long neckbeard and combine it with a goatee.
14. Black Men Beard
The Hollywoodian is a popular style, especially with black men with round faces. You could get rid of the mustache too if you're feeling extra brave.
15. Light Stubble with No Mustache
There are plenty of customizations that you can make to your light stubble beard. If you've got a round face, getting rid of the mustache could make you're light stubble look extra fresh.
16. Short and Sweet
This goatee features a clean shaved faced with a mustache, beard and small soul patch. You can decide whether or not you want your mustache to extend to your beard, but this style is detached.
17. A Little More Full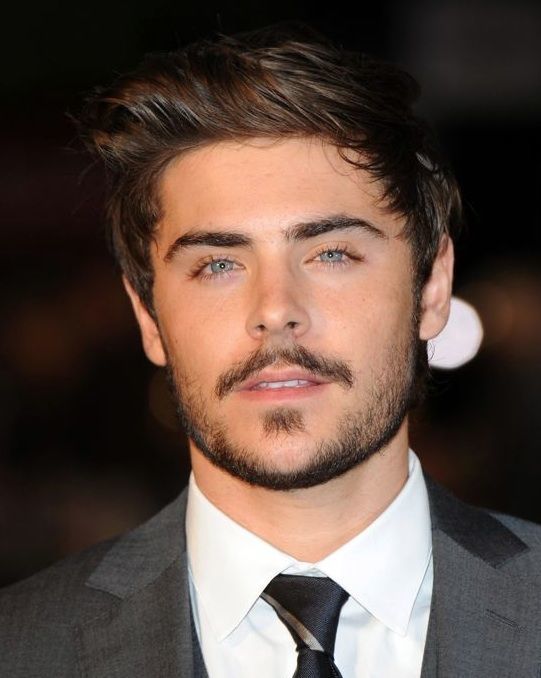 If you aren't too fond of the clean-shaven look, here's a detached goatee that leaves a little bit of scraggly. The mustache, soul patch and chin beard are left to be rather prominent, while the rest of the beard has been either trimmed very low or grown back in.
18. Classic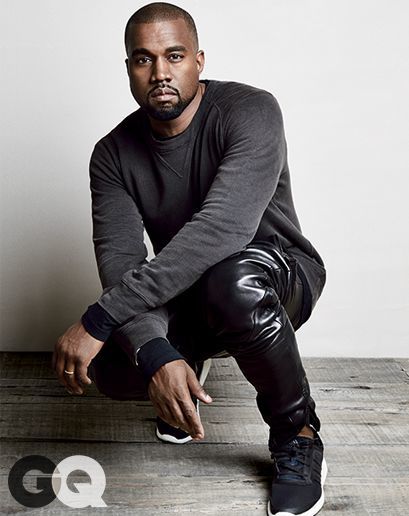 Here's a classic version of the goatee with the mustache attached to the beard, sported by Kenya West. He is known for his round face, and typically wears this form of goatee in order to enhance his chin structure.
Close Cut Beards
Keeping the beard trimmed close to the skin is another beard style for round faces. Be sure that you are either detaching the beard form the sideburns, or fading the sideburns out because they can make the face appear even rounder.
19. Barely There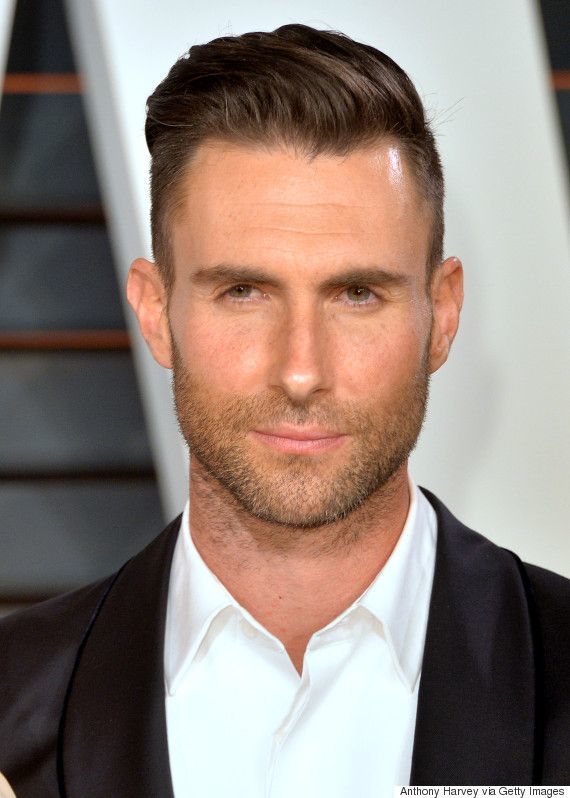 Here's a beard style that leaves little to the imagination. While hair covering the entire face, the beard is cut down so low that it almost seems as though it isn't there. This look would suit someone whose beard grows in a similar color as his skin color.
20. Be Bold
This look features a fuller version of a closely trimmed beard, which emphasizes the cheekbones and chin with clean lines. The mustache is fairly prominent in this look, drawing attention away from the cheeks and toward the mouth.. You can alter this look by either fading or shaving off the sideburns.
21. Modesty is Policy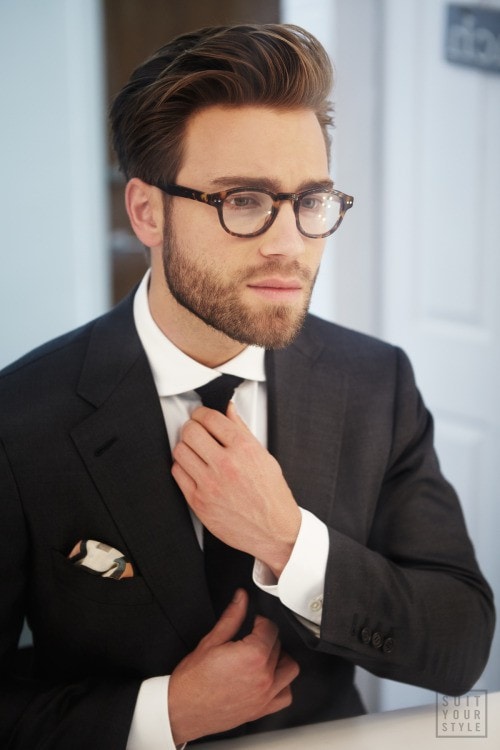 Here's a look that is similar to the last, but features a shorter mustache and close trim. Reducing the emphasis on your mustache will allow the structure of your chin to shine through, especially if you've extended your soul patch into your beard as pictured above.
22. The Natural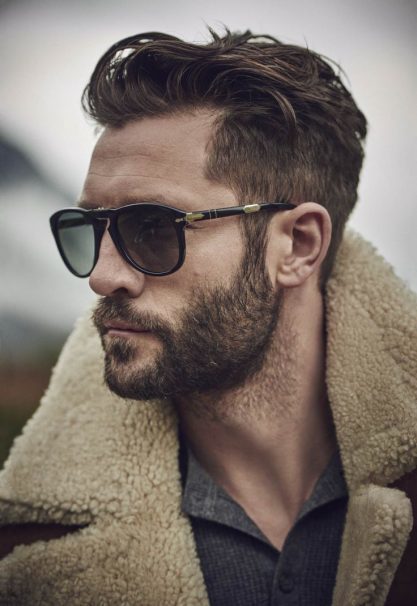 This look offers some not-so-clean edges, giving the beard a very carefree, effortless look. Just allow the beard to grow in as it naturally does, trim the outline of your goatee and soul patch and you're all set. You should alter this look by fading the sideburns or shaving them off.
23. Fade Away
Here's a perfect example of a close-shaven beard with faded sideburns. This look emphasizes the jaw structure without getting lost in the shape of the face.


Full Beards for Round Face
Full beards on round faces aren't hard to pull off, granted you follow the right rules (which have pretty much been the same rules throughout): shave off or fade the sideburns and try to bring more focus to the chin area. These styles are great options for those who don't like a clean shaved face. Here are a couple of full beard styles that you can try.
24. Modest Chin Beard
This full-bearded look features a style that emphasizes the face by allowing the hair to grow long on the chin and taper up into the jaw.
25. Let it Grow
Here are two great examples of how to style your full beard when you have a round face shape. Letting the beard grow will naturally elongate the face. Couple that with shaved or faded sideburns and you've got the perfect style in which to enhance the masculinity of the face.
26. Artistic Goatee beard
A Goatee beard is often considered to be an artistic choice for beard. Shave the sides of your beard away so that they do not connect with your sideburns at all, but let your beard connect up with your mustache so that it all frames your mouth.
27. Beard Art
Trying your hand at beard art is half the fun of having a bushy beard. All that you need is firm-hold styling gel and then you have the freedom to create something that matches your personality. Try symmetrical or asymmetrical patterns. Wash it out and then start again with something new the next day!
28. Chin Beard and Mustache
This style is a great choice if you aren't ready to commit to a full-on goatee just yet. Keep your mustache and your beard separate to stop your facial hair from forming a full-on goatee. If you want a more full-on style, allow your thick chin beard to meet up with your sideburns.
29. Scruffy Mid-Length
This hot, hipster look is a little bit rough and ready but manicured in equal measures. You will have to work to give your beard an attractive scruffy chic look. Tease your beard hairs so they come out at unusual angles to create a messy look.
30. Sexy salt and Pepper

If your beard is tinged with flecks of grey, you should wear your look with pride. Many men and women think that salt and pepper coloring in a beard style actually shows that a man has a lot of knowledge and experience. So you should let your grey grow through!
31. Short but Full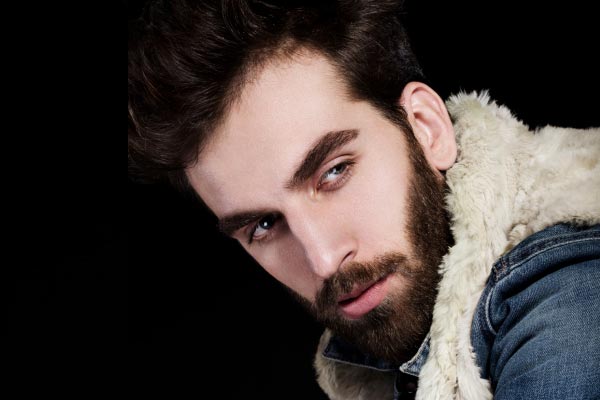 A full beard does not necessarily have to be a long one. Keeping your beard short and full will give your look real intensity, because of the strong color. Some people cannot grow a beard this thick, so feel lucky if you are able to, because it is a very manly style.
32. Wispy Beard with a Strong Soul Patch
This style proves that you don't need an intense beard to look super hot. A wispy or thin stubbly beard can easily be offset by having intensity in other areas of your face. In this style, a prominent soul patch and thick mustache really draw the eye.
33. Line Up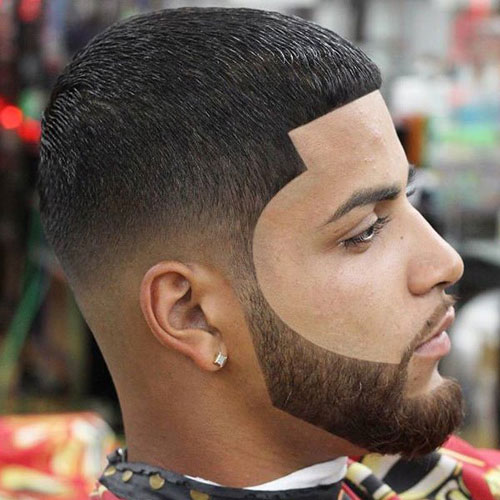 Line-up hairstyles are one of the hottest styles around at the moment. Your beard will be made up of smooth curves and sharp angles. In order to keep your lines looking razor-sharp, you will need a steady hand and you will have to do regular maintenance on your look.
34. Thick Pointed Beard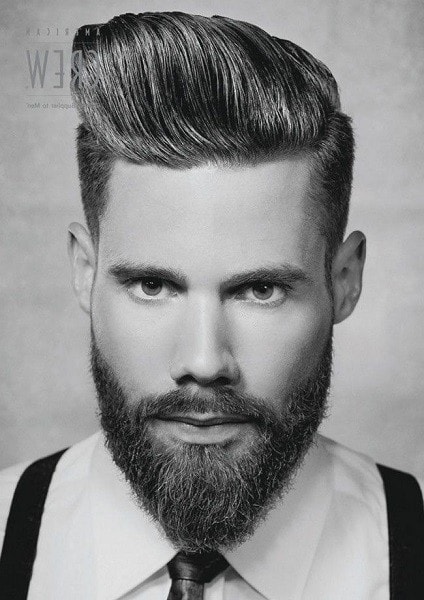 If you have a round face, you can make it look more angular by styling your beard in an angular fashion. Grow your facial hair to a medium length and then trim it so that it is really slanted. Square off your point at the end to integrate more angles into this cool sharp style.
35. High Cheekbones
Guys with high cheekbones and sunken cheeks are all the rage in the fashion world. You can actually style your beard so that it makes your cheekbones look more pronounced. Just grow your beard so that it curves around under your cheeks. This look will make people stop and take notice.
36. Goatee With Long Mustache
The length of your mustache can completely affect the way that your goatee looks. A longer thicker mustache is the perfect choice if you want to create a mysterious, sultry or brooding style. Think Jon Snow in Game of Thrones if you are looking for the perfect example.
37. Square Jaw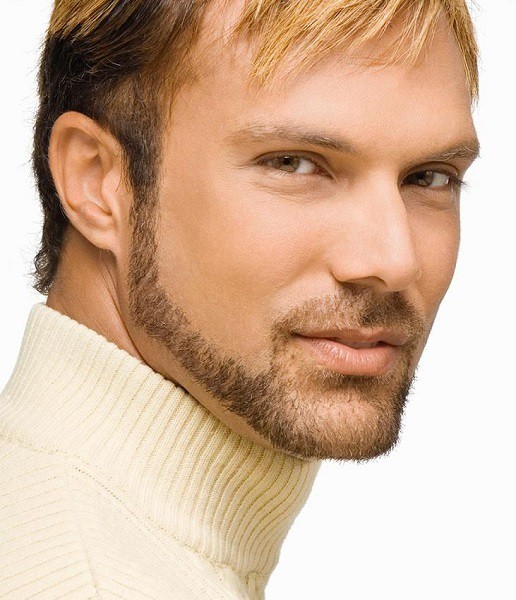 Use a square jaw beard to create the illusion of angles, even if your jaw isn't all that square at all! Use line-up techniques to trim your beard so that it is made up of very straight lines and sharp corners. This will help to give your face a square look.
38. Thin Beard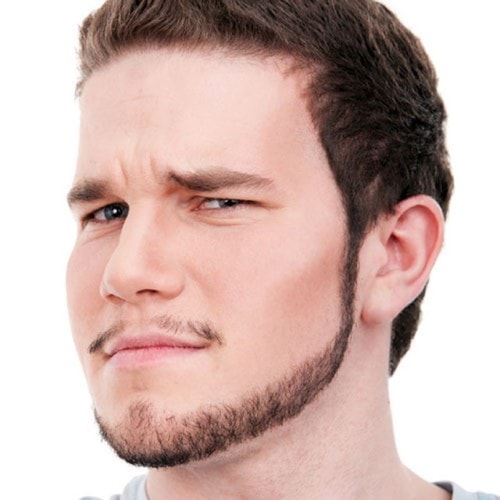 This style is for guys who have trouble growing a full thick beard, but who still want cool facial hair. Even if you can only grow wispy hair, it will look more intense if you trim it so that it forms a thinner line. Keep your beard and mustache separate.
39. Soul Patch Beard with Mustache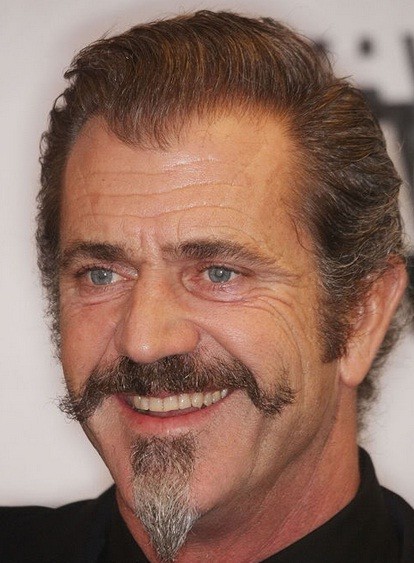 Just a soul patch and mustache combination can actually help to elongate a round face. By drawing attention to your mouth and chin, you are helping to make your face seem longer. A wide mustache can also help your face to look much narrower.
40. Thin Goatee Style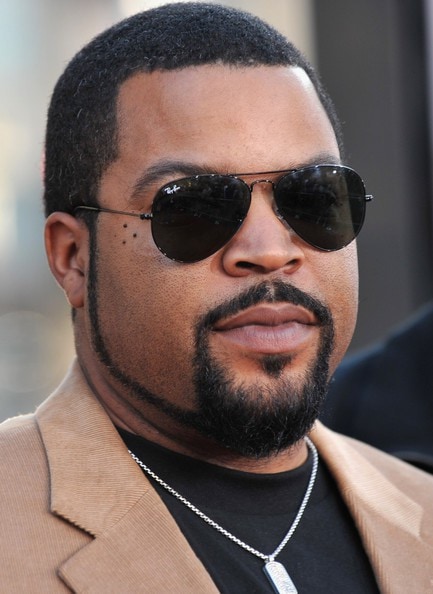 This goatee style is one which is favored by people who are wanting to elongate their face. The thinness of the side sections really helps to make the face shape look less round. You will find loads of music producers and recording artists with this trendy look.
More Beard Styles for Men With Round Shape face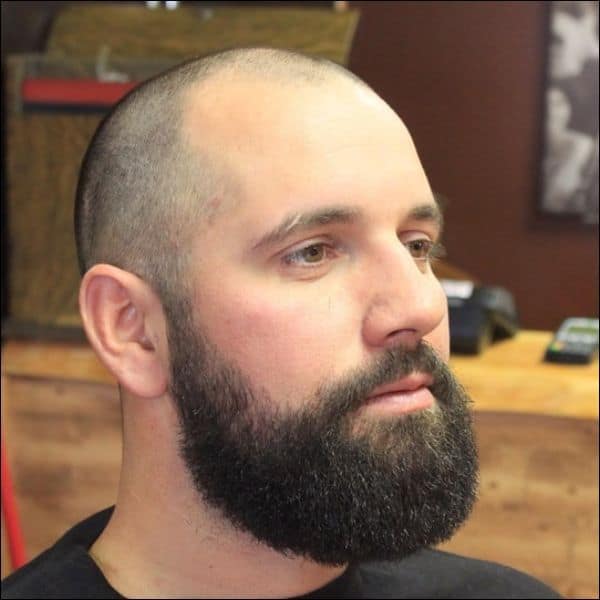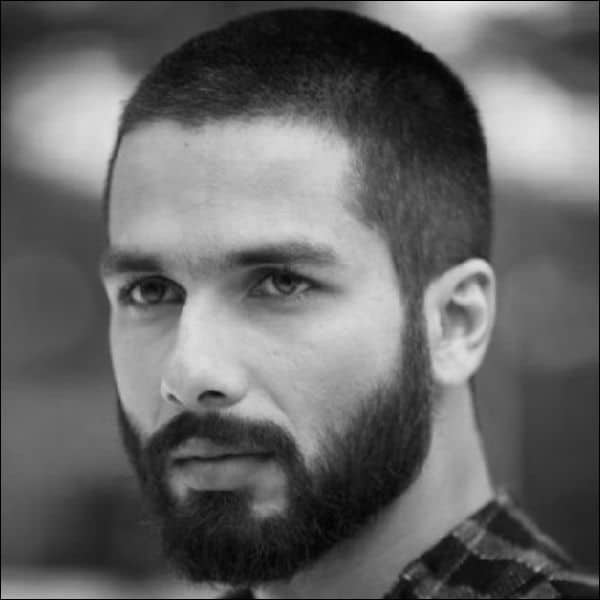 Choosing the beard style is not only depend on your face shape but also depends on beard hair type and of course on your own view. You can use these tips or improvise to figure the right look for you among the beard types.
With the round face, you may want to hide your cheek and it can happen when you highlight your chin area and the cheeks free. And thus, you can have a thinner and confident look you desired for.