Choosing beard styles for weddings can be difficult. Not only you have to choose a style that properly fits your face, but also fits the occasion. Instead of quitting at the last minute and getting a clean shave, why not try some of these beard styles from this list?
We understand that not every beard fits every man, so we have reviewed different beard types that can fit different faces. But before you can choose your beard for your big event, here are a few factors you should consider before choosing a beard.
How to Choose Your Beard Style For Wedding
You need to consider some factors to find the right one for you from the given beard style options including the bridegroom at a wedding. These include:
Beard Thickness
Compared to a patchy one, you can choose from more styling options if you have a thick beard. We have also included a few styles here for people with patchy beards that are tried and tested on marriage occasions.
Find Out the Shape of Your Face
Not all beards look good on all faces, so you need to find out what type of face you have. Your options include the following:
Square
Oval
Oblong
Round
Diamond
Triangle
Help from a Professional
Finally, you should go to a professional with a picture of the type of beard you're looking for, even though you can do it yourself. It's best to leave it in a professional's hands for your big day.
Best Beard Styles for Men in Wedding
1. Low Boxed Beard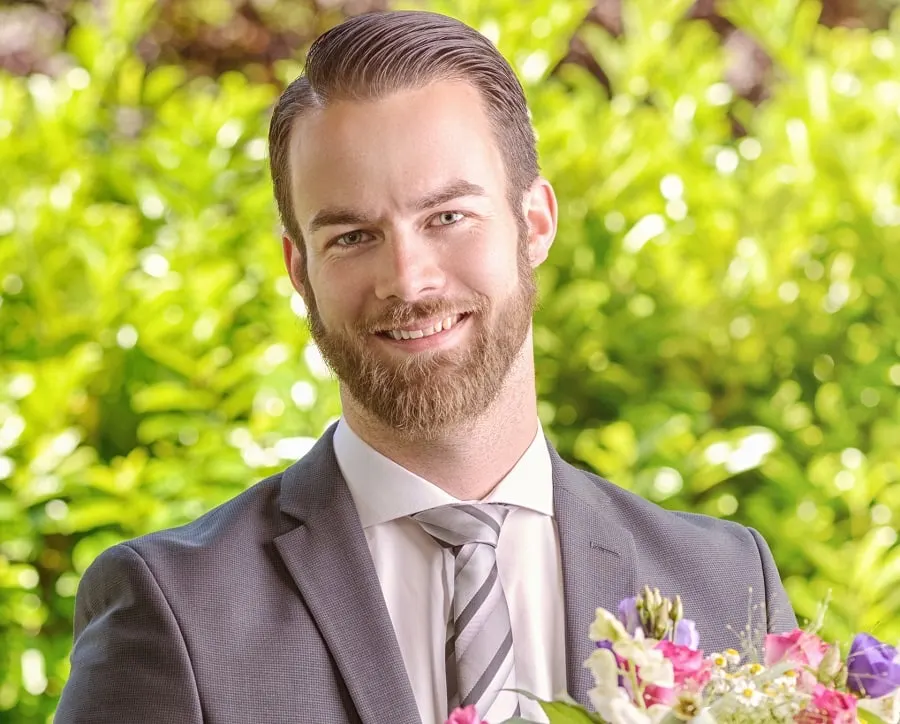 Starting off the list, keep things simple with a low-boxed beard style that is easy to carry and works well with both rounder and angular faces. You can also choose how big you should keep your beard for your wedding since it can even be long stubble.
2. Goatee without Mustache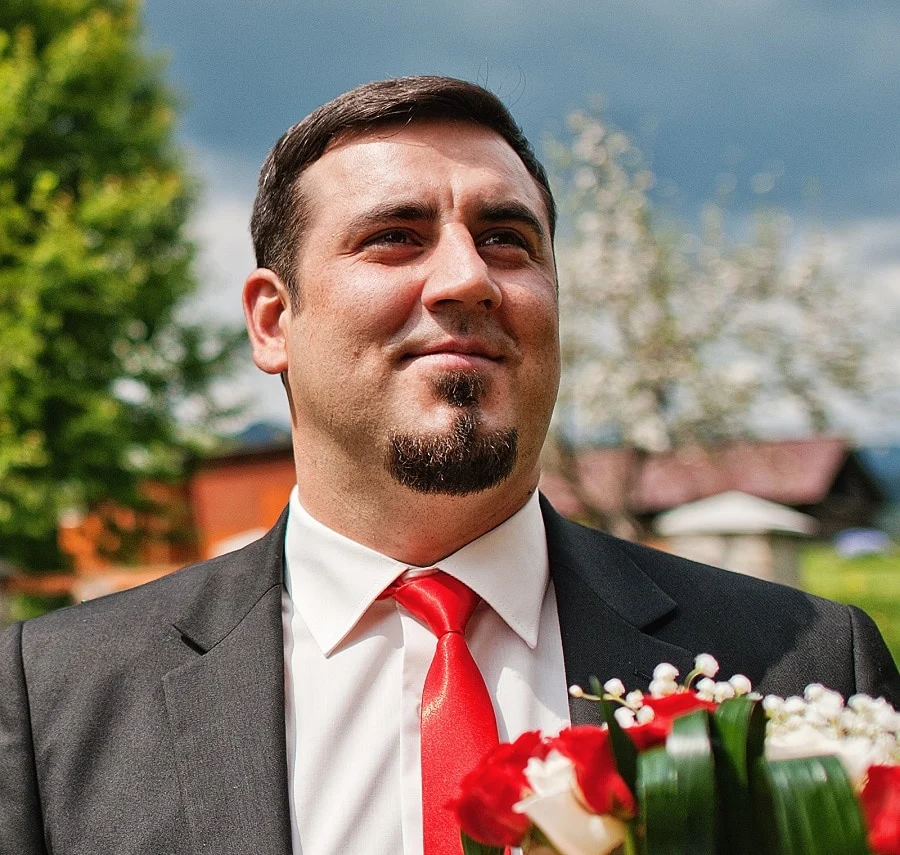 Of course, if you don't like growing a full beard and instead like showing off your jawline, you can try this goatee without a mustache. This is especially great for angular faces since you can better show off your facial features.
3. Hungarian Handlebar Mustache with Wavy Beard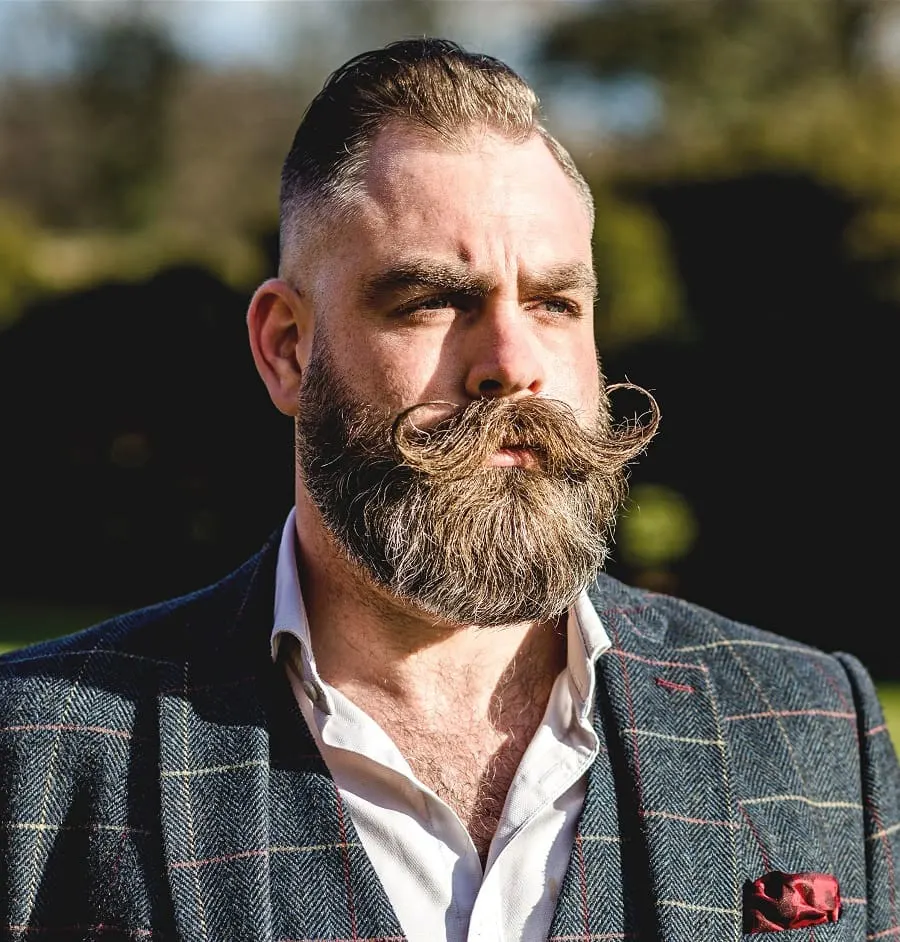 If you want fuller beard styles for your special day, then this Hungarian handlebar mustache with a thick beard is just what you want. The handlebar mustache instantly catches people's attention and complements the fuller beard.
4. Chin Curtain Beard without Mustache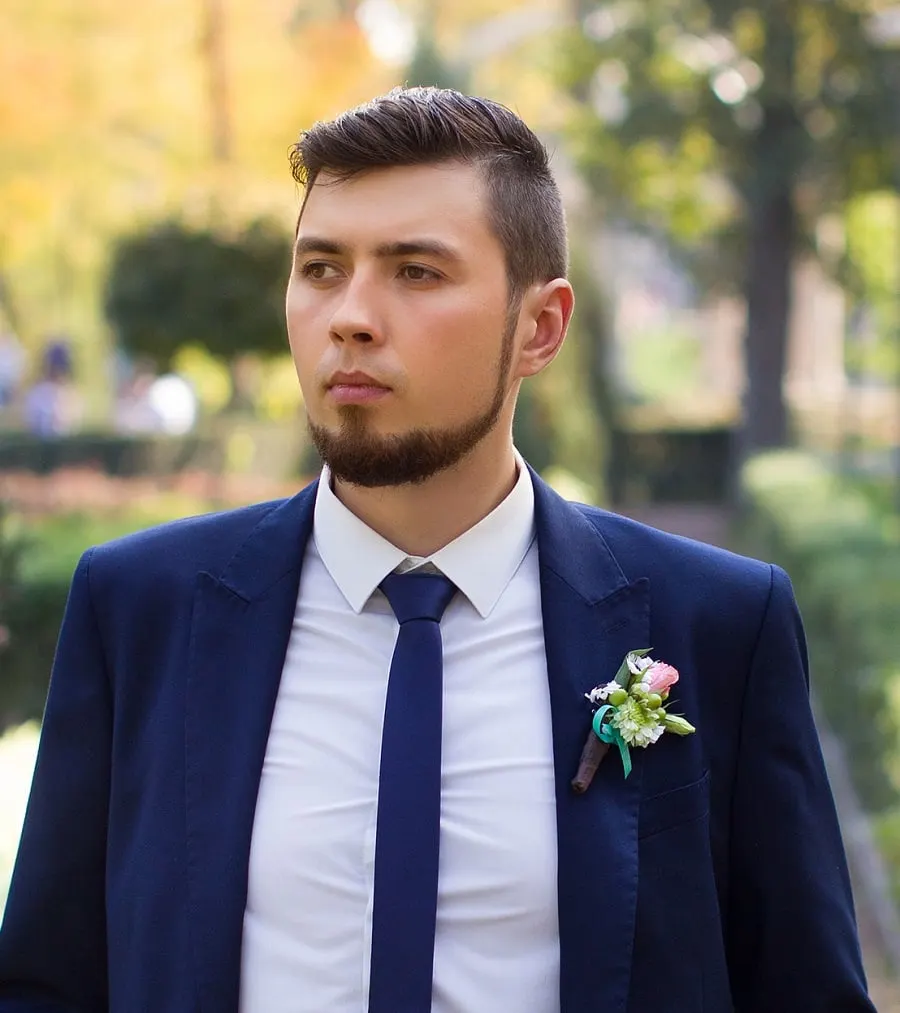 Apart from something that makes you stand out, you can also grow a very low-profile chinstrap mustache that works with rectangular and oval faces. This can especially fit grooms with smaller faces since the beard only takes little real estate.
5. Long Goatee with Mustache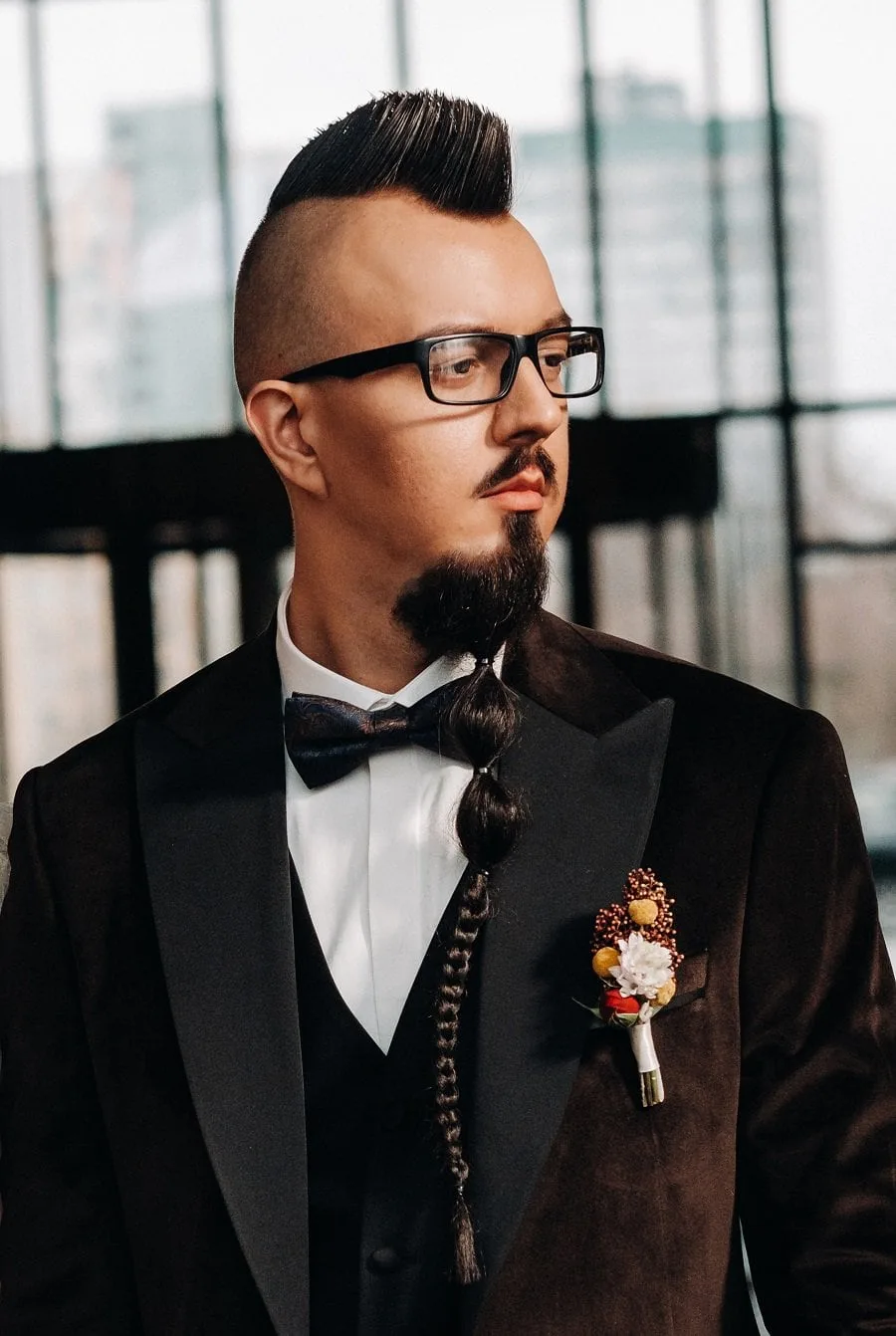 If you're looking for something more eccentric, then you can grow out your goatee and tie it in braids. This style can be difficult to pull off since you have to be very specific with your beard care routine to get it to grow long. So you have to plan long before to rock this beard style in the wedding ceremony.
6. Simple Circle Beard with Extended Goatee
If the longer goatee doesn't fit your fancy, you can get an extended goatee that reaches further from the chin. Complementing the goatee is a mustache of the same thickness as the goatee.
7. Ducktail Beard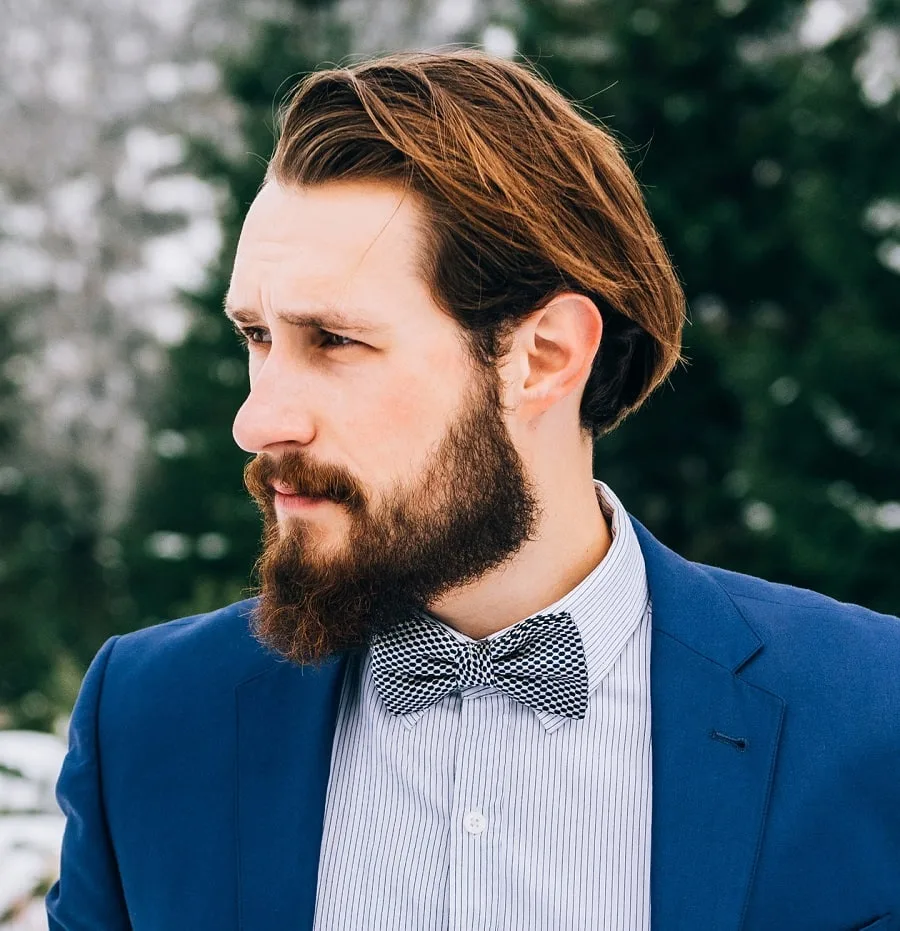 You can always go right with a good ducktail beard since it fits most occasions. You will have to train your beard to flow to the chin, which can require brushing, waxing, and trimming the beard.
8. Full Curly Beard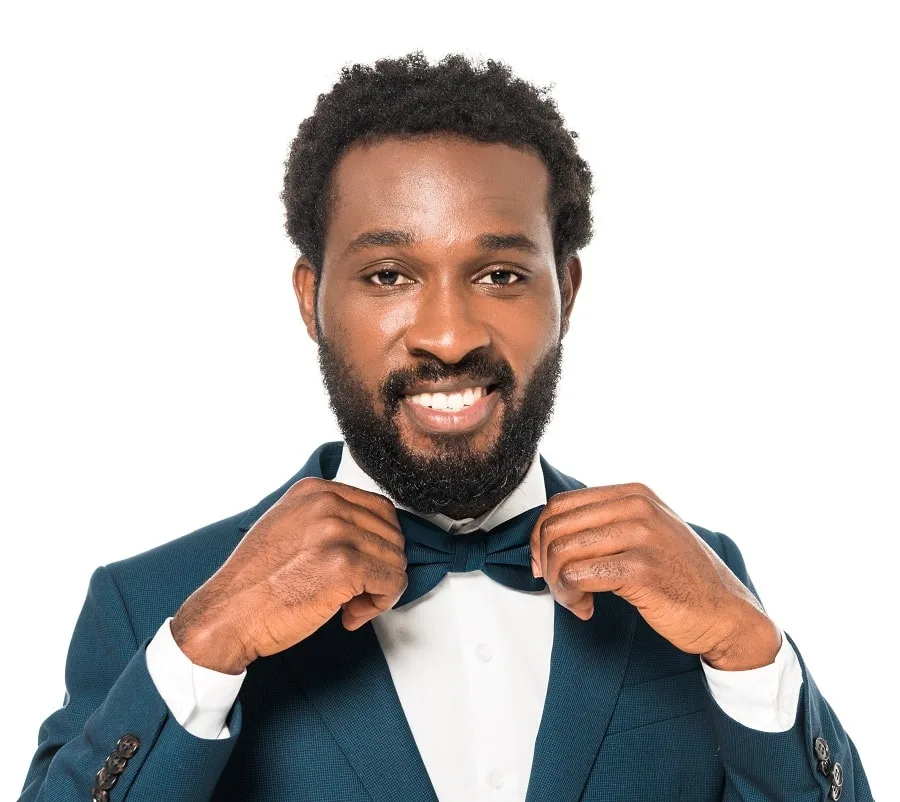 Just because you have a curly beard doesn't mean you can't have it ready for your big day. Instead of fighting the curls, you should instead embrace them and grow out your beard. A thick curly beard, or even short stubble, can look great on the groom at his wedding.
9. Klingon Beard with Mustache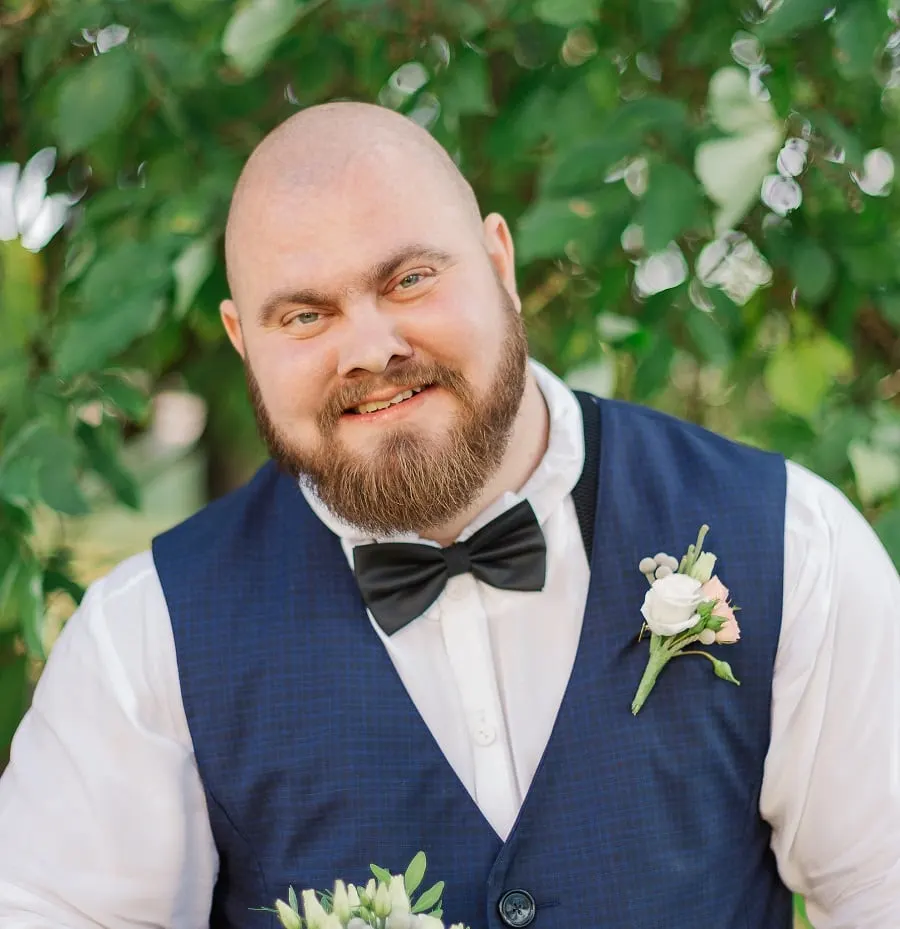 You can find a variety of mustache styles online, with Klingon beards being especially fun. But unlike the regular style, you can grow your mustache to fill your round face and look good on your special day.
10. Circle Beard with Chin Curtains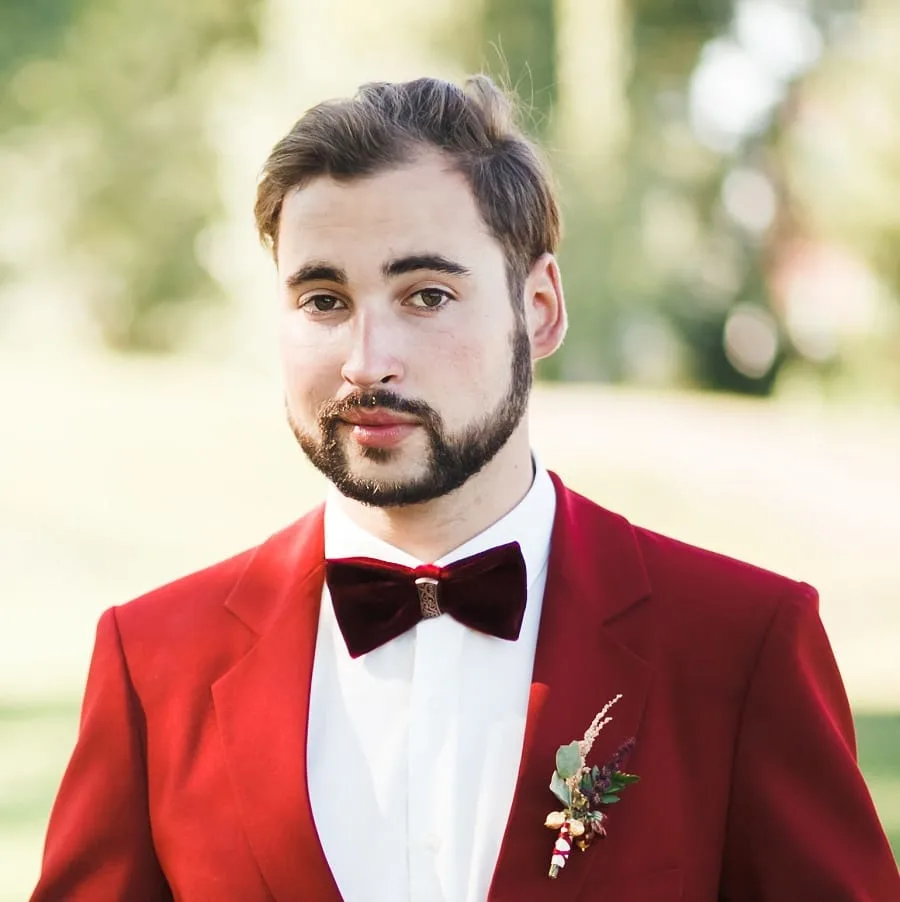 If the regular circle beard goatee isn't doing it for you, you can connect it with a chin curtain for a unique look. Unlike regular chin curtains beard styles, this one has a mustache, and you should keep the mustache and the beard the same thickness.
11. French Fork without Mustache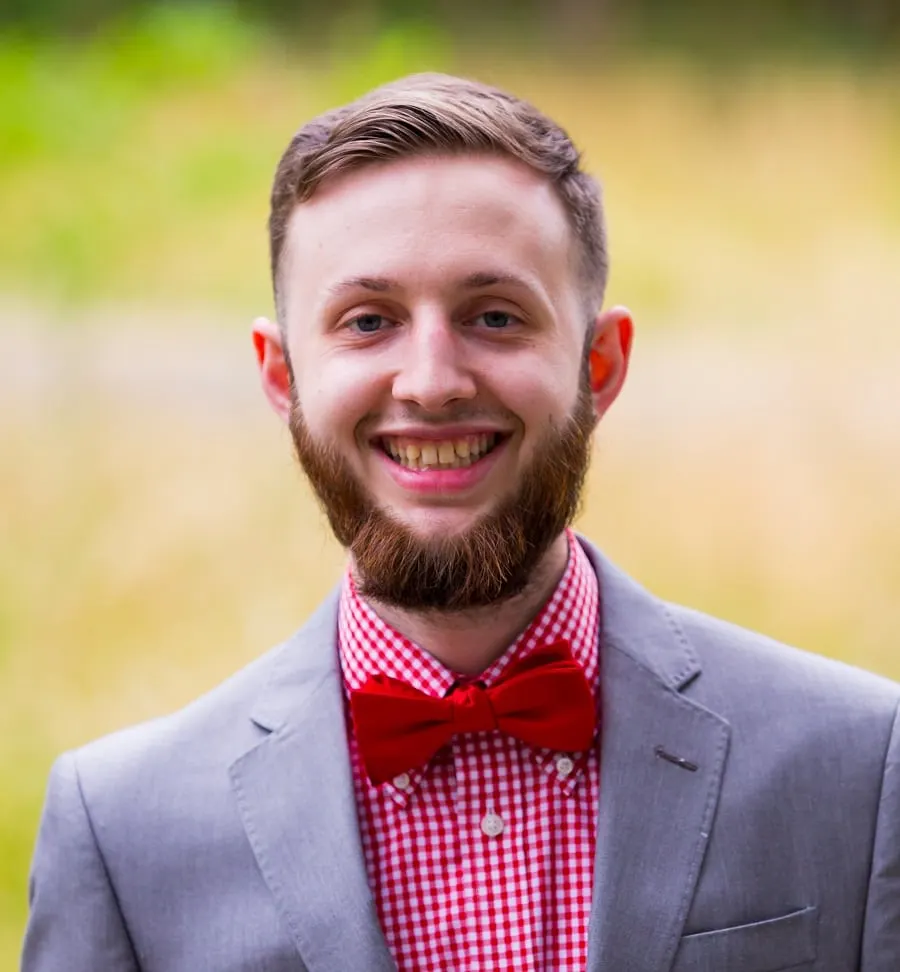 A French fork is very similar to a ducktail, with the only difference being that a ducktail has a pointed end, and the French fork flattens out. This is a good choice if you have a square or triangle face since the facial hair complements your naturally angular face.
12. Soul Patch with Goatee and Stubble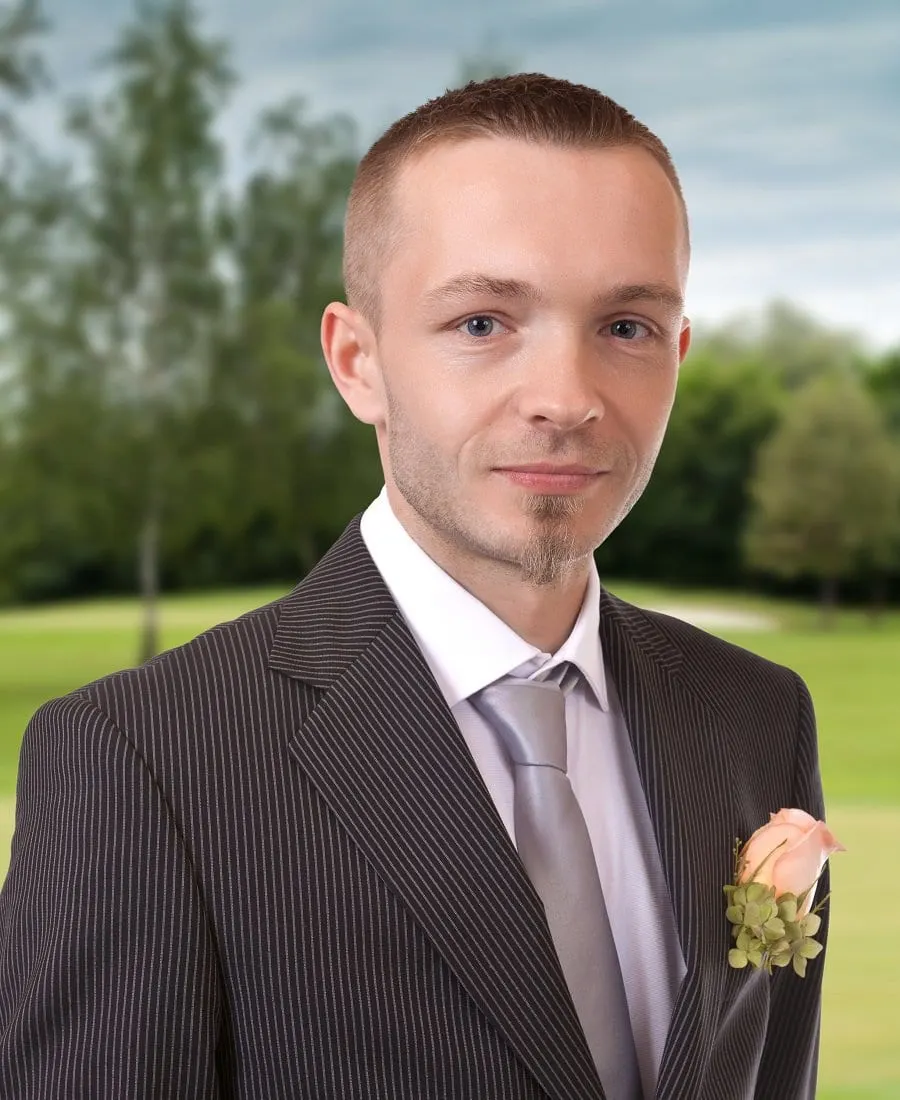 If you want something that is a little simple and easy to grow, then the soul patch and goatee combo always works. You can grow some stubble around your cheeks for a more personalized look.
13. Bandholz Beard with Thick Mustache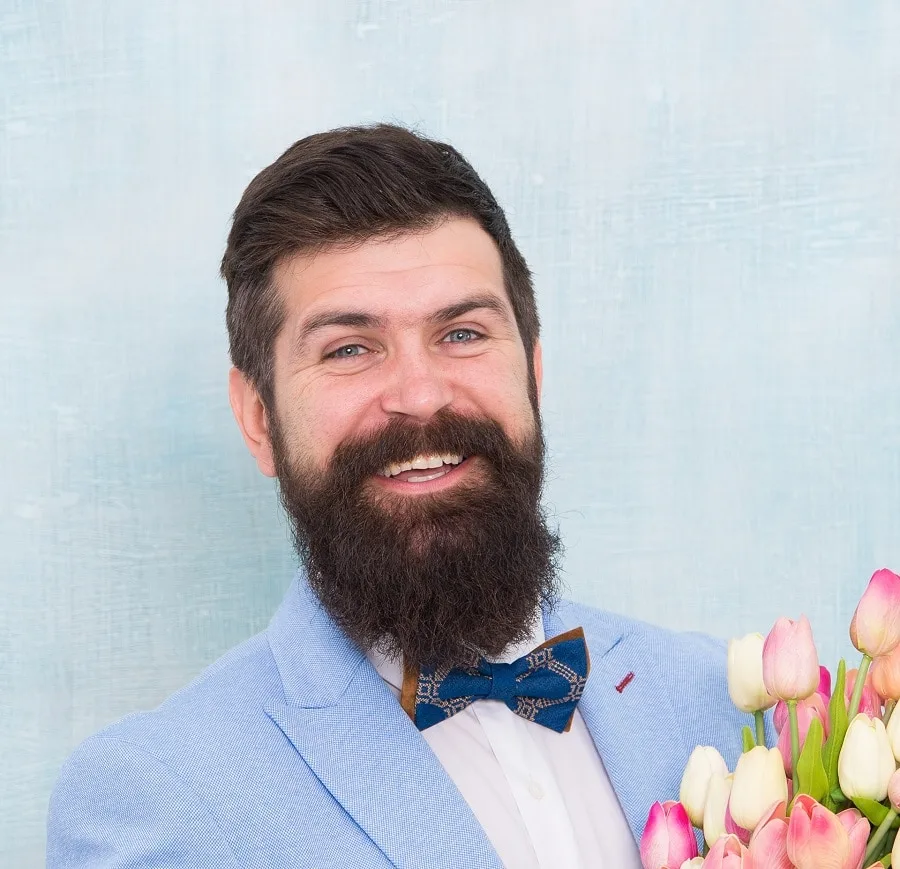 By keeping the beard short from the sides and letting it grow from the chin, you can have a full, thick beard that goes well with bigger mustaches. It is also a good choice for bigger and rounder faces.
14. Circle Beard with Extended Sideburns
With a curly beard, you might not be interested in having a full beard. Instead, you can try this extended sideburns and goatee combination. This style benefits curly beards and rectangular faces and can grow easily.
15. Light Goatee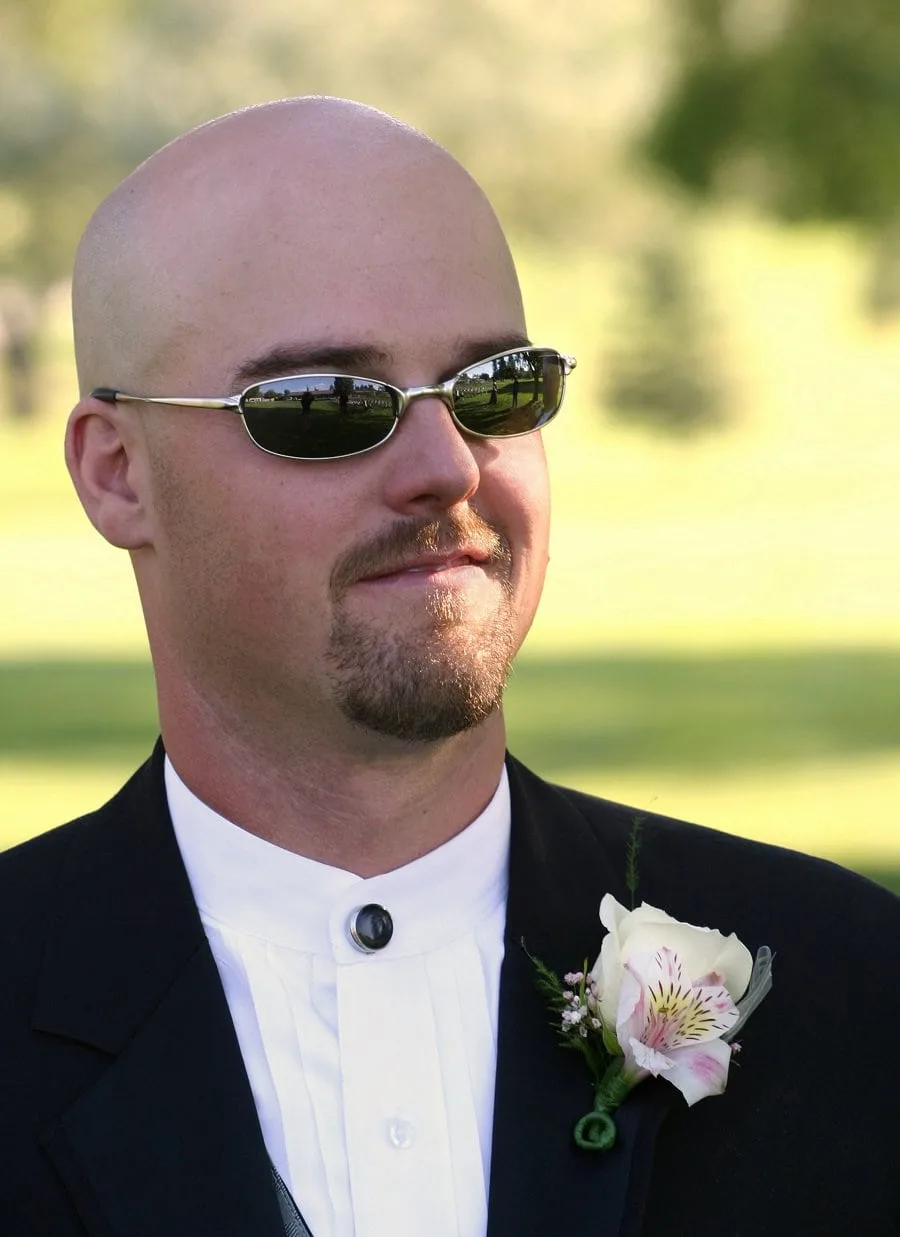 Sometimes the best kind of beard for a wedding is light, which only stands out a little. Just sport a light goatee while ensuring that the mustache and the goatee are the same thickness. The rest of your beard you can shave away.
16. Long Stubble with Defined Cheek Lines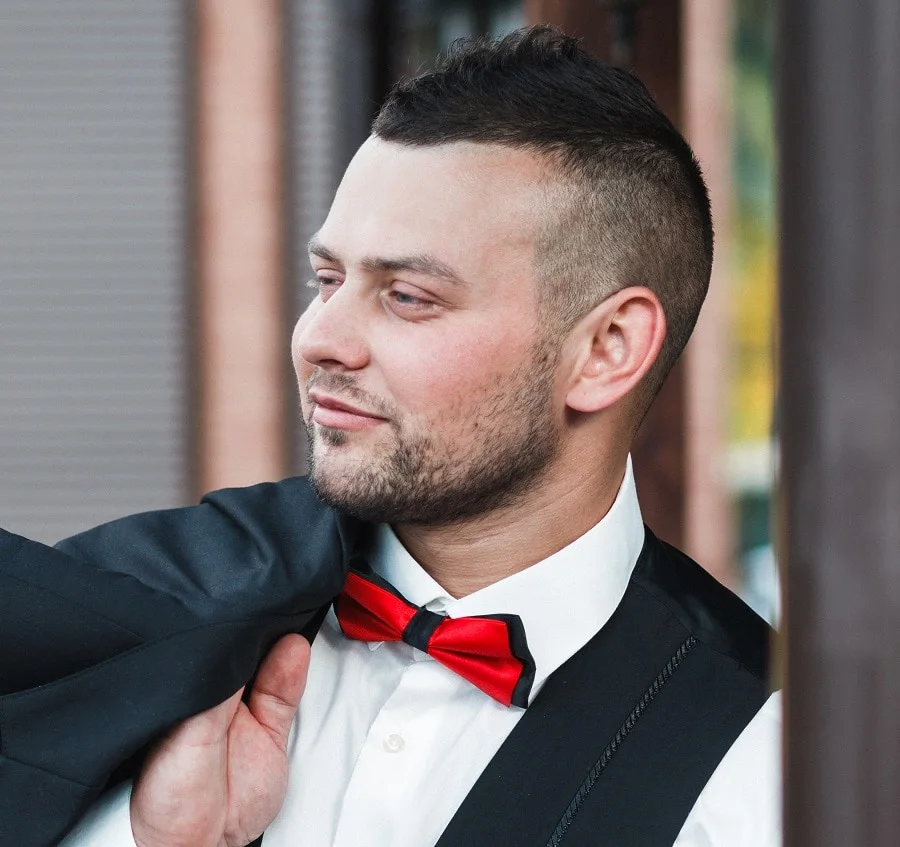 If you plan on getting a high fade haircut for your big day, then you can pair it with long stubble and finely trimmed lines. You only sometimes want to do something outlandish to look good on your big day, and something as simple as long stubble will do.
17. Ginger Ducktail Beard without Side Burns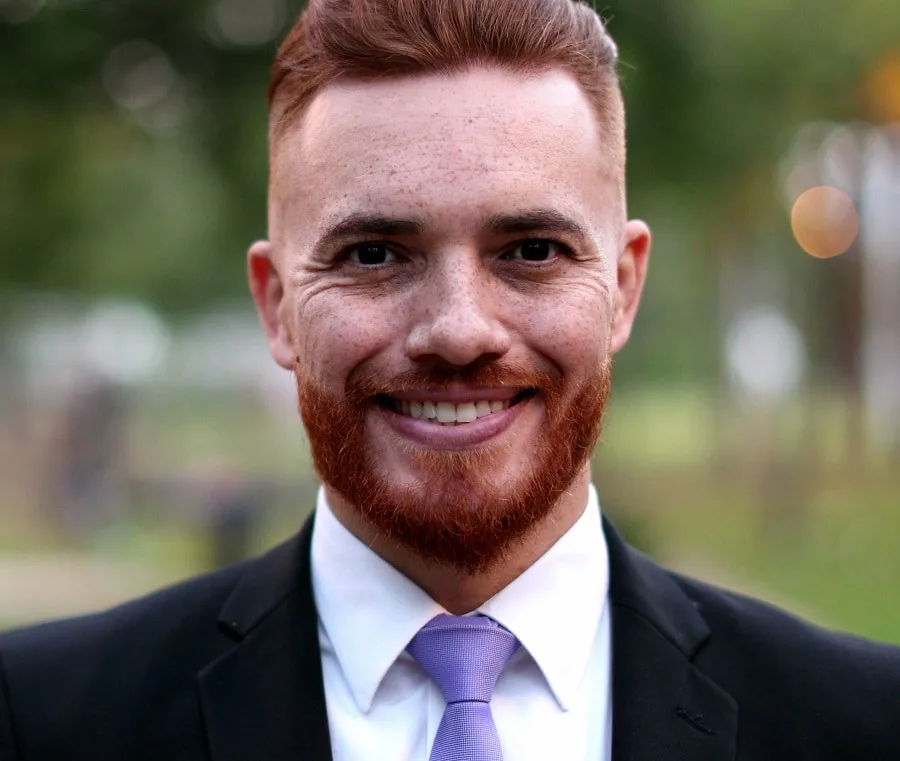 Ginger beards always look good when big, so grow them to the chin and trim the sides of your beard. And if you're getting a low fade haircut, you can skip the sideburns entirely and start the beard on the lower part of the cheek for a manly look at your marriage ceremony.
18. Full Beard with Skunk Stripe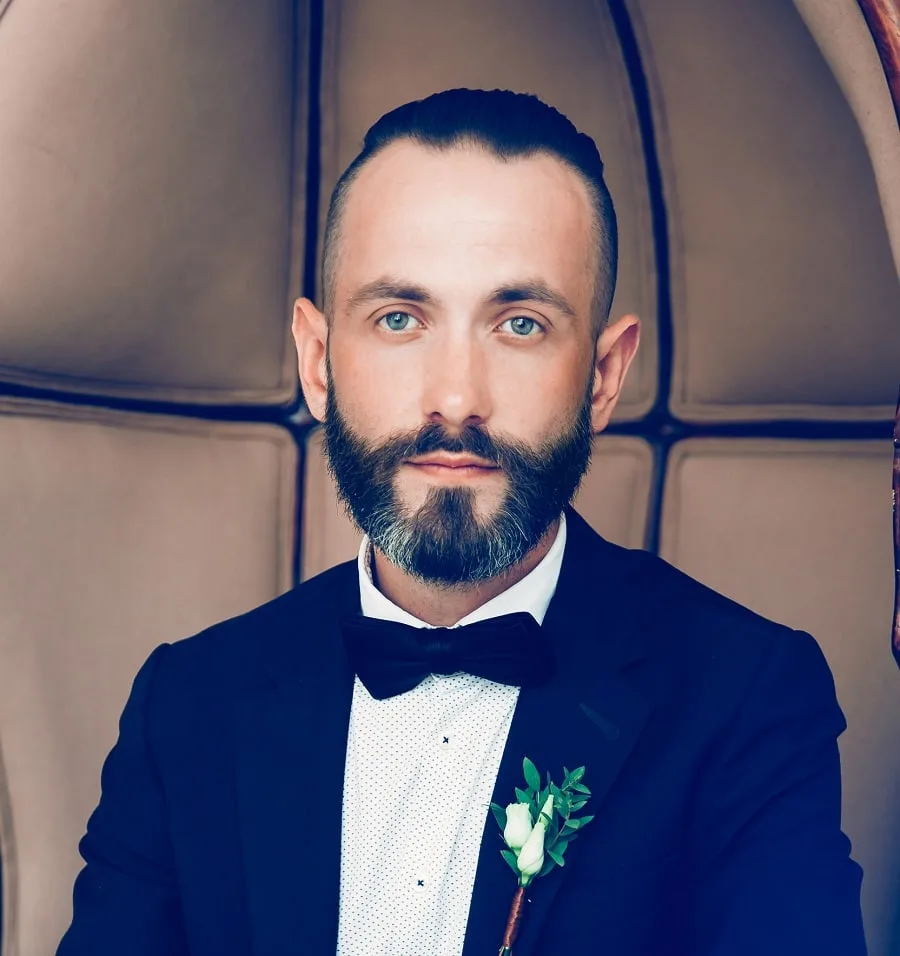 You can even experiment with dyeing your beard; a good idea to try is the skunk stripe. This single white stripe on the chin cuts through your black beard. The stripe can also work with brown and ginger beards, and you can have more than one stripe.
19. Low Box Long Stubble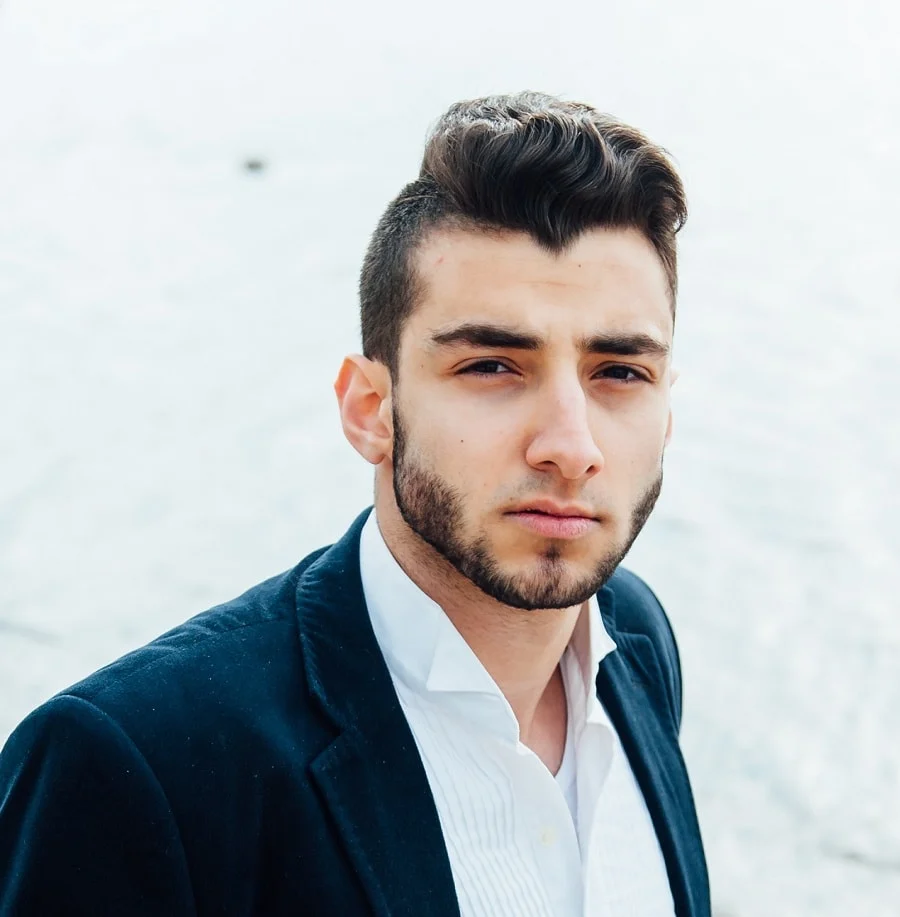 Keep that long stubble but shift it down to a low box beard style at the wedding. The low box and long stubble combo can accentuate your face's more angular features.
20. Garibaldi Beard with a thin mustache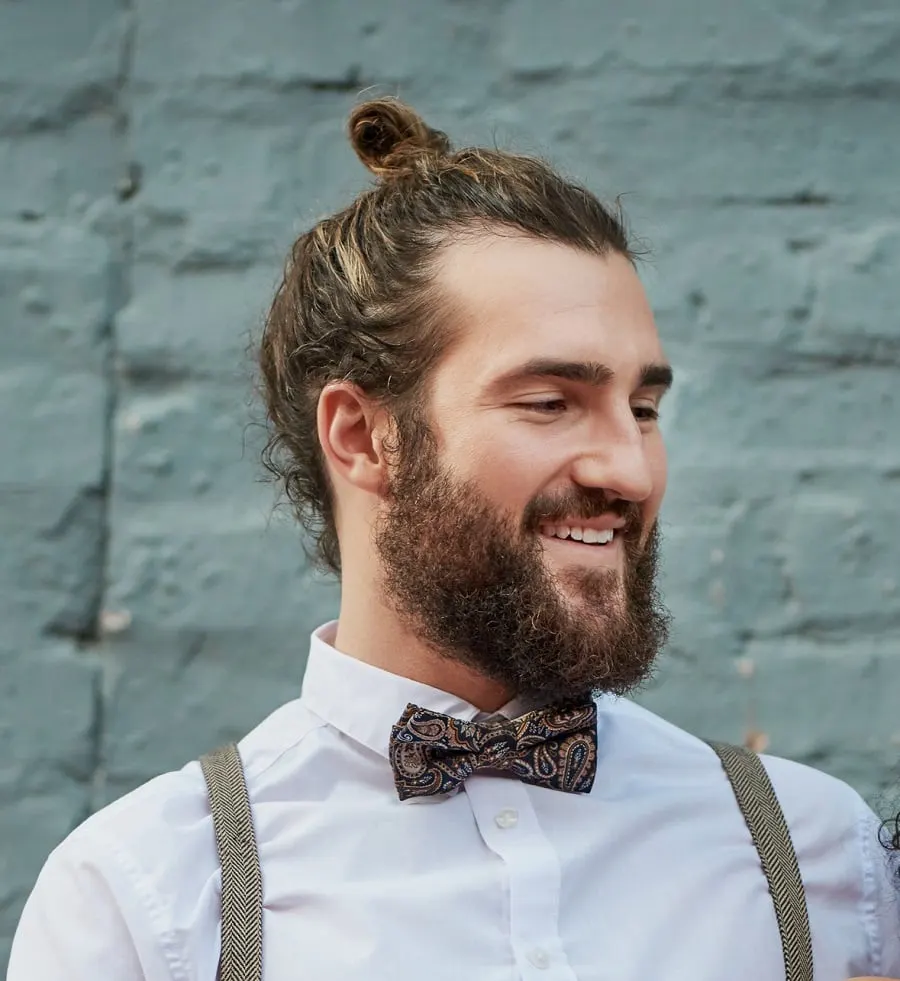 Sometimes a messy look can be a good thing at a wedding, proven by this garibaldi beard with a light mustache. Not only does this curly beard look good, but it's a perfect fit if you're going for that scruffy, unkempt look.
21. Long Goatee Chin Curtain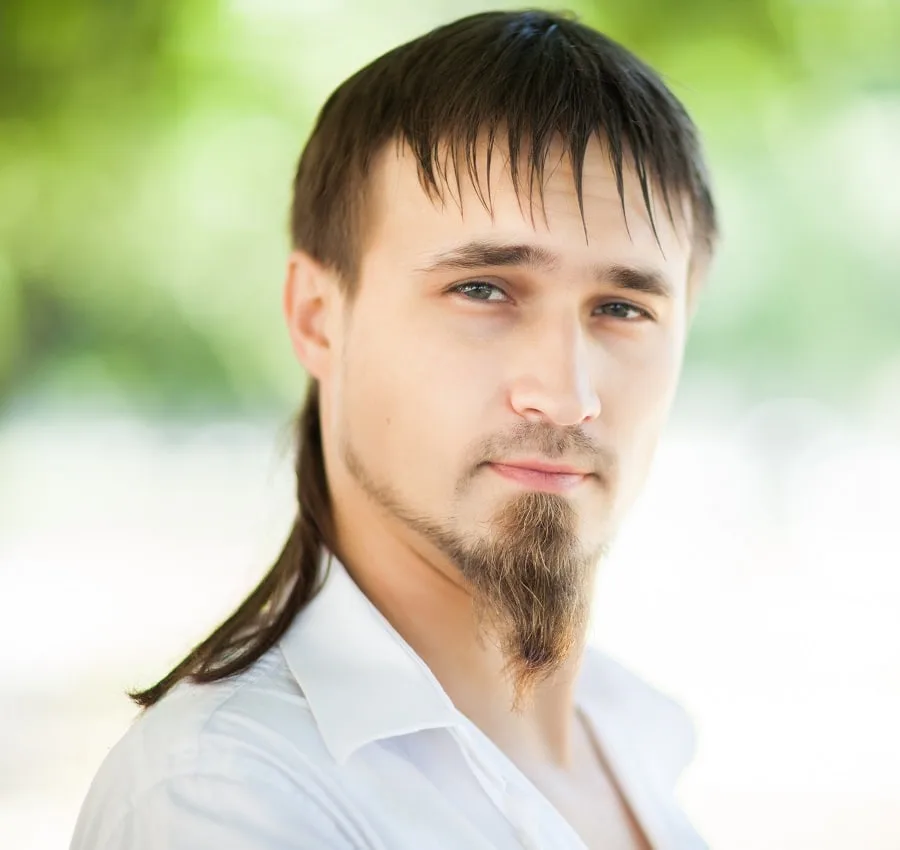 If you're into a long goatee that falls off the chin, why don't you try mixing it up with a chin curtain? The chin curtain connects to the goatee; you don't have to keep a mustache if you aren't interested in one.
22. Full Beard with Trimmed Cheek Line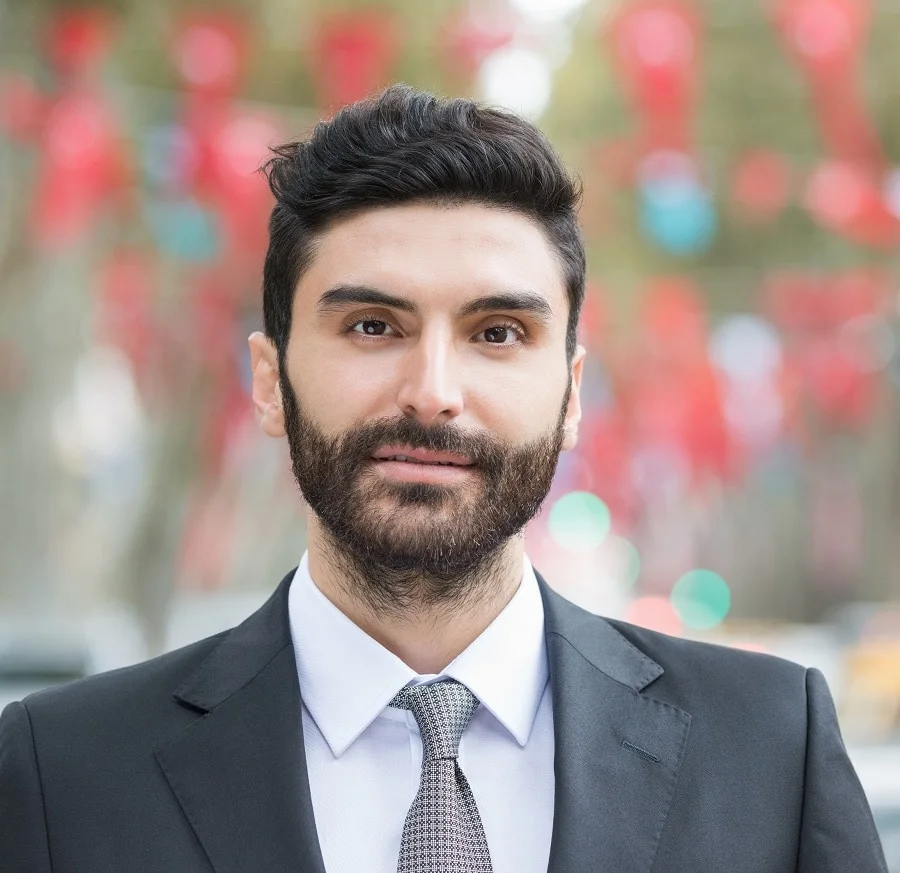 On your big day, you can still rock a full beard with a trimmed cheek line and a fairly thick beard. You should ensure the beard is completely even on both sides, giving it a symmetrical look.
23. English Handlebar Mustache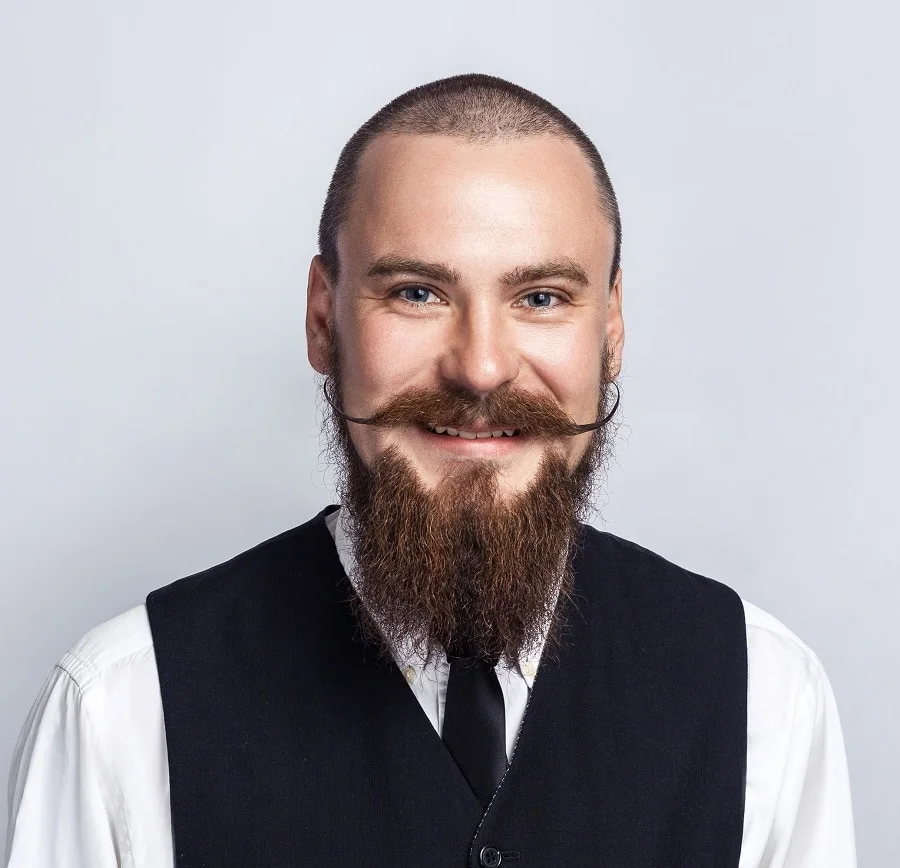 Nothing is more out there than an English handlebar mustache with French fork beard styles for the groom. You can keep the beard light on the cheeks and let the beard flow off the chin.
24. Long Gray Stubble
Don't be shy of flaunting that gray beard as you walk down the aisle. Light stubble can do the trick, or you can go for a full beard with trimmed necklines and cheeklines for a good overall look.
25. Long Stubble with Defined Goatee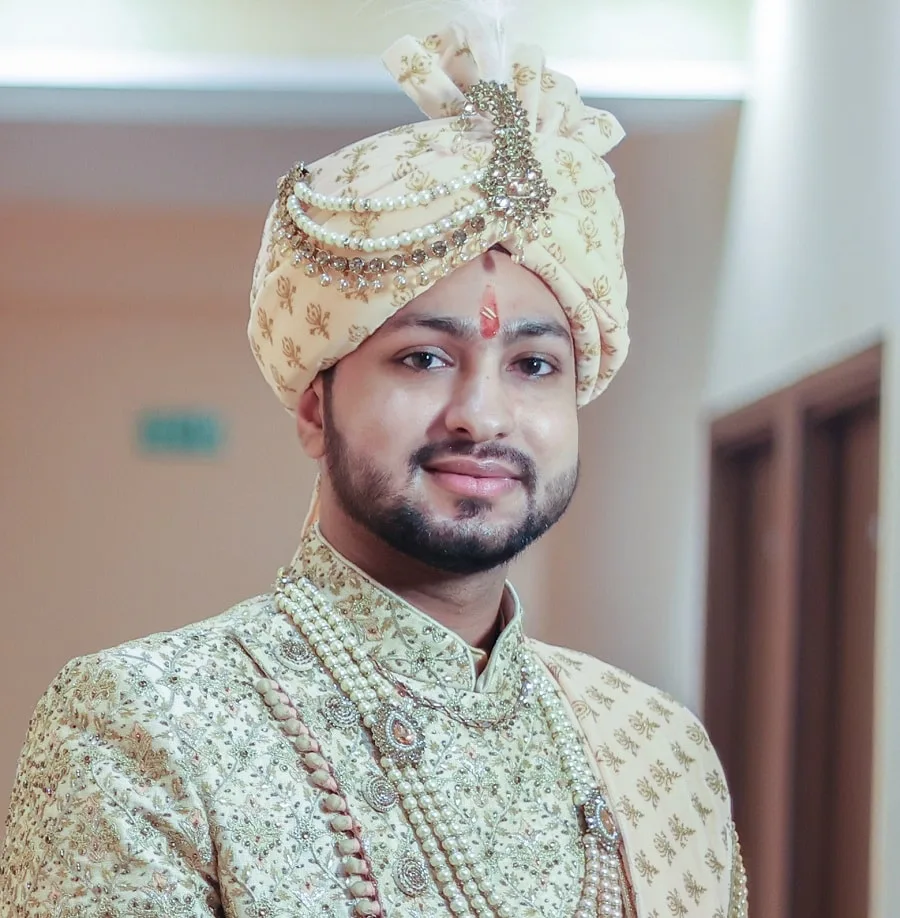 Why not try a goatee by connecting it with your long, stubble beard? The goatee is the highlight, so it shouldn't be a surprise that you want to grow it a little more than the rest of your beard.
Conclusion
With all of these different beard styles for men at the wedding, you can get creative with how you look for your big day. Just be sure you try these styles well in advance and not a day before the ceremony.