John Wick portrayed by Keanu Reeves is one of the top characters in the action movie genre. While the mysterious backstory and action scenes plot the movie story, his hair and beard styles have a separate crazy fanbase.
With the release of John Wick Chapter 4 in 2023, Keanu Reeves the bearded actor over 50, caught the attention of fashion-conscious men again with the ruthless nature of action and style. Throughout the John Wick series, he is seen with different beard and hairstyles.
While the fans may not copy his iconic action scenes, they can at least copy his hair and beard styles. Check out all the hair and beard styles of Keanu Reeves AKA John Wick in the movie series.
John Wick's Latest Hair & Beard Style
Keanu Reeves's unique style, from his signature black suit to his slick hair and beard, has made him an instantly recognizable figure. Here is our list of hair and beard styles in the john wick series.
1. Long Hair With Salt and Pepper Beard
Keanu Reeves, the "Baba Yaga" has shoulder length long hair in John Wick 4. On the other hand, his salt and paper beard itself is a work of art, giving a distinct shape that frames the strong jawline.
2.

Full Beard with Long Hair Curtains
It is one of the top looks of the John Wick celebrity. The beard is thick and full while a bit tapered along the sides and left a bit longer at the chin. The hair is parted down the middle. This look is perfect for those seeking a strong, masculine look.
3.

Long Bangs with Patchy Beard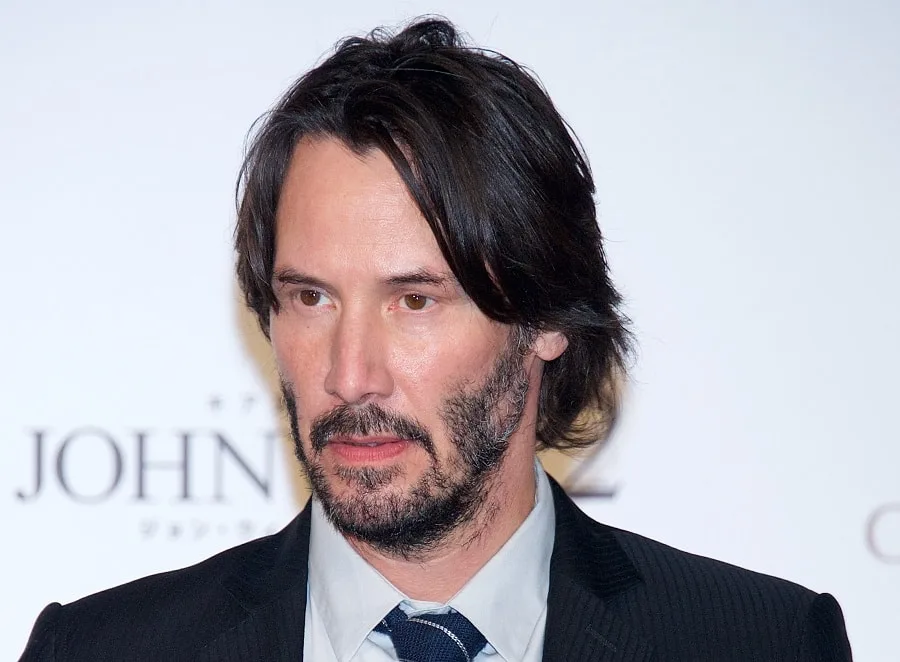 John's long bangs parted in the middle and patchy beard reflect his serious attitude towards the enemy. His neatly parted, long, straight bangs frame his face and draw attention to his intense gaze. Reeves' patchy beard adds a rugged touch, conveying the impression of a man who has experienced many battles.
4.

Upward Fringe with Unkempt Beard
John Wick's dramatic and almost threatening look is created with an upward fringe, with his hair slightly brushed back. The unkempt beard adds ruggedness to the look, with hair growing wild in different directions. It also suggests Baba Yaga is more concerned with getting the job done than his appearance.
5.
Slick Back Hair with Full Beard
He presumably slicked the hair back to keep it in place and out of his eyes. His black full beard has grey hairs which match the experience of the John Wick character in the movie.
6.

Layered Hair with Patchy Beard
This layered hair with a patchy beard has been seen in John Wick 2. The layered hair is cut in a medium-length or slightly longer style, often with some side-swept bangs. The beard is usually medium with a patchy look. This look is perfect for those who want to channel their inner hitman and exude a cool and collected yet tough look.
7. Slicked Back with Heavy Stubble
John Wick slicks back his hair, tuck it behind the ear, part it in the middle, and combs the sides and back. He wears it behind his ears for a more dramatic look and sports a heavy stubble beard to complete his signature style. However, heavy hair gel is required to get this look.
As John Wick 4 is released in 2023, Keanu Reeves's hair and beard style is trending among men in 2023. So, pick your favorite john wick style and unleash your Inner Baba Yaga.