The famous American actor and producer Leonard DiCaprio is one of the few men who have a face that looks amazing in any beard style he wears. May it be a perfect clean shave, a goatee, or a full beard, Dicaprio can carry off any style with sheer elegance.
Leonardo Dicaprio's beard has evolved over the years. In 1992, as a freshman in Hollywood, he didn't have any signs of facial hair. He remained clean shave for Titanic in 1997. His first appearance with a beard was for the crime drama The Departed released in 2006.
Since then, there has been no looking back for him. Let's check out Dicaprio's best beard styles till 2023.
How to Achieve a DiCaprio Beard Style
Leonardo DiCaprio's beard style has become an iconic fashion statement over the years. It is a versatile look that can be styled in various ways to suit different occasions.
His beard style adds an extra layer of sophistication to his overall appearance, making him look effortlessly stylish.
Since DiCaprio is well known for all his appearances on the red carpet with a goatee, you might consider growing one out too. However, you need to follow the right steps.
First, let your facial hair grow out for at least a month. This will give your hair enough time to grow and become full.
After that, trim your beard to shape your goatee. Use a comb to hold the hair in place and trim the hair to the desired length. Create a defined edge around the goatee by shaving any stray hairs on your cheeks and neck.
Finally, moisturize your beard with beard oil or balm. Apply a small amount of beard oil or balm to your goatee, and use your fingers to work it in from the roots to the tips. This will help to keep your goatee soft, shiny, and healthy
Enjoy your DiCaprio-influenced goatee beard style. To keep your goatee healthy, wash it regularly with beard shampoo and conditioner.
Leonardo DiCaprio's Best Beard Styles
Leonardo Dicaprio has experimented a lot with his facial hair over the years. Some of the most famous facial hair styles worn by Leonardo Dicaprio are as below:
#1 Light Stubble Extended Goatee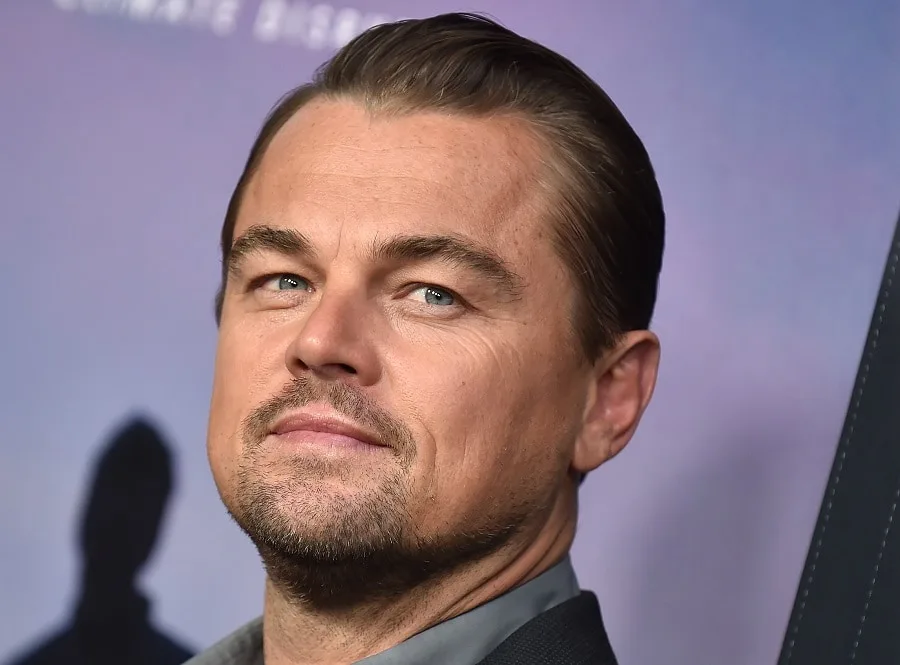 While Leonardo DiCaprio has sported all sorts of beards on screen, he usually falls back on his iconic goatee for the red carpet. Along with complementing his more angular face, the goatee offers a more streamlined look, especially when he pairs it with a side part.
#2 Heavy Stubble Goatee with Slick Curls
The heavy stubble is easily DiCaprio's go-to beard style since it's also what he had when winning Oscar. Along with being one of the most iconic moments in television history, he has also been consistently wearing that goatee to his Oscar nominations, and it pairs well with his slick curls.
#3 Clean shave
This beard style is the tidiest of all with no hair on the face except for eyebrows, eyelashes and perfectly short trimmed sideburns. Maintaining a clean shave look requires daily shaving, as the facial hair start to grow into stubble in just a few hours of shaving. Check our post on the myth shaving makes your beard thicker.
#4 Stubble
Stubble also known as 5-o'clock shadow is a very short length facial hair style. The hair is not too long and not too short as it easily manages to cover the skin beneath. The Stubble reflects a few hours growth after a clean shave and is somewhere between casual and messy.
#5 Strong Stubble
Leonardo Dicaprio used this beard style in his most popular movie 'Titanic'. This is a facial hair style with the stubble allowed to grow for a few days. The chin and neck hair is slightly dense and untrimmed with a thin mustache, faintly rough jaw line, and cheek hair. This beard style gives a vaguely rugged and unclean look.
#6 Goatee With a Connected Mustache
Goatee beards are one of the most common beard styles of today, with hair on the chin and a casually grown mustache. The chin hair is allowed to connect to the mustache. This facial hairstyle is also called circle beard and since the 1990s, has gained the similar meaning as a "goatee", which was primarily referred to as hair on the chin.
See David Beckham's most popular beard styles
#7 Goatee With a Light and Disjoint Mustache
This beard style incorporates a prominent chin goatee and a disjointed thin mustache. The side burns are short and nicely trimmed and the jaw line is clear. This facial hair style depicts the emergence of youth.
#8 Full Beard With Thick and Square Trimmed Mustache

This is the beard style in which the hair on chin, neck and jaw line are not trimmed and allowed to grow out, except the mustache, which is broad and kept well trimmed. The mustache ruggedly connects the chin hair in two parallel thick lines.
#9 Bushy Beard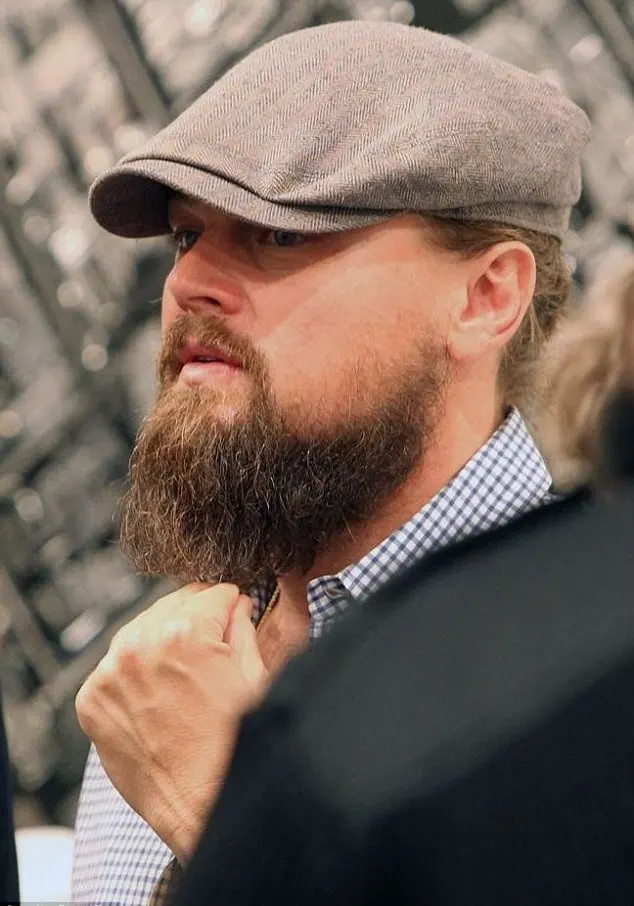 The bushy beard is a great style that you can try out. In this beard style, the beard and mustache is allowed to overgrow and it is a bit messy. But, this style is attractive and good to try out.
#10 Goatee and Chinstrap Beard
In this kind of beard style, the chin hair is perfectly trimmed to shape the chin. The chin hair is connected to a light trimmed mustache with parallel thin hair lines on both sides and a goatee is shaped. The jaw line hair is also trimmed in a thin line to connect to the chin hair.
#11 Ducktail Beard
Ducktail beards are extremely sexy beard style. This beard gets it name from the pointed tip like the tail of a duck. It requires maintenance and care and looks good only on some people.
#12 Full Beard With Mustache Gap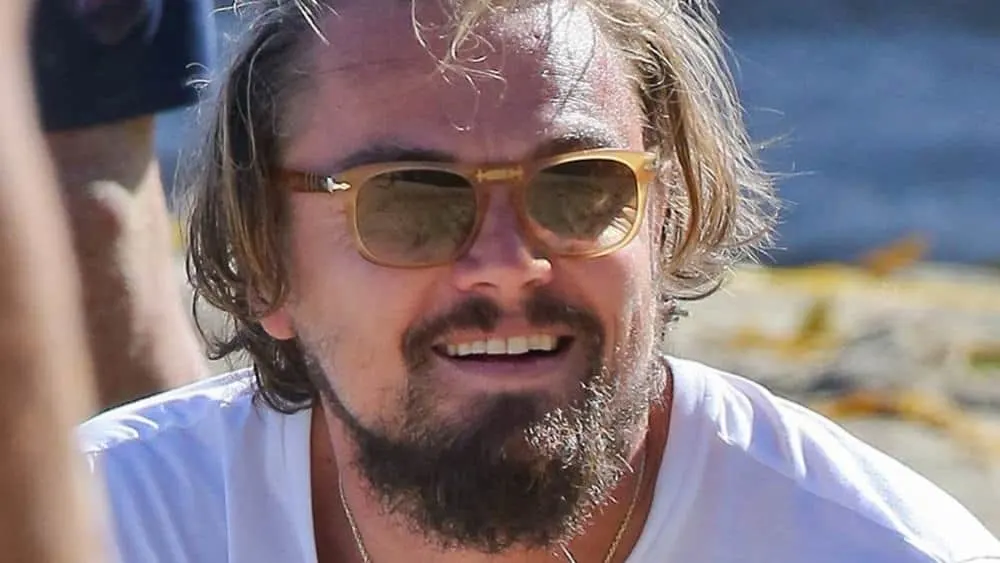 This is a variation of a full beard. The beard is left to be messy and an individual let the beard grow freely, the style lies in the mustache. A gap is left in the Mustache and is really excellent style to try out.
#13 Razor Trimmed Beard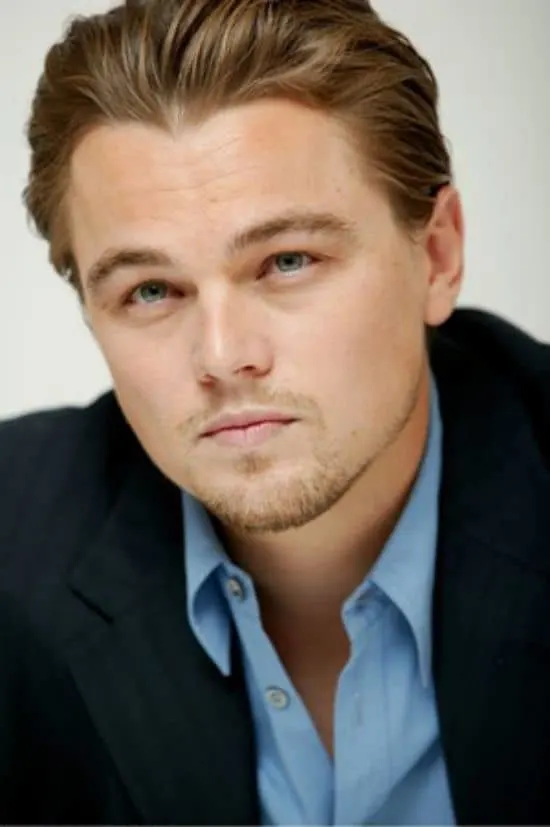 This type of beard style incorporates a thin and perfectly trimmed mustache with a similarly trimmed beard. The hair on the chin, neck and the ones below the jawline are perfectly trimmed so as to give an attractive look. This is one of the most attractive Leonardo Dicaprio beard designs. to grow while keeping the mustache and cheek hair clean shaved or trimmed.
Leonardo Dicaprio beard styles have varied immensely over the years with each style becoming a new trend for men to follow worldwide. Leonardo Dicaprio has been gifted with a perfectly sculpted face which allows him to effortlessly change his rugged look with a full beard to an innocent looking clean shave face by merely changing his beard style.