If your jawline measures more than your forehead and cheekbones, you're in the triangle face shape league. And this article will guide you through a diverse range of beard styles for a triangle face shape.
The key to a great beard style is aligning it with your face's unique features. From smart goatees to classic stubble, we've curated a collection that balances your triangle face shape.
It's time to take your facial hair game to the next level and showcase the true essence of your triangle face. Let's dive in!
Choosing A Beard Style For Triangle Face Shape
When choosing a beard style, particularly for a triangle face shape, you need to bear in mind several key factors that will ensure your choice complements your features. Let's dive into these factors:
Length
The length of your beard can dramatically affect how it shapes your face. For those with a triangle face shape, a medium to long beard can help to elongate the face, thereby creating a sense of balance. The length can also draw attention away from a wider jawline.
Thickness
The thickness of your beard will determine how much it can balance out your facial features. A thicker beard can help minimize the prominence of a broad jawline that characterizes a triangle face shape.
However, it's crucial to maintain a well-groomed and tidy beard, as an unkempt beard can result in a shabbier look.
Personal Grooming Choices
Your beard is an extension of your personal style. It should match your overall look and feel. If you have a more casual style, a fuller, longer beard might work well. If you prefer a professional look, a neatly shaped beard might be a better option.
Different grooming techniques can drastically alter the appearance of your beard. For instance, you can use a high cheek line to give the illusion of a broader upper face.
Alternatively, you can keep the sides trimmed short while allowing the beard at the chin area to grow longer, elongating your face and offsetting a wider jaw.
It is also important to consider how much time and effort are you willing to invest and your beard growth pattern. Some styles require more maintenance, some styles require full beard growth, etc.
The perfect beard style is not just about what's trendy. It's about what works best for your triangle face shape. The goal is to balance your facial features and express your unique personality.
Beard Styles For Men with Triangular Face Shape
1. Patchy Boxed Beard with Tapered Spikes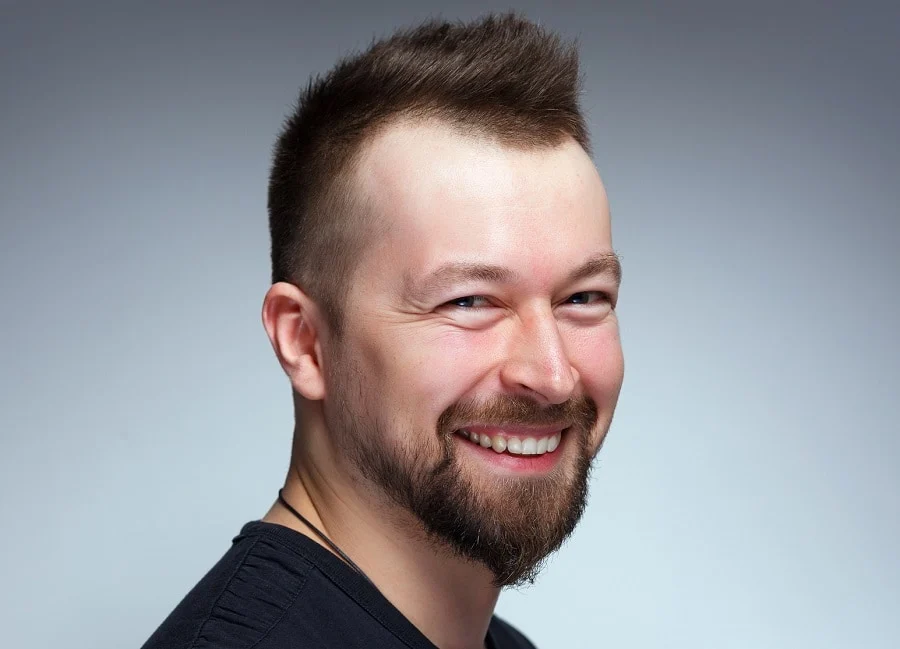 It's quite interesting when your natural beard grows in the form of an extended goatee. The goatee look on the chin is quite a subtle yet clever move to stand out. The hairstyle is spiky with tapered sides.
2. Medium Stubble Beard with Light Mustache
The beard is slightly more grown than light stubble. It's thicker and more prominent near the chin. The mustache is even lighter with short stubble. Call it a traditional or simple look because of the side-swept hair.
3. Patchy Stubble with Messy Comb Over Hair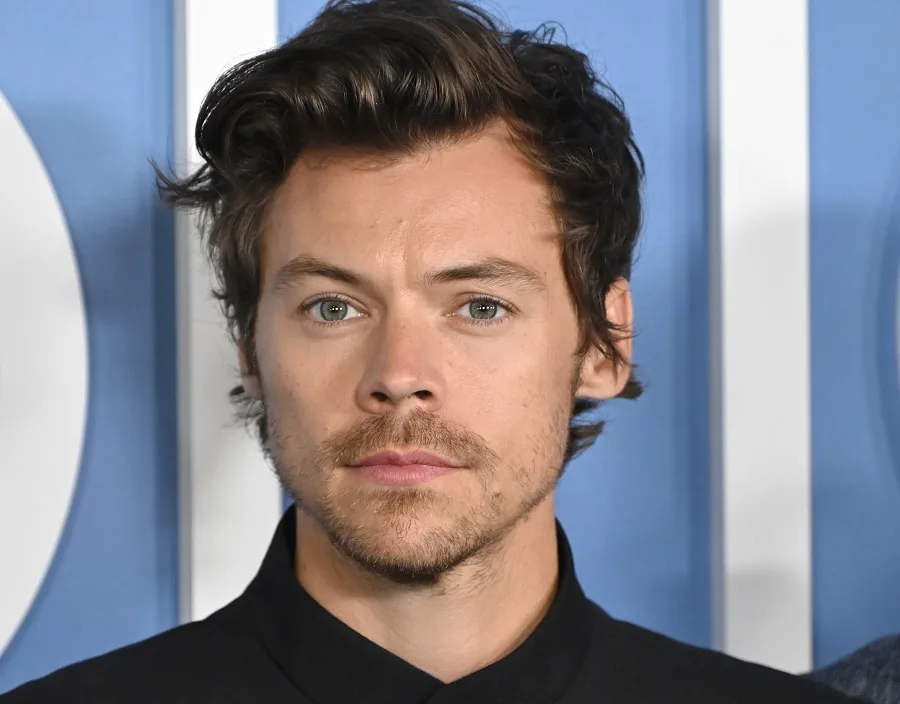 Young men can show off a patchy beard as a sign of them being young like this patchy stubble here. Yet again, the mustache and chin seem to have more hair than the rest of the face. The hair is side parted and slightly messy.
4. Spiky Crew Cut with Short Beard Fade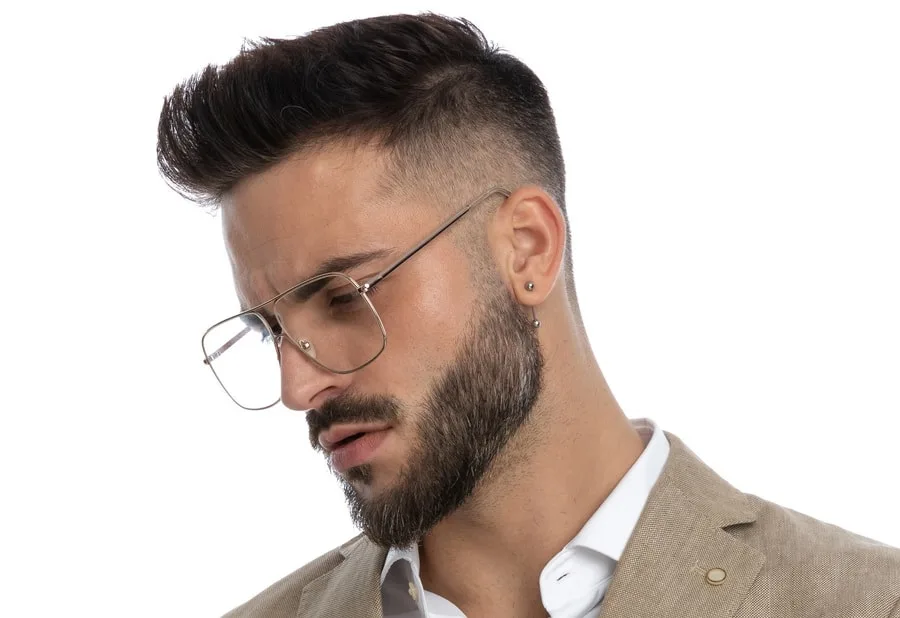 It's one of the most flattering beards for triangle faces. The beard is short with clean cuts at the neck and cheeks.
Interestingly, the mustache is not connected to the beard. As for the hair, it's a spiky crew cut with mid-fade on the sides.
5. Long Wavy Hair with Heavy Stubble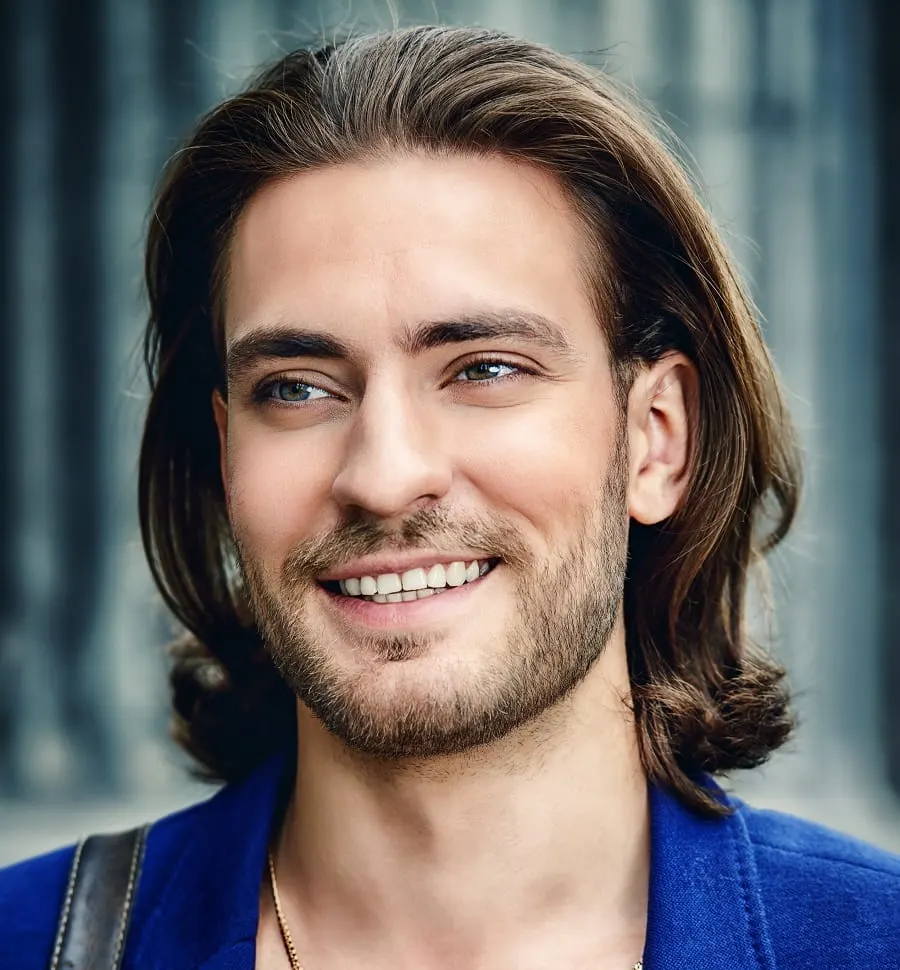 This style is an amalgamation of simplicity and stylishness. You are aiming for a heavy stubble beard with no dramatic angles.
There's some here even on the neck. It's clear the hair is wavy, or else it'll definitely fall on the shoulders.
6. Disconnected Hipster Beard with Tapered Side Part Hair
This hipster beard is as close as you can get to a chin curtain, but the slight patch on the cheek pulls it out of that category.
It's a disconnected beard from the sideburns with a petite handlebar mustache. The hair is slightly tapered above the ears with a side part.
7. Red Circle Beard with Short Sides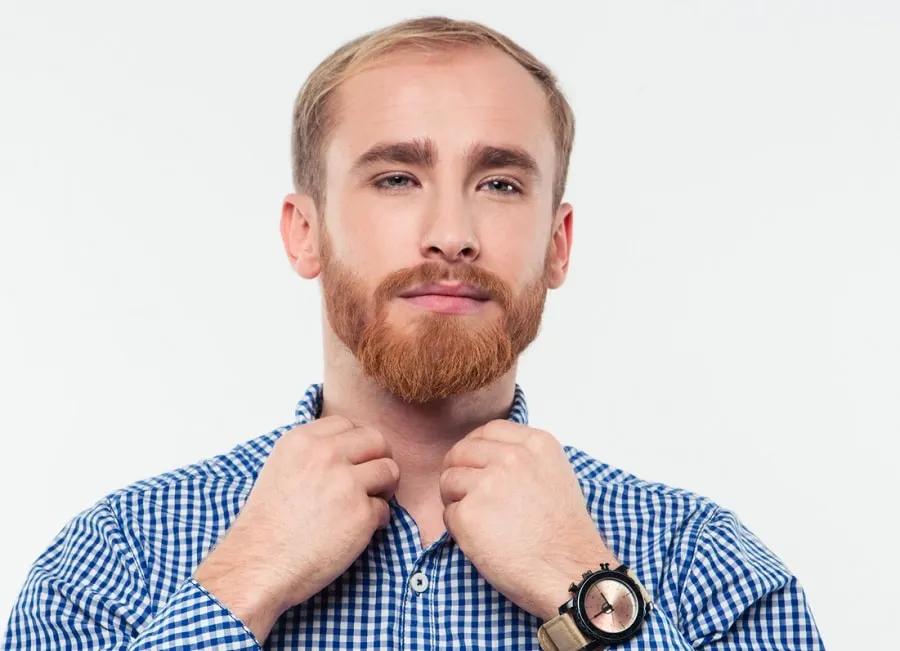 It might look like a full beard, but a close look shows a circle beard with short sides. The redness of the beard makes it look very attractive.
It tapers near the sideburns and then transitions into a comb-over hairstyle, which is a great pick for receding hairlines.
8. Short-boxed Beard with Blonde Goatee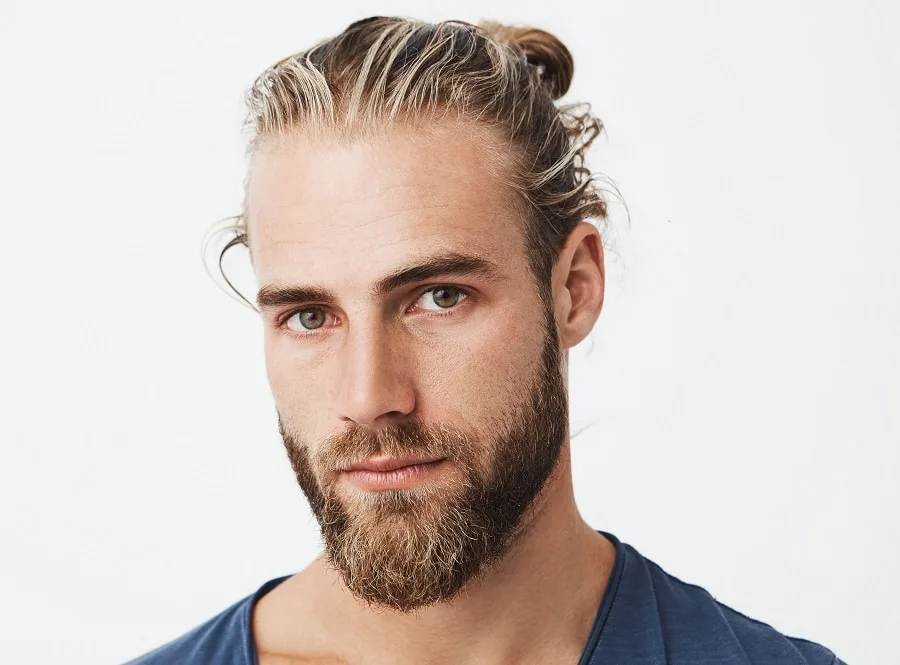 Call it one of the unique beards for triangle faces. The sides are short and sharply cut contrary to the goatee part, which is thick, slightly overgrown, and blonde. Try a man bun with it for a charming look.
9. Short, Red, Scraggly Beard with Wavy Hair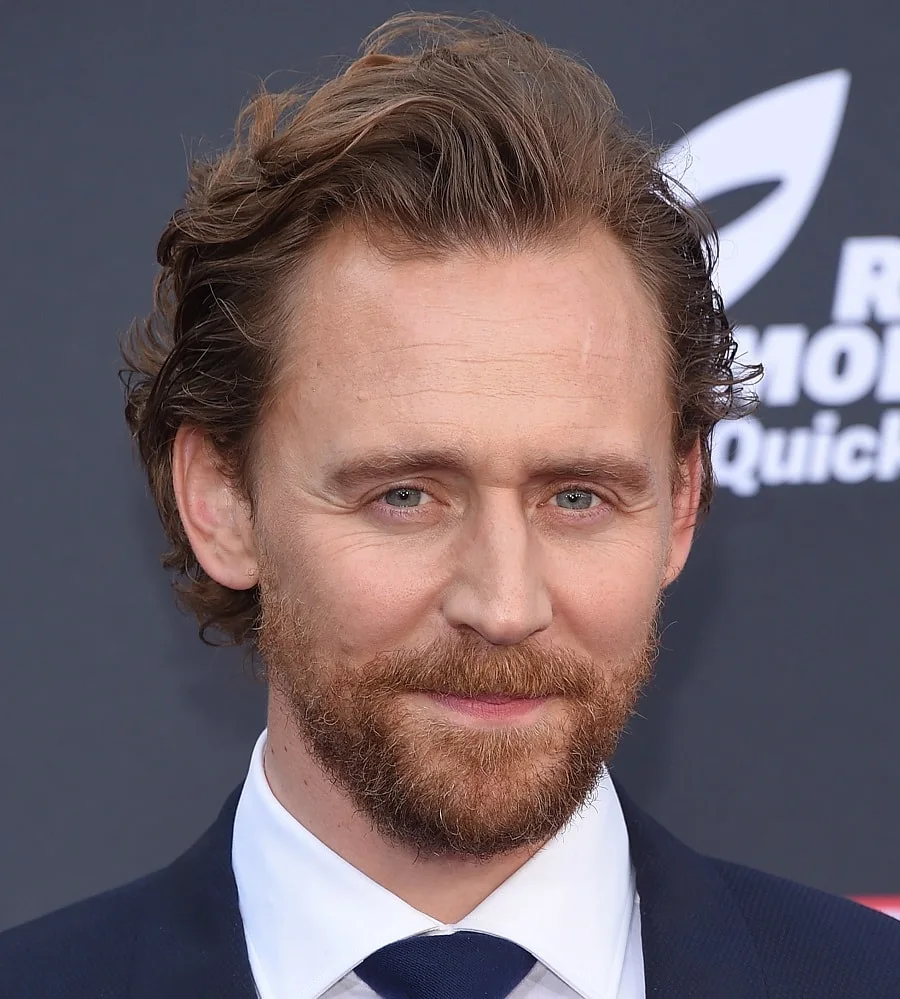 Brushing your beard may make your face look pointier than it already is. A great solution would be to keep it a bit scraggly and unkempt, so it adds width to the lower part of the face. Try something similar by going with messy waves on the head.
10. Rap Industry Beard with Wavy Buzz Cut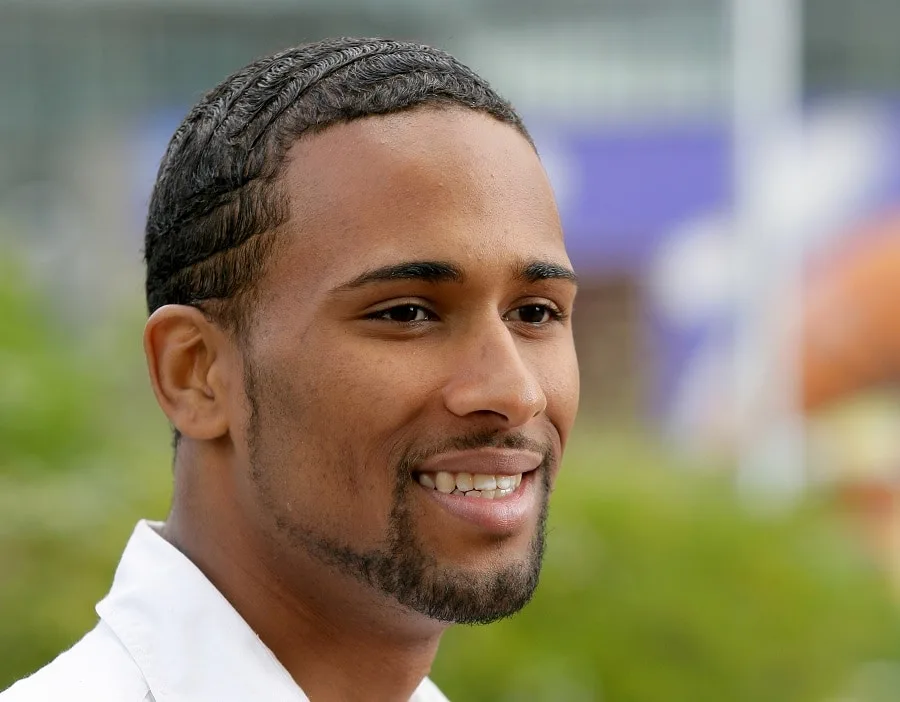 The rap industry beard runs from one side to the other with a chin beard that pushes it out of the chinstrap beard category.
It's a narrow line of hair running along the jawline. Don't underestimate the hair, which is a form of buzz cut with a wavy pattern.
11. Blonde Patchy Beard with Middle Part Long Hair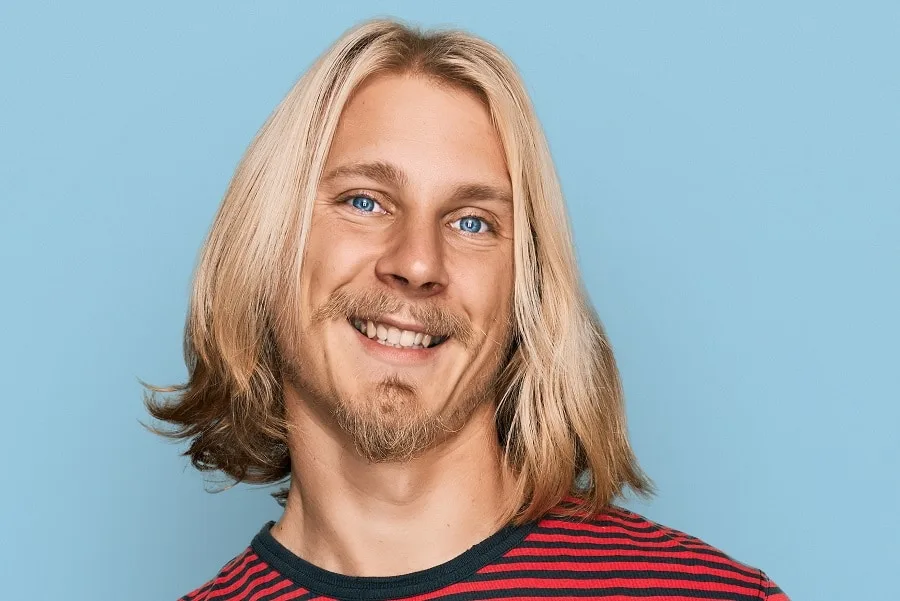 Do you grow a patchy beard that almost looks like you have a goatee? It's a short beard but looks like a goatee due to patchiness.
The long hair parted from the middle and falling on both sides almost looks like a bob cut and makes the face look oval.
12. Short Salt and Pepper Beard with Ivy League Haircut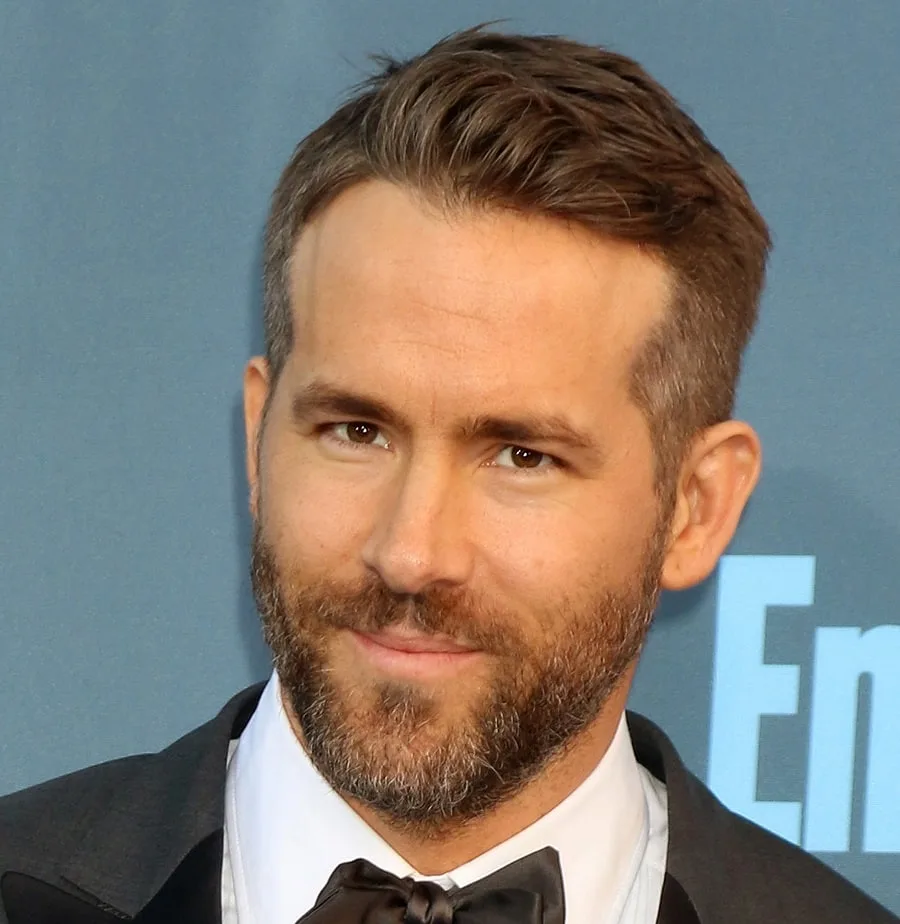 It's the combination of the haircut and beard that makes this look good. There's nothing fancy with a beard or the haircut because the beard is a plain old short beard with hints of grey. The hairstyle is an Ivy League haircut with tapered sides.
13. Soul Patch and 5 o'clock Shadow with Fringes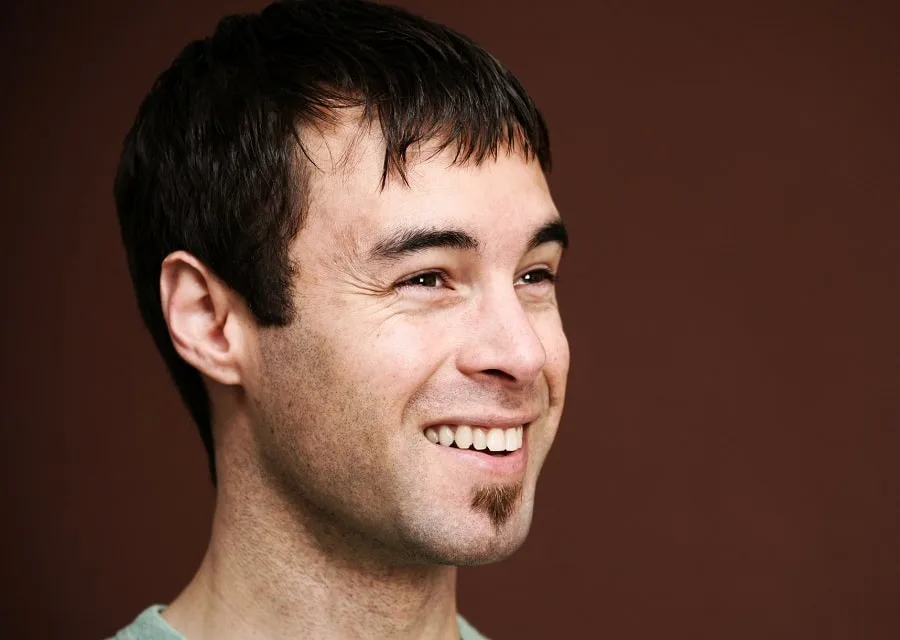 Pick this style if your objective is to look cute. Your soul patch will be the only point of focus on the face with a 5 o'clock shadow.
The short hair with fringes on the forehead goes surprisingly well with this beard style.
14. Chinstrap with Light Mustache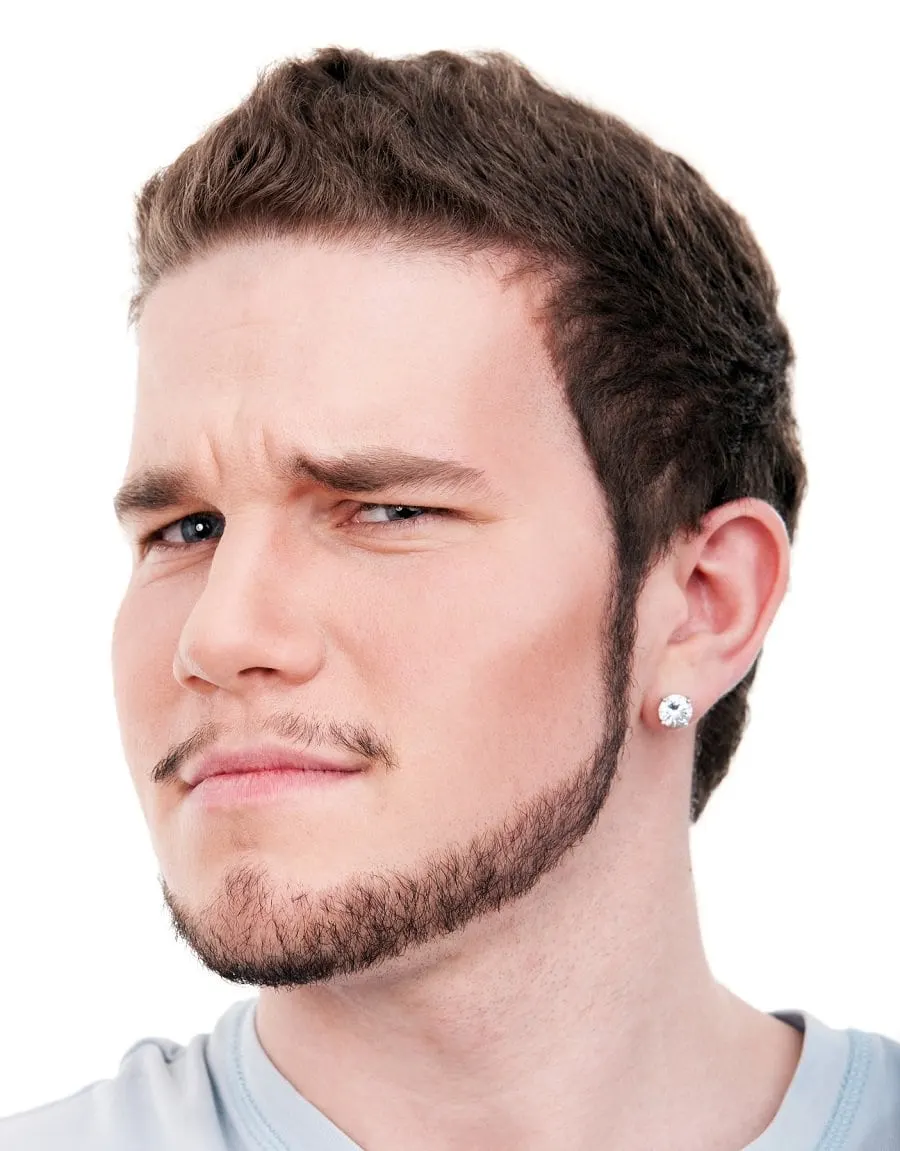 Chinstraps have always been a great way to outline a face shape. That's what's happening here with a heavy stubble chinstrap running along the jawline to the chin.
Complement the look with a light, pencil-thin mustache.
15. Patchy Bonde Short Beard with Pull Back Hair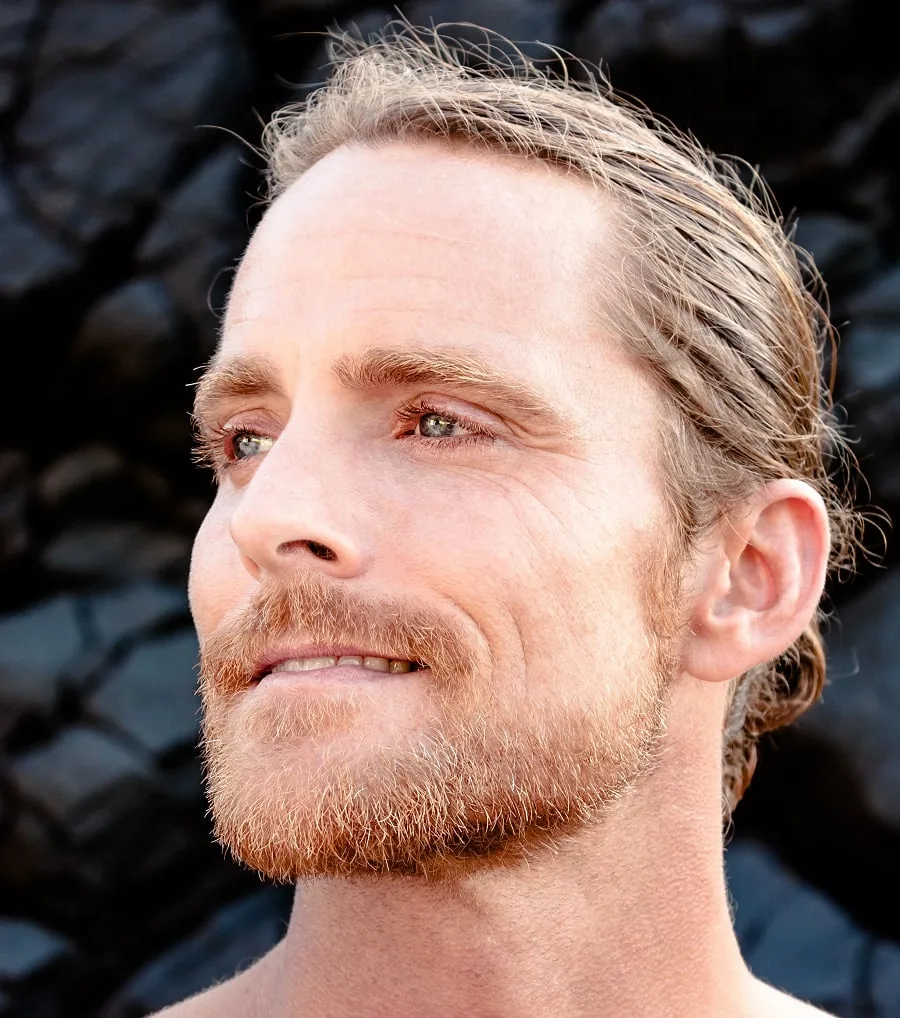 The final entry on our beards for triangle face is a blonde beard that's patchy near the back of the lower jaw but quite scruffy and thick around the chin. Pull back your hair and maybe even tie a knot–don't care about that flyaway hair.
So, these are our top 15 beard styles for men with triangular face shapes. Choose the right style according to your beard growth pattern and preferred look and make sure to give your beard the care it deserves!