Colored mustaches look great on most men and are a wonderful way to add interest to your face. No matter if you are naturally blonde or decide to dye your hair when you have a blonde mustache you are sure to attract a lot of attention.
Latest Blonde Mustache Ideas for Men
A blonde mustache is not very common but it looks really attractive and different. Try out these epic mustache styles to stand out in a crowd!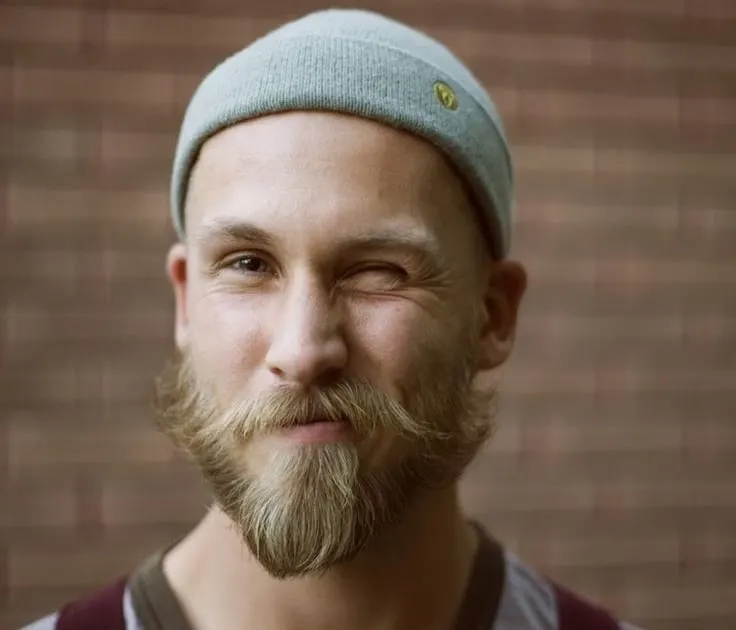 Men who have really strong features can definitely pull off this style. The slight swoop of the handlebar mustache combined with the beard draw a lot of attention to the mouth and the jaw. The feathered beard with this blonde mustache really makes it stand out.
2. Mini Blonde Handlebar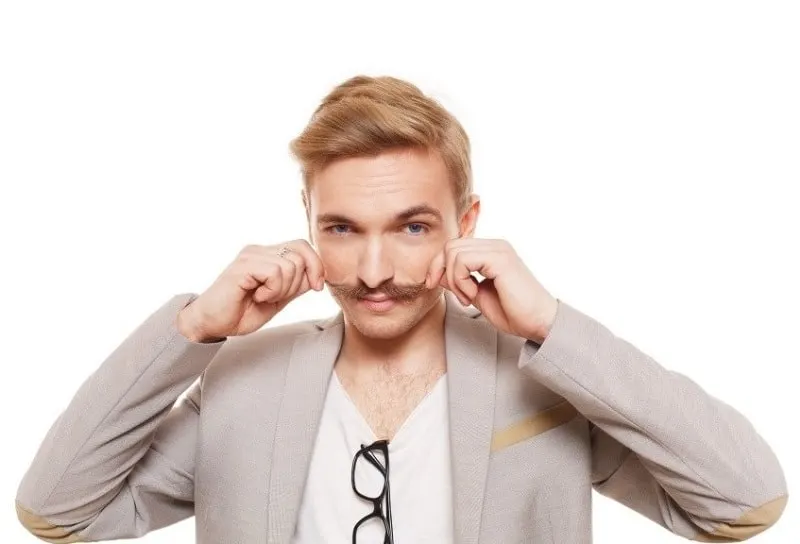 Some handlebar mustaches are so large that they take up the entire face and can look out of place. Keeping the handlebar a little shorter prevents it from looking silly and makes this mustache appropriate to wear to the workplace.
It's important to make sure that the ends are curled up correctly or they will droop and the mustache won't look its best.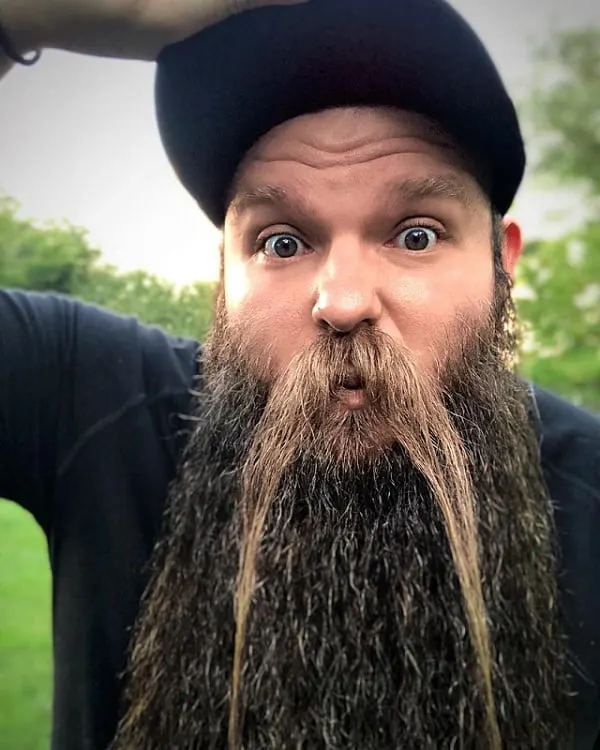 A Fu Manchu mustache can look strange when it is worn without a beard, but a full beard with a long Fu Manchu can look great on the right guy.
This mustache is a little blonder than the rest of the beard, and the contrast is really visually interesting. As long as the hair is moisturized and cleaned regularly, then this style will look great.
Perfect for men who want to wear a mustache, but aren't interested in drawing too much attention to themselves, a blonde dyed mustache and a neatly trimmed beard is the perfect combination.
This is a classic facial hair combo and, as long as everything is trimmed regularly, it won't ever look out of control. Make sure to allow the beard to come in fully for the best results.
Most people think of a pencil mustache being very thin and neat, but a slightly shaggy one can add a lot of interest to a man's face. It's important to keep the mustache up and off of the top lip for it to continue to look neat and cared for or it can quickly look unkempt.
6. Youthful Thin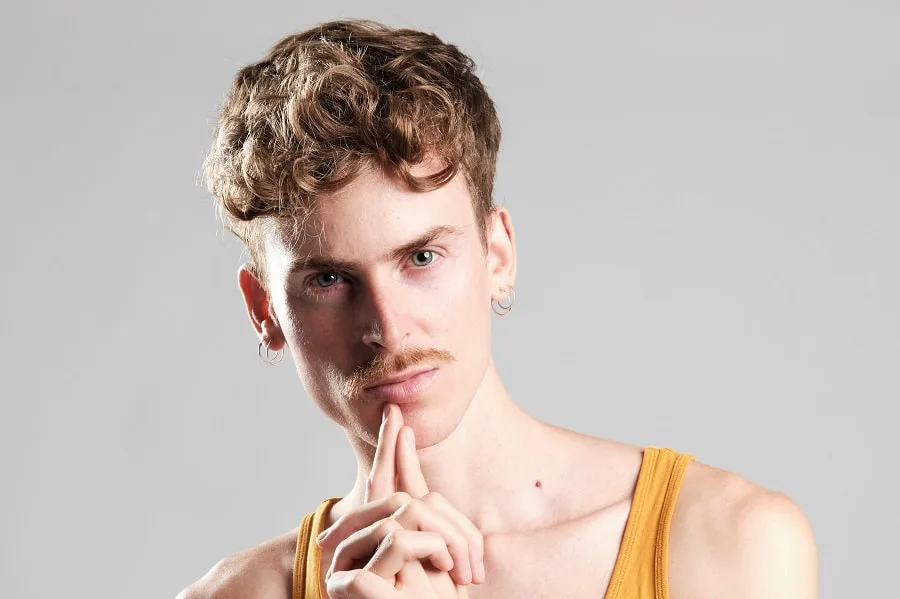 Mustaches can age young men considerably. Keeping your 'stache thin will ensure you retain your youthful look. The hair sits neatly above the lip and barely extends to meet the corners of the mouth. It's minimal and easy to maintain so it would be the perfect first mustache for someone.
7. Jaunty Gentleman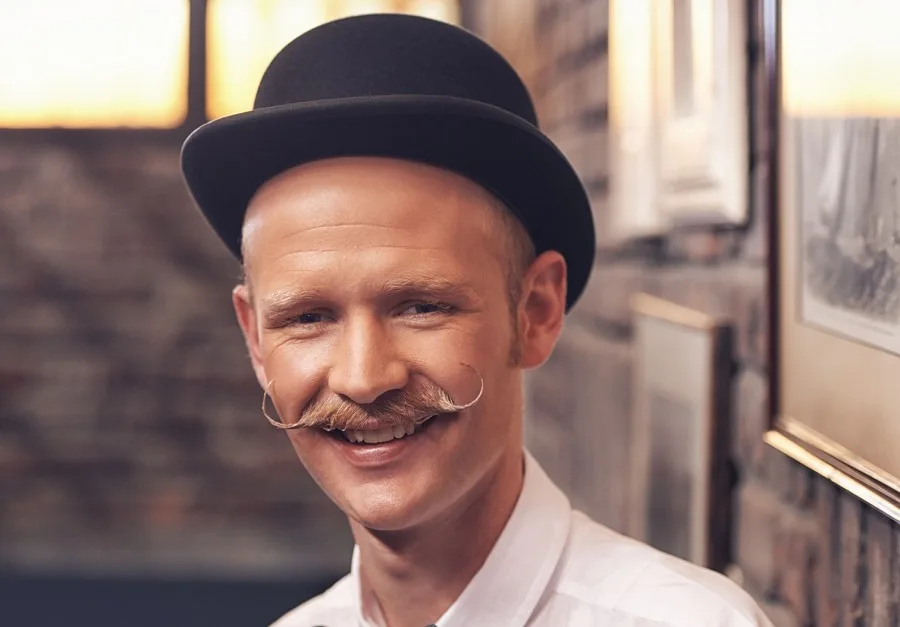 If you want to look like a fun-loving but semi-formal gentleman then consider this bold look. The blonde mustache doesn't stand out too much but it will definitely attract attention. It's kept short as it sits above the lip but the ends are thin and curl upwards.
8. Hipster Mustache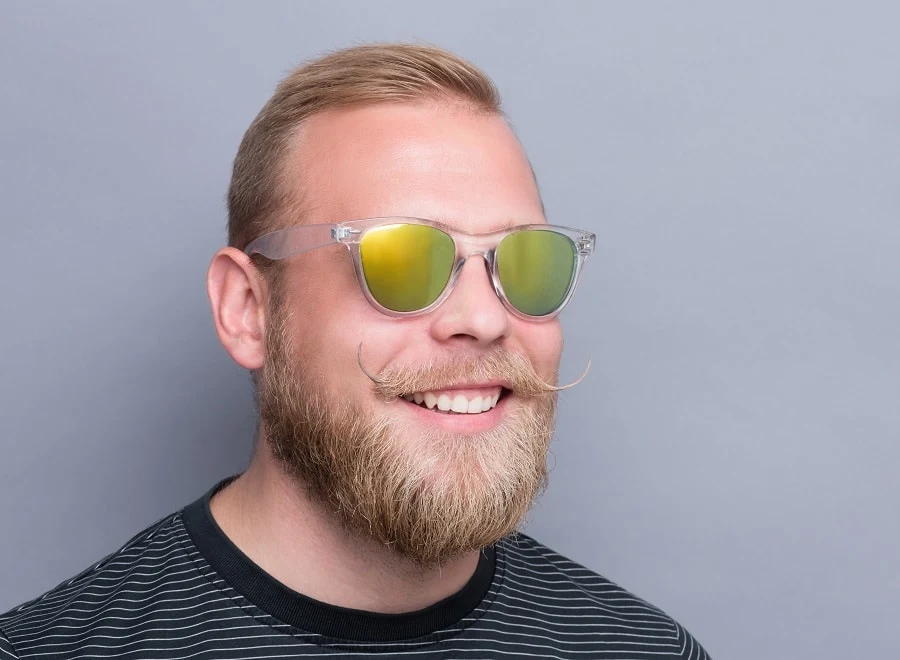 The hipster 'stache is well known for being neat with ends that curl up. The very light blonde color ensures the styling is subtle. This style works best when paired with a thick, full beard. The beard steals most of the attention as it's a little darker.
9. Thin Dali 'Stache
Many men opt to straighten their facial hair but you can still look great with it curly. The long, thin ends of the hair extend well past the mouth. They have a slightly wavy texture to match the long curly hair. The rest of the facial fuzz is straighter.
10. Auburn Blonde
The light 'stache here brushes against the top lip but doesn't obscure the mouth. It's subtle and helps round out the chin strap look. The chin strap has scraggly hairs along the jaw and is grown out below the chin. It's a scruffy beard style that doesn't take much maintenance.
11. Blonde Walrus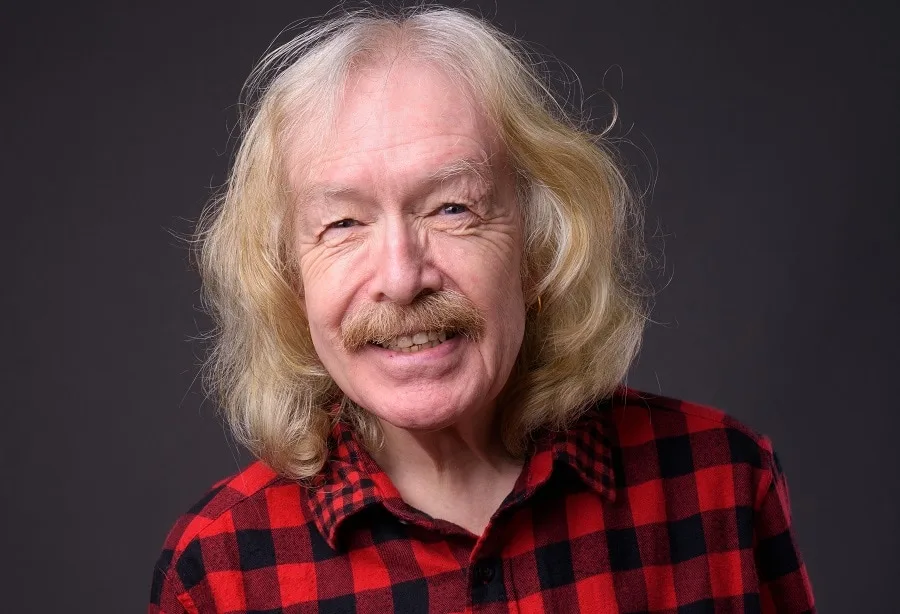 You can't go wrong with a thick walrus style 'stache if you want to stand out. It goes well with longer hair and suits mature men well. This one isn't too long and it just barely extends past the corners of the mouth. It's very thick and noticeable despite being such a lighter blonde color.
12. Bleached Chevron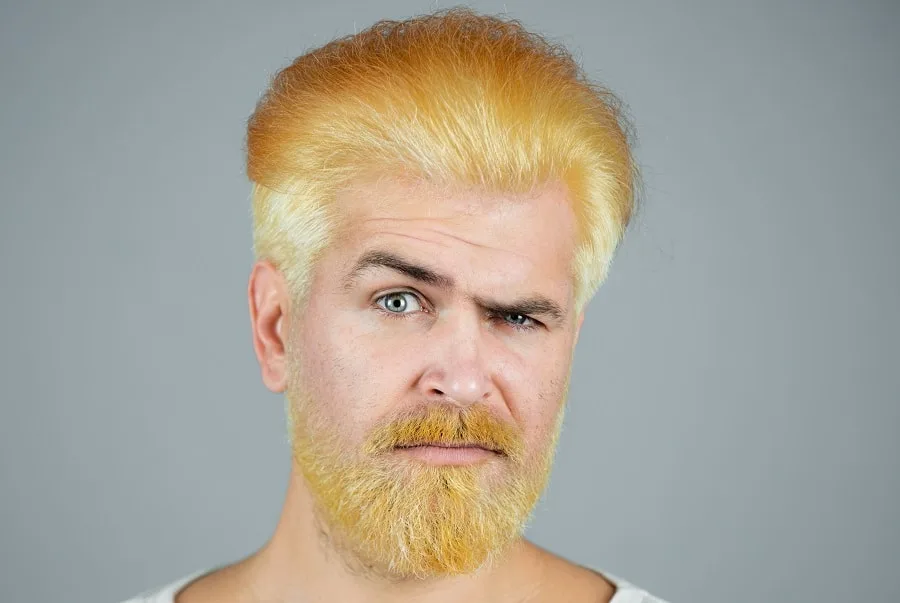 The chevron is a popular and classy style that suits most men. Here it covers the top lip and extends slightly past the corners of the mouth. Unlike many of the styles above, this isn't naturally blonde. The 'stache and full beard are bleached to give them a look you'll never forget.
13. Alternative Imperial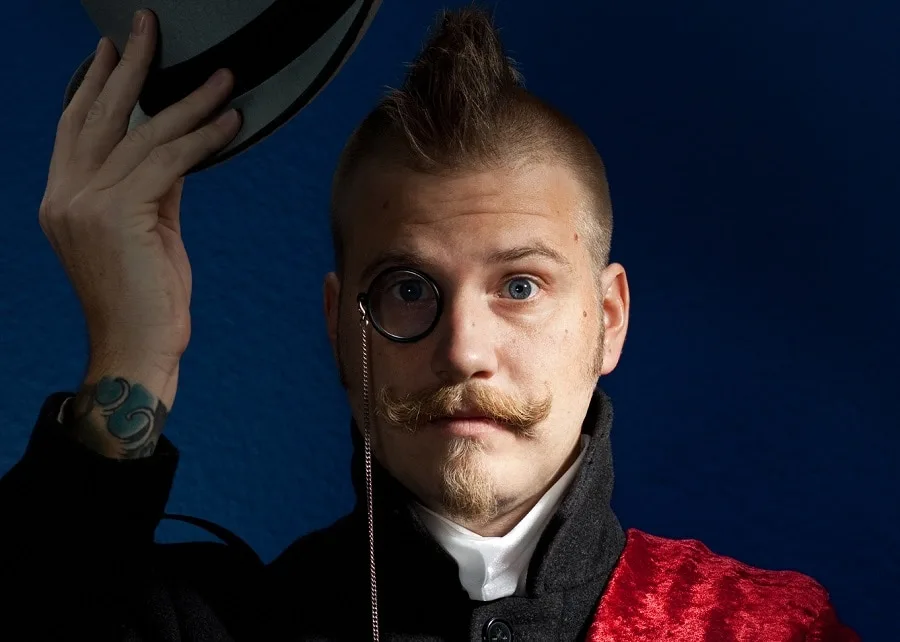 Imperial mustaches are known for making you look like a gentleman. This is true of the style above, too, but it comes with an alternative twist. It's paired with a soul patch that extends under the chin. It's also worn with a mohawk hairstyle that's unexpected of such a dashing mustache.
14. Long Mustache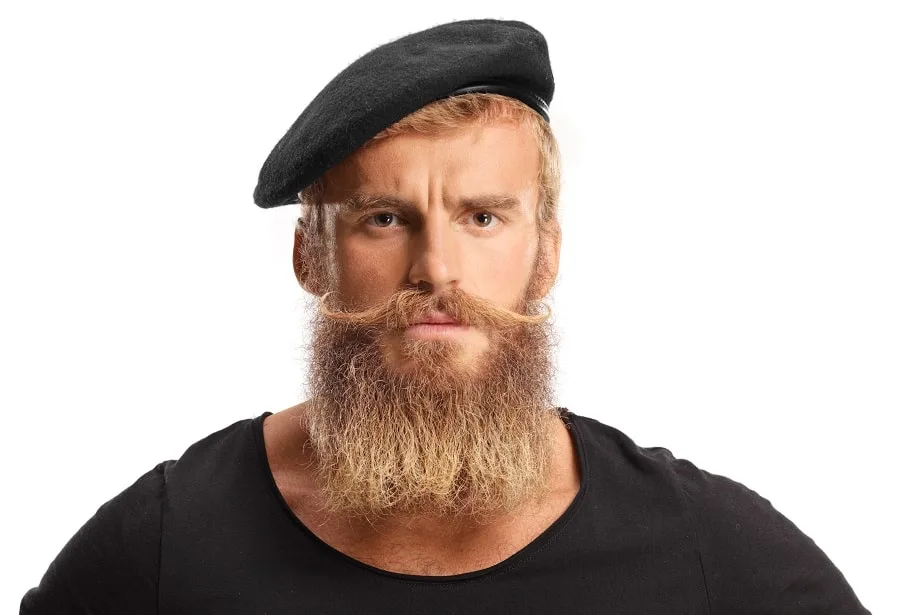 Combining long mustaches with long beards is a great choice. The blonde mustache and beard blend well together here. The 'stache sticks out sideways and curls up at the ends. It helps frame the square-shaped beard.
15. Thin Stubble
Sometimes highly subtle facial hair is all you need to make your look better. The mustache is so thin that it's barely more than stubble. The chin has a little stubble on it to help round out the look and add maturity.
16. Bleach Blonde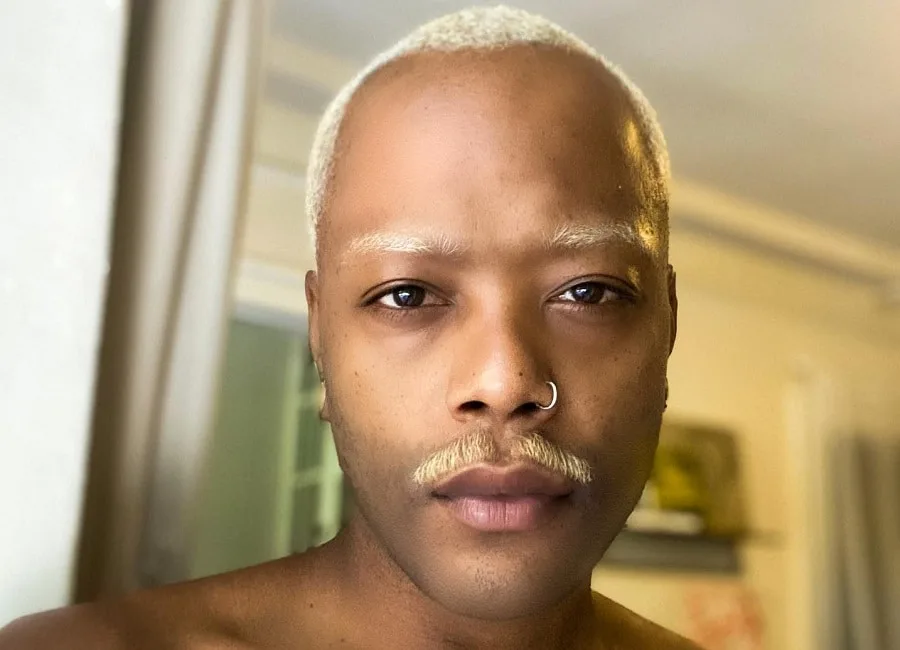 Black guys always look more daring when they bleach their hair and color it a nice shade of blonde afterward. The hair, eyebrows, and mustache all share this bleached-blonde treatment.
The 'stache has a wide gap in it above the cupid's bow. It reaches the corners of the mouth in perfect alignment.
17. White-Blonde Horseshoe
Older guys with white facial scruff stand out a lot when they add some blonde coloring into their mustaches. The style above is the perfect example of a horseshoe style as it sits on a wide face and forms a large curve down to the chin.
18. Thick 'Tache
Thick 'taches always stand out even when they're such a light color. It covers the entire top lip and fans out wide. The ends are curled up slightly and held in place very well. It's paired with a darker soul patch and some hair on the chin.
19. Painter's Brush Mustache
Men who want their mustache to gently rest on their upper lip will love this style. Instead of allowing the air of the beard or the mustache to grow longer than the other, it's a good idea to make sure that everything is short and neat. Dyeing all of the facial hair the same blonde color will keep the style looking uniform.
20. Blonde Lampshade Mustache
This style is generally seen on older men and can look a little out of place on younger men due to how severe the cut of the mustache is.
By keeping the bottom of the mustache perfectly trimmed to rest right above the top lip and ensuring a straight line every time, this mustache can be the perfect way to outline a man's mouth.
The next time you want to change up a facial hairstyle, consider a blonde mustache. As you can see, this is a very versatile type of facial hair and is sure to make you look amazing.