As men embrace the natural aging process, they choose to grow out their grey facial hair in new and interesting ways. And a short grey beard gives a tidy appearance.
Hence, middle-aged men search for an understated yet eye-catching appearance among the thousands of styles.
We will take you through the top styles for short grey beards that will make you look sophisticated and trendy!
Best Short Grey Beard Styles for Men
Whether you're looking for a classic trim or a more creative cut, these short grey beard styles will give you a perfect look for any occasion.
1. Anchor Beard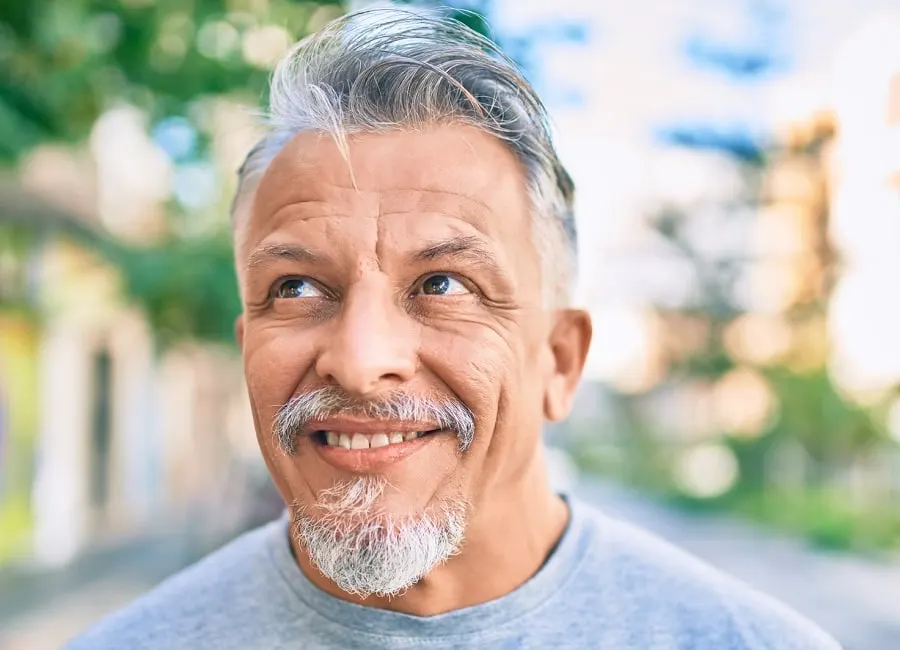 Men over 50 with strong jawlines and rectangular faces should consider this look. To style a short grey anchor beard, shave the sides and neck first. Then, use a trimmer to define the desired shape on the chin. However, make sure you keep a thick patch of beard in the middle of the chin.
2. Heavy Stubble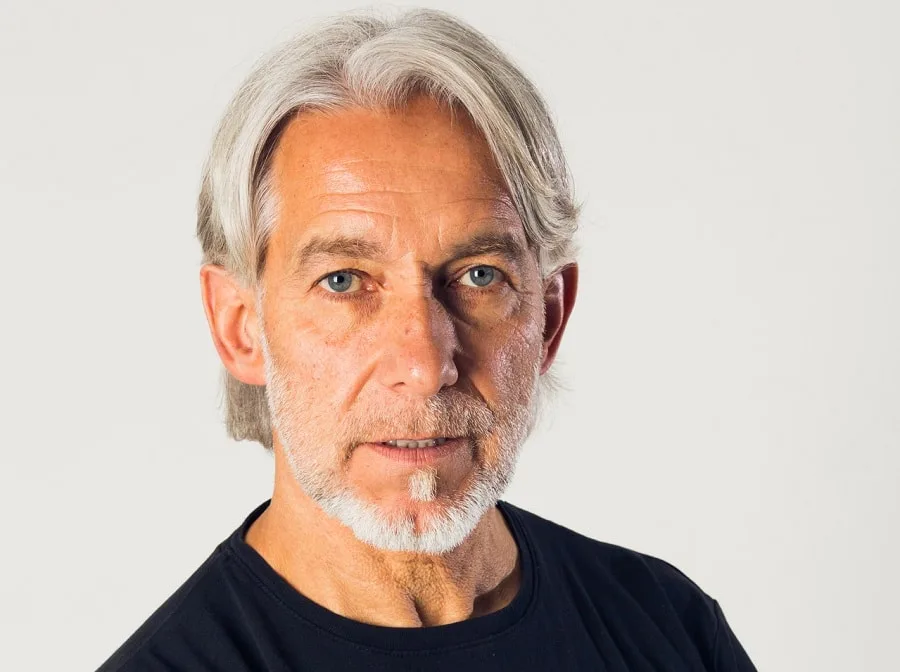 To style it, start with a 0.5 inches beard trimmer and then gradually increase the length as you move closer to the chin. For an elegant look, you can keep a soul patch under the lower lip. The heavy stubble should look good on men with a complete grey beard.
3. Short Verdi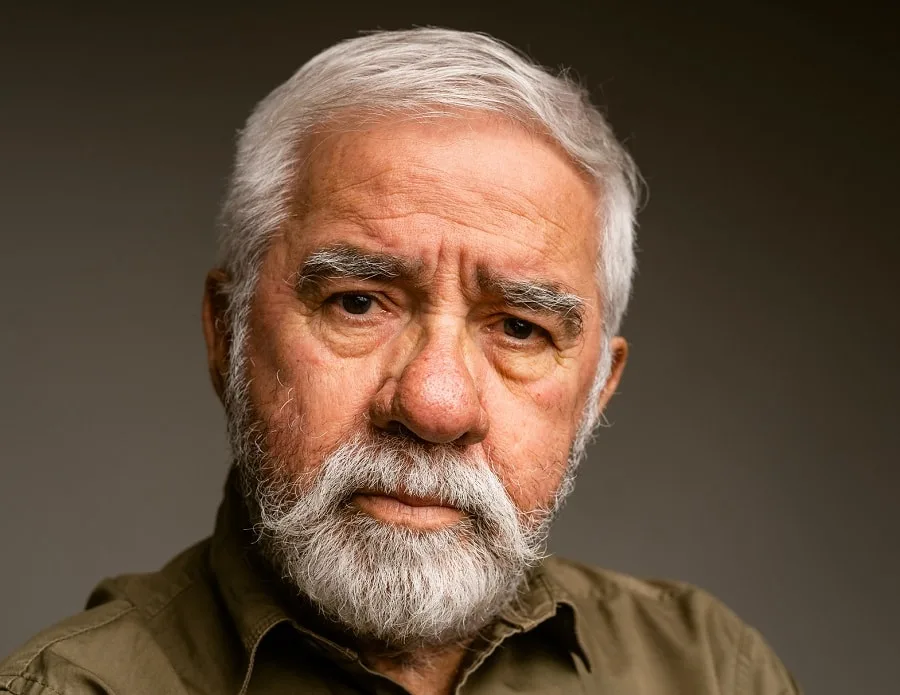 A senior citizen with a strong prominent chin can try a short Verdi beard. To get this look, start growing your beard for around two months and then slightly shorten the sides using scissors. Keep the mustache and hair on the chin longer. Comb the facial hair to get your desired shape and style.
4. Chin Curtain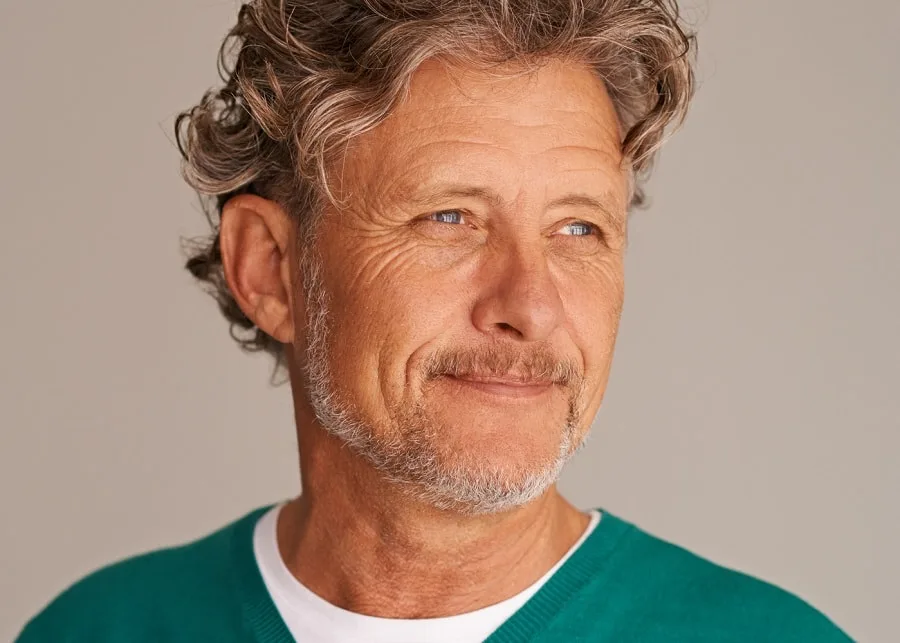 This style for a grey beard looks great on men with oval or diamond-shaped faces. It requires shaving the cheeks and neck clean while leaving a strip of facial hair along the jawline. The hair strip must connect to the mustache as well as a small patch of beard on the chin. You can use a trimmer or razor to shape the hairline along the jaw and neck.
5. Scruffy Beard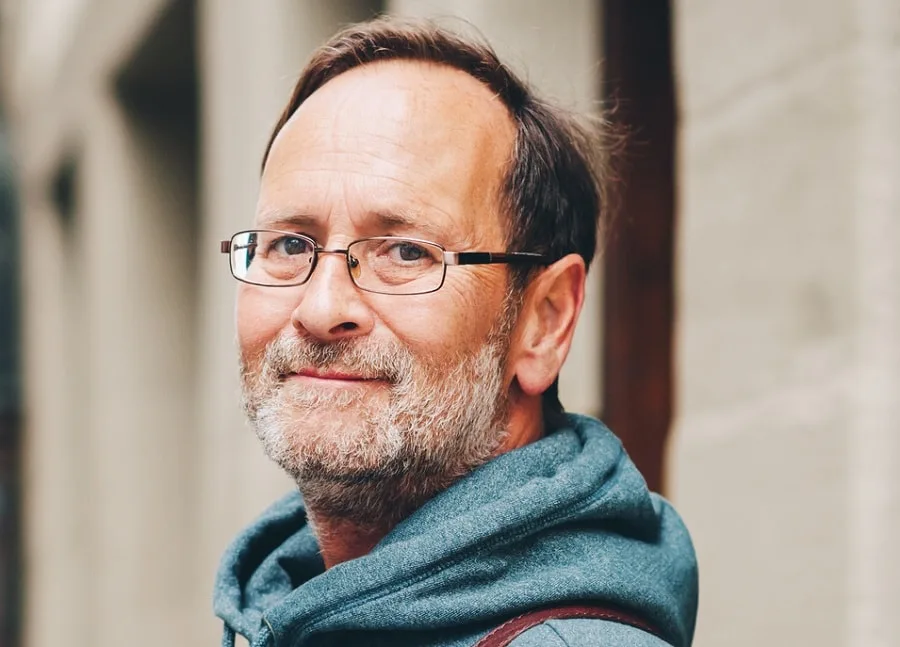 A scruffy grey beard is an excellent option for older men who want to hide their age lines, most importantly, the double chin. To achieve this look, grow your beard for a few weeks and then trim it, keeping the length about .5 inches. Then, use a beard brush to brush the beard in an upward direction and create a more tousled look.
6. Short Grey Beard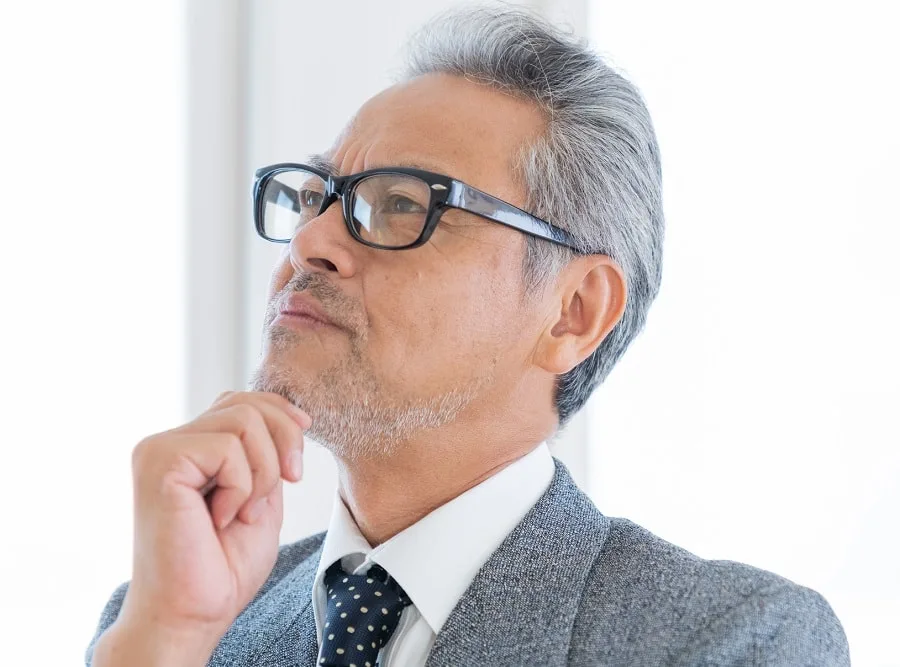 Asian men or those with a round face shape looking to add sophistication can try an extended stubbly anchor beard. This style helps to lengthen the face. To achieve this look, shave the sides and trim your chin to a short length, then create a thin line along your jawline.
7. Curly Circle Beard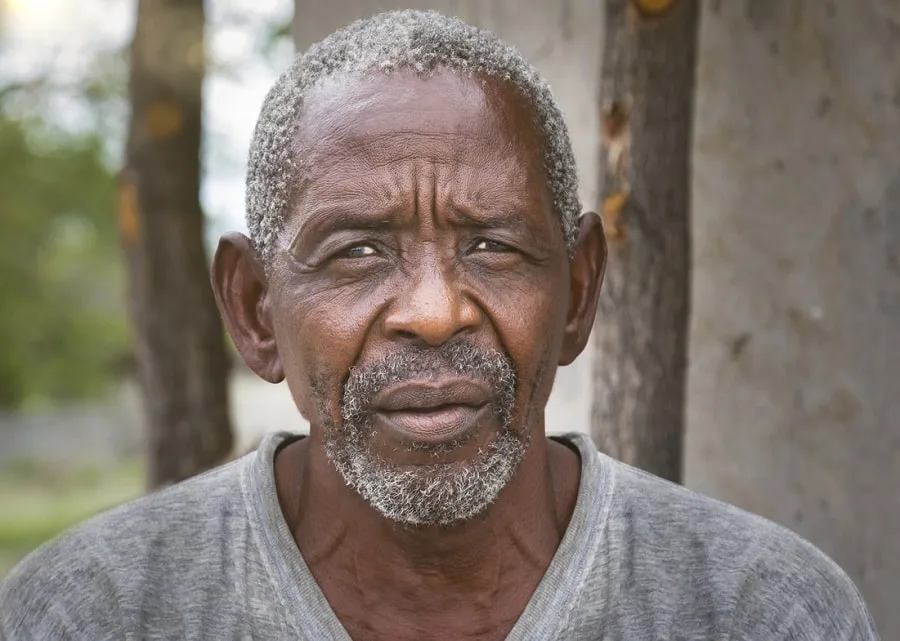 African American men with grey, curly beards often sport this style, which requires a trimmer to keep the desired size of beard around the mouth, including the chin and upper lip, while shaving the cheeks.
8. Short Full Beard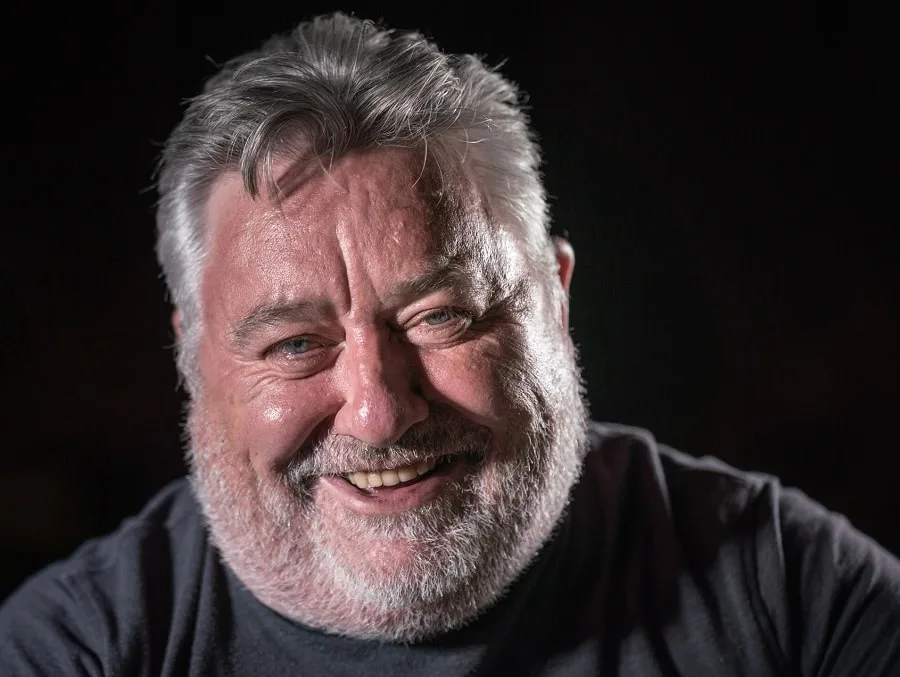 Keep the grey beard on the chin and cheeks short (about .5-1 inches) and full to achieve this style for a fat face. Use a beard trimmer to keep the beard short and even. You may use a scissor to shorten the mustache.
9. Fine Goatee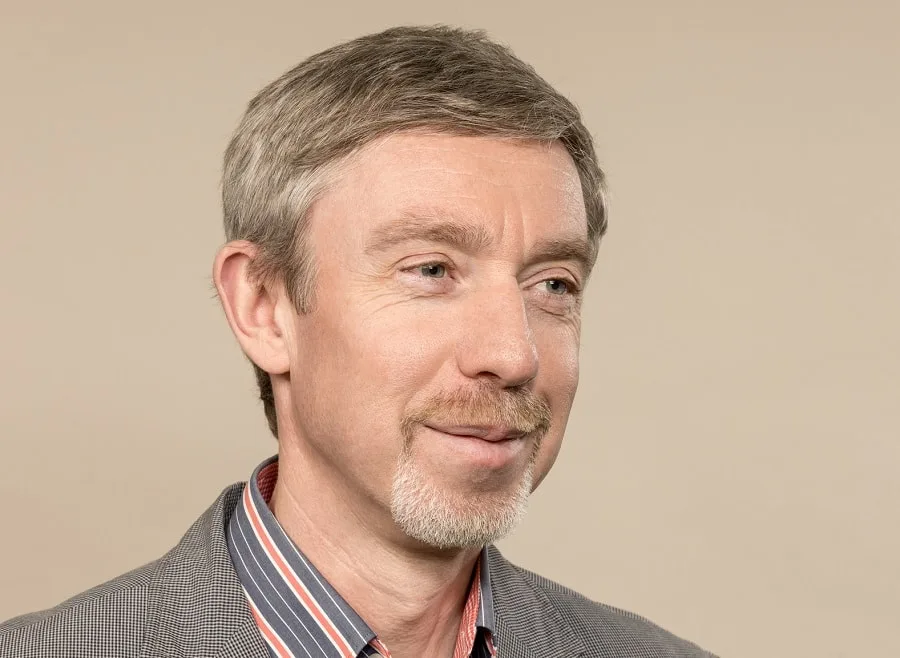 First, use a razor to shave the cheeks and neck to create a sharp, clean line around the mouth. Then, evenly trim both sides of the goatee with a trimmer and trim the chin to the desired length. This grey beard style looks great on the oval-shaped face.
10. Thick Chin Strap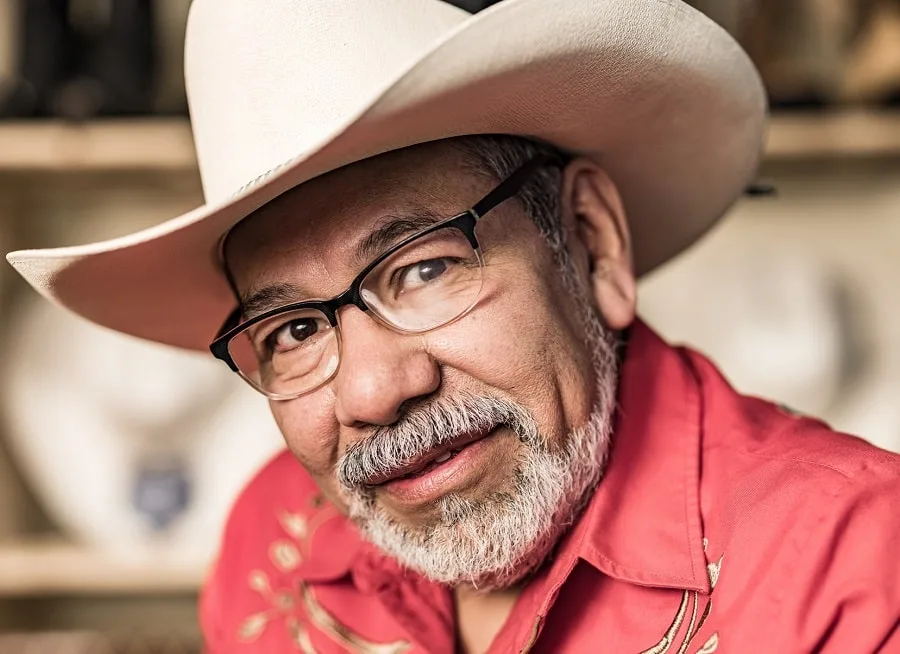 To get this look on a grey beard, first, grow it for a month or so. Then trim the facial hair to a thick chin strap with a straight line following the jawline, leaving the chin full and thick. After that, clean the cheeks with a razor to a more defined shape.
11. Grey Stubble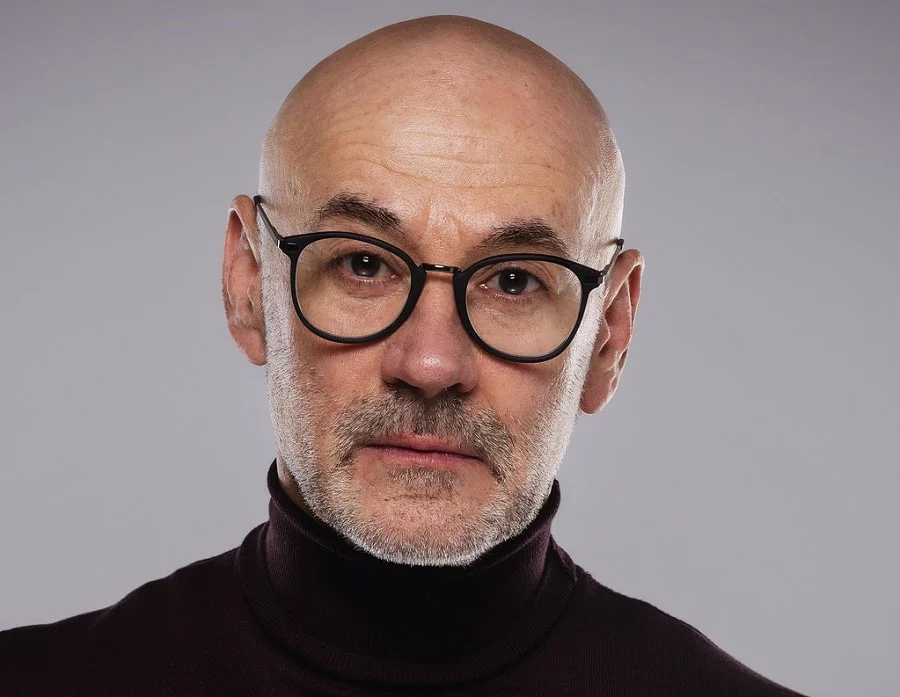 A grey stubble beard offers a rugged, mature look that's perfect for the silver fox in your life. To style it, trim the beard to around 2 to 4 millimeters in length. Trim your beard evenly all over your face and maintain an even length by regularly trimming it.
12. Boxed Beard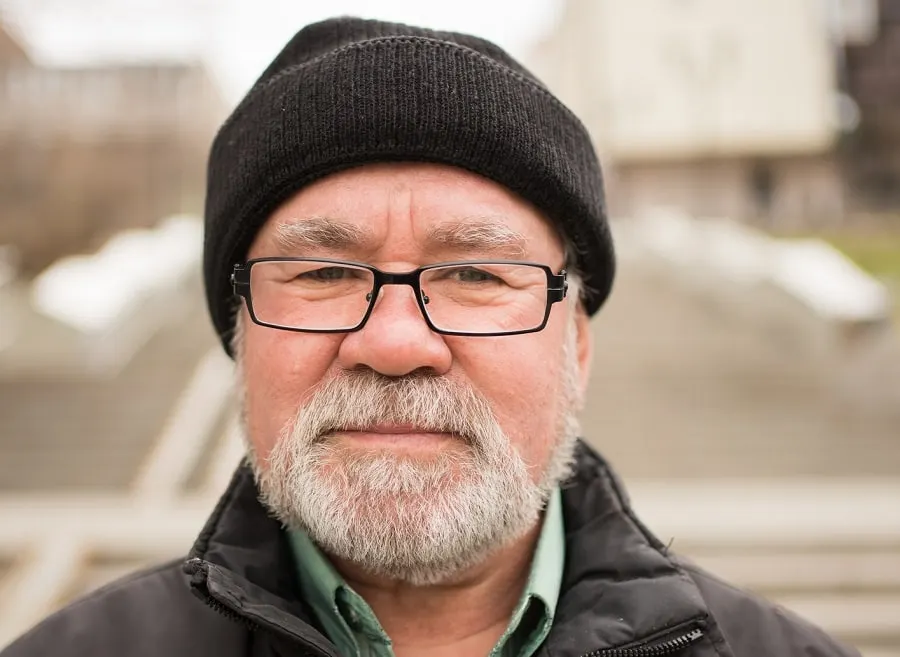 Let your facial hair grow for a few weeks until you have a decent amount of growth to work with. Then trim the hair evenly on both sides. After that, use a pair of scissors or a trimmer to create a desired angle from the jawline. Finally, shave the cheeks. This short box beard is great for a fat face and helps to hide the double chin.
13. Medium Garibaldi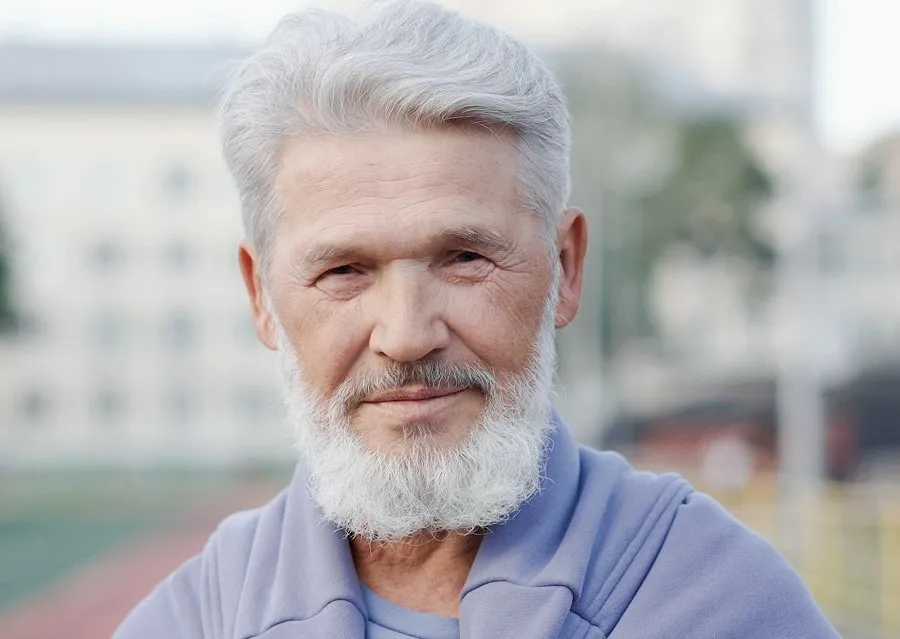 Grow your facial hair for around 6-8 months. Then shape it into a bushy beard with a round shape and a squared-off bottom, trimming the mustache area short and crisp. Finally, use scissors to trim off any stray hairs and give it a neat, polished look. Grey garibaldi looks excellent on a rectangular-shaped face.
14. Full Goatee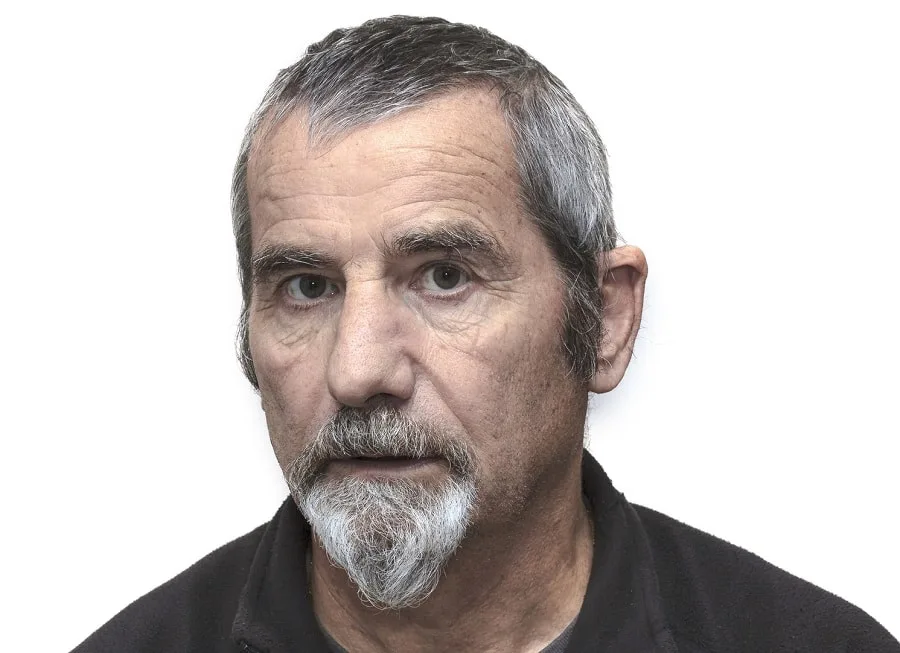 This style is composed of a chin beard, a mustache, and a goatee that is extended at the end. For a defined look, you can keep a long sideburn while shaving the cheeks and neck clean.
15. Thin Stubble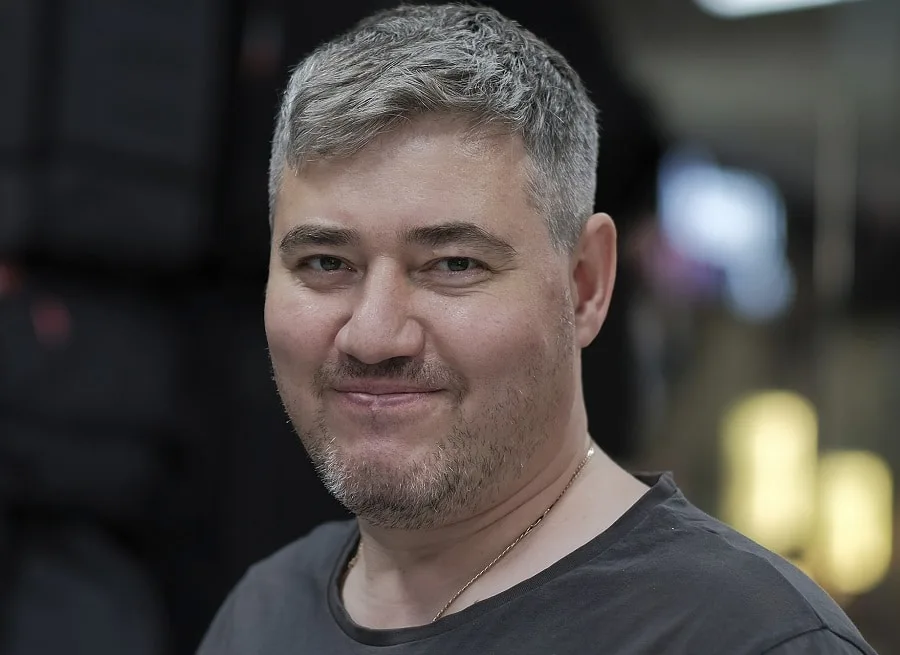 A double-chinned man can create a more defined jawline and add texture to his face by choosing a thin stubble beard. To begin, trim the beard to an even length using use 1/16-inch guard. Pay attention to the length and ensure it follows the natural contours of the face, especially around the jawline.
16. Amish Beard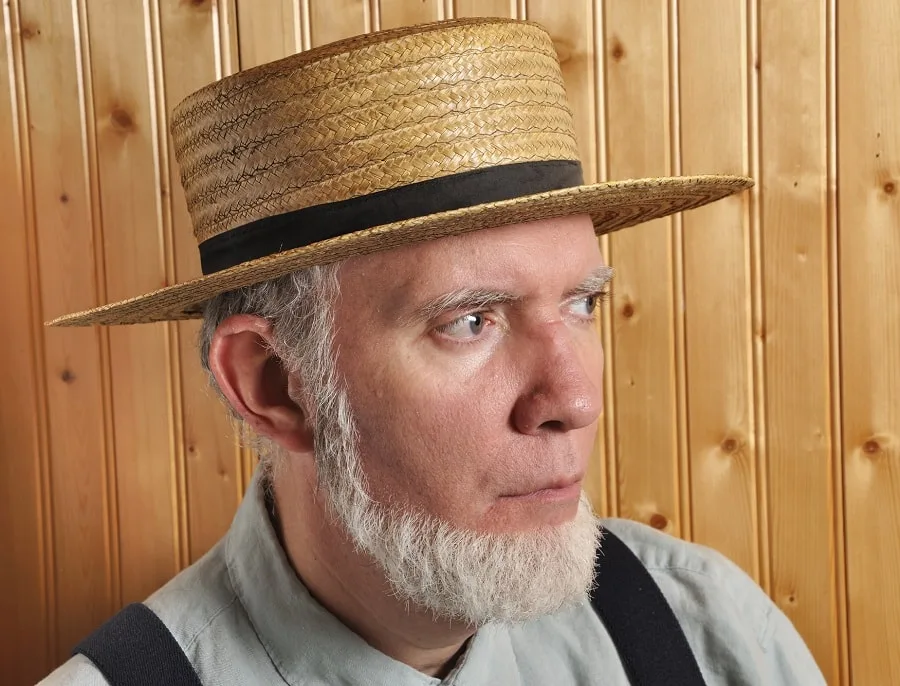 Shape the facial hair into an even and symmetrical shape using a comb to style a grey Amish beard. Then, trim any stray hairs with a pair of scissors. Finally, shave the cheeks, mustache, and lower neck for a neat look covering the face's lower half and most of the chin.
17. Grey 7mm Beard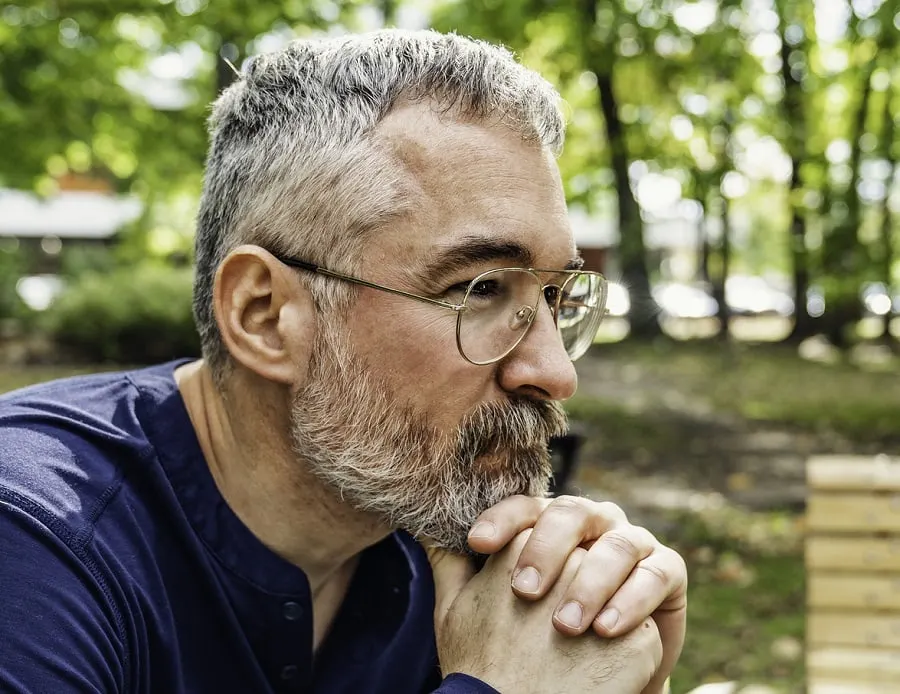 Middle-aged men who want a mature and distinguished appearance on their grey facial hair can benefit from this 7 mm beard. Shape the beard with a straight edge, creating a box-like shape that extends from the sideburns to the jawline, with a slightly sharp corner at the intersection.
18. Short Curly Ducktail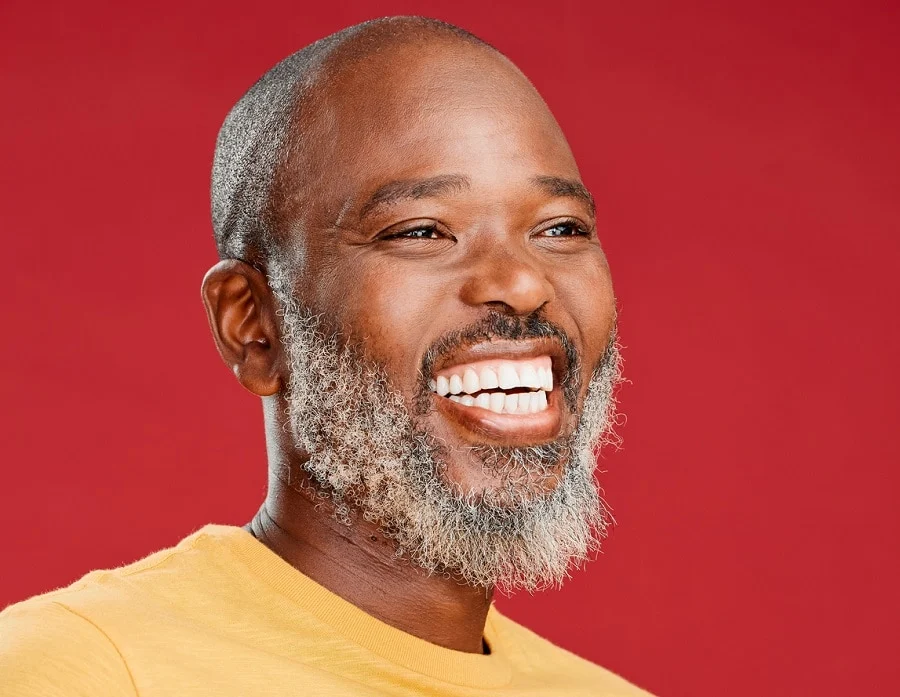 This grey beard style adds a touch of whimsy and playfulness to the African American face while maintaining a masculine and stylish look. Star by growing out the facial hair to a length of about 1-2 inches. Shape and trim the beard once it has reached the desired length.
19. Disconnected Anchor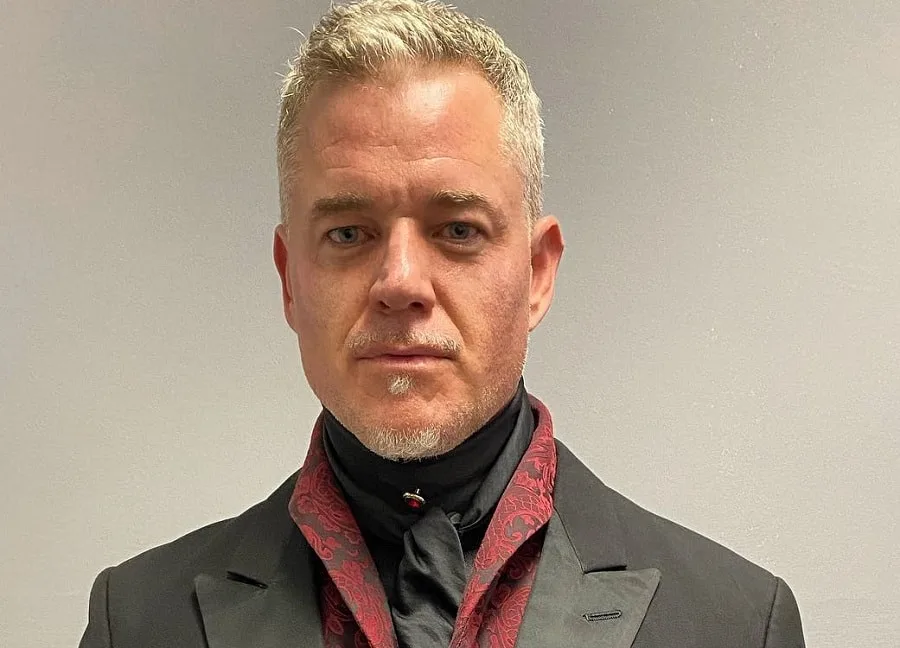 To begin, grow the facial hair to a length of about 2-3 inches before beginning to shape and trim it. Carefully trim the beard to an even length using zero sized trimmer, keeping a patch of beard on the chin. It will create a disconnected look from the sideburns and cheeks.
20. Thick Unkempt Beard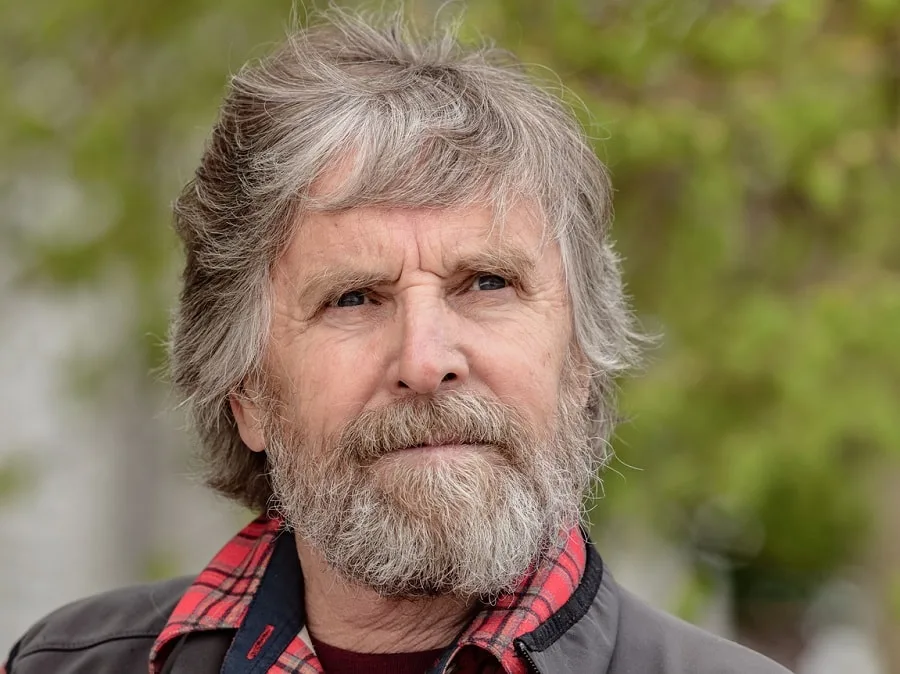 It is a popular choice for grey-bearded men who prefer a more natural and effortless look. It requires growing a full, dense unkempt beard without regular trimming or shaping to have a rugged, wild, and unpolished appearance.
21. Thin Hipster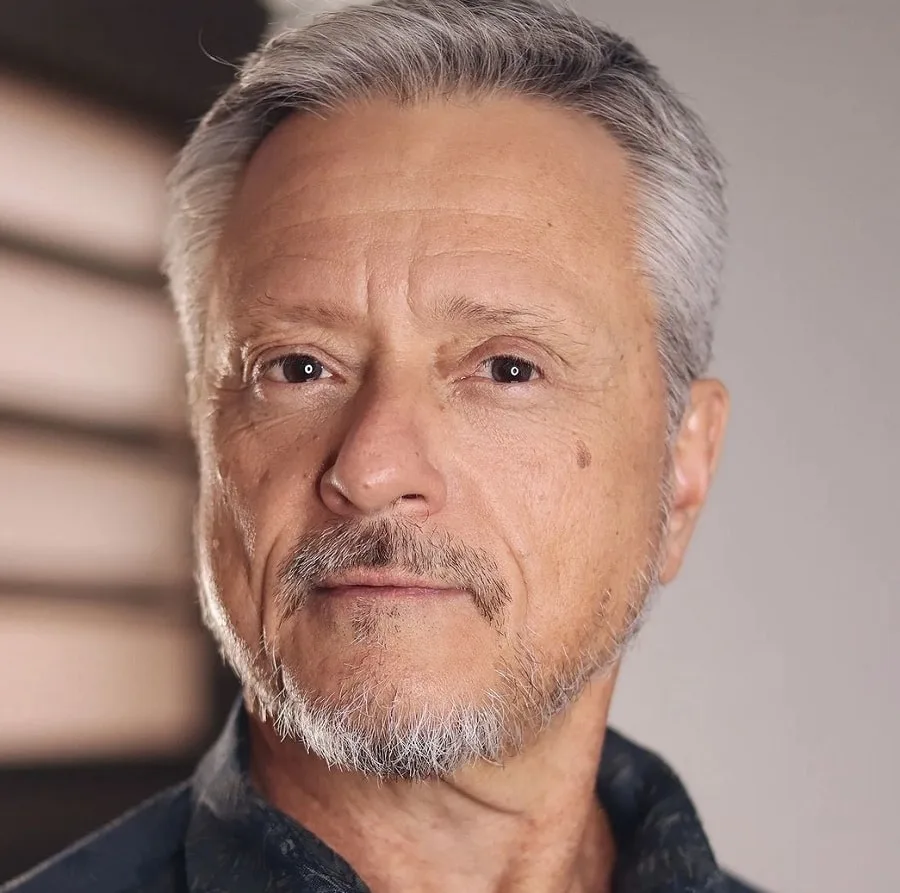 Although it is a trendy short beard style for young men, middle-aged men with a grey beard can try this too. Grow your beard around a few inches and then a trimmer to create a straight line defining the shape of the beard, where it meets the neck and cheeks for a clean look.
22. Short Grey Hipster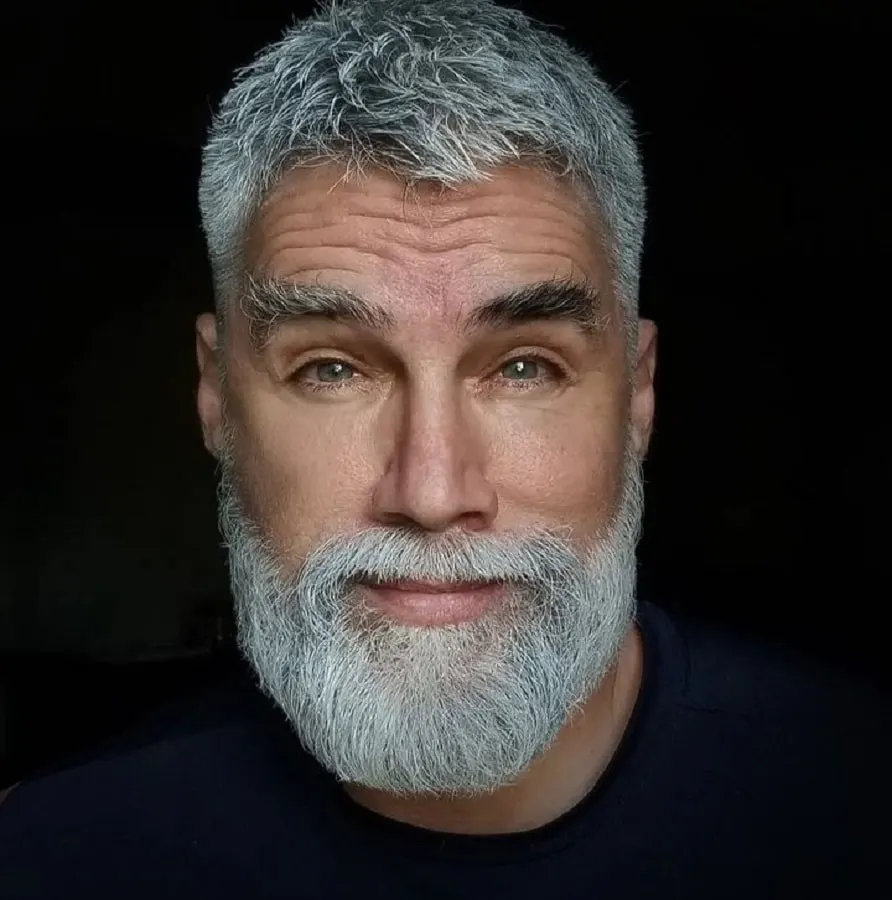 Older men embracing their natural grey hair often choose this popular beard style to maintain a stylish and masculine appearance. Typically, it consists of a full beard that is grown out longer than a standard length but contains a neatly shaped mustache.
Whether you want a well-groomed, full-length, or trimmed and neat stubble style for your grey beard, these options can help you define yourself. With the right style, you can look great and feel comfortable.
Recommended For You:
Does A Grey Beard Make You Look Older?