Getting a high, mid or low fade haircut and pairing it with cool beard styles are currently trending in men's fashion. What's truly amazing is the ability to choose a hair and beard style from the 50s and make it contemporary by simply adding a fade.
Fade haircuts can be classified into high, mid, and low fades, and each style takes on a unique character when paired with a beard.
The transition between the fade haircut and beard can be either blended or disconnected, according to personal preference.
In a blended style, the hair from the fade gradually increases in length and seamlessly merges with the beard. This results in a natural, continuous transition from the hair to the beard.
In a disconnected style, a clear line or demarcation point is maintained where the fade ends and the beard begins. This creates a sharper, more pronounced distinction between the hair and the beard.
Check out this article to know more about high, mid, and low fade haircuts and beard combinations.
What Is High, Mid, And Low Fade Haircut?
High Fade
A high fade haircut is a style that features hair cut very short on the sides and back of the head, with the transition between hair lengths beginning high up on the head, often near the hard part of hair.
The "high" in "high fade" refers to the area on the head where the transition between hair lengths begins. This results in a drastic contrast between the hair on the top of the head, which is left longer, and the faded sides.
The high fade can be worn with a multitude of top hairstyles, such as a pompadour, slick back, or a simple crew cut.
Mid Fade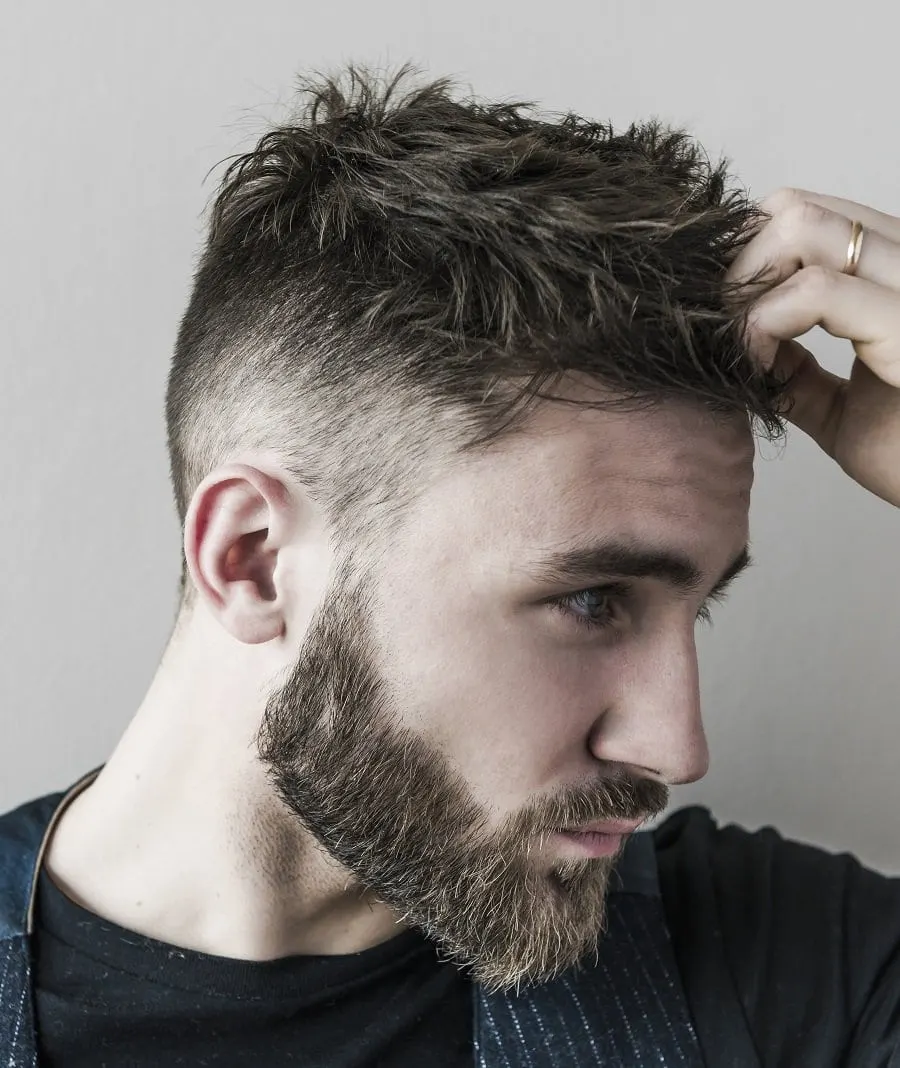 A mid fade haircut starts the fade at a point midway up the head. It's a balance between the high fade and low fade, which makes it a more versatile option.
The mid fade offers a moderate level of contrast between the hair on the top of the head and the sides, creating a look that's noticeable but not overly dramatic.
Mid fades work well with a range of hairstyles and hair types, from curly to straight, and from a textured crop to a quiff. It's a more conservative choice compared to a high fade, but still trendy and modern.
Low Fade
A low fade haircut begins the fade much lower on the head, typically just above the ears. The hair is gradually tapered from the bottom up, resulting in a subtle transition between the hair and beard.
Because the change is less drastic, it creates a more classic, understated look compared to higher fades. This type of fade is popular among men who prefer a hairstyle that's stylish but not overly bold or edgy.
High Fade Haircuts With Beard
In a high fade, the transition typically begins quite high up on the head, often close to the top. The hair above this fade line is generally kept longer. Here are some cool high fade haircuts paired with beards.
1. Disconnected Undercut with Neatly Trimmed Full Beard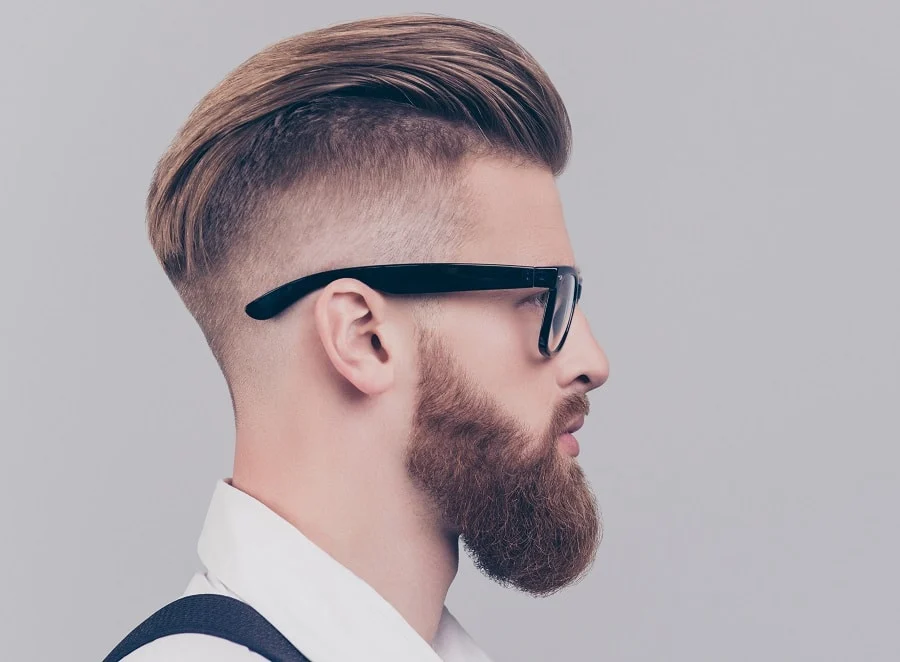 The disconnected undercut allows you to grow long hair on top contrasting with very short hair in the surroundings. This high-fade haircut works well with a full and neatly trimmed beard.
2. Spiky Fringe with Stubble Beard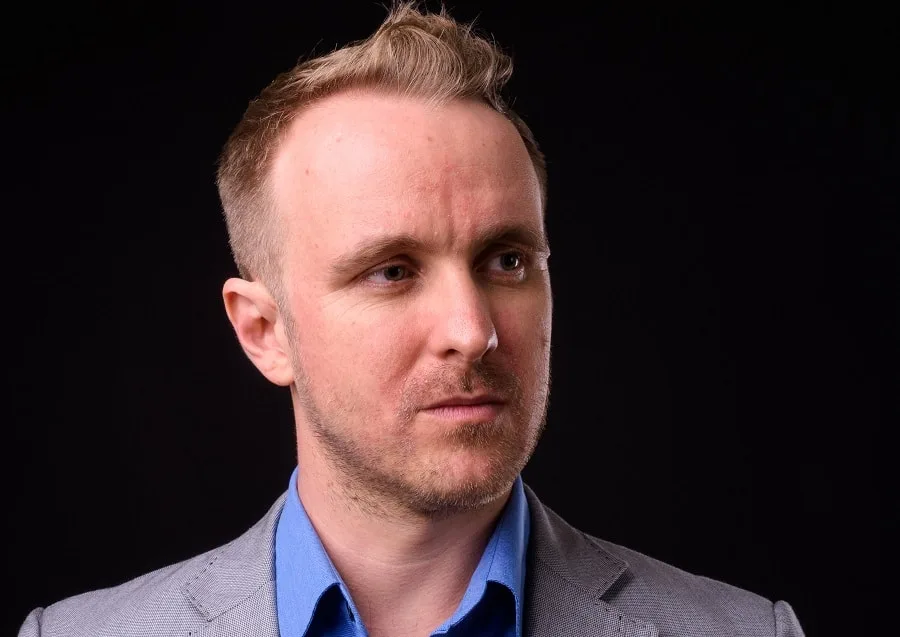 The sides have fade and the hair on top have been brushed to be spiky for a cool look. A light stubble covers not only the face but some part of the neck as well. This one's also among the high, low and mid fade haircuts that suit receding hairlines.
3. Military Haircut with 1/4 Inch Beard
Pick this typical high-fade military haircut if you're a soldier or aspire to be one. The hair on top isn't in any particular shape. Also, the 1/4 inch beard definitely meets the beard requirements of the American army.
4. Top Knot with Short Beard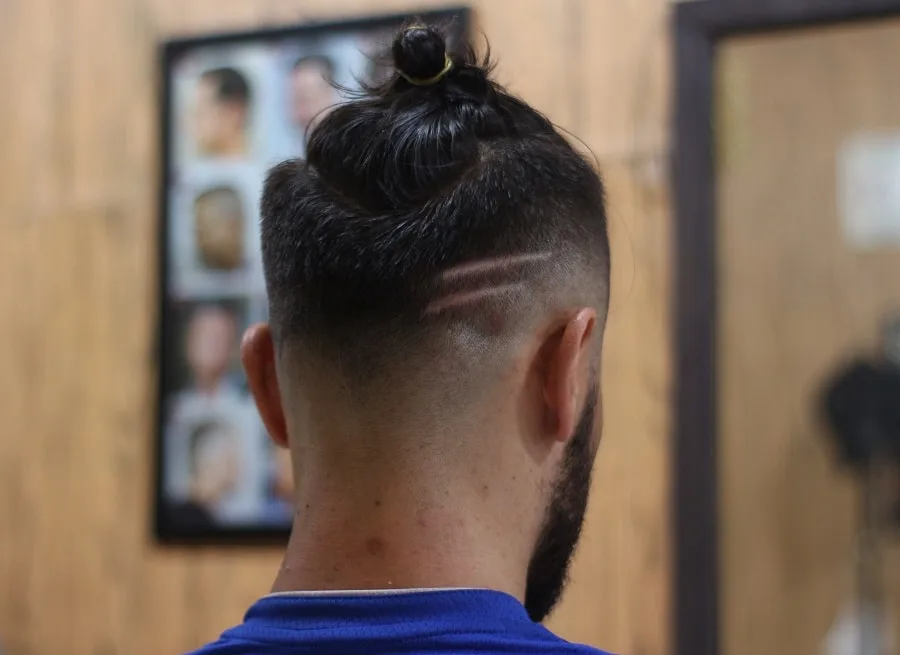 If brushing and combing the hair isn't your thing, you can choose this style and go with a top knot. It will keep your hair in one place. Pair it up with a short beard, which also requires no maintenance, brushing, cleaning, or trimming.
5. Buzz Cut with Carved Beard
It's a shaped up or lined up buzz cut that works wonders for people with a rounded face. While the haircut is already quite sharp, you can make it better with a carved beard that has perfectly neck lines, cheek lines, and outer edges.
6. Soft Part Hair with Patchy Stubble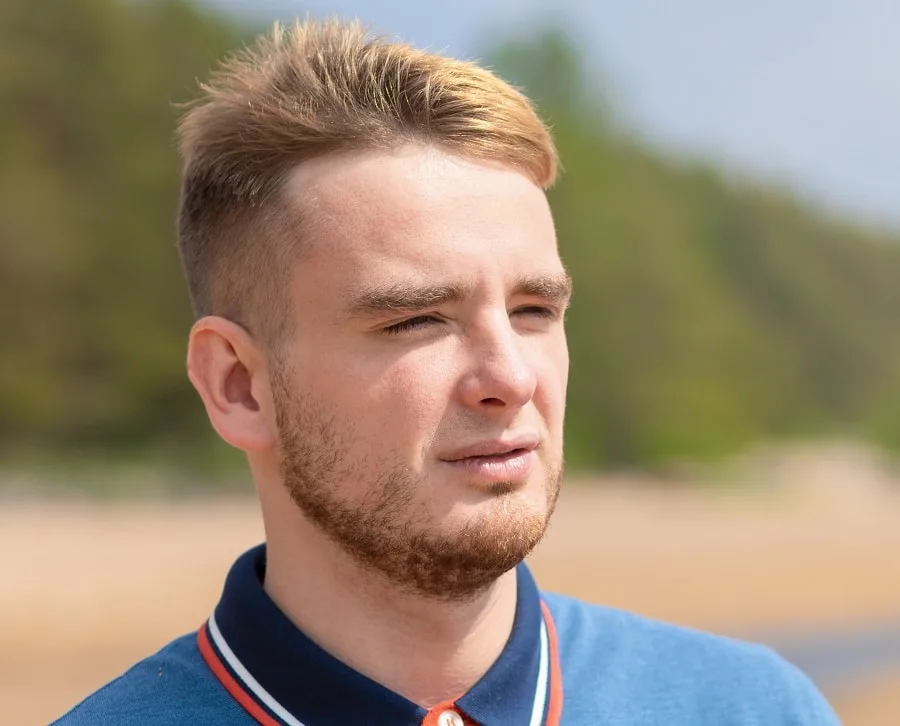 You're recommended to have this high fade haircut with beard if your hair doesn't stay in a particular position. You can part the short hair with your hands, which will give you a soft part. A patchy stubble with this haircut will make you look young for sure.
Mid-Fade Haircuts With Beard
If you want to ba
7. Skin Fade Comb Over with Intact Stubble
Call it the businessman look with slight skin-fade on the temples and a comb over top. Some people like to draw sharp lines to stylize their stubble. This one is intact with no cheek line and hairs extending to the neck.
8. Shape-up Crew Cut with Lined Stubble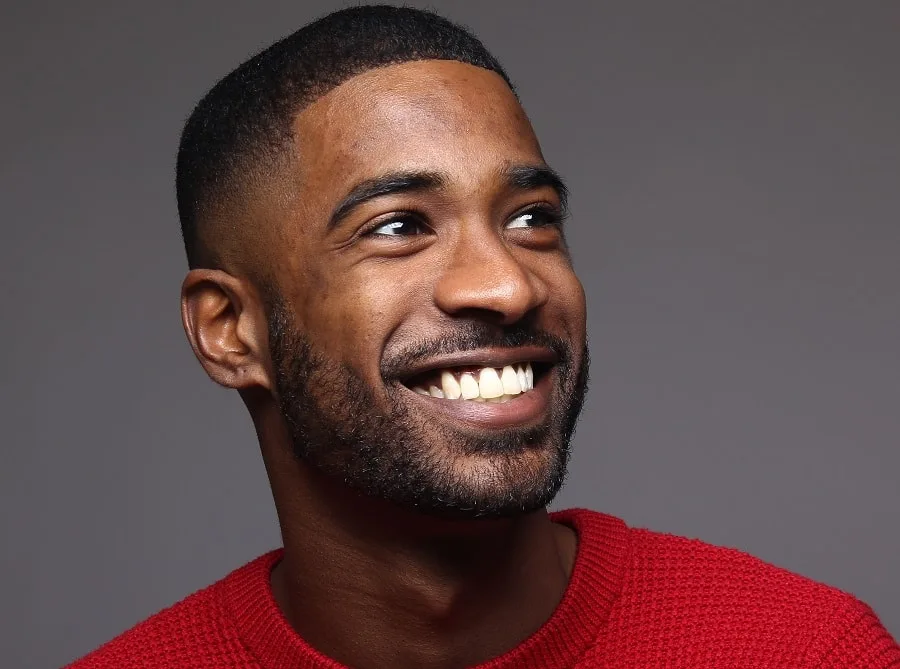 Notice the sharp lines in this style. The crew cut has skin fade effect on the sides and it's pretty well lined up on the front. The same trend follows when you look at the beard. It's heavy stubble with clear neck lines and cheek lines.
9. Textured Side Part with Van Dyke Beard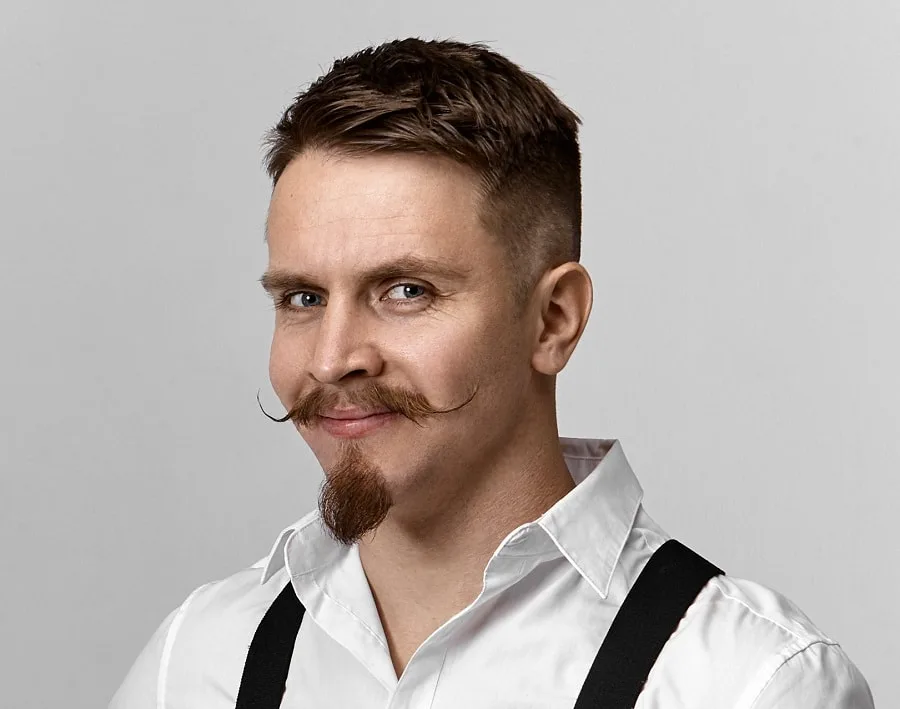 This one surely stands out in this high, mid and low fade haircuts with beard due to the Van Dyke beard. The curled mustache gets attention from several yards away. As for the haircut, it's a textured side part with mid fade on the sides.
10. Dreadlock Pineapple Pony with Rap Industry Beard
The mid fade on the sides of this haircut is only a small part of the style. You then have frosted highlights on these dreadlocks, which have then been tied in a pineapple pony. A rap industry beard gives the face a clear outline.
11. Short Fringe Highlights with Beard Fade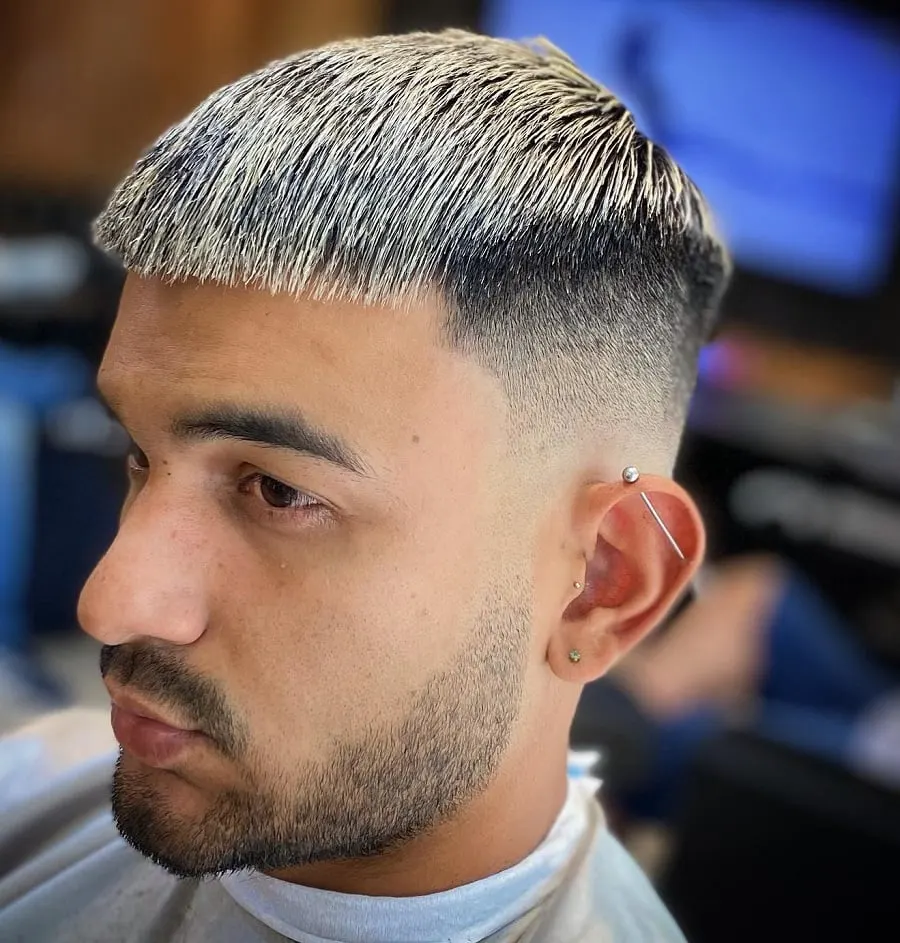 Highlight your short fringes and comb them forward so they fall on the forehead. It will also cause them to be textured. The look is great for an oblong face, especially when you go with a short beard that fades near the sideburns.
12. High-top Curly Hair with Tapered Short Beard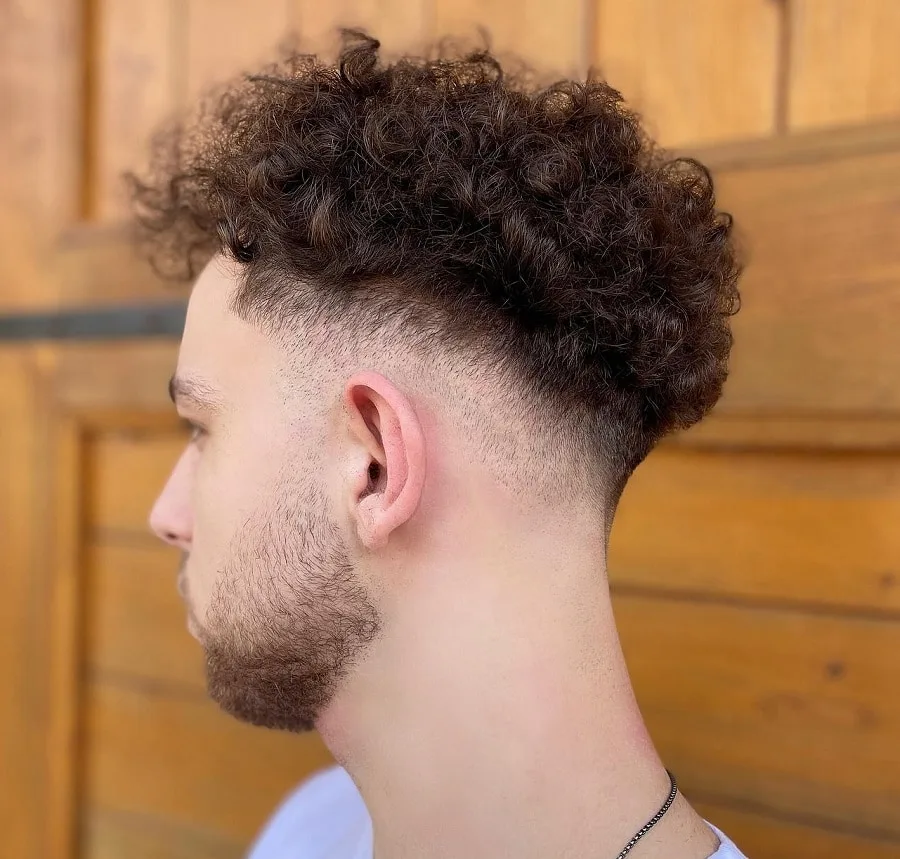 Don't like your curly hair covering your ears? This mid fade haircut with beard will clean the sides and give you a high top with plenty of curls. The beard is already short, but tapering it near the sideburns makes this style overall quite airy.
Low Fade Haircuts With Beard
13. Wavy Brush Back Hair with Patchy Beard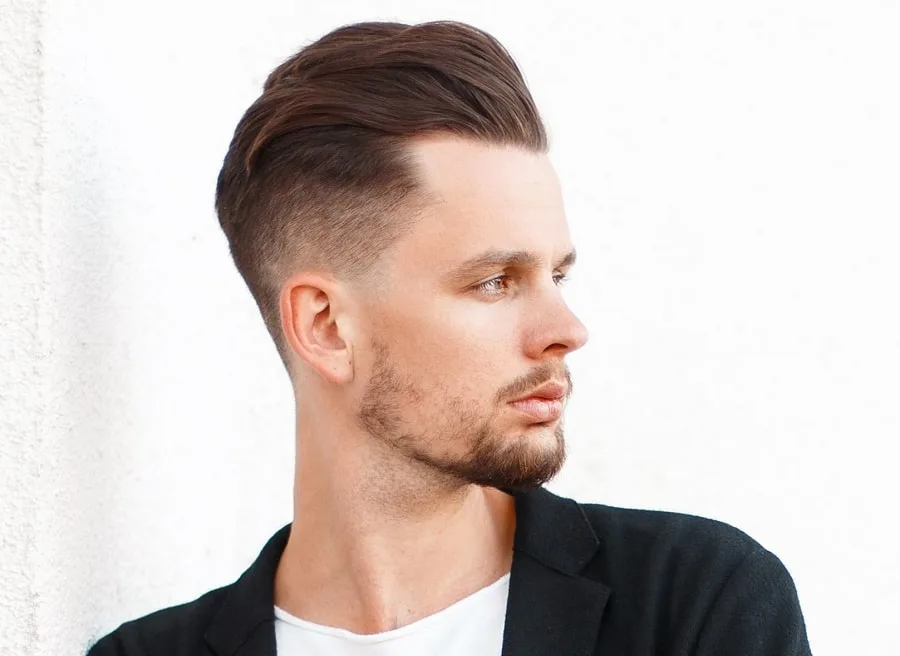 You can conveniently go for this look if you're a teenager or in your early 20s. You'll bursh back the long hair on top to show your forehead. Create a point of interest on the face with a stubble beard no matter if it's patchy.
14. Curly Fringe with Light Stubble Beard and Mustache
Yet another low fade haircut with beard that's ideal for teenagers. You'll notice that the curly fringe with low fade is almost like a curly version of the Caesar cut. On the face, you'll have light and patchy stubble beard and a mustache that's just as light.
15. Messy Soft Part with Short Diconnected Beard
This one's almost like a messy version of a crew cut. The top hair is slightly messy and soft parted on one side. The hair on the sides completely fades near the sideburns, resulting in a disconnected short beard.
16. Dreadlocks Faux Hawk with Goatee
This high, mid and low fade haircuts with beard entry is for those with dreadlocks. Once you clip the sides of the head, you can create a perfect faux hawk with your dreadlocks. To make a statement with very little, a small goatee beard would do.
17. Skin Fade Top Knot with Boxed Stubble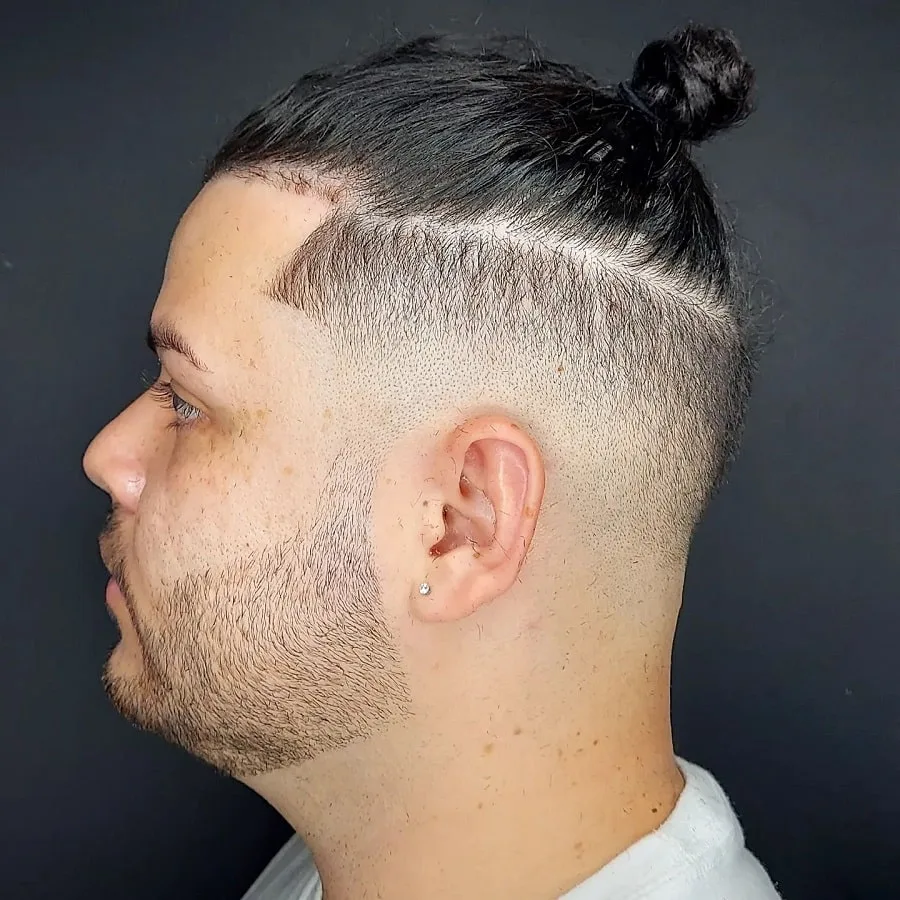 It isn't really a short-boxed beard per se, but shaved in that form. The boxed sides of the beard are great for a rounded face. The hair instantly draws attention with that top knot and what starts as tapering ends up in skin fade on the sides.
18. Mullet and Messy Fringe with Short Blonde Beard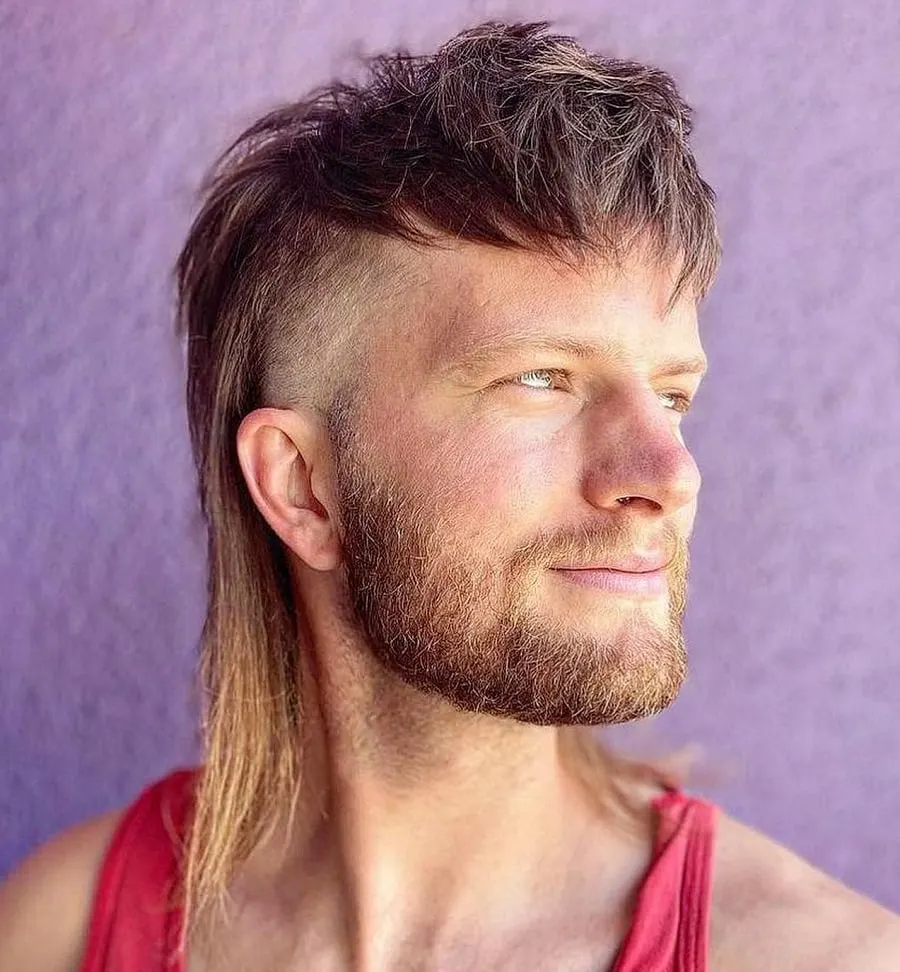 This low fade haircut with beard isn't too flashy if you look at the beard. It's just a short, blonde beard. It's the hair that draws you in with messy fringe on top and a mullet in the back that starts dark but has a blonde end.
Recommended For You:
So, try these different high, mid, and low fade haircuts and pair them with a beard to find out which one suits your taste.