As we age, our hair and beard can change. Some men experience hair loss, while others witness their locks turn gray or white. Regardless of these changes, there are plenty of stylish hairstyles for older men with beards.
If you are a senior citizen looking for a cool hairstyle that will complement your beard and also fits your age, you have come to the right place. We've put together a list of hairstyles that are all stylish and look great on old men with a beard. They are also easy to maintain, so you can spend less time worrying about your hair and more time enjoying your life.
So, be sure to check out these options. You might be surprised at how good you look!
Popular Hairstyles for Older Men With A Beard
Whether you're grappling with gray hair or balding on your head, and maintaining a short gray beard or old celebrity beard, there are many fashionable options for you. Here are some hairstyle and beard style combinations for old men.
1. Side Parted Hair with Stubble Beard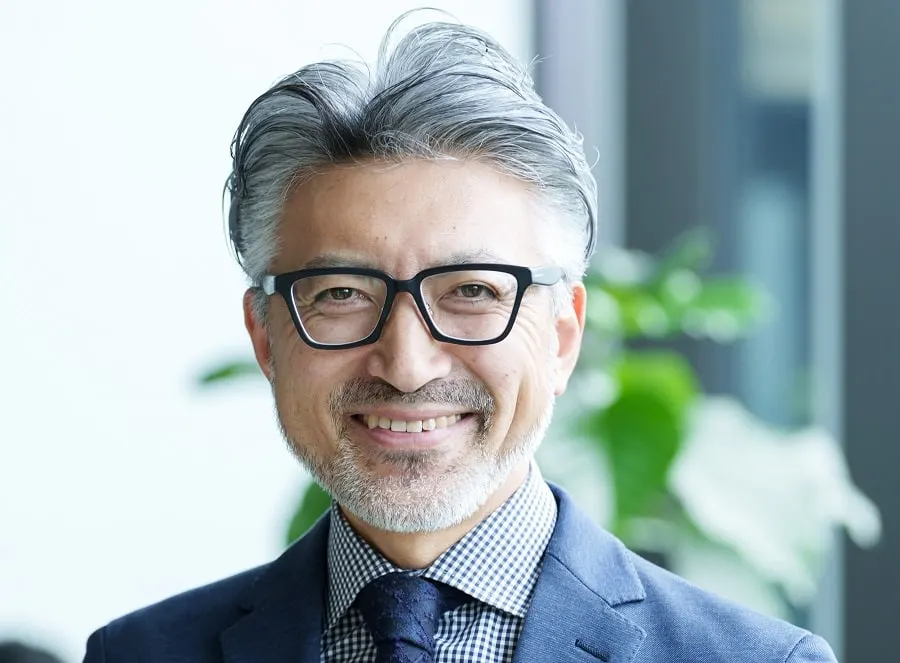 A side part is great if you are an old man with enough hair on both sides of the split. This traditional hairstyle looks quite professional, especially when you have a heavy stubble beard and mustache to go with it.
2. Curtain Hairstyle with Beard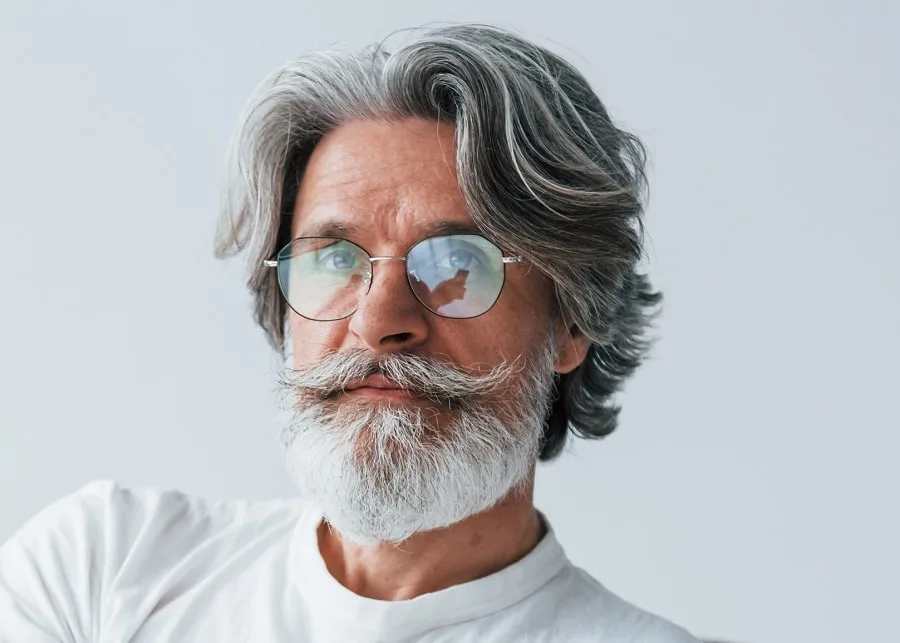 Who said curtains only suit young men? The truth is, the salt and pepper effect makes the curtain hairstyle for older men even cooler. A mid-length beard will look good, but what stands out is the grey handlebar mustache.
3. Grey Curly Hair with Stubble Circle Beard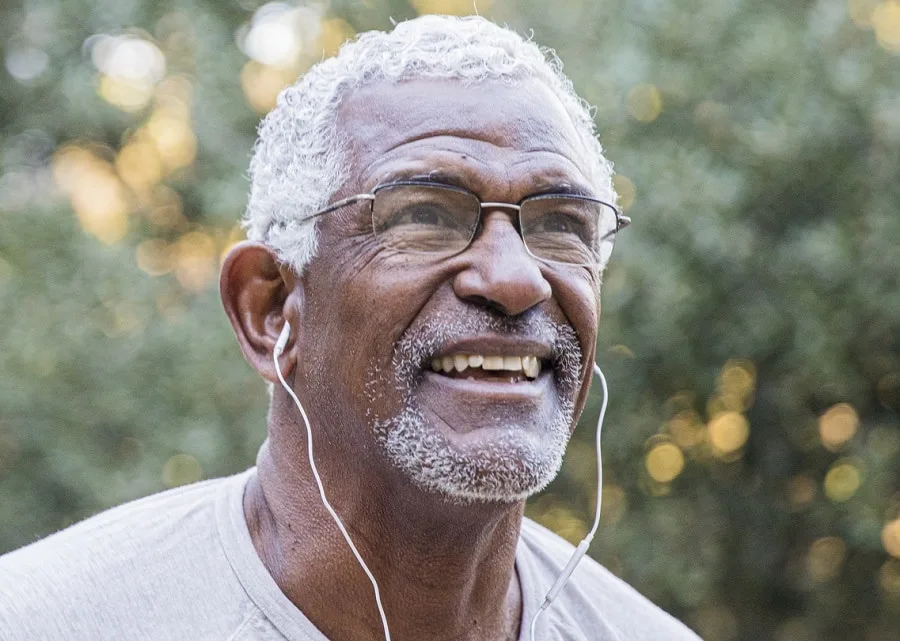 There comes a point when you get old, your hair goes from grey to completely white. That's when you use this color to your advantage by going with a short curly hairstyle. You can further enhance the look by growing a white stubble-circle beard.
4. Middle Part Long Hair with Curly Lumberjack Beard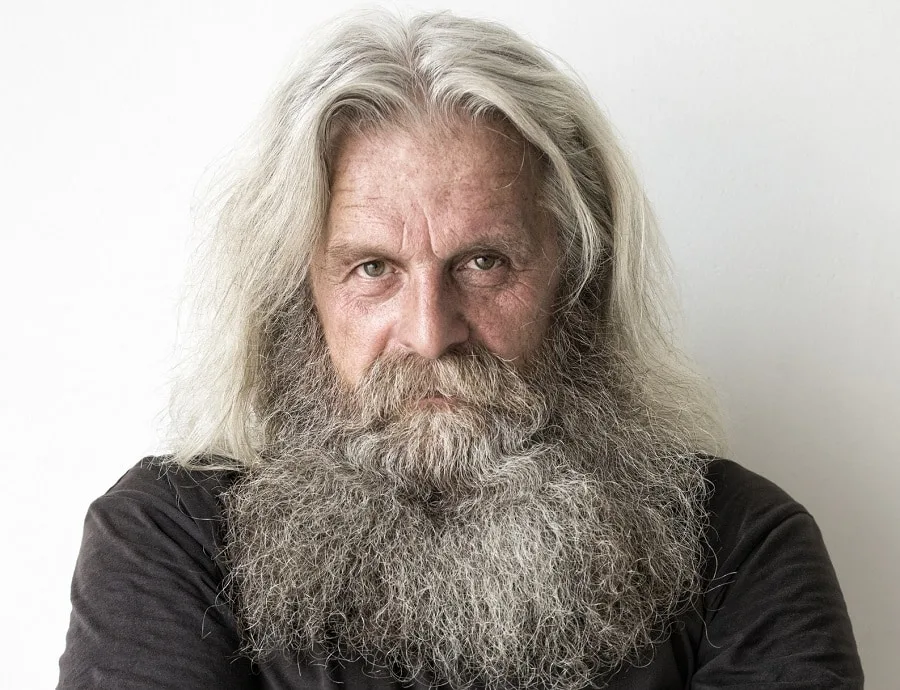 It's hard to say which one's more impressive here; the hair or the beard. It's a big, curly, and thick lumberjack beard with no particular shape. What makes the look stylish is the middle-parted long hair. There couldn't have been a better choice than a walrus mustache. It's a really difficult style for senior citizens to pull off but that doesn't mean it is impossible. Just give it a try.
5. Curly High-top Haircut with Stubble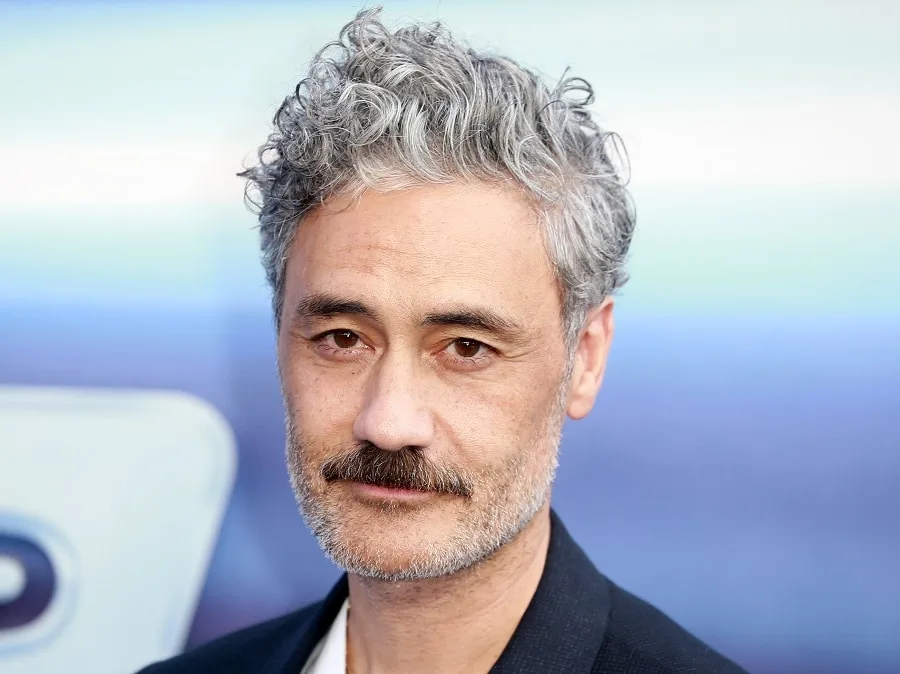 A high-top with curly hair might not be the neatest, but it's surely an attention-grabbing style. The beard is simple i.e. grey stubble. What instantly catches attention is the lampshade beard, which is dark and very neatly trimmed.
6. Short Preppy Hairstyle with Long Stubble
Thick hair growth in old age is a blessing. If you have such hair, you should aim for a short preppy haircut with a typical stubble beard that's consistently the same length with no unusual twists.
7. Brushed Back Hair with Salt and Pepper Stubble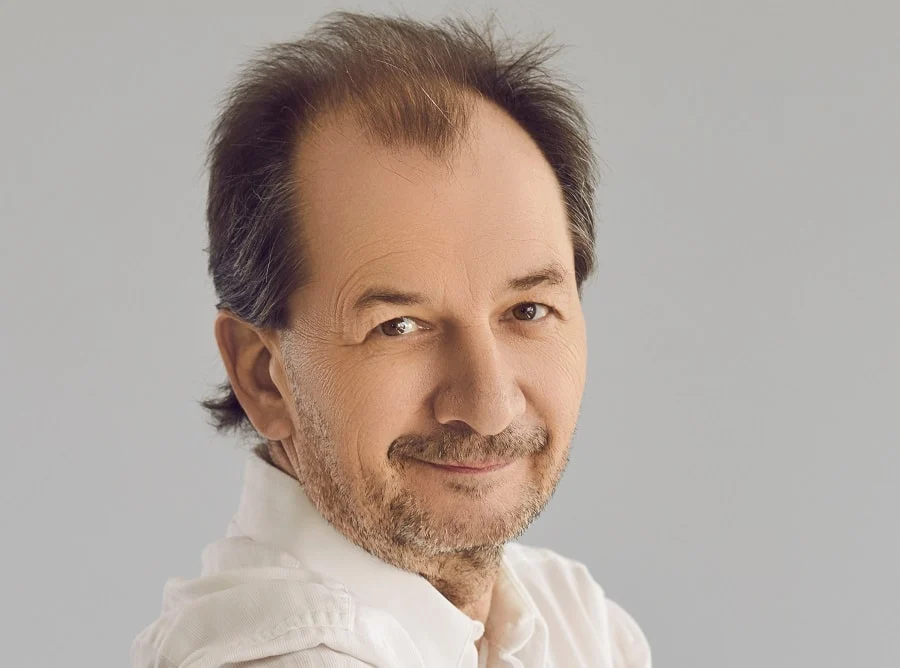 It's one of the hairstyles for older men with receding hairlines. You'll brush back the hair several times to get this look. A salt-and-pepper beard is never a poor choice for older men, so go ahead with it.
8. Slick Back Hair with Heavy Stubble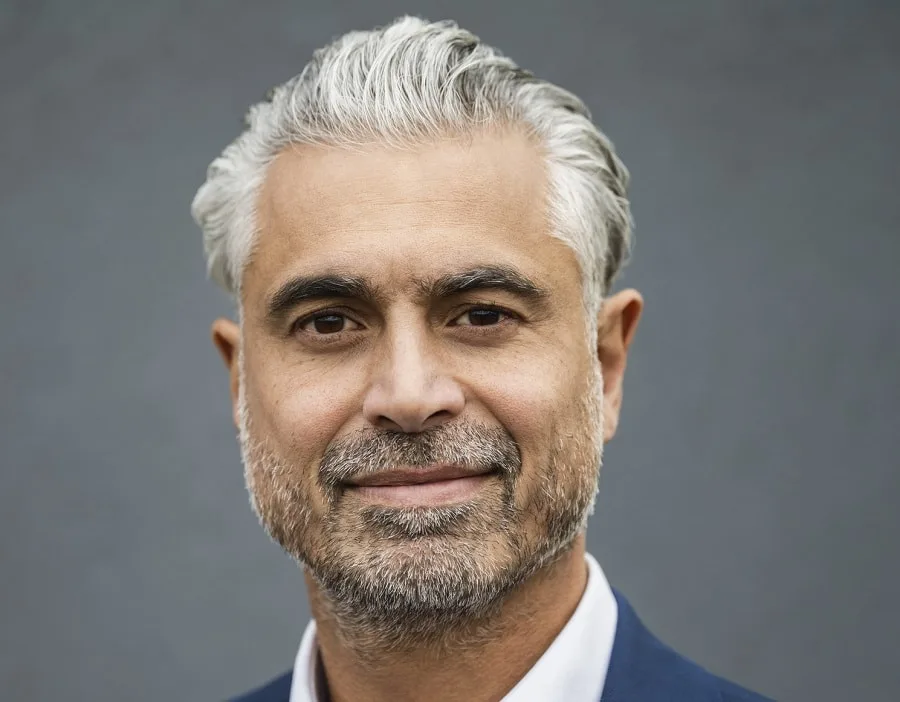 This stubble beard is for seekers of a rugged style because of the thick hair growth on the neck and around the Adam's apple. The mustache and chin beard are slightly thicker than the rest of the beard. A slick back hairstyle will go well with this setup.
9. Mid-fade Comb Over with Full Beard and Handlebar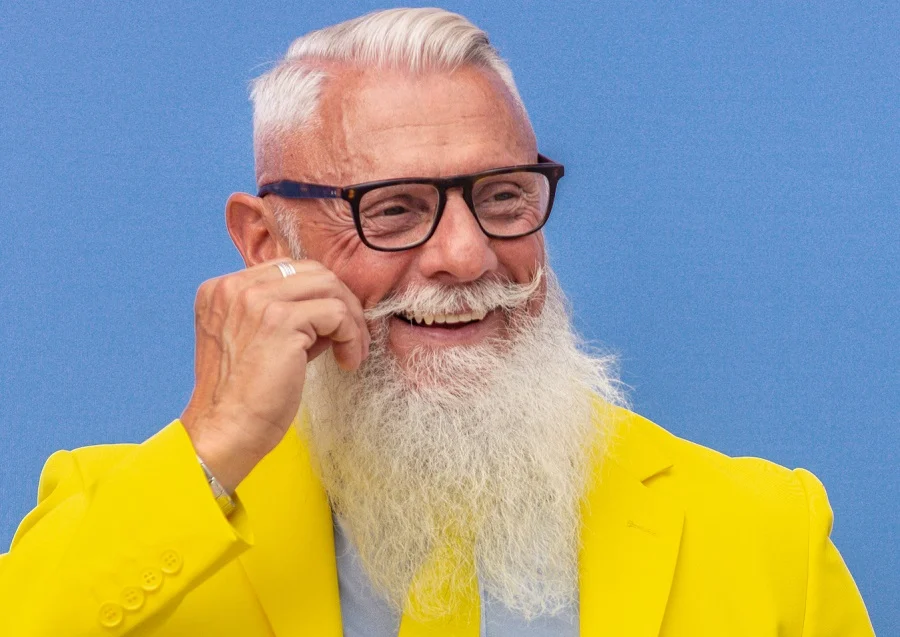 You can call this look fun and bright when you have a trendy mid-fade haircut with a hard part. You'll comb your hair to one side and grow a long white beard. The handlebar is another point of focus of this style.
10. Curly Top Knot with Thick Mid-length Beard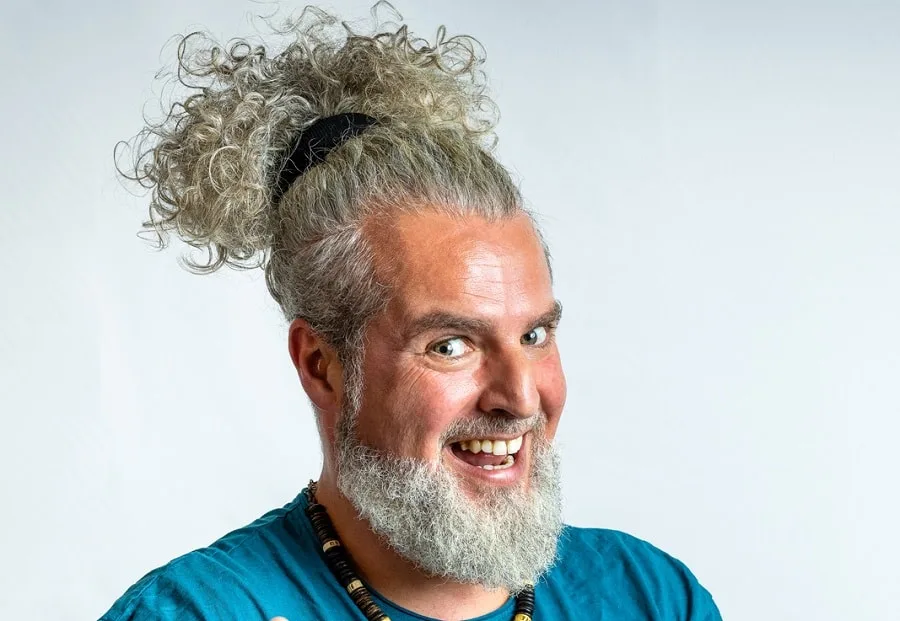 You'll require a lot of trimming, maintenance, and fixing to get this mid-length beard that has neat outer edges. The cheek line makes a perfect L, whereas the curly top-knot haircut elevates the look.
11. Short Wavy Hair with Ducktail Beard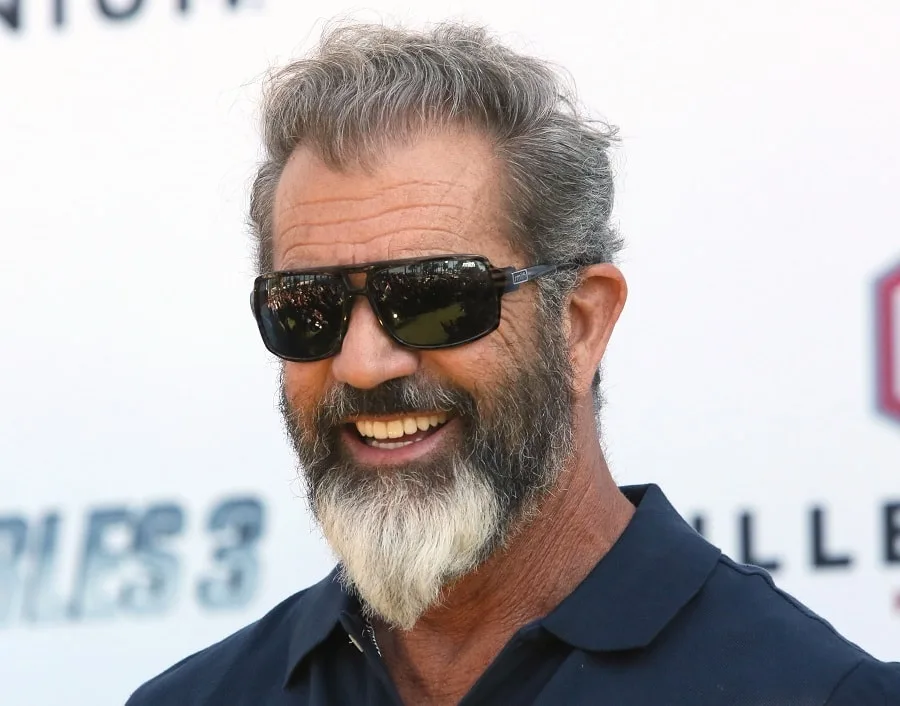 Old but Bold! The mature bearded man looks with a cool hairstyle. You can say the slightly wavy short hair is simple, but all the stylishness lies in the black and white contrast ducktail beard with glasses. Call it a ducktail or dovetail beard to the pointy end, but Mel Gibson chose to dye the tail white.
12. Throwback Hair without Taper and Messy Beard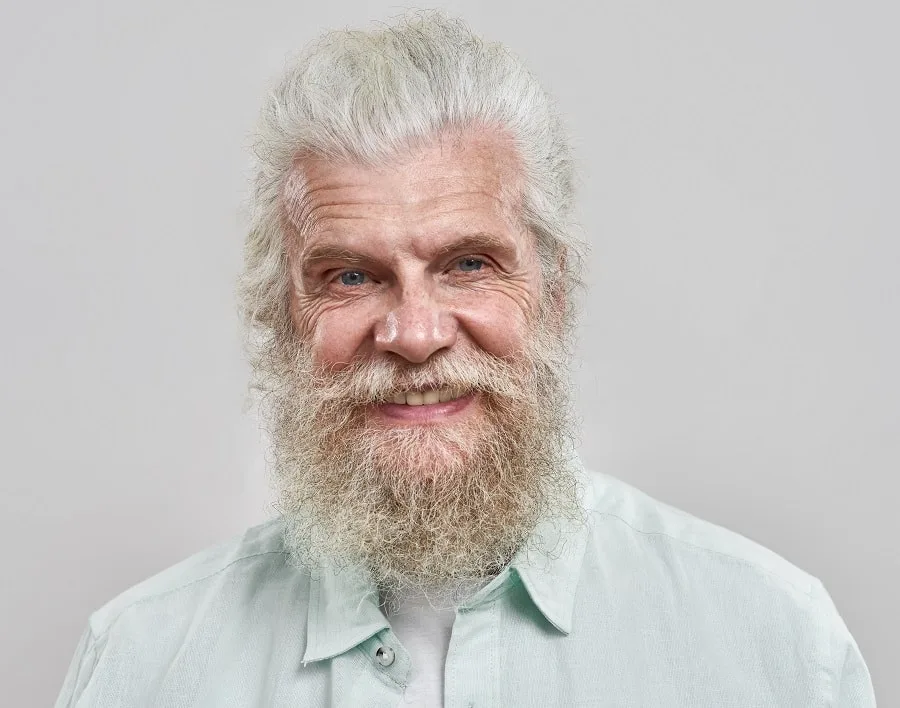 Tired of the fade and taper effect? This throwback hairstyle doesn't have any tapering going on. You can clearly see the ears are covered behind the hair. The full beard is messy with curls, flyaway hair, and untrimmed edges.
13. Long Hair with Horseshoe Hairline and Short Beard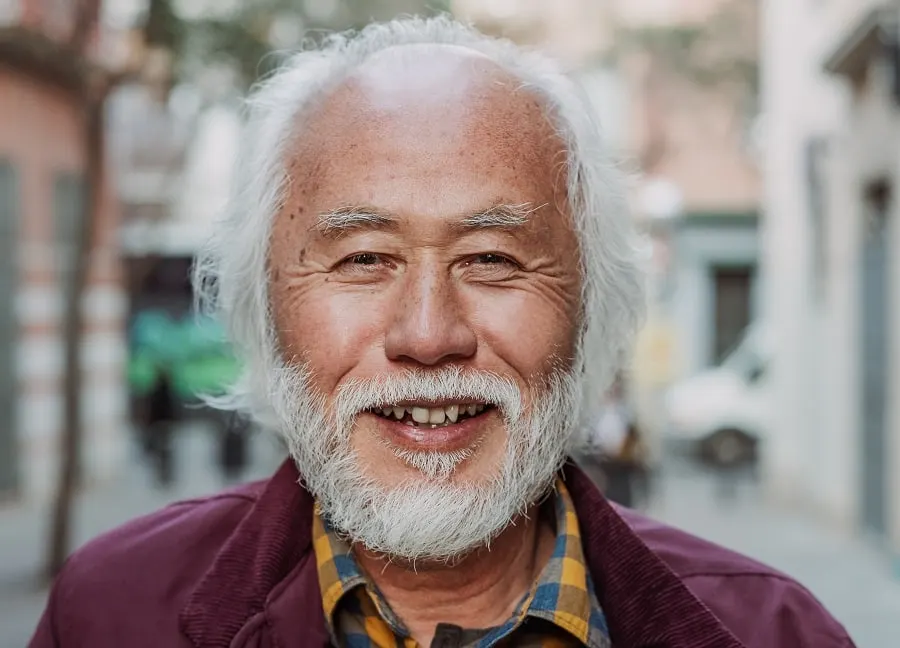 Don't let the horseshoe hairline stop you from being stylish. Grow the hair at the back of your head long and supplement this look with a short beard. The soul patch and mustache are very nicely trimmed here.
14. Wavy Hair with Tapered Sides and Stubble Beard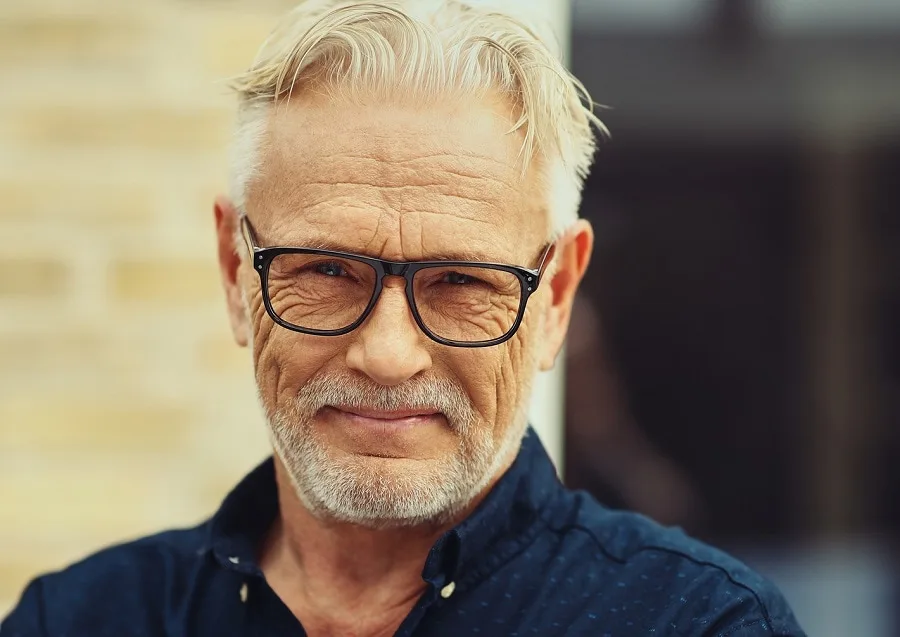 Wavy hair can make hair styling difficult, but with tapered sides, you can get rid of half of your worries. In this case, the hair is brushed back but a couple of fringes are falling forward. The thick and white stubble gives the face a great outline.
15. Short Side-swept Hair with Goatee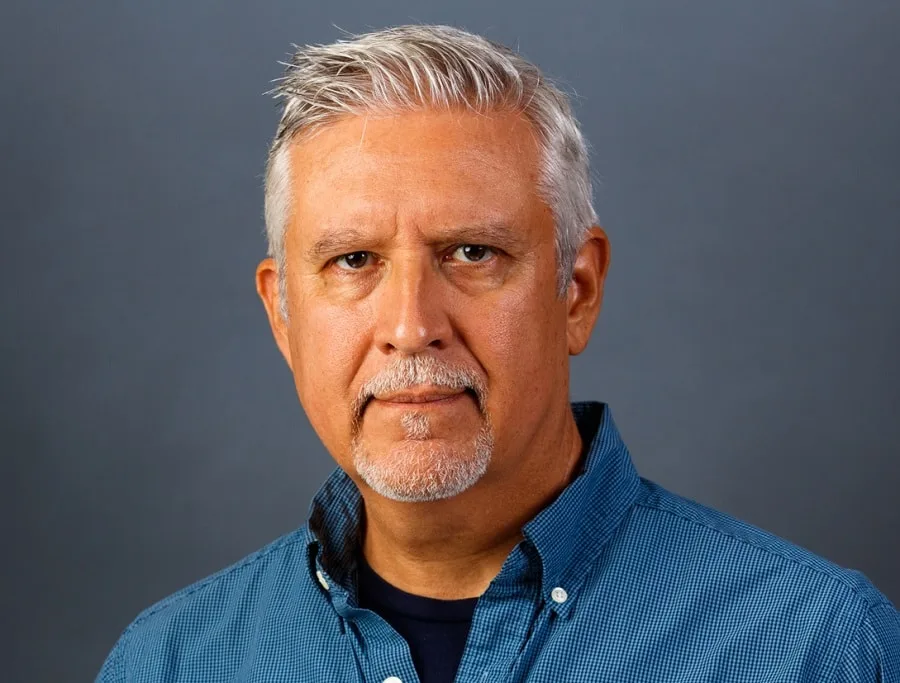 The side-swept hairstyle for older men looks great when it's short. You can apply gel to hold the hair in position. Stubble goatee and petit mustache bring out the stylishness of this look.
16. Salt and Pepper Slick Back Hair with Full Beard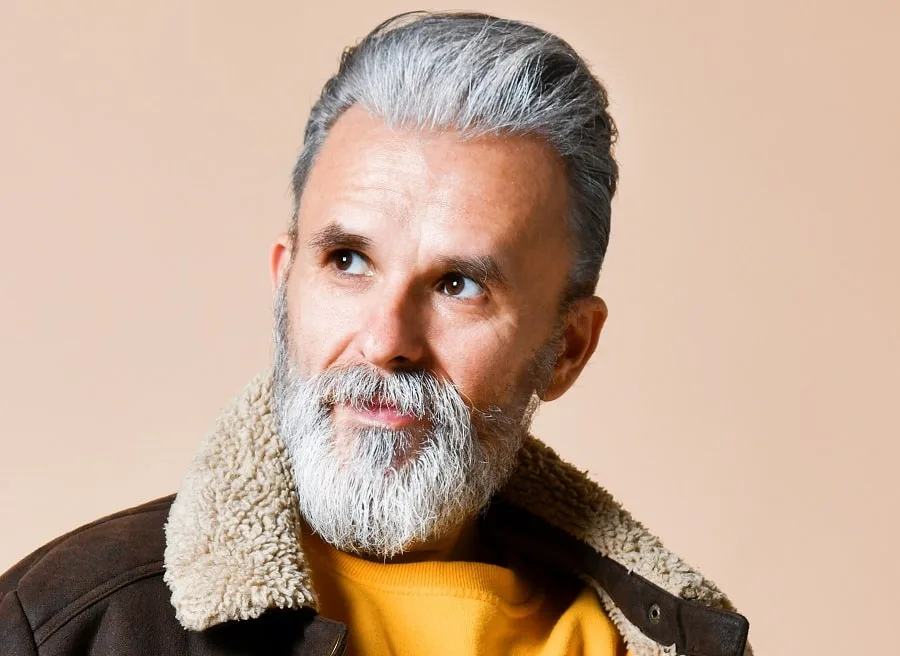 It's quite amazing how slick back hair can make you look fresh and ready. You can enhance the look by having a neatly trimmed full beard, but it's the mustache that breaks the monotony with hair overgrowth covering the upper lip.
17. Preppy Haircut with Long Brushed Beard
Growing a long beard can cover quite a bit of your face, but you can always go for a preppy haircut with tapered sides to show more of your face. Taper the sides of the beard to get a perfectly rectangular shape.
18. Dreadlock Man Bun with Messy Beard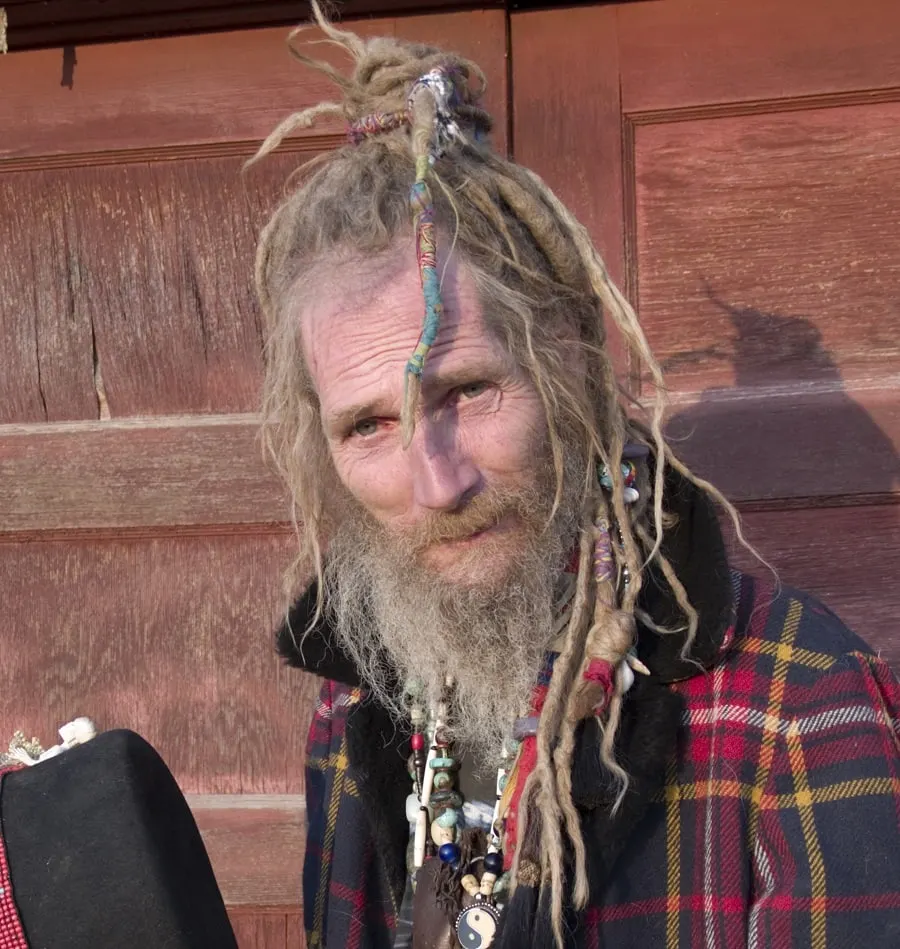 Do you have long dreadlocks that cover your face when you untie them? How about a man bun to keep the hair tamed? Pair it up with a messy long beard and you've achieved the flawless hippy man look.
19. Messy Haircut with White Curly Beard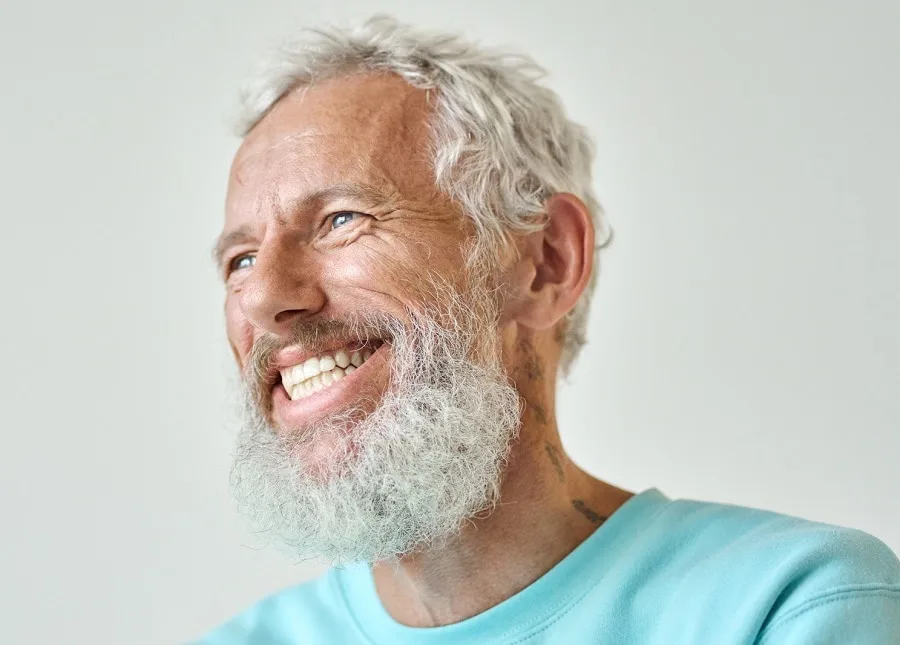 Curly facial hair can often make a full beard seem shorter, but you can go with it anyway because it looks different. A short messy haircut can make you look young without requiring a lot of maintenance from you.
20. Top Knot Shaved Sides with Tapered Beard
There are multiple layers to this style. The top knot hair looks stunning but the shaved sides and back serve a great purpose. They show more of your face, which is otherwise covered with a neatly trimmed and tapered mustache. The salt and pepper mustache is another added layer.
21. Short Comb Over Haircut with Braided Beard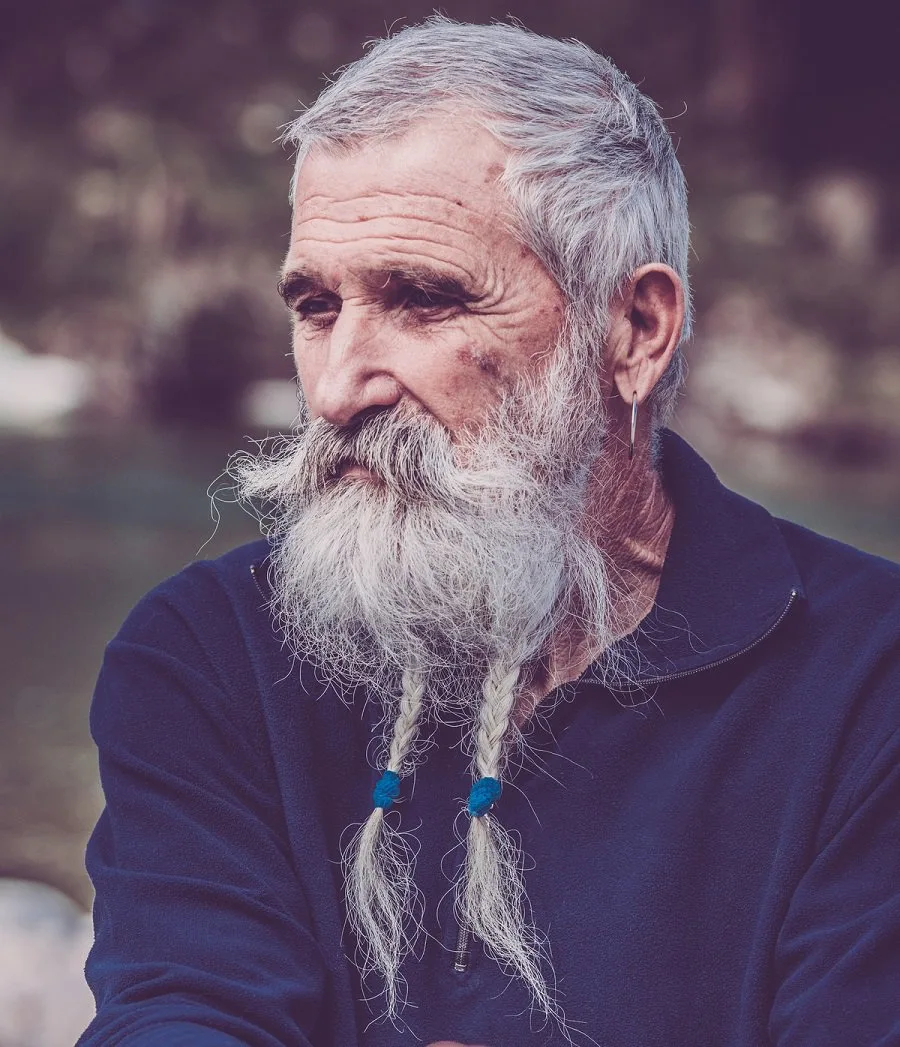 Among several hairstyles for older men, this one stands apart because of the braided beard. It's a bold move, but a good one if your beard is hard to tame. The mustache is just as thick. You can say the short comb over haircut contrasts with the rest of the setup.
22. Very Long Hair with Short Two-tone Beard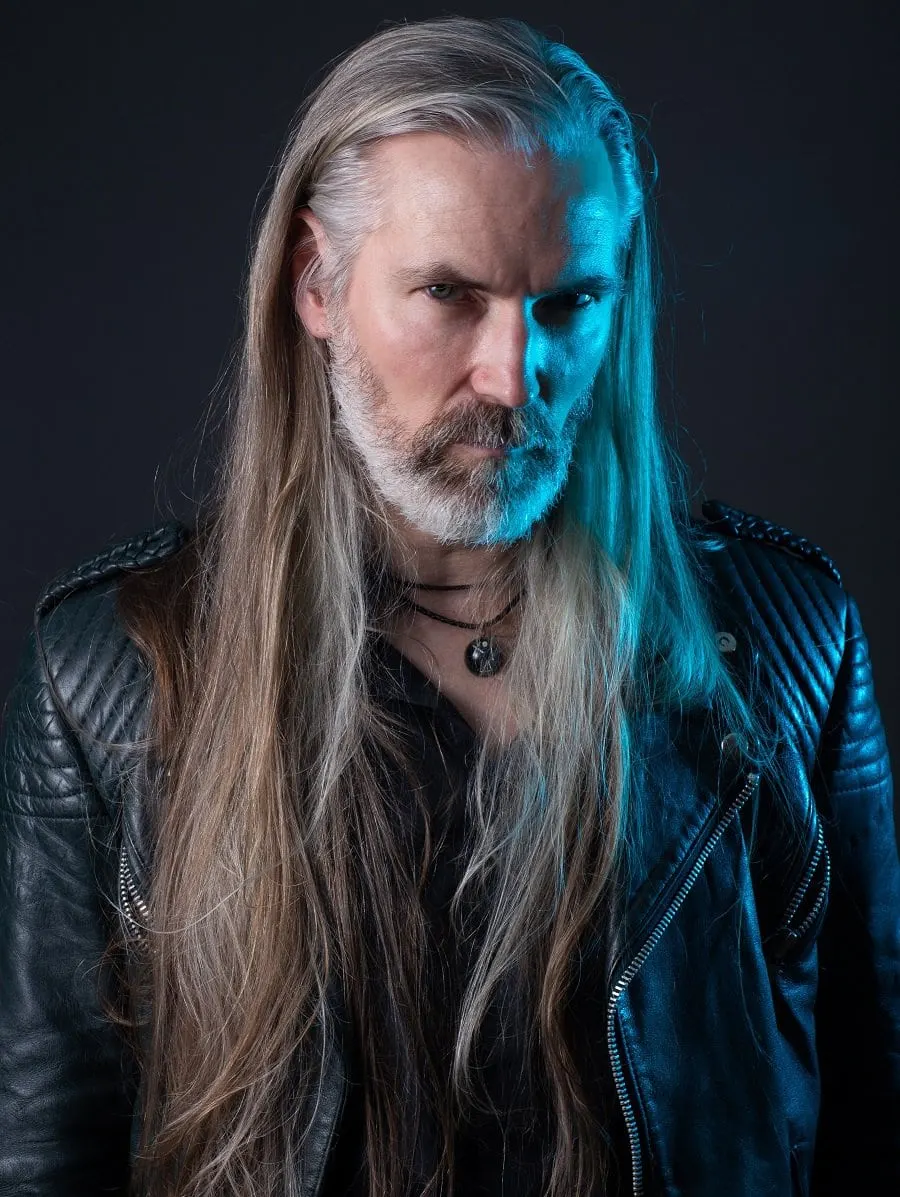 You can't deny that the hair length here is stunning and it looks even longer because of how straight the hair is. The grey beard is short with dark inner edges whereas the mustache completely contrasts with the beard.
23. Mid-fade Crew Cut with Taper Fade Beard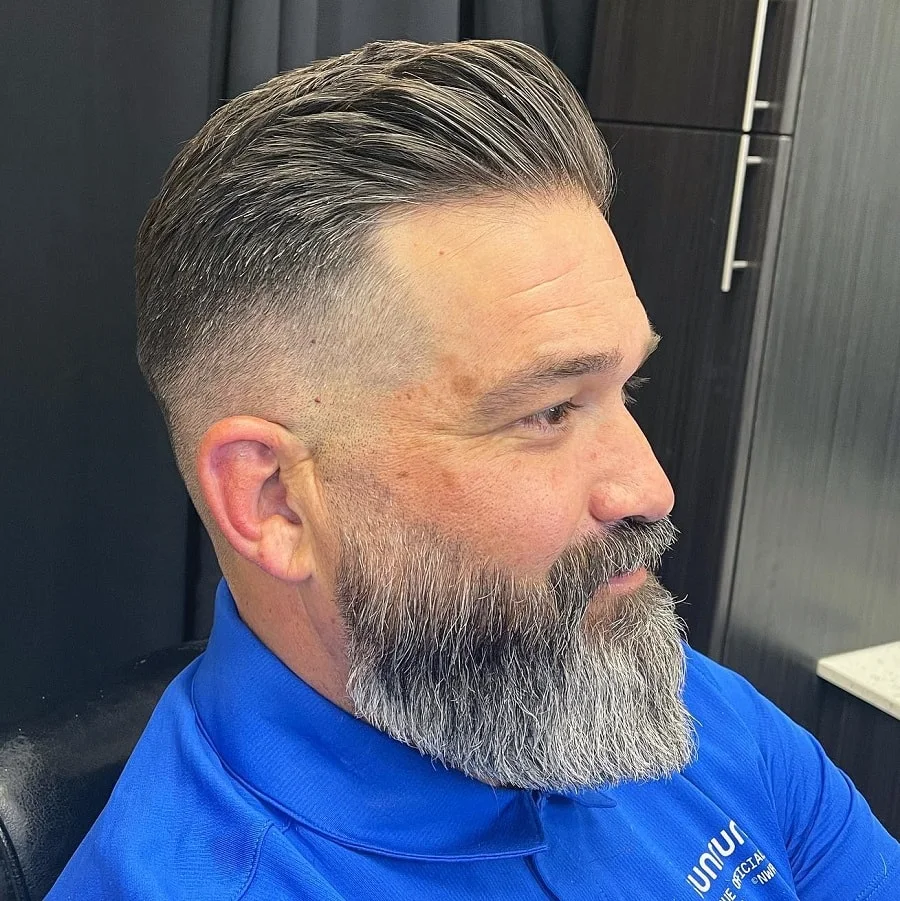 Even older men can use the fade effect quite cleverly as you can see here. This crew cut has mid-fade sides with longer hair on the top and shorter on the crown. What's even more impressive is the salt and pepper beard that taper fades into the skin near the sideburns.
The best way to find the right hairstyle for an old man is to experiment with different hair and beard styles until you find one that you love and that makes you feel confident.
Recommended For You: