Looking for a fresh and trendy look? Comb over fade haircut paired with a dapper beard style can be your ultimate style statement.
This versatile haircut offers a fresh twist by keeping one side of your hair short while leaving plenty of room for experimentation on the other side.
On the other hand, the beard can be neatly shaped or allowed to grow naturally according to your face shape. When combined, these two hair and beard styles create an extraordinary look.
So, take a look at the comb over fade haircuts paired with a beard and see what works for you.
Comb Over Fade Haircuts With Beard
1. Low-fade Pompadour with Chin Curtain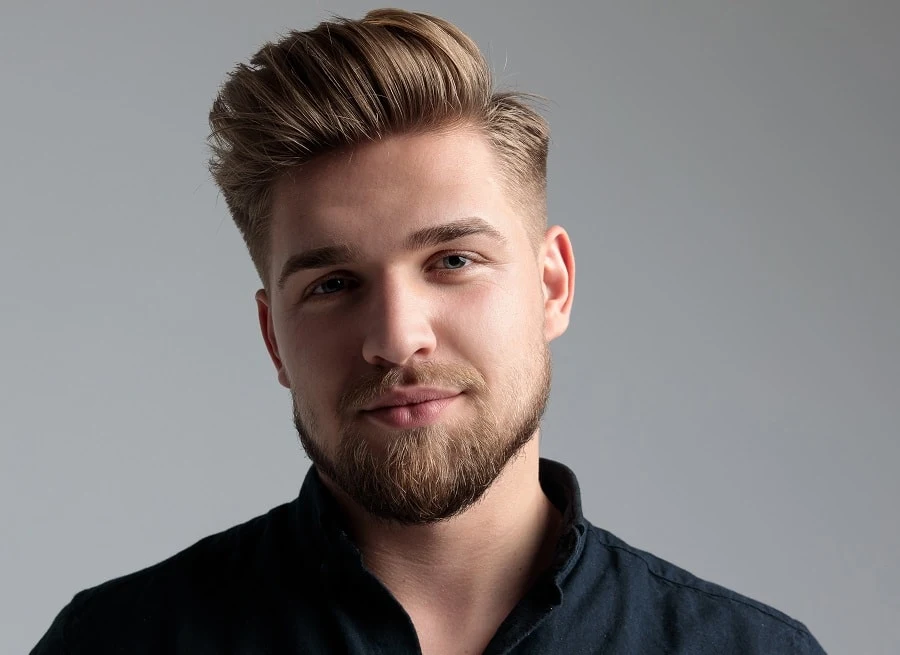 You can add length to your square face by going with a pompadour hairstyle that rises at least a couple of inches above your head. The sides have low fade and the chin curtain beard running along the jawline highlights your face shape.
2. Hard Part Comb Over with Stubble Beard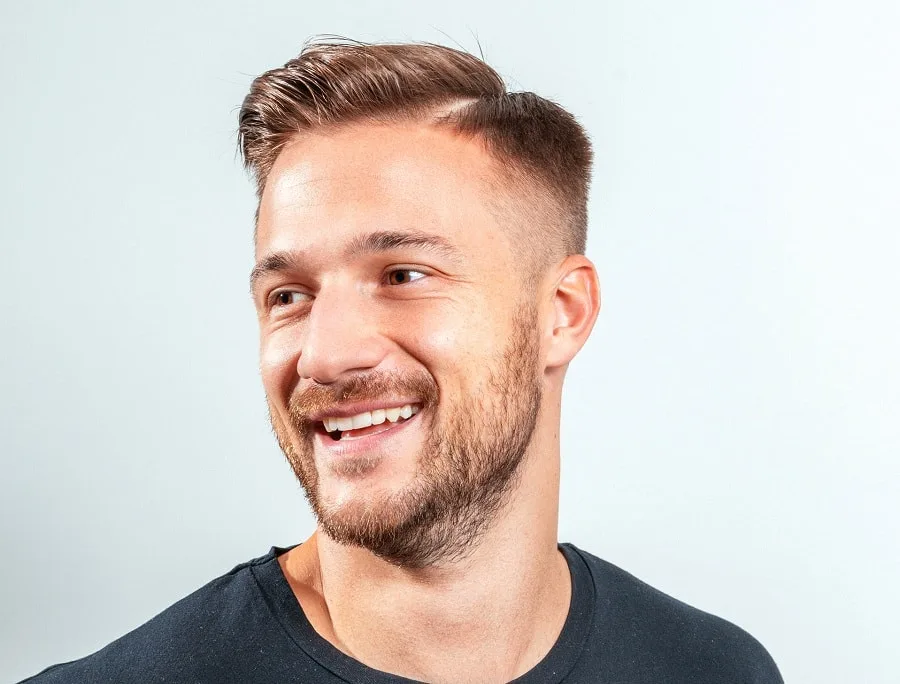 If you don't want your hair long enough for a pompadour, pick this comb over fade with beard style. The main highlight of the hairstyle is the hard part. On the lower end, you can grow a stubble beard if you're a fan of the scruffy look.
3. Low Fade Business Haircut with Short Blonde Beard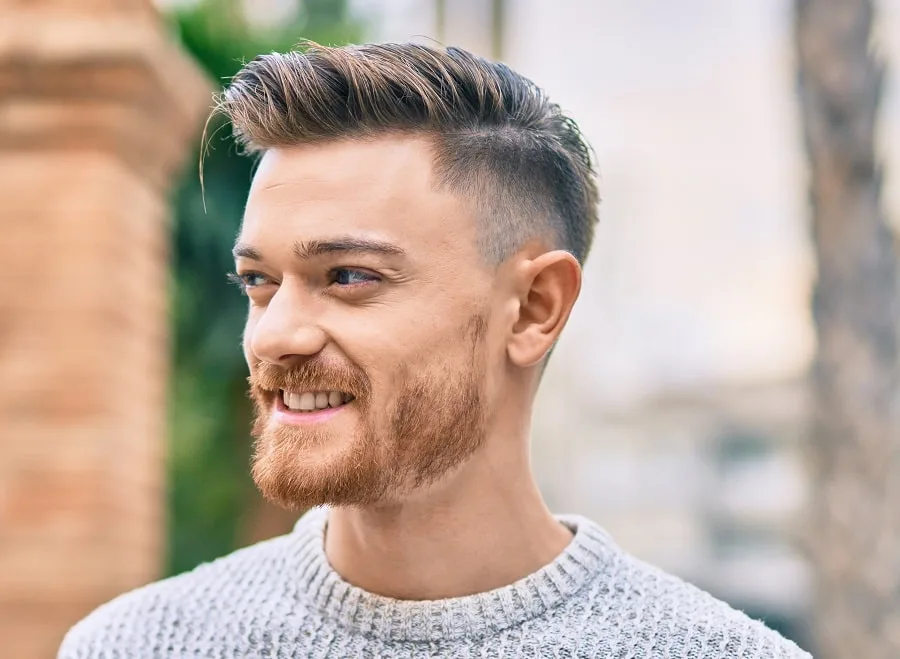 If your beard grows in multiple colors, you must have at least a short beard like this one. For the hair, the fade on the side is quite along the lines of tapering. The hair combed neatly to the side make it an ideal business haircut.
4. Mid Fade Long Fringe with Curly Beard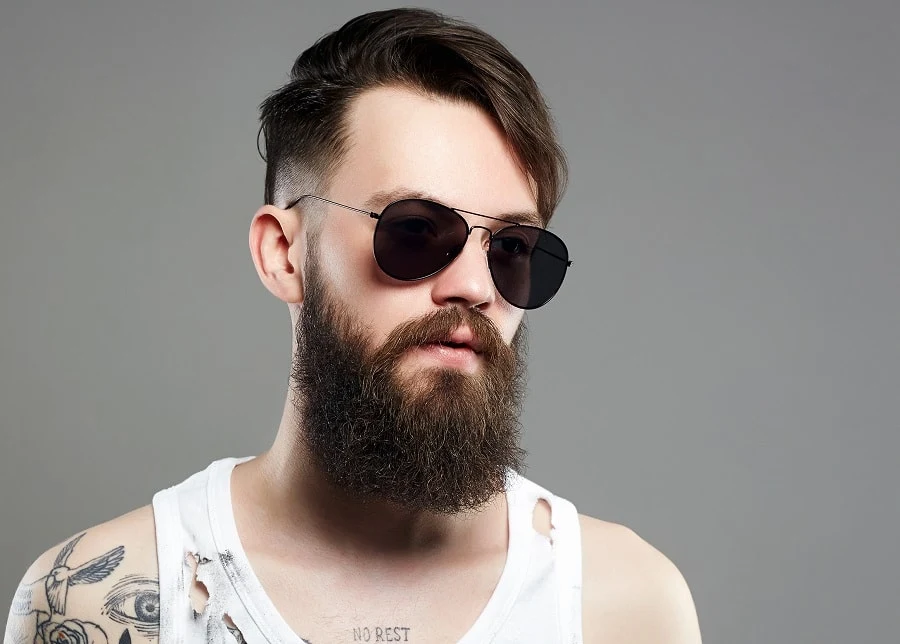 This is a comb over fade style with a long beard that has curly and coily hair. You'll trim the outer edges of the beard to give it a proper shape. The hair has low taper on the sides and a statement-maker long fringe falling on one side of the forehead.
5. Slick Back Hair and Grey Beard with Glasses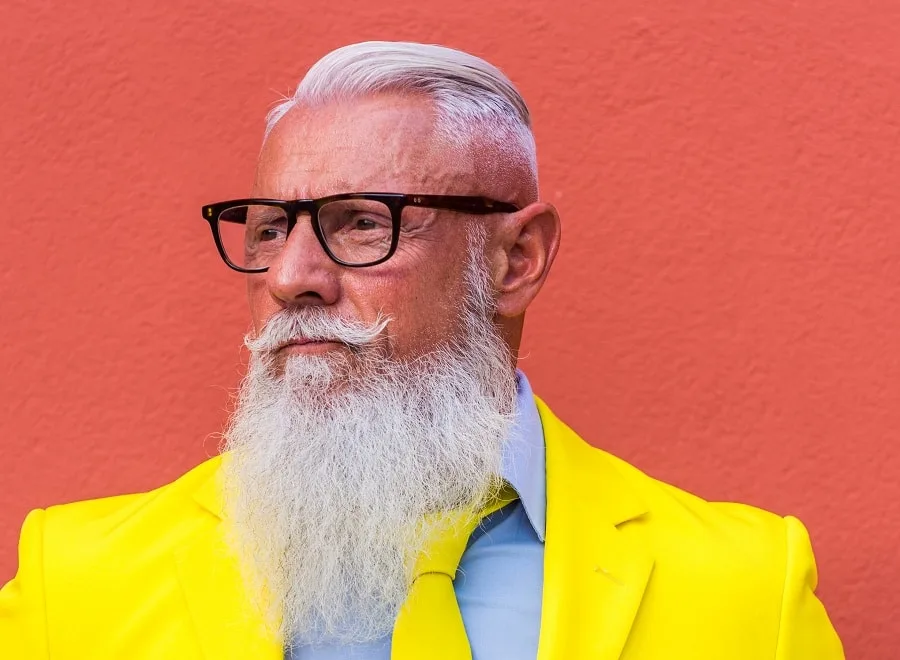 The thing about comb over fade haircut is that you can experiment with the hair on top, like you see here. You can use your favorite gel on the hair and brush it backwards.
The fully grey beard is awesome, but nothing beats a perfectly curved handlebar. The mustache paired with glasses give a cool vibe.
6. Textured Soft Part with Mid-length Beard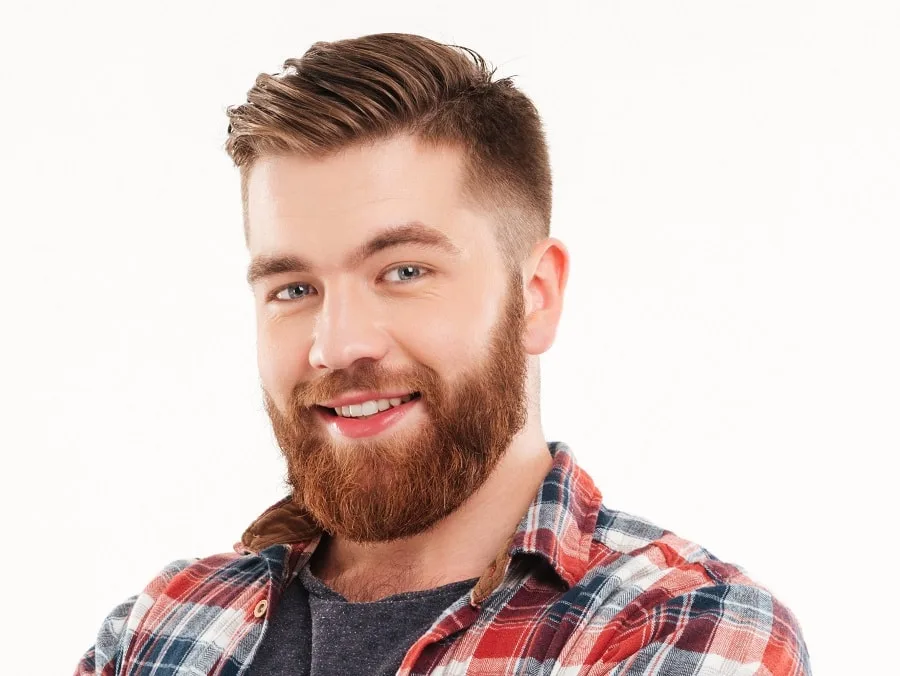 In this comb over fade with beard look, you can see only the temples are faded. The long hair on top has a texture that you could create by running your fingers in it. The role of the mid-length and lined up beard is that it keeps this style neat.
7. Short Pomp with Bushy Beard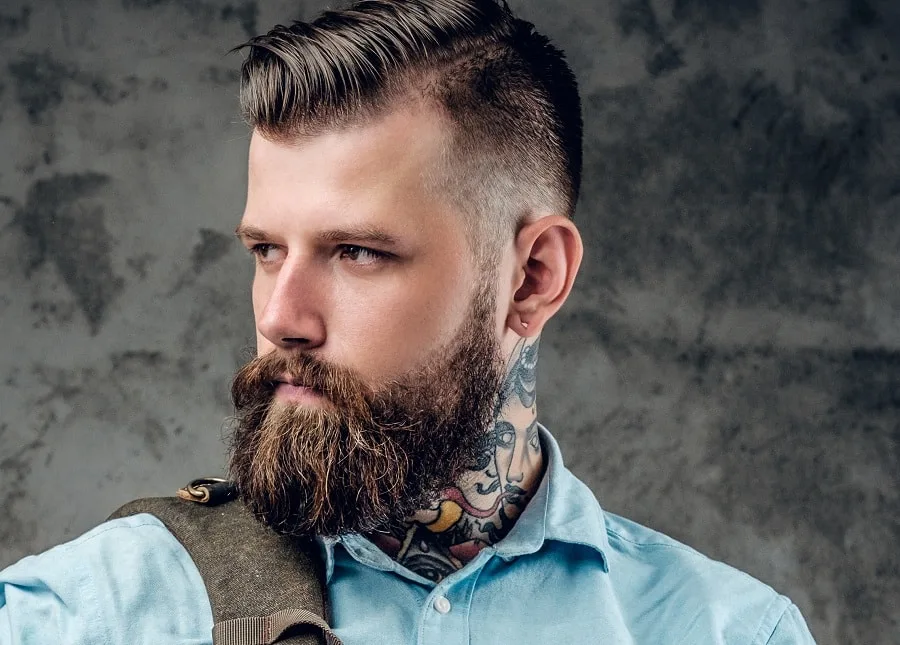 Can't handle a big pompadour? Look at this dainty pomp with taper fade sides. To get this look, you'll have to spend time lining up the beard. It has a sharp cheek line, a thick mustache, and bushy yet nicely tamed beard.
8. Hard Part Textured Pomp with Fade Beard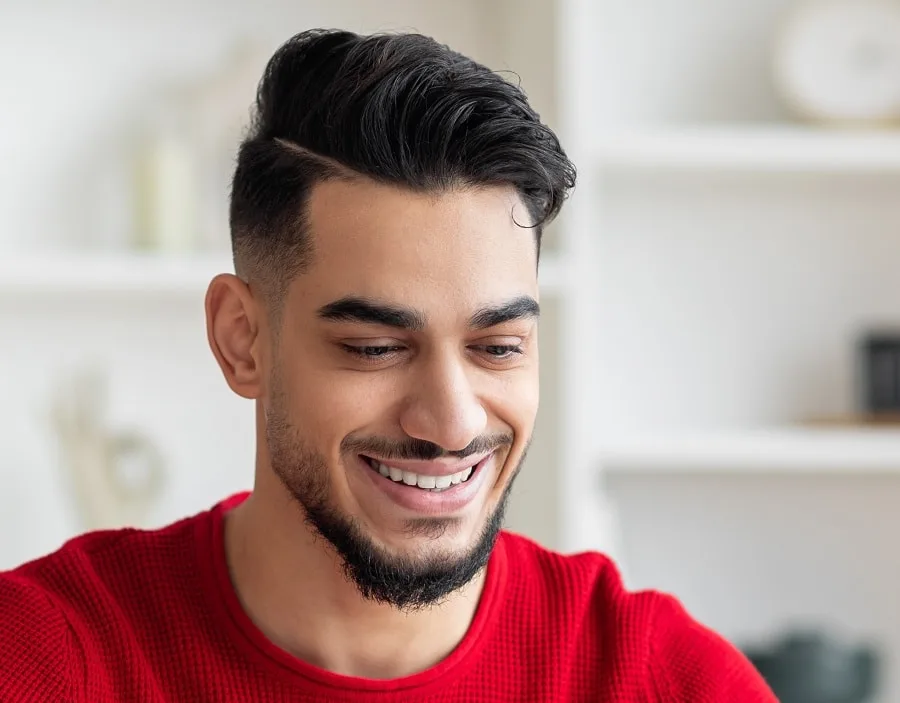 This look has a moderate proportion of everything. The fade is minor above the ears and the pomp is short but textured. It may look like a goatee, but's a short jawline beard that fades on the lower jaw and sideburns.
9. Bald Fade Textured Quiff with Tapered Beard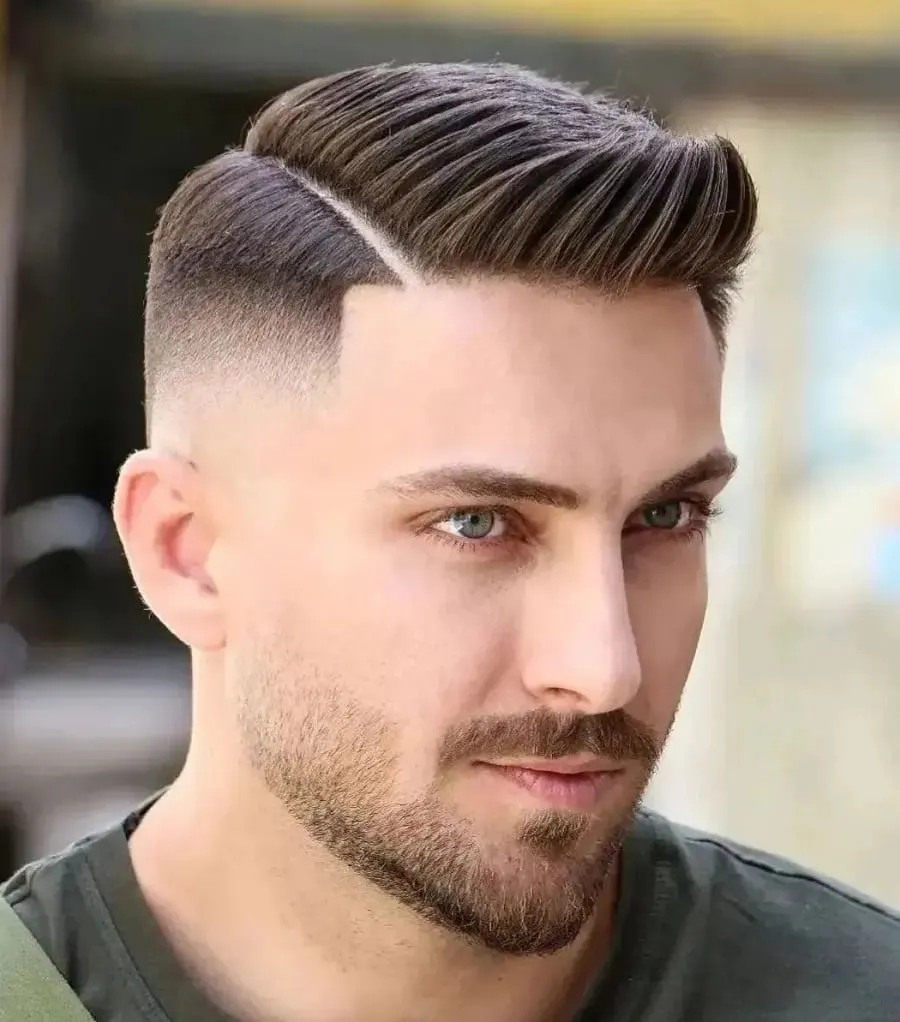 Expect the barber to charge you a premium because it will take time to create a quiff on the front, texturing the hair on top, giving a proper bald fade, and neatly squaring your hairline. The beard tapers as you move close to the ears, but is thick near the chin.
10. Wavy Brushed Back Hair with Chinstrap Beard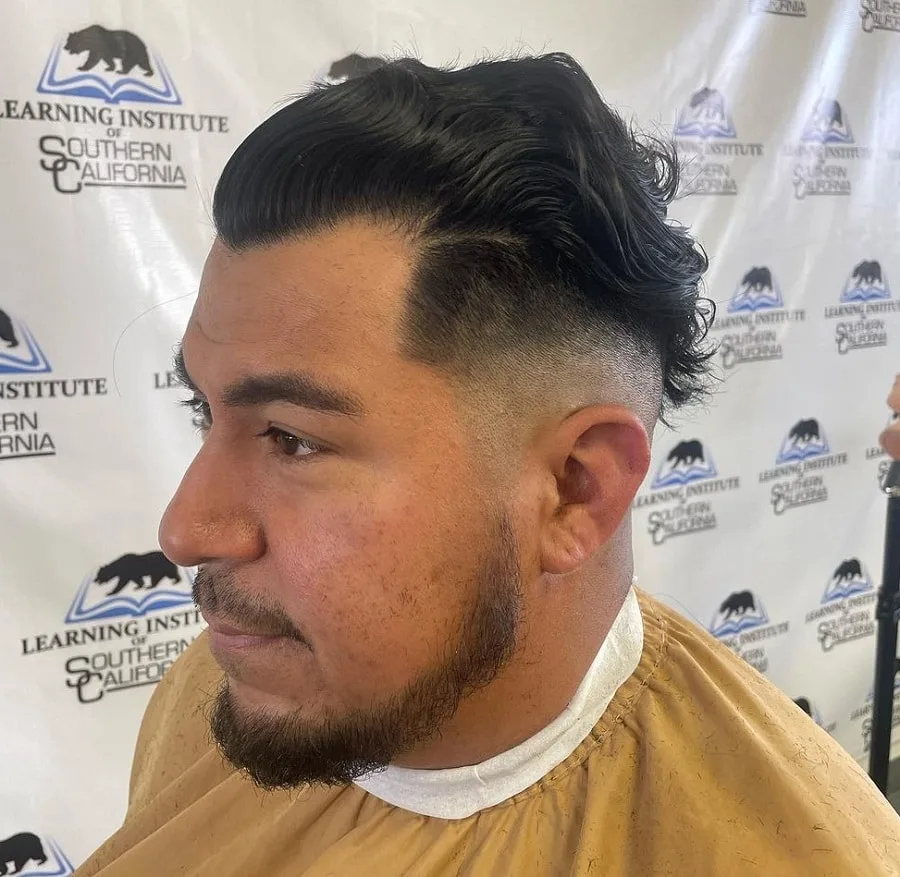 Brush your wavy hair back to attain this comb over fade with beard look. You might want to use some gel to keep the hair from flying in all directions. A chinstrap beard will look good if you have an oval or round face.
11. Quiff and Mullet with Mid-length Beard Fade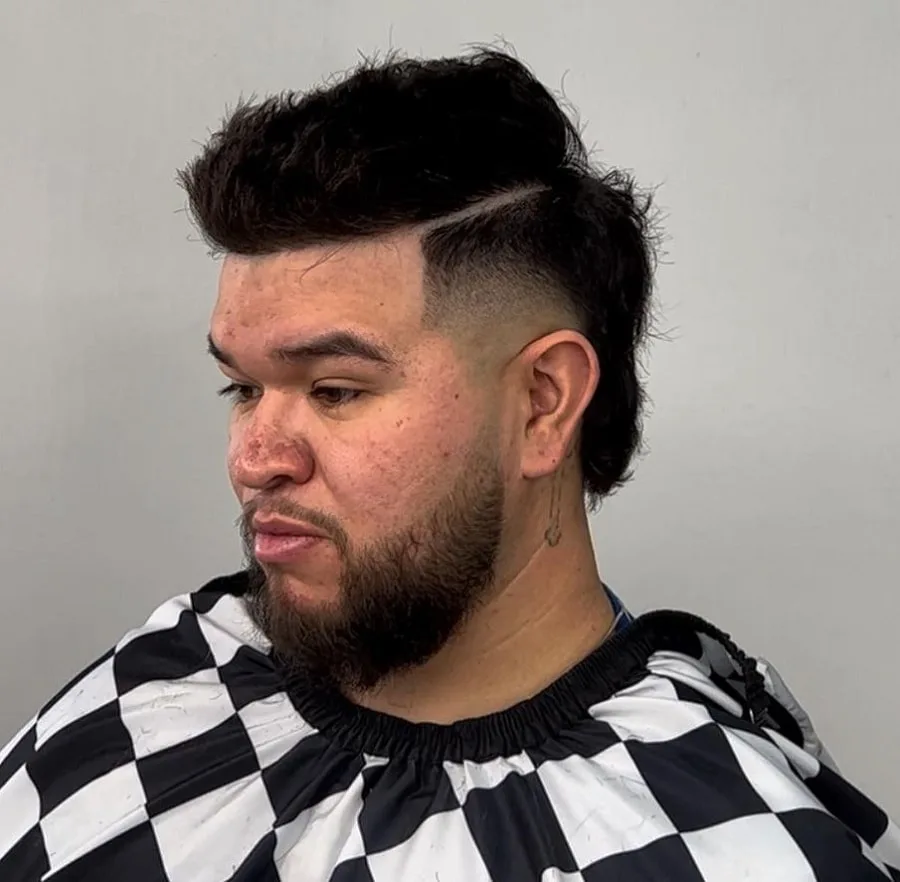 A perfect way to add length to a rounded face would be to pick a quiff hairstyle that ends in a mullet in the back. You then grow a mid-length beard that fades and transitions into skin fade temples. This will make your face appear thinner and longer.
12. Side Parted Textured Hair with Patchy Beard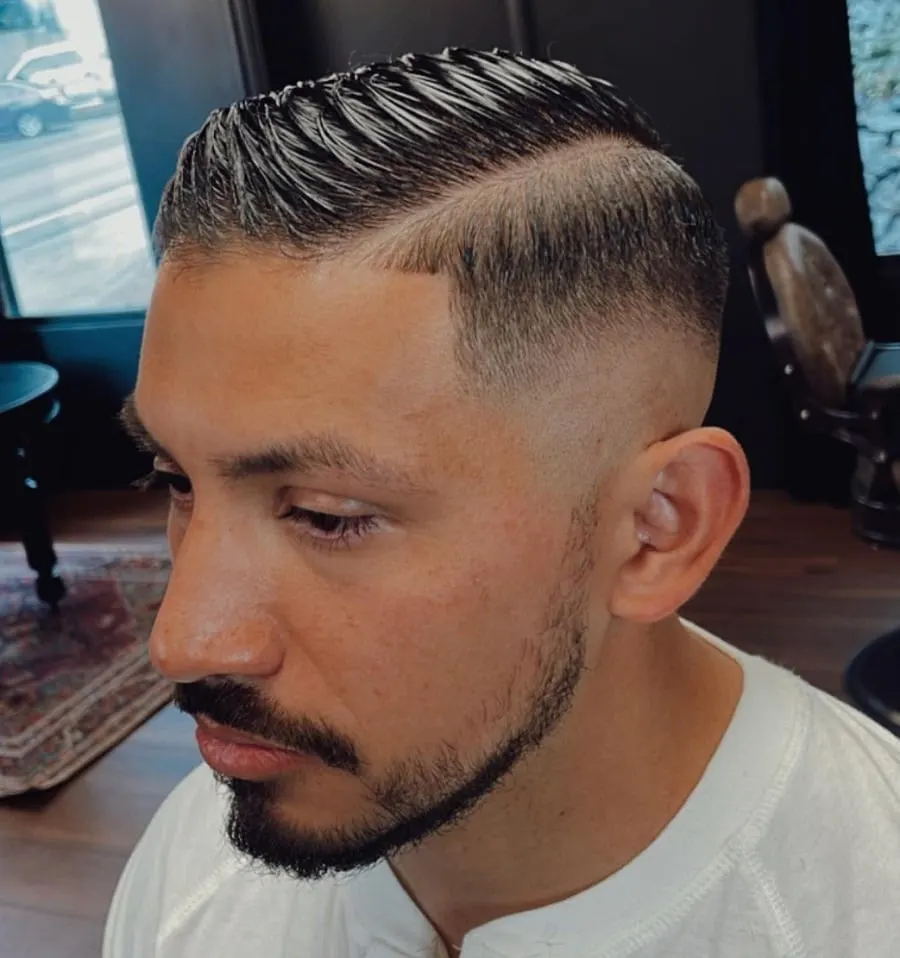 A patchy beard might not let you style your beard in many ways, but a comb over fade hairstyle can make up for it. When you have a skin fade on the sides, the textured side-parted hair gets all the attention.
13. Hard Part and Gelled Hair with Goatee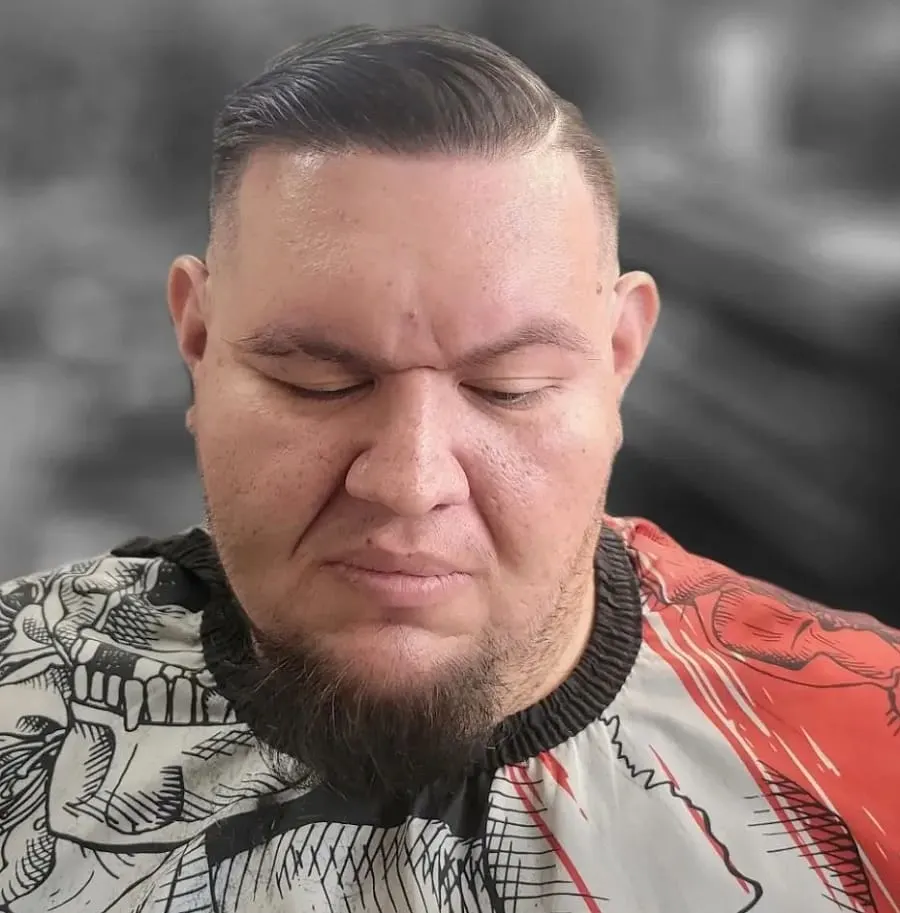 Gel is your best friend when you pick a short comb over fade haircut because it lets you style your hair in any direction you want. In this case, move your gelled hair to the side to reveal the hard part. The minimalistic goatee goes well with this style.
14. Low Fade Crew Cut with Red Sculpted Beard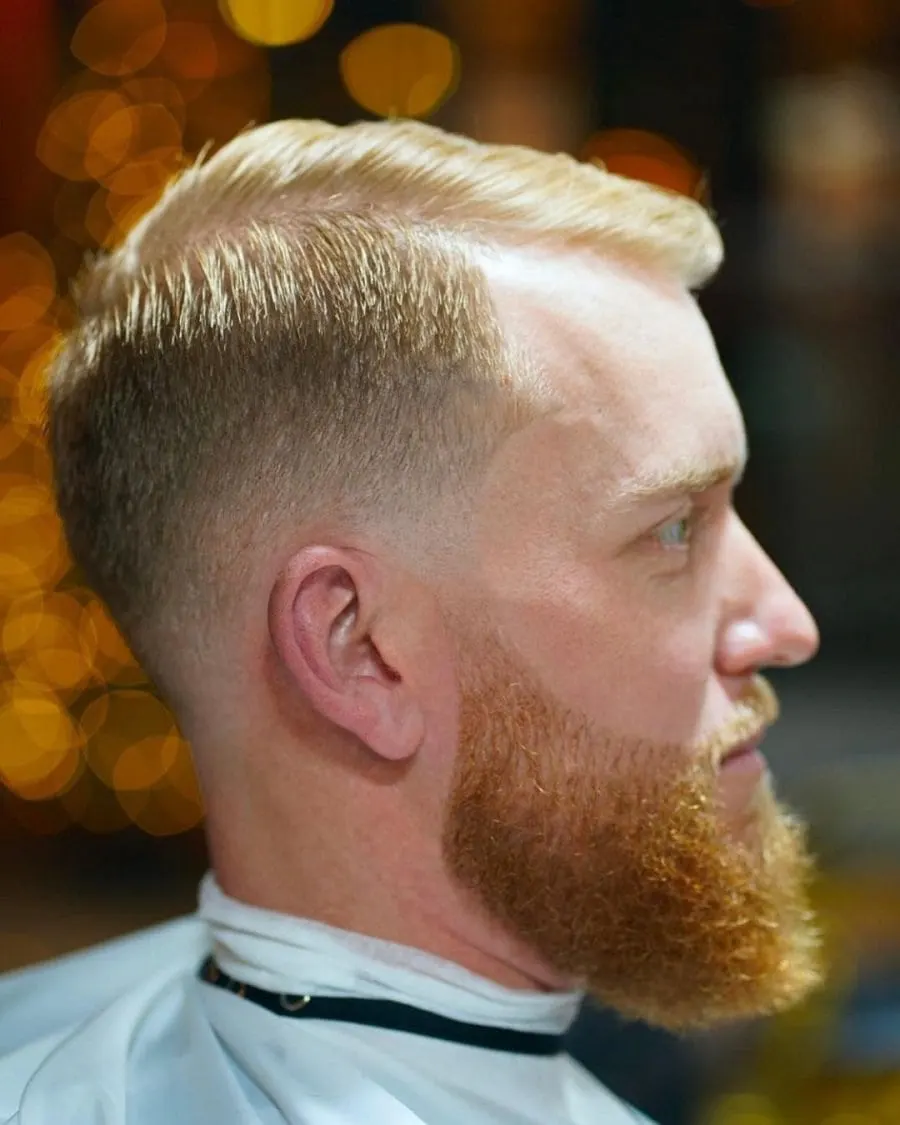 You can call it the Connor McGregor look with a low-fade crew cut combined with a beautifully sculpted beard. The curly bead has perfectly trimmed outer edges. What's unique is that the cheek lines and necklines are curved, not completely straight.
15. Lined Up Hard Part Hair with Faded Coily Beard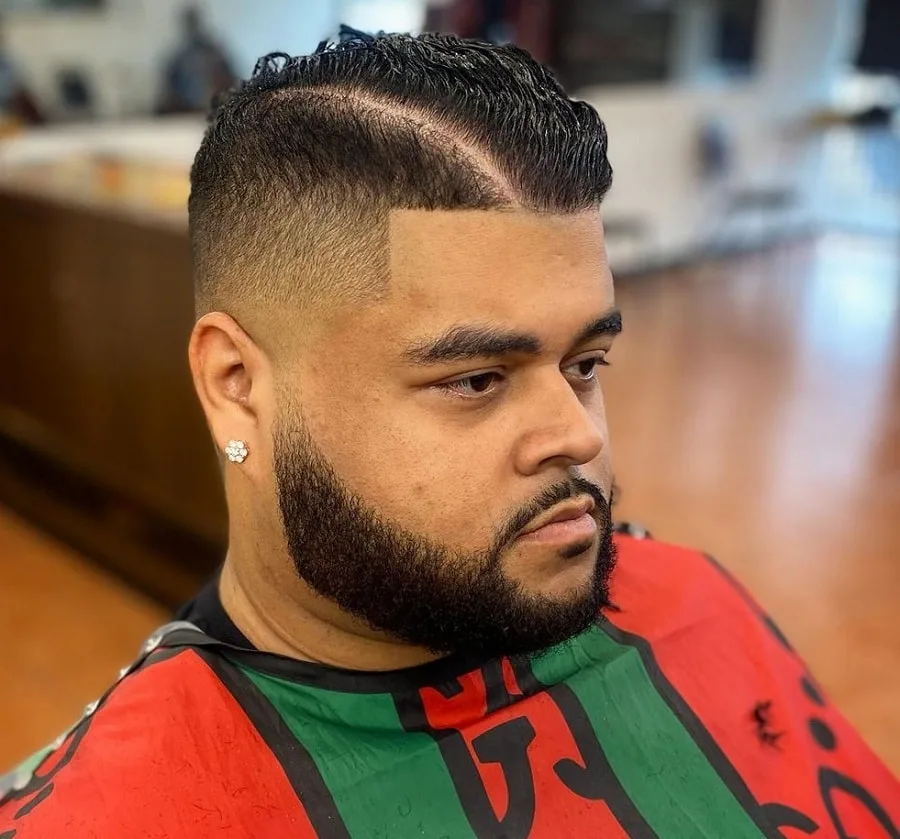 You can't go wrong with a line-up or shape-up haircut with a boxed hairline if you have a round face. However, if you wish to avoid your face looking to boxy, you can keep the cheek lines of your coily beard curved rather than straight.
16. Colored Side Swept Hair with Blue Goatee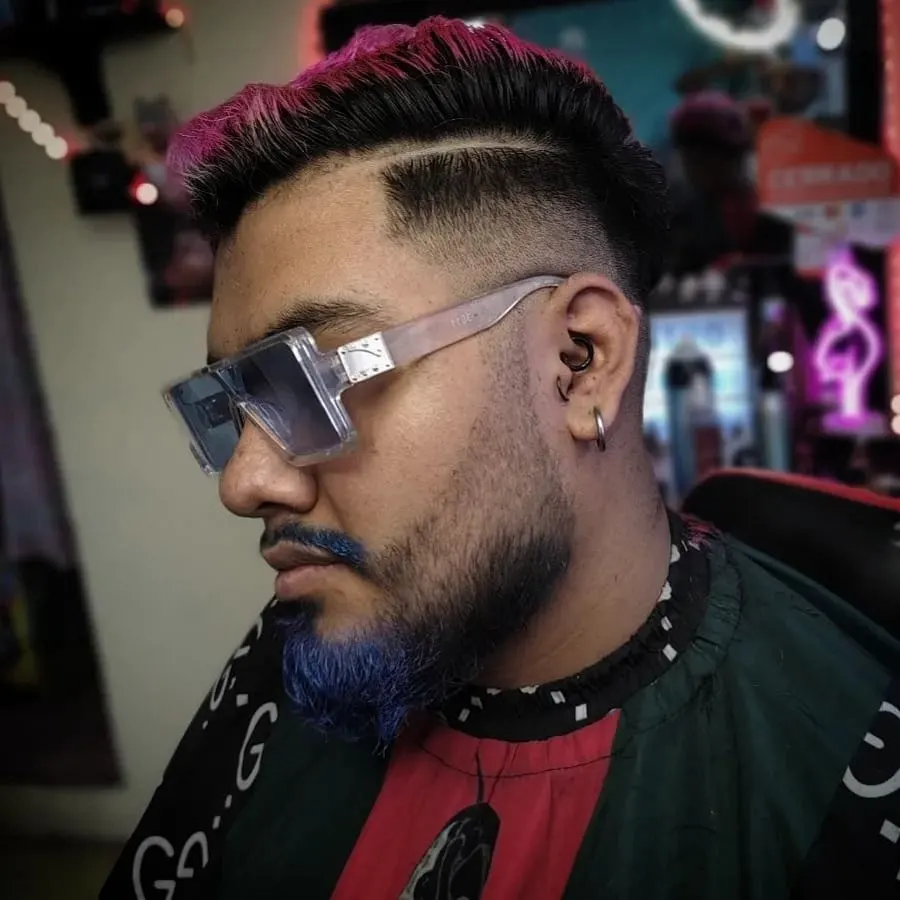 The uniqueness of this comb over fade haircut comes from its color. It's a side-swept haircut with hard part, but the top of the hair has been colored purple. The beard is short but by coloring the mustache and goatee blue, you can show how bold you can be.
So, what are you waiting for? Now is the time to reinvent your style with comb over fade haircut and beard combo. Your journey toward a new aesthetic identity awaits!